How to Create a WordPress Podcast Website in 2023
Creating a WordPress podcast website is a great way to reach a wider audience, solidify your branding, and access more monetization opportunities.
Doing so may be challenging if you have no prior website-building knowledge. However, with the many tools available today, anyone can set up a website for their podcast quickly and easily without coding.
To help you get started, we'll break down the steps to start a podcast with WordPress. We'll share tips to promote your podcast and help you grow your audience.

How to Build a Podcast Website with WordPress
Building your own WordPress podcast website is faster than you think. You simply need to map out your show's concept, set up hosting, and start recording.
1. Create a Concept for Your Podcast
The first step to creating a podcast is developing the concept for your show. At this stage, you decide what to discuss and how to present it to the audience.
Establishing a well-thought-out concept will also help you better plan your branding. That way, during the website-making process, you can choose a fitting theme and decide which plugins and other tools are the most suitable for your needs.
Start by determining the podcast's topic. Popular ones include true crime, talk shows, and investigative journalism.
While choosing a popular topic can help you reach new listeners quicker, it isn't always the best approach.
In addition to popularity, it's good to select a topic that sparks your interest. Doing so will give you extra motivation, especially during the first few episodes when you're building your audience base.
Hence, we recommend a quick brainstorming session to find the best podcast topic for your show. To start it off, follow these tips:
Know your audience. Consider their background, age range, interests, and why they might be interested in listening to your podcast. Think about what problems they are facing and how you can help them.
Set an objective. Consider whether you aim to educate, entertain, or sell a product. This will help you determine the podcast structure, scope, and approach, like whether to be more formal or casual.
Find your competitive advantage. Select a niche from a broad topic to help you stand out from competitors. For example, consider covering "how to make money through blogging" instead of "how to make money online". Alternatively, find a unique angle to cover the topic.
Consider a monetization strategy. Find at least one monetization strategy to help set up your success in the long run. For instance, if your topic is fashion trends, become an affiliate for a brand or start an online clothing store.
Once you have chosen a topic, decide on a podcast format. Determine whether you'll be the only voice in the show, co-host with a partner, or invite a few more people for an interview format.
Next, pick the podcast name.
There are various approaches to doing so. You can be creative and incorporate puns, like The Missing Peace, or go with something catchy, like The Hive Jive or Design Matters. Some combine two words to make the audience do a double take, like Freakonomics Radio.
Whichever approach you take, make sure the name's simple, memorable, and meaningful.
More importantly, a good podcast name should be easy to pronounce and SEO-friendly. Consider what keywords your listeners would type in search engines when they want to know more about your topic.
Lastly, don't forget to check your name's availability to ensure the domain name and social media handles are not taken.
2. Set Up the WordPress Website
With the podcast concept in mind, the next step is learning how to set up the website where you'll upload the episodes.
Get a Hosting Plan
When podcasting with WordPress, having a secure place to host all your files is important. In that regard, you'll need a web and podcast host.
A web host is a service that stores your website files, making them accessible online. While various types are available, we recommend choosing one optimized for WordPress.
Choosing a managed WordPress host like Hostinger means you won't have to worry about the technical aspects of your website.
Our hosting plans include automatic updates and backups, free SSL certificates, great SSD storage, a pre-installed caching plugin, and a user-friendly control panel — all to streamline your website management processes.
We also offer a 1-click installer so you can build and customize your WordPress website quickly. And if you encounter issues, our reliable customer support team is ready to help 24/7.

Note that uploading your podcast files directly to the site's server is not a good idea.
Podcast episodes contain large amounts of data, meaning that hosting and delivering the files will require a lot of storage and bandwidth. Using the same server for both your site files and your podcast slows down both your website and your podcast. This results in a poor user experience on your site and a poor listening experience for your podcast audience.
We recommend uploading your podcast files to a dedicated podcast hosting service, designed to store and transfer large amounts of files quickly and efficiently.
Connecting your WordPress website to a podcast host will reduce the strain on bandwidth, resulting in faster performance.
Some of the best podcast hosting services include Anchor, BuzzSprout, Castos, and Blubrry.
Pick a Domain Name
To access your website, visitors type your domain name into search engines.
Aside from being the website address, a domain name is also part of your branding. A good domain name will help establish credibility, making your site appear more trustworthy.
When choosing a domain name, it's good to keep the following tips in mind:
Make it short, simple, and memorable
Include your podcast name to improve brand recognition
Incorporate targeted keywords
Avoid misspellings, hyphens, and numbers
Once you have a few ideas, ensure your ideal domain name is available with our domain checker:
Domain Name Checker
Instantly check domain name availability.
Once you find a suitable domain name, you must register it using a trustworthy domain name registrar. This will require further individual research if you do it on your own.
Luckily, Hostinger is an ICANN-accredited domain registrar. If you want to skip the hassle of registering your domain separately, our WordPress Pro, Business, and Starter plans offer free domain registration for the first year.
Important! As the registrar will store your registration information, it is essential to choose a reputable one. The domain registrar can also modify the information associated with your domain and hide your personal details – keep an eye out for mentions of domain privacy protection.
Install WordPress
There are several ways to install WordPress: you can do it manually, locally, or automatically.
If you host your site at Hostinger, the easiest way is to use our Auto Installer, accessible from the hPanel.
To do so, select Hosting → Manage. Under the Website section, locate the Auto Installer button, and choose WordPress.
Then, fill in the form, and enter all the information, including administrator details, site title, and language preferences.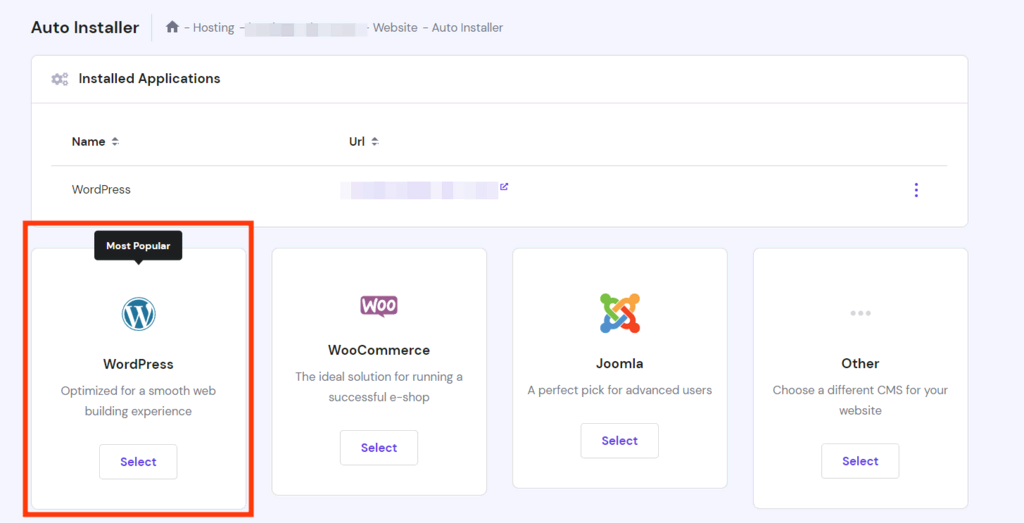 3. Choose a WordPress Podcast Theme
After completing the initial setup, it's time to design your new podcast website.
If you're just starting with website building, it's good to install a WordPress theme. WordPress themes are collections of files that determine your site's appearance, letting you customize colors, layout, and widgets without coding everything from scratch.
WordPress offers free and premium themes designed for various website types, such as business, eCommerce, and portfolio.
While you can opt for any WordPress theme, we recommend choosing one specifically designed for a podcasting website. Such a theme will be optimized for audio and video content, letting you embed, organize, and display podcast episodes in a user-friendly way.
These themes typically support multiple media formats and enable users to feature a podcast feed and custom playlists and create posts for individual podcast episodes.
Choose a responsive WordPress theme, so your listeners can tune in from various devices. If you plan to sell merchandise, look for themes that integrate with eCommerce tools to streamline the process.
In addition, look for themes with the following aspects:
Various customization options. Since the audio player is your website's focal point, ensure the theme offers advanced controls. For example, you might want to tweak the player's style and place it in various locations.
Recent updates. This indicates that the developers constantly monitor and maintain the theme to ensure security and usability.
Compatibility with podcasting plugins. This helps avoid incompatibility issues with the WordPress plugin, which could hinder the site's performance.
One of the best WordPress podcast themes is Tusant.
Tusant lets you create unlimited podcast episodes and display them on your site with a unique and responsive design. A fully flexible theme, Tusant offers multiple pre-made layouts, color, and font controls and integrates with the page builder plugin Elementor.
In addition to being compatible with popular podcasting plugins, it supports locally hosted and external MP3 files like SoundCloud, YouTube, and MixCloud — making it a great option for those who don't use a dedicated podcast hosting service.
However, you do need to purchase the theme's license to use it, starting at $69.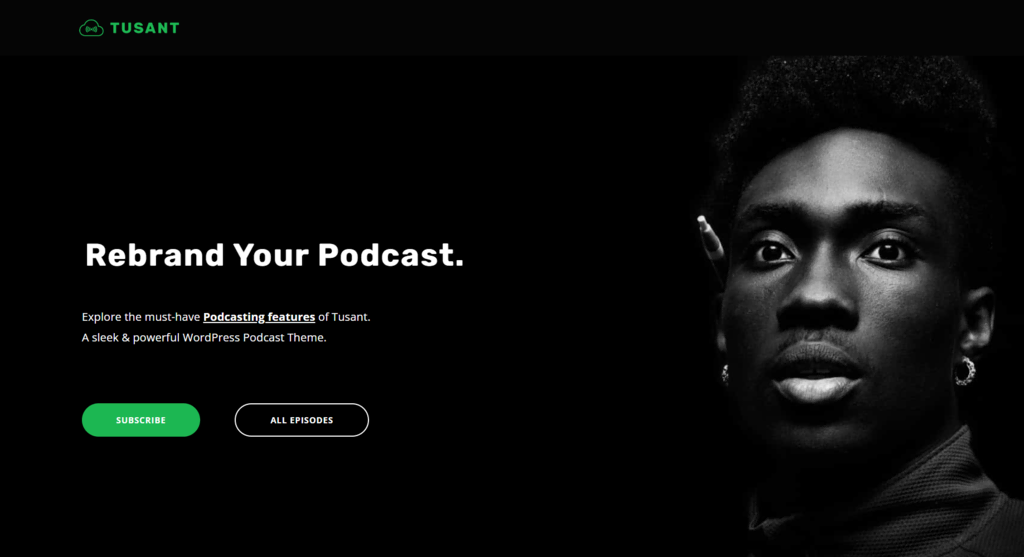 For a free alternative, consider using the Podcast theme.
While less flexible than Tusant, the theme is easy to use overall. It has built-in sections for customizing color palettes, re-locating sidebars, and adding thumbnails to the homepage.
It's also compatible with various podcasting plugins and lets you embed podcasts from other platforms, like Apple Podcasts and Youtube.
4. Record and Upload Your Podcast Episode
Now that your site is set up, it's time to record and upload the podcast episodes.
Before recording the episodes, dedicate some time to planning to ensure your podcast flows well, has a comprehensive structure, and contains minimal mistakes.
Plan what you're going to address in each episode. Determine the episode's duration, and note everything you need to mention while recording. If you're inviting guests, write down the questions and discussion points to avoid missing anything.
Create an outline or prepare a script for the whole episode. The level of detail is up to you.
A loose script with bullet points lets you be more creative and is quick to prepare. However, you'll risk forgetting the details of what you want to say and repeating yourself, unintentionally dragging on the episodes.
On the other hand, a detailed script can make the episode very thorough and value-packed, but it can reduce the spontaneity – scripts also take longer to prepare.
Besides structuring the episodes, you should also determine how to record them. Decide whether to use your phone or a studio or record with guests in various locations with online calling software like Zoom.
Whichever method you choose, ensure your podcasting setup is ready before you begin recording.
The general rule is to place yourself at least three to five inches away from the microphone to achieve the best audio quality. However, it's good to experiment and figure out what works best since different microphones have different recording capabilities.
Pro Tip
There's no need to re-take the whole segment if you slip on a sentence. Wait a couple of seconds, repeat the sentences, and proceed with the rest of the content — you can always edit out the mistake later on.
Moreover, make sure to brief your guests before recording. Address their questions and walk them through the episode's structure. This will help prepare them and reduce their nerves.
Use reliable editing software like Pro Tools or Adobe Audition to add background music, insert transitions, and cut out long pauses.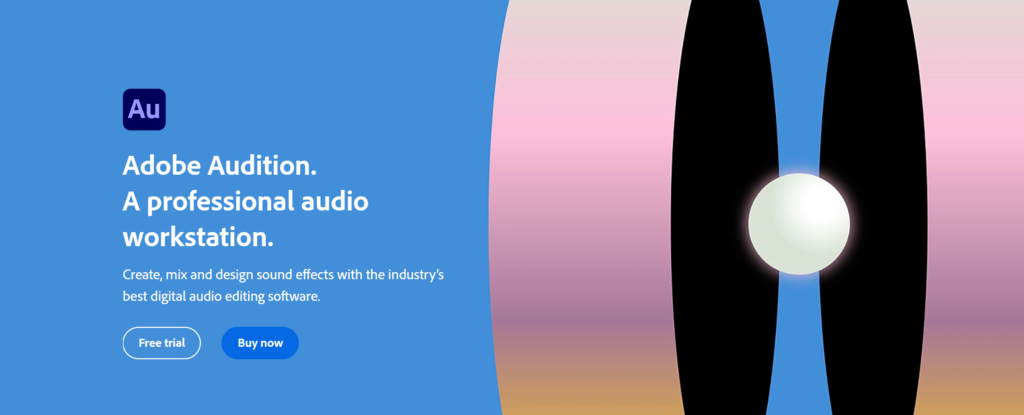 To upload the audio file to your website, you need to install a WordPress plugin for podcasting.
Podcasting plugins let you embed the files into WordPress posts and pages and display web-based audio players so visitors can tune in directly from the site.
Once you have installed and activated the WordPress plugin, connect it with the podcast hosting service. Typically, this involves entering the podcast hosting service's API key in the WordPress dashboard.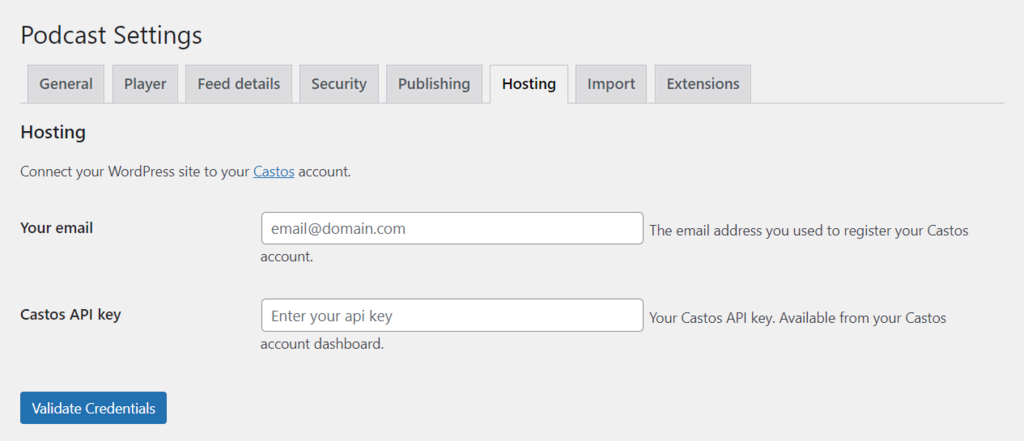 After establishing the connection, you can create a new post or page and upload an audio file directly to the WordPress dashboard using the plugin.
Each time you upload a new file, the WordPress plugin will provide the updated information to the podcast host.
The podcast plugin will automatically generate an RSS feed link you can submit to podcast directories. That way, the directory automatically updates listeners with recent episodes whenever you upload a podcast to the WordPress site.
Below are some tips to help you record and upload your podcast.
Use High-Quality Equipment
Investing in reliable, high-quality equipment can amp up your production value and improve the listening experience. As a result, good equipment makes you seem more professional and attracts a bigger audience.
A few essential pieces of equipment for your podcast production include quality microphones and headphones.
When choosing your microphones, consider whether to get dynamic or condenser mics. The former is great for reducing background noise, while the latter is better for capturing delicate sounds.
Also, decide whether to get a USB or XLR microphone. For an affordable and portable option that's easy to set up, we recommend getting the former, like the Blue Yeti USB.
However, if you're recording with multiple guests and have the budget to invest more, the Shure SM7B microphone is a great option.
As for headphones, look for ones that block out unnecessary noises. However, you don't want to get active noise-canceling ones because they will hinder you in monitoring your own audio and making adjustments while recording. Some excellent headphones for podcasting include the Audio Technica ATH-m20x and Shure SRH940 if you have an extra budget.
Other than that, don't forget the quality of your recording environment. It's a good idea to invest in additional equipment that will reduce external noise. This includes wall padding, acoustic foam tiles, and bass traps.
Create a Profile in Different Podcast Directories
Podcast directories are listening platforms where the audience discovers your episodes, listens, and subscribes to your show.
Since each podcast directory will have a different audience base, it's good to submit your podcast to several directories at once to reach more potential listeners.
Some popular directories include:
Spotify
Apple Podcasts
TuneIn
Amazon Music and Audible
Podchaser
iHeartRadio
To feature your episodes in a podcast directory, start by setting up an account. Fill in your podcast title, categories, description, and other details. Then, submit your show's RSS feed URL.
5. Promote Your Podcast Website
After successfully publishing your podcast, it's time to promote it and grow your listenership.
There are various ways to do so.
Implement SEO
Optimizing your podcast website to rank higher on search results helps to improve its visibility. As a result, your site's more likely to generate traffic and attract potential listeners.
On top of following the common WordPress SEO tips, regularly updating your WordPress site with quality podcast content should be your top priority.
Whenever you publish a new episode, create a new post for it. Embed an audio player, add transcriptions, and complete the podcast description. That way, new listeners can learn the podcast's topic right away.
Moreover, optimize your pages around a target keyword. Some of the places where you should incorporate the keyword include:
Meta description
Headings and subheadings
Images' alt texts
Title tags
Throughout the content, especially at the beginning and end
Doing this helps Google know that your content fits a user's search intent, and your content will be more likely to be shown whenever someone looks up your target keyword.
Email Marketing
Another way to promote your podcast website is by setting up an email marketing strategy. Podcast email marketing is great for building relationships with subscribers and updating them about a new episode release.
To get started, you must first collect the potential audience members' email addresses by convincing them to subscribe to your newsletter.
Most podcasters use pop-up forms and subscription boxes to entice visitors to sign up for their email lists.
Design Matters, for example, uses a sign-up form that pops up upon visiting the website.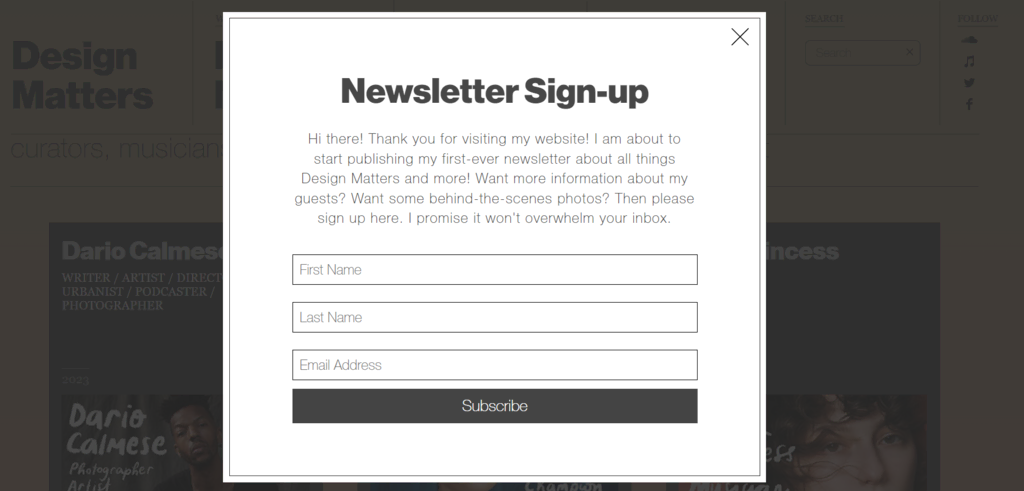 Various WordPress pop-up plugins, such as Sumo, OptinMonster, or Thrive Leads, are available to create similar forms for your site.
Social Media
Social media is a great channel for reaching a wider audience, building credibility, and engaging with existing listeners.
Beyond sharing new episodes updates, there are plenty of opportunities to create interesting social media content, such as:
QnA-style posts
Polls around a certain topic
Infographics, animations, or even memes related to your niche
Behind-the-scenes posts
Recent news within your niche
A ten-second soundbite of the newest podcast episode
You can also start an inexpensive giveaway to reach a new audience and boost engagement. However, avoid giving away generic rewards like gift cards, as it will not improve your credibility.
Instead, find a specific and meaningful reward related to your podcast's topic. For instance, if your podcast is about career building, consider giving away a 30-minute free career consultation or a CV review.
When creating social media content, mind the platform and your audience, as some content types will suit certain platforms more.
For instance, Twitter is great for short updates, while Facebook works well for longer posts and lengthy discussions. Consider tailoring your content to suit the chosen platform. Also, always remember to include links to your podcast website.
Pro Tip
Remember to use relevant hashtags and include links to your podcast website whenever possible.
Cross-Promotional Marketing
To expand your audience reach, try cross-promotional marketing. This involves contacting a podcaster and proposing to promote each other's podcast.
At the end of a podcast episode, spare some time to mention each other's podcasts and briefly discuss what they are about and how to access them.
It's good to find podcasters with similar audience sizes, as they are more likely to respond and agree to set up a cross-promotion.
When it comes to promoting your podcast website, patience is key.
You might not see instant results, so don't get discouraged. Setting up your marketing strategy for long-term success takes time, so keep on generating fresh and engaging content.
Conclusion
Thanks to the many tools available today, creating your own podcast website is viable without advanced technical knowledge.
The first thing you'll need to do is develop the podcast's concept. Then, get a web and podcast hosting plan to store and deliver your podcast episodes. After that, select a podcast WordPress theme to customize your website's look.
Once you have recorded a podcast episode, upload it to your new WordPress website. You should first install a WordPress podcast plugin and connect it to the dedicated podcast hosting provider. After establishing the connection, upload the audio files directly to your site using the plugin.
After uploading the first batch of episodes, start promoting the podcast. You can do so by implementing SEO, starting an email campaign, leveraging social media, and doing cross-promotional marketing. Don't forget to submit your podcast's RSS feed URL to directories like Spotify and Apple Podcasts to reach as many listeners as possible.
With ample knowledge about starting a podcast on WordPress, you're ready to take the first step in your online journey. Good luck.
WordPress Podcast FAQ
In this section, we'll answer some common questions related to WordPress podcasts.
Which Podcast Directories Should I Use?
You can use as many podcast directories as possible to widen your audience reach. If you're just starting, we recommend submitting your podcast to the most popular directories first. Apple Podcasts is the most popular, accounting for 40.1% of podcast downloads, followed by Spotify with 27.3%.
Can I Make Money with My Podcast Website?
Yes, you can make money with your podcast website. Choose a monetization strategy, or combine several to increase conversions. Several ways to monetize your podcast website include joining affiliate marketing, selling courses or consultations, doing sponsorships, and creating premium content.