Best Free and Paid Virtual Phone Number for Business in 2023
Having a virtual phone number for your business is an efficient way to manage communication with clients. You can manage one number across multiple devices, separate personal and business calls, and handle incoming and outgoing calls more efficiently.
Whether you run a small business or a large company with plenty of employees, you will find the best virtual phone service for your needs in this article.


Top 10 Virtual Phone Number Providers for Businesses
Here are our picks for the best virtual phone number providers.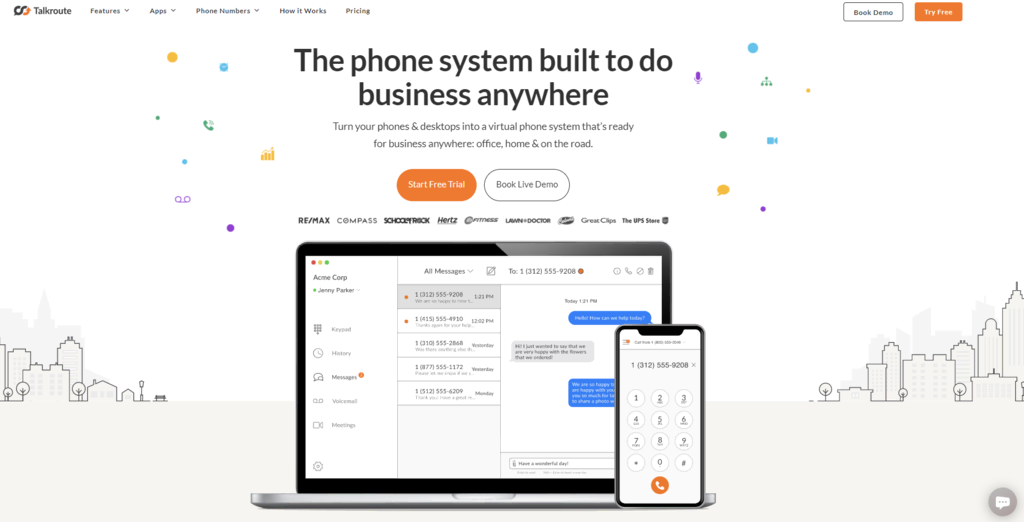 Talkroute Stats
Price: starting at $19/month
Best suited for: medium to large businesses (especially in the healthcare industry)
Talkroute has options for local, toll-free, vanity, and 800 numbers, as well as number porting services. Simply choose a number, download the Talkroute app on your desktop or mobile phone, configure its settings, and start managing all business phone calls.
This virtual business phone number provider offers advanced routing tools such as an auto attendant, interactive voice response (IVR), call stacking, and simultaneous ringing on multiple phones. However, this service doesn't provide international calling, so Talkroute may be better for local companies with high call rates.
What makes Talkroute stand out is its Business Associates Agreement (BAA). With a BAA, businesses operating with Protected Health Information (PHI) can be HIPAA (Health Insurance Portability and Accountability Act) compliant when handling voice calls. This is an essential feature for doctors' offices, clinics, pharmacies, and other businesses in the health industry.
All plans include unlimited calls and desktop, mobile, and web apps. Talkroute also offers a 7-day free trial, so you can try its virtual business phone service before committing in the long term.
Key Features
Unlimited extensions. Choose between single-digit phone extensions for menu options or multi-digit ones for routing every caller directly to the responsible team.
Voice studio. Talkroute offers voice-over services to record your business' custom greetings.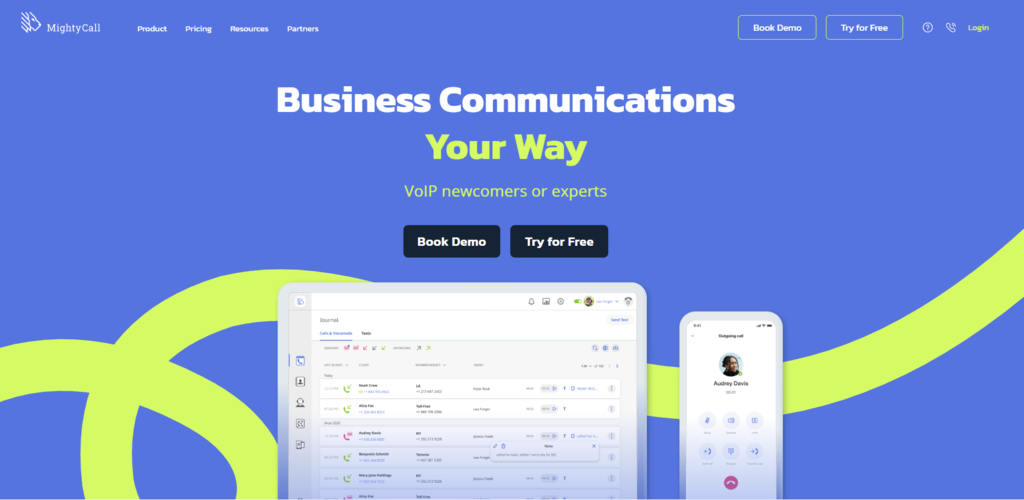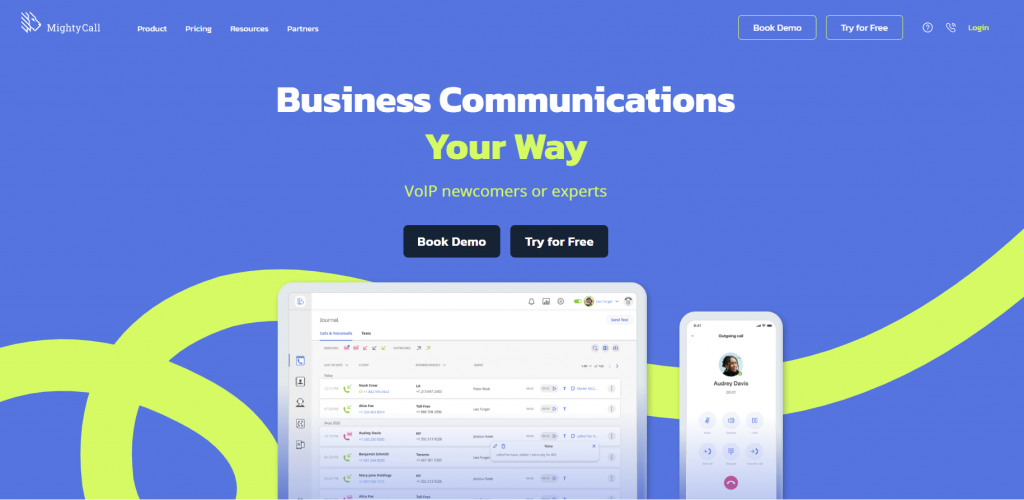 MightyCall Stats
Price: starting at $15/month
Best suited for: all types of businesses
MightyCall offers different types of phone numbers, including toll-free, local, vanity, and international numbers. Thanks to its number porting services, you can also transfer your current phone number to this provider.
The integration with popular customer relationship management (CRM) systems such as Salesforce and Zoho CRM sets it apart from other providers. It allows you to save call information and transfer it directly to the CRM, improving your workflow.
MightyCall offers a 7-day free trial, so you can see if this virtual phone system fits your needs before committing to a plan.
Key Features
Interactive voice response (IVR). Provides various call-handling options based on keypad or voice input, helping to forward calls and route callers between different office locations.
Caller ID Name (CNAM). When calling a customer, CNAM shows your business name on people's phones instead of just a number, which may lead to better pickup rates.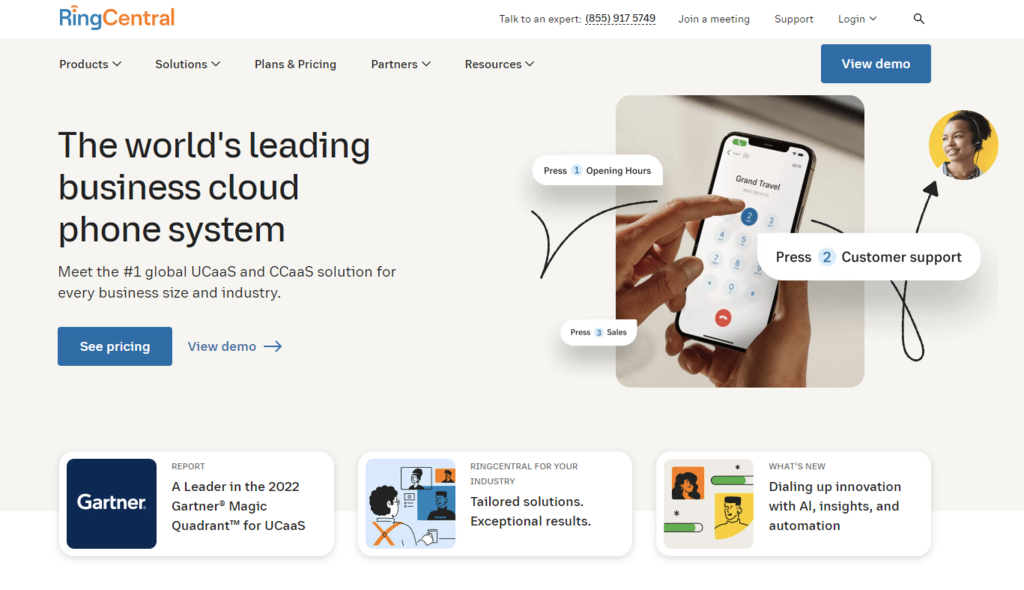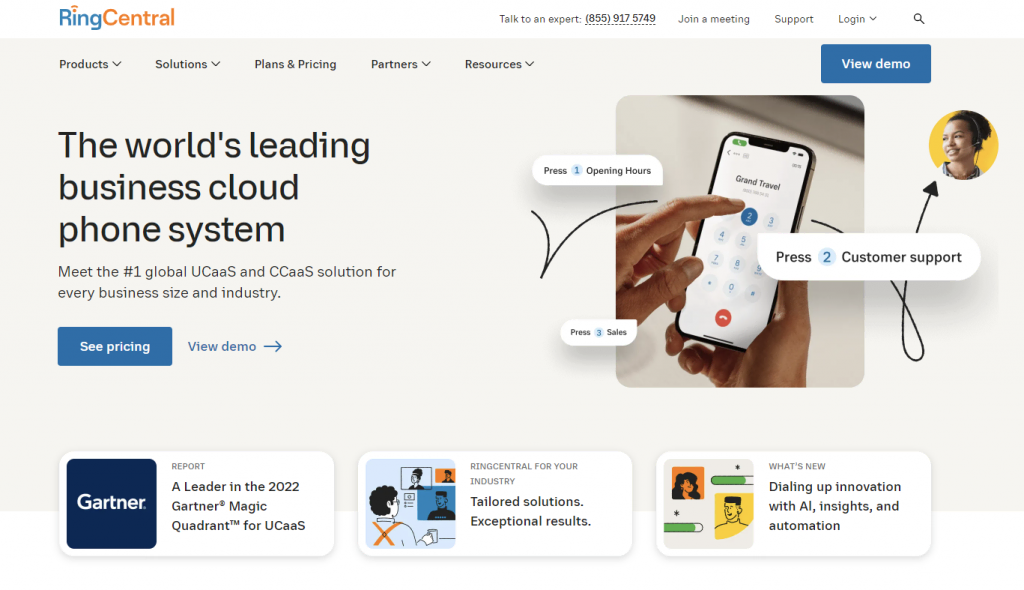 RingCentral Stats
Price: starting at $19.99/month
Best suited for: medium to large businesses
RingCentral is a cloud-based business phone system. It lets businesses handle all their voice communications, online meetings, and business conferences from one platform.
This provider offers local, global, and toll-free virtual phone numbers, so it is a suitable option for a business with both local and international audiences.
RingCentral also integrates with many apps to improve your workflow, including Salesforce, Google Workspace, and Microsoft Teams. The drawback is it is more expensive than other virtual phone number systems in our list.
Key Features
Analytics portal. It provides statistics and reports of meeting usage, account activity, call performance, and customizable dashboards.
Admin tools. Administrators can manage user extensions, track system changes with an audit trail, and apply phone system settings to multiple users at once.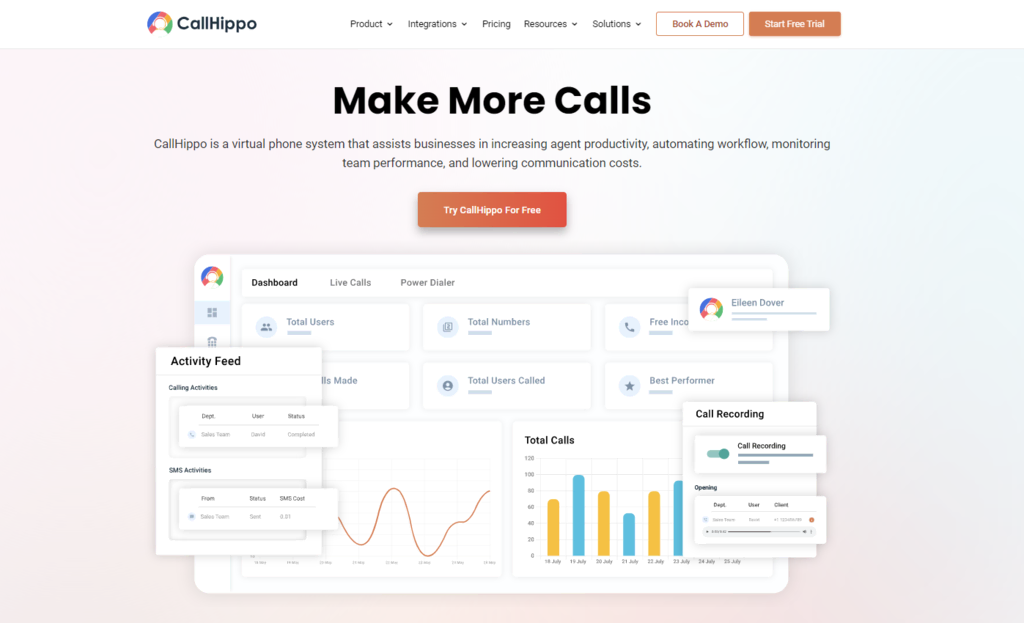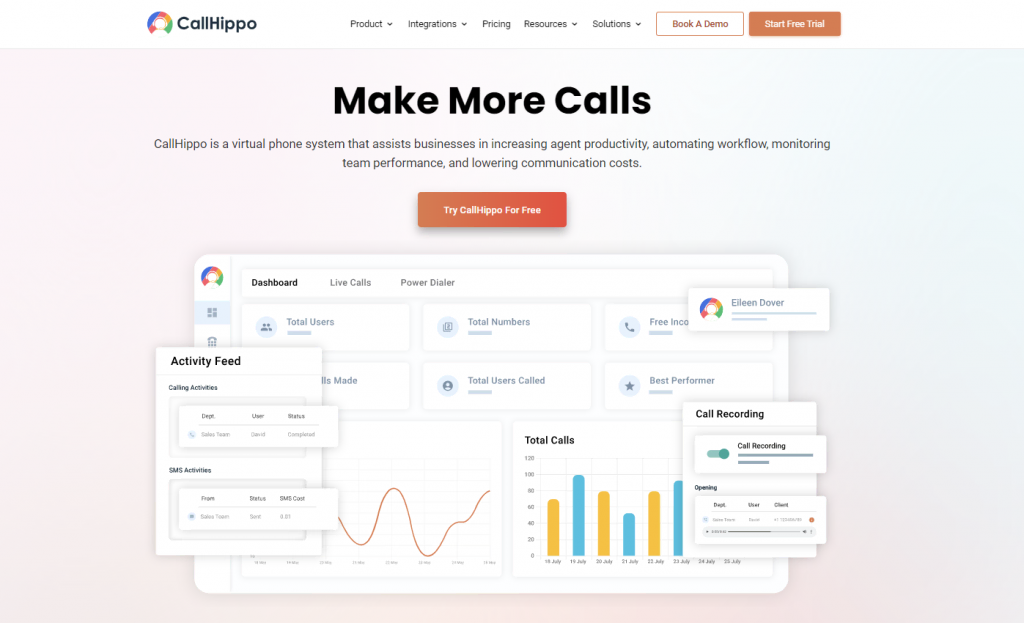 CallHippo Stats
Price: starting at $16/month
Best suited for: medium to large companies with international customers
CallHippo lets businesses purchase local phone numbers in over 50 countries, reducing the cost of overseas calls. It offers basic features like call forwarding, call recording, texting, and call routing on all plans.
Advanced features like auto attendant, call queuing, conference calling, custom reports, and post-call surveys are only available on higher-tier plans.
Users of the Platinum plan also receive exclusive customer service and additional call management tools, as well as private onboarding support and a VIP hotline.
Key Features
AI call routing. Uses AI algorithms to decide which telephony provider works best. It will track and route your call through the most suitable network, improving call satisfaction.
Intelligent outgoing ID. CallHippo automatically switches your outgoing number to a local number to help increase pickup rates.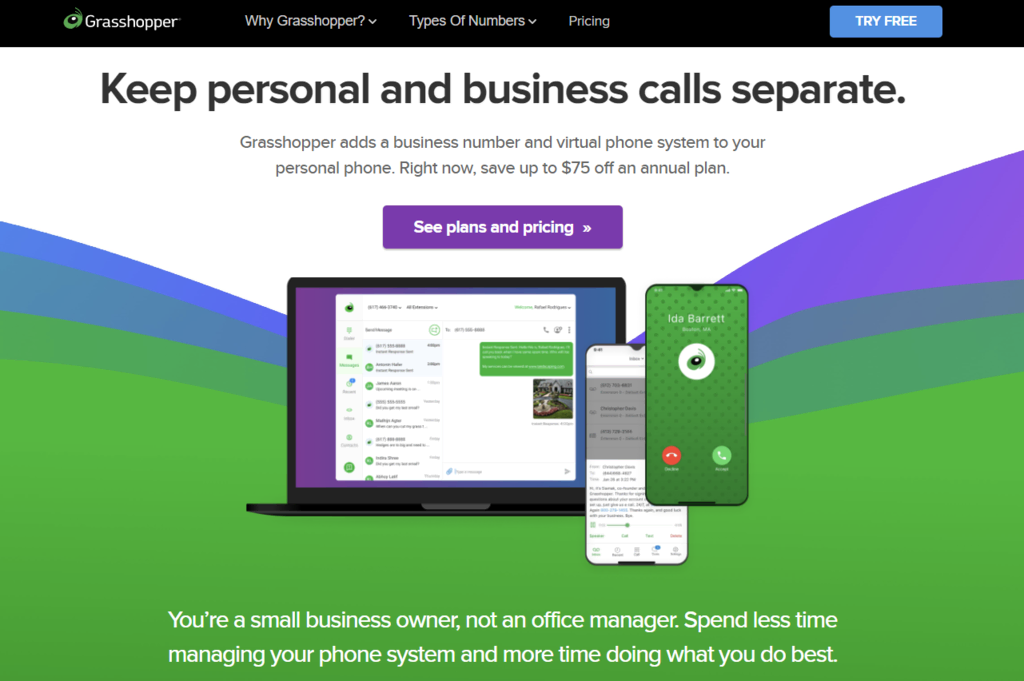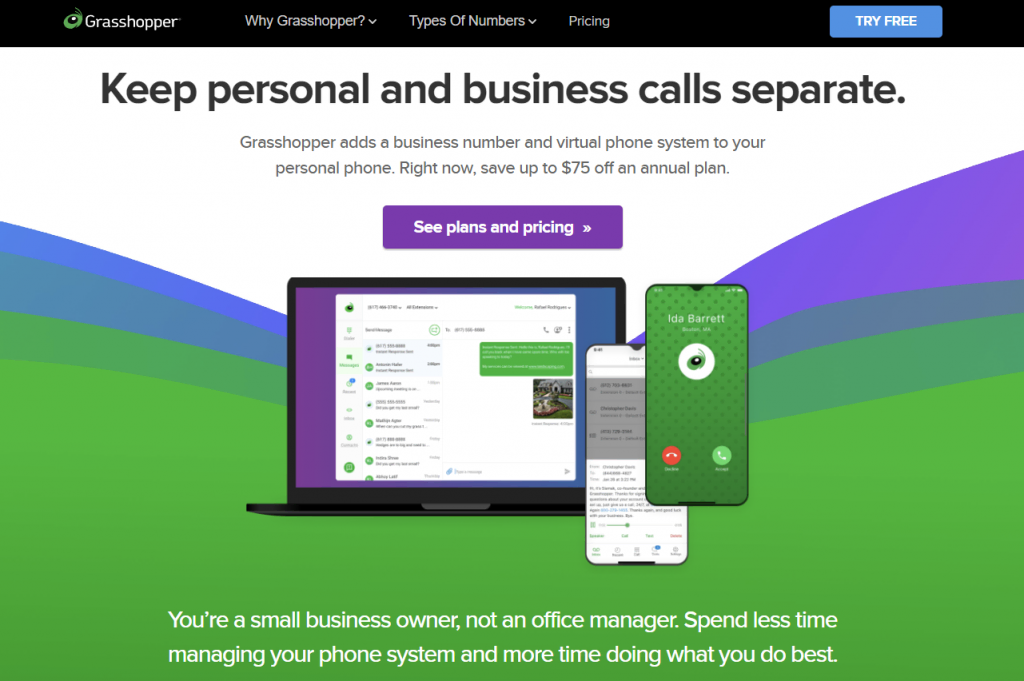 Grasshopper Stats
Price: starting at $28/month
Best suited for: businesses with a national audience
This popular virtual phone number provider offers many number options, including local, vanity, and toll-free. However, this phone system has no option for international virtual phone numbers.
Grasshopper lets businesses choose the right plan based on how many virtual phone lines and extensions they need. This is a great feature for small businesses, as you won't need to pay for extra numbers you won't use. As the business grows, you can add extra numbers if necessary.
All plans come with basic VoIP (Voice over Internet Protocol) features such as texting, call forwarding, call recording, voicemail, extensions, and customizable greetings.
Key Features
Voicemail transcription. Grasshopper converts all your voicemails to text, making them conveniently accessible over your cell phone or computer.
Live receptionist. Grasshopper partners with Ruby Receptionist, a virtual receptionist provider, to help answer and forward your calls, take messages, and even answer questions.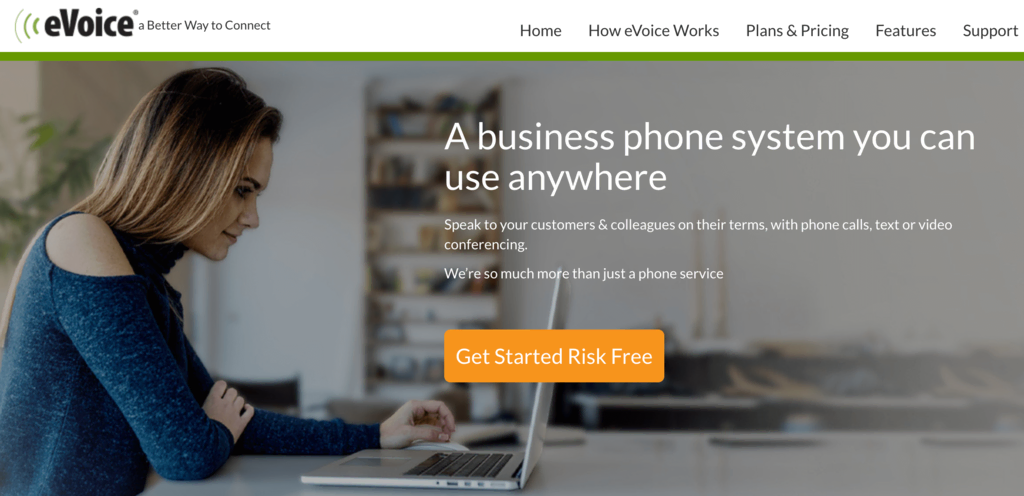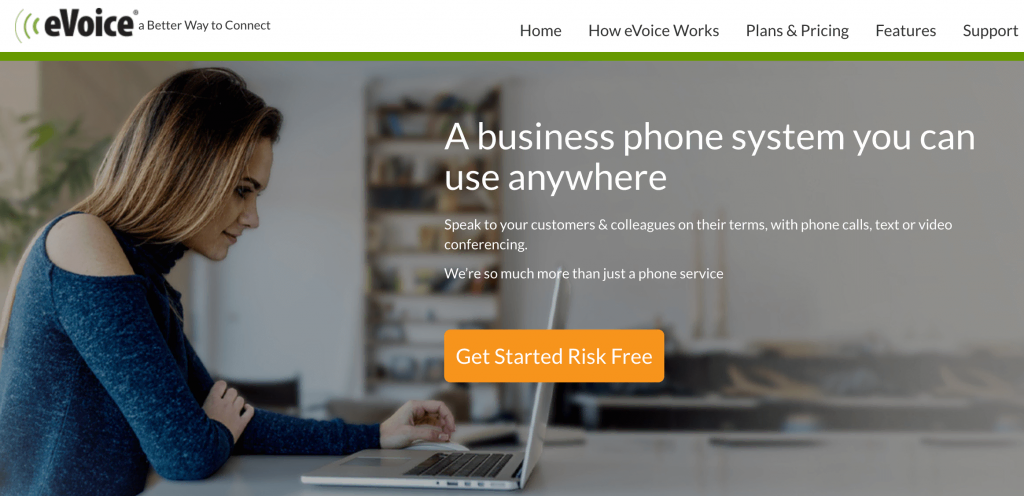 eVoice Stats
Price: starting at $16/month
Best suited for: businesses with international customers
eVoice, also called eReceptionist depending on your location, offers plenty of virtual number options, from international to local numbers. Its virtual phone services are also simple to use – choose a number, set up your preferences, and start getting business calls.
What distinguishes eVoice is its international call service. It lets you have numbers virtually anywhere, with all of them routing back to your existing number. The auto-attendant service ensures all customers are greeted professionally and forwarded to the correct extension.
Furthermore, it also offers a virtual office system for businesses in certain regions so you can establish virtual locations all over the world. However, eVoice doesn't provide business texting services if you get an international phone number.
Key Features
Global call forwarding. Any calls received on your main phone number will be swiftly redirected to the employee or location of your preference.
Call scheduling. Quickly forward calls based on the time of day and your availability to ensure you don't miss any customer calls.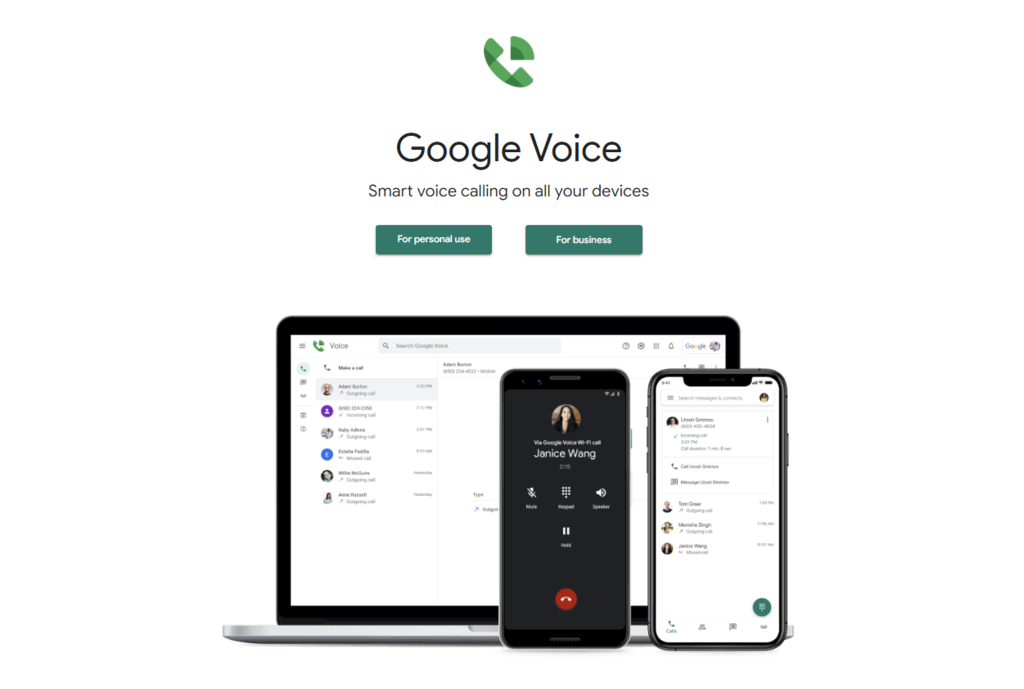 Google Voice Stats
Price: freemium
Best suited for: businesses using Google Workspace
Google Voice offers features such as call forwarding, voicemail, call screening, and call recording. To use it, sign up for a Google account, select a phone number, and start managing calls. It has a free virtual phone number option, but we recommend paid plans for businesses.
The integration with other Google tools, such as Google Calendar and Google Contacts, makes it possible for businesses to manage their workflow from one place. Google Voice also comes with the familiar Google Workspace look, so it may be easier to adapt to it.
Additionally, it offers low-cost international calls.
Key Features
Call spam protection. Google's AI will warn you about suspected spam calls.
Google Workspace integration. Helps businesses manage calls within their existing Google accounts.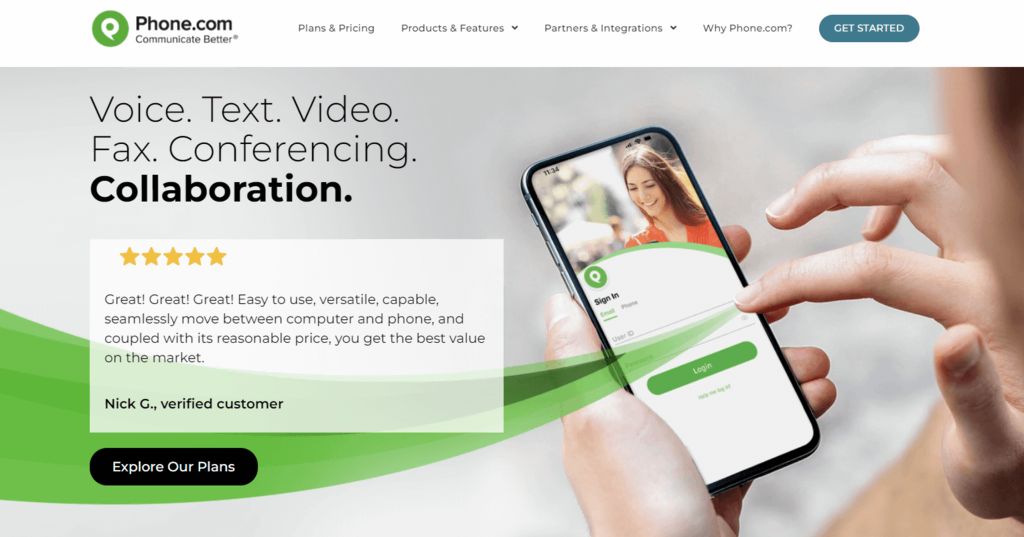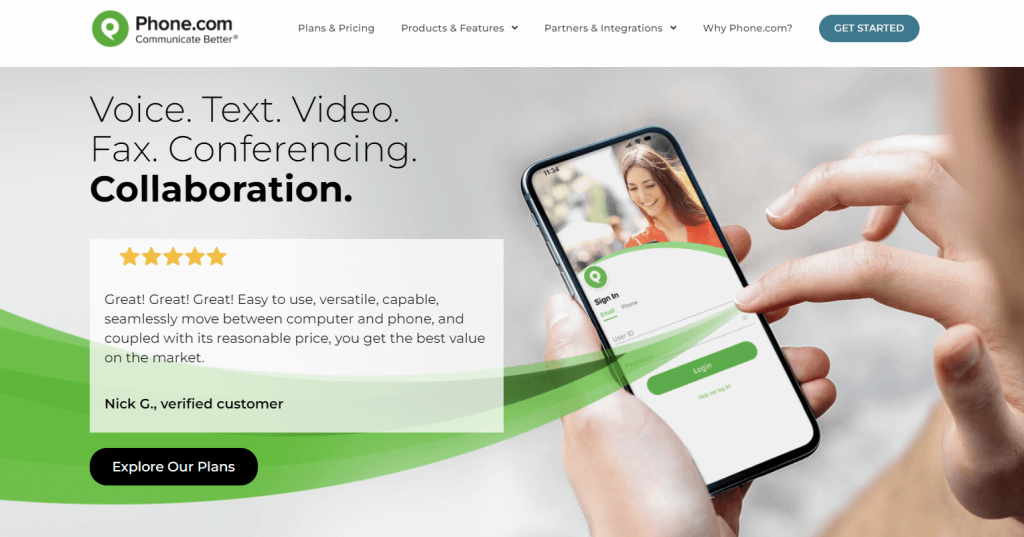 Phone.com Stats
Price: starting at $11.99/month
Best suited for: small-to-medium businesses
This virtual business number provider has plans for all types of business. All Phone.com plans include text messaging, voicemail, queues, call transfers, conference calls, video meetings, and sending faxes from phones.
In addition to local and toll-free numbers, it offers international numbers at low rates as well. Setting it up is easy – just choose a business phone number, manage your preferences, and start getting phone calls.
Phone.com adheres to HIPAA regulations for voice calls and video conferencing. It will also alert patients to use other methods for discussing protected health information, as texting is not HIPAA compliant.
Key Features
Click-to-call. Put a button on your website that lets customers easily contact your business by simply providing their numbers. Phone.com will call the customers and connect them to you.
Call handling rules. Direct incoming calls to various destinations depending on the time or the caller ID.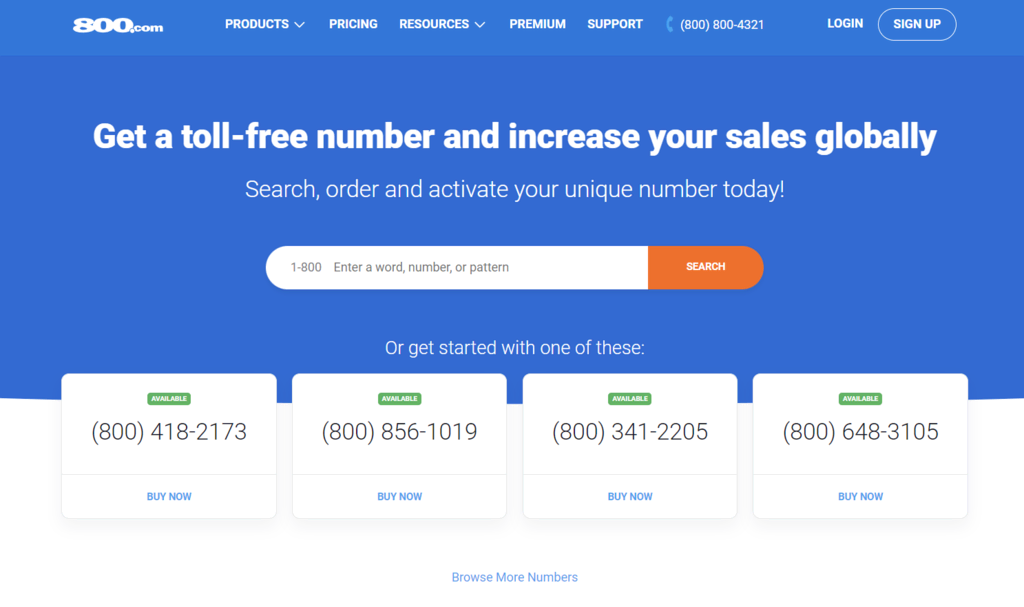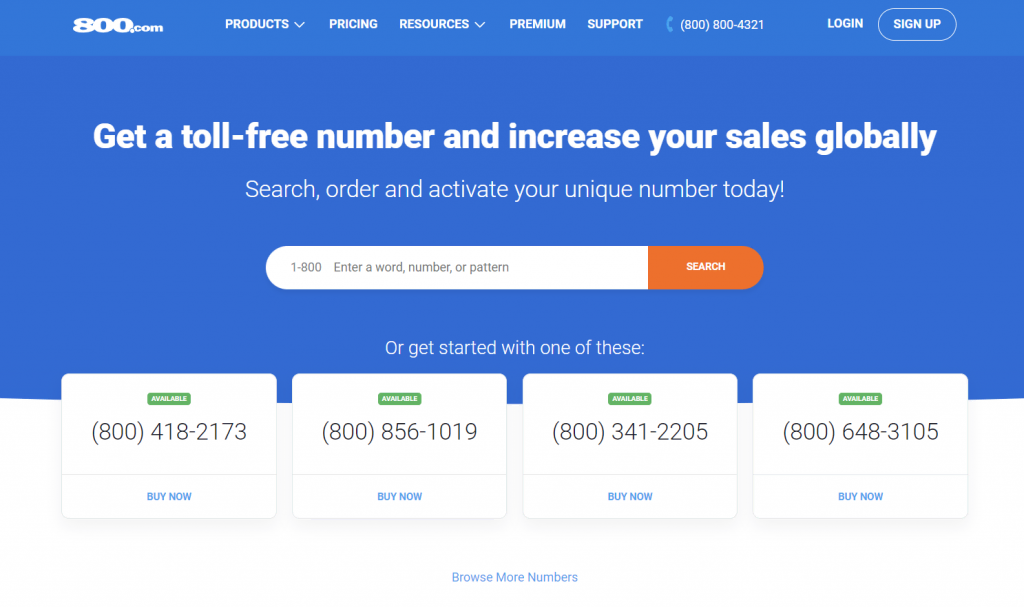 800.com Stats
Price: starting at $25/month
Best suited for: businesses wanting toll-free numbers
800.com focuses on toll-free phone numbers, so it is a good option for small business owners looking to add one more communication channel with customers.
Every plan comes with the same default calling features, with the difference being how many toll-free numbers and monthly minutes you get.
800.com also offers call tracking and bulk SMS marketing services, which are helpful features for businesses running multiple campaigns. However, the number activation may take several hours or days after the purchase.
Additionally, it has a call analytics feature, helping businesses identify trends and opportunities, and improve their service.
Key Features
Call tracking. Helps businesses track the performance of their ads, keywords, and campaigns.
SMS API (Application Programming Interface). It makes it easy to automate business texting and set up auto-reply triggers, which are great for running SMS marketing campaigns.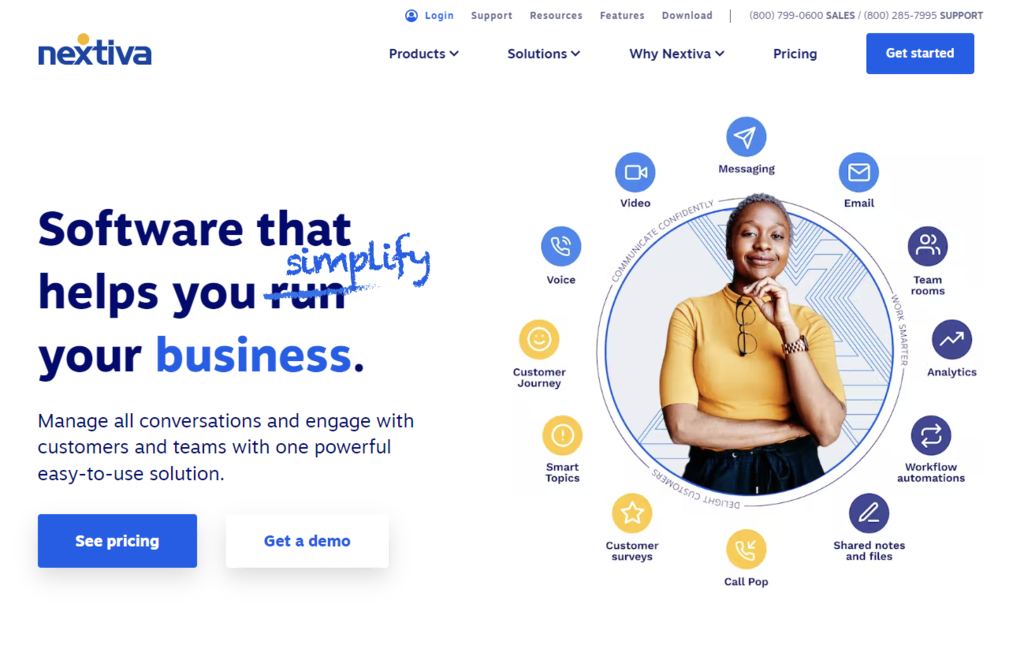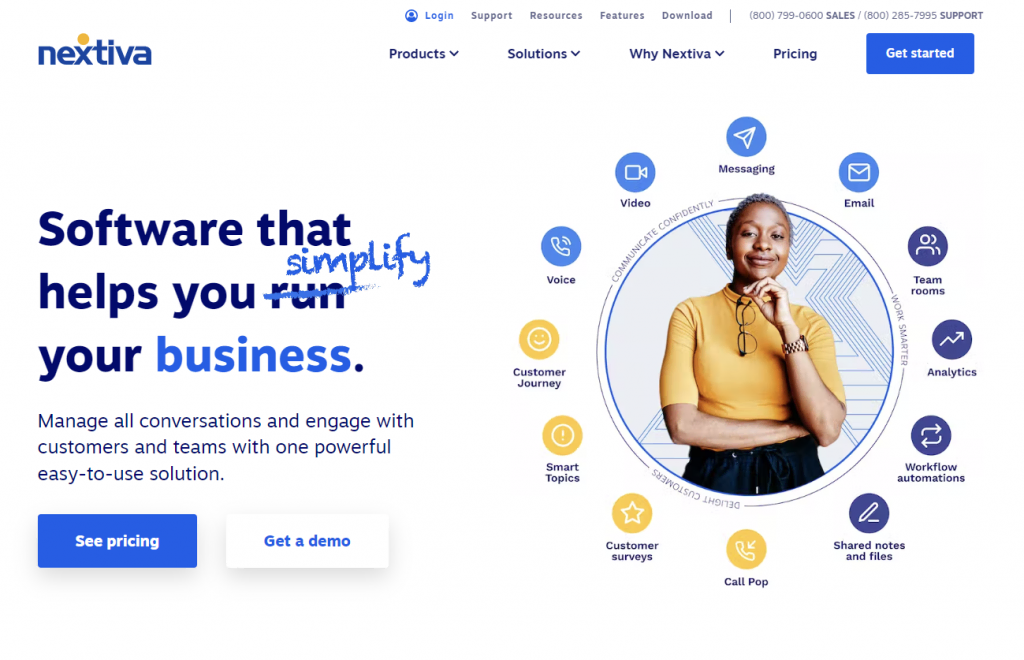 Nextiva Stats
Price: starting at $18.95/month
Best suited for: all types of businesses
Nextiva offers a full communication package that includes virtual workspaces, video conferencing, mobile phones, and a cloud private branch exchange (PBX) in one convenient system.
Simply pick a plan, add users, transfer numbers or pick new ones, and start getting calls. Nextiva provides a local number, toll-free number, and number porting services.
It also integrates with popular online collaboration tools like Google Workspace and Microsoft Office 365, helping to improve your workflow. Additionally, Nextiva provides businesses with advanced call analytics to track and improve call performance and customer experience.
Key Features
Call parking. Put inbound and outbound calls on hold in a communal parking spot so any team member can retrieve them, even from a different phone or extension.
VoIP call center. Handles higher call volumes and offers automation for multichannel customer support and self-service options.
What to Look For in a Virtual Phone Number Provider
Whether you are a small business owner or have an established business, improving communication with customers is a must. 83% of customers see good customer service as one of the deciding factors for choosing a product or service.
Combined with a business email account, business phone systems can provide seamless customer communication and support your company's growth.


Thus, when looking for a virtual phone number service for your business, it's essential to consider certain factors, such as:
Price. Choose a virtual phone service provider that fits your budget and won't require you to pay for features you won't use.
Number selection. Depending on your target market, you may need a local phone number, toll-free number, international number, or all of those.
Call management features. Aside from basic features like call forwarding, call recording, call transfer, and texting, choose a company that caters to your specific needs. These may include integration with CRM tools, unlimited calls, analytics reports, and video conferencing tools.
Desktop and mobile apps. They make managing calls easier for small businesses, as you don't risk missing them while handling other tasks.
Conclusion
Virtual phone systems can help businesses establish their brand identity and separate their work from personal phone number calls.
We've listed options to fit different budgets and needs. Here are our final recommendations for the best virtual phone services:
MightyCall – best for small businesses.
eVoice – best for international unlimited calling.
800.com – best for toll-free numbers.
RingCentral and Nextiva – best for workspace integration.
We hope this helps you make an informed decision when selecting a virtual phone system.
Virtual Phone Number for Business FAQ
This section answers the most frequently asked questions about virtual phone numbers:
Is It Legal to Use a Virtual Number?
Yes, it is legal to use a virtual phone service as long as it is not used for illegal activities such as fraud or deception. The use of virtual numbers is regulated by the Federal Communications Commission (FCC) in the US.
Can I Get Virtual Business Phone Numbers for Free?
You can get a virtual business phone system for free through some service providers, but the features offered may be limited compared to paid plans. It's best to weigh the costs and benefits of both options before deciding on an online phone service.
Are Virtual Numbers Safe?
Virtual phone numbers can be safe if the service provider implements strong security measures, such as encryption and authentication, to protect the privacy and security of customers' information and communication. Thus, it's important to research the security features of the best virtual phone services before subscribing.
When Do You Need a Virtual Business Phone Number?
Virtual business phone numbers are useful for improving communications and customer service, as they provide a flexible and cost-effective alternative to traditional landline phone systems.

They are especially useful for businesses that need to reach customers from multiple locations or have different teams dealing with phone support.