How to Transfer Domain From GoDaddy to Hostinger in 4 Simple Steps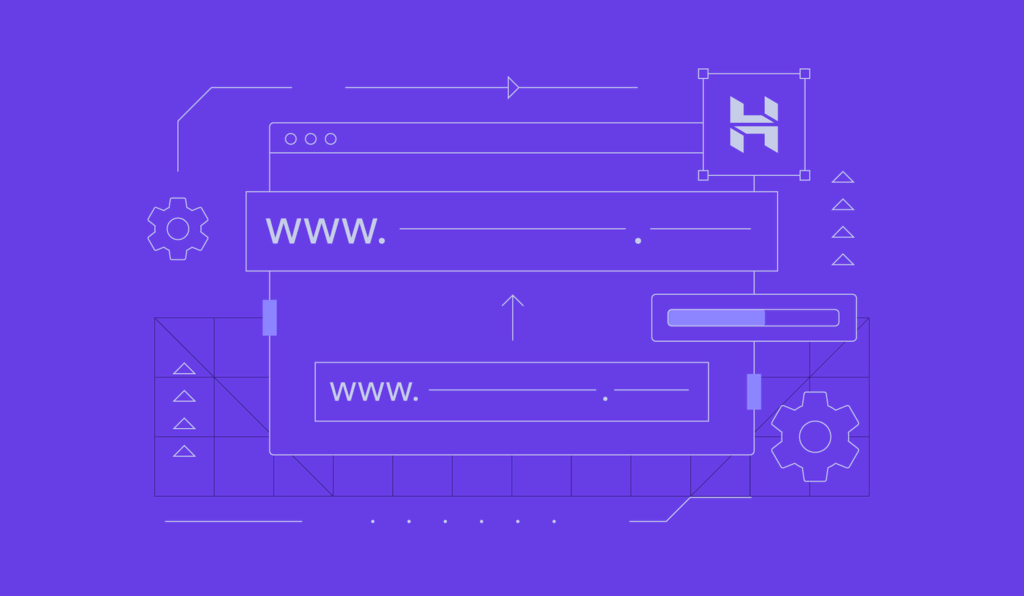 Learning how to transfer a domain name from GoDaddy to Hostinger requires you to follow specific instructions. While it is not a complicated process, some users may not know how to initiate it.
In this article, we will explain step-by-step how to move your domain name to Hostinger. We will also discuss the factors to consider when transferring domains.
Download Guide To Using Hostinger
How to Transfer a Domain to Hostinger From GoDaddy
You only need four steps to transfer a domain to Hostinger:
1. Point the Domain to Hostinger Nameservers
During the transfer process, the DNS settings are uneditable. Therefore, you need to point your domain to Hostinger before transferring it so you can still use the services connected to the domain, such as emails.
Log in to your GoDaddy Domain Portfolio page and choose the domain by ticking the corresponding checkbox.
Click the Nameservers menu, select I'll use my own nameservers, and insert Hostinger servers:
ns1.dns-parking.com
ns2.dns-parking.com
Choose Save → Continue.
If you enabled the domain protection feature, verify your identity by entering the code sent via SMS or from your authenticator app. Alternatively, insert the one-time password sent to the registrant's email address.
You'll see a Success pop-up window confirming the changes.
Note that it is possible to keep the domain with the original provider and only point it to Hostinger. This way, the domain will connect to where your website files are hosted, even if you use a different domain provider.
2. Unlock the Domain at GoDaddy
Now it's time to unlock your domain on the current provider. A domain lock protects a domain name against unauthorized transfer attempts.
GoDaddy enables it by default, so you must disable it to transfer your domain to Hostinger:
Sign in to your GoDaddy Domain Portfolio page and tick the checkbox next to the domain.
Choose the Lock menu and select Turn Lock Off to unlock your domain.
Review the domain and click Continue.
If you enable domain protection, verify your identity.
The Success notification will appear to indicate that your domain is unlocked.
3. Obtain the Authorization Code
Hostinger will ask you to provide the Authorization or Auth code before initiating the domain transfer process. You can get it by opening your GoDaddy Domain Portfolio page:
Select the domain to access the Domain Settings menu.
Under the Additional Settings section, click Transfer domain away from GoDaddy.
Read the transfer checklist for more details. If you want to transfer a .uk domain, insert the IPS tag of our registrar – REGISTRAR-EU – and click Complete Transfer.
Choose Continue with transfer. Once done, GoDaddy will deactivate the domain privacy setting to ensure the contact info is transferred to the new registrar.
To get your EPP code, select Click here to see Authorization Code and click Copy to Clipboard. The web hosting provider will also send the authorization code to your domain's administrative email address.
Check the transfer status by going to Transfers → Transfers out.
Type your domain name in the search bar, and the result will appear in the Check the Status column.
4. Initiate the Domain Transfer at Hostinger
After getting the code, purchase the transfer service on Hostinger's website. Here's how to do it:
Open Hostinger's Domain Transfer page if you haven't registered yet. Alternatively, log in to your web hosting account at Hostinger and click Transfer Domain.

Type in your domain name → Transfer.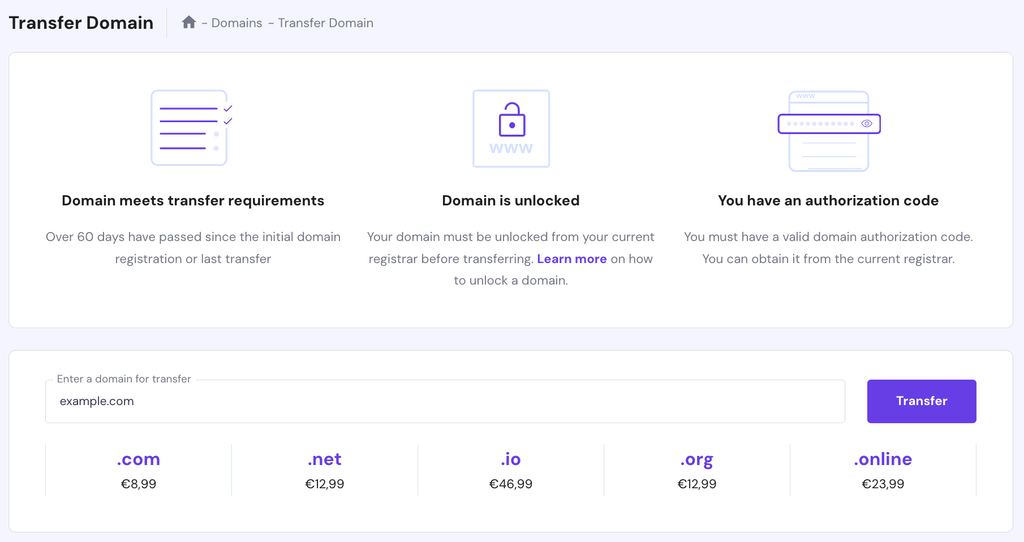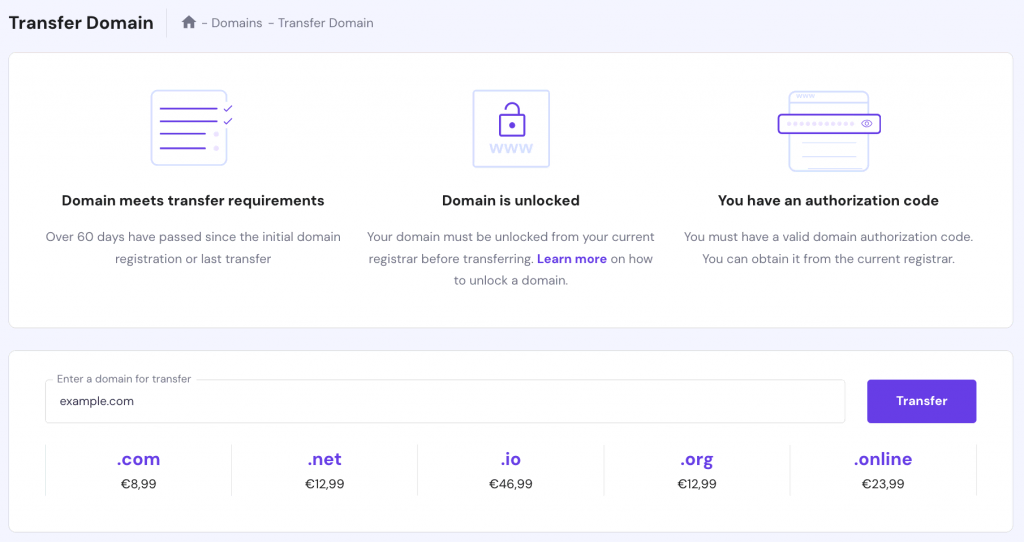 Pick a period between one to three years, create or log in to your account, and select the payment method. Once you've inserted your personal information and card details, click the Submit Secure Payment option to finish the checkout process.
After making the payment, enter the EPP code and select Use Hostinger nameservers and DNS records.
You'll get an email to confirm the transfer.
The domain transfer process may take from five to seven days, depending on the previous registrar and the top-level domain (TLD).
Once your domain transfer is complete, feel free to completely remove your GoDaddy account.
Factors to Consider for a Successful Domain Transfer
Before transferring a domain, you need to meet the following pre-requisites:
Have Full Ownership of the Domain
The registrant is the person who registered the website address. To maintain ownership, ensure your contact information, such as name, email address, and phone number, are correct.
These details are necessary for the current provider to send you a confirmation email and proceed with the domain name transfer.
The Domain Is 60 Days or Older and Active
In some cases, the domain must be active for over 60 days before you can move it to a different registrar.
The Internet Corporation for Assigned Names and Numbers (ICANN) applies this rule to generic and new domain names that use TLDs like .com, .net, .photo, and .online to protect registrants against unauthorized transfer attempts.
On the other hand, country-code TLDs follow the policy set by their local registry.
It Hasn't Been Transferred in the Last 60 Days
If you have transferred the same domain name before, you need to wait at least 60 days until you can transfer them to a different provider. This applies to all registrars and helps prevent domain hijacking, a malicious attack in which an unauthorized party steals a web address.
You Have a Valid EPP/Auth-Code
The EPP or Auth-Code is a secret passcode the domain provider assigns to identify the registrant and prevent illegal access. You need to get it from GoDaddy and provide it to Hostinger to transfer your domain name.


Conclusion
To move a domain name from GoDaddy to Hostinger, you must go through four steps:
Connect the domain to Hostinger servers.
Unlock the domain.
Get the Auth-Code.
Move the domain to Hostinger.
We hope this article has helped you transfer your domain from GoDaddy to Hostinger. If you have any questions or suggestions, please leave them in the comments section below.
How to Transfer Domain From GoDaddy to Hostinger FAQ
Here are some frequently asked questions about how to move a website address from GoDaddy to Hostinger:
How Long Does It Take to Transfer a Domain?
Transferring a domain takes from five to seven days, depending on the domain's TLD and previous web hosting provider. At Hostinger, you can check the transfer status on hPanel → Domains → My Domains.
Is Transferring Domains Free?
Most domain providers require you to pay for the domain transfer service. Usually, the fee varies depending on the TLD.
Is It Better to Transfer or Just Point a Domain?
This depends on your needs and preference. Pointing a domain to your current hosting company is quicker, as you only need to update the DNS zone and wait for the propagation process.

However, if you experience issues or are unhappy with the current registrar, it's best to transfer your domain to a different provider that offers more features and benefits.