How to Create an Online Course From Scratch + Tips for Making Better Content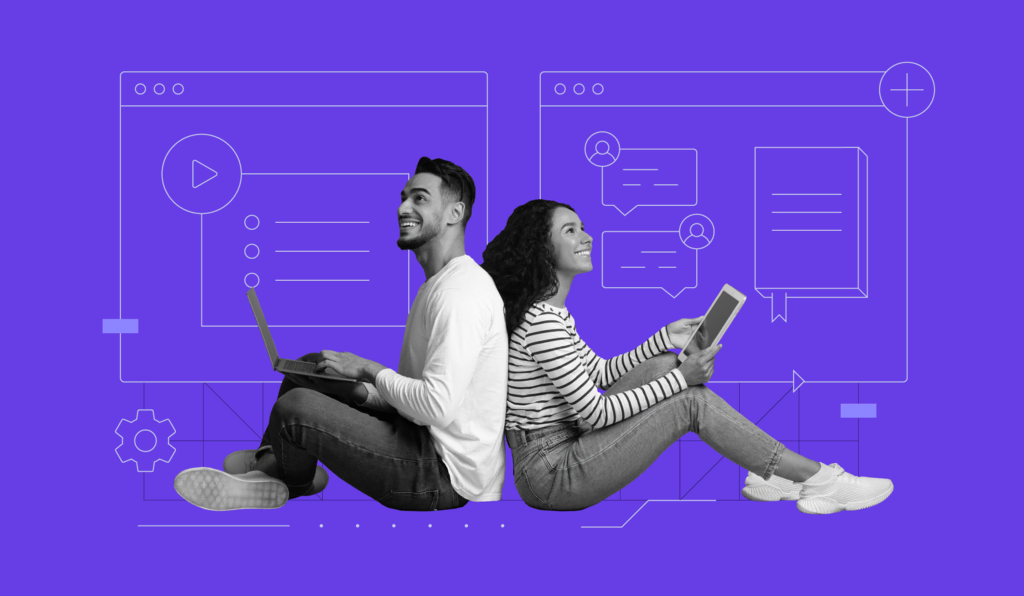 Whether you're good at digital marketing, web development, or any other skill – packaging your expertise into a comprehensive online course is a great way to make money online.
In addition to helping others achieve their goals, teaching online enables you to establish credibility as an expert in the field and boost your career.
In this article, we will walk you through the steps on how to create an online course. We will also share several tips to make it more engaging and answer the most frequently asked questions. That way, you'll know what to expect before turning your online course idea into a profitable side hustle.


Why Create an Online Course
Online learning is a rapidly growing market – it's projected to reach almost $340 billion by 2026. So, plenty of opportunities are available for those looking to profit by creating online courses.
Here are additional reasons to create an online course:
Low startup costs. Simply start with a basic camera and free editing tools. You can upgrade after gaining more revenue.
Passive income. Once you set up the sales funnel and online course, you will start earning recurring revenue with minimal work to maintain it.
Easy to manage. There's no need to worry about product inventory or shipping costs. Moreover, many tools are available to streamline course management processes.
Highly scalable. Unlike traditional classes, online courses are not bound to geographical location and opening hours. This allows you to get more clients and grow the business.
Lead-generation tool. Sharing expertise builds credibility and authority in the subject matter, helping you promote other areas of your business.
How to Create an Online Course – Video Tutorial
If you'd prefer to learn how to create an online course in a different format, check out our video tutorial below.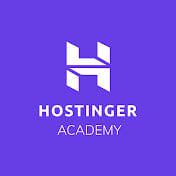 Subscribe For more educational videos!
Hostinger Academy
Subscribe
How to Create Online Courses in 8 Steps
Without further ado, let's dive into the steps of creating an online course.
1. Choose the Subject and the Audience
Defining your course subject and target audience is the foundational step in creating your own online course.
To decide on a course topic, start with your passion or interests. Choosing a topic you genuinely care about will help you stay motivated during the course creation.
Alternatively, choose a topic you excel in. Consider your educational background, practical industry skills, and knowledge.
For example, let's say you have a computer science degree. Besides creating a course on introductory programming, consider teaching about effective time management.
For those with an existing audience, investigate their learning needs by conducting surveys or online polls. Find repetitive queries and group similar topics.
If you're starting from scratch, define your ideal customer. Knowing who you're looking for will help create an online course that supports their goals and addresses their pain points.
When creating a buyer persona, consider the following questions:
What is their learning goal when enrolling in your course?
What challenges are they trying to solve?
What is their skill level?
Which age range do they fall within?
What similarities do they have?
Consider a specific community that could benefit from your specialized knowledge, especially if you're part of it.
For instance, Jordan Makelle, the founder of Writing Revolt, succeeded in creating a course geared towards aspiring freelance writers without any experience or a college degree.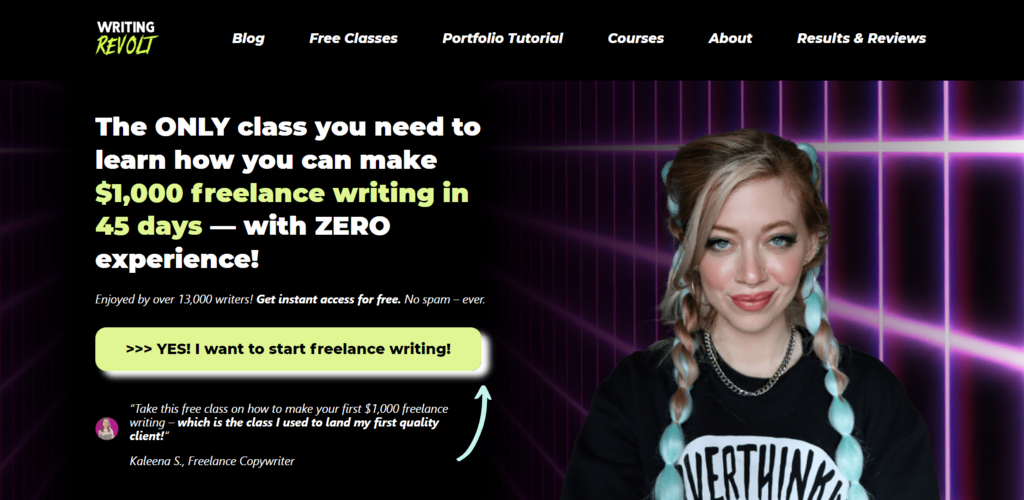 As a freelance writer herself, Jordan understands the struggles of making money through freelance writing. Moreover, this allows her to establish a connection with her target audience.
Once you have a list of topic ideas and audience information, narrow it down to two or four topics.
2. Test the Market Demand
Ensuring the chosen topic has a high market demand is necessary to create a profitable online course. The easiest way to gauge the audience's interest is through keyword research. This includes evaluating the popularity of search queries related to the topic by checking their search volume.
To do so, use tools like Google Keyword Planner, Ahrefs, or Google Trends.
To see how often people search for a certain query on Google Trends, simply enter a keyword. It will then display a graph of the keyword's popularity over a certain period within a specific location.

In addition, users can compare two different keywords to see which is more popular.
For example, the digital marketing course keyword has a higher search volume compared to the queries for email marketing and meditation course.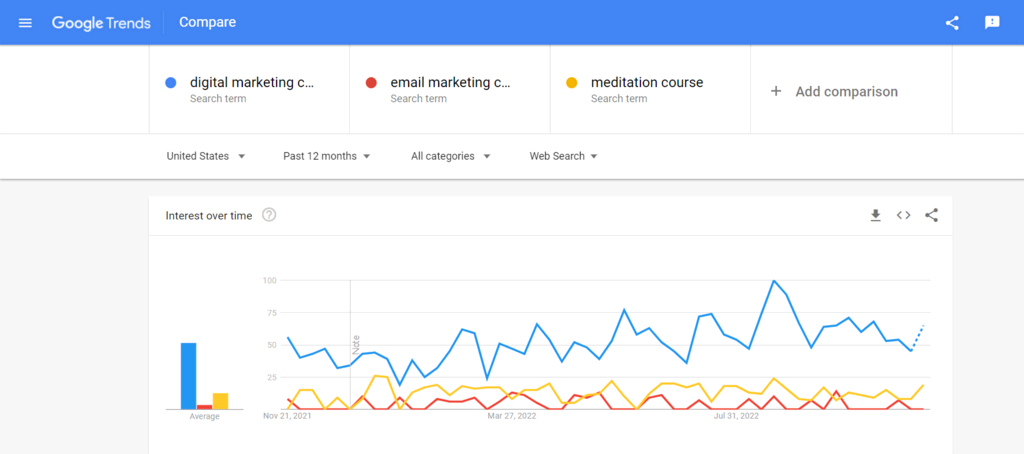 Another way to test market demand is to research competitors. Don't be discouraged if you find several creators covering the same topic, as it means there's already an existing market for it.
Identify what competitors' online courses are missing and address that. Pinpoint your competitive advantage and make it a unique selling point.
See if you can cover the topic from a different angle for a different target audience. For example, instead of a General German course, consider creating a Business German course for health professionals, engineers, or lawyers.
Important! While it's good to choose a niche topic, make sure that it's not too specific, as it means a more narrow audience reach.
3. Define the Look and Feel of Your Course
Now that you have a topic that is market validated, the next step is determining how you will present the course. Doing so will help you define the scope of the course, estimate its profitability, and plan marketing strategies.
Examine other online courses that cover the same topic to get an idea of what to implement in your own course.
Here are some things to consider:
Course Length
The length of your course will depend on the complexity of the subject and its coverage.
A short course generally takes several hours to complete. It can be a series of emails with downloadable content or short videos. Usually, mini courses are offered at a low price or for free. Some course creators, like Gerda Carina, use them to generate leads and upsell their premium courses.

On the other hand, a masterclass like Sarah Baldwin's makeup artistry class can take up to several months to complete. Such courses are targeted at aspiring professionals and can cost between several hundred to thousands of dollars.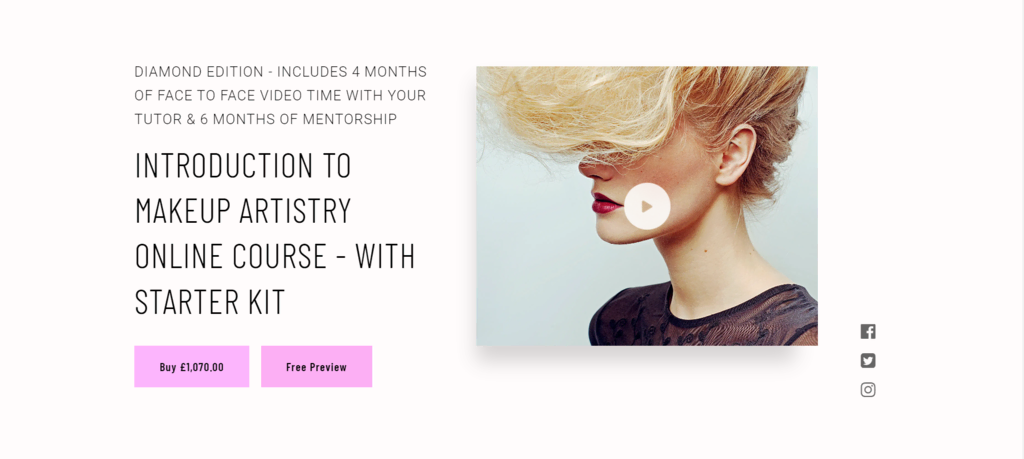 Online Course Format
Determining the course format is crucial to ensure the most effective online delivery.
When choosing the format, consider the course topic. If you're creating a mini writing course, then an email series with printable materials and worksheets is a good option.
However, this format will not be effective if you teach yoga. In that case, opt for a video course to engage learners and help them learn faster.
In addition, decide whether to implement synchronous or asynchronous learning. Consider offering live classes, one-on-one sessions, or group discussions to increase student engagement.
An online language course might benefit from live classes, as it provides the opportunity for students to practice their language skills directly with tutors and fellow learners.
Mandarin Monkey is an example that fosters online community learning. Apart from its private and group lessons, it also offers Hangouts, starting at $15/month, where students from all levels can practice their conversation skills with each other.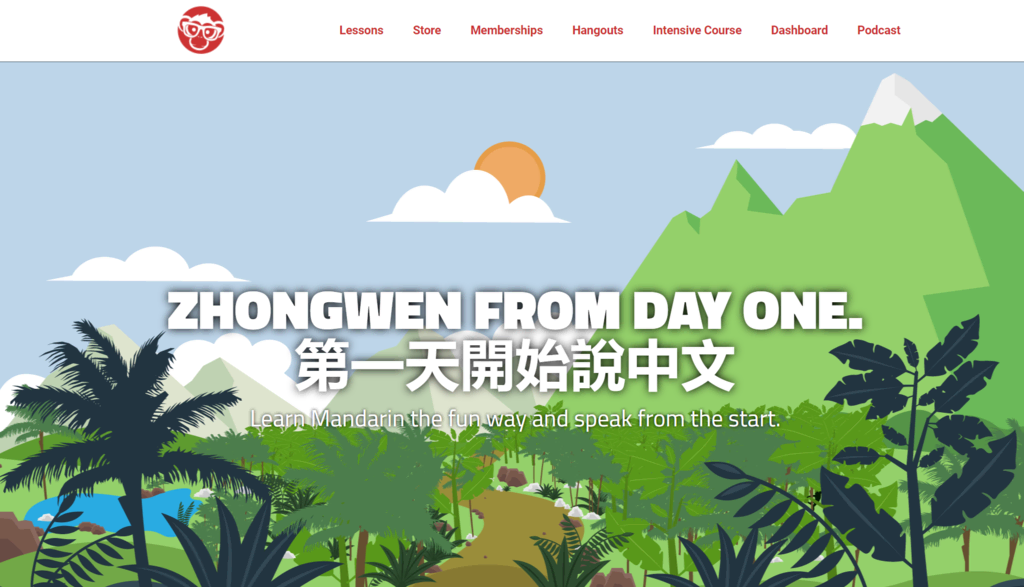 Learning Outcome
Setting a clear and specific learning objective is necessary to align students' expectations before taking the course, including what they can achieve during the course.
For example, emphasize that after completing the course, students will be able to design an appealing web design portfolio.
Moreover, having a well-defined learning outcome helps you decide on the learning activities, gather course material, and create assessments that will contribute to students' goals.
Setting students' expectations will help you attract the right learners, decreasing the chance of refund requests and increasing satisfaction rates.
Course Outline
Creating a course outline will help you present the content, guiding the students to broaden their knowledge and achieve their learning goals.
In the course outline, list all the lessons and break them down into subtopics if necessary. Aside from adding the learning objectives, elaborate on the activities, supporting materials, and assessments that will help students learn.
As a rule of thumb, it's good to start with a theoretical discussion, provide examples, and follow up with assignments for practice.
A popular course on Udemy, The Complete JavaScript Course, is an excellent example that follows this structure.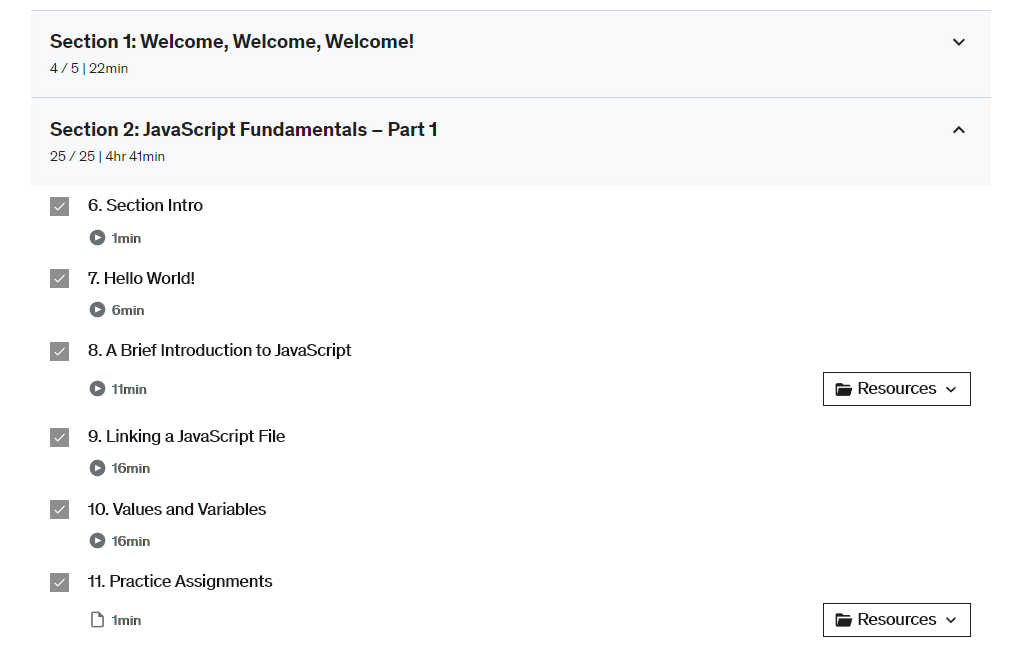 4. Create or Curate Learning Materials
With the learning outcome and outline in mind, it's time to gather and create the course material.
If you have already created content about the topic, consider repurposing it as learning material. It could be from a blog post, a podcast, or a series of YouTube videos.
Taking existing content and turning it into digestible online course content will speed up the process, saving you a lot of time.
For those starting from scratch, look at the course outline and research each topic and subtopic extensively. Try contacting the local library, skim through college textbooks, find online journals, and curate well-written articles to use as learning resources.
Pro Tip
Whether you're repurposing old content or creating a new one, make sure to ask yourself, "How does this correlate to achieving the learning objective?"

If you can find the answer, it's worth including it in the course. If not, then simply leave it out of the content.
Once you have the available resources, plan how to present the information and which medium to use. Popular options include:
Text. Best for elaborate explanations, detailed descriptions, and additional information to expand students' knowledge.
Videos. Ideal for providing simple, time-effective explanations and boosting audience engagement.
Screencasts. Great for step-by-step instructions, as students can see the whole process on the screen.
Downloadables. Suitable for glossaries, cheat sheets, checklists, and templates to enrich the learning process.
Workbooks. Excellent for repeating concepts that students have already learned.
If you decide to go with video content, consider whether you'll be appearing before the audience, using a slideshow, or creating animations.
Prepare a script or an outline to organize your thoughts and deliver the message clearly. Ensure the visuals look professional by using high-quality lighting and audio.
After filming, dedicate time to editing the footage – a long video lecture is less likely to engage students. So, cut unnecessary pauses and break up longer takes into short and dynamic pieces. Consider adding background music to make it more put together.
To streamline the whole process, we recommend using video editing software such as FlexClip, Filmora, Movavi, iMovie, or Lightworks.

Alternatively, consider using screen recorders like OBS Studio if you will be presenting the content by using slideshows and recording your voice.
5. Select an eLearning Platform
Now that the content is ready, it's time to choose an online course platform from several available options.
Using online course marketplaces is a great solution for those who don't have a significant online presence and an audience base.
In an online marketplace, you have access to an existing student base that intends to sign up for an online course.
Some of the most popular online course marketplaces include:
Udemy – best for launching your first online course. Users can get feedback on the course, read up on tutorials on the online course creation process, and join online marketing courses.
BitDegree – ideal for teaching digital skills like website development, blockchain, NFT, and crypto trading.
Skillshare – excellent for creating an online course on creative skills, including photography, painting, graphic design, and crafts. Skillshare classes prioritize practical projects to help students get hands-on experience and build a portfolio.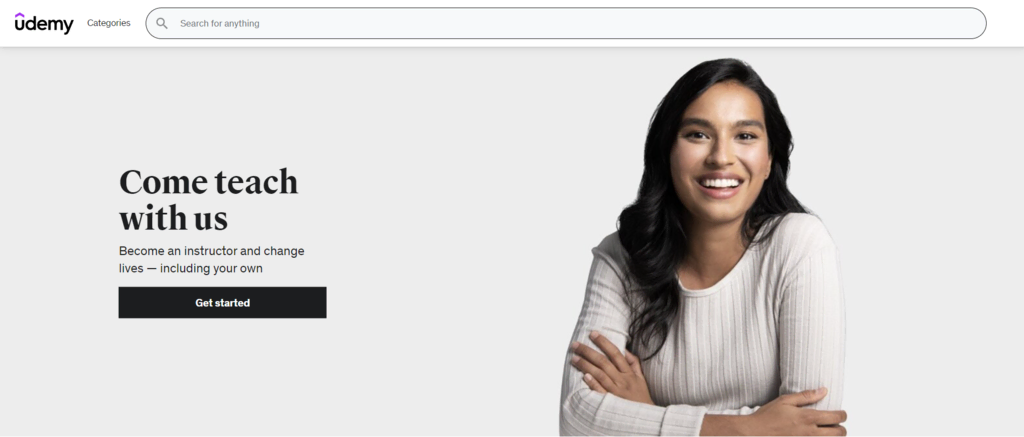 However, while it's free to post online courses, marketplaces require you to share the revenue. For instance, Udemy charges a 63% commission on course sales and 3% for sales from using instructor coupons.
Aside from the content creation, you'll have fewer flexibilities for personalizing the course's branding and user experience.
If you want more customization options, consider opting for online course creation software. With it, users can set up their own landing page, incorporate multiple content formats, and access tools to promote the course.
Examples of online course creation software include Teachable and Xperiencify. However, the software also might charge monthly and transition fees.
For complete control over the course and platform, building your own eLearning site is the most suitable option.
Creating a website to host all course materials allows you to customize the theme and content format. Moreover, you'll get all the profits instead of paying to a course platform.
6. Design a Course Delivery Site
If you decide to go with the latter option, here are some essential things to build an eLearning site:
Choose a Website-Building Platform
To start creating your site, select a website-building platform. The most popular options are a CMS like WordPress or a website builder.
Suggested Reading
A website builder comes with drag-and-drop functionality and various website templates to help you set up the site quickly and easily.
On the other hand, a CMS offers more flexibility and customization options but has a steeper learning curve. Instead of customizable templates, users have to install themes to customize the pages of their online course website.
Keep in mind that using a CMS requires you to purchase a hosting plan and a domain name.


At Hostinger, our Premium and Business Shared Hosting plans come with a free domain, so there's no need to purchase each of them separately. Simply use our domain checker to check whether your desired name is available.
Domain Name Checker
Instantly check domain name availability.
Customize the Website
Designing an attractive online course website doesn't require you to be a web designer. Various free WordPress themes are available to install from its official directory. Whichever theme you choose, you can always tweak it to improve the design.
When designing your website, ensure a smooth user experience to support the learning experience. To do so, here are some things to keep in mind:
Make navigation clear and consistent. Create a navigation plan based on your course outline. Moreover, provide a table of contents for each module to help students access all course components easier.
Choose a good color contrast. For better readability, black text on a light background is the safest color combination. Furthermore, avoid adding patterns and images behind text.
Pick a readable font style and size. Opt for serif or sans serif fonts such as Arial or Times New Roman, as they are easier to read for most people. Ensure the font size is not too small. Ideally, 16 pixels or 12 pt at minimum.
Check for broken links. Links that lead to error pages can discourage students from continuing the learning process.
Make your site mobile-friendly. Doing so helps to increase the time spent on site, as students can access the course across all devices.
Design for web accessibility. Include audio descriptions and closed captions for videos. Add alt text for charts, illustrations, or photos that are important to the course content.
Pro Tip
Follow web design best practices to create an attractive, functional, and engaging design for your online course website.
Install an LMS plugin
Once the website is set up, the next step is to install a learning management system (LMS) plugin. An LMS plugin offers tools to help you create and manage online courses.
It also helps you make the learning process more engaging, including gamifying the lessons, adding interactive quizzes, and integrating them with forum discussions.
In addition, it can streamline payment process management, track students' progress, and create custom certificates.
Tutor LMS is a popular freemium LMS plugin. With the student dashboard, built-in quiz function, and lesson management system, this plugin will help create the entire course and optimize your eLearning website.
Purchasing the pro plan, starting at $119.40/year, grants users access to its grading system, content drip, and multimedia attachment features.

7. Put the Online Course on Sale
With everything set up and ready to launch, it's time to start selling your online course. Before doing so, it's crucial to decide how much to charge for that course.
Determining the course's pricing can be a tricky task. You want to set a price that covers the cost and has a significant profit margin. However, charging too expensive can deter people from purchasing the course.
When setting a price for online courses, consider the following aspects:
Competitors' prices. Research similar courses to estimate the average market rate. A good place to start is by looking through an online course marketplace.
Course value. Evaluate the course's length and purpose. If your course can boost a career, consider charging more. For instance, a course about marketable skills with coaching sessions is going to cost more than a 12-hour introductory mini course.
Production costs. For example, calculate the cost of hosting, domain name, equipment, or software subscription.
After deciding on a price point, determine its pricing model – whether it's a one-time payment or a subscription-based model.
A one-time payment model requires the students to purchase individual courses to access them. As a result, you can see which courses are in demand and raise the price accordingly.
On the other hand, a subscription-based model requires students to pay a recurring fee, with access to all courses in return. This pricing model allows you to expect a monthly revenue. This is ideal if you offer a variety of simple courses.
Pro Tip
Providing different payment options can be a great way to attract more people to purchase your course – some students might not be able to afford it in the first place.

For example, offer tiered pricing. Give access to the course alone at a basic price and add bonus content or extra resources with every pricing tier.
In addition, it's good to have a free course. This will help them know what to expect from the course and encourage them to sign up for the premium lessons.
Then, create a sales page and add the course description. Create a strong headline, positioning yourself as the expert who can solve the prospective students' problems. For your inspiration, check out Piano in 21 Days' landing page.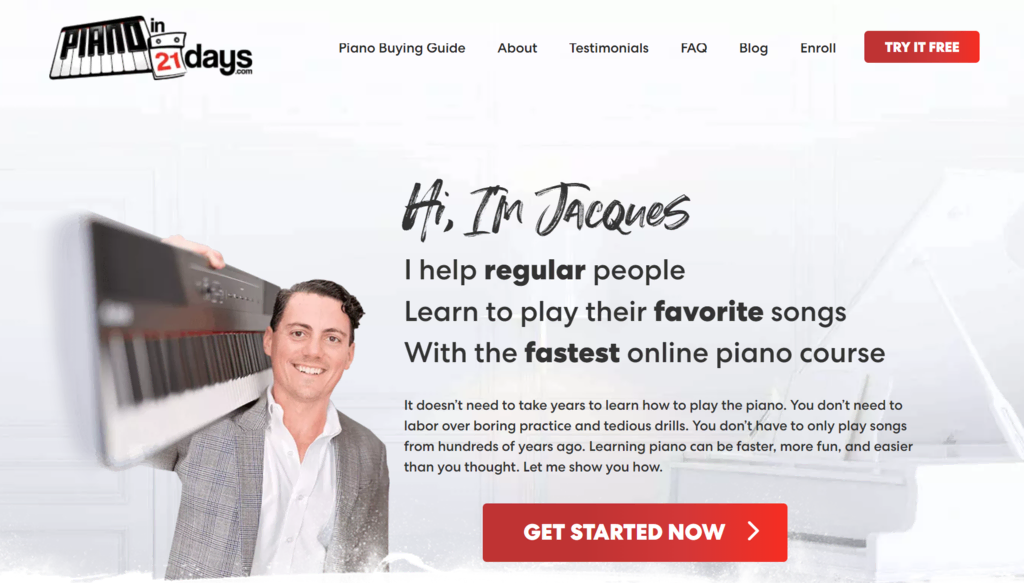 Include the benefits of enrolling in the course, learning objectives, pricing details, and testimonials to build credibility.
To drive more traffic to the website, plan the marketing strategies accordingly – whether you'll use SEO, paid ads, social media platforms, or email marketing. To generate leads, consider creating a free webinar and encourage the audience to sign up for your online course at the end.
Finally, join an affiliate marketing course and apply its best practices to promote your online courses further.
8. Respond to Client Feedback
Creating a successful online course requires continuous improvement. The better the course quality, the more likely students will recommend your course or take up another one.
To make data-driven improvements, it's important to gather feedback and respond accordingly.
To do so, create feedback forms using form builders and include them as an in-house poll after each module. Alternatively, include them as external links or send the students an email with the survey link.
In the survey, ask specific, targeted questions. Experiment with various types of questions, such as:
Scaled questions – great for knowing the general feeling about the course. Example question includes "On a scale from 1-10, how satisfied were you with the course?"
Yes or no questions – more suitable to gain a definitive answer, especially if you have a specific purpose in mind. For example, ask whether they will recommend the course to another person.
Multiple choice questions – ideal for getting more detailed feedback. For example, ask what students like most about the course.
Fill in the blanks questions – great to ask for comments on students' experiences, struggles, expectations, and suggestions for improvement.
As how businesses respond to reviews matters to 56% of customers, it's important to know how to handle the feedback once you acquire it.
First, acknowledge the feedback in a timely manner. This shows customers that you care about their input.
Then, express appreciation. Whether it's positive, constructive, or neutral feedback, showing gratitude shows that customers' input is important for your business.
If you get constructive feedback, don't take it personally. Show concern before offering any solution to make customers feel heard.
Lastly, follow up on their feedback by taking actions that improve your course. For example, adding more instructions, improving video quality, or updating learning materials.
How to Make an Online Course More Engaging
As online learning is vastly different from traditional education, the course creator should come up with new ways that help the audience learn better.
In this section, we'll discuss some tips to make your online course more engaging.
Understand How to Gather and Organize Rich Content
Knowing how to present information in a structured way will help students follow the lessons easily. Moreover, it will help to keep them on track with their learning progress.
When gathering and organizing your course content, consider the tips below:
Avoid adding too much information. Students can quickly get overwhelmed and burn out if there are a lot of new concepts to comprehend in one lesson.
Separate essential and additional learning materials. Prioritize essential content that aligns with the course objective. As for additional materials that expand students' knowledge, consider making them non-obligatory to complete.
Start with simple information. As students are new to the concepts, it's important to sequence the information from simple to complex. That way, students will have time to grasp and memorize the basics.
Define unfamiliar terms. When starting the course, avoid mentioning technical terms. Explain each new term thoroughly to avoid confusing students.
Give concrete examples. Give students day-to-day examples to help them understand the topic quicker. Tell stories, share your experience, and encourage students to think about their own.
Provide timeframes. To prepare students for the course, show how much time it will take to complete a lesson, a module, or an assignment.
Acquire the Knowledge Your Audience Would Expect
To know what people expect from enrolling in your course, consider browsing discussion forums like Reddit and Quora. These platforms usually contain common questions based on a certain topic.
Look at the top questions or subreddits, and answer them in the online course. Alternatively, browse Facebook groups to find out what to cover in the course.
Once you get an idea of what they expect from the topic, conduct extensive research to find the answers. Read sources from the internet or local library, and don't hesitate to learn from other experts in the field.
Keep Learning Materials Simple and Straightforward
Courses that only consist of long lectures and additional text materials won't compel people to sign up or continue learning. Use illustrative elements to present information in a new way, engaging students when illustrating a concept or teaching a skill.
Keep these elements simple so that the students can focus on the course content.
For example, if you're creating an online fitness course for beginners, a visual guide on how to do a perfect push-up is a great way to help learners perfect their form.
Other examples of helping elements include worksheets, action items, quizzes, puzzles, infographics, and animation.
Use a Noiseless Room for Audio Recordings
Ensuring a high-quality audio recording is crucial for online courses, as it determines how well students can understand what you're saying. Moreover, low-quality audio makes you appear unprofessional.
Limiting unnecessary noise in your environment is one way to improve audio quality. Reduce background noise by recording videos in a soundproof room. Installing wall paddings, like absorbent panels and foam mats, can help to absorb noise outside and compress it within the room.
Remember to test and listen to the recording before producing the actual content. That way, you can identify potential issues early on in the production process.
Pro Tip
Positioning yourself three to five inches from the mic helps produce the right audio levels. Moreover, if you make a mistake during the recording, wait three to five seconds, repeat the sentences, and proceed with the rest of the content. Then, you can simply edit out the mistake.
Conclusion
As the online learning industry continues to grow, creating online courses is a great way to monetize your expertise while helping others succeed.
Since it's not restricted to geographical barriers, selling online courses is a highly scalable business model that requires only a few startup costs.
Once you have decided on a target audience and a market-validated course topic, think about how to present the course. Make an outline before creating the course material to ensure it is easy to follow. Then, pick an eLearning platform to host and sell the course. Lastly, gather and respond to feedback to ensure continuous improvement and student satisfaction.
Now, it's time to take the leap and turn your course idea into reality. If you have any questions on how to create and sell online courses, check out the FAQ section or leave a comment below.
How to Create an Online Course FAQ
In this section, we'll answer some common questions on how to create an online course.
Is It Difficult to Create an Online Course?
Creating a high-quality, profitable course might not be easy. Choosing a topic, structuring the course, and mastering the eLearning platform is among the main difficulties. 

However, with many tools available to streamline the process, it is a highly viable option to make a passive income – you only need to dedicate the time and effort to share your expertise.
How Much Does It Cost to Create an Online Course?
Creating an online course is fairly inexpensive. Depending on the course type and the tools you're using, it costs anywhere from $0-$10,000. 

Mainly, the expenses come from the eLearning platform, hosting plan, domain name, equipment, themes, and software subscriptions. Taking advantage of free tools and themes can help you reduce the cost.
Is Creating an Online Course Profitable?
Yes, successful course creators can earn up to $50,000 for a course. However, just like any other business, it requires patience, time, and effort. Offering high-quality course materials, improving continuously, and reaching your target audience is the key to a profitable course.