25 Best WordPress Church Themes in 2023
Building your church website from scratch can help you create a stronger community. It enables you to keep your members informed, accept donations, promote religious events, and more.
However, you must create a visually appealing and highly functional website to accomplish your goals.
To help you out, we've compiled a list of 25 top church WordPress themes. While some of them are not specifically designed for religious websites, we've also included WordPress themes with dedicated demos for churches.
In this WordPress tutorial, we'll look at the best church themes on the market. We'll also discuss what to look for when choosing a WordPress theme for your local parish site and answer some frequently asked questions.

Top 25 WordPress Church Themes
Our experts have explored hundreds of options to select the 25 best church WordPress themes. When compiling the list, we considered features such as flexibility, ease of use, and support.
In addition, we have included both free and premium themes to cater to different budget needs.
OceanWP Stats:
Rating: 5/5
Price: starts at $35/year
OceanWP is an excellent WordPress theme that comes with a church demo. This demo includes pages for collecting donations, highlighting your church services, and introducing your team.
Key Features
Royalty-free images and icons
Flexible heading and footer styling
eCommerce functionality, including WooCommerce support
Sticky footer callouts, enabling you to prompt visitors to join your church or get in touch
Faith Stats:
Faith is a free church WordPress theme with a classic two-column page layout. This makes it an ideal choice if you're planning to create a simple new website. You'll get sections dedicated to your church's mission, history, services, volunteers, and more.
Key Features
Promote up to 10 pages on the homepage
Display services in a slideshow
Customize your church website with popular WordPress page builders like Beaver Builder
[PREVIEW]
KadenceWP Stats:
Rating: 5/5
Price: freemium
KadenceWP is a user-friendly and free theme with many starter sites, including an option for churches. This WordPress theme includes a drag-and-drop interface so you can easily customize different areas of your site, including the header and footer. For more advanced settings, consider opting for its premium version starting at $59/month.
Key Features
Donation forms and tracking through GiveWP
Integration with Events Calendar
Newsletter subscription forms
Royalty-free images
Vestry Stats:
Next on our list of best WordPress church themes, we have Vestry, which contains over 30 inner pages for church websites. These include sections dedicated to sermons, events, and religious services.
Key Features
Compatible with GiveWP and Events Calendar
WooCommerce-ready
Sermon integration, enabling you to create playlists
[PREVIEW]
Prayer Stats:
Rating: 4.2/5
Price: starts at $34.30/year
Prayer is a fully customizable and modern theme for your WordPress site. It comes with the GutenBee custom blocks collection, which enables you to customize your pages with unique blocks. It's also compatible with the Elementor and WooCommerce plugins.
Key Features
Event calendars
Sermons section with downloadable video and audio files
Flexible color schemes, footers, and headers
[PREVIEW]
Kerygma Stats:
Kerygma is one of the best WordPress themes for a church website since it has full podcasting support. This makes it ideal for sharing sermons and other religious content. The WordPress church theme also comes with a dedicated staff section, a contact widget for service times, and many other essential elements.
Key Features
Welcome Box with the background image, title, text, and navigation menu
Customizable hero section for each page
Events management
Custom widgets for the footer and sidebar
[PREVIEW]
Endurance Stats:
If you're looking for free WordPress themes, consider opting for Endurance. It is a free church theme with a simple but practical design. You'll get sections for different ministries, as well as a list of upcoming events and a donate button.
Key Features
Feature three pages on the WordPress theme homepage
Choose between a centered or floated header
Showcase your mission and vision, volunteers, history, and more
[PREVIEW]
Our Church Stats:
It is a highly functional and customizable church theme. You can create a calendar of events, sell products, accept donations, and more. There's also a section dedicated to sermons, which includes dates, locations, and other key details.
Key Features
Unlimited color options and custom post types
PayPal Donate
WooCommerce support
Google Calendar integration
[PREVIEW]
Zegen Stats:
Zegen is a premium WordPress church theme with a broad selection of homepage options. You'll also find a lot of useful pages, including sections dedicated to events, campaigns, and pastor profiles. Additionally, this WordPress theme is fully compatible with the Elementor page builder plugin.
Key Features
Custom mega menu
Support for the Charitable donation plugin
Header and footer builder
Option to create a one-page church website
[PREVIEW]
Grace Stats:
Next on the list, Grace is a WordPress church theme that's ideal for promoting events and collecting donations. It comes with the Events Manager and GiveWP plugins. Additionally, this WordPress theme is compatible with WooCommerce, so you can also use it to sell items on your religious website.
Key Features
Multiple pre-built church demos
Support for cryptocurrency payments
Newsletter popups and Mailchimp integration to help you grow your email list
Header and footer builder
[PREVIEW]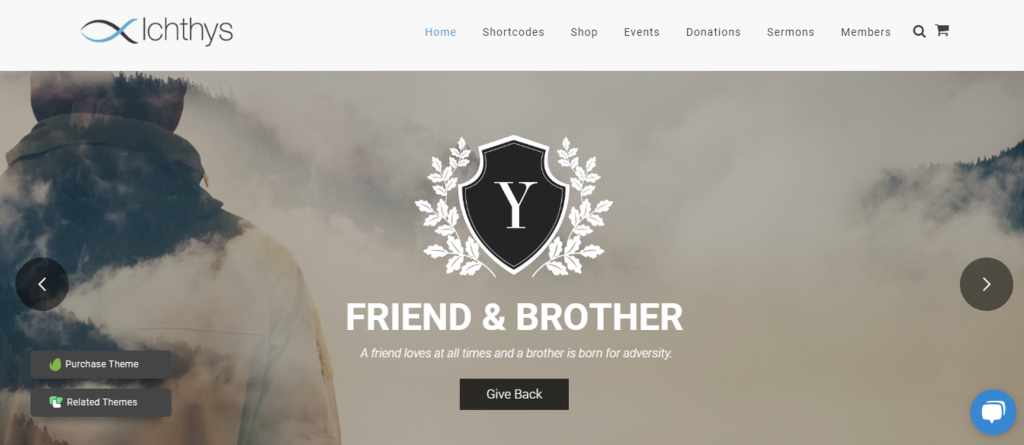 Ichthys Stats:
Ichthys is a user-friendly church theme that offers a selection of elegant homepages. On top of that, it provides pages for your ministries, services, sermons, and members. Plus, it is WooCommerce-ready and supports online donations.
Key Features
A calendar for your church events
Unlimited color and sidebar options
Interactive CSS animations
Advanced theme customization options
[PREVIEW]
Hallelujah Stats:
Hallelujah gives you SEO-friendly church website templates that are ideal for showcasing your ministries, staff members, and other information about your church. It also enables you to promote lectures and other events. Plus, it comes with an audio player for posting your sermons online.
Key Features
Customize with page builders
Accept donations through GiveWP
Promote and manage events
Choose from multiple footer and header styles
[PREVIEW]
Nazareth Stats:
Nazareth is one of the best WordPress themes for building a community. It contains clean and modern pages for promoting events, running crowdfunding campaigns, sharing information about preachers and services, and more.
Key Features
Timetable and event calendar
Integration with GiveWP
Multiple church blog layouts and header styles
[PREVIEW]
Native Church Stats:
Native Church is one of the best WordPress themes for religious organizations. You can choose from multiple homepages and edit the theme with the SiteOrigin and Elementor page builders. The theme also enables you to share events, sell products, promote your sermons, and more.
Key Features
Multiple footer layouts and unlimited sidebars
Mega menu
Eventer plugin for promoting events and selling tickets
iSermons plugin for uploading your sermons as audio files
iPray plugin that enables site visitors to submit prayers
Causes plugin for running crowdfunding campaigns
[PREVIEW]
Holy Church Stats:
Holy Church is a modern WordPress church theme designed to facilitate outreach work and crowdfunding. It comes with a complete set of ready-made pages you can customize with page builders. These include an FAQ page, an events list, the Plan a Visit, and the Who We Are sections.
Key Features
Integration with the GiveWP plugin
Event management solution
Full WooCommerce functionality
Theme builder for headers and footers
Newsletter opt-in popup
[PREVIEW]
Bethlehem Stats:
Bethlehem is a flexible theme designed for church websites, mosques, and other religious organizations. It offers an advanced theme options panel where you can customize anything from colors and Google fonts to your footer and navigation menu. From there, you can also manage your donations, events, sermons, and more.
Key Features
Integration with GiveWP, WooCommerce, and Events Manager
Sermons manager that enables you to add audio and video files
The Our Team plugin for your team management
Ability to create custom page layouts with Visual Composer
[PREVIEW]
My Religion Stats:
My Religion is a powerful WordPress theme that can be used to build both traditional and modern church websites. Plus, it has all the functionality you need to run your site, including support for donations and events. It also integrates with WooCommerce.
Key Features
Sermons custom post type that lets you post your sermons online through video or audio
Integration with the Events Calendar plugin
Custom page backgrounds
Unlimited menu colors
[PREVIEW]
Real Church Stats:
Real Church has its own page builder, enabling you to customize your church website to suit your needs. Moreover, it comes with post types for sermons, events, pastors, and more. This church WordPress theme is also compatible with WooCommerce.
Key Features
Upload audio and video files of your sermons
Feature your missions and services in interactive galleries
Promote events and embed Google Maps to show church locations
Display an event and time counter
[PREVIEW]
Adore Church Stats:
When it comes to church website themes with built-in calendars, Adore Church is the clear winner. Besides its full-width calendar, it offers full events ticket booking functionality and many other event management features. These include a built-in sermons manager and a mega menu module.
Key Features
Add audios, videos, and PDFs for your sermons
Enable event registration on your church site
Set up an online church shop with WooCommerce
Display an upcoming events countdown timer
[PREVIEW]
Salvation Stats:
When looking for WordPress church themes, be sure to check Salvation out. It offers a variety of built-in tools for your churches. This means it serves as an all-in-one solution, helping you create a visually appealing and mobile-friendly church website.
Key Features
Custom form builder and mega menu plugin
Custom sermons plugin that supports audio, video, and PDF
Custom donations plugin that lets you run fundraising events and track their performance
Integration with the Events Calendar plugin
A visual, drag-and-drop composer that lets you customize your church website
[PREVIEW]
Spiritual Stats:
Spiritual is one of the best themes for churches in terms of customization. It comes with the WPBakery page builder, so you can easily edit every part of your site. This WordPress theme also offers multiple color skins and sidebars.
Key Features
Custom widgets for your footer and sidebar, including Testimonials, Upcoming Events, and Video
Integration with Events Calendar
Advanced portfolio options for showcasing your church work and services
Custom page templates for sermons, causes, and more
[PREVIEW]
God Grace Stats:
God Grace is another church WordPress theme that's highly customizable. Fully integrated with WPBakery, it offers tools for sharing sermons and events, collecting donations, and promoting your causes.
Key Features
Sticky header and mega menu
Custom page templates for sermons, testimonials, causes, and more
Integration with Events Calendar and WooCommerce
[PREVIEW]
Deeds Stats:
Deeds offers clean and modern page layouts for church websites. This church WordPress theme is ideal for beginners, as it comes with a user-friendly interface for customizing the site. It also offers a variety of management tools for your church.
Key Features
Multiple pre-built church demos
Sermon management tool that supports audio and video files
Online prayer system that enables users to submit prayers through your site
Complete events solution
Built-in priest and team management system
[PREVIEW]
Faith & Hope Stats:
Faith & Hope is a contemporary church WordPress theme, which is useful for those who want to attract a younger audience. It includes pages for sermons, pastors, services, and more. It's also WooCommerce-ready.
Key Features
Integration with GiveWP and Events Calendar
Multiple pre-built demos
Full Elementor support
Newsletter popups and Mailchimp integration
[PREVIEW]
Enfold Stats:
Enfold is a powerful theme with sleek modern designs, including a church-specific theme demo with pages for sermons, events, ministries, and more. This WordPress theme is known for its captivating animations and curtain reveal effects, which can help make your church website look more professional.
Key Features
Audio player for sermons
Integration with WooCommerce and WooCommerce Bookings
Contact form builder and Mailchimp integration
Built-in drag-and-drop template builder
[PREVIEW]
What to Look For in a WordPress Church Theme
Before we wrap up, here are a few key features to consider when selecting the best WordPress church theme for your website.
Responsive Design
When designing your website, it's important to keep in mind that over 50% of internet users browse the web from their mobile phones.
Therefore, you'll need to select a responsive WordPress theme for churches. This means your church site should function well on all screen sizes. You can verify this by installing the WordPress theme and visiting your site from various devices.
Customization Options
Whether you want to build a basic church website or design your own WordPress templates for churches, you'll want a theme with plenty of customization options. A customizable WordPress theme for a church website enables you to add a personal touch to your design.
If you want more freedom, opt for a theme that supports a drag-and-drop page builder plugin. This way, you will be able to create custom templates, add more features to your site, and build pages from scratch.
Sermons and Media Integration
If you want to make your sermons available on your website, remember to look for video and podcast integration in WordPress church themes. For example, some WordPress themes have their own sermons manager that enables you to upload audio and media files, as well as PDFs.
If you have a YouTube channel, you might want to consider a WordPress church theme with social media integration that lets you embed videos from the platform.
Some of the best WordPress themes for church websites also let you connect to your Facebook and Instagram accounts, as well as other social platforms.
Event Management
When browsing church WordPress themes, pay attention to their event creation and management solutions. A good church website should not only show events but also accept registrations and sell tickets.
Luckily, many WordPress themes for churches integrate with WordPress plugins like Events Calendar. Some also come with a built-in event management feature.
Donations and Fundraising
If your parish relies on donations, it's very important to select a WordPress theme that supports fundraising and crowdfunding. Fortunately, there are many best church themes with online giving options.
Some of them support donation and fundraising plugins for churches, like GiveWP, while others integrate with PayPal Donate. Plus, some of the best WordPress themes on our list have their own donations and fundraising solutions.
Integration With Church Management Systems
When it comes to church management system integration, look for one that supports your needs, such as service bookings or accepting donations.
However, don't worry if your favorite WordPress church theme does not offer this integration. You might still be able to connect your church management system with your WordPress site if the software you use has its own WordPress plugin.
Conclusion
If you're creating a website for your local parish, you'll need to make sure it's fully equipped to handle all essential tasks. Fortunately, most of the best church WordPress themes come with tools for sharing sermon archives, accepting donations, and promoting recurring events.
Here is our final recommendation for the best WordPress church themes:
Salvation – offers a complete solution that includes custom WordPress plugins for donations, sermons, and forms.
Adore Church – lets you promote your religious events, sell tickets, and accept event registrations.
OceanWP – a flexible WordPress theme for those interested in design customization.
Faith and Endurance – the best free church WordPress themes with decent features enough for a simple website.
As you can see, there are many church themes for WordPress on the market. You just need to choose the one that best fits your needs and budget and support it with high-quality WordPress hosting.

WordPress Church Themes FAQ
Finally, let's answer some common questions about the best church WordPress themes.