SSL Certificate Cost in 2023: How Much to Spend on an SSL Certificate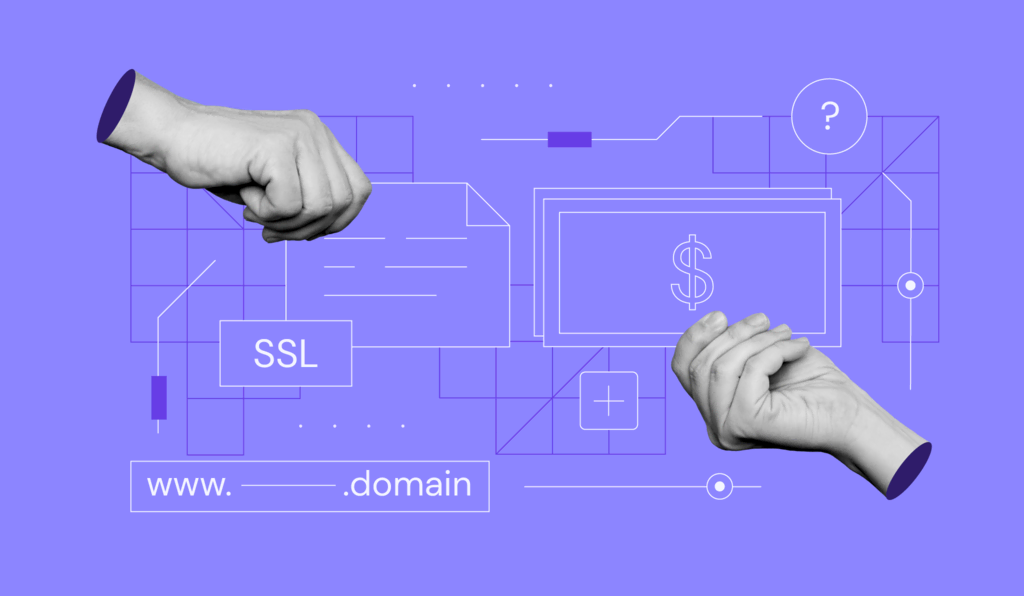 On average, a Secure Sockets Layer (SSL) certificate costs around $60/year. However, the price can vary from $8 to $1000/year, depending on various factors, such as the number of domains one can protect, the validation process, the warranty, or the certificate authority itself.
In this article, we're going to explore SSL certificate types to help you choose the best one for your budget and website type.


What Is SSL?
Secure Sockets Layer (SSL) is a security protocol that encrypts communication between an internet user and a web server. As a result, third parties cannot view the information that is being transmitted. Web browsers display a padlock icon next to website URLs with SSL certificates to show that they are secure.

Currently, TLS (Transport Layer Security) is the successor to the SSL protocol.
How Much Does an SSL Certificate Cost
Some hosting providers, like Hostinger, offer hosting with free SSL certificates included. This is the most comfortable method to get the certificate, as you won't have to take any extra steps.
Alternatively, you can obtain it from paid SSL certificate providers like Comodo, Digicert, and GeoTrust.
SSL certificates' pricing differs depending on the number of domains covered and the validation process. Let's go over the SSL certificate options and how much they cost.


SSL Certificate Cost by Type
There are three types of SSL certificates based on how many domains they can protect. In short, the more domains covered, the higher the SSL certificate's price.
Single Domain SSL Certificate
This is generally the most affordable one. This type can only protect a single domain and cannot be used on its subdomains.
For instance, if you own yourwebsite.com, single domain SSL certificates won't protect about.yourwebsite.com or contact.yourwebsite.com.
While the protection is limited, this type can be useful for smaller websites like a contact page or a simple blog. This type of SSL certificate costs around $10/year.
Wildcard SSL Certificates
Starting at $53/year, a wildcard SSL certificate can protect one domain and all its related subdomains.
Unlike the previous type, this one can protect about.yourwebsite.com or contact.yourwebsite.com as well.
Multi-Domain SSL Certificate
A multi-Domain SSL certificate, also called Subject Alternative Name (SAN), can secure multiple domains. This type allows you to add several hostnames – website or IP addresses – to be covered by just one certificate.
For instance, this type can protect yourwebsite.com, yourwebsite.net, and yourwebsite.xyz as well, for around $43/year.
However, if you want to protect several domains and all their subdomains, you need to buy a Multi-Domain Wildcard SSL certificate instead, starting at $90/year.
SSL Certificate Price by Validation
Aside from the number of domains, SSL certificates' prices vary based on the provider's validation process before issuing a certificate.
Domain Validation (DV) Certificate
The validation process for this DV certificate is quite straightforward. You only need to show proof of domain ownership. Within minutes, the certificate authorities can issue you the certificate.
Due to the simple validation process, some customers might not trust the protection. However, this certificate still uses the same encryption as the other types below, meaning your information will be secure.
DV SSL certificates' price starts at $8/year.
Organization Validation (OV) Certificate
To attain OV certificates, the certificate authorities have to check the authenticity of your organization. You must provide various business credentials such as civil records or a physical address.
As a result, customers might trust this type of SSL certificate more, making it a great option for an eCommerce website.
Yearly prices for OV certificates start at around $102.
Extended Validation (EV) SSL Certificate
As the name suggests, EV certificate providers require extensive validation. This includes providing legal paperwork, the exact organization trade name or DBA (doing business as), physical address, telephone number, and names of people operating the business.
Thus, EV certificates have the highest level of reliability. This type of certificate is ideal for banking or insurance companies, government agencies, or other organizations with confidential and sensitive information involved.
EV SSL certificates are the most expensive ones. You can get one starting at $140/year.
Pro Tip
You can have any type of SSL certificate with a different validation level. For instance, you can have a Wildcard Domain Validation or Multi-Domain Extended Validation certificate. To choose the best one, consider how many domains you want to secure and which validation process suits your website.
.
Conclusion
Security is a must to ensure visitors feel comfortable sharing their information on your site – which is why it's crucial to get an SSL certificate. One of the main SSL benefits is an encrypted connection that will protect your customers' data.
SSL certificate prices depend on the number of domains covered as well as the validation process. In each category, the prices may even vary depending on the provider, warranty, refund policy, or customer support.
To ease the process, we recommend choosing a hosting provider that includes a free SSL certificate with its web hosting plans.
To improve your website even more, feel free to explore our other tutorials.
SSL Certificate Cost FAQ
Below are some of the most frequently asked questions about SSL certificate pricing.
Is SSL Certificate Free?
There are free SSL certificates, like the ones given by Let's Encrypt, a non-profit certificate provider. Some web hosts, like Hostinger, also offer free SSL certificates with their hosting plans. 
How to Choose the Best SSL Certificate for the Website?
To choose the best one, consider what information your visitors will share.

For example, if you manage a website that requires customers to give personal details or processes financial transactions, we recommend opting for an EV certificate that offers a higher security level. If you run a blog without a transaction page, a DV certificate might be enough.
Where Can I Get the Best SSL Certificate for My Site?
Each certificate issuing authority provides different SSL certificates and services. 
Therefore, make sure you know what you need first, then find a company that will provide just that. Before purchasing one, you can also read the customer reviews and research the provider's track record.