34 Best Agency Tools to Grow Your Business in 2023
Working for multiple clients at once can be exciting. However, your workflow can quickly become inefficient and disorganized without proper agency tools. For instance, communication might get delayed, and files can go missing.
Fortunately, with the right resources, you can collaborate more effectively with your team. For instance, you can use marketing tools to improve campaigns, affiliate marketing tools to increase sales, and opt for scheduling platforms to boost your agency's productivity.
This article will explore some of the best agency tools and resources for agencies. Let's get started!


5 Best Marketing Tools for Agencies
Marketing tools are some of the most valuable resources for agencies. They can help you generate client leads, nurture customer relationships, track a campaign's progress, and measure your marketing agency metrics.
Here are five of the best agency tools for marketing!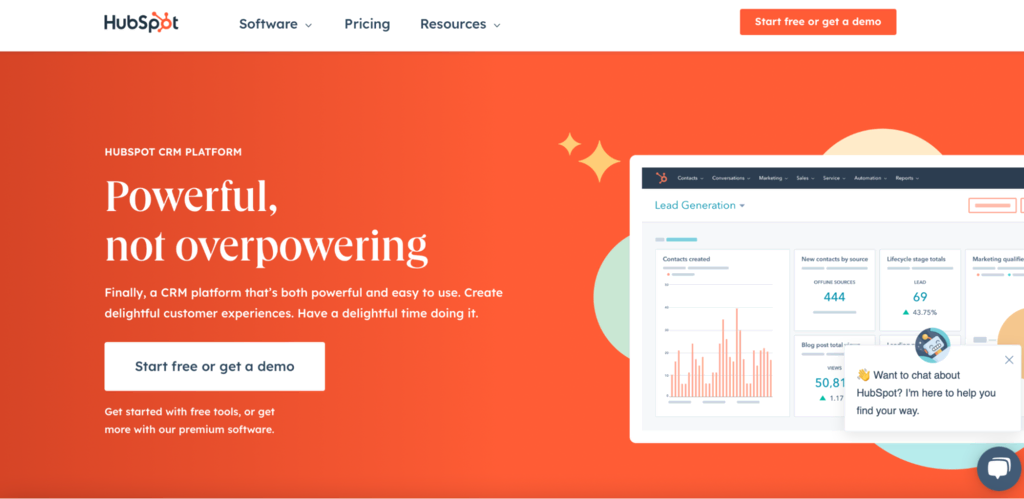 A customer relationship management system like HubSpot can easily track customer engagement. You'll get a customized dashboard where you can quickly scan sales activity, store client data, and monitor customer interactions.
Better yet, your dashboard is organized according to your priorities. For instance, lay out your data in line with scheduled meetings, deals scored, or quota performance.
Key Features
Email tracking and engagement notifications
Live chat
Contact deal and task management
Pricing
HubSpot is free as a WordPress plugin. It includes unlimited users, data, and one million contacts with no expiration date. Alternatively, you can upgrade to the Starter plan for $45/month.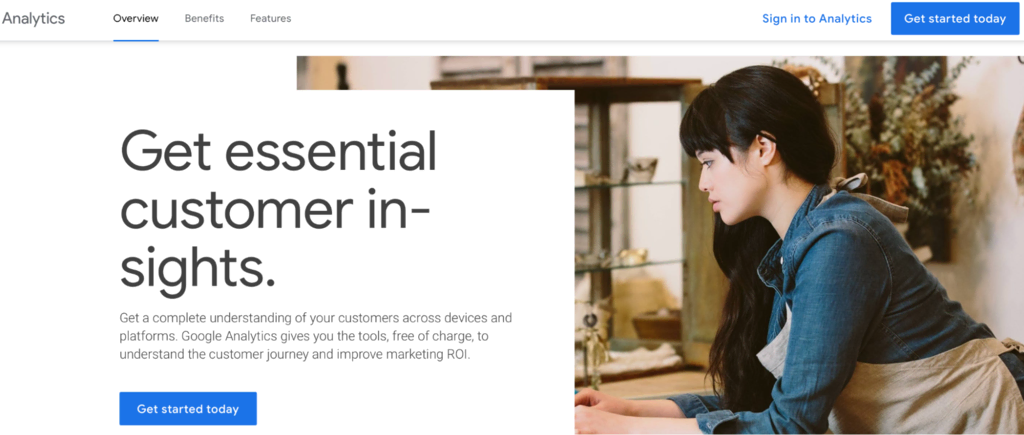 Google Analytics is a helpful analytics and marketing tool for agencies that manage client websites. As an agency, you can use the platform to understand your client's customer base better.
For example, you can identify the parts of websites that resonate the most with visitors, such as messaging, images, or call-to-action (CTA) prompts.
Moreover, you can add Google Analytics to your site to track different data, including new users, sources, or past purchases.
Google Analytics doesn't only excel at analytics. You can also use the platform to set specific goals, regarding conversions, for example, to know when progress is being made.
Key Features
Individual reports such as monetization, acquisition, and engagement
User exploration and cohort exploration to understand customer behavior
Support for JavaScript libraries, mobile app SDKs, and any internet-connected third-party system
Pricing
Google Analytics is free to use.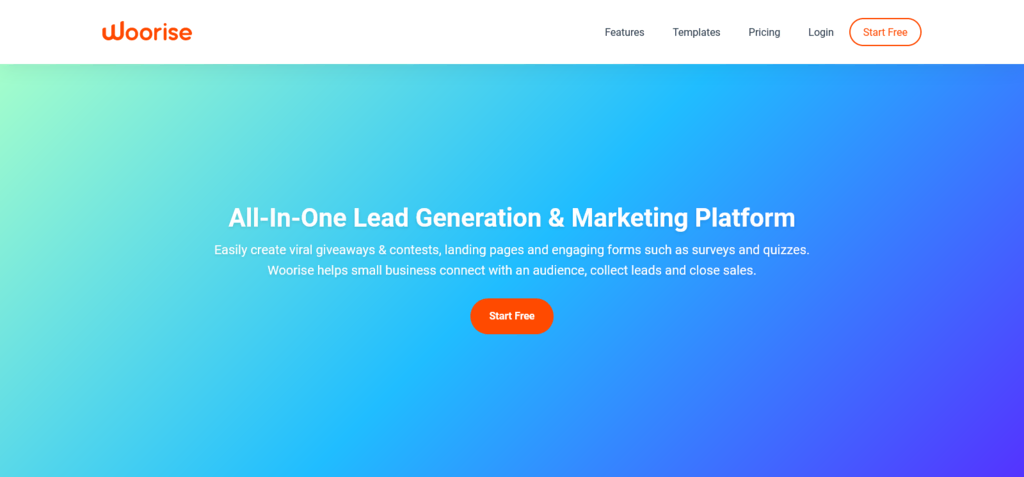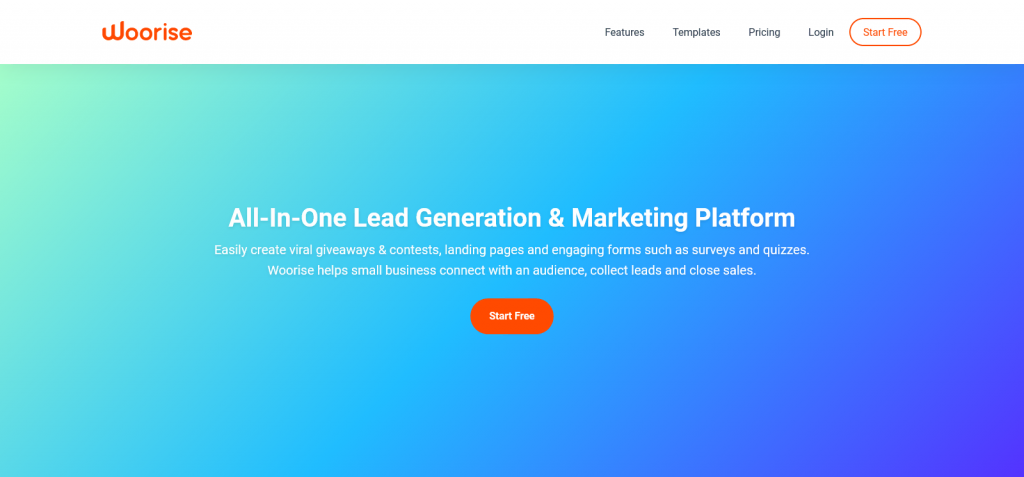 Woorise is an all-in-one lead generation and marketing platform that allows you to create a wide range of interactive campaigns such as landing pages, forms, surveys, quizzes, viral giveaways & contests, accept payments and more to help you reach your goals from a single platform.
Features include a modern landing page and form builder, 40+ field types and thousands of social actions, 100+ interactive templates, conditional logic, real-time email notifications, multi-language support and built-in analytics.
Woorise also integrates with popular marketing platforms such as Mailchimp, Hubspot, ActiveCampaign, Facebook, Google Analytics, Bitly, Zapier, PayPal, Stripe and many more allowing you to automatically send your new leads to the tools you already use.
Key features
100+ customizable landing page templates
Send personalized Email Notifications
Multi-language support
Pricing
Woorise provides a free forever plan and a 14-day free trial. Premium plans with advanced features start at $29/month.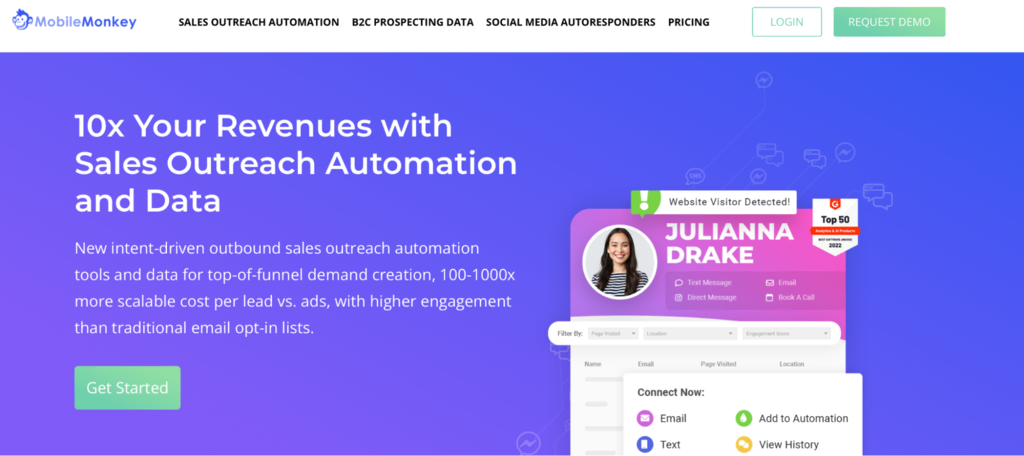 MobileMonkey is an online chatbot and agency tool that provides marketing, sales, and customer support. It's one of the best agency marketing tools since it can increase lead volume. Plus, MobileMonkey can help your business retain customers for longer by promoting meaningful relationships.
One of the best features of MobileMonkey is that you can generate leads in various ways. For instance, visitors can book appointments, download digital resources, register participants for events, and more.
You'll also get a dedicated space to implement live chat on your websites and send SMS, Facebook, and Instagram messages.
Key Features
Connect top-of-funnel channels like blog content, SEO, social media, and landing pages
Search over 100 million influencers and B2C decision-makers
Use Instagram and Facebook messaging tools
Pricing
Plans start at $119/month.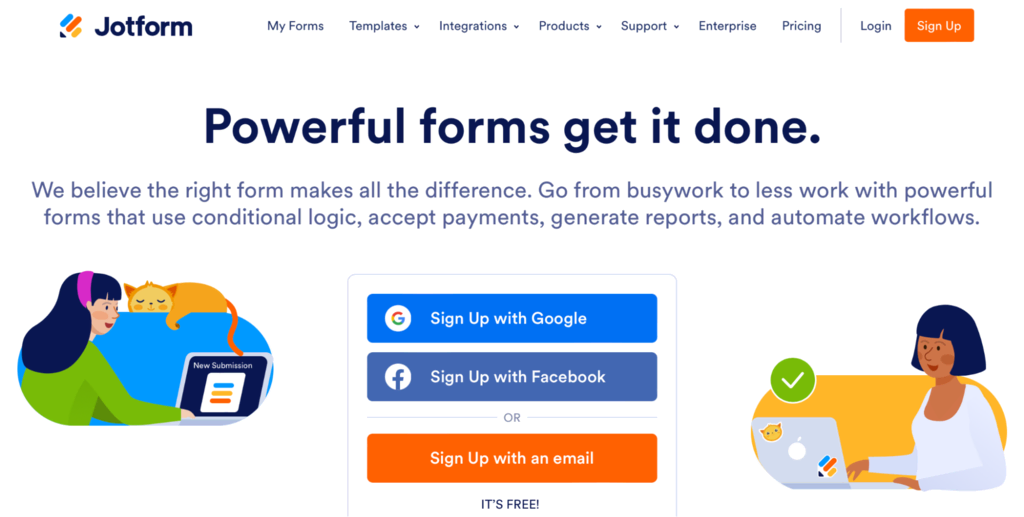 Jotform is an online form builder that can help you generate more leads. Additionally, you can use this marketing tool for agencies to collect client feedback. You'll get access to 10,000 form templates, all fully customizable, including product order and course registration forms.
Jotform offers many unique features, including a PDF editor, mobile forms, and electronic signature capability. Plus, you can accept payments directly through the form if you're selling products or collecting fees.
Key Features
Use the Report Builder feature to convert form responses into beautifully designed reports
Assign forms to specific team members to manage submissions more efficiently
Jotform Enterprise enables white labeling of forms
Pricing
Get started for free with five forms and 100 monthly submissions. Or, upgrade from $39/month.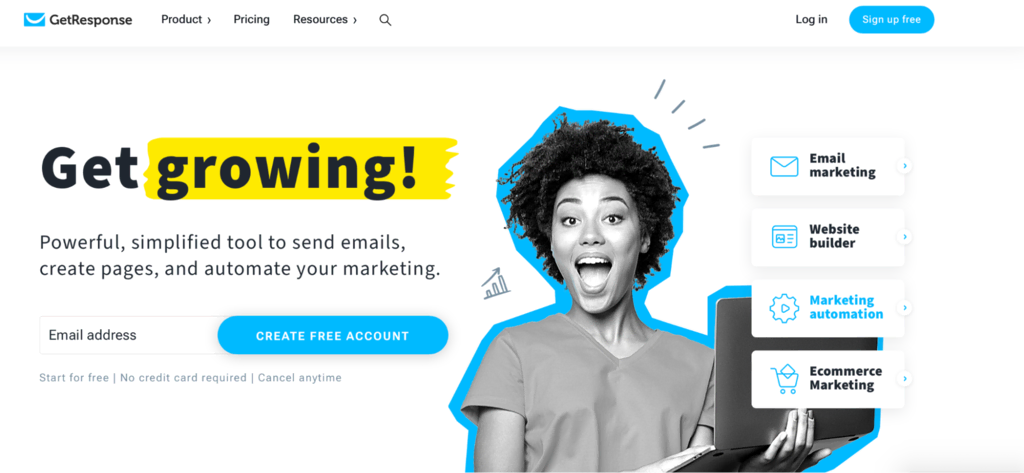 An essential tool for agencies is email marketing software enabling you to engage and nurture leads. With GetResponse, you can build newsletters without the need to use a separate newsletter plugin, create automated email sequences, and automatically share blog posts via email or social media.
The platform excels thanks to its simple and intuitive drag-and-drop email creator. Alternatively, you can opt for one of the professionally-designed templates and curate your template libraries for future use.
You can also build custom segments, A/B split test subject lines and CTAs, and use the Perfect Timing tool to deliver emails at users' convenience.
Key Features
Two million Shutterstock images and thousands of GIFs
Transactional SMTP-triggered emails to send receipts and reminders
Perfect Timing and Time Travel tools
Pricing
GetResponse is free for 500 contacts, or you can upgrade from $13.30/month.
5 Best Social Media Agency Tools
One of the easiest ways to boost your website's prominence is to build a social media presence to drive organic traffic. With these five agency tools, you can attract attention, engage your audience, and promote your brand. Plus, the tools are usable for your clients' sites, too.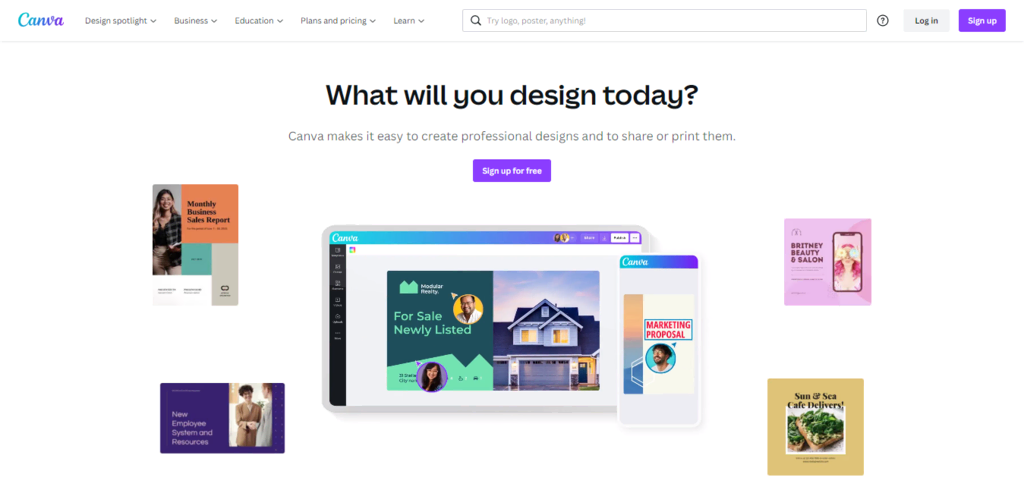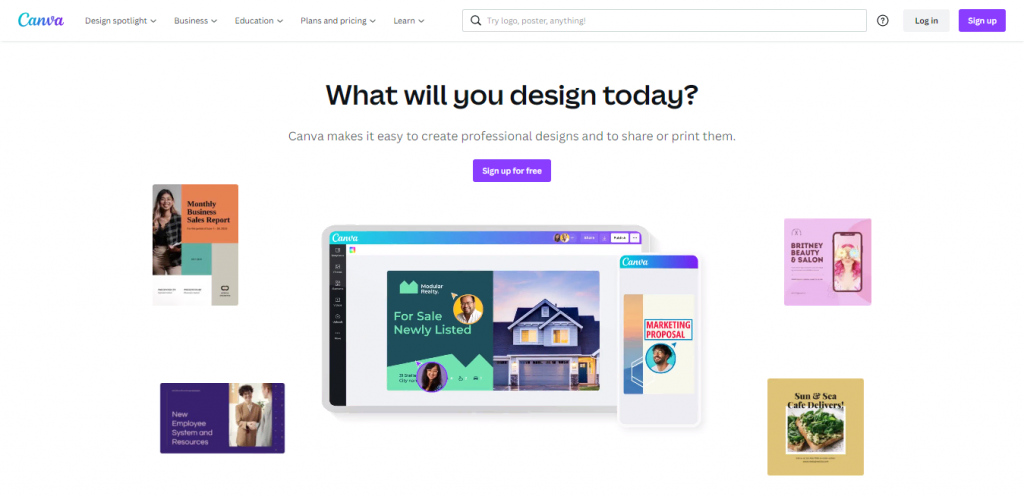 Canva makes it easy to create professional designs and share them on social media. You can access thousands of pre-built templates for brand building, like social posts, presentations, flyers, business cards, logos, and more.
With Canva Teams, you can edit assets and access many premium workplace tools. For example, you're able to get feedback and approvals, as well as manage designs collaboratively.
Furthermore, Canva has many other tools, like a video trimmer and an image enhancer.
Additionally, you can create wireframes to test your user interface and experience. Check out our article to find the best wireframing tools to speed up the design process!
Key Features
One-click resizing for any format from TikTok and YouTube to LinkedIn and Facebook
Team management tools to assign roles and organize access to brand assets
Brand kit to upload your logo, brand colors, and fonts
Pricing
It's free to get started with Canva. Or, opt for the Pro Team plan, starting at $14.99/month.

Social Status is a social media analytics and reporting tool that enables you to manage multi-channel analytics for your clients. You can track all social media data in one place, keep an eye on your competitor's social strategies, and consolidate influencer campaign reporting.
The Ads Analytics feature supports all ad objectives and provides powerful segmentation and filtering options. Meanwhile, you can white label your reports and choose your favorite format from CSV and PDF to PowerPoint or Google Slides.
Key Features
Full-funnel social media breakdowns, including impressions, views, clicks, and engagement
Facebook inbox and Instagram stories analytics
Multi-channel competitor tracking
Pricing
There's a basic free plan that includes three users. Or, you can upgrade to a paid plan from $29/month.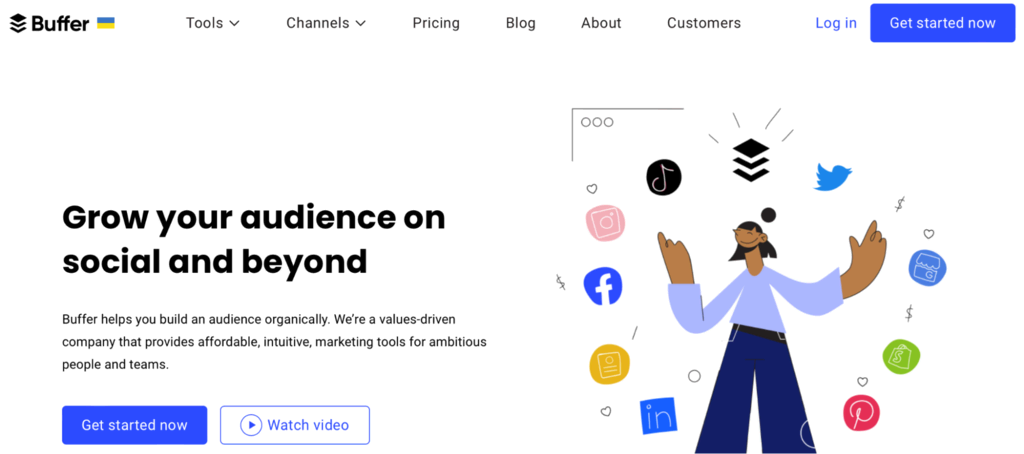 With Buffer, you can focus on growing your social audience quickly and affordably. The tool lets you plan and publish content on many channels, including Facebook, TikTok, and Shopify. The calendar enables you to view all future posts.
Additionally, you can create Start Pages that make all of your best content accessible from one place. It boosts agency productivity since you can set permission levels and approval flows. These features make it easy to collaborate with your team members and clients.
Key Features
Pre-designed Start Page templates for businesses, weddings, or photography websites
Management of stories, individual posts, and hashtags
Shop Grid features to drive traffic and sales to your store from your Instagram bio.
Pricing
You can get started with Buffer for free or upgrade for $5/month per channel.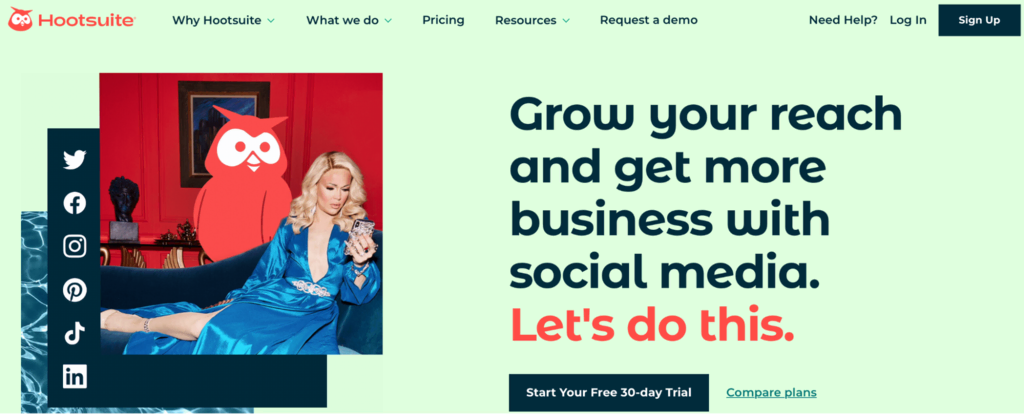 Hootsuite is the ideal agency tool for social media marketing and management. From one stylish dashboard, you can plan and schedule posts across many social networks like Twitter, Instagram, and Facebook.
One of the best parts about Hootsuite is its ease of use, enabling people with minimal social media experience to get to grips with the platform. On top of this, you can also access post performance analytics to help improve content engagement.
Key Features
View and manage inbox messages, comments, and questions
Save time with content libraries, image editing tools, and easy video publishing
Integrate Hootsuite with other social tools like Canva and Abode
Pricing
Hootsuite is free for one user, but it will cost $249/month for a small team.

Video marketing has become one of the most effective ways of capturing an audience's attention. Therefore, Promo is worth considering, enabling you to create short videos for your client's social pages and advertising campaigns.
The video maker tool makes editing and trimming easy. Plus, you can choose catchy soundtracks and enjoy perfectly-timed text overlays. Better yet, choose from thousands of ready-made video templates that are fully customizable with your client's brand colors, logos, and HTML fonts.
Key Features
Browse video templates by industry, format, or social media destination
Use photo editing tools like a collage maker and YouTube thumbnail maker
Access additional video resources, such as an MP4 editor, video compressor, and an online video cutter
Pricing
Plans start at $18/month, but the agency option, including white labeling, begins at $136/month.
6 Best Project Management Tools for Agencies
Project management tools are crucial for agencies. They help you manage tasks more easily, share files, and communicate efficiently with colleagues and clients. Here are our six top picks!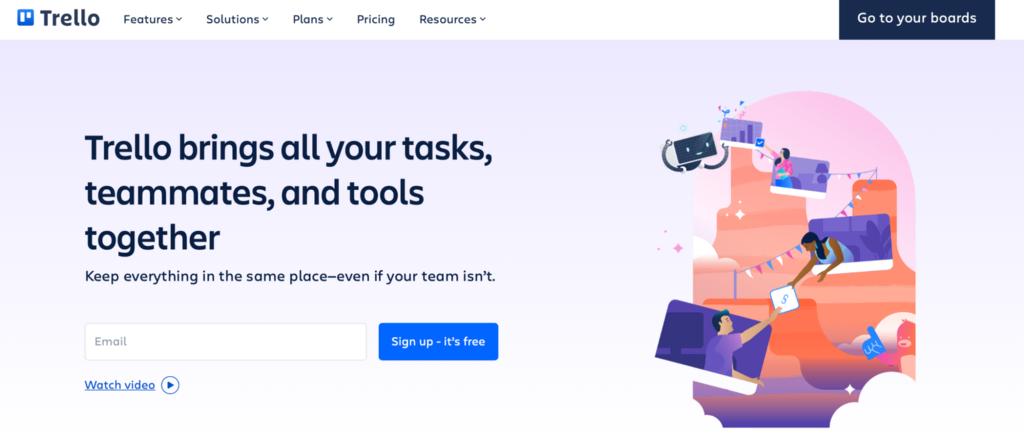 Trello is user-friendly task management software that enables you to create visual boards and cards to manage projects. Each card represents a task, which can be dragged and dropped between columns, showing when it has been started or completed.
Moreover, you can add helpful information to cards, such as attachments, conversations, and due dates. On top of that, you can benefit from powerful features like the ability to send deadline reminders to team members.
Key Features
Access a library of templates, including employee manuals, weekly meeting timetables, and design system checklists
Create rules, buttons, and commands to automate tasks
Use power-up features like adding countdowns when important tasks are due
Pricing
Trello is free for ten boards per workspace and 250 workspace commands. Furthermore, you can upgrade from $5/month per user.

Dropbox is a popular file management tool. One of the reasons it's so widely used is that the storage process is straightforward. Files are stored safely in the cloud, and you can share them with anyone, even people that don't have Dropbox.
It's a great agency tool that facilitates easy collaboration because you can create shared team folders with unique folder permissions. Plus, members can work on projects anytime with remote access to files.
Key Features
Cloud file sync is available on multiple devices and platforms like iPhone, Android, iOS and Windows
Store images, videos, CAD files, and PowerPoint presentations
Use DocSend as a virtual data room to send and track multiple documents with a single link
Pricing
The basic plan is free, or you can upgrade from as little as $9.99/month.

Slack is an online collaboration tool that excels at instant messaging. This feature makes it ideal for firing off quick messages to ask questions, confirm details, or get tasks approved. Furthermore, your agency can utilize Slack to connect with clients and team members.
For instance, you can create group chats to facilitate project-specific communication and set aside "channels" for the whole team. You'll also have access to video and voice calls by integrating the app with Zoom and Microsoft Teams.
Key Features
Automate routine actions and communications with the Workflow Builder
Enjoy complete control over your data using enterprise encryption keys
Create short audio, video, and screen recording clips
Pricing
You can use Slack for free or upgrade to a small team plan for $7.25/month per user.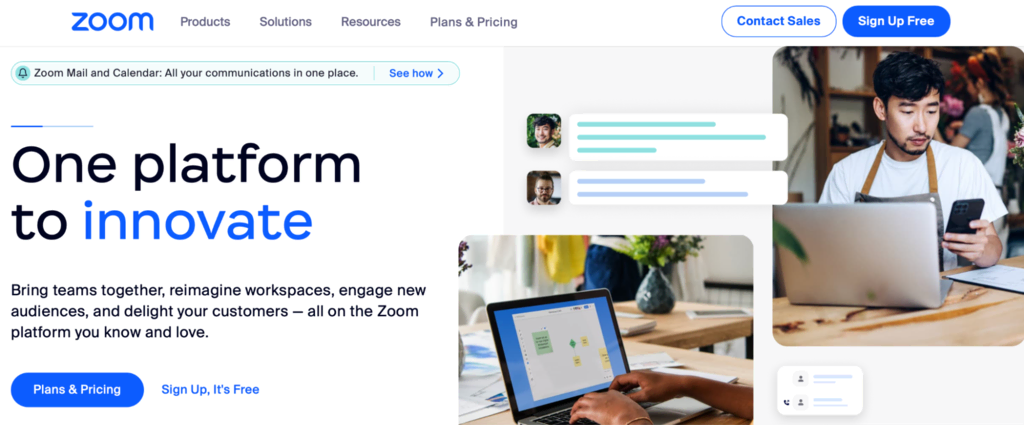 Zoom is a popular video collaboration tool that lets you connect virtually with clients and team members. You can benefit from screen sharing as an agency, which makes it easy to host tutorials, run demonstrations, or conduct other interactive tasks.
Zoom also offers complete privacy by utilizing a virtual background and recording meetings for members who aren't available. What's more, Zoom facilitates small group meetings using customizable breakout rooms.
Key Features
Easily escalate from one-on-one chats to whole group meetings
Record meetings locally or to the cloud with searchable transcripts
Collaborate on a whiteboard from your desktop
Pricing
You can get started for free or upgrade to the Pro plan from $14.99/month.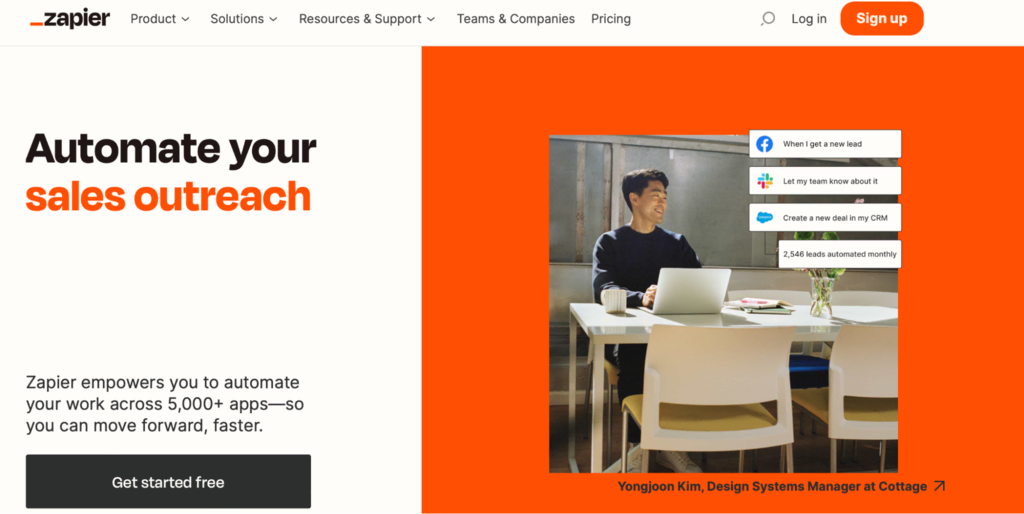 Zapier is an excellent agency tool for businesses that work with many different platforms and want to connect them. As a result, you can automate your workflow, making your team more productive.
You can sync platforms in just a few clicks and then easily swap information between them to create complete workflows. Additionally, you can set triggers and kickstart a series of actions between more than 5,000 apps and up to 100 steps.
For example, you might send new leads a personal message or share content across social media.
Key Features
A single zap can have up to 100 actions
Schedule zaps, delay action steps, and only run zaps when conditions are met
Use the developer platform to create custom connections to any web app with an API
Pricing
You can get Zapier free for basic automation needs. However, upgrades start at $19.99/month to enjoy more advanced features.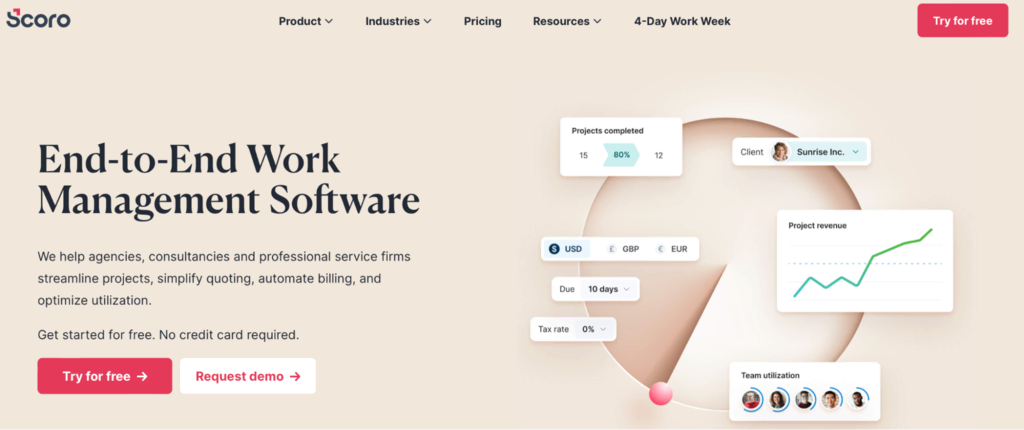 Scoro is agency management software that streamlines everyday operations. You can store all of your work in one place, enabling you to easily track projects, sales, and other activities.
You can manage your time with the built-in time tracker, view updated information about delays or changes, and share group calendars and timesheets. Scoro also makes it simple to automate billing and track time spent and billed.
Key Features
Review current and future capacity to ensure all team members are correctly utilized
Track real-time progress, dependencies, and events
Compare budgets, keep margins on target, and view income and expenses
Pricing
Plans start at $26/month per user.
6 Best Search Engine Optimization (SEO) Tools for Agencies
Search engine optimization (SEO) tools help make your clients' websites more visible in search engine results. An effective SEO strategy can see your customers claim the top spots on the results pages and attract more organic traffic. Here are five of the best SEO agency tools!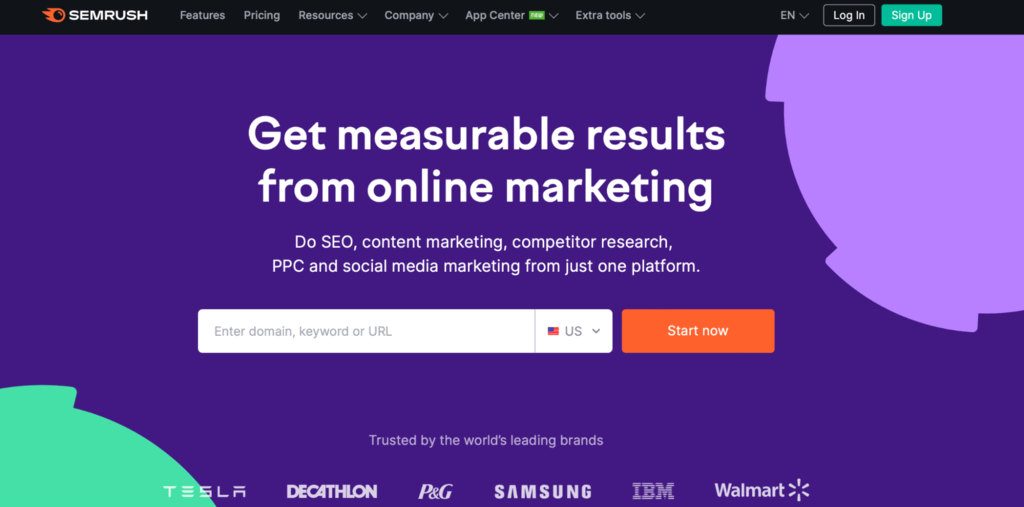 SEMrush is one of the best SEO agency tools. It's ideal for content-specific agencies, enabling you to track and leverage client SEO insights.
SEMrush also has a dashboard that includes macro-level keyword and ranking information. From one convenient space, you can track traffic, access SEO content templates, create a link-building strategy, and find and implement keywords. These features make SEMrush one of the best all-in-one SEO solutions on the market.
Key Features
Track daily changes of your target keywords in your location
Find opportunities to strengthen your backlink profile
See the paid keywords and ad copy from your competitor's PPC ads
Pricing
SEMrush prices start at $99.95/month.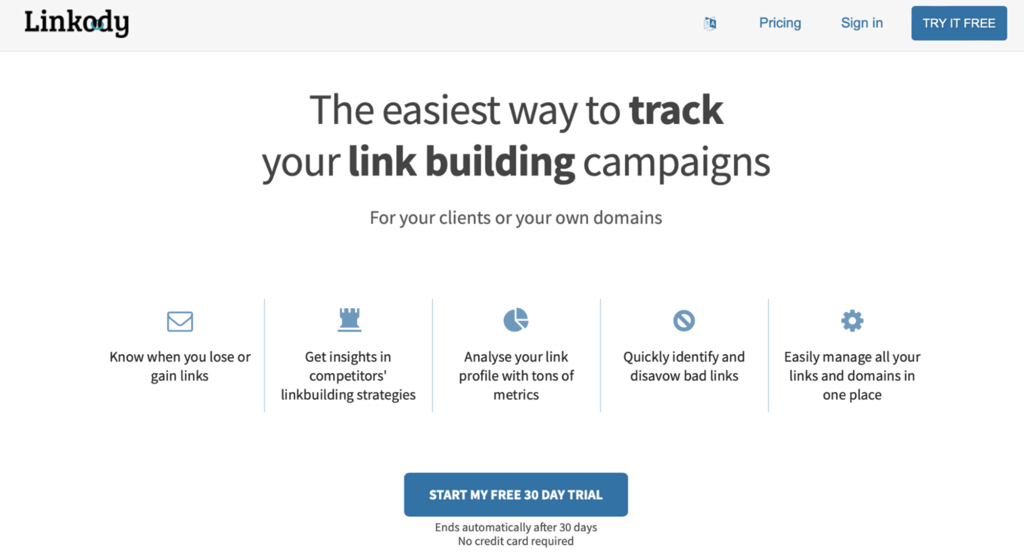 Linkody is an excellent platform for agencies that provide specialist SEO services such as backlink tracking and management. You'll get notified when you gain or lose a link. Linkody will also help you identify and disavow bad links.
You'll also gain insights into your competitor's link-building strategies to power up your game. Linkody also makes it easy to quickly gather information about your SEO progress using an intuitive dashboard that can generate PDF reports for each client.
Key Features
Manage all links and domains in one place
Get full reports on your backlink anchor text and keywords
Find out how your backlinks are distributed across all important metrics, including Domain Authority (DA), spam score, and IP
Pricing
Linkody prices start at $11.20/month. However, for more than a single user, you'll need the Pro plan, which costs $37.40/month.

SEOptimer is a professional SEO audit and reporting tool ideal for content-specific or SEO agencies. Its SEO Checker identifies problems such as page speed, links, and on-page elements.
With SEOptimer, you'll also be able to create branded and fully customizable white-label SEO reports. Plus, you can access a handy keyword research tool, a keyword tracking tool, a meta tag generator, and an XML sitemap generator.
Key Features
Embed a simple audit form to generate more leads on your websites
View search volumes, estimated traffic, and competitiveness of your ranking keywords
Use an API to integrate your sales process and systems
Pricing
Plans start at $19/month, but if you wish to access the white labeling feature, SEOptimer will cost you $29/month.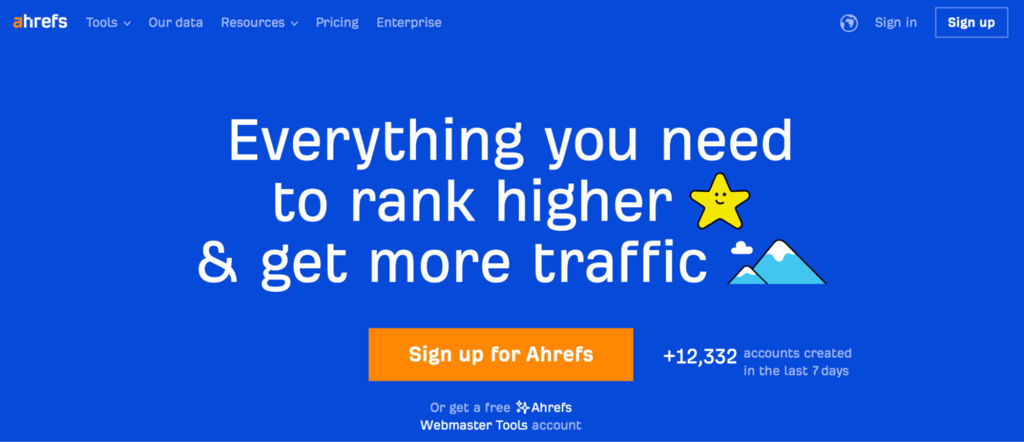 Ahrefs is another popular tool that comes up repeatedly in the world of SEO, used by Facebook, Tripadvisor, Uber, and eBay. Agencies can use it to audit and optimize client websites, conduct competitor analysis, find keywords, and identify top-performing content.
With the Rank Tracker tool, you can continually monitor your client's search rankings. Plus, with Content Explorer, you can research content ideas and identify linking opportunities to boost your clients' SEO.
Key Features
View Google Search Console data directly in your Ahrefs dashboard
Use the fastest backlink crawler in the industry
Monitor over 150 million keywords in the U.S. alone and more in over 150 other countries
Pricing
You can access Ahrefs Lite for $83/month.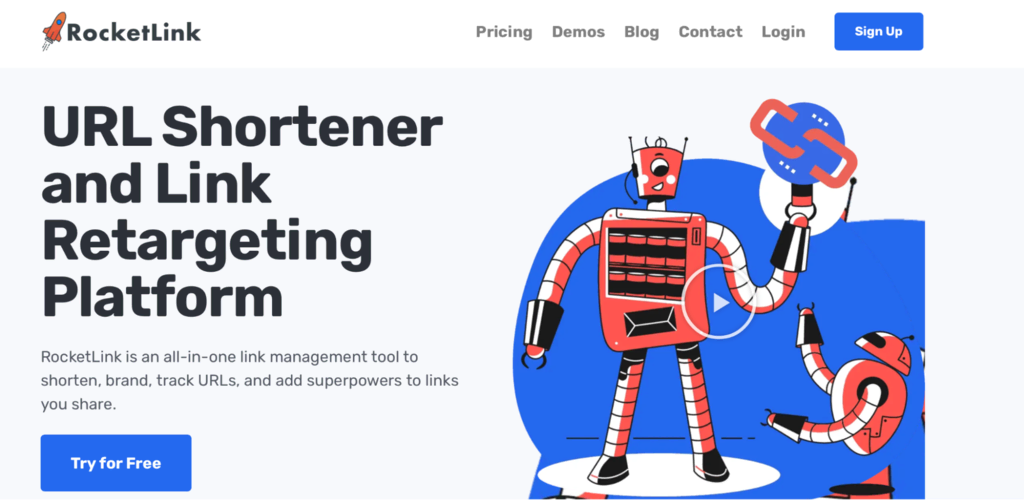 RocketLink is a URL shortener and link retargeting platform. It's great for shortening, branding, and tracking your client's URLs. RocketLink has many unique features, such as retargeting pixels, custom 404 redirects, password-protected links, custom scripts and QR codes.
As an agency, you can use RocketLink to reduce bounce rate, one of many ways to increase conversions. You can also customize domains and thumbnails, and personalize your links to make them more attractive to users. On top of that, gain access to the link-shortening feature with added UTM tags.
Key Features
Create custom audiences based on users that clicked your links
Run cross-platform retargeting campaigns
Use simple CTA overlays on external content
Pricing
RocketLink plans start at $19/month.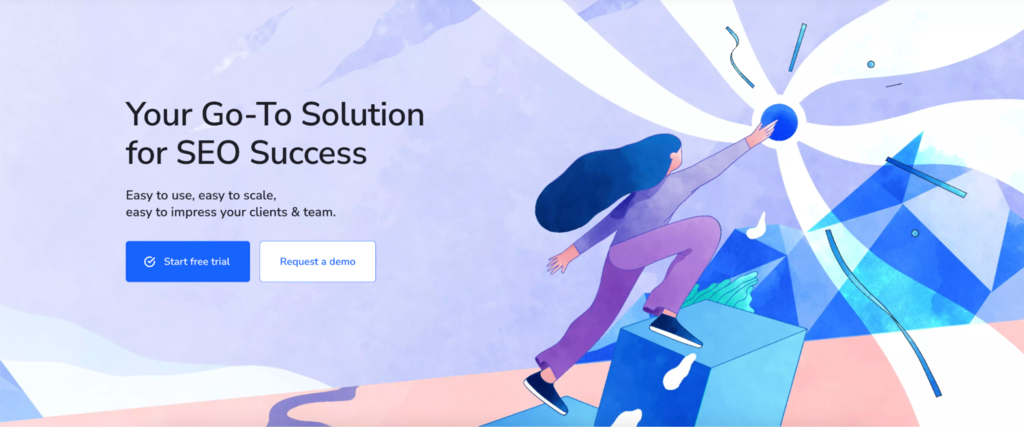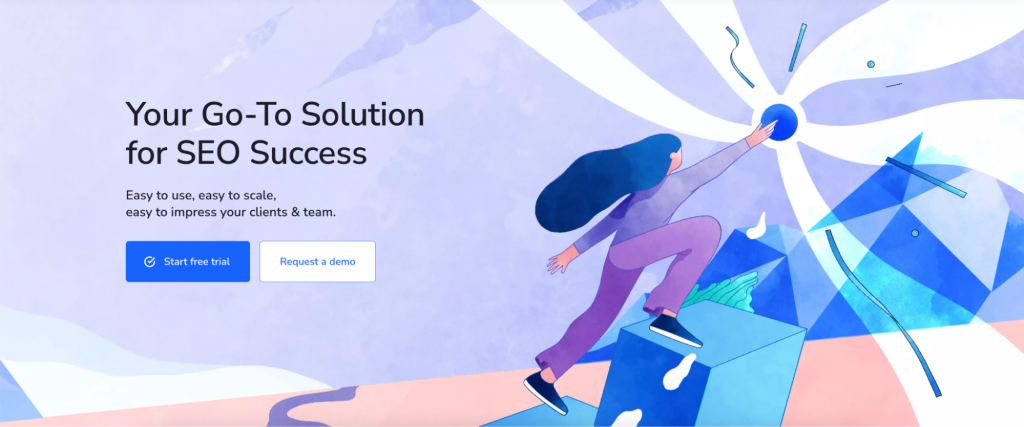 SE Ranking is a comprehensive SEO toolkit for agencies covering various SEO tasks, from keyword research and content creation to backlink analysis and client reporting. With solid features and unique data insights, agencies can utilize SE Ranking to deliver outstanding results for their clients.
The tool helps agencies manage unlimited projects within a single dashboard, which is intuitive and user-friendly. Its Agency Pack add-on provides an opportunity to white-label the whole interface and includes unlimited automatic reporting plus a lead generation widget.
Key Features
Accurate daily ranking updates for up to five locations per project
AI-powered on-page insights and complete tech audit features
Free data migration, team training, and user seats already included in the Pro and Business packages
Pricing
SE Ranking prices start at $39.20/month. The Pro package, which suits small agencies, includes comprehensive SEO tools and three user seats for $87.20/month.
5 Best Website Tools for Agencies
Every agency needs access to quality website tools that enable you to create and manage websites easily. These platforms are helpful both for your site and your clients' sites. Here are our favorite agency tools for building better websites!
1. Cloud Hosting

Your agency and client websites need a quality hosting provider to publish their content online. Fortunately, opting for cloud hosting is a powerful and easy way to create websites and benefit from improved online performance.
Pro Tip
Want to turn your website idea into fully functioning site? You can find step-by-step instructions in our beginner-friendly website creation guide.
At Hostinger, we offer managed cloud hosting that gives you the speed and scalability of a cloud-based host with the benefits of managed hosting. For example, you'll get a free domain name, SSL certificate, automatic daily backups, and access to a content delivery network (CDN).
Key Features
Expert support is available 24/7
Control over server resources using your custom control panel
Instant setup
Pricing
Hostinger plans start at just $9.99/month.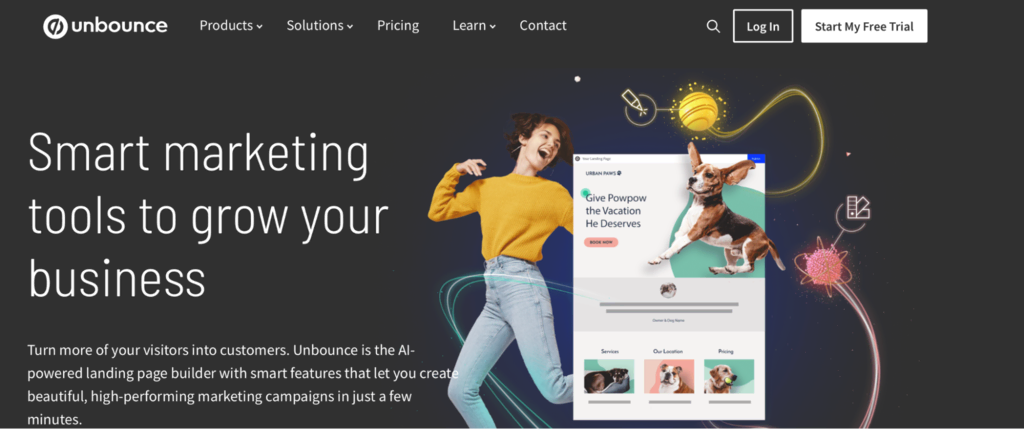 Unbounce is a great tool for creating landing pages for your clients' campaigns and websites. With Unbounce, it's easy and fast to make beautiful, custom pages, regardless of your skill level. It includes optimization features like A/B split testing, built-in reporting, and management tools.
For agencies, you can add collaborators with unique user permissions. Then, you can use Unbounce to send clients lead notifications and let them see how projects are coming along using design previews.
Key Features
Build your pages with the Classic builder or the Smart builder (an AI-powered builder with data-backed recommendations)
Use JavaScript and CSS, so your pages look and feel how you want them to
Add custom functionality from platforms like PayPal, Stripe, and Shopify
Pricing
Unbounce plans start at $90/month.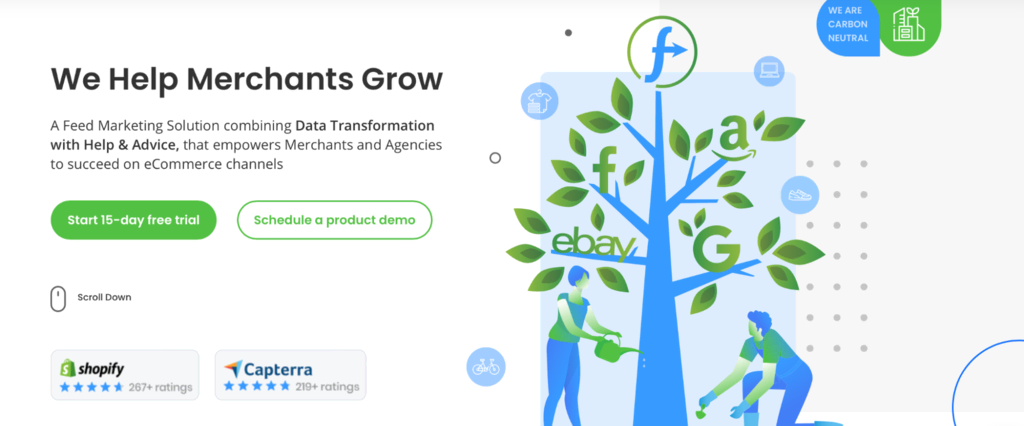 With DataFeedWatch, you and your team members can manage the performance of products across multiple channels. This feature makes it an excellent solution for agencies with numerous eCommerce clients.
DataFeedWatch allows you to create, manage, and optimize feeds across your portfolio. For example, custom labels can enhance product titles and group items.
Plus, you can take advantage of Ultimate Feeds. These configure universal feed rules that will work with any channel.
Key Features
Automated feed-based text ads that utilize unique keywords
A/B split tests to gain audience insights
Customizable feeds for shopping ads, social media, and marketplaces
Pricing
Its Agency plan starts at $166/month and includes daily updates, unlimited shops, support, unlimited onboardings, and an account manager.

An excellent website optimization tool, WooRank has analyzed 50 million websites and is used by 250,000 users per month. It conducts an instant analysis to help you improve websites with actionable SEO insights.
Some of the stand-out features of WooRank include technical website audits, competitor analysis, keyword tracking, instant website reviews, and white labeling. Moreover, you can even measure and track your Core Web Vitals, which are often neglected.
Key Features
Export keyword data as a CSV to report back to clients
Schedule automated web crawls
Connect with Zapier to enrich your customer relationship management, expand your reach, and automate lead generation
Pricing
Pro plans start at $53.25/month.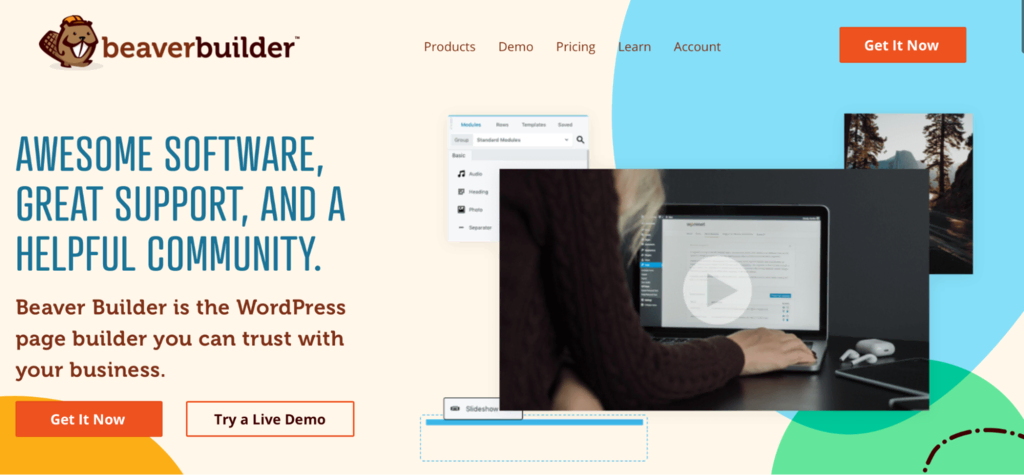 Beaver Builder is a page-builder tool that makes designing content and landing pages for your website and client sites quick and easy. It's popular with agencies since it accommodates all skill levels, thanks to its intuitive drag-and-drop visual editor.
You can choose from various modules like images, text, buttons, and more. Meanwhile, you can access pre-built layouts for your Contact pages, About Us pages, or blog posts.
There are also plenty of add-ons, such as Beaver Themer, which enables you to create archive pages, 404 pages, and custom headers and footers.
Key Features
Apply global settings to speed up your workflow
Use the tool on multiple sites with numerous themes like Astra and Genesis
Integrate it with other useful plugins such as Gravity Forms, Mailchimp, and TranslatePress
Pricing
You can use Beaver Builder as a free plugin on WordPress. Or, you can purchase a plan for $99/year.
5 Best Scheduling Tools for Agencies
As an agency, a scheduling tool enables meetings and discovery calls to be booked instantly. Therefore, you won't need to rely on back-and-forth emails that slow down your workflow. Here are some of the best scheduling agency tools!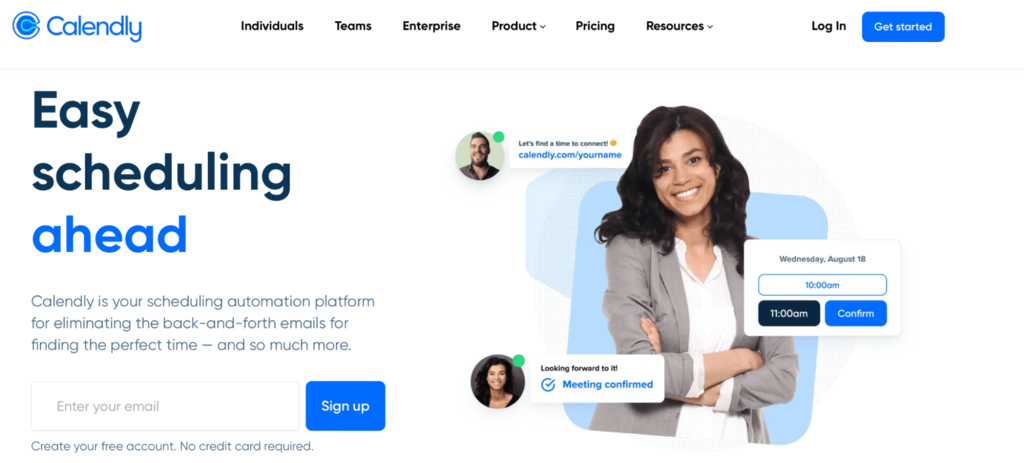 Calendly offers a hassle-free way to schedule meetings and appointments with clients. Simply add your availability to your website, making it easy for customers to book sessions with you. Then, you can take advantage of email reminders.
A unique feature of this tool is that you can screen people before the appointment is confirmed. You can even run member polls to determine when colleagues or clients would prefer to join meetings.
Key Features
Integrate the tool with Google, Outlook, and iCloud to automatically sync and register existing appointments
Route website visitors to specific team members
Managed Events lets you assign and lock event details like meeting descriptions, invitee questions, and notifications
Pricing
Calendly's basic plan is free, or you can enjoy more advanced features for $8/month.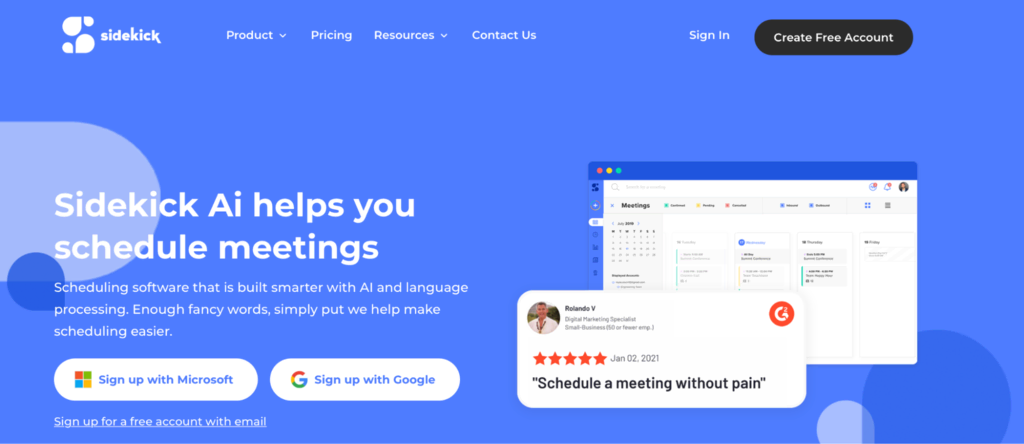 Sidekick is a great choice for agencies that hold physical and virtual meetings. You can save your physical location, such as a workspace or coffee shop, which is only revealed once the appointment is confirmed.
One of the features of Sidekick is that it's incredibly easy to use, boasting a clean, simple interface. Here, you can set your availability and determine default durations across all meeting types.
Key Features
Integrate the tool with Zoom, Teams, and Google Meet
Send meeting requests to non-Sidekick users
Forward email requests to Sidekick, which will start the scheduling process
Pricing
Sidekick is free for three scheduling pages; you can upgrade from $5/month.

SimplyMeet.me works similarly to Calendly, but it has a more powerful free version. For instance, you can enjoy calendar integrations, unlimited meeting types, and 500 scheduled meetings per month at no cost.
You can also gain more control over meetings by making a meeting secret, adding intake questions, and customizing email or SMS notifications. What's more, SimplyMeet.me automatically adjusts to your or your client's time zone to make scheduling as easy as possible.
Key Features
Set buffer times before or after meetings
Automatically detects time zones
With the Admin App, you can view your client list, access your bookings, and add new ones
Pricing
SimplyMeet.me is completely free. However, you can upgrade from $9.99/month for more users and calendars.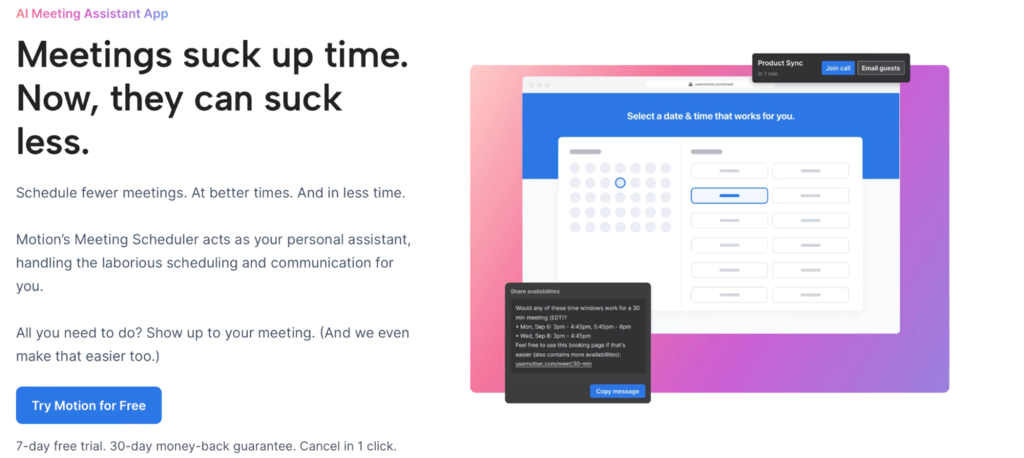 Motion is an all-in-one project manager and calendar with a built-in scheduling tool. The Scheduler acts as a personal assistant, booking meetings and communicating on your behalf using AI. Better yet, Motion constantly reorganizes itself based on new tasks.
You can use Motion as a standard scheduler, sharing booking links and letting customers choose appointments. Alternatively, you might manually select a few time slots from your calendar. This option functions more similarly to an email exchange without sending new messages.
Key Features
Control what you and your clients or team members can see to ensure total privacy
Create recurring tasks, select custom time windows, and keep detailed notes with the Task Manager
Create meeting templates for recurring appointments
Pricing
An individual can use Motion for $34/month. However, for teams, it will cost you $20/month per user.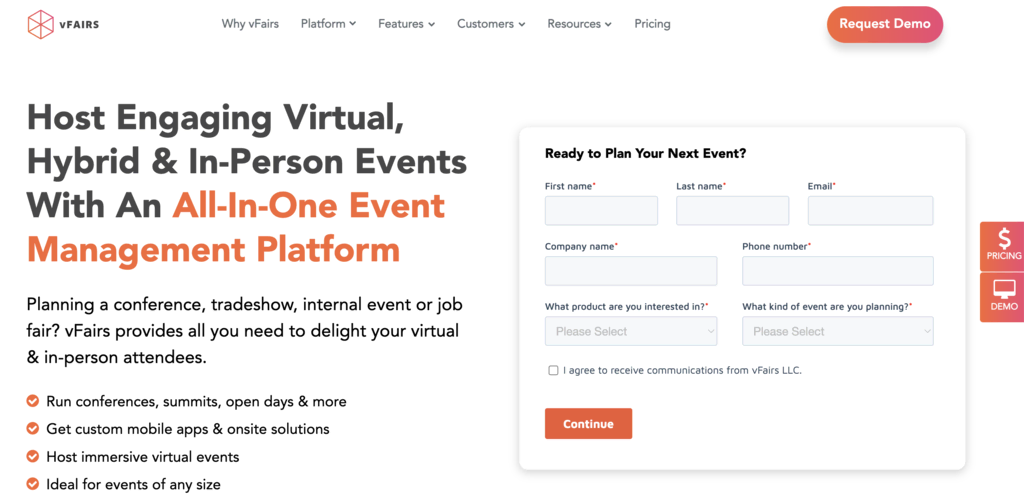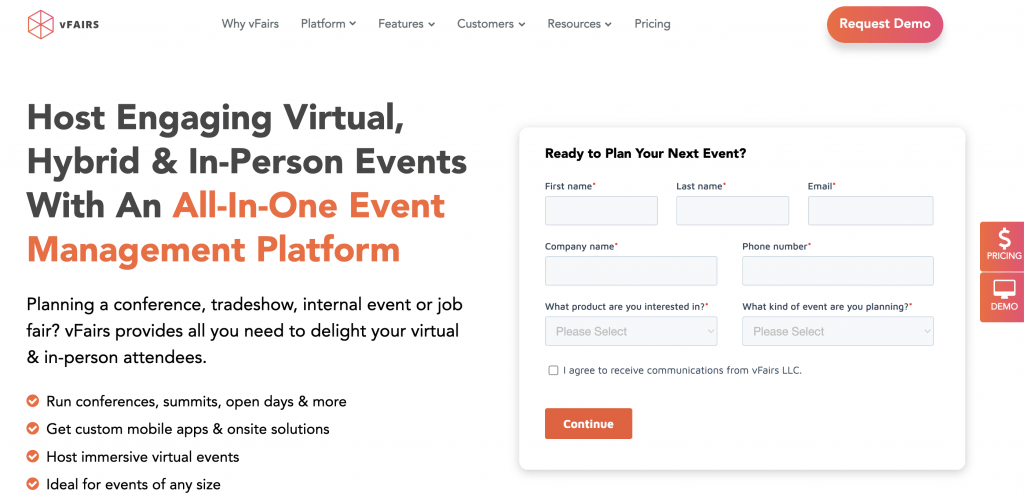 vFairs is an all-in-one event management platform, powering virtual, hybrid & in-person events. The platform helps organizations around the world manage & host epic events of all kinds including conferences, virtual events, trade shows, hiring fairs, student events, internal company events and more. Additionally, the solution is scalable which means whether you have 50, 500 or 10,000+ attendees, it can power events of all sizes.
Using its intuitive 3D virtual venues and expansive features, you can create a custom virtual experience for your audience where they can access fully functional webinars, virtual exhibit booths, networking features, content sharing, and more.
The multifunctional mobile app lets you enhance your event through QR-based check-in, easy user management options, seamless contact exchange and networking features. The ease-of-use offered by vFairs gives your live attendees more space to focus on learning, networking, and knowledge sharing.
Every vFairs event is supported by a dedicated customer service team, who's there to help every step of the way.
Key Features
Immersive 2D/3D virtual event platform with customized virtual venues
Custom event website, event registration and ticketing
Custom, branded mobile app for networking, engagement, lead capture, check-in and badge printing
2000+ integrations with marketing, CRM and ATS software
Event reporting and analytics
Dedicated project manager
Pricing
vFairs offers three pricing tiers i.e., single event, two event and annual licenses. The platform allows customers to select the features and add-ons they need and then tailors the pricing as per the event requirement.

Square Appointments is part of Square's payment processing solution. Your clients can book from anywhere, and the tool will track multiple schedules. Square Appointments also gives you the option to accept or decline appointments.
This platform is a great solution if you build client websites using WordPress, Wix, or Squarespace since you can embed a booking widget into your pages. Plus, you can even accept payment at the time of booking and process cancellation fees.
Key Features
Automate email and text reminders.
Keep a card on file to hold appointments, require prepayment, or charge cancellation fees.
Log customer communication, activity, and preferences to build strong customer relationships.
Pricing
You can enjoy a basic service for free or upgrade from $29/month.


Conclusion
You and your team can work more efficiently with the right agency tools. Plus, you will maximize your chances of success by more effectively creating, evaluating, and managing your clients' websites.
Here are some of the best agency tools to grow your business:
Marketing agency tools like GetResponse can generate and nurture leads.
Social media tools such as Buffer can build brand awareness and track engagement.
Project management tools like Trello can streamline your workflow.
SEO agency tools such as SEOptimizer will help boost your client's search rankings.
Hostinger's cloud hosting services can make building and maintaining client sites easier.
Also, check out the best AI prompts for web agencies to harness the power of AI. You can make your company more productive and profitable with just a few of these agency tools!