10 Best WordPress Malware Scanner Plugins + How to Scan for Malware to Prevent Infections
Millions of individuals and businesses have fallen victim to malware, making it one of the most pressing website security threats. With WordPress being incredibly popular, it has become a prime target for such attacks.
If you're looking to better protect your WordPress website, a WordPress malware scanner is one of the best solutions. It's a tool that analyzes your site for vulnerabilities and provides guidance to fix them.
Plenty of WordPress plugins can get the job done – this article will introduce you to our top ten picks. Each one comes with its own unique features, with some capable of removing malware from WordPress sites.
Download WordPress Security Checklist
Top 10 Malware Scanner Plugins for WordPress
Here are our top 10 plugins to help scan your WordPress site and address issues like detected malware and malicious code.
Wordfence Security's Stats:
Rating: 5/5
Best for: users who need a free yet powerful WordPress malware scanner
Price: freemium (from $119/year)
Wordfence Security is a comprehensive WordPress security plugin. Its free version includes a customizable malware scanner by default. Among the different settings, it's possible to adjust the depth of the threat detection.
One advantage of using this plugin is its performance settings. These can be helpful if the WordPress site is on a resource-limited server, ensuring the malware scanning doesn't hinder its performance.
Other Wordfence's security features include login protection from brute-force attacks and a web application firewall (WAF). The latter comes with a Learning Mode feature to prevent false positives, which are incorrectly identified threats on your WordPress site.
The plugin's free version will schedule security scans every three days, with no option to intervene. If you want more flexibility, consider purchasing the premium version for unlimited sessions.
Key Features:
Configurable malware scanning
Scheduled security scans, with unlimited sessions for premium users
Performance settings to lower the scans' impact on your WordPress site
Login protection and WAF for further protection
[DOWNLOAD]
Jetpack Scan's Stats:
Rating: 4/5
Best for: WordPress users who need an easy malware scanning and removal solution
Price: freemium (from $4.95/month)
Jetpack is one of the most popular WordPress plugins for performance and security. While it's available for free, its malware scanning feature is accessible through a paid subscription.
It will automatically scan WordPress for malware daily, ensuring consistent and proactive protection against potential threats. If it detects malware, it will notify you via email immediately.
Jetpack also doubles as a malware removal plugin, offering a one-click service to delete the identified issues.
If you want to run scans manually, navigate to Jetpack → Protect on the dashboard. This section also shows recent results from scans:
Besides malware scanning for WordPress files, Jetpack has features like database backups, activity log, and spam protection.
Key Features:
Automatic daily malware or on-demand scans
One-click malware removal to fix a compromised website
Email notifications when the plugin detects security issues
[DOWNLOAD]
Security & Malware Scan's Stats:
Rating: 4/5
Best for: users seeking a hands-off WordPress malware removal plugin
Price: from $12/year
Security & Malware Scan by CleanTalk is one of the best WordPress malware removal plugins on the market. Unlike other all-in-one security toolkits, it offers a user-friendly setup.
This security plugin can scan WordPress for malware automatically in the background, requiring minimal supervision. That said, some occasional security logs may be necessary.
If it detects malicious code during the security scan, use the Cure malware option to let the plugin decide what to do next. It can delete files voluntarily, but it creates backups in case the removal is unsuccessful.
Another noteworthy feature is the scanner's ability to identify spam, concealed, or phishing links on a WordPress website. This can help avoid search engine optimization (SEO) penalties when linking to external resources.
The main downside of Security & Malware Scan is that, while the plugin can be downloaded for free, having a CleanTalk license is a must. There is a 7-day trial, but after that, most features, including the malware scanner, cease to work.
Key Features:
Automated WordPress malware scanning
Automatic malware removal service
Outbound link detection
Security logs, firewall protection, and two-factor authentication (2FA)
[DOWNLOAD]
AIOS's Stats:
Rating: 4.2/5
Best for: WordPress users who need dedicated support to handle malware infections
Price: licenses start at $70/year
All-In-One Security (AIOS) is one of the most powerful WordPress security plugins available. It boasts a wide array of security features, ranging from WAF and spam protection to login security to prevent bots and brute-force attacks.
The malware scanner runs as a third-party premium feature that you can connect to your WordPress site. It will automatically conduct a security scan for malicious content and notify you of any issues within 24 hours.
AIOS can also monitor the site's response time so that you can take action immediately in case of downtimes.
The plugin offers a file scanner that can detect malicious code alterations in WordPress files, which are common causes of malware.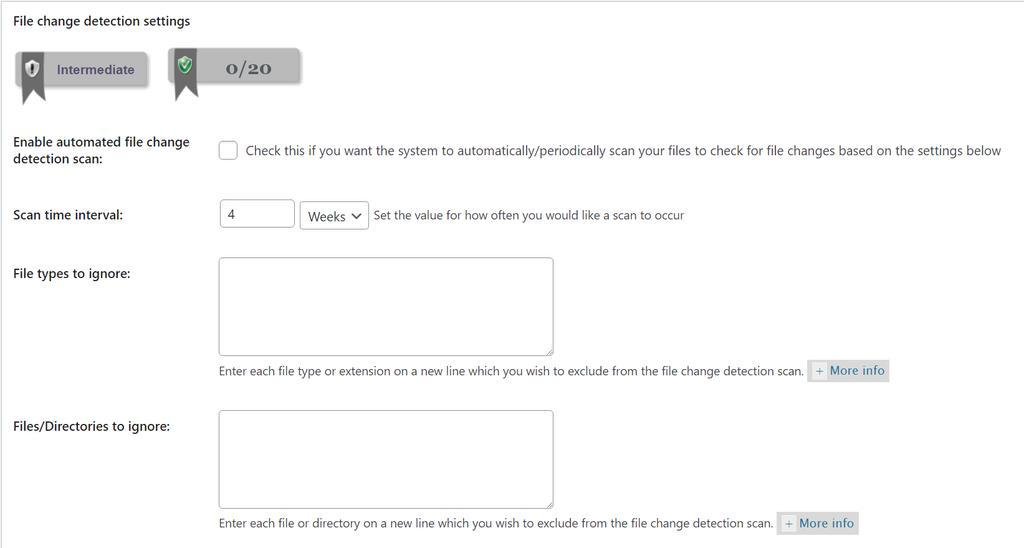 Additionally, free plugin users will benefit from Cross-Site Scripting (XSS) protection. It utilizes a special cookie to prevent attackers from injecting malicious scripts into your website.
Key Features:
24/7 automatic malware scanning
A dedicated support team to notify you of infected files
Uptime monitoring
Built-in file change detection
[DOWNLOAD]
Defender Security's Stats:
Rating: 4.5/10
Best for: users comfortable with manually running malware scans
Price: freemium (from $7.50/month)
Defender Security is a user-friendly solution for managing WordPress site security, and it's also part of the WPMU DEV WordPress plugin suite.
The malware scanner is available in Defender's free version – no need for a WPMU DEV account. It will detect malicious code on your WordPress website anytime, comparing your core WordPress files with the master software copy.
Defender also works as a malware removal plugin. After a scan is complete, it will propose actions for the detected malicious files. Simply click the Delete button to remove them immediately.
Upgrading to the Pro version will let you schedule the scan to automate your site's security tasks. Moreover, it can send alerts about security vulnerabilities in out-of-date plugins or themes.
As for other security tools, Defender integrates firewall protection, IP blocking settings, and 2FA implementation.
Key Features:
Manual or automatic malware scans
One-click button to remove malware
Alerts about known security vulnerabilities, available with Defender Pro
[DOWNLOAD]

SecuPress's Stats:
Rating: 4.2/5
Best for: users who prefer an all-in-one security tool with a malware scanner
Price: freemium (from $69.99/month)
SecuPress is a complete security solution for WordPress sites. The malware scanner is part of their comprehensive scanning tool, which looks for vulnerabilities in the WordPress core software, logins, plugins, themes, data, and firewalls.
It also has a user-friendly interface. Click the Scan Website button, and the plugin will start locating security issues on your website. Then, it will give you an overall grade for your website's security level.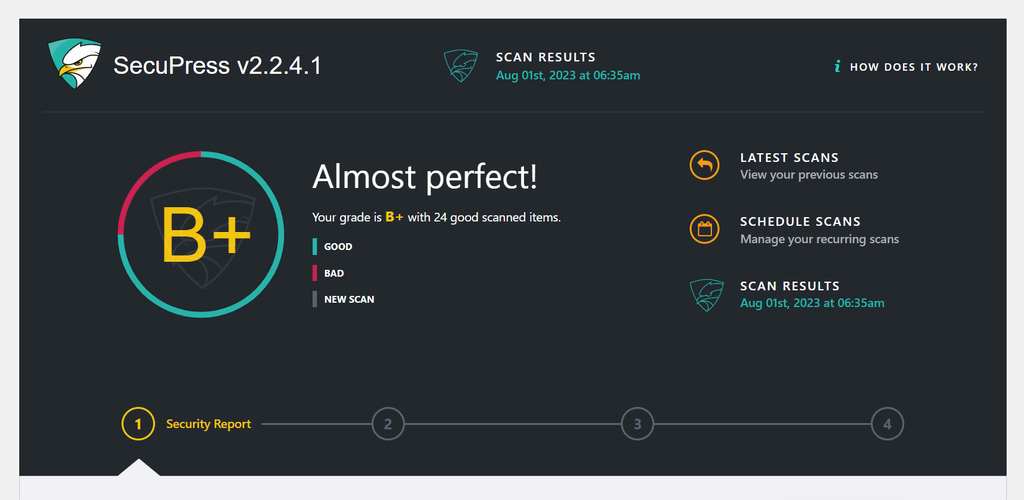 Scroll down to find the Security Report, which lists the good and bad security items for you to check. The Malware Scan section focuses on malicious files, databases, and bad file extensions.
If you want to quickly resolve the listed security problems, consider SecuPress Pro. It offers one-click automatic security fixes like activating two-factor authentication, removing vulnerable plugins and themes, and tweaking WordPress core.
Those using the free plugin will have to manually fix the security issues.
[DOWNLOAD]

miniOrange Malware Scanner's Stats:
Rating: 4.2/5
Best for: users who are comfortable with manual malware cleanup
Price: freemium (from $95/year)
miniOrange has various WordPress security plugins, each focusing on different aspects of protecting your website. This specific plugin offers malware scanning, WAF, login security, and spam protection.
The free version scans for malware on demand. Choose the Quick Scan to check all WordPress plugins, themes, and core files for signs of malware. Alternatively, select the Standard Scan to find suspicious external links on your WordPress site.
On the other hand, Deep Scan is only available for premium users. It will look for advanced malware, blocklisted domains, and remote file inclusion attacks. The last one is a widely-used tactic to upload malware into a WordPress application.
The main downside of miniOrange Malware Scanner is the lack of options to address detected malicious files. The user is responsible for manually fixing or removing malware, which may require technical expertise.
Key Features:
On-demand malware scanning
Multiple malware scan modes
Remote file inclusion detection in WordPress
[DOWNLOAD]
Security Ninja's Stats:
Rating: 4.2/5
Best for: users who prefer a simple WordPress malware scanner plugin
Price: freemium (from $39.99/year)
Security Ninja is an intuitive malware scanner plugin to protect WordPress. Its free version will automatically scan your WordPress site for security vulnerabilities, such as outdated plugins, and inform you via the dashboard or email if it detects any.
The paid version introduces more features, like the scheduled scanner for malicious and suspicious code detection, brute-force firewall protection, IP blocklisting, and activity logs.
Furthermore, it can perform tests to assess if your website's security is up to par. If it identifies poor security practices – for example, using an out-of-date WordPress version –it will offer suggestions to address these issues. The responsibility to implement the changes falls on the user.
Key Features:
Malware and vulnerability monitoring
Advice on improving your site's anti-malware security
Alerts for when the plugin detects malware
[DOWNLOAD]

Bulletproof Security's Stats:
Rating: 4.5/5
Best for: users looking to easily scan WordPress theme files before installing them
Price: freemium (from $69.95/year)
BulletProof Security is one of the best WordPress plugins to protect your website against malware when installing themes and other files. Its MScan malware scanner offers an option to run scans manually or, for premium users, schedule them for automatic execution.
Besides that, the plugin's dashboard gives access to scan reports, activity logs, and additional configuration options. For example, choose whether to scan the database, hosting account root folders, or image files.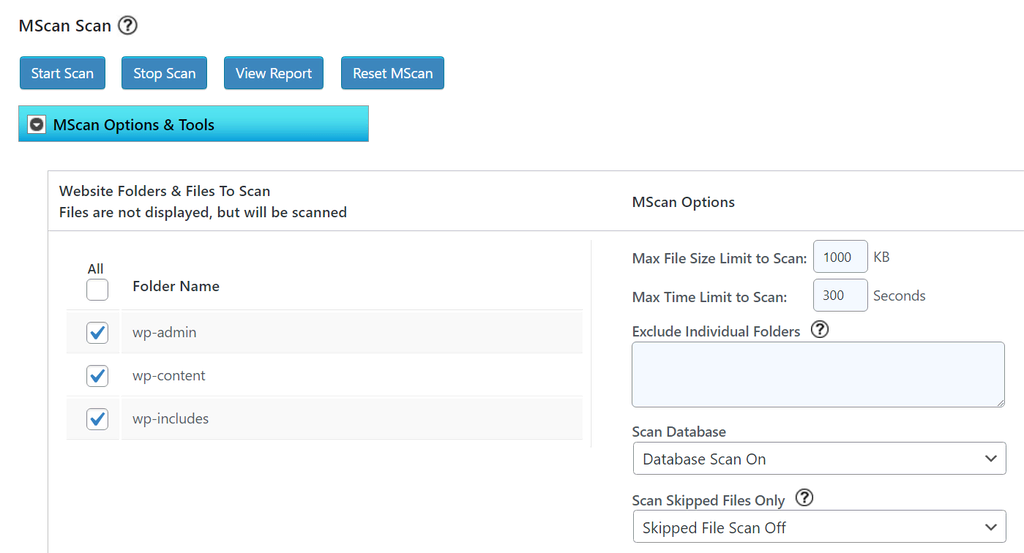 What makes this WordPress plugin different from others is its ability to scan theme ZIP files for malicious code. This feature is great for those who regularly download plugins from third-party sources and want to detect possible security issues before installing plugins on their WordPress site.
Once the scan tool locates a suspicious file, you can view, ignore, or delete it. If you're uncertain, feel free to copy and paste the code to Bulletproof Security's troubleshooting forum.
Key Features:
Free users can manually scan WordPress for malware
Scans WordPress images, hosting accounts, and databases
Theme files scan prior to installation
[DOWNLOAD]
Titan Anti-Spam & Security's Stats:
Rating: 4.2/5
Best for: users who need a malware scanner plugin that doubles as anti-spam protection
Price: freemium (from $55/year)
Titan Anti-Spam & Security is a WordPress plugin specializing in anti-spam, firewall, and malware protection. It looks for potential backdoors, malicious redirects, malicious code in WordPress files, and malicious code injection.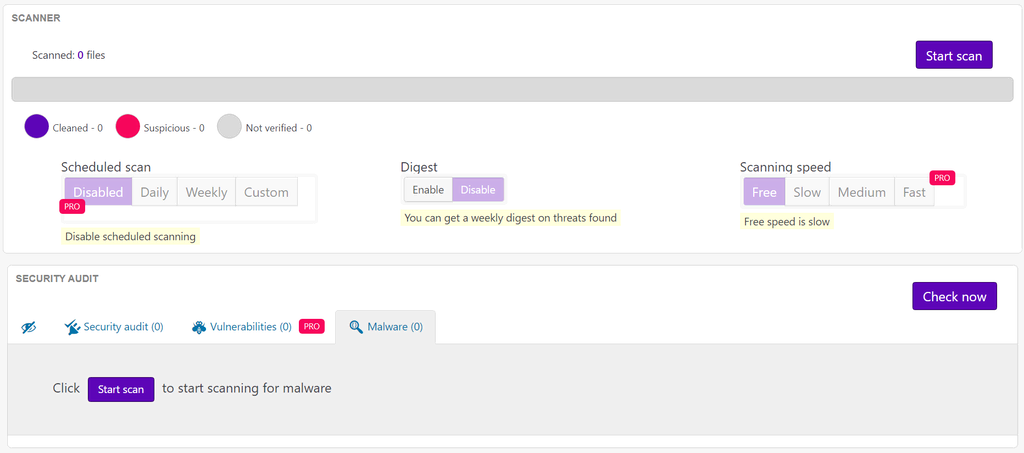 By purchasing a premium license, you can schedule scans and select scanning speed to reduce its impact on your WordPress site performance.
After completing a scan, Titan will list any malware incidents detected on the WordPress site, and users can decide what to do in each case. The options include deleting the files or overwriting them with the original files from the WordPress repository.
Besides that, the plugin generates a weekly digest summarizing any security threats identified during the scans. This way, you will be constantly informed about your website's safety.
For bloggers, Titan's anti-spam protection will help improve user experience. Whenever you receive a new comment, the plugin will check it against its global spam database. If it finds a suspicious link, it will hide the comment from public view.
Key Features:
Comprehensive WordPress malware scans
Configurable scan speeds and schedules (premium version only)
Weekly digest of security issues identified on your website
[DOWNLOAD]
Why Use a Malware Scanner on Your WordPress Site
If you have doubts about installing a WordPress malware scanner, it's important to understand its role in your website's health and performance.
As noted earlier, malware attacks are incredibly common. In fact, the AV-Test Institute reports over 200,000 malware incidents daily.
Since WordPress is the most popular CMS on the market, it makes it a constant target of malware.
A single security vulnerability in a widely-used WordPress plugin can compromise millions of WordPress sites. If there are infected files in the WordPress core itself, the majority of the websites on the web will become vulnerable to potential malware attacks.
Fortunately, there are numerous strategies to mitigate this risk. WordPress is an inherently secure platform, but you can always protect it further.
Aside from picking the right web host, installing a plugin for scanning WordPress for infected or unknown files is also good practice. Until WordPress includes its own malware detection tool, this remains one of the best defenses to safeguard websites.
At Hostinger, we offer an automatic malware scanning and removal service for all WordPress hosting clients.
Combining this feature with a malware scanner plugin of your choice, you won't have to worry about your site's or your users' safety – ensuring a seamless, secure online experience.

How to Use a WordPress Malware Scanner
The process of using a WordPress malware scanner varies depending on your chosen tool. Generally, follow these steps:
Install the malware scanner plugin.
Head to the plugin's page on the WordPress dashboard. Depending on the chosen tool, you may schedule automatic scans or run them manually.
During the scan, the plugin will perform a full or partial analysis to detect malware on your WordPress site. When completed, it will generate a list of suspicious or infected files it discovered.
Besides detecting malware, some scanners include a malware removal service, which you can use to delete them automatically. Other plugins may only provide suggested actions.
Manual malware removal can involve uninstalling plugins and themes and deleting an unknown file. You might also need to replace the WordPress core files if they're corrupted.
Conclusion
WordPress malware scanner plugins are among the best tools to keep websites safe. If you're unsure which one to install, here's a recap of our top five picks:
Wordfence. An all-around malware scanner for WordPress with configurable threat detection depth.
Defender Security. One of the most user-friendly WordPress malware removal plugins on the list due to its easy-to-use interface.
BulletProof Security. A highly-customizable malware scanner plugin with the ability to scan for suspicious files in newly-downloaded theme files.
All-In-One Security. A freemium security plugin that offers dedicated support for handling malware infections.
MiniOrange Malware Scanner. A malware scanning plugin with a configurable detection depth to reduce the scans' impact on performance.
Regardless of what WordPress malware scanner you choose, proactively monitoring your website for vulnerabilities is essential. This way, you can promptly detect and respond to any security threats, minimizing potential damage and maintaining users' trust.
WordPress Malware Scanner FAQ
If this is your first time learning how to scan WordPress for malware, you may have questions about the topic. Check out answers to frequently asked questions about the best WordPress malware removal practices.