How to Sell SEO Services + Tips for Growing Your SEO Business for Profitable Services
Whether you're freelancing or managing an agency, offering Seach Engine Optimization (SEO) services is a profitable business. However, it can be challenging to start, even for SEO experts.
Alongside mastering search engine optimization techniques, you'll need to know how to market the services to acquire clients. Moreover, prospective clients might not know how SEO works, the results it can bring, and how much it should cost.
In this article, we'll teach you how to sell SEO services to make money online, from determining your target market to promoting the services. We'll also provide tips for setting realistic expectations, getting more clients, and growing your own SEO business.


How to Sell SEO Services in 6 Steps
Here are the steps to start selling SEO services.
1. Identify Your Target Market
Whether you're offering complete SEO packages or shorter consultations, many SEO agencies and experts benefit from targeting a specific market. While general SEO principles apply across industries, focusing on a particular target market helps reach potential clients more effectively.
Start by determining whether you'll target B2B or B2C businesses. Then, choose a specific industry. For example, the SEO agency Rankings.io caters to personal injury lawyers, while Stella Rising focuses on beauty brands.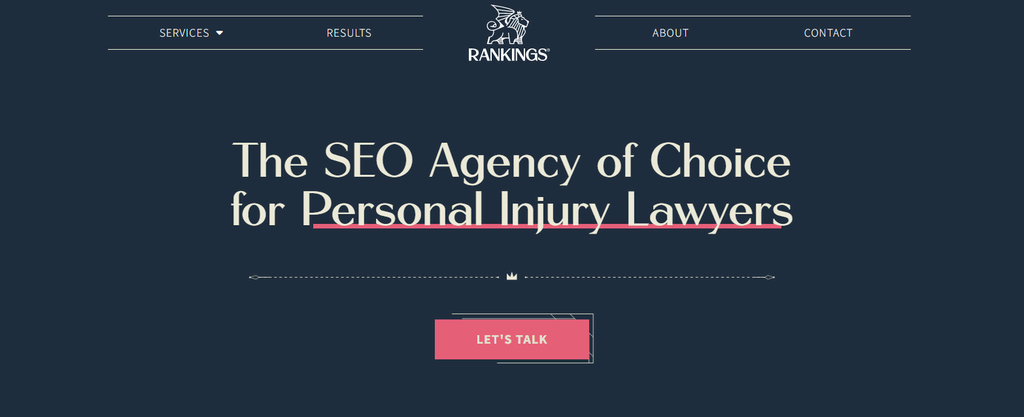 To help you decide on a target market, consider doing market research. Look up the best SEO agencies available and evaluate their target market.
Alternatively, research keywords using tools like Ahrefs and Google Trends. Higher volume keywords usually indicate higher demand for specific services.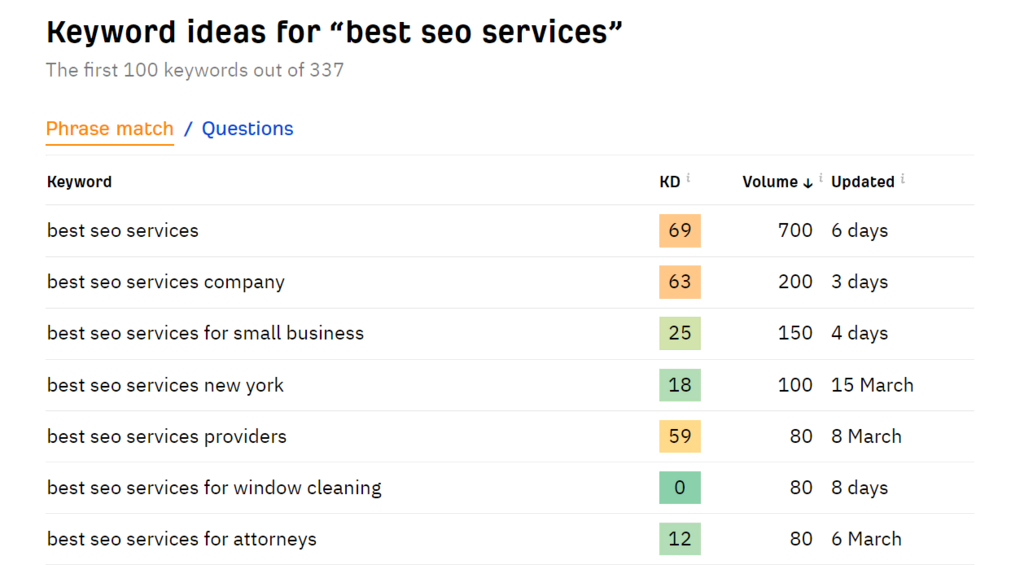 When conducting market research, look for the following information:
Industry competition. Evaluate the challenges of starting an SEO company in the industry and determine how your service can help.
Customer Lifetime Value. Industries with high-profit margins, like real estate and car dealerships, let you justify higher pricing based. On the other hand, industries with higher customer lifetime value, like gyms and insurance firms, let you justify your costs against customer transactions over time.
Cost. Determine the rate of the average SEO services in the industry. Ensure the businesses you target can reasonably afford your services.
Networking. Establishing yourself in the industry is easier if you have connections who can introduce you to prospective clients.
Once you have determined your target market's big picture, segment your prospective clients.
Whether you're targeting local businesses or individual site owners, evaluate their demographics, interests, behaviors, location, income level, and goals. Then, categorize them into separate segments.
Segmenting helps determine what services they'll need and how much they can spend. It will also help identify their goals and pain points. This allows you to develop personalized services and communication strategies that work in their favor. As a result, you can successfully help them bring more organic search traffic and conversions.
2. Develop Your SEO Services
The SEO field is always changing. There are various approaches to offering SEO services to potential clients.
Although the distinctions sometimes overlap, in general, SEO services can be broken down into the following categories:
On-page SEO. Improving visible elements on web pages, such as title tags, meta descriptions, headings, and on-page content. This ensures the content effectively targets the focus keywords and answers the search intent.
Off-page SEO. Implementing strategies that help establish the website's credibility and authority but are not related to the website content itself. Off-page SEO services include link building, social media campaigning, and influencer marketing.
Technical SEO. Improving the site's technical aspects, such as speed, user-friendliness, URL structure, and Core Web Vitals. Besides enhancing the user experience, it helps search engines crawl and index web pages better.
Local SEO. Focusing on ranking for location-specific keywords, ideally in the 3-pack. Keyword examples include "best restaurants in New York" or "dentists near me". It involves optimizing the Google My Business profile, managing Google reviews, and creating localized content.
Apart from common SEO services, some agencies provide niche assistance depending on the marketing channel or website type. Examples include YouTube SEO, eCommerce SEO, WordPress SEO, and mobile SEO.
When choosing which services to offer, consider your SEO skills and experience.
For instance, those planning to offer on-page optimization should be familiar with Google's algorithms and ranking factors. They should also be well-versed in SEO tools like Google Analytics, Google Search Console, and Ahrefs.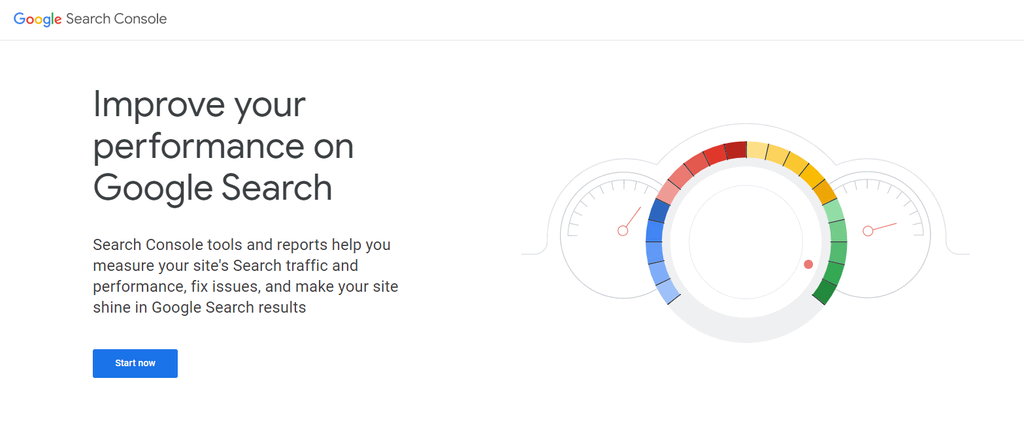 Moreover, good content writing and editing skills help naturally add target keywords to posts and pages.
On the other hand, technical SEO requires maintaining robots.txt files, adding canonical tags, creating an XML sitemap, and making structured data to improve crawlability.
Thus, besides problem-solving and data management skills, it's good to know programming languages like HTML, CSS, and JavaScript.
That said, focusing on one SEO area isn't effective in ranking a web page. It requires a combination of various types of SEO processes.
Offering bundled services that combine multiple SEO disciplines is more attractive and beneficial for clients. This also lets you include essential services at an affordable rate, upsell clients to a higher package, and cross-sell other services they might not usually buy.
Meanwhile, SEO clients can save on the individual cost of each service and choose an all-in-one package that fits their needs and budgets.
For instance, instead of only covering on-page SEO strategies, offer packages that include keyword research, Google Analytics setup, internal link building, speed optimization, and content creation.
You can also include A/B testing, off-site link building, conversion rate optimization, and monthly reports for more expensive packages.
A great example of an SEO agency that offers bundled service packages is Mayple SEO.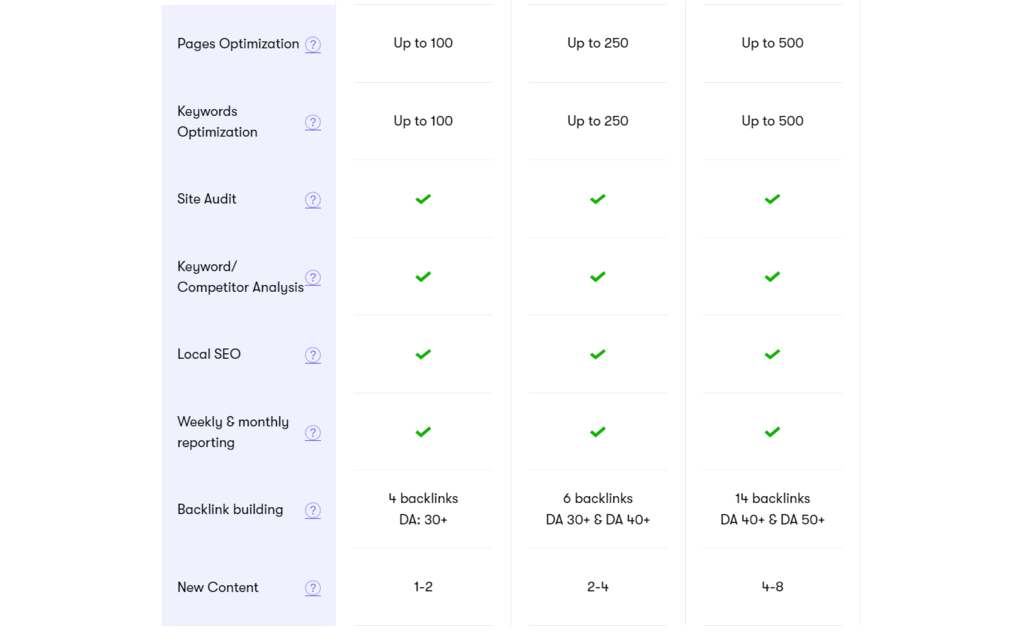 When creating bundled services, always refer to the client's profile. For instance, eCommerce business clients looking to expand globally have different needs than local restaurants aiming to get more nearby customers.
3. Set the Services' Prices
Determining the right prices for your services is crucial, as it will determine how much revenue you'll generate.
Before setting your services' price, choose a pricing model first. Here are the common pricing models for SEO services:
Package-based pricing. Charge a fixed rate for a set of services. For example, one price for optimizing a certain number of pages, content, or backlinks. This pricing scheme is suitable for tiered pricing.
Hour-based pricing. Charge hourly for the duration of a certain project. Freelancers and agencies using this pricing should know each task's completion time to give an estimated cost.
Results-based pricing. Charge according to the agreed metrics. For example, the number of traffic, leads, or conversions the service will generate.
Project-based pricing. Charge a fixed price for an entire project. When choosing this strategy, clearly define the project scope upfront to avoid doing more SEO work than expected.
You can also combine multiple pricing strategies. For instance, offer a fixed rate for individual projects and switch to hourly pricing for content changes.
Alternatively, show packaged-based pricing on your website and negotiate a results-based fee for clients who prefer a customized plan.
Note that pricing can serve as a competitive advantage. Aiming for a higher price can bring in revenue quicker, but you might get fewer clients than others providing the same services at a more affordable price.
On the other hand, selling yourself too short might attract more clients, but it'll take longer to make a profit.
Try to aim for the best possible price, which is one that is competitive, compensates your value, and brings you profit. Consider the following factors to determine the right price point:
Competitors' prices. Research how much your competitors charge their clients, and decide whether to charge lower or higher.
Duration. Even if you don't bill by the hour, it's important to calculate how long it will take to complete the SEO tasks.
Number and cost of staff. For web agencies, calculate how much staffing it takes to complete the project.
Overhead costs. This includes the cost of accessing tools and services necessary for carrying out SEO tasks.
Experience. Experienced SEO professionals can charge a higher fee.
Once you've set a price, it's important to communicate the value of your services to clients to justify the pricing.
While the price might be the determining factor for some clients, you can highlight other values to entice them. This includes providing a warranty or a money-back guarantee.
4. Build a Brand
When scaling a business, how well you build your brand can determine your success. A strong brand identity helps you establish a good reputation and stand out among competitors.
Moreover, consistent branding fosters customer trust. This makes first time-buyers more likely to become long-term customers.
Think back to your target audience when building a brand. In addition, ask yourself the following questions:
What are your prospective client's business goals and values?
What are your services' strengths, weaknesses, threats, and opportunities?
What customers' pain points can you solve?
What will you deliver to customers?
What makes you different from other SEO experts or agencies?
Why should potential clients work with you?
Once you have answered these questions, summarize the answers and formulate them into a positioning statement of three to five sentences. Doing so will help you determine your brand positioning within the market.
A strong brand positioning is beneficial when developing a communication strategy that will resonate with your target customers.
Here are some tips to successfully establish a strong brand identity:
Choose a memorable name.
Create a logo.
Create a catchy tagline.
Build a color palette.
Use consistent typography.
After establishing your brand's identity, use consistent elements to establish brand identity and improve recognition among customers. These elements define your brand style and set the tone for other marketing materials.
We recommend having a professional website when selling SEO services. Besides helping to make you look professional, a website can serve as a hub to showcase your services, past projects, skills, and contact details. It also helps direct customers toward other marketing materials.
Here are the general steps for how to make a website:
Get web hosting. Choose a reliable hosting provider like Hostinger to ensure top-notch security, site performance, and customer service. We offer many hosting types, including shared, cloud, VPS, and WordPress, to cater to specific needs.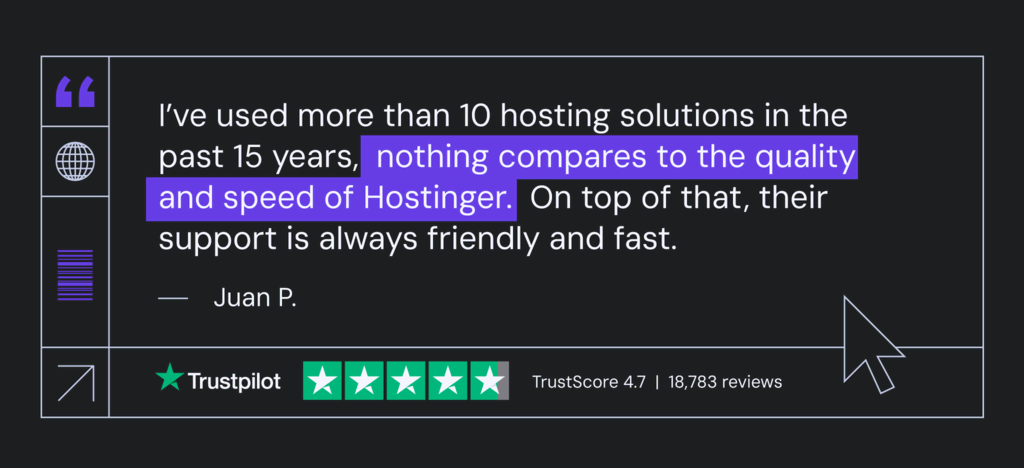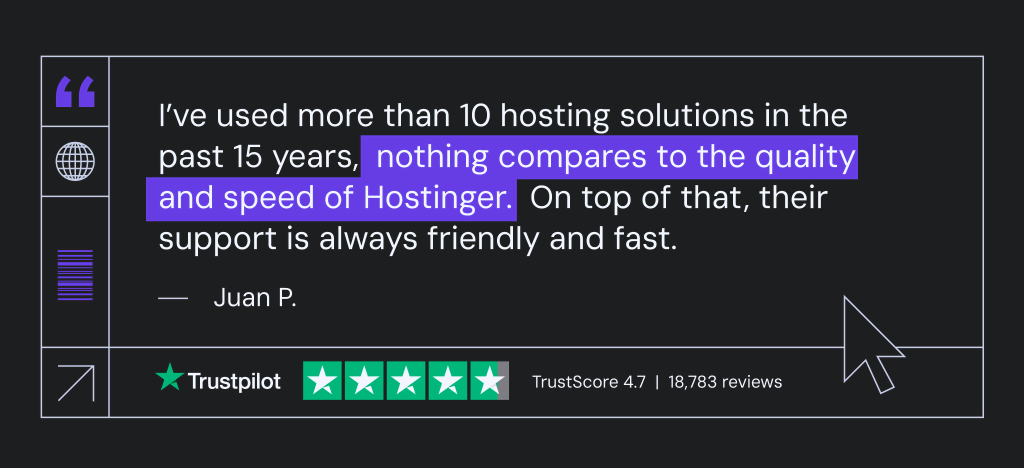 Pick a domain name. Choose a short and unique domain name with your business name to improve recognition.
Install a content management system (CMS) or use a website builder. The most popular CMS is WordPress, which Hostinger provides a one-click installer for. We also offer the website editor for a quicker and more user-friendly setup.
Customize the site. Tweak the site's design to fit your branding. You can install themes or templates and customize them yourself or hire a web designer.
Improve the site's SEO. Improving your own site's rankings can convince potential customers of your SEO expertise.
5. Market Your Services
After establishing your branding, it's time to market the services. To do that, you'll need a marketing plan.
A marketing plan outlines your business's strengths, weaknesses, target market, competitors, budget, timeline, and communication strategy. A marketing plan is necessary to determine how to convey the brand's messaging and where to market your services.
While there are various channels to promote your SEO services, using every single one will be very challenging. Instead, pick a few techniques and platforms to focus on and optimize your marketing efforts there.
To decide which marketing channels to use, consider your target audience and the platforms they use the most.
If you sell SEO services to local businesses, implement local SEO and run highly targeted Google Ads to reach your target audience. On the other hand, promoting your services on LinkedIn is great for targeting B2B clients.
To demonstrate your mastery as an SEO expert, share industry knowledge by posting informative SEO-related content regularly on social media. Combining social media and content marketing is great for appealing to potential clients at every stage of the marketing funnel.
In your social media marketing, try to improve customers' SEO awareness and help them identify what services they need. For example, highlight SEO's benefits, what tools to use, and tips to optimize their blog posts.
Add relevant hashtags to broaden your audience reach and link your professional website so people can learn more about your services.
To boost engagement, ask questions to the audience and encourage them to answer in the comments section. You can also create polls and utilize eye-catching visual media, such as infographics and memes.
Semrush is an example of a brand that utilizes memes in its content marketing strategy.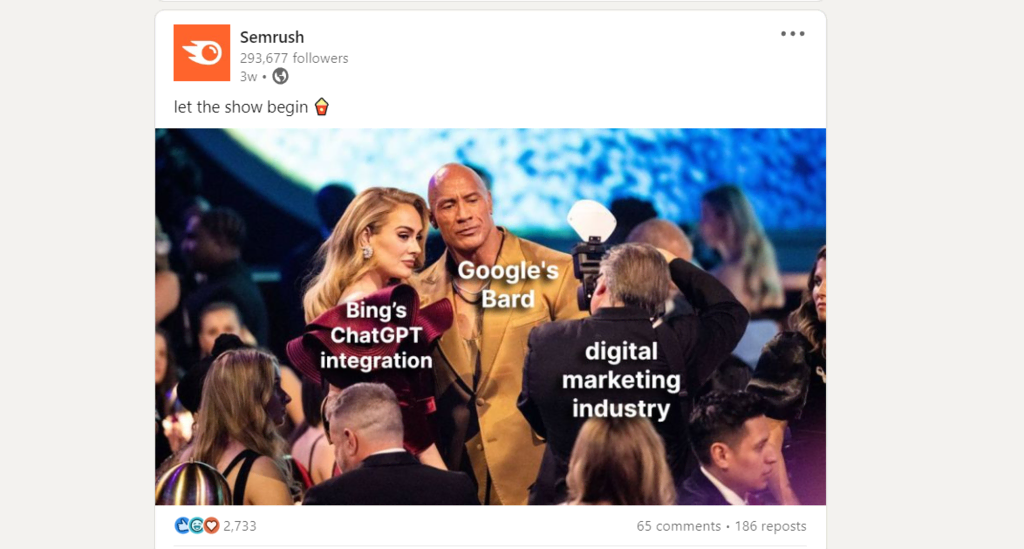 Although the general rules of content marketing apply to all platforms, the same strategy might only work for some channels. It's important to learn about each platform you want to focus on.
If you have an extra budget, consider using paid advertising on Instagram, Facebook, or Twitter.
In addition, cold outreach can be an effective strategy to promote your services. List potential clients and contact them via email, LinkedIn, or their social media accounts. You can offer them a free SEO audit and recommendations to improve their website performance.
The key is to personalize your cold outreach pitch. Instead of writing generic subjects like "The Best SEO Service" or "Earn More Money Now", speak to their needs and pain points.
Aside from knowing your prospective client's SEO strengths and weaknesses, dedicate some time to research their business goals and challenges. That way, you can tie your pitch to their bigger goal. This highlights your service's value, understanding of their business, and willingness to go the extra mile.
6. Close Deals and Provide Excellent Service
After marketing your services and attracting clients, you must know how to close deals.
A well-planned sales process helps create a consistent approach to converting leads into customers and streamlining your operation. In addition to increasing conversions, a sales process helps ensure a positive customer experience.
Follow these tips when creating a sales process:
Identify the right offer. Pick out the most suitable offer for each client. To do so, reflect on your SEO audit results and the client's goals. If you show packaged SEO plans on your website, clarify what kind of users benefit from each of them.
Set expectations. Clearly explain what your business provides when presenting the offer, including the timeframe, expected results, and the scope of your work. Setting a clear line of communication will help earn their trust in the long run.
Handle objections. Anticipate and handle your customers' concerns proactively, whether it's about your SEO tactics, pricing, delivery, or results. Assure how you can meet their needs and offer possible solutions to address their issues.
Make your sales proposal. Deliver your call to action. Consider offering discounts, free trials, or limited offers as a final push to close the deal.
Follow up. Whether you managed to close the deal or not, make sure to follow up with a message that ends on a positive note.
It's important to onboard the clients after closing the deal. This helps to ensure everyone has the same understanding of the project, including its details, milestones, and timelines. Use onboarding to resolve all questions and devise an effective communication plan in the long run.
Maintaining a good relationship with existing clients can provide opportunities to upsell and cross-sell. It also helps you get positive reviews and referrals, helping you attract new clients.
Lastly, remember that SEO is a competitive field. To stay ahead of the competition, make sure to stay relevant, follow industry standards, and always improve your service quality.
Tips for Selling SEO Services to a Business
When selling SEO services, avoid overly aggressive marketing efforts, as Google cautions against them. Instead, be authentic and express your genuine willingness to help customers.
Here are some tips for selling your SEO service successfully:
Understand the Prospects You Qualify Thoroughly
Qualifying your prospects helps determine which leads are viable customers genuinely interested in your services. Moreover, it helps you decide whether the client's needs are within your capabilities, price range, and time frame.
Ask these questions when qualifying leads:
What SEO channels do they have?
How much of their budget is allocated to improving SEO?
Do they have in-house resources to support the SEO efforts?
Who are their competitors?
What have they done to improve their SEO?
Have they worked with other SEO experts before?
What are they hoping to accomplish from using your services?
Can they afford to invest the time to see results?
Understanding your prospects can provide insights into whether your services would fit them well. It also helps you plan the actionable steps for your SEO proposal, which make for a great pitch.
Provide Report Examples
To show accountability and give a clearer picture of your services, provide report examples. Highlight interesting insights and analyses, and add recommendations to the SEO reporting.
The metrics you include in the report will depend on the business type. But generally, they include:
Overall SEO KPIs, including Year over Year and Month over Month growth
Ranking for top keywords
Organic search traffic growth
Backlink growth
Website's SEO health
Conversion rates
Click-through rate for top pages
Remember that not all clients understand SEO concepts. Briefly explain how each metric translates to the business' growth in the report examples.
Share the Competition's Strengths and Weaknesses
Learn your client's competitors, and note their strengths and weaknesses. Share your findings with the prospective client in the SEO proposal and sales pitch.
When doing so, avoid only explaining SEO metrics. Instead, do it in a way your client will understand. For example, elaborate on what the competitors are doing to get to their position and what to do differently to help your client beat them.
Moreover, remind them of your advantages. Research your own competitors and explain the reasons why you're the best choice among other options in the SEO field.
Create Case Studies
Create your own case studies and add them to your website as social proof of your credibility. Case studies demonstrate how your SEO services have helped other businesses. This is a great way to earn prospective clients' trust.
Potential customers might also have similar experiences with the case studies, which persuade how your service is a fitting solution.
Generally, a case study consists of:
The client's background and goals
Issues found
The strategy and implementation
The final results
An excellent example of a straightforward case study is one by Miron Digital, which explains how it helped a client improve their search engine rankings.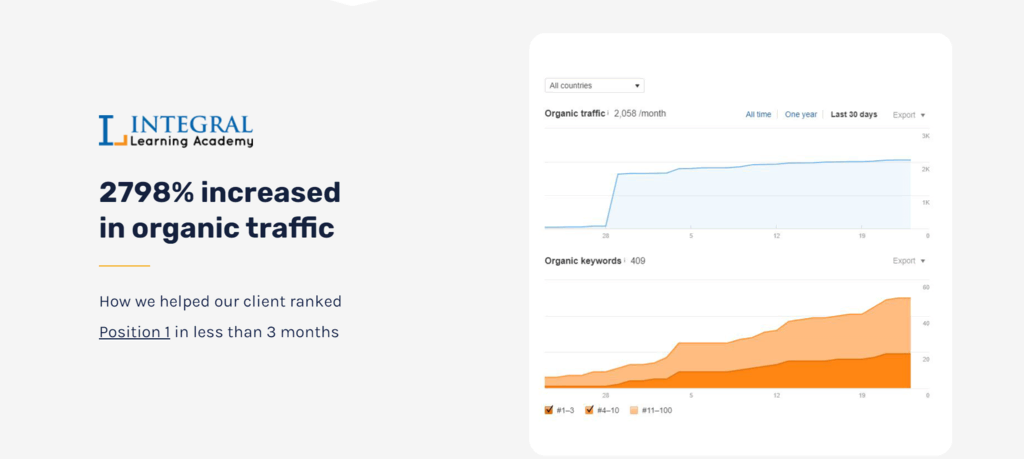 Use Metrics and Statistics
Using metrics and statistics to show your work's impact on business is crucial when pitching SEO services. Real data serve as social proof for potential clients, improving your credibility.
SmartSites is an SEO agency that displays metrics like the total increase in organic search and website traffic on their website.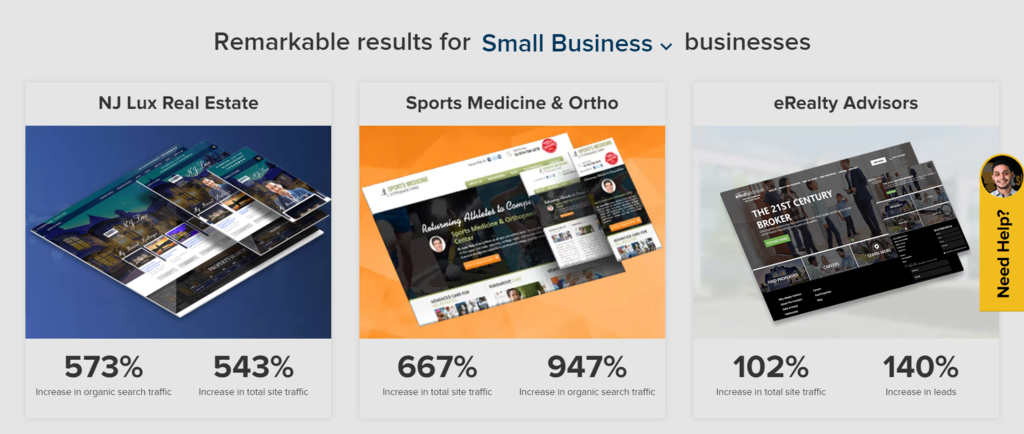 Other metrics you can include are top keyword rankings, sessions increase, and ROI increase.
Conclusion
If you're freelancing or running a web agency, selling SEO services is a great way to boost income and help other businesses improve their online visibility.
To start selling SEO, identify your target market and decide which services to offer. Segment your ideal customers, determine their pain points, and evaluate how your services can help them. Then, choose a competitive pricing strategy that reflects your value and brings you profit.
Having a strong brand identity is necessary to generate more sales and build long-term client relationships. Build a dedicated website to improve your credibility and inform customers about your services.
Afterward, promote your SEO services using content marketing, social media, or cold outreach. Create a personalized pitch for each business to improve your chances of closing deals.
Lastly, maintain effective communication with your clients and ensure your services meet their needs and expectations.
With sufficient knowledge of how to sell SEO services to other businesses, it's time to take the first step and start your journey. Good luck.
Sell SEO Services FAQ
Here are some commonly asked questions about selling SEO.
Why Do Businesses Need SEO Services?
SEO services help business websites rank higher on search engines. With greater visibility, people are more likely to click on a website. This offers opportunities to offer products and services to a wider audience, generating more leads and SEO sales.
Is It Profitable to Sell SEO Services?
Although competitive, selling SEO can be profitable. SEO is one of the most effective marketing strategies to increase website traffic and generate leads. As more businesses go online, SEO services are growing in demand. Typically, an SEO freelancer charges $75-100/hour, whereas a consultant $100-150/hour.
How Much Should You Charge for SEO Services?
It depends on your services and the client's site type, industry, and location. For example, an average local SEO project involving research, analysis, and optimization may cost $900. On the other hand, SEO for small businesses can cost $5,000-30,000 for one-time projects.