How to Sell on Pinterest: Drive Sales and Market Your Online Business
Download Business Plan Template
If you're considering Pinterest as a potential platform for starting an online store, you are on the right track. Its revenue topped $1.14 billion in Q4 2019, with $1.03 billion generated from advertising alone.
No matter what type of business idea you have, Pinterest can be a powerful marketing tool if you know how to use it. We created this Pinterest marketing guide to show you how to build brand awareness, provide you with Pinterest marketing tips, and most importantly, explain how to sell on Pinterest effectively.
What Is Pinterest and How Does It Work?
Pinterest is a social media platform that hosts more than 470 million active users every month. It functions similarly to a mood board, in which users can create many public or private boards and save various "Pins" within them.
In more detail, a Pin on Pinterest consists of a picture, video, or other type of content. This content is either linked to a board on Pinterest or a website outside of the platform. These Pins get uploaded by people who want to share the content that they and others have produced.
Pinterest's home page consists of an extensive collection of various Pins. These Pins get filtered and displayed depending on the search term a user will input into the search bar. If a user finds a Pin inspiring and useful, they can save it to one of their boards and share it with their followers.
Pinterest is especially popular for food and drinks recipes, home decor, and travel. Other trendy categories include fashion, DIY projects, and ideas for special occasions.
Businesses that provide services, sell food or other products that match these categories use Pinterest to market their brands and drive traffic to their eCommerce websites.
Is Pinterest a Worthy Online Marketing Channel?
Nearly 70% of Pinterest users use this platform for purchase inspiration, and 41% of these users have an annual income of above $75,000.
These statistics show that if you sell products that match Pinterest's demographic, this social media platform can be a very profitable marketing channel for your brand.
So how do you begin marketing on Pinterest? First, you must analyze if your target audience uses this social media platform.
If you find that your potential customers are likely to be Pinterest users, it's time to create a Pinterest Business account and set some marketing strategies in place. Read the steps below to get started with selling on Pinterest.
1. Sign Up for a Pinterest Business Account
If you're creating a Pinterest Business account from scratch, simply register a Pinterest for Business account. Then, follow the instructions from step two below.
If you already have a personal Pinterest account, you can convert it to a Pinterest Business account without losing any of your Pins, boards, or followers you have previously compiled.
Simply log in to your personal Pinterest account with your email address and click on the downward arrow at the top right corner of your screen. Once a dropdown menu opens, press Unlock business tools.
On the next page, scroll down to the bottom and click Switch to business. This action will convert your personal account into a business Pinterest account.
Now you will find yourself on the Pinterest Business landing page where you'll fill in details about your company, such as the name of your business, the country/region of your company, and preferred language.
At this point, you can also connect this account with your eCommerce website and start selling on Pinterest, or you can skip this step and do it after your account is set.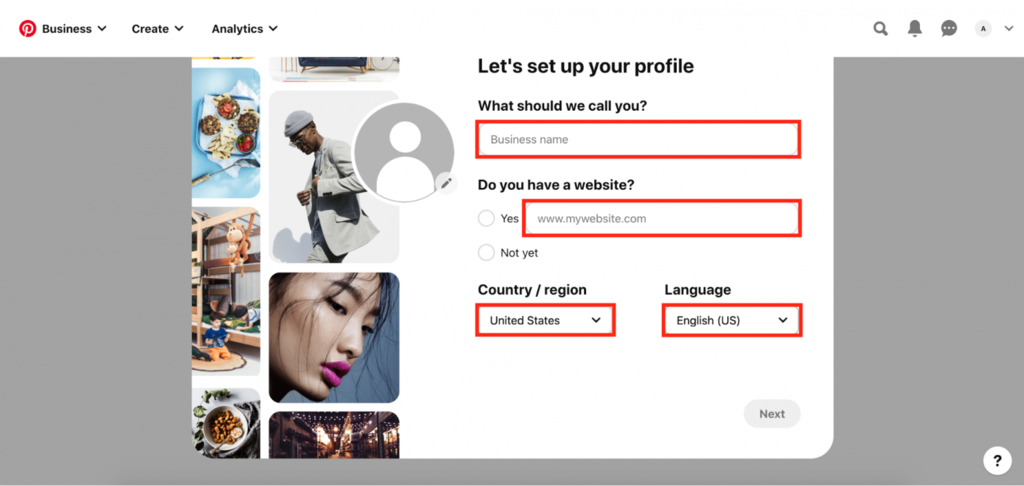 Next up, you will have to choose the industry of your business.
Then, what kind of business model you follow.
Lastly, you have to select an option that describes your intentions.
Once the registration process is complete, you will find yourself on a page to create a Pin for your products.
To find out how to make an effective Pin for your business on Pinterest, follow this guide.
2. Claim the Website
There are three ways to claim your online store through Pinterest Business:
Insert a Pinterest meta tag to your site
Upload an HTML file to the website
Add a DNS TXT record to your domain host
Using any one of these methods will enable you to see the analytics of the Pins that you publish from the online store, such as how many people pin them to their Pinterest boards.
Claiming your website will also automatically attach a profile picture to all of your Pins that Pinterest users will save to their boards, which can build brand awareness and encourage more visitors to go to your eCommerce website.
What's more, your Pinterest account will gain a "Follow" button that leads to your website and your website's URL will display a "blue globe" tag, which indicates that you're a verified seller.
How to Add a Pinterest Meta Tag to a Website
To claim your website by adding a meta tag, go to your Pinterest Business page and click on the arrow on the top right corner to open the dropdown menu. Then, select Settings.
On the Edit Profile page, you will have a selection of options on the left-hand side. Select Claim.

On the next page, click on the Claim button next to the Websites category.

Now you'll be given a choice of how you want to claim your website. Select Add HTML tag and copy the piece of code provided. Click Continue and go to your website.

On your website, access the index.html file and add the tag to the <head> section. Go back to Pinterest Business, enter your website's URL, and click Verify.

Pinterest will check your website for the HTML tag and claim it within a few hours. Once the process is complete, you can go back to your website's index.html file and remove the tag.
How to Upload a Pinterest HTML File to a Website
To claim your website by uploading Pinterest's HTML file, follow the same steps mentioned above. When you reach the "Choose how you want to claim" message, pick the Upload HTML file option instead.
Press Download and then Continue.
Go to your web server's root folder and upload the HTML file you just downloaded. Make sure you don't upload it to a subfolder as Pinterest may not be able to access it.
Once you complete this step, go back to Pinterest Business, enter your website's URL, and click Verify.
How to Add a Pinterest DNS TXT Record to the Domain Host
Follow the same steps outlined in the methods above until you reach the window of "Choose how you want to claim".
Select Add TXT record by copying the code. Press Continue.

Log into your domain host's control panel and go to the DNS record category. Paste the code you copied from Pinterest into a DNS record section and add "@" to the Host field if needed.
Save your changes. Go back to Pinterest Business, enter your website's URL, and click Verify.

3. Optimize the Pinterest Business Profile
A professional profile for your Pinterest Business account is as essential as your website. It should represent your branding accurately and convey your business and your products clearly.
Change the profile picture into a logo that you use on other marketing channels and your products' labels. Input your company name as the display name.
Use the same username as you use for other social media accounts – this will make it easier for your potential customers to find you.
Lastly, write a short introduction about your brand, products, and company's mission. If you have a physical store, you can add the address underneath the description box too.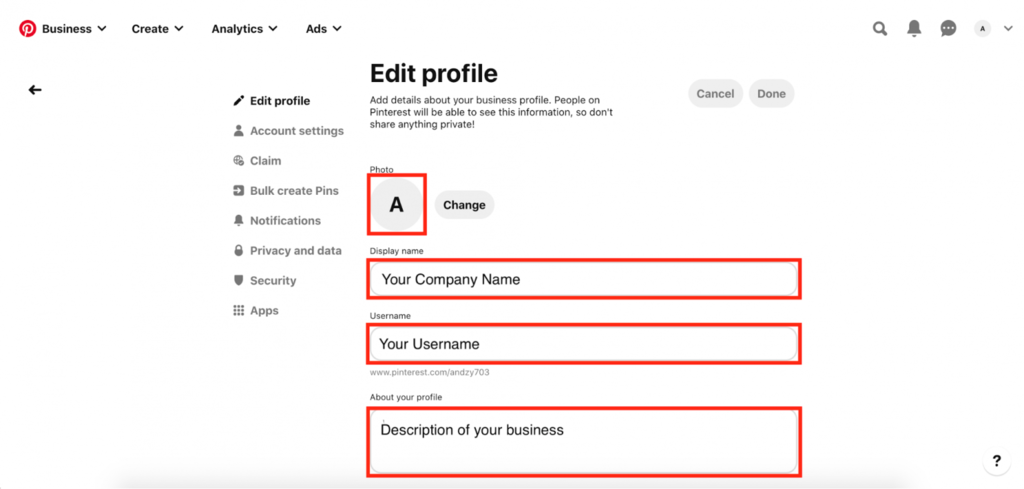 Then, click on your newly uploaded logo on the top right corner of the screen to open up the profile page. Here, add a cover picture and start creating boards to get more followers.
4. Categorize Boards and Pins
Having a collection of different Pinterest boards is vital because it gives you a chance to categorize and market your products in segments. These segments allow you to attract a niche audience through the use of targeted keywords.
Use different boards to separate the categories of your products. For example, a recipe website may choose to display boards such as these:
Winter recipes
Easy dinner recipes
Healthy DIY snacks
Then, add relevant Pins to the appropriate boards. Keep in mind that it's crucial to re-pin Pins from other Pinterest users alongside your own Pins within these boards.
Doing so will fill your boards with useful and relevant content and make you an active and effective member of the Pinterest community. It will also attract more visitors to your account, which will increase the visibility of your brand and your products.
5. Apply for Rich Pins
Rich Pins display metadata from marked-up product pages of your website. This metadata includes essential information like the pricing, location, and availability of the products shown. This, in turn, provides more context to the users and increases your chances of making a sale.
There are four types of Rich Pins available:
App Pins. Allows users to download the app straight from Pinterest.
Product Pins. Provides real-time information about the pricing and availability of the products.
Recipe Pins. Includes cooking time, serving sizes, and ingredients.
Article Pins. Displays the summary of the story, the author, and the headline.
To set up Rich Pins for your online business, you must add metadata to the pages of the products you want to display on Pinterest. Once that is done, you'll need to verify the Rich Pins by entering the URL of the said page into Pinterest's validator and click Validate.
If no problems arise with your metadata, select the method you used to mark up your website – HTML tags, oEmbed, or Shopify – and click Apply now. This process should ensure that all of your marked-up pages will automatically be displayed as Rich Pins on Pinterest.
The metadata varies depending on the type of Rich Pins you need. Here are the detailed official guides that can walk you through creating product Pins, recipe Pins, and article Pins.
6. Content Marketing on Pinterest
Much like with any other kind of business, achieving success in Pinterest also requires organizing a marketing campaign. Therefore, every good campaign should have a content marketing calendar.
In 2019, Pinterest created a free-to-use Seasonal Moments of 2019 calendar that outlines the most effective advertising dates. These dates cover the most important yearly events that tend to draw the most traffic to Pinterest.
Alongside the dates, the Seasonal Moments calendar also provided short descriptions of each event, user engagement statistics, and a list of the most popular search terms.
Although they have not released a new Seasonal Moments calendar for next year yet, you can still use the old version to organize your content marketing campaigns for the upcoming year.
Another essential step to a successful Pinterest marketing campaign is knowing who your target audience is. Take into consideration that Pinterest's key demographic is primarily 18-24-year-old women.
Use that to your advantage, and share Pins and boards that your target audience on Pinterest will find useful and relevant. Also, create your own stunning regular and promoted Pins with great content that reflects your brand and products or services.
Doing so will increase the chances of your followers and other brands sharing your Pins of products, which may bring in more traffic to your online store.
7. SEO Your Pins
Keywords are an essential part of marketing when selling on Pinterest.
Users input what they look for into Pinterest's search and the algorithm provides the most relevant results. That's why using the correct keywords is crucial to ensure your Pins and Pinterest boards show up when a user searches for what you are selling.
The first step to optimizing your Pinterest Pins and boards for search engines is to create an effective keyword list for your brand. You can do this by using a few methods:
Use Pinterest's search bar. Enter a keyword into the search bar and have a look at the suggestions. These are the search terms users input most commonly, which means they can be potentially useful keywords.
Use Pinterest's Analytics tool. Log into your Pinterest Business account, select Analytics, and click on Trends. Type in a general keyword into the search bar and get a short list of related keywords with traffic trend graphs.
Use Google Keyword Planner. Although it's a separate tool from Pinterest, Google's Keyword Planner is a great asset for creating a list of popular search terms.
Save this extensive keywords list and use it in your Pin and board descriptions, titles, and links when appropriate. You can also include them in the list of hashtags that you'll place within your Pinterest content.
Make sure to also perform such keyword research for each individual Pin and board you create. Doing so will ensure your content is fully optimized, and it'll come up when a relevant search term is used.
8. Paid Advertising on Pinterest
Before you advertise on Pinterest, you should decide whether your goal is to boost engagement, build brand awareness, or drive traffic to your eCommerce store. Doing so will let you pick the most effective advertising method that will get you the results you're after.
Once you set the goal, it's time to decide on the format of your Pinterest ad. The effectiveness of each one depends on your branding and the products you offer.
There are six different ad format types:
Promoted Pins. Promote a standard Pin to a broader audience.
Carousel. A collection of 2-5 images that can have separate titles, descriptions and lead to different landing pages.
Video. Grab people's attention with a 6-15 second-long video.
Story. Use multiple pages with compelling images to tell a story.
Promoted App Pins. Allow people to download your app straight from Pinterest.
Shop the Look. Also known as Buyable Pins, this ad format allows 4-6 tagged items that link to different landing pages in one image.
Lastly, set a budget for your paid ad campaign and select your target audience. These factors should be decided based on the ad format and the length of your campaign.
However, just to give you an idea of the pricing, here are the average costs for advertising on Pinterest:
$2–$5 for 1000 impressions for building brand awareness.
$0.10–$1.50 per engagement for boosting engagement.
$0.10–$1.50 per engagement for driving web traffic.
Pro Tips to Grow Your Audience and Get Buyers From Pinterest
There's more to selling on Pinterest than creating promoted Pins of your products and setting ad campaign budgets. Here are a few extra "insider" tips to make sure you're using Pinterest to its fullest extent.
Follow the latest trends. Just like with any social media marketing campaign, you should follow growing product trends when using Pinterest. Doing so will ensure you're re-pinning and creating only the most helpful and relevant content.
Use only new imagery. Pinterest's algorithm ranks fresh graphics, images, and videos a lot better than older ones. Use only original visuals of your products.
Engage with your audience. Actively interacting with your followers builds brand awareness, credibility, and trust. Make sure to comment on people's profiles, and send them short but meaningful private messages.
Be consistent. Make sure to re-pin and upload new product Pins regularly. Staying up-to-date and producing fresh content will keep your followers engaged.
Quality comes first. Every Pin you publish should be optimized, contain the highest-quality imagery, and be useful to pinners. This is especially important for promoted pins.
Be mobile-friendly. 85% of people that use Pinterest browse the app on their phones. Your content should accommodate them first if you want to use Pinterest effectively.
Conclusion
Now that you know how to sell on Pinterest, it's time to give it a try and make money online. It's a great social media platform that can be effectively used to sell and market your products.
Simply create a Pinterest Business account, connect it to your online store, and build your profile up. Before you know it, you'll be selling on Pinterest like a pro.