Introduction
Joomla is one of the most popular content management systems out there, however, it may not suit everyone's needs. Some users may want to start using WordPress for their website instead, but they may not want to lose all of the content on their website that is already present. Fortunately, it is possible to easily migrate Joomla to WordPress with the help of the FG Joomla to WordPress plugin.
What you'll need
Before you begin this guide you'll need the following:
A fully functional Joomla website that you want to migrate from.
A fully functional WordPress installation that you want to migrate to.
Existing Joomla database details – MySQL hostname, database name, username, and password.
Step 1 — Installing the FG Joomla to WordPress plugin.
Before we begin, a tutorial on installing WordPress plugins is available here: How to install WordPress plugins.
Login to your WordPress installation's administration area and navigate to the plugins section. Use the search bar to find the FG Joomla to WordPress and click Install Now to install the plugin. After it is installed, click Activate in the same spot to activate it.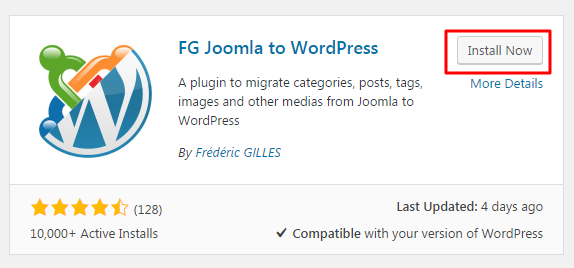 Step 2 — Configuring the migration from Joomla to WordPress
Once the plugin is installed, go to Tools > Import in your WordPress dashboard and select Joomla (FG). A new window will open where you will have to select a few options related to the migration.
The first section allows you to choose whether existing content from WordPress should be deleted before migration commences. This is useful if you want to use WordPress as your platform, but already have content on it that you want to be removed.

Simply click Empty WordPress content to remove any existing content on your WordPress installation, such as posts, images, and other content.
The next section will ask for your Joomla installation's database connection details (they can be found in your Joomla administration area, under Global configuration > Server):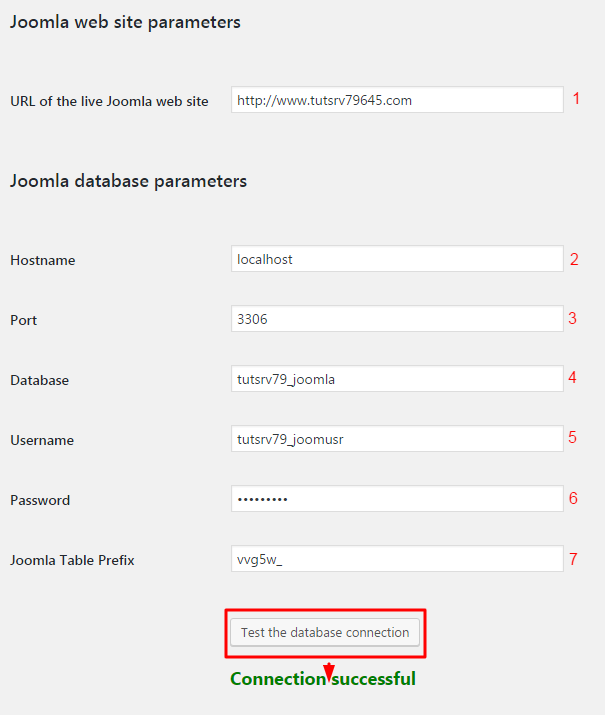 URL of the Live Joomla Site: Input the address of your live Joomla website.
Hostname: The hostname of the Joomla database. If both your Joomla and WordPress installations are on the same server, you can use localhost. Otherwise, you will need a remote IP address from your Joomla host.
Port: Input 3306.
Database: Your Joomla MySQL database name.
Username: Your Joomla MySQL database user's username.
Password: Your Joomla MySQL database user's password.
Joomla Table Prefix: The prefix of your Joomla database's tables.
Once you have input all of this information, click Test the database connection to verify that it is working properly. You should see the Connection successful message. If you receive an error, double check your database's connection details.
Scroll down the page further and you will see the Behavior section. For the smoothest and quickest migration, use the settings in the screenshot below: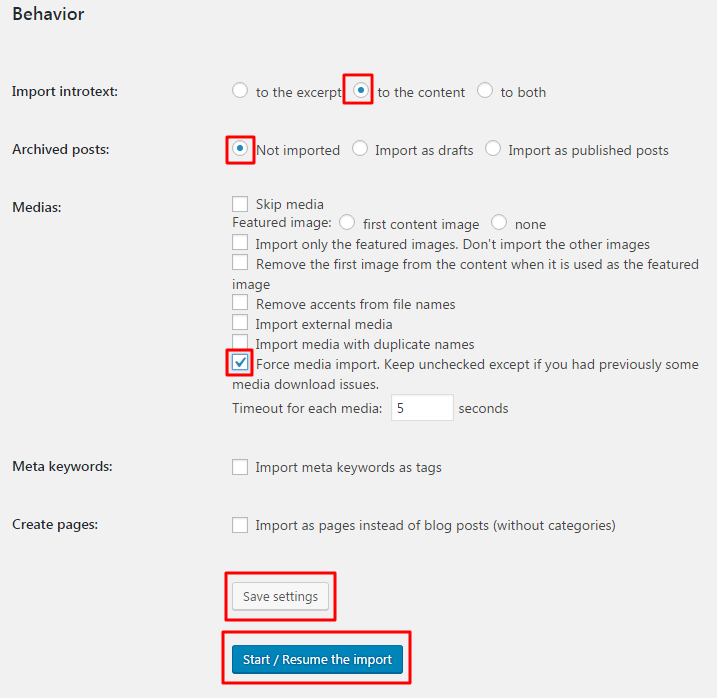 Depending on your Joomla website's content, you may want to select additional settings, however, they are optional. Once you are satisfied, click Save Settings and then Start / Resume the Import. The content from your Joomla website will be migrated to your WordPress platform.
Once the migration is done, the last step is to modify the internal links of your page. Simply click the Modify Internal Links at the bottom of the plugin page: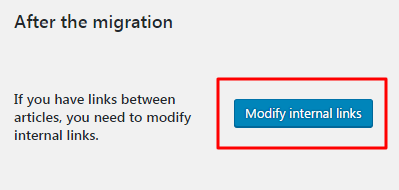 The migration is now done, you can now access your WordPress website and all of your posts from your Joomla website will be migrated, as well as any content you selected.
Conclusion
We learned how to migrate content from a Joomla website to WordPress using the FG Joomla to WordPress plugin. There are also more plugins designed for migration, however, we found this one to be the easiest.