15 Affiliate Marketing Tips to Increase Your Income in 2023
Affiliate marketing is undoubtedly one of the best ways to make money online. Essentially, it offers an opportunity to turn your followers into customers, creating a perfect passive income generation strategy for bloggers, online content creators, and influencers.
Rather than promoting your own products, joining an affiliate program means helping other brands sell their products or services. Once registered as an affiliate, you will get a unique link that tracks your sales.
The next part is to promote this affiliate link. Be it on a WordPress website, social media platforms, or a YouTube channel, getting the affiliate links out there is the initial step to generating revenue. However, new affiliate marketers might struggle during this process.
We've carefully curated 15 affiliate marketing tips to help increase your income. By the end of this article, you'll be able to create an effective affiliate marketing plan to help you generate more revenue.


15 Best Affiliate Marketing Tips for 2023
1. Gain the Trust of Your Audience
2. Maintain Ethical Principles
3. Understanding Your Affiliate Products
4. Build an Email List
5. Provide Assistance Through Product Reviews and Tutorials
6. Write Product Comparisons
7. Decide on a Distribution Strategy
8. Take Advantage of Local SEO
9. Make Product Recommendations
10. Promote Digital Products
11. Distribute Coupon Codes
12. Display Ads During Peak Season
13. Select Vendors Who Have a Good Landing Page
14. Give People a Reason to Click on Your Affiliate Link
15. Don't Depend on One Affiliate Marketing Program
Maximize your earnings with our comprehensive list of the 15 best affiliate marketing tips.
1. Gain Your Audience's Trust
To obtain the best possible results from affiliate campaigns, you should focus on gaining your audience's trust. This is because repeat visitors are among the most important assets for an affiliate marketer.
Trust helps build a good affiliate-audience relationship, create an engaged community, and generate more sales. From the audience's perspective, trust helps them make a more informed purchase decision.
However, gaining the audience's trust requires a lot of effort, as it doesn't happen overnight.
To build and maintain your followers' trust, we recommend following these practices:
Choosing a company that provides relevant products or services to your niche.
Working with a brand that shares the same values as you do.
Including an affiliate disclosure.
Regarding the last point, the Federal Trade Commission (FTC) has also advised affiliates to comply with its rules regarding the use of endorsement and testimonials for advertising.
On top of everything, an affiliate disclosure provides transparency to the audience. By letting the audience know how an affiliate link can result in commissions, you will be able to obtain their trust.
2. Maintain Ethical Standards
In light of the previous section, maintaining ethical standards is another excellent affiliate marketing practice for building the audience's trust. Some of the critical principles that ethical standards promote are integrity and responsibility.
Unfortunately, affiliate marketing scams are pretty common. Affiliate marketing scammers cheat the system for a higher income with methods such as:
Cookie stuffing. Often called cookie dropping, this scam happens when fraudsters force a third-party cookie containing malicious tracking code on visitors' web browsers. This fraudulent cookie enables scammers to earn money from the products they don't sell.
URL hijacking. This affiliate marketing scam starts with fraudsters buying a similar URL to that of a legitimate affiliate website. They then insert fake affiliate links and redirect the site's traffic to their domains to claim the affiliate money.
Fake leads. Relying on synthetic identities and bot traffic, this scam enables fraudsters to make phony leads look legitimate.
Click spam. Also known as click flooding, it uses manual or automated fake clicks to generate leads.
Violating the ethical standards for boosting sales can also result in numerous penalties for fake affiliates. Therefore, you should adopt a legal and ethical affiliate marketing strategy to ensure your long-term success.
3. Have an In-Depth Understanding of Your Affiliate Products
Understanding the products is among the keys to increasing sales, as the target audience will expect affiliates to be an expert in their niche.
Unfortunately, many affiliate marketers are still promoting products for the sole purpose of making money. However, if affiliates fail to provide helpful information about the ins and outs of the products, they may have a hard time driving sales or finding new customers.
For this reason, we recommend using the product before becoming an affiliate. If you're a member of Hostinger's Affiliate Program promoting their WordPress plans, consider subscribing to one yourself. Extensive product knowledge can also boost your confidence in recommending a particular product to the audience.
Additionally, becoming an active member of the affiliate niche's forum discussions or subscribing to industry-leading blogs is a great way to stay updated.
4. Build an Email List
An email or mailing list refers to a collection of email addresses that a website has gathered from its visitors. Generally, marketers use an email list to send promotional emails, letting readers know about the product, content, and campaign updates.
Knowing this, you can integrate email marketing into your online affiliate marketing strategy. For an affiliate marketer, some of the email marketing benefits include:
Building relationships with the audience. Email marketing provides a direct communication opportunity with readers, ensuring higher engagement rates.
Generating traffic to the website or social media platforms. Affiliates can promote their fresh content via emails. For this to work out, include a compelling call to action.
Boosting leads. From clicking a link to a blog post to downloading a discount voucher and purchasing an affiliate product, you can successfully turn a lead into a paying customer.
Increasing affiliate income. A study on how email marketing impacts ROI shows that for every dollar spent, marketers can earn $40 in return.
To start collecting contact information, affiliates can include a pop-up contact form on their websites. A simple contact form asks visitors their names and email addresses. It may also consist of more fields, including the first name, surname, and a message box.
The most important element to include on a contact form is a check box to ask visitors to join the email list. By getting the visitors' consent, affiliates comply with the GDPR for email marketing regarding why they collect visitors' data.
To create a contact form, WordPress users can use a newsletter plugin. Some of the best WordPress newsletter plugins include Mailchimp for WordPress, Popup Builder, and Thrive Leads.

5. Be Helpful Through Product Reviews and Tutorials
To boost income, affiliates should create content that's helpful for their target market. This might include a review offering extensive information about a product or service's quality or a tutorial explaining the how-to by promoting products or services.
89% of consumers worldwide check online reviews before purchasing a product. By providing reviews, affiliates can reach those who are already considering purchasing a product. This helps ensure a higher click rate to the affiliate link.
For inspiration, here's a list of what to include in a product review:
Unique features and how they can help solve the audience's problems.
Cost-effectiveness.
Suggestions on improving the product or service.
Once published, affiliate marketers can schedule a time to check over the reviews regularly. If you change your opinion, updating the reviews is the way to keep the audience's trust.
Pro Tip
When it comes to written content, be sure to incorporate search engine optimization (SEO). Ignoring SEO is among the most common affiliate marketing mistakes. Meanwhile, content marketing combined with SEO helps boost the content visibility on search engines, resulting in more traffic to your website.
6. Write Product Comparisons
Product comparisons usually pit two similar options against each other. They may contain the products' features, benefits, and relevance to the audience. For example, our .com vs .net article lists out:
The main differences between the two domain extensions.
The pros and cons of each domain extension.
.com and .net use cases.
The verdict on the recommended option.
Creating product comparisons can boost affiliate sales, as people reading this type of content are usually ready to buy. By providing detailed information and choosing the better option, affiliates can help customers make their buying decision.
7. Set Your Distribution Strategy
A distribution strategy covers marketing efforts aiming to ensure products or services reach the target market. In the affiliate marketing sphere, this strategy lets you decide on which platform to distribute your unique affiliate link.
When it comes to an effective distribution strategy, content marketing can be the answer. This strategy involves creating and sharing high-quality content, including blog posts, infographics, podcasts, and videos. These marketing materials will then help marketers attract, engage, and retain audiences.
We've talked about creating written content, as well as including product reviews, tutorials, and comparisons. However, rather than just utilizing a search engine optimized blog, affiliates can incorporate other marketing channels, including social media platforms.
Ultimately, conducting multi-channel marketing is a great way to promote affiliate links, enabling them to reach a wider audience and generate more money.
To save time, affiliates can repurpose their existing content into social media posts, email marketing copy, or YouTube videos. However, be sure to build an affiliate marketing hub where you can manage and store your content pieces in one place.
8. Use Local SEO to Your Advantage
There's no doubt that SEO plays a vital role in the digital marketing landscape. It helps generate organic traffic, accounting for 53% of all website traffic.
For anyone looking to grow as an affiliate marketer, we recommend incorporating local SEO into their affiliate marketing strategies. The statistics show that local and organic searches make up 69% of website traffic.
Local SEO practices enable affiliates to reach local communities. This is important as 28% of searches for something nearby result in a purchase. Let's review some tips for how an affiliate marketer can incorporate local SEO:
Create localized quality content. Such content is highly engaging – it has a 22% session share and gives the highest ROI. Also, localized content generates a better connection with the target audience, boosting an affiliate marketer's competitive advantage.
Research local keywords. This enables affiliates to focus their marketing efforts on keywords that can actually help generate relevant organic traffic. Utilize a keyword research tool, like Semrush and Ahrefs Keyword Explorer to find local keywords with high search volume but low competition.
Enroll in local online directories. Being registered in local business listings can bring backlinks and visitors to your affiliate website. Hence, it helps boost an affiliate marketing campaign's visibility on search engines. Google My Business, Facebook Page, and Instagram for Business are some of the best local online directories to choose from.
Keep the NAP citation uniform. NAP is short for Name, Address, and Phone Number. These details should be consistent across different channels to improve an affiliate website's local rankings.
9. Recommend Valuable Products
Another common mistake new affiliates make is selling anything and everything, including lower-quality products. While this strategy can quickly boost the affiliate income, it doesn't ensure long-term success.
As affiliate marketers have a reputation to uphold, promoting valuable products should be a top priority. This is because recommending substandard products from suspicious vendors may only decrease the audience's trust over time.
Before choosing an affiliate product to sell, consider how it can help potential customers solve their problems. We also encourage affiliates to conduct due diligence on their potential affiliate partners.
That said, finding a lucrative affiliate program from credible partners can be challenging. To help you get started in affiliate marketing, let's have a look at our program recommendations: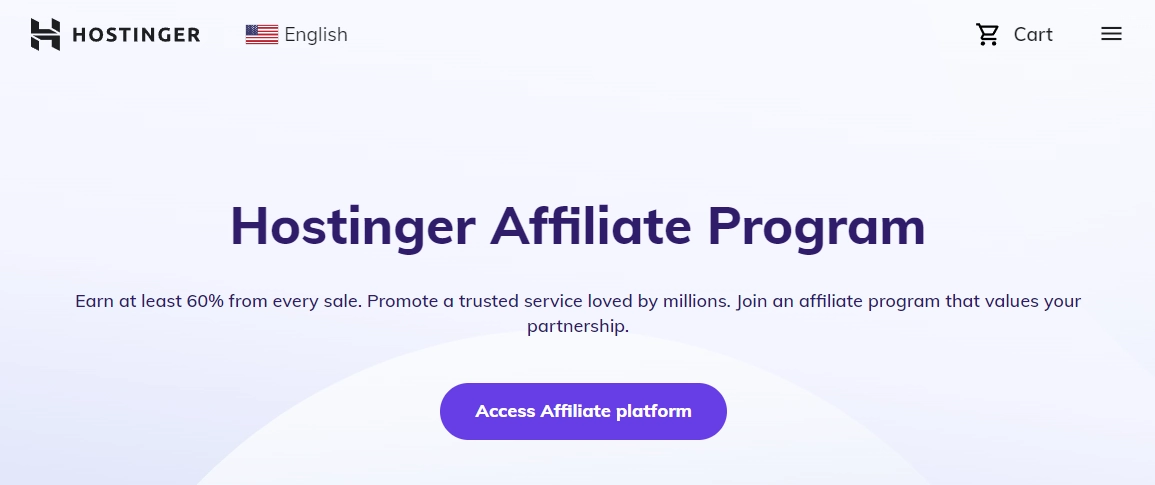 Hostinger Affiliate Program. Offering a 60% commission rate, our affiliate program is one of the most profitable in the web hosting field.
Semrush. The keyword research tool's affiliate program offers a 40% commission rate.
Amazon Associates. With more than 20% market share of affiliate networks, Amazon's affiliate marketing program is a great option in the eCommerce industry. It offers a one to 10% commission rate, depending on the industry.
10. Consider Promoting Digital Products
Digital products, unlike physical products, are intangible assets delivered in electronic formats. eBooks, software programs, and website themes are great examples of digital products. Some benefits of promoting affiliate digital products include:
Instant access. As soon as a customer completes a purchase, a digital product is available for download. This benefits both the affiliates and customers, as unexpected shipping cost is one of the main cart abandonment factors.
Availability. With digital products, inventory won't be an issue. Affiliates won't need to check whether the product is in stock, as digital products tend to be available for unlimited downloads.
Higher commissions. Digital products don't require storage, shipping, and duplication costs. Therefore, brands can pass a higher commission rate to appreciate their affiliates. For example, Envato's Envato Market affiliate program offers a 30% commission on any first purchase an affiliate marketer refers to.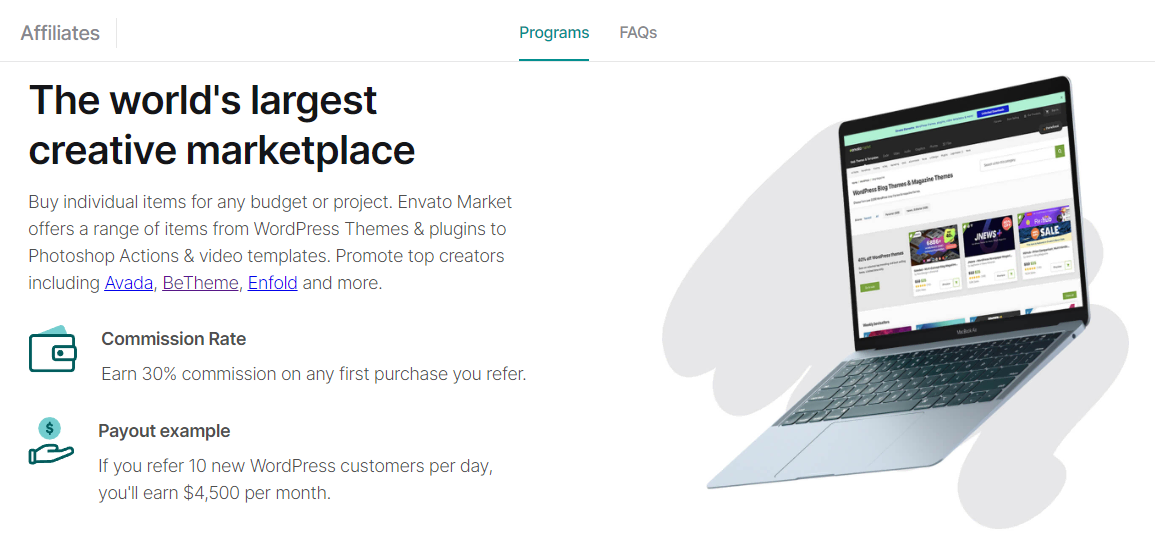 Additionally, the global online education market is projected to reach $350 billion by 2025. This opens up opportunities for affiliate marketers focusing on the online education niche.
11. Share Promo Codes
Promo codes like coupon, discount, and gift codes, are a string of random characters online shoppers can use at checkout to claim a bonus or a discount on their purchase. Unsurprisingly, offering affiliate promo codes helps quickly drive sales.
Promo codes improve the chance of your target audience buying from you. They also help attract new customers, as the statistics show that 89% of millennial shoppers are more likely to try a new brand if they have a coupon or discount.
Therefore, you should ask your affiliate partners if they have active, redeemable promo codes for affiliate products. Once affiliates get their promo codes, here are some tips for spreading the word about it:
Utilize email marketing. Newsletters and email sequences are among the best media to inform subscribers about promo codes. Keeping discount codes special to the mailing list helps affiliates build good relationships with their audience.
Place an affiliate banner on the website. As banners are easy to spot, affiliate bloggers can take advantage of this feature to promote their coupons.
Share on social media. This strategy ensures a broader reach. Whether it's an Instagram post or a YouTube video, affiliates can include their promo codes with a direct affiliate link.
Update related content. Affiliates can revisit their marketing channels to embed their promo codes on relevant content pieces.
In addition, an affiliate marketer can use limited-time deals to encourage the audience to act quickly. This strategy helps ensure a short-term sales generation.
Depending on the brand, affiliates may also receive marketing materials, email copy, and visuals. These materials can help them create a more strategic campaign for their promo codes.
On a side note, over-using promo codes can train the audience to wait for a better deal. Timings are among the crucial factors for ensuring the campaign's success. Some of the best moments include product launches and holidays.
12. Run Ads During Peak Season
In marketing, peak season refers to the period when customers' demand is at its highest. It includes some of the most important times or holidays throughout the year, such as Valentine's Day, Black Friday and Cyber Monday, or Christmas Eve.
Peak season typically offers a one-month-long sales opportunity. For example, a content marketing Halloween campaign can last from October 1 to 31.
Apart from being the customer's favorite time to shop, peak season is a great opportunity for businesses to increase web traffic and make more money. As a result, affiliate marketers can also take advantage of this season to increase their revenue.
One of the easiest ways to tie in affiliate marketing strategies with peak shopping season is to publish ads containing affiliate links. Affiliates can post their ads on popular social media platforms like Facebook, YouTube, and Instagram.
Pay-per-click or PPC advertising is also a great strategy for seasonal affiliate marketing campaigns. PPC enables publishers to earn commissions every time a user clicks on an ad.
By all means, every time you send visitors to the affiliate partners' websites, you will get paid a specified amount of money.
13. Choose Vendors With a Good Landing Page
A landing page that lacks clarity confuses visitors.
A good rule of thumb is that if you have an unpleasant experience exploring a landing page, most likely potential customers will run into the same problem. Moreover, spammy-looking landing pages may indicate scams.
Reconsider the partnership if your potential affiliate partner's landing page has or contains:
Outdated design. Such design is less likely to provide a seamless user experience across different devices. This is important since mobile devices account for around 60% of global website traffic.
Low-quality content. Apart from the materials, check if the web page contains spelling and grammatical mistakes as they contribute to making a website look less credible.
Superfluous ads. Besides making a web page look less appealing, displaying many ads can harm the page load time. Meanwhile, the highest eCommerce conversion occurs on pages that load within two seconds.
Lots of calls to action. Multiple CTA buttons on a landing page can decrease conversions as they distract visitors.
14. Give People a Reason to Click on Your Affiliate Link
While the way affiliate marketing works might seem simple, many affiliate marketers find getting people to click on their affiliate links quite challenging.
One of the reasons for this is affiliates not adding benefits to customers. Even when customers learn a product from an affiliate, they can ignore the affiliate link and buy it directly from the brand's website. Let alone the tight competition in the affiliate marketing landscape.
With this in mind, it's crucial for affiliate marketers to think of what makes their offers unique.
Providing bonuses is an excellent strategy to give affiliates an edge and boost clicks on their affiliate links. Bonuses can be anything, as long as they're something the target market will enjoy and are relevant to the product you are selling.
To improve your bonuses, affiliates can utilize a customer persona to understand the potential customers' goals and problems. That said, some of the most popular affiliate marketing bonuses include support, free templates, eBooks, and software.
15. Don't Rely on One Affiliate Marketing Program
You can join multiple affiliate marketing programs. This is a great possibility as affiliates will never know if their partners deny payouts or lower the affiliate commissions.
However, managing multiple campaigns can be challenging, especially for beginners. For that, joining three affiliate marketing programs is a good starting point. They offer higher earning potential while still being relatively manageable.
Pro Tip
For prerequisite, don't let one affiliate program make more than 50% of your total revenue. That way, you won't be left entirely out of pocket if the brand closes down its affiliate program.
Additionally, you can sign up on an affiliate network as it provides access to thousands of profitable affiliate marketing programs. CJ Affiliates, FlexOffer, and ClickBank are among the best affiliate networks to choose from.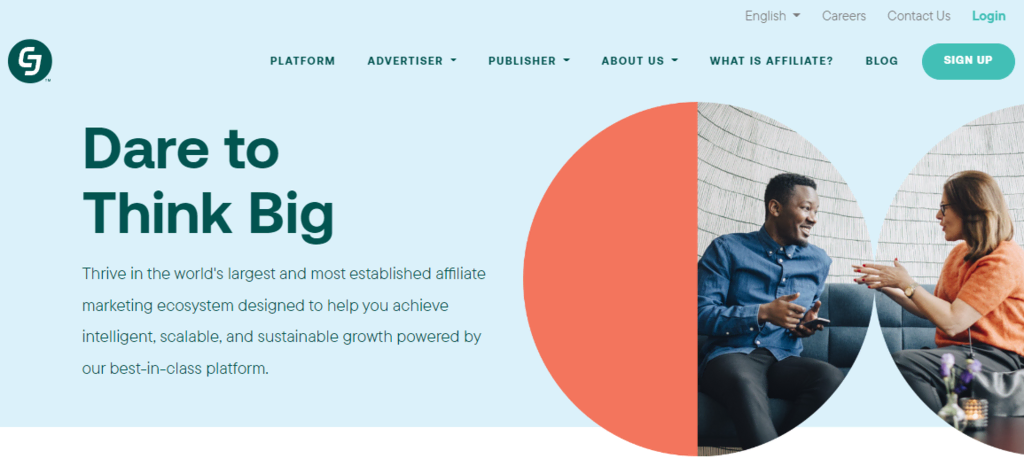 Conclusion
Joining an affiliate program is among the most popular ways to make money online. While the process is quite simple, real-life practice can be challenging.
Throughout this article, you've learned 15 tips on affiliate marketing to boost your income. While a successful affiliate marketer can make money in their sleep, just like any other digital marketing strategy, affiliate marketing requires consistent effort.
Here are some key takeaways:
Affiliate marketing works best when affiliates truly believe in the products they're promoting.
To gain the audience's trust, you should disclose your affiliate links, provide helpful product reviews or tutorials, promote high-quality products, and have in-depth knowledge of the affiliate products.
To boost income, affiliates can utilize promo codes, offer bonuses, consider selling digital products, and join the hype of peak shopping time.
Don't forget affiliate marketing technicalities like incorporating local SEO, building an email list, planning the distribution strategy, and running an ad campaign.
Last but not least, we highly recommend having backup affiliate partners. Apart from the opportunity to make more money, joining multiple affiliate programs provides prerequisites should something unexpected happen.
Good luck with your online affiliate marketing strategy! Should you have any questions, leave us a comment below.