What Is a Social Media Handle? Setting It Across Platforms + Tips for Creating One
Strategizing social media marketing starts with getting the perfect social media handle. A unique handle is crucial not only for launching a business but for boosting its growth, as it can help business owners build a brand.
This article discusses everything you need to know about social media handles – their importance, best practices, and the steps to take if your desired handles aren't available. You'll also learn how they look on different platforms.
Download Website Launch Checklist
What Is a Social Media Handle?
A social media handle refers to an account's public username. Often indicated by the "@" symbol, handles enable social media users to identify and refer to each other within a platform.
Why Are Social Media Handles Important
Creating a social media account helps improve a business's online discoverability. That said, social media marketing requires careful planning to reinforce a business's brand and help it grow.
Like what a domain name is for a website, a handle is the address of a social media account. It's publicly available, enabling users to easily find your social media profile and tag you on their posts.
A social media handle can also tell potential followers what they will find in a profile. Therefore, many businesses align their social media handles with the company name or business name, ensuring brand consistency and making it look more professional. For example, our Twitter account uses the @Hostinger handle.
The same goes for other projects, such as becoming an influencer or using a social media platform to showcase your portfolio. A handle that informs what you do helps the target audience better understand the account's purpose.
Pro Tip
Haven't come up with a business name yet? Use Hostinger's AI business name generator to discover captivating naming ideas.
Social Media Handles on Different Platforms
Let's find out how social handles look on four of the most popular social media platforms and learn how to set or change them.
Social Media Handle on Twitter
You will find a Twitter handle under the display name, following an at sign (@). On our page, you can see the @Hostinger handle under the Hostinger display name.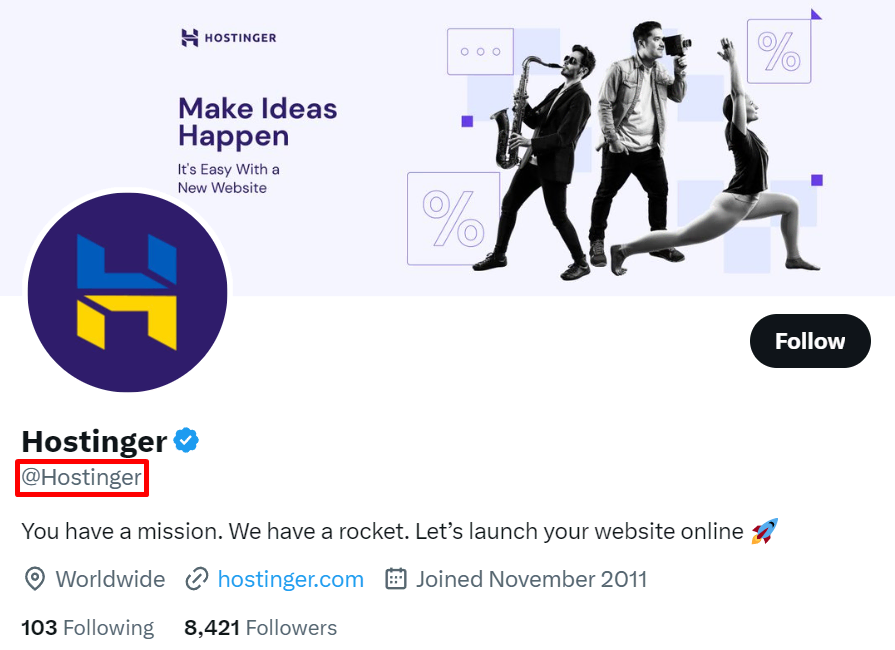 A Twitter handle is set when users sign up for an account. That said, they can always change their chosen Twitter handle. Here's how:
Log in to your Twitter account. Click Forgot password? if you don't remember it and fill the box with your email address, phone number, or username. Twitter will send you a reset link.
On the Home page, click the More button on the left bar → Setting and Support → Settings and privacy.
Under Your Account, go to Account Information.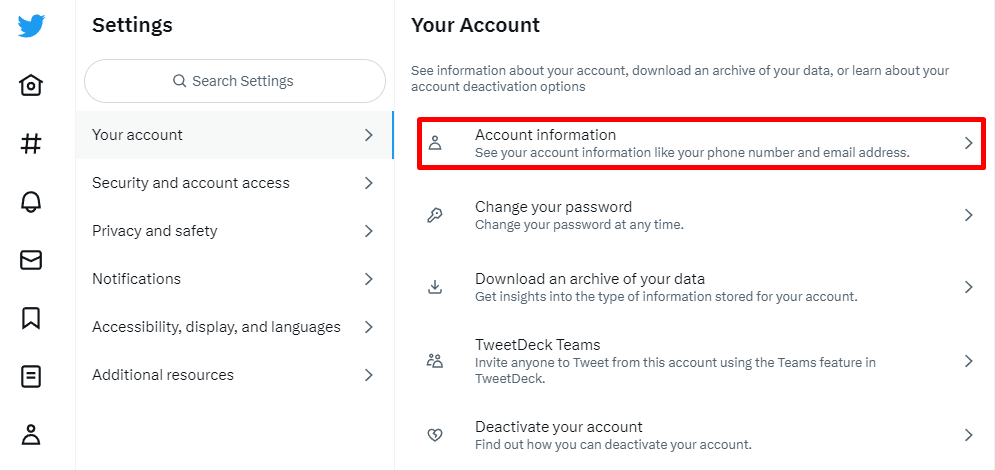 Confirm your password by typing it into the box. Then, click Confirm.
Once you get access to your Account Information, click the Username subsection.
Type your new Twitter handle into the box. If your desired handle isn't available, you can choose among Twitter's suggestions or use them for inspiration.

Click Save. If successful, Twitter will redirect you to the Account Information page. If not, the box will turn red with a notification saying That username has been taken. Please choose another.

Social Media Handle on Instagram
Spot an Instagram handle at the top of the profile page, to the left of the Follow and Message buttons. Unlike Twitter, Instagram doesn't add an at sign (@) to the handle, but you can recognize it by the absence of spaces.
You will need to set up an Instagram handle when you sign up for an account. However, here's a quick step-by-step guide to change it:
Log in to your Instagram account.
On your profile page, click Edit Profile.
Type your desired handle into the Username field.
Scroll to the bottom and click Submit. Instagram will let you know whether the change was successful or the handle is unavailable.
Social Media Handle on Facebook
Find a Facebook handle below the display name, to the left of the profile description. Facebook uses an at sign to display handles so they are easy to identify.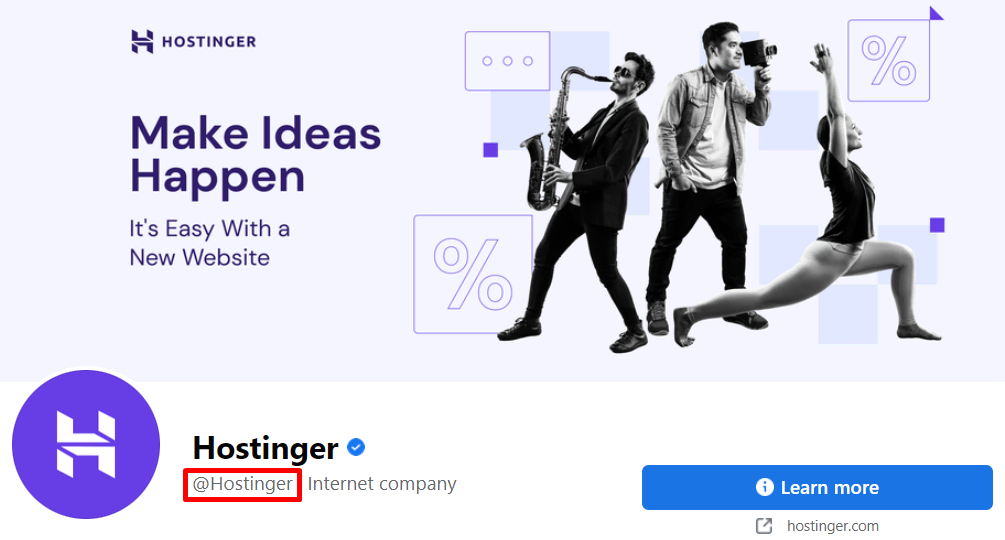 Unlike Twitter and Instagram, where users set a social handle during the signup process, Facebook asks for your name, surname, password, date of birth, and gender.
Once the registration is complete, users can set a public username from the profile page. Follow these steps to set up a Facebook handle:
Log in to your Facebook or Facebook Business account.
Click on your profile picture → Settings and privacy → Settings.
On the General Account Settings page, click Edit next to the Username field.

Type your desired handle into the Username box. If the handle is taken, the Username is not available notification will appear. Click Save changes if it's available.

Re-enter your password into the pop-up window and click Submit. Facebook will then process the request and redirect you to the General Account Settings page once it's done.
Social Media Handle on LinkedIn
A LinkedIn handle is relatively tricky to locate. Users can find it by visiting their profile page and looking at their Public Profile URL. Here's how:
Log in to your LinkedIn account.
From the LinkedIn feed page, click the Me dropdown → View Profile. LinkedIn will redirect you to your profile page.
Find your LinkedIn handle on the right side of your Public Profile URL.

Note that the URL won't appear if you have a private account. To make it public, click the Me dropdown → Settings and Privacy → Visibility.

Then, locate the Edit Visibility section and toggle the switch on Your Profile's Public Visibility.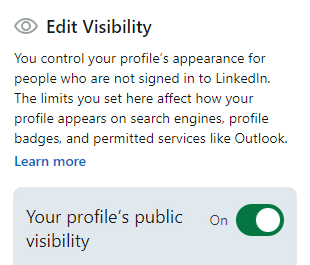 On this page, users can also change their LinkedIn handles. Here's how:
Navigate to Edit your custom URL and click the pencil icon.
Type your custom handle into the box and ensure to follow LinkedIn's requirements.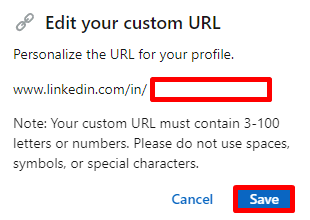 Click the Save button to apply the change.
Best Practices for Claiming a Social Media Handle
If you're still unsure how to get a good social media handle, the five tips below should help with your brainstorming process.
Choose Matching Handles to Showcase Brand Consistency
Having matching handles across social media sites is crucial, as consistency is essential for successful branding. It enables the target audience to easily recognize a business, resulting in improved brand awareness. Also, it makes a company look more professional.
To improve your branding strategy even further, consider using your domain name when choosing social media handles or vice versa. Also, adding the website link to your social media accounts helps drive more traffic to your site.
Manually checking your desired social media handles on different platforms can be time-consuming. Thankfully, online tools like Namecheckr and KnowEm can help you quickly scan handles and usernames across hundreds of social media platforms.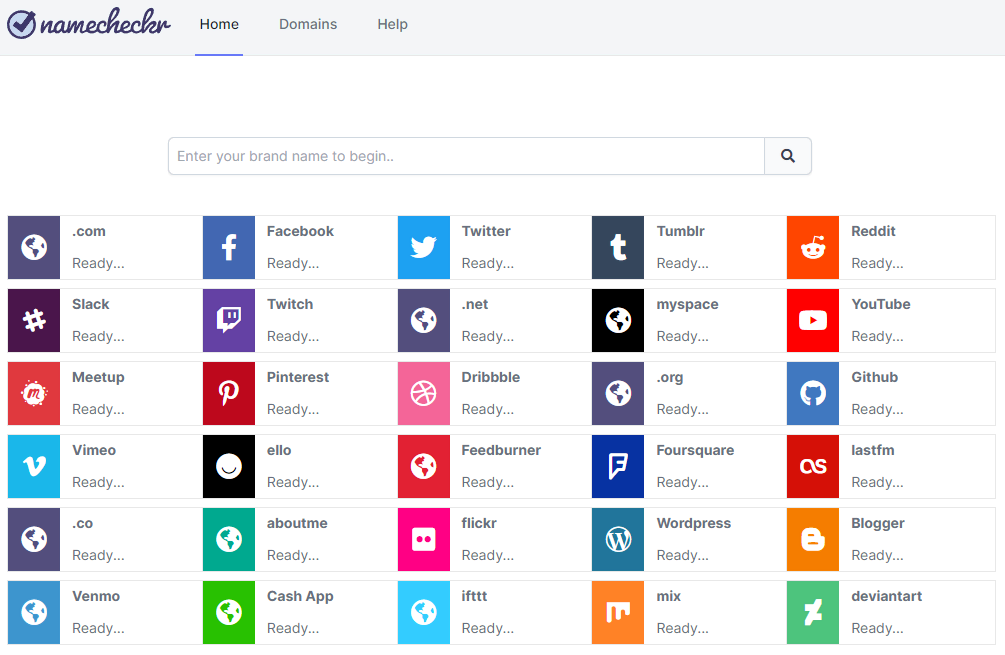 Once you find a unique handle you can secure on all social media websites, claim it as soon as possible.
Avoid Piggybacking On an Established Handle
Trying to gain an advantage from an established handle, such as using a similar name, logo, or tagline, may cause confusion and branding issues. Prospective customers may think the businesses are associated, especially if both operate in the same industry.
In addition to that, business owners protect their intellectual property, including the business name, with trademarks. Therefore, exploring an established social media handle can lead to trademark infringement.
Once a business notices someone is using a similar name, it can file a trademark infringement complaint and demand monetary compensation.
Before securing your desired social media handles, check USPTO's Trademark Electronic Search System (TESS) to ensure you're not infringing other people's property. On top of everything, you can also register a trademark to maintain your business's competitive edge.
Keep Social Media Handles Simple to Spell and Pronounce
Simple spelling enables potential followers to easily find your profile. Avoiding unfamiliar words, special characters, and numbers is a great way to get an easy-to-spell handle name.
Having a simple social handle can also help with word-of-mouth marketing. When brainstorming, say any potential names out loud to see if people can understand them clearly.
Make Them Concise and Memorable
As some social platforms have character limits, creating concise social media handles will help keep them consistent across multiple platforms. Also, the shorter a social media handle is, the easier it will be to memorize.
We recommend keeping social handles around six to 15 characters. If your business name is long, consider using a visual separation, like periods and underscores, to improve readability.
You can also craft creative social media handles with wordplay like acronyms, puns, and rhymes for better impression and memorability.
Add Social Media Handles to Your Website
Once you decide on the handles and set up your social media profiles, add their links to your websites. This will help grow your following, resulting in a stronger social media presence.
You can add social media icons to your WordPress site using the Gutenberg editor, a widget, or a plugin.
Smash Balloon Social Post Feed and Social Media Share Buttons are excellent WordPress social media plugin examples.


What to Do If Your Handle Isn't Available
The "first come, first served" rule applies to claiming social media handles. Consequently, while you may be able to secure matching social handles on multiple platforms, someone else may already use it on Facebook, for example.
In this case, the first step is checking if the account using your desired handle is active.
If it's inactive, report it to the social media's customer support and ask whether they can transfer the handle to you.
If it's active, politely ask the current owner to consider changing their handle so you can use it.
Keep in mind that selling and buying a social media handle is against most social media sites' rules. For Twitter, it's strictly prohibited.
Therefore, modifying your desired handle is the better and more feasible solution if the above fails. Adding a short word before or after the handle name may work as well:
Greetings – @heyyourhandle, @helloyourhandle, or @weareyourhandle.
The business location – @yourhandleglobal or @yourhandleUS.
The business entity – @yourhandleLLC, @yourhandlecorp, or @teamyourhandle.
However, some variation may be fine. If you can't use the same handle on a particular social media platform, utilize it as a display name. That way, your target audience can still find your business using the name they know.
Conclusion
A solid social media presence helps prospective customers find your business online. Creating a unique handle is one of the most important steps in implementing a social media marketing strategy.
Some of the best practices for creating social media handles are:
Keep your brand consistent by having matching handles across different platforms.
Don't try to take advantage of an established handle and trademark yours to maintain a competitive edge.
Pay attention to spelling and pronunciation to optimize word-of-mouth marketing.
Keep them short, at most 15 characters, to improve memorability.
Promote social media handles on your website to widen your reach.
We hope this article helped you learn more about social media handles. If you have any questions, feel free to leave them in the comments section.
What Is a Social Media Handle FAQ
This section will answer a few of the most frequently asked questions about social media handles.
What's the Difference Between Social Media Handle, Username, and Display Name?
Social media handles are public usernames following the "@" symbol. Most social media platforms use handles and usernames as synonyms. However, usernames are not always public, especially if they're part of a login credential. Display names are accessible on the social media profile page.
How Long Should a Social Media Handle Be?
Ideally, a social media handle shouldn't exceed 15 characters long. This helps boost memorability and minimize spelling mistakes.