Website Design Inspiration: 10 Incredible Sources to Find Creative Ideas
Searching for some website design inspiration? Then look no further. In this article, we'll provide a list of some of the best sources to find design ideas for your next web project.
For people who are looking for beautiful and intuitive templates, the Zyro website builder is a perfect place to start. You can find sleek and modern design ideas that are guaranteed to make any website look both professional and engaging.
Scroll through the template selection and preview designs you're most interested in. If you find something you like, you can immediately use it – all for free. Zyro's intuitive drag-and-drop builder and grid system allow anyone to easily edit the template to their liking.
Here's why Zyro is a great source to find website design inspiration:
A diverse selection of themes — whether you want to make a personal blog or an eCommerce website, Zyro has a theme for you.
Responsive design — websites made using Zyro will look great no matter what kind of device you'll use.
Minimalistic approach — if you want to design your website for better usability, use Zyro's clean layouts as a reference.
Whether you're simply looking for inspiration or searching for a reliable web builder, Zyro's got you all covered.
siteInspire is a curated gallery of excellent web designs. It exhibits more than 7000 sites, so you're bound to find new and useful ideas for any project.
The gallery's range of subjects is vast — from children's websites, photography portfolios, to news platforms. That being said, the curation team prioritizes simple and elegant designs rather than something gimmicky.
siteInspire is very easy to navigate and offers several useful features that can help in your search, such as:
Multiple filters — specify your search by style, type, subject, and platform simultaneously.
Register for a membership — sign up and keep track of the designs that you like the most. You can also get weekly emails about the latest showcase.
Creators directory — look for other works made by the developers, designers, and studios behind the projects you like.
All in all, if you want to browse through real-life web design examples, siteInspire is a great starting point.
If you're looking for websites that have much more interesting examples, head over to Awwwards – it's a platform that rewards the most well-developed and best-looking sites.
Here, you'll find a catalogue full of compelling projects as reviewed by well-known web design experts and enthusiasts. All websites are scored based on design, usability, creativity, and content. As a visitor, you get to learn what makes them great and incorporate the same elements into your own designs.
Not to mention, Awwwards has: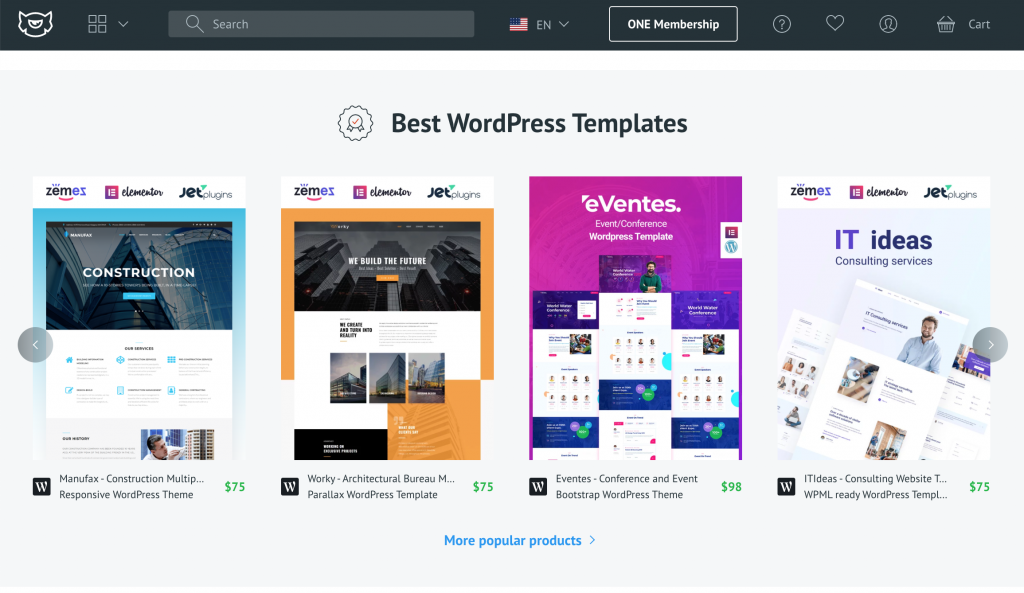 A theme market can be a great place to look for website design inspiration. If you have the budget and find one that looks good, you can even purchase the theme right away.
Plus, theme developers usually keep the best design practices in mind when creating their products. This is so that non-technical users can easily modify and utilize the template without having to mess with the overall structure.
Though most premade themes can feel generic, TemplateMonster offers a wide range of selections and categories to look at. With more than 32,000 templates, you'll have nearly endless website inspirations to scroll through.
Here are some of TemplateMonster's best features:
Live template demos — a great tool to give you ideas on how to better organize your content.
Detailed filters — narrow down your search using a detailed filtering system, sorting by platform types, features, and popularity. For example, these filters include themes with hotel booking or right-to-left language support.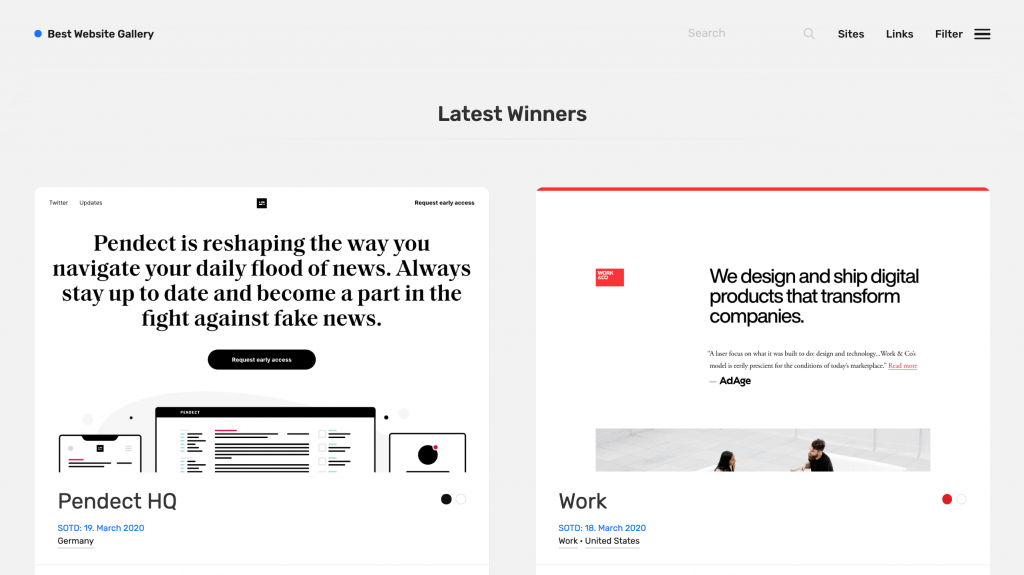 Best Website Gallery began as a personal side project by David Hellmann, but it soon became one of the major sources to find web design inspiration.
It has over 200 pages of websites, and you can browse through them using the gallery's filtering system.
When visiting this site, you'll find:
High-resolution screenshots — in case you don't want to spend time visiting the website yourself, the gallery provides high-quality images of the web pages.
Detailed tags — explore sites that have the same colour, styles, framework, and service.
Links archive — the gallery also features various online development and design resources.
6. Agency Portfolio Websites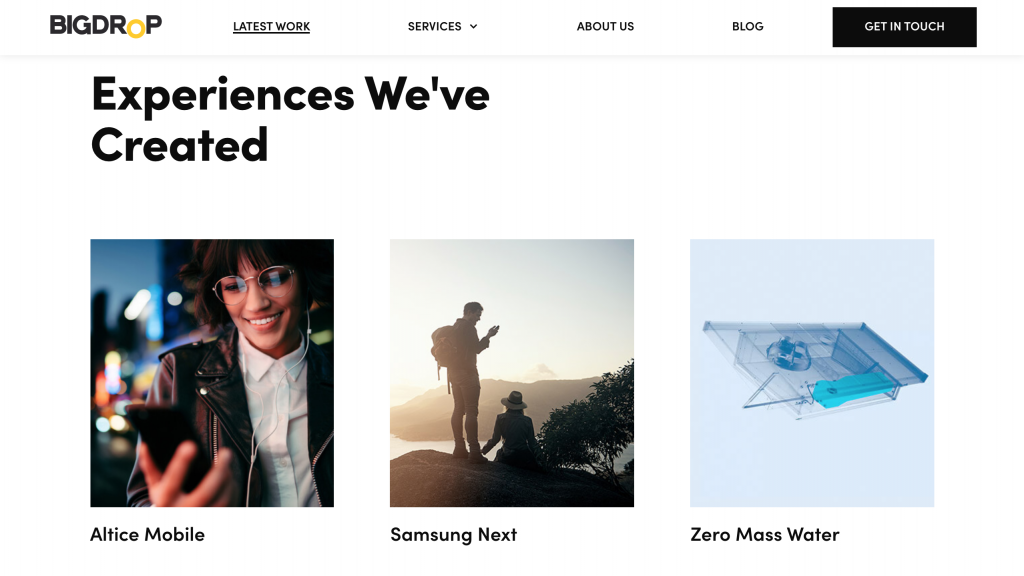 If you need some professional-looking ideas, check out agency portfolio sites. You can see how experts in the field overcome design challenges and learn from them. They're also a great resource to check out some current web design trends.
Not to mention, these portfolios are usually visually stunning, so you can refer to them as inspiration as well.
Look for portfolios that have high-quality screenshots and behind-the-scenes explanations. Here are some great websites to start with as references:
Bonfire Red — a US-based agency that has worked with small businesses and large companies like Aston Martin.
Toy Fight — enjoy the award-winning, bold web designs of this digital agency from the UK.
Big Drop Inc. — this global web design company has an extensive portfolio of works with impressive clients, including Samsung and the United Nations.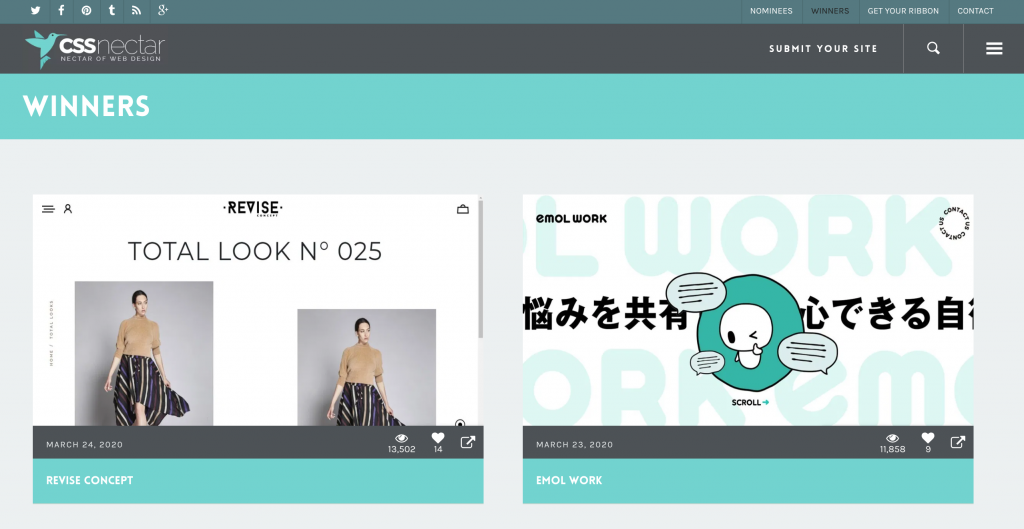 CSS Nectar is another excellent catalogue to find great-looking sites. Here, you can find:
High-quality websites — a team of reviewers go through each submitted project before approving them. Participants also need to pay a fee to have their works evaluated.
Helpful filters — specify by industry or site category, design features, colours, and country.
If you liked this website, you can subscribe to its mailing list to get up-to-date information about the latest featured works.
For those looking to optimize their design for conversion rates, GoodUI should be your next destination. It has various resources for optimizing any web page, including:
Free design ideas — the homepage provides a long list of ideas you can test on your own website.
An interesting blog — see how companies like Amazon and Netflix are conducting A/B tests on their sites, including many more.
UI practice examples — find patterns to implement in landing pages, shopping carts, forms, CTA buttons, and more.
To get the most out of GoodUI, consider becoming a paid member to access the UI experiment results. Or, you can sign up for BetterUI to review your site, where the team will take a look at your website and give you advice on how it could be improved.
As a hub for visual resources, Pinterest is a great platform to look for website design inspiration, tips, and tutorials. Here you can:
Create pinboards — to collect all your website design references. You can also follow other public boards of other users to keep track of ideas.
Use multiple keywords — be as specific as you want using the search bar to find the right results.
Find purchase-ready templates — premium themes that you can buy if you have the budget and need a quick design option.
Behance is a social media network for designers, artists, and other creative individuals to showcase their work. However, you can use it to search for website design inspiration even if you don't work in the creative industry.
Here's what makes Behance a great place for design ideas:
A large community — you can follow web designers who create works you like and connect with them. Using the Best of Behance page also allows you to find projects that are most appreciated by Behance curators.
Mood boards — for adding and organizing works that fit your criteria.
Detailed filtering and sorting options — narrow down the search by the dominant colour and tool used to create the website. You can also sort by city, country, and timeframe.
What Makes Good Web Design?
The key to good web design is great user experience. A website shouldn't only look good, it should also be functional and help visitors navigate through your content and pages.
With that, here's a checklist of things you need to complete as you design your website:
Prioritize Mobile Users
As mobile users make up the majority of internet traffic, making a mobile-first website design should be a priority. Not to mention, Google puts responsiveness as a major factor in indexing and ranking websites.
Without a mobile-first design, a site's search ranking could suffer — and so will its conversion rates, sales, and other goals you have set up.
Here are some ways you can improve your site's mobile user experience:
Choose a responsive theme — so that the web pages can easily adapt to any screen size, big and small.
Opt for a single-page layout — it's optimized for scrolling, which is the most convenient way to navigate through web content on smaller devices.
Make the buttons clear — they have to be large enough to be identified and clicked with a finger.
Keep Your Design Simple and Clean
It's easier for visitors to look through your content when the elements are not only well-designed but also well-organized. Plus, clean and simple websites usually load faster and adapt to mobile devices better.
Follow these tips if you want to simplify your website design:
Only display the most important elements — unnecessary decor can make the page feel overpopulated and distract users from the main information.
Make room for some whitespaces — ensure that all the displayed content are not too close together, leaving room for clarity.
Make Your Website Readable
Most internet users today only scan content, rather than read through all of it. To adapt to such behaviour, your website design should enable visitors to find information quickly. In addition, the text elements should be able to capture the attention of your visitors immediately.
One way to do that is to improve your site's readability, which can be done with a typographic hierarchy. Essentially, it's a way to organize text content based on its level of importance. This way, the most essential information can grab the most attention.
To employ a typographic hierarchy, you need to divide the content into the following categories:
The main headline — it should represent your content's key points, like a business slogan. They have to be big and placed on top.
Subheadlines — points that support the main headline. They have to be in a slightly smaller font size. They are also used to signify the page's sections.
Paragraphs — short information that expands on the subheadlines that are concise and typed in a legible font.
Other than that, using high-contrast colours to underline important information can help direct your visitor's eyes.
Make Your Website Easy to Navigate
A site's navigation can also determine how easy it is for users to find information. With good navigation and structure, visitors can figure out the buttons they need to click to reach the right destination by themselves.
On the other hand, poor navigation can make users frustrated and leave your website too quickly. In the long-run, this could result in lower conversion rates, sales, signups, and so on.
Here are some tips to try if you want to optimize your site's navigability:
Create a familiar navigation menu — a common design like the horizontal menu bar can make users go through your website more easily.
Make the links and buttons descriptive — clearly indicate what visitors will find when they head to a certain page.
Consider the three-click rule — ideally, all the pages and information should be accessible within three clicks from the homepage.
Be Consistent With Your Design
Maintaining design consistency throughout your website is crucial. Users shouldn't feel like they're going to a different website every time they access a new page.
Furthermore, repeating elements on all the pages can make your website or brand more memorable.
Therefore, it's important to stick to one colour palette, consisting of one dominant and a couple of secondary colours.
The dominant colour is the one that your website or brand should be known for, while the secondary ones will complement it. Try such tools as Paletton to help you find the right colour combinations.
Other than that, don't include multiple themes on the same website. Not only it can be tricky to implement, but it can also confuse your visitors.
Conclusion
Making a good-looking website shouldn't be a difficult task. As demonstrated in this article, there are many platforms that can provide you with many web design ideas.
To recap, here are some of the best sources to find inspiration for your website design:
Zyro Website Builder — find beautiful and intuitive templates that you can use for free.
siteInspire — browse through this gallery to search for clean and simple website designs.
Awwwards — discover some award-winning and impressive web designs selected by professionals.
TemplateMonster — get inspired by this marketplace's vast template collection.
Best Website Gallery — a platform where you can search for not only web design inspiration but online development and design resources.
Agency portfolio websites — websites like Bonfire Red or Toy Fight can provide professional-looking web design ideas.
CSS Nectar — find high-quality websites and utilize the gallery's filtering options to narrow down your search.
GoodUI — an excellent source where you can learn how to optimize your website design for conversion rates.
Pinterest — a platform where you can create pinboards to collect references, tips, and tutorials.
Behance — join this large design community to make your own inspiration mood boards and keep up with web designers you like.
Now that you know where to look for website design inspiration, it's time to get creative.