Facebook Networking Tips: 10 Practices to Establish Social Presence and Authority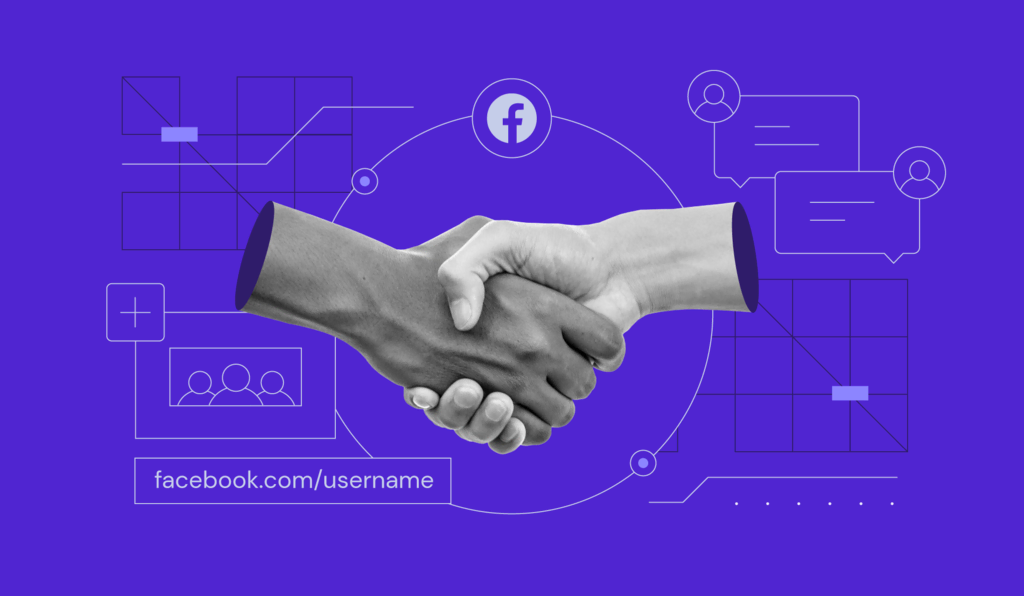 Networking is essential for increasing brand awareness and attracting potential clients. Facebook, a popular social media platform with nearly 3 billion active users, can be a great place to start creating a professional network online.
However, building a professional network on Facebook requires careful planning and a strategy.
With this in mind, we'll go over the ten Facebook networking tips to help you increase your digital presence, build authority, get more clients, and eventually grow your business.


10 Facebook Networking Tips
Without further ado, let's go over the ten Facebook networking tips to follow:
1. Join Groups in Your Niche
An excellent way to start growing your network is to join Facebook groups within your niche. Doing so will help you connect to people with common interests and goals.
To find worthy Facebook groups in your niche, determine relevant keywords for your business. Besides using keywords related to your industry or product, add ones based on your business location or target audience.
For example, if you're a freelance translator looking for job opportunities or connections with fellow freelancers, try searching for keywords like "freelance translator jobs in California" or "freelance translators for women's magazines."
Remember to filter through the suggestions before joining any Facebook groups. Keep in mind that more members don't guarantee more opportunities. This is because a Facebook group could be spammed or inactive.
Look for groups with strict rules and responsible moderators. This indicates the group is properly organized and highly active.
Pro Tip
Giving the right first impression is important to build a personal brand. Ensure your Facebook profile or page is updated and polished before joining a group.

This means taking a professional profile picture and including all relevant information, such as your bio, portfolio, and contact details. If you have posts about a successful project or a limited offer for your products or services, consider pinning them on your Facebook business page.
2. Offer Help to Group Members
Being a silent reader and not contributing to Facebook group discussions will not help you build relationships with other people.
You must be active to become a valuable group member. A good way to establish a presence is to offer help to other members – even if it doesn't directly benefit your business.
Start by responding to questions any member might have. If you have informative articles on your website or other valuable resources, share the link and summarize the main takeaways.
Don't hesitate to share solicited advice and industry insights if it benefits other group members.
If someone is looking for a service you don't offer, it's good to point them to other companies or freelancers.
In time, being a helpful member of the group will help you build credibility and authority within your niche.
3. Build Connections
A common mistake in professional networking is to try to turn everyone into instant customers.
While promoting your products and services is important, you should start by establishing genuine professional relationships and connections with others.
Nearly 61% of professionals worldwide say that routine online interaction with their professional network leads to employment opportunities. Prioritizing communicating with clients instead of sales will make people more engaged with your profile and more inclined to share available opportunities.
The easiest way is to start building connections to reach out to the same Facebook group members. Interact with them publicly to introduce yourself. Then, follow up by sending friend requests with an introductory message.
To keep in touch, consider sharing industry trends, exchanging opinions, suggesting contacts, or simply responding to their content. For example, reply with encouraging comments, send congratulatory messages, or like their status updates.
4. Reach Out to Old Contacts
All your existing contacts, including your friends, family, and colleagues, can serve as a valuable professional networking tool.
For example, if you're offering a web development service, consider reaching out to inform them. They may recommend a client or a web development company that is hiring.
If they don't know anyone, you can ask them to help you promote the service.
However, you should start by reestablishing the connection with the person first.
Sending a private message is a good start. When crafting the message, show genuine interest by asking how they're doing. They will be more inclined to assist if they feel comfortable talking to you.
Additionally, briefly remind them how you know each other – whether it's from an event, a collaborative project, or through an acquaintance.
It's best to be specific with your request. Being truthful will make you seem more sincere, and it will also enable them to figure out how they can help.
After reconnecting with someone, don't forget to follow up, answer any questions they may have, and thank them for helping out. If possible, return the favor by suggesting useful contacts or sharing job opportunities. This will help you maintain good relationships in the future.
5. Set a Vanity URL
Facebook automatically creates a default URL for your page that consists of numbers and letters. For example, facebook.com/abcd12345.
As this doesn't help promote your brand, consider setting a custom URL.
We recommend adding your own name or business name to the URL to make it easier for people to find and remember your products or services. For example, facebook.com/johndoe.
To set a vanity URL, go to Settings and Privacy → Settings → General Page Settings.
There, simply enter the desired username.
Once you find an available name, click Save Changes.

Important! As users can only edit their username once, choose your URL carefully.
6. Generate Leads
For business owners, coming up with and implementing lead generation strategies is important to attract new clients, turn them into paying customers, and expand your business.
Facebook is a great social media platform for generating leads because it provides a lot of ways to streamline the process.
For instance, you can add a CTA button to your Facebook page, like in the example below.

Once clicked, it will redirect visitors to its landing page, encouraging them to sign up for the newsletter.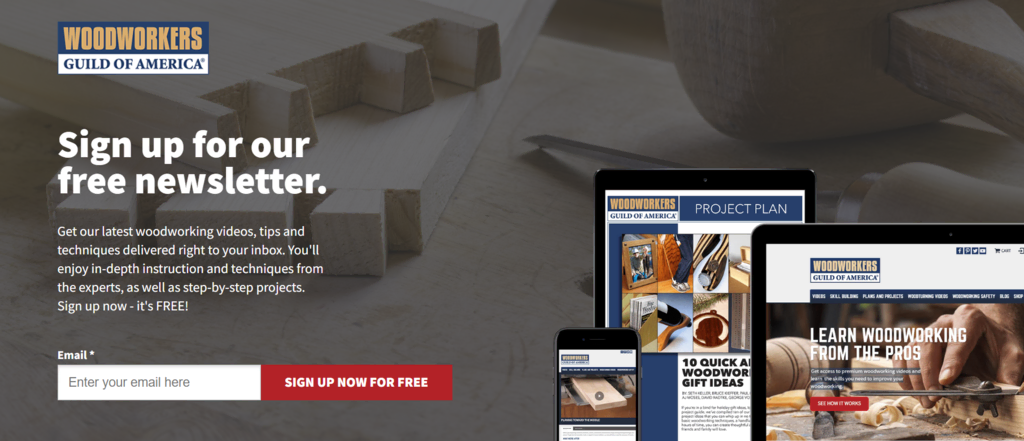 Alternatively, consider using Facebook's lead ads. Optimized for mobile users, the feature streamlines the process of filling in forms. When people click on your ad, a form automatically pops up.
As the form is prefilled with their Facebook contact details, capturing potential customers' data is quick and easy.
Another useful feature to consider is Meta pixels, which allow users to track how visitors interact with their Facebook ads. That way, you can evaluate your lead generation efforts and develop better strategies.
7. Use Facebook Events
With Facebook Events, users can invite their whole friend list or a specific group to an upcoming event. The invitees can RSVP the event and add it to their calendars.
If you accept an invitation, it will appear on your friends' newsfeeds, increasing the invitation's visibility.
On top of that, the event will also show up on the Facebook Events explore page, where everyone can scroll through a variety of events based on category, location, and date.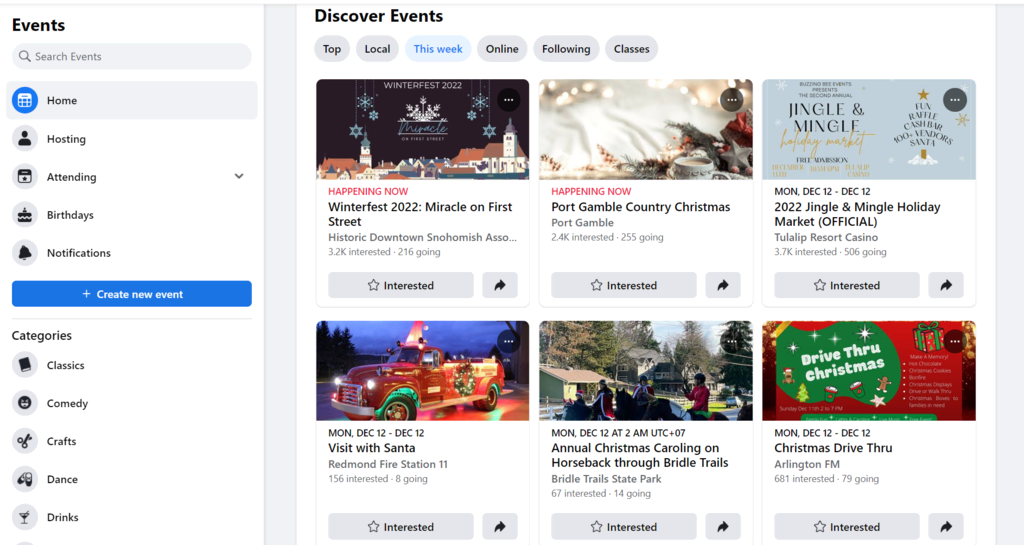 In addition to establishing more credibility for your professional brand, using Facebook Events is an excellent way to inform people about your event, boost engagement, and grow audience reach.
8. Participate in Professional Conversations
To make your profile seem approachable and relevant, consider participating in professional conversations about your niche. By doing so, you'll be able to learn from others, share your expertise, and find more potential connections.
You can start by sparking a discussion on recent industry news or trends in relevant Facebook groups. If you're hesitant to initiate a conversation, leave thoughtful comments under other people's posts, share your own experiences, or add links to relevant resources.
Besides finding conversations in Facebook groups, following hashtags is a great way to keep updated on posts about the topic – even by people outside your friend list.
9. Post Quality Content
The quality of your content will influence people's perceptions. If you post valuable content, people will see you as credible and reliable.
So, whether it's in Facebook groups or on your feed, make sure to only post quality content that will benefit people.
Here are some tips to improve Facebook content quality:
Ensure relevancy. Add relevant hashtags when posting on your feed or stories, and tag relevant people or locations. Moreover, make sure to have clear post titles and descriptions optimized for the Facebook search.
Engage the audience. At the end of your posts, encourage the audience to interact with the content. For example, ask them to share their own experience, thoughts, or inquiries in the comments. Then, respond to them to show you care about their input.
Keep it original. Don't copy-paste what other people have said. Instead, find a unique angle or insight to cover a topic.
Use visuals. Whether it's images, videos, gifs, or illustrations, including visuals in your posts will help catch the audience's attention and increase engagement.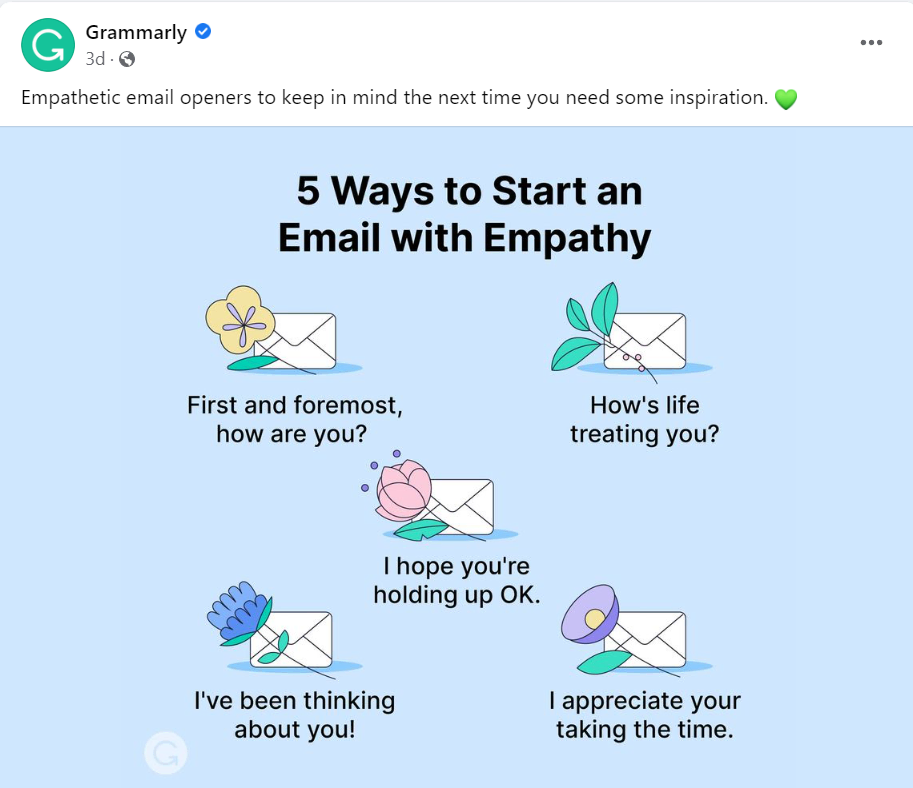 10. Forward Traffic to Your Site
Directing people to your personal website is a good way to showcase credibility and introduce all of your work.
An essential step to drive traffic to your website is to add its URL to your Facebook page. That way, every time someone finds your page from an interaction with a post, they'll be able to easily access the website.
To do so, simply go to your page's About section. Under the Contact Info section, click Add Website.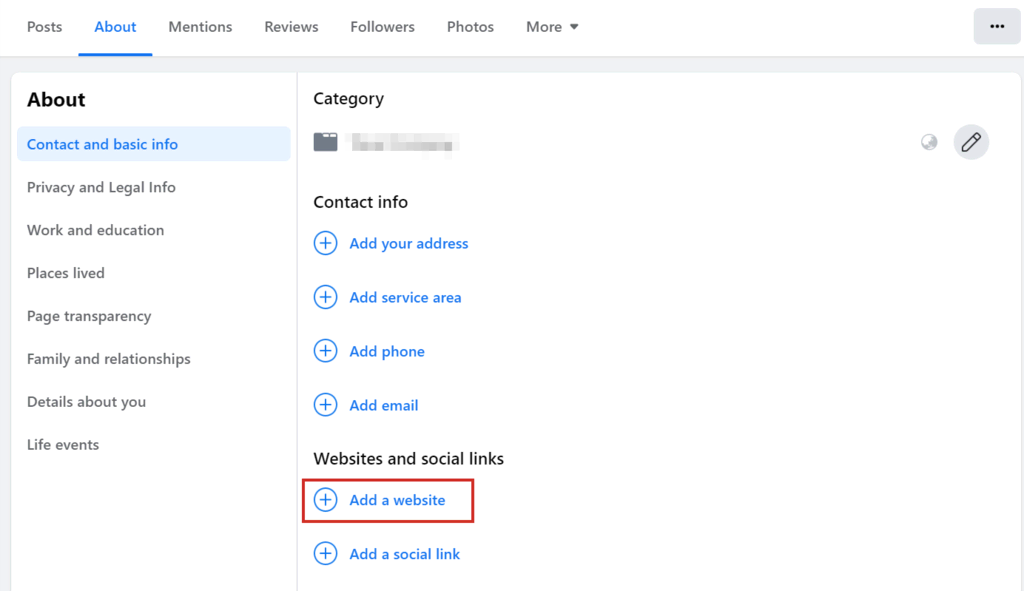 Moreover, many brands also create short blurbs of the content to add a link to the website.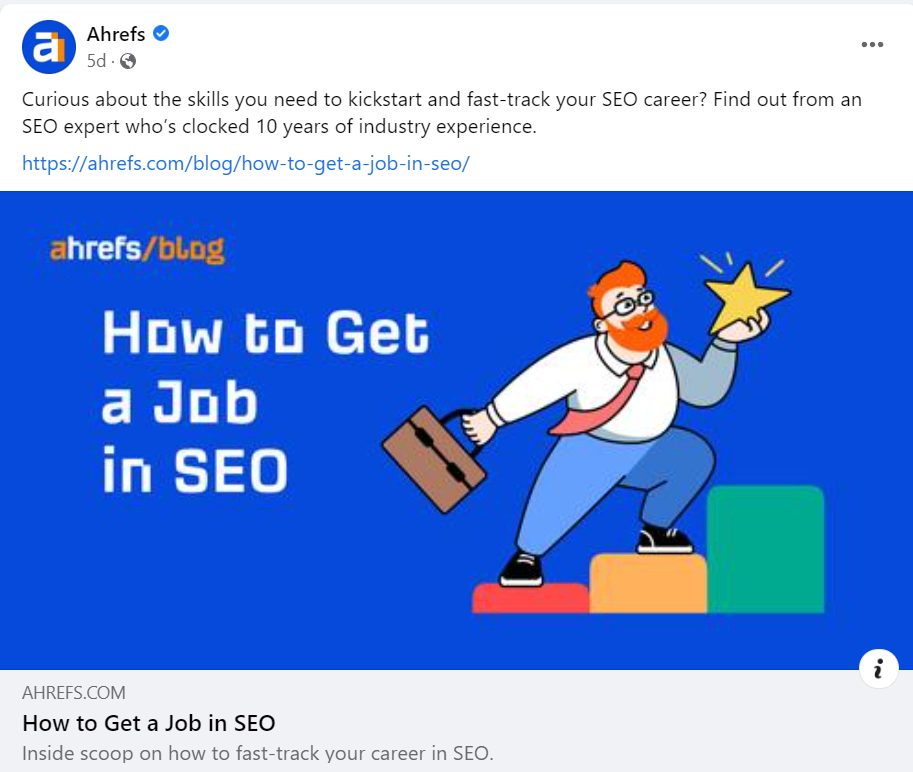 You can also save time by automatically uploading blog posts straight to your Facebook wall. To do so, set up an RSS feed for instant articles.
Lastly, if you have an extra budget, using Facebook ads is a great way to quickly get website traffic. You can create a new ad and link to your website or promote existing Facebook content.

Benefits of Facebook Networking
Some of the reasons to use Facebook as a professional networking platform include:
Keep a Valuable Presence in Your Niche
When it comes to professional networking on social media platforms, creating a good reputation is a must. This entails building professional relationships with other group members, creating a professional page or profile, and producing quality content.
Growing your Facebook network will increase your profile's visibility, helping you establish authority in your niche.
Participate in Industry Discussions
On Facebook, participating in industry discussions is viable and free. Simply start following industry leaders, and reply in the comments or repost their content.
As long as you have something valuable to share, you should join any discussion to establish a stronger digital presence than your competitors.
Gather Customer Testimonials for Social Proof
Another advantage of networking on Facebook is the possibility of displaying customer testimonials on your page. This will serve as social proof to convince potential customers of your products or services.
To do so, go to a Facebook page → the Homepage tab → the Reviews section, which typically contains star ratings and customers' comments about their experience.

To display testimonials, ensure you have enabled reviews.
As it can be quite detailed, asking customers for testimonials is a great way to highlight your business's strengths and provide transparency.
Get High Volume Exposure
With more than two billion users, Facebook exposes you to a huge pool of audiences from varying demographics. From woodworking to digital marketing – various industry groups in diverse niches are available, consisting of people willing to discover new businesses and partnerships.
Hence, dedicating time to network on Facebook can help to increase sales and traffic volume.
Create Company-Hosted Events
Whether it's online or face-to-face, hosting an event is a great way to build and expand your network. Since attendees will be interested in what you have to offer, events are also an excellent lead-generation tool.
On Facebook, promoting events is easy due to its Events feature. You can sell tickets directly, track ticket purchases, build excitement, and share event-related content to boost engagement.


Conclusion
Facebook can be a great platform for building professional relationships if you follow the best practices, such as finding the best Facebook groups in your niche, reaching out to old contacts, and posting quality content.
Just like in personal life, building trust is vital to have good business relationships. Thus, it's critical to be respectful, reliable, and genuine when interacting with potential business networks. Always look for opportunities, and be ready to provide them to others as well.
Professional networking on Facebook offers a lot of benefits for your business growth. However, keep in mind that building and maintaining professional relationships require dedicated time, effort, and consistency.