8 Best Grammar Checkers to Identify and Fix Writing Errors Before Sharing Work With Others
You don't want to publish your blog post or content pieces just to spot incorrect sentence structure and typos, do you? It is very annoying, but such a problem can be averted if you can notice the mistakes beforehand. And the perfect tool for that job is a grammar checker.
There are many grammar checkers out there, in this article, we will show you the best grammar checkers that will help you avoid grammatical mistakes and improve your writing.


Why Use a Grammar Checker
When you are writing text that will be published online, you want it to be perfect. It's because any slight grammatical mistake can damage your reputation as a writer. Your readers may find you unprofessional and even worse, decide to leave.
But checking your article with your own set of eyes is not a foolproof way since some mistakes can be easily overlooked. That's why you need a grammar checker. The tool is made to help you edit your work faster and more efficiently.
Here are key issues that a great grammar checker should correct or avoid:
Typos. You meant to say truck but you typed tryck. A good tool should notify you right away and never let this simple problem happen.
Passive Voice. An active sentence is generally a better way to explain your ideas so passive sentences are often not preferred. However, it doesn't mean you should never use passive voice as it has its places, like using it in an academic article. With a grammar checker, you can check how much passive voice you use and adjust accordingly.
Punctuation. Punctuation can be a hard thing to master. Alas, it can change the whole meaning of a sentence. If you're not sure, let the app check for grammatical errors, such as, where to put a comma, apostrophe or other punctuation symbols.
Overused words. A great grammar checker will tell you if there are overused words in your text. Alternating words is a great way of making sure your article has more variation.
8 Best Grammar Checkers
Each entry in our handpicked list of best grammar checkers is capable of doing all of these things. Now, let's see what else makes them unique and how they make editing more convenient for you.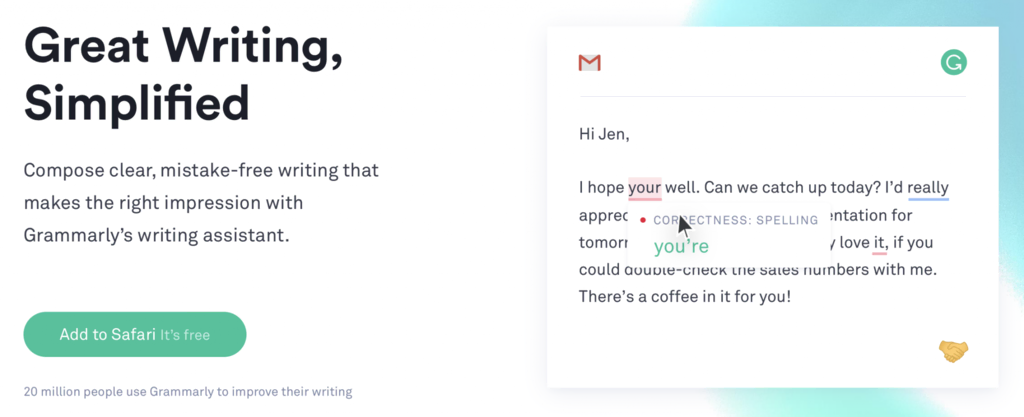 We've put Grammarly as the best grammar checker for many reasons. First of all, it is the most widely used grammar checker on the internet with 20 million people using the online grammar checker.
This spot is also achieved thanks to its compatibility with all popular internet browsers and Microsoft Office. There's also a Grammarly Keyboard that users can install on their smartphones.
Furthermore, the tool is fairly easy to use and free to install. Once you get the extension, there will be an indicator at the bottom right corner of every text box you have. It will show you how many grammatical mistakes you make.
Each incorrect word is highlighted with a red underline and when you hover above it, you can easily revise the mistake. But what we really like is that Grammarly is able to recognize many technical terms so that they never come up as grammatical errors, including abbreviations and acronyms.
If you want to take things further, the separate Grammarly text editor will be of great help. You'll be able to see suggestions about the formality, conciseness, and diction of your writing.
However, this particular feature is packed into Grammarly Premium and you need to pay $29.95/month, $19.98/month, or $11.66/month for monthly, quarterly, or annual subscriptions respectively.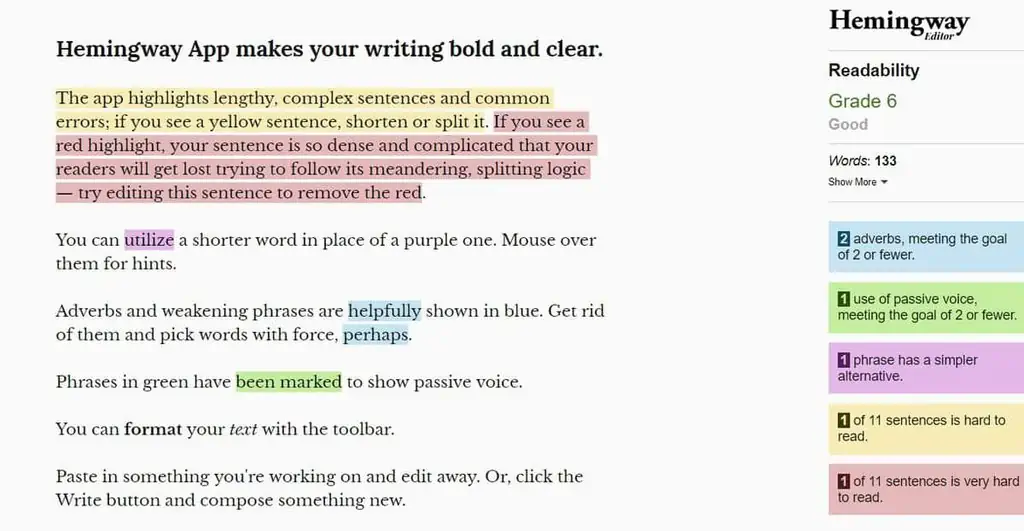 The name of the grammar app derives from the famous American writer, Ernest Hemingway, who was known for his short and effective writing. And that's what this tool wants you to achieve.
Apart from the usual grammar checker, Hemingway will also make sure that you don't write long and complicated sentences. First, it will recommend that you use as few adverbs and passive voice as possible.
Second, you'll be alerted if there are more simple alternatives for the words you use. Hemingway will also tell you when you've written a complicated sentence and will suggest that you divide it into two or more sentences.
The goal of the Hemingway Editor is to help you convey your ideas in a clear and easily understandable way. It will be very useful for non-native English speakers, especially.
The browser-based software is free but still offers a wide range of text customization, such as headings, text size, and numbering. There's also a desktop version of Hemingway that you can get permanently, which costs $19.99
To start using NounPlus, you have to type or paste your text into the editor box and click Check to see all the corrections. While it may not be real-time, this tool still can check many aspects of your writing.
Subjects, objects, adjectives, predicates, and many others are given unique highlight colors to differentiate between them. It also offers pronunciation examples so you know how to read the word correctly.
One more convenient feature is that NounPlus offers is it is available to be downloaded as a mobile app on Android and Apple.
Another major point is that NounPlus supports a variety of different languages like Korean and Chinese.
If you're looking for a minimalist, online, and free grammar checker, NounPlus is a safe bet.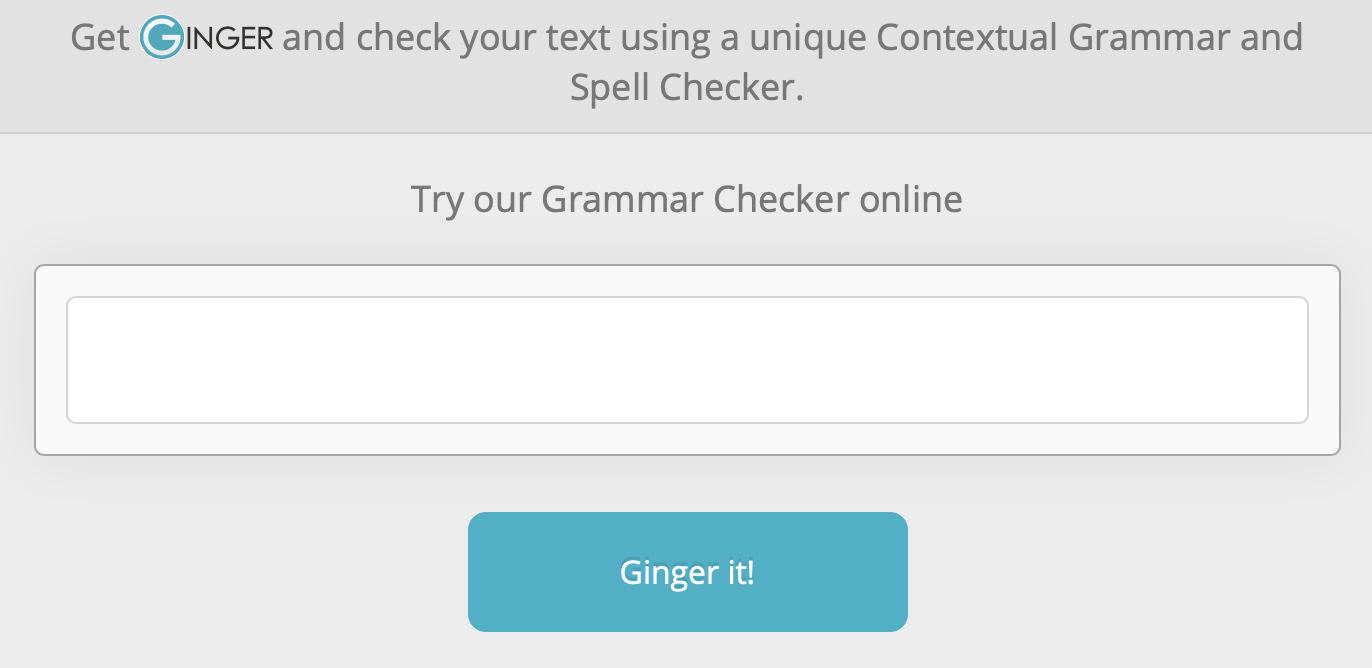 Ginger has three different versions, Free, Desktop, and Premium Keyboard.
The free version can be accessed through their website, but it is only optimized for correcting one sentence after the other, not the whole text.
If you want to have a more complete set of writing tools, there is the Desktop plan. It includes a dedicated PC app that can proofread and rephrase your writing.
Furthermore, it comes with a built-in dictionary and thesaurus, allowing you to never jump between pages to get your work done.
But our favorite feature that Ginger offers is Personal Trainer, a feature that will give you corresponding lessons based on your frequent mistakes. On top of that, Ginger supports many different languages, making them suitable for beginner learners.
You can subscribe for $29.96/month, $89.88/year, or $159.84 for a 2-year plan.
Alternatively, if you are mobile and find yourself writing on your phone more, you can choose to use the Ginger keyboard app.
That said, the app is very versatile, packed with a built-in dictionary, thesaurus, and unlimited corrections. The price is $6.99/year to enjoy the grammar corrector features.

After the Deadline is an open-source grammar checker that's widely compatible with many platforms, including WordPress. So if you are using the CMS, you can get this grammar corrector tool to improve your editing workflow.
There are three types of corrections that this tool can offer:
Contextual Spell Checking
Advanced Style Checking
Intelligent Grammar Checking
Basically, it gives users a comprehensive solution for their individual and common writing problems like any premium grammar checker, but this time it's completely free.
After you're finished writing your text and you want to see what can be fixed, you need to click the AtD icon on the bottom right corner. You'll see a red underline under the text with issues and what's great is, there will be an additional option to always ignore the grammar mistakes suggestion.
Aside from WordPress, you'll also able to use the app to work with Google Chrome, Firefox, and OpenOffice.

WhiteSmoke offers online grammar, spelling mistakes, style, and punctuation correction, and you can access it via three ways — mobile, PC, and web.
What makes it unique is that the tool provides video and written tutorials to improve your writing, spelling, and grammar. Also, it comes with an integrated plagiarism checker and supports grammar checking in Gmail.
With WhiteSmoke, Windows users can try out the grammar checker today. However, macOS users will have to wait to use this online grammar tool, unless you upgrade to Premium or Business Plan.
All the essential features are also available on mobile too, including translator and one-click in stand proofreading. However, you have to pay $1 more to enjoy WhiteSmoke on your phone.
If you're interested, the price for WhiteSmoke subscription plans starts from $5.00/month all the way up to $11.50/month that includes an extended warranty and customer support.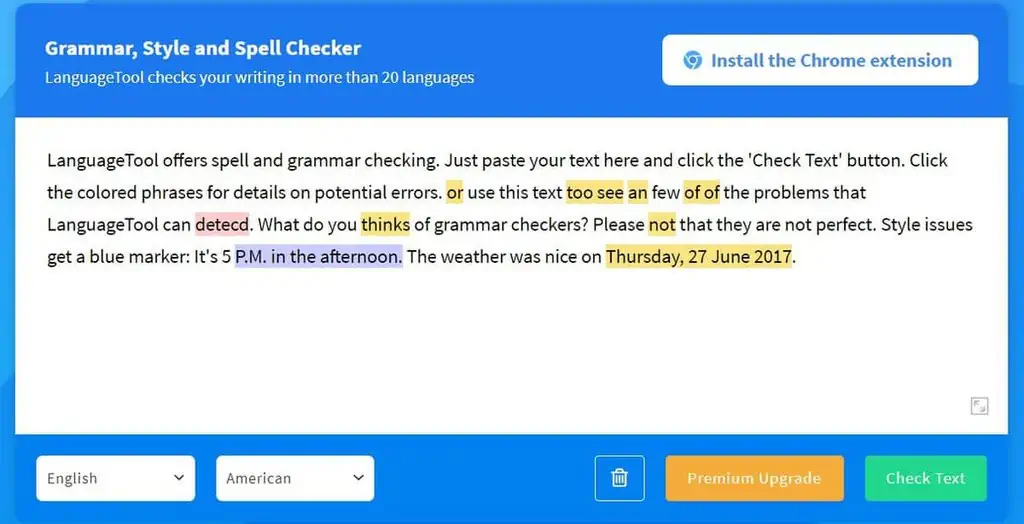 The best thing about the LanguageTool online grammar checker is it can check many grammatical faults from over 20 languages. This tool is even able to fix English based on different locales of English, such as American, British, South African, and Australian English.
It will help you learn what's the preferred vocabulary for certain countries.
You can use the web-based or browser extension version of LanguageTool for free and all you have to do is write the text and click Check Text to see the grammar corrections and spelling mistakes made.
Each highlighted word will display what's the issue and why you're writing it wrong. You're learning and editing at the same time. The suggestions also allow you to see examples of the words in other sentences for context.
Apart from the free version, there is a premium plan that offers a Microsoft Office plugin and 900 more methods (added from 1700 already available) to find an error in your writing. It will set you back $59/year.

Much like the other online grammar checkers, with Pro Writing Aid you can download an app for macOS and Windows, or simply install a plugin into your browser.
Its features include style, overused words, cliches, transition, diction, summary, and many more. This tool not only checks for spelling and grammar mistakes, but it pays attention to the flow of your writing.
You can purchase a premium version of this grammar checker for $70/1 year, $100/2 years, $140/3 years, or $240/ lifetime.


Conclusion
Grammar mistakes and typos happen and your writing might feel unprofessional. That's why you need to tackle such problems very seriously. To do that, you need to find the best grammar checker for your needs.
Let's take a quick look again at some of the best tools we have listed:
Grammarly — The most popular and complete grammar checker.
Hemingway — A perfect tool to make your writing concise and clear.
NounPlus — A free, minimalist, and multi-language grammar checker.
Ginger — Great combination of grammar checker and dictionary.
After the Deadline — An open-source and free writing tool suited for WordPress.
WhiteSmoke — A great grammar and writing improvement tool.
LanguageTool — Amazing grammar checker with wide language and locale support.
ProWritingAid – A tool that looks at more than just grammatical errors.
Now go grab an online grammar checker and witness the dramatic improvements to your writing and editing.