6 About Us Page Examples for 2023 Built With Hostinger Website Builder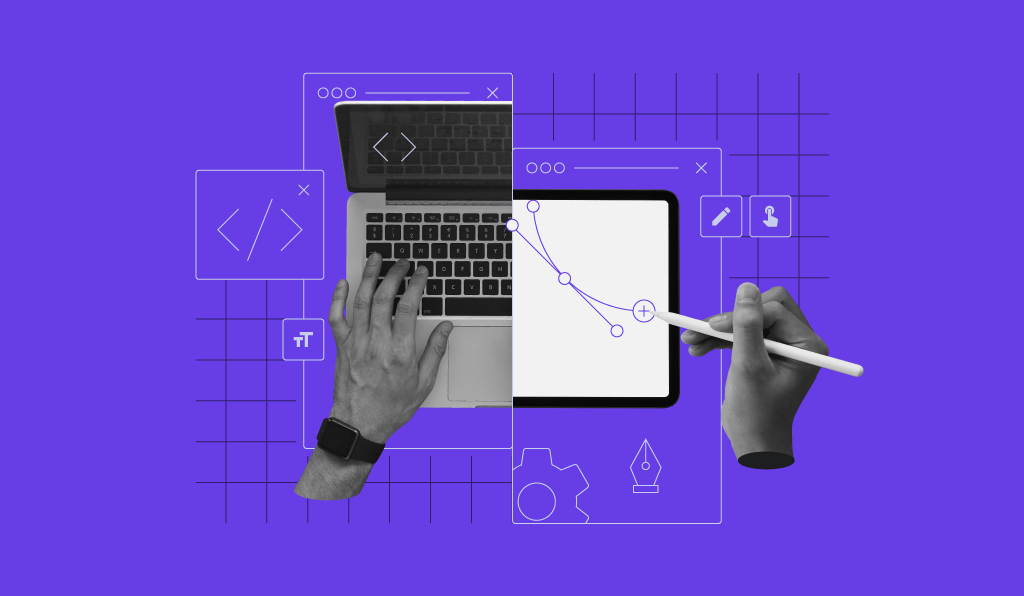 When going over the steps on how to make a website, don't forget to include an About Us page.
It is more than simply saying hello to your clients. It's a business card, a brand narrative, and a way for visitors to understand your company's culture and core values.
In this article, we'll feature six About Us page examples for your inspiration, all created using Hostinger Website Builder.
As these creative About Us pages have various design elements and highlight different details, finding the most relevant example for your company or brand will be easy.
Download Website Launch Checklist
6 About Us Page Examples
We've curated a list of six creative About Us page design examples worth checking out. They blend compelling website content with company values, achieving personal brand storytelling that engages visitors and builds trust.
If you are looking for About Me website examples for your brand, the following list also includes them.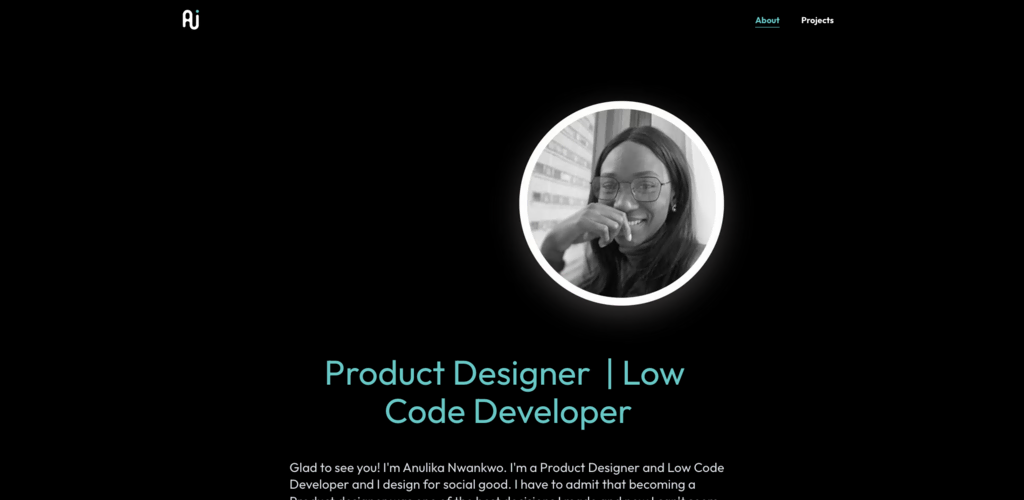 Crafting effective About Us pages starts with sharing your personal or company story. Anulika Nwankwo's About page provides a clear and concise overview of Nwankwo's professional journey, establishing her personal brand as a product designer and low-code developer.
Her mission statement comes through clearly – she designs for social good. This adds a personal connection with visitors, who are likely to resonate with her commitment to social responsibility. The page also showcases Nwankwo's approach to user-centric design and data-driven decisions.
The page's responsive design aesthetic, complete with creative visuals, enhances its visual appeal and offers an engaging user experience. Nwankwo's current reading list is an interesting touch to this Meet the Owner page, helping her reveal her personality further.
Nwankwo's About page effectively builds trust and aims to connect directly with each potential client, setting a strong example for small businesses looking to establish a meaningful online presence.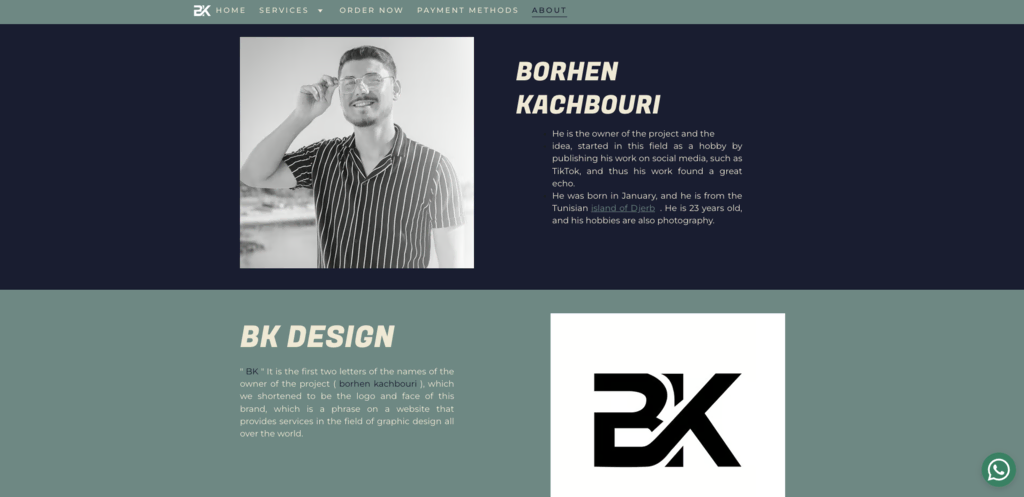 Borhen Kachbouri's page is a prime example of how to craft an effective About Us section. The page is simple and easy to navigate, letting website visitors quickly understand Kachbouri's personal story in graphic design.
When writing impactful About Us content, simplicity is often key – don't hide behind complex and important-sounding words. Instead, aim to use clear and concise language, like Kachbouri.
The text on the page aligns with the overall company's core values and brand voice, making his small business cohesive, relatable, and trustworthy.
As a graphic designer, Kachbouri's About page design showcases an understanding of clear and dynamic web design. High-quality website multimedia – in this case, a handful of images – and a clean overall aesthetic give potential customers an idea of the level of service to expect.
The page also effectively highlights Kachbouri's experience, background, and TikTok fame – features useful for showcasing brand identity and connecting with website visitors.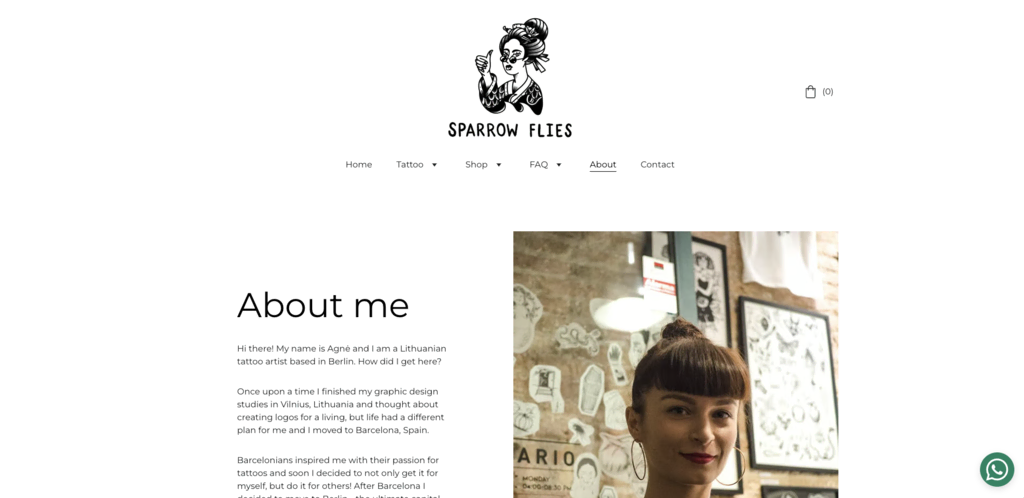 The About page of Sparrow Flies Tattoo exemplifies the key principles of an effective About Us page. It is clear and concise, providing a brief overview of Agnė's journey from studying graphic design to becoming a tattoo artist. There's no industry jargon, making it easy for anyone to understand.
This one page effectively communicates Agnė's genuine passion for tattoo artistry, specifically in Irezumi, neo-traditional, ukiyo-e, and flora and fauna-themed tattoos, creating an authentic connection with the audience.
The ample use of whitespace enhances the page's visual appeal, providing an engaging user experience for her website visitors.
The inclusion of the studio's working hours and contact information in the footer also helps customers reach her.
The About Me page of Dr. Gillian Jack offers a concise overview of her qualifications. She effectively details her academic background, research interests, and current role without unnecessary jargon. This makes the page easily digestible for a broader audience.
Dr. Jack's unique research focus on poor women and girls in 15th and 16th-century Florence gives her a distinct academic identity. This authenticity not only highlights her passion but also differentiates her in her field.
Enhancing the user experience, the page's simple yet professional visual design is complemented by a high-quality image of a historical map, assumingly from Dr. Jack's research. If you want to showcase brand authenticity on your site, consider adopting a similar approach when it comes to visuals.
The up-to-date information, specifically mentioning her current position at The Open University, builds trust and demonstrates her ongoing commitment to her academic career.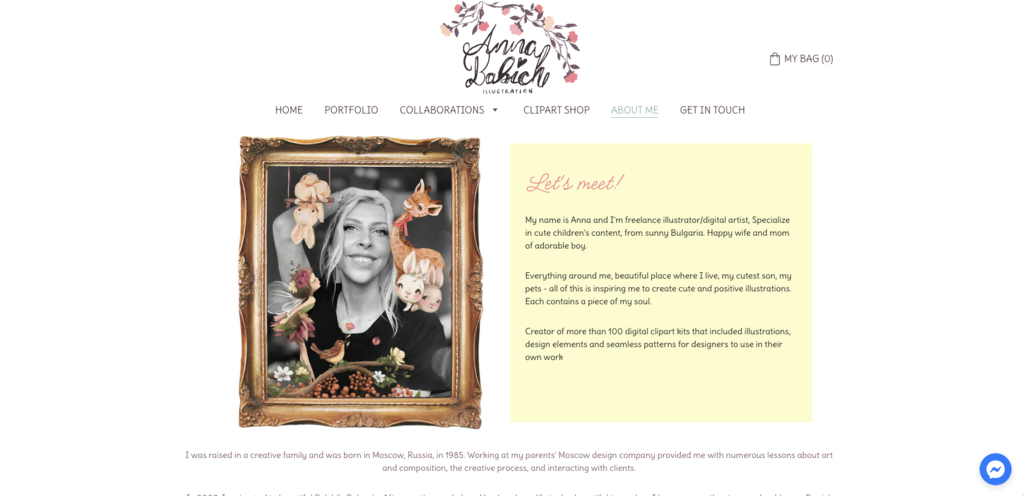 Anna Babich's About Me page is a great example of an effective About Us page. The written content clearly outlines her professional journey in design, being accessible to customers and industry peers alike.
Her company's history is authentic, starting from her creative upbringing in Moscow to significant career milestones, including collaborations with Creative Market. This increases her credibility with the reader and provides insight into her company culture and business goals.
The page highlights Anna's unique expertise in children's content, offering compelling reasons for a potential customer to consider her services. Her creative projects in this field build trust and showcase her brand style effectively.
Important elements like her business model, target customer, and niche – children's content – are clearly stated, rounding out this effective and engaging About Me page.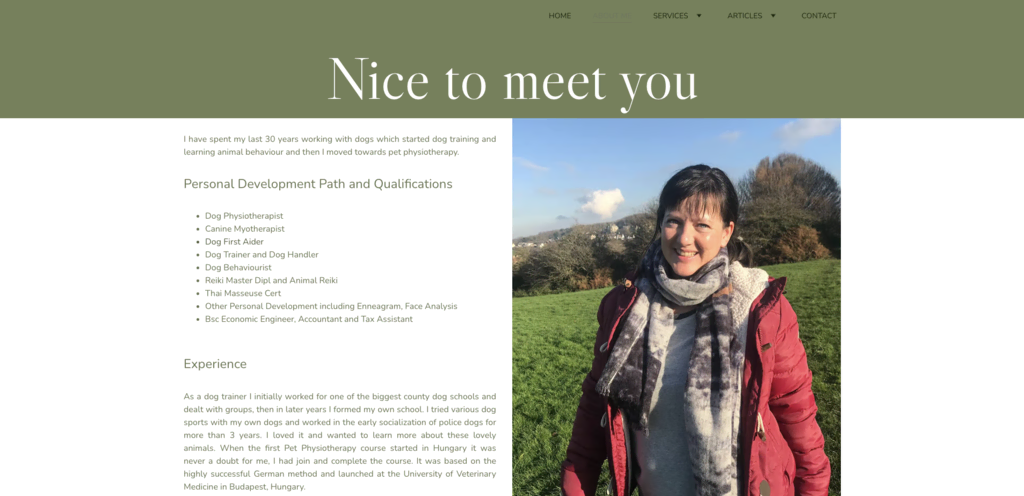 Petratherapy's About Me page offers a straightforward look into the company's story and the founder's expertise in pet physiotherapy. The language is jargon-free, making the information easy to follow for all visitors.
The page effectively highlights the founder's unique qualifications and services without resorting to hard selling. This can be an important element for her target audience, who want to know that their pets will be in safe and capable hands.
Visually, the page is enhanced by a curated image gallery featuring dogs, the focus of the therapy services. This not only captivates the audience but also highlights the founder's expertise and commitment to animal care.
The gallery, coupled with the page's straightforward content and design, makes it a comprehensive and engaging landing page for new customers.
How to Make an About Us Page With Hostinger Website Builder
Writing an effective About Us page is an opportunity to connect with your audience on a personal level and explain your brand mission and values. With Hostinger Website Builder, you can create an About Us page that reflects your brand's identity and company history in just a few easy steps.
1. Choose Your Hosting Plan and Template
Building credibility online starts with selecting a hosting plan. Pay attention to the following:
Performance and speed. Look for a hosting plan that promises high uptime and fast load times to ensure your site is always accessible and user-friendly.
Scalability. Choose a plan that can grow with your business. Ensure it offers options for upgrading resources like storage, bandwidth, and processing power.
Security features. Make sure the plan includes robust security measures such as SSL certificates, daily backups, and malware scanning to protect your data.
Customer support. Opt for a hosting plan that provides 24/7 customer support through multiple channels like chat and email so you get help in case of technical issues.
Pricing and value. Compare the features offered in relation to the cost. Look for a plan that gives you the best value for your investment, and be mindful of additional costs or renewal rates.
From the 24/7 Customer Success team to AI-powered features, Hostinger equips you with all the tools you need to succeed online.
Once you've got hosting sorted, navigate to the Websites menu in hPanel and create a new website.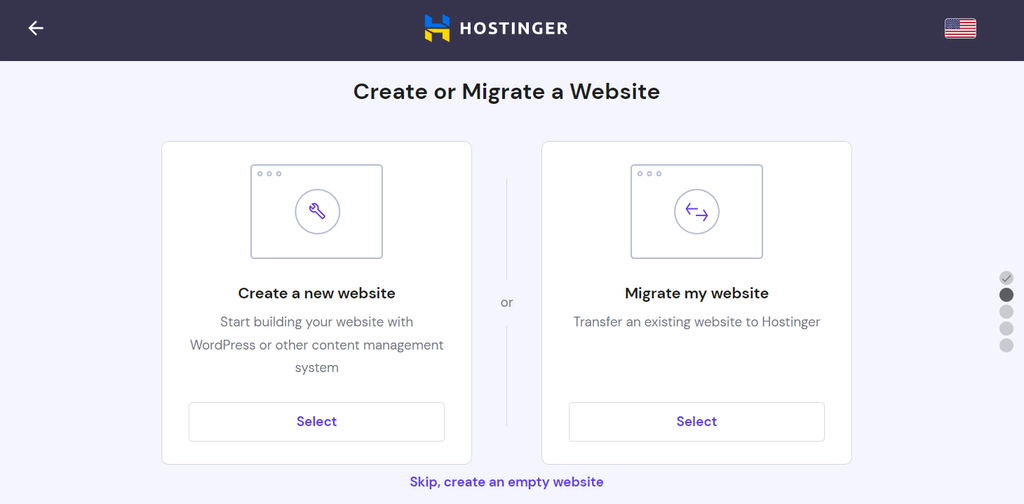 Next, select Hostinger Website Builder as your tool of choice. You should now be able to browse all of the designer-made website templates. Pick one that aligns well with your brand's aesthetic, or use the AI page generator feature to automate the design process.


2. Personalize Your Content
After selecting a template or creating a website with AI, it's time to make the entire page your own by customizing the content. This is your chance to introduce yourself and your team as well as share the origin story of your brand and business.
Most templates have existing About Me pages by default. Include your mission statement, business values, and other unique selling propositions. Utilize the built-in text editor to format your text – experiment with different fonts, colors, and styles that fit your company aesthetic.
Don't forget to include images or even videos that represent your brand effectively.
Example
Let's say you have an online clothing store. Replace the generic About Us text with your own brand story, detailing how you curate clothes for various styles and body types. Use the text editor to make key phrases bold or italic, like Fashion for Everyone, and change the text color to something that matches your brand's palette.
3. Showcase Achievements
An About Us page is also a great platform for highlighting achievements or milestones.
Whether you've been recognized with awards or have hit an important business milestone, it is the place to showcase it.
Additionally, using testimonials and customer feedback can improve your brand positioning and credibility in the market, as well as overall trustworthiness. Positive feedback can often convince prospective customers to engage with your business.
Example
Continuing with our clothing store example, include a scanned image or screenshot of a magazine article that praises your designs. Additionally, you can add customer testimonials and other social proof that speak to the quality and comfort of your clothes. Relate this data to a core value of your business – like customer obsession – for a strong impact on the reader.
4. Add Contact Information
Your visitors will likely want a way to reach out. Make it easy for them by providing clear contact details – this can be an email address, a phone number, a physical address, or even a dedicated contact form.
The easier it is for someone to reach you, the more credible and user-friendly your site appears.
Example
Create a Contact Us section at the bottom of your About Us page. Include an email for customer service inquiries, a phone number for urgent questions, and perhaps a chat feature for real-time assistance. To make it even more convenient, you can also include an FAQ link with relevant information that opens in a new tab. Hostinger Website Builder has built-in Facebook and WhatsApp integrations, making it convenient for users to reach out directly.
5. Integrate Social Media
Social media integration is a must for reaching more customers. Adding icons linking to your social media accounts encourages site visitors to connect with you across multiple platforms.
Besides increasing your reach, it helps to build a broader online community around your brand and business.
Example
Near the footer of your About Us page, include social media icons that link to your profiles on Instagram, Twitter, and Facebook. You could use Instagram to showcase the latest fashion trends featuring your clothes, while Twitter is where you share flash sales and seasonal discounts.
6. Make Your Company Website SEO-Friendly
Use search engine optimization (SEO) strategies to get more visitors.
Make sure your About Us page includes relevant keywords related to your industry and brand in the meta description, title, and headings. This will help search engines recognize the value your page brings, improving its ranking in search results.
Example
Let's say your online store specializes in eco-friendly, sustainable fashion. Use relevant keywords like sustainable clothing, eco-friendly fashion, and organic materials within your About Us page text and meta title and description. This helps search engines index your page for these terms and can bring in an audience actively looking for sustainable options.
7. Publish Your Page
Before hitting the Publish button, make sure to preview your About Us page to verify everything looks and works as intended. Double-check for broken links and typos.
In addition, make sure your site is mobile-friendly and looks great on smaller screens. Feel free to make any last-minute adjustments or refinements to the design and content. Once you're satisfied, go ahead and make your About Us page live.
Conclusion
Creating an About Us page is a critical step in establishing a strong online presence. This article discussed various About Me page design examples and went over the main steps you should follow when creating your own About page.
As we learned from these examples, make sure to use simple and jargon-free language, adapt the minimalistic approach to highlight your brand's story, and add your contact details to make sure your potential customers can reach you.
With Hostinger Website Builder, anyone can effortlessly build an About Us page that resonates with their audience and represents their brand values and company authentically.
About Us Page Examples FAQ
Find answers to the most common questions relating to About Us page examples.
What Is an About Us Page?
An About Us page is a section on a website that provides information about the company, its mission, team, and values. It's a critical element that helps build brand identity and credibility.
How to Write an About Us Page?
Writing an About Us page involves sharing your story, mission, and values. It should also include elements like team bios, achievements, and clear contact information to facilitate engagement with your audience.
Do I Need Design or Coding Skills to Create Engaging About Us Pages?
No, you don't need advanced design or coding skills. With builder tools, anyone can design a professional website with an engaging About Us page by following simple steps and using pre-made page templates.