WordPress Post vs Page: What's the Difference and When You Should Use Them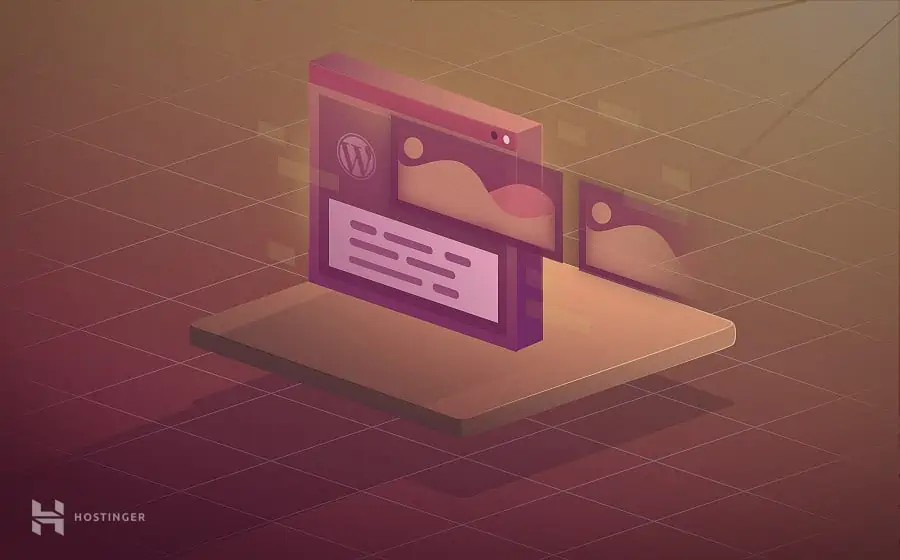 WordPress is a robust platform that supports different website types, including blogs, online portfolios, and eCommerce stores. When creating a WordPress site, you'll mainly present your content as posts and pages.
This guide will explain the key differences between a WordPress post vs page. This way, you can better understand WordPress and its different content types. We'll also show you when to use each content type and answer some common questions about them.
Let's dive deeper into the differences between a WordPress blog post and a page.

What Is the Difference Between WordPress Post and Page?
A WordPress post is a content format designed primarily for blogs. It is used to post content, including articles, updates, and stories. Meanwhile, WordPress pages are used for publishing important information that users can easily access. For example, many websites will have home, contact, and about pages. You can also use pages to showcase your work and services.

WordPress Post vs Page: Timeliness
When launching a WordPress website, some content may remain unchanged for years. This includes your About section, company history, and contact details. It's common for a website to display static, timeless information as pages are added to the main menu.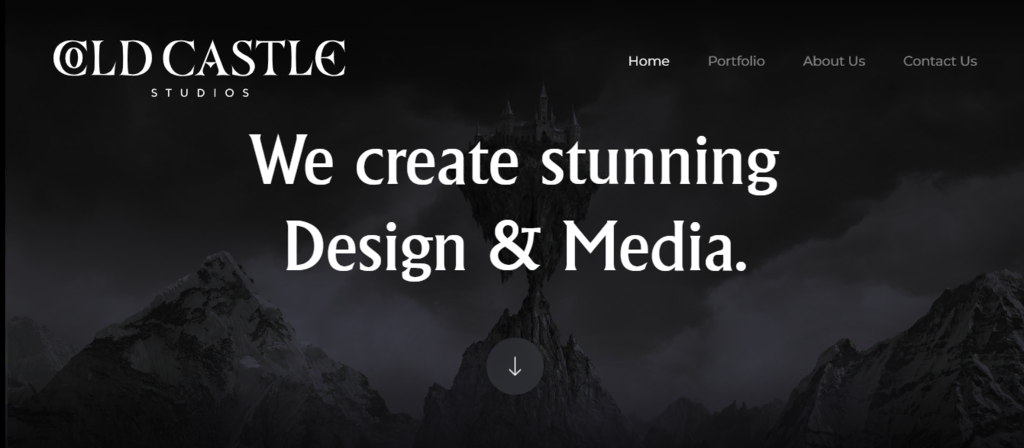 Although pages usually contain evergreen content that's rarely changed, you can still update them if you want. For instance, you can update them if you want to move to a different address or introduce a new service.
Meanwhile, posts tend to be more dynamic. They're used for timely content that you want to update regularly after the publication date.
You can use posts to share updates about your company, publish guides, or write opinion pieces on current trends.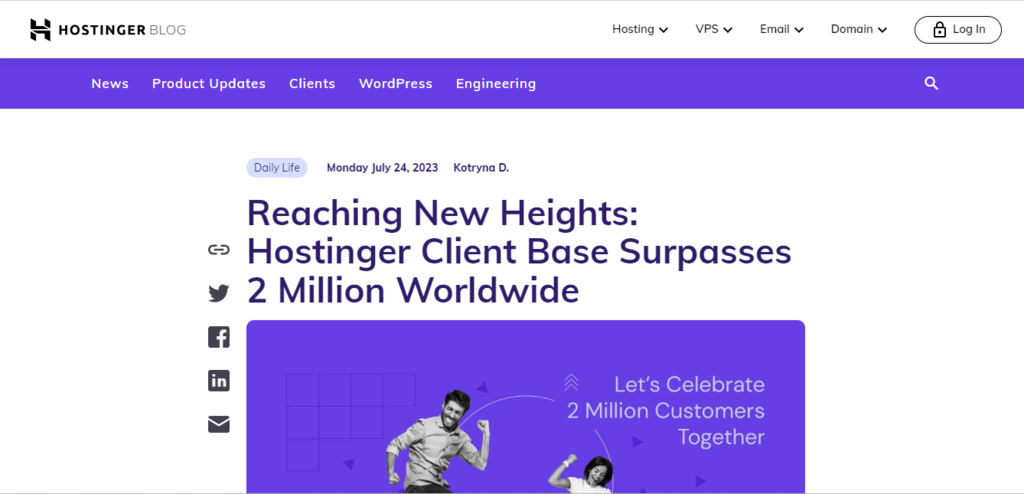 The information included in posts will likely become outdated after a while, especially if you work in an ever-evolving industry. Fortunately, you can easily update sections of a post or do a complete refresh if needed.
WordPress Post vs Page: Organization
When comparing WordPress posts vs pages, another key difference is organization.
Pages typically have a hierarchical structure. For example, you can set up your About page with the following subpages:
The Company

History
Mission and values

The Team

Our marketing gurus
Our SEO experts
Our office dogs
This hierarchy makes it easy for visitors to find what they're looking for on your site. If they want to learn more about the company and its employees, they'll know they can find that information on the About page.
Take a look at DoYogaWithMe, a website that makes use of hierarchical pages.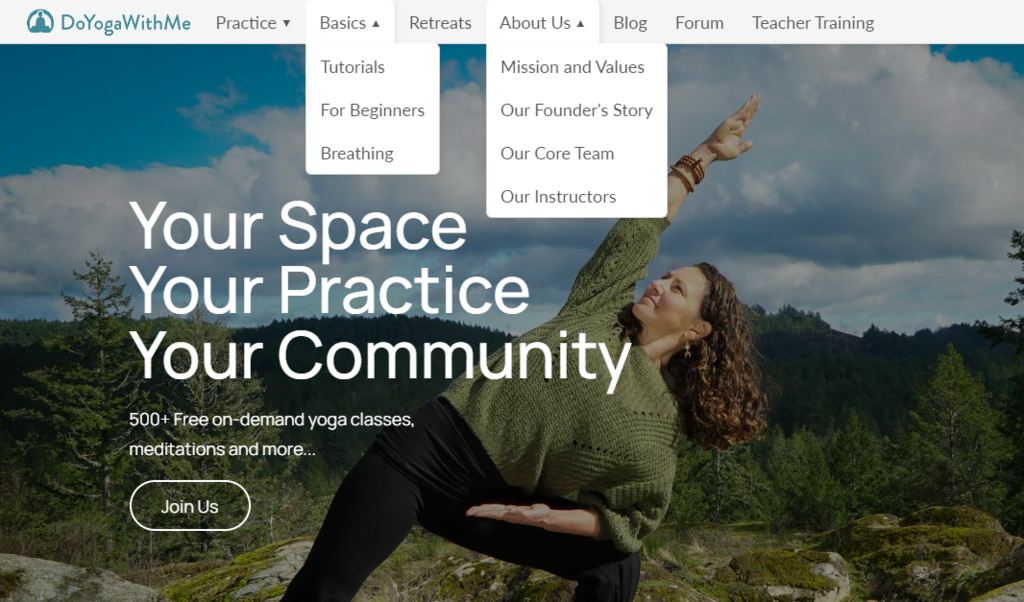 It's easy to set up hierarchical pages in WordPress. In the Block Editor, navigate to Page Attributes and select the parent for your current page.

Meanwhile, you can organize posts with taxonomies, like categories and tags. This lets readers search for content on the same topic.
If you have a blog on digital marketing, you can sort posts based on the following categories:
Social media
Email marketing
Search engine optimization
Blogging
You can also use tags to categorize different types of WordPress posts, such as:
How-to guides
Tips and tricks
Product reviews
To organize your posts when creating content, navigate to Posts → Categories (or Tags). Here, create categories, subcategories, and tags. Once configured, you can easily add categories and tags when writing a new post.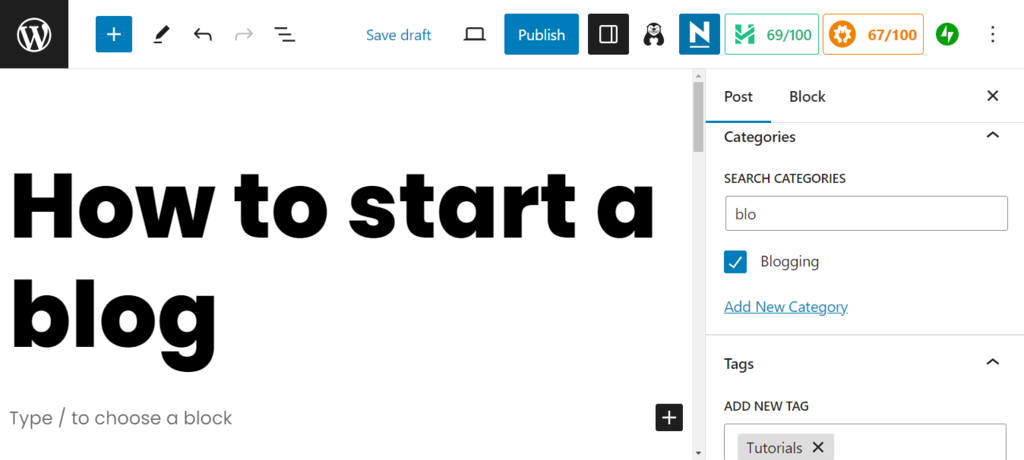 Posts can also be categorized by the author, allowing readers to check out other posts by a specific writer.
It's best to assign categories, tags, and authors before you click Publish. This way, you can ensure consistent organization across all your posts.
WordPress Post vs Page: Template
Let's look at WordPress pages vs posts in terms of templates. When you install a WordPress theme, you'll typically get a set of templates for key pages on your site, including:
Home page
About
Archive page
Blog page
404
Contact
Single page or a general page template
These are ready-made designs that you can simply edit to include your own information or reuse for other purposes. For example, you can use the single page template to create a landing page for a product.
If you're using a block-based theme, access these templates from the WordPress Site Editor. Simply navigate to Appearance → Editor → Templates. Then, click on any template to customize it with blocks.
For example, you can personalize the 404 page with your company logo and a funny message.
When it comes to posts, most themes only offer the single post template. Fortunately, some themes let you customize this template to suit your needs.
Additionally, some themes offer post formats and custom post types. For example, a portfolio theme usually includes gallery and video post formats.
WordPress Post vs Page: Interactivity
Finally, let's look at WordPress pages vs posts regarding interactivity. Interactivity refers to the features that enable visitors to engage with your website's content.
For example, WordPress posts usually have comments enabled by default. This way, readers can ask a question or start a discussion about your article.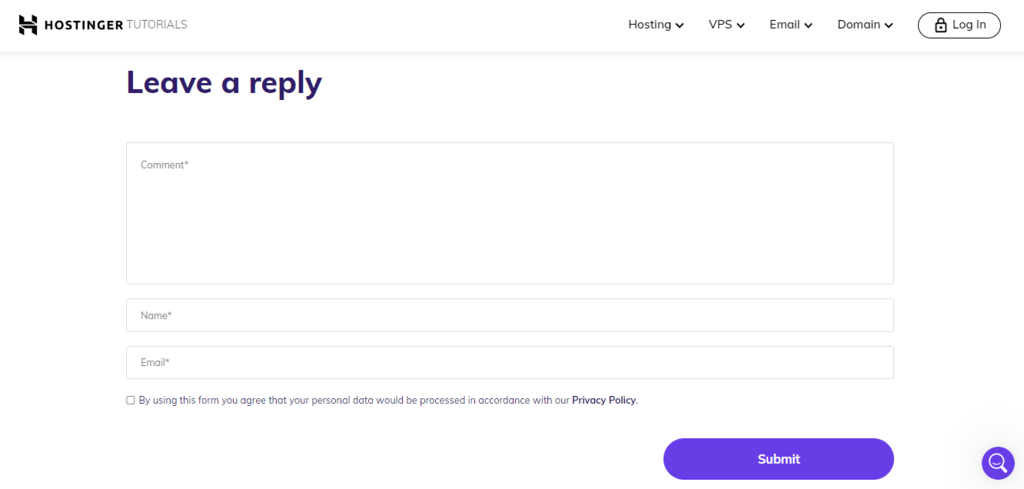 You can install a comments plugin to offer more options for readers. For instance, some WordPress plugins let you enable comments from Facebook accounts.
Unlike posts, WordPress pages do not have comment sections. However, they can facilitate social engagement through other means. For example, add a call-to-action that encourages users to ask for a quote or sign up for your newsletter.
Moreover, a page can have contact forms, polls, surveys, RSS feeds, and other interactive website content.
When Should You Use WordPress Post and Page?
Now that we've discussed the main differences between WordPress posts and pages, let's take a closer look at when to use which.
When You Should Use WordPress Post
If you're starting a blog, you'll likely be creating posts more frequently than pages.
Even if you have an online store or portfolio, you can use posts to keep the website fresh with new content. For example, use posts to share updates about your work and drive more traffic from search engines. Let's look at other common examples of WordPress posts:
Opinion pieces and industry news
How-to guides and tutorials
Product reviews and recommendations
Seasonal gift guides
Tips and tricks
Personal reflections
You can use posts for basically any type of article. If you have a travel blog, your posts will likely include destination guides, itineraries, packing lists, and safety tips. If you have a creative agency website, use posts to share tips on web design, offer branding inspiration, and help people resolve common problems with their websites.
WordPress also has a sticky post feature that lets you pin an article to the top of the feed for enhanced visibility. For example, use it to highlight your latest posts or a pillar article.
When You Should Use WordPress Page
Every WordPress site will need at least one page – the home page. You should also create pages for key information about your business or project. Some popular examples of WordPress pages include:
About us
Blog page
Contact
Services
Portfolio
Testimonials
Any piece of important, static content should go on a page. For instance, if you sell courses, you must put your course details on a page and add it to the site menu for easy access. Similarly, if you sell an app, create a product page that contains information about its features and pricing.

Conclusion
Posts and pages are the two main content types in WordPress, which serve different purposes.
Pages are often used for evergreen content like company history, team profiles, services, products, and contact details. Meanwhile, posts have a published date. They can be used for timely content like tutorials, news updates, and product reviews.
Pages and posts encourage user interaction in different ways. Posts typically prompt readers to leave a comment. Meanwhile, static pages usually contain contact forms or CTAs that encourage visitors to get in touch, subscribe to the newsletter, or request a quote.
Whether you're starting a blog or a business website, utilize the benefits of blog entries and pages to deliver unique, engaging content for your audience.
WordPress Post vs Page FAQ
Let's conclude this guide by answering some common questions about pages and posts in WordPress.
Can I Convert A WordPress Page to A Post?
By default, WordPress doesn't let you convert a page to a post. You'll need to copy the content on your page and paste it into a blog post. To do this in bulk, install the Post Type Switcher plugin to get the job done.
Is WordPress Post Better Than A Page for SEO?
Posts are typically used to publish fresh, informative articles, so they can help drive more organic traffic to your WordPress website. From an SEO perspective, posts with high-quality content and relevant keywords will likely rank higher in search engines than pages with little text. 
How Many Posts and Pages Can You Have On WordPress?
You can create as many posts and pages in WordPress as you want. However, organize published content well so visitors can navigate your website easily. For example, create child and parent pages and group posts into categories and tags.