How to Change Nameservers for Domains (Point to Another Provider)

In this article, you are going to learn how to point a domain to a web hosting by changing the domain's nameservers. This way, you can move your site to another hosting provider while still keeping the old domain name.


Watch Our Video Tutorial
Tired of reading? Find out how to change nameservers at Hostinger to correctly point your domain to the hosting provider in this video tutorial.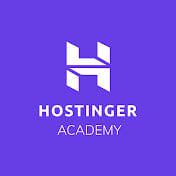 Subscribe For more educational videos!
Hostinger Academy
Subscribe
Pointing a Domain to a Host
Let's say you have just moved your site to another hosting provider. However, your domain name stayed with the old hosting company, and it does not direct visitors to your website.
This problem happens because your domain is not connected to the new web host. You have several options on how to solve this issue, but in practice, we only recommend using one method.
You can transfer the domain to the new hosting provider. However, domain transfer usually includes additional charges as the domain will be renewed for another year. The domain renewal price depends on the TLD you are using. For .com it is $13.99/year.
The second option is to update the domain's DNS A record with your new IP address. Nevertheless, since A records are designed to point to static IP addresses, it's advisable not to use this method. If the IP changes, your website will stop working until you update the record.
The last method is changing the domain's nameservers. This is the most recommended option as you can transfer your domain's DNS control to the new hosting provider without changing your registrar.
How to Change Your Domain's Nameserver?
Taking all considerations into account, we are going to show you how to change the domain's nameservers. Note that we will be using Hostinger as an example, but you can use these steps as an example to point your domain to any web host.
1. Get the New Nameserver Values
First things first, find a list of nameservers from your new hosting provider. The information is usually provided on the company's documentation page or in the post-purchase email.
If you still can't find the info, you should contact your hosting provider.
At Hostinger, you can find all DNS-related information in Hosting -> Accounts -> Details.
The list of nameservers often look like this:
ns1.dns-parking.com
ns2.dns-parking.com
Web hosts usually provide two or more nameservers. Take note of all these addresses because you'll need to enter them into your domain registrar's control panel.
2. Apply the New Nameservers Values
The next step of pointing a domain name to Hostinger or a new host is to replace the domain's old nameservers. Here's how to do it:
Login to your domain registrar. Remember, this is the place where you bought your domain.
Look for the option to set your domain's nameservers. Every registrar has a different way of doing this. However, in general, you can find the appropriate settings on the menu called Domain Management, or Domain Overview, or something along those lines.
In hPanel, go to Domains -> [your domain name] -> DNS / Nameservers. Expand Change Nameservers and select the Change nameservers option.
You should see several fields, such as Nameserver 1 (primary nameserver), Nameserver 2 (secondary nameserver), that will most likely be filled with Hostinger's default nameservers.
Enter the nameservers into the appropriate fields. For example, a nameserver that begins with ns1 should be put into the Nameserver 1 field, if it starts with ns2 to Nameserver 2, and so on.

Pro Tip
If you see the Create child nameservers field, you can ignore it.
Keep these tips in mind should there be any difference between the number of nameservers and the number of available fields:
If your hosting provider only gives you two nameservers, but your registrar provides you with four or more fields, enter the first two, leaving the other ones empty.
If your hosting provider gives you three nameservers, but your registrar only allows you to enter two, use the first two nameservers.
Try to look for the registrar's Help or FAQ page if you still cannot find the menu to set your nameservers. Alternatively, you can ask Customer Support to add the new nameservers for you.
3. Wait for DNS Propagation
Once the nameservers are set, you need to wait for the changes to take effect. This period is referred to as worldwide DNS propagation.
The process typically takes a few hours, but it can also last up to two days. You might want to flush your DNS cache to speed up the process.
Conclusion
After moving to another web hosting provider, you need to point your domain to a new host to make your site accessible. Luckily, you can easily do that by changing the domain's nameservers. Simply get the details of your new nameservers, copy it to the domain's DNS settings, and wait for the DNS to propagate.