How to Create FTP Accounts

Introduction
In this guide, you will learn how to setup multiple FTP accounts that will allow separate users to connect to the FTP server and upload, download, or edit files. It's a useful tool, as you do not need to share your main account credentials and you can also configure which directories can be accessed by the newly created FTP user.
What you'll need
Before you begin this guide you'll need the following:
Access to your hosting control panel
Option 1 – Creating additional FTP accounts via Hostinger control panel
To begin creating a new FTP user, you will need to navigate to FTP Accounts section under the Files category.

Afterwards, a screen with the creation details will be prompted.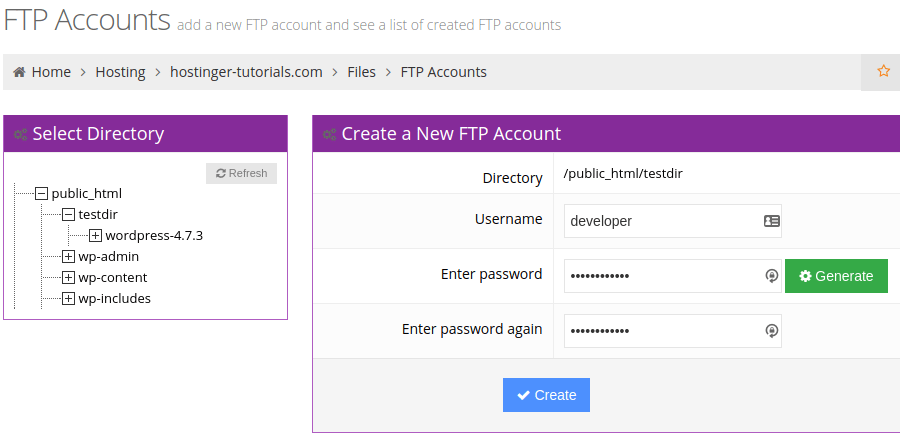 Select Directory section lets you choose the working directory for your new FTP user. For example, if you set it as public_html it will be able to manage all directories/files inside. However, directories above public_html will not be reachable.
In Create a New FTP Account section you will need to specify the login credentials of the new user.
Once the data is filled in, press the Create button and you will see a confirmation screen with the details.

Lastly, the newly created profile will appear in the List of Active FTP Accounts table. Using that section, you will be able to manage your FTP accounts and Delete them if no longer required.

Congratulations! You have successfully learned to create additional FTP users on Hostinger control panel. To connect with the user, an FTP client such as FileZilla can be used. A tutorial on how to configure it can be found here.
Option 2 — Creating additional FTP accounts via cPanel
Access your cPanel using your login credentials. Afterwards, you will need to find the FTP accounts feature, which is located under Files section.

Creating the FTP user
To create a new FTP account, it is required to fill in the following fields:
Log In. In this field, You can input a name for your FTP account which will be used to access the server.
Password. In this field, it is required to input a password that You will have to use to access the new FTP account.
Or you can use the Password Generator button to generate a secure password.
Password (Again). In this field, You must repeat the password that You have entered in the password field above.
Directory. In this field, You must specify the location which the new FTP account will be able to access.
Quota. You can leave the Unlimited quota selection, or You can specify the quota that FTP account will be able to use.

Click Create FTP Account button. After clicking the button You will see Account Created message, this means that the account was created successfully.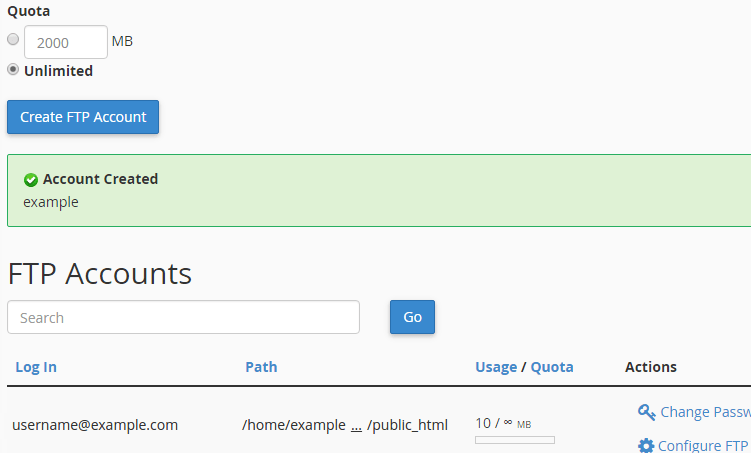 IMPORTANT! Any other parent or sister directories will NOT be available for this FTP User. Child sub-directories WILL be accessible.
Conclusion
Congratulations! Using this simple and easy to follow tutorial, you have learned how to create a new, separate FTP Account. By using this feature, you can setup things your way and provide certain people access to certain parts of your page!