How to Create a WordPress Blog – Video Course For Beginners
If you're looking to start a blog, you'll find everything you need in this step-by-step WordPress tutorial. This course is meant for beginners, so you don't need to have any prior knowledge.
In this course you will learn:
How to set up your hosting and install WordPress
How to navigate the WordPress dashboard
The most important WordPress settings
How to create pages
How to add categories and blog posts
SEO for beginners
How to add your website to Google Search Console
How to add Google Analytics to your website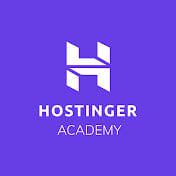 Subscribe For more educational videos!
Hostinger Academy
Subscribe