10 Best Proposal Software to Simplify Proposal Process + How to Choose the Right One
Whether you're a freelance web designer or an entrepreneur running a web development company, you know that the bidding process can be time-consuming. Plus, your proposals need to be flawless to land deals in competitive industries. Therefore, you may be looking for proposal software to improve your business processes.
By using proposal software with powerful automation features, you should be able to produce more high-quality proposals in less time. As a result, you may be able to scale your business more efficiently.
In this post, we'll look at the top ten proposal software solutions and discuss some key factors to consider when choosing a tool for your business. We'll also go over some frequently asked questions on the subject.
Download Web Development Proposal Template
What Is Proposal Software?
Proposal software is any platform, tool, or application that helps business professionals craft and manage proposals. It typically enables users to organize proposals more efficiently and automate key steps in the process, streamlining their workflow and boosting productivity. Most quality proposal management software offer paid plans so users can access all its features.
Top 10 Proposal Software Solutions
Let's start by looking at the top ten proposal software solutions on the market. Since we offer professional hosting for web development agencies and freelancers working on website creation, we've researched these tools with their needs in mind.
We've taken into account important factors like ease of use, customer support, analytics, pricing, and ratings. Plus, we've also considered the essential features when it comes to proposal software, like e-signature capabilities and payment collection features.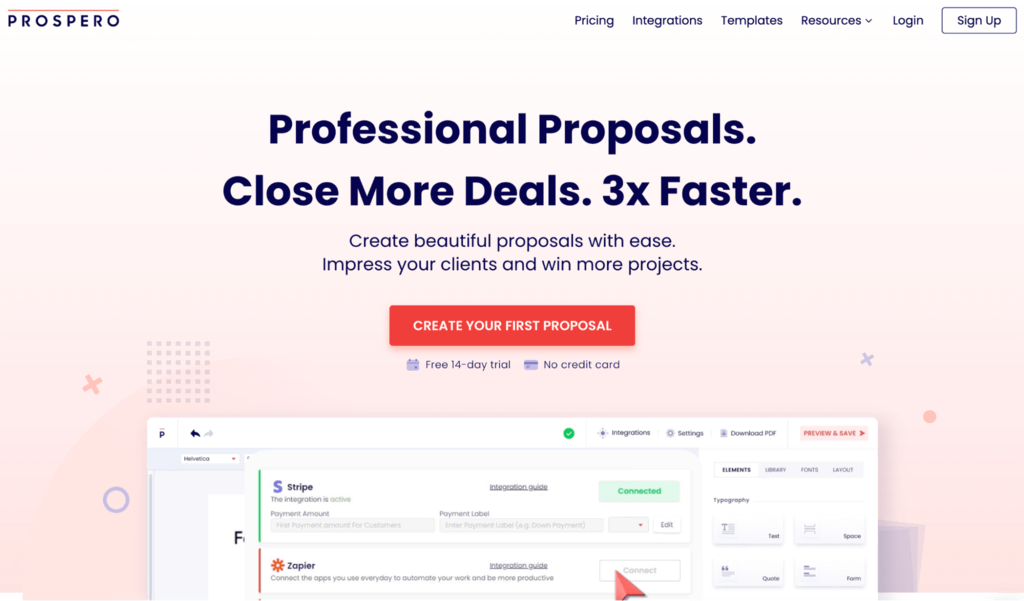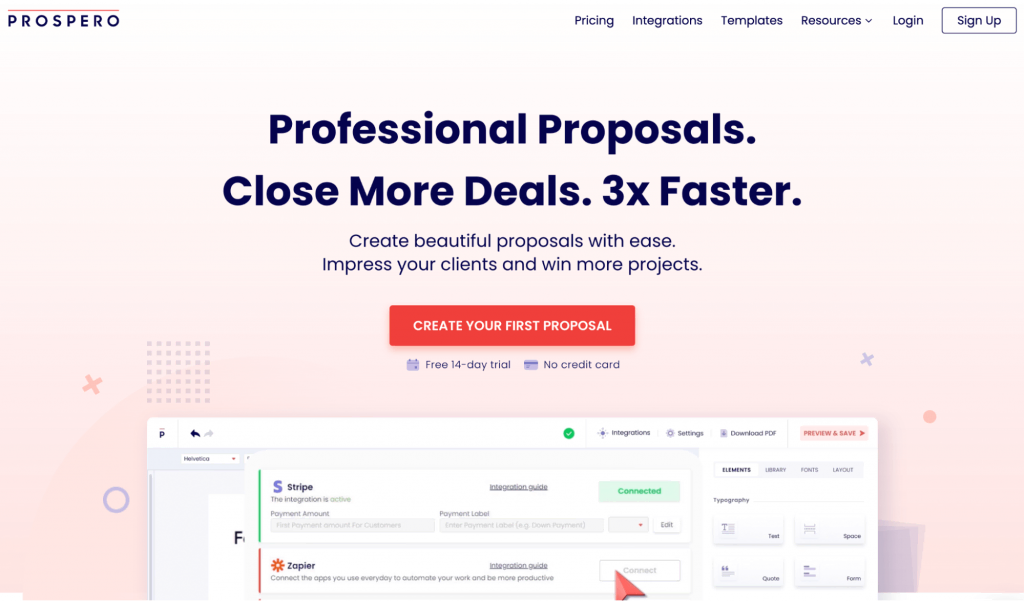 Prospero Stats:
Rating: 4.8/5
Best for: freelancers
Price: from $10/month per user
Prospero is a good proposal management software for freelancers looking for an affordable but complete solution. It provides users with a simple editor and a large library of professionally-designed templates for a variety of purposes.
For instance, it offers both web design and web development proposal templates. Plus, Prospero makes communicating with clients easy since it lets you close deals via phone, email, and even WhatsApp.
It can also send real-time notifications via a Slack integration, so you'll never miss important updates. Additionally, Prospero provides useful document analytics to help you create better proposals, such as open rates and how long prospective clients spend reading them.
Key Features
Extensive library of templates
Multiple e-signature options on any device
Payment with Stripe
Integrations with tools like Zapier, QuickBooks, and Slack
Chat support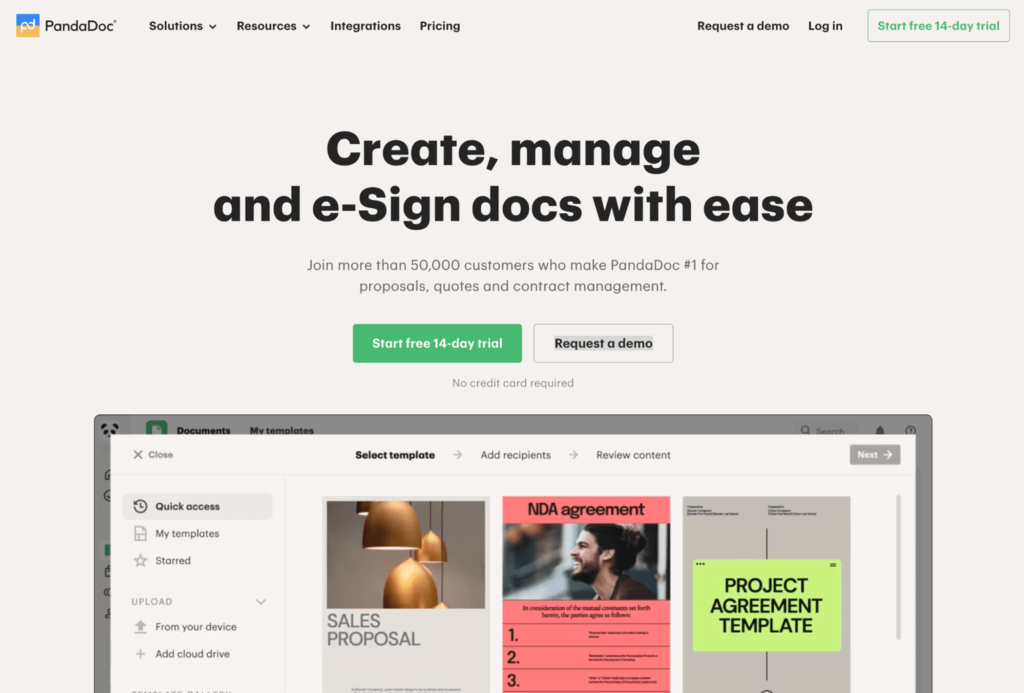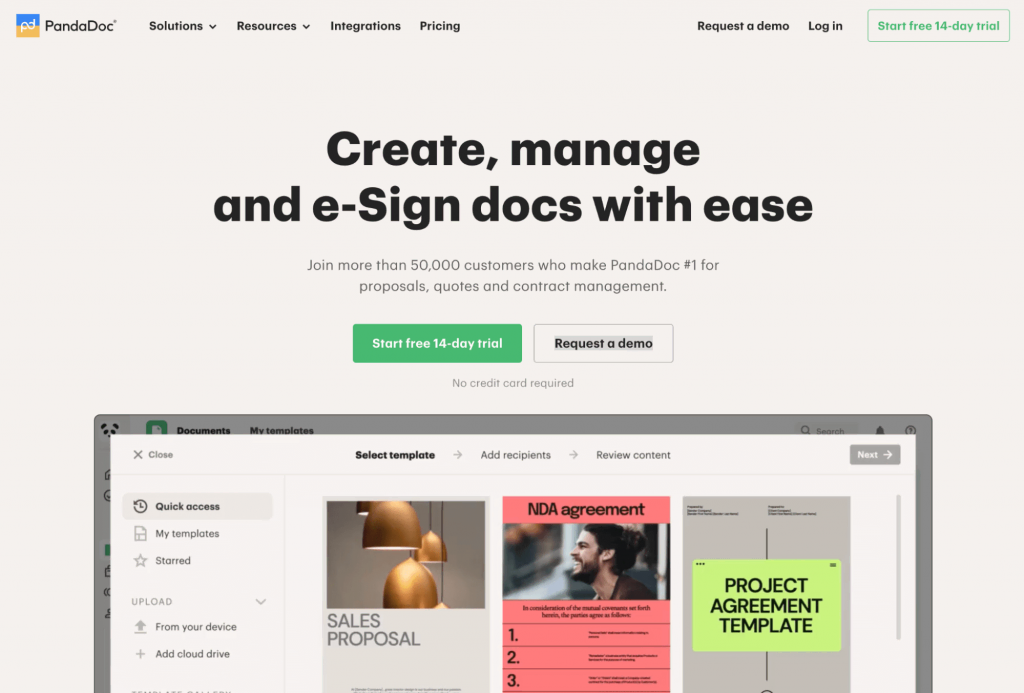 PandaDoc Stats:
Rating: 4.7/5
Best for: beginners looking for a comprehensive solution
Price: freemium
PandaDoc is highly-rated proposal software that has a comprehensive range of features to streamline the bidding and contract management process.
The editor is intuitive and easy to use. You can drag and drop ready-made blocks with pre-designed elements for proposals. Available blocks include a pricing table, table of contents, and e-signature.
However, what sets PandaDoc apart from the competition is its mobile app, which enables you to manage every step of the process from your smartphone.
PandaDoc offers a limited free version and premium plans starting at $19/month per user.
Key Features
750+ proposal templates
Electronic signature capabilities
Multiple payment types, including credit cards and PayPal
Integrations with tools like Hubspot and Salesforce
24/7 support via web ticket, email, and chat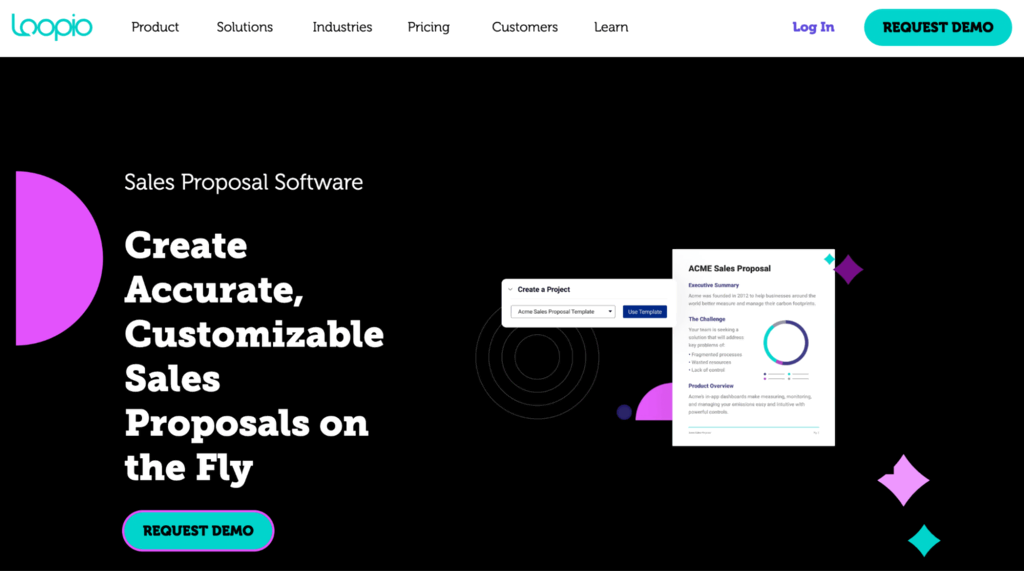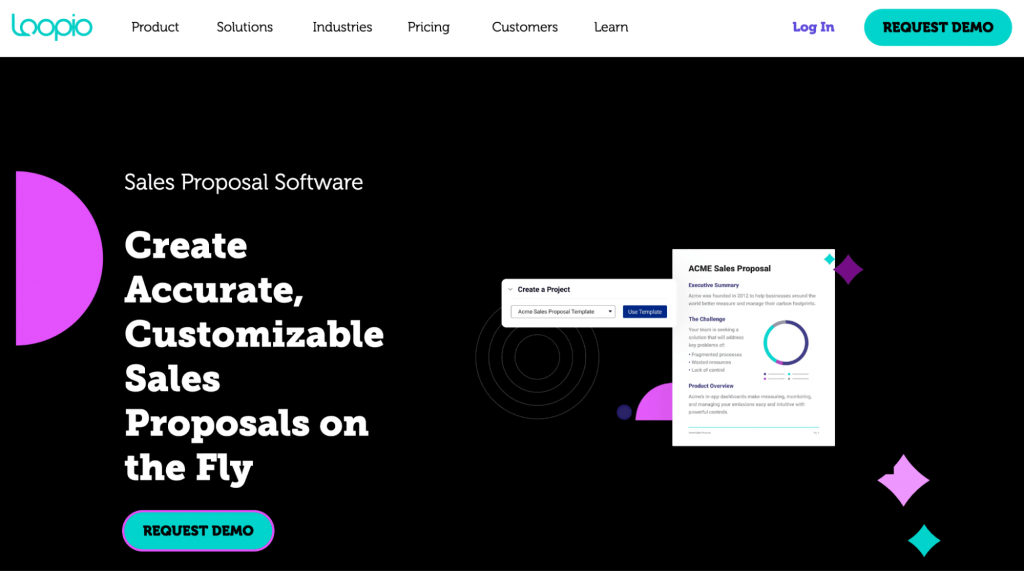 Loopio Stats:
Rating: 4.7/5
Best for: project managers
Price: available upon request
Loopio can help you fast-track the proposal-making process and create statements of work (SOWs), white papers, and sales proposals.
It uses automation to find and suggest the most appropriate answers to questions you may receive after sending the proposals. Additionally, Loopio lets you create a library of pre-approved content that your sales team can use for creating proposals more effectively.
However, since the information provided on Loopio's website is limited, its capabilities when it comes to payments and e-signatures are unclear.
Key Features
Intuitive interface
Project themes and templates
Library templates and automation features
Integrations with popular CRM software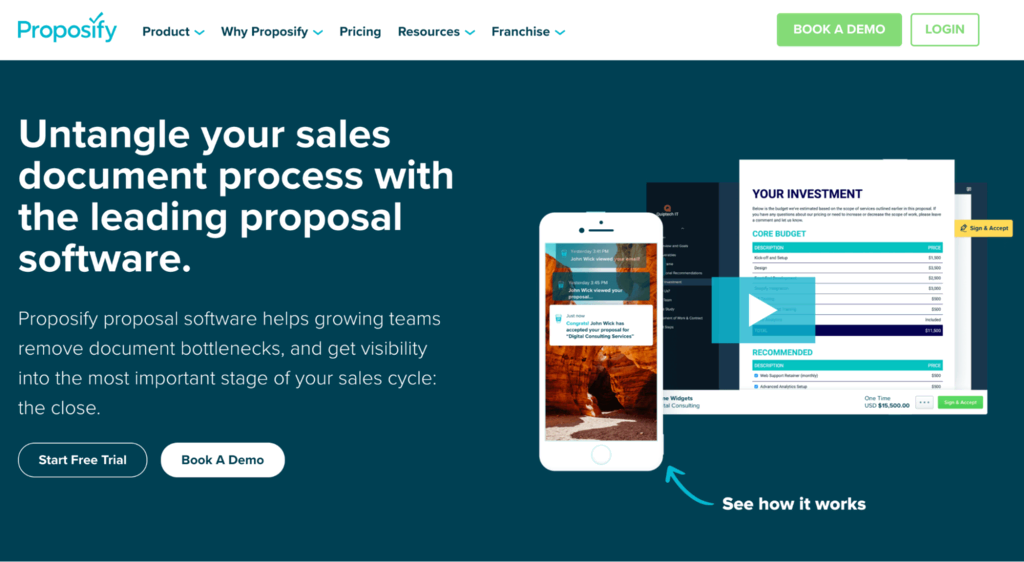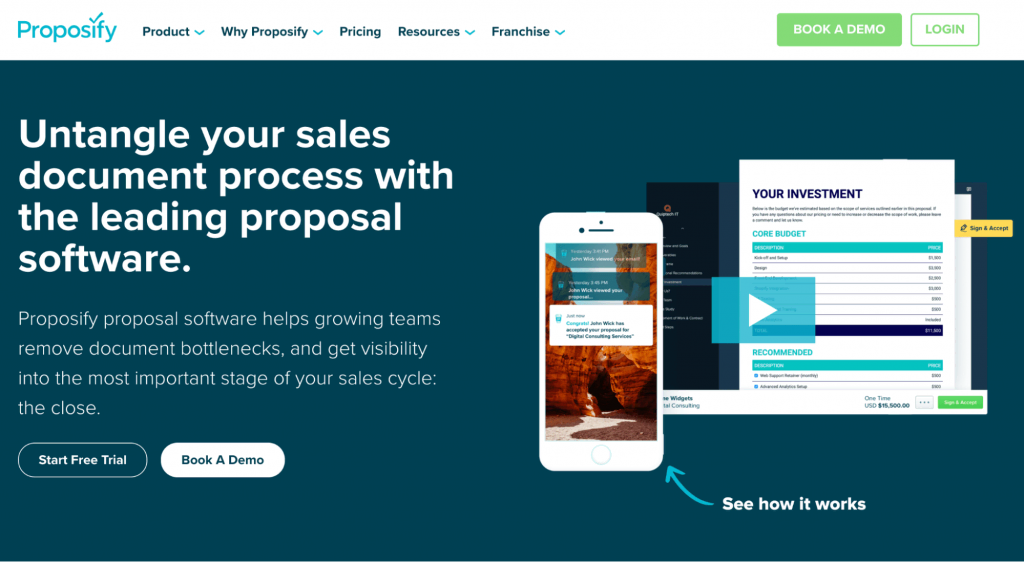 Proposify Stats:
Rating: 4.6/5
Best for: growing sales teams
Price: from $49/month
Proposify is another popular choice when it comes to business proposal software. Its design editor is pretty straightforward, and you can easily embed visual content like images and videos.
Thanks to the user role and permission features, it is a great tool for businesses looking to optimize approval workflows.
Additionally, Proposify offers interactive pricing, helping you take advantage of upsell opportunities. You'll also get access to visually-appealing reports that make it easy to analyze your proposals' performance.
Proposify costs $49/month per user for up to 10 users. You'll need to contact its sales department for information on plans that can accommodate larger teams.
Key Features
Unlimited templates and documents
Legally-binding e-signatures
Roles and permissions settings
Payment using Stripe
Email and chat support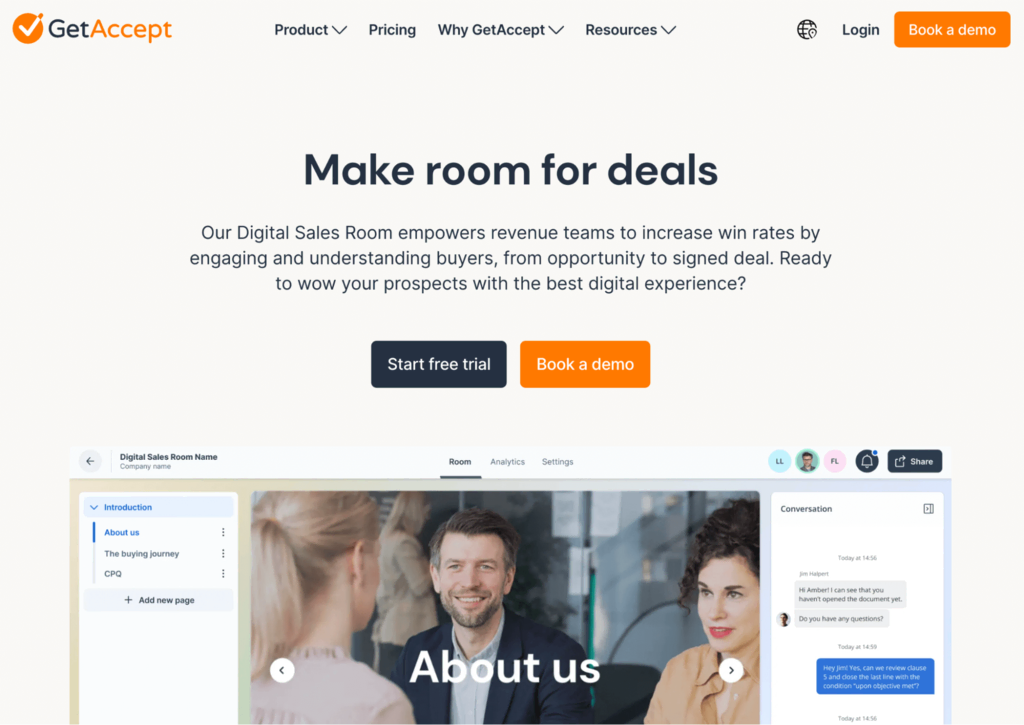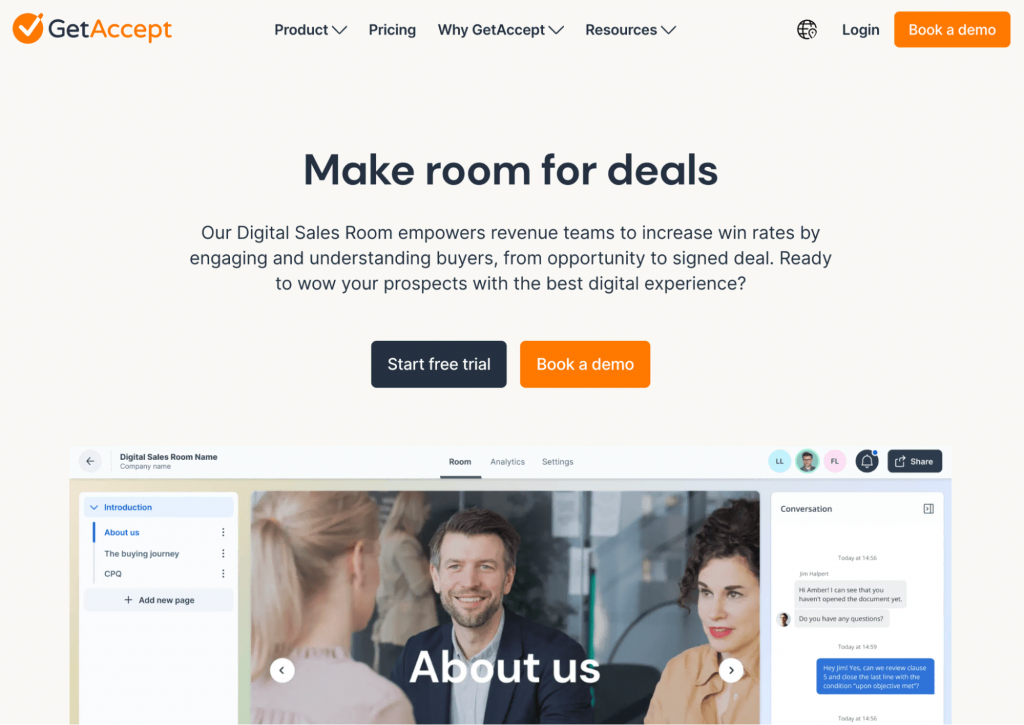 GetAccept Stats:
Rating: 4.6/5
Best for: large companies and teams
Price: from $15/month per user
GetAccept is a comprehensive solution to help your team craft effective and professional-looking proposals.
You can build proposals from scratch or use pre-designed proposal templates from the content library and easily add your company's brand.
Using its user-friendly editor, it's also possible to add video introductions to show off your products or services, or an automated chat message to better communicate with prospective clients.
It's worth mentioning that GetAccept allows an unlimited number of users, unlike other proposal software in our list.
Key Features
Customizable templates
Legally-binding e-signatures
GetAccept mobile app
500+ integrations with popular agency tools
Help center and chat support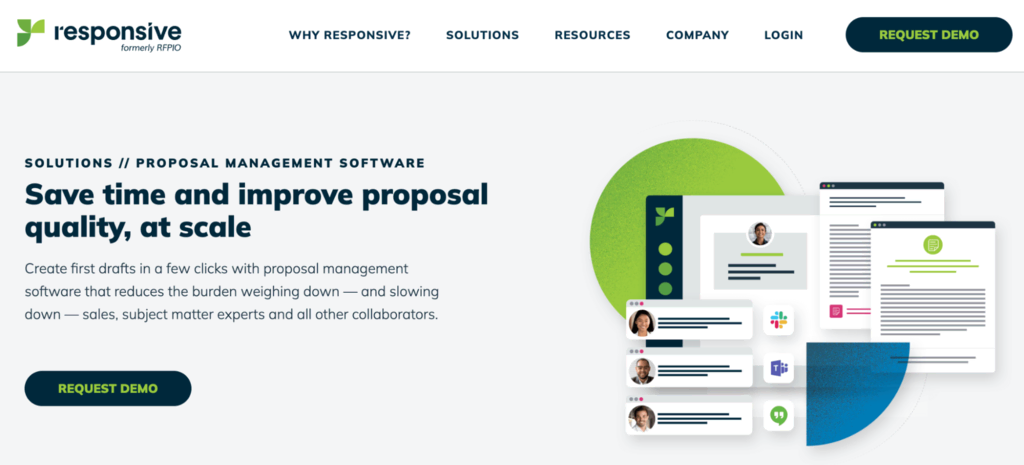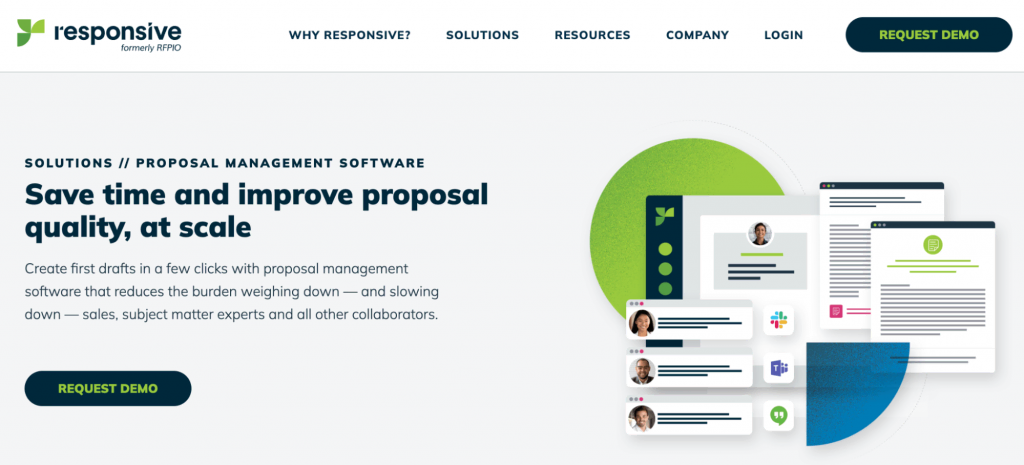 Responsive Stats:
Rating: 4.6/5
Best for: project managers
Price: available upon request
Responsive is proposal collaboration software that enables large teams of sales representatives to efficiently create proposals and other sales documents.
It uses AI and machine learning to help craft proposals in record time. You'll be able to create multiple template versions, then catalog and share them in a library.
Plus, it integrates with several collaboration tools like Slack, Microsoft Teams, and Google Hangouts. Managers can also gain visibility into team members' workloads in order to re-assign tasks related to proposal creation and provide feedback.
Key Features
Template version, recommendations, and content library
Unlimited onboarding inside and outside your organization
Integrations with customer relationship management (CRM) and other popular software
E-signature tool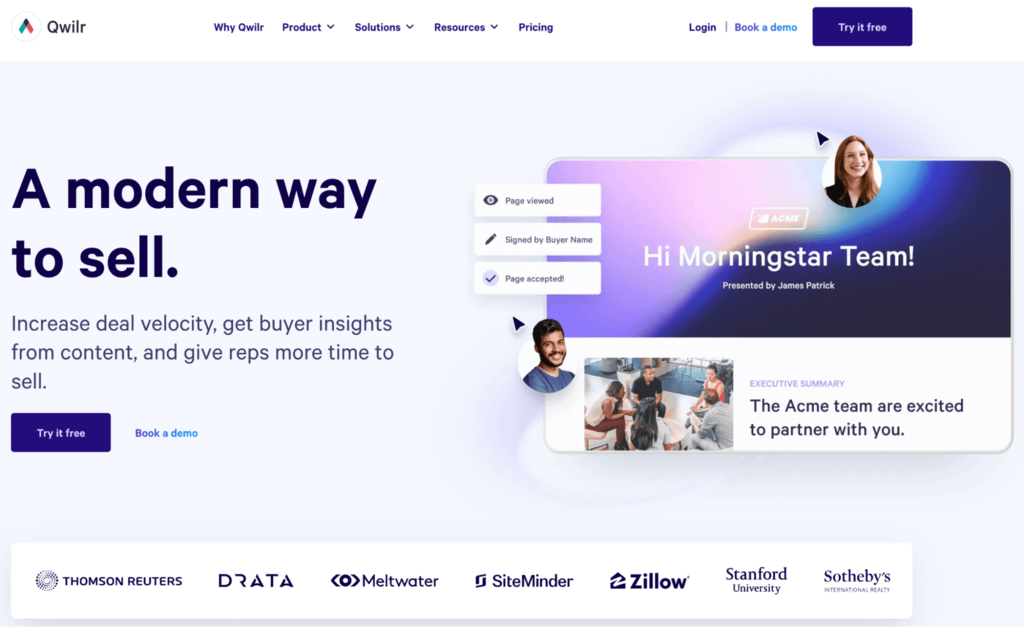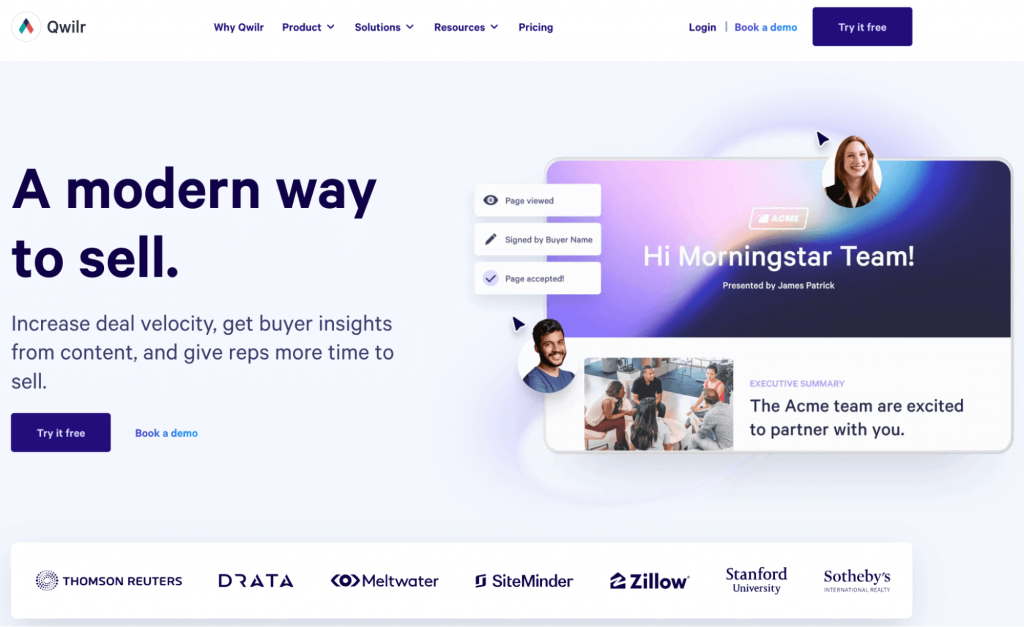 Qwilr Stats:
Rating: 4.5/5
Best for: mid-size sales teams
Price: $35/month per user
Qwilr is packed with features to help you create interactive proposals of every kind.
This business proposal software has an intuitive drag-and-drop editor, which lets you embed engaging content like dynamic pricing and videos. It also makes it easy to add branding elements and customize colors and fonts to create professionally branded proposals.
On top of that, Qwilr lets you add a Return On Investment (ROI) calculator directly into the proposals, helping to showcase your value to potential clients. You'll also be able to create an asset library to streamline your team's workflow.
Key Features
Extensive template library
Legally-compliant e-signatures
Comprehensive payment features
Client engagement tracking
Integrations with popular CRMs like HubSpot and Salesforce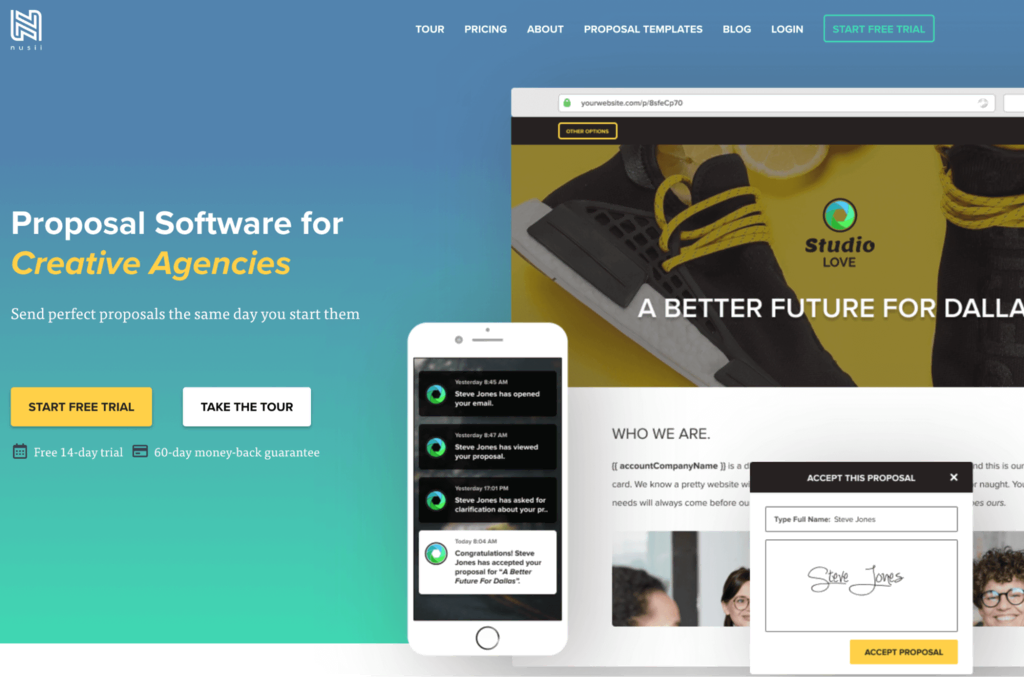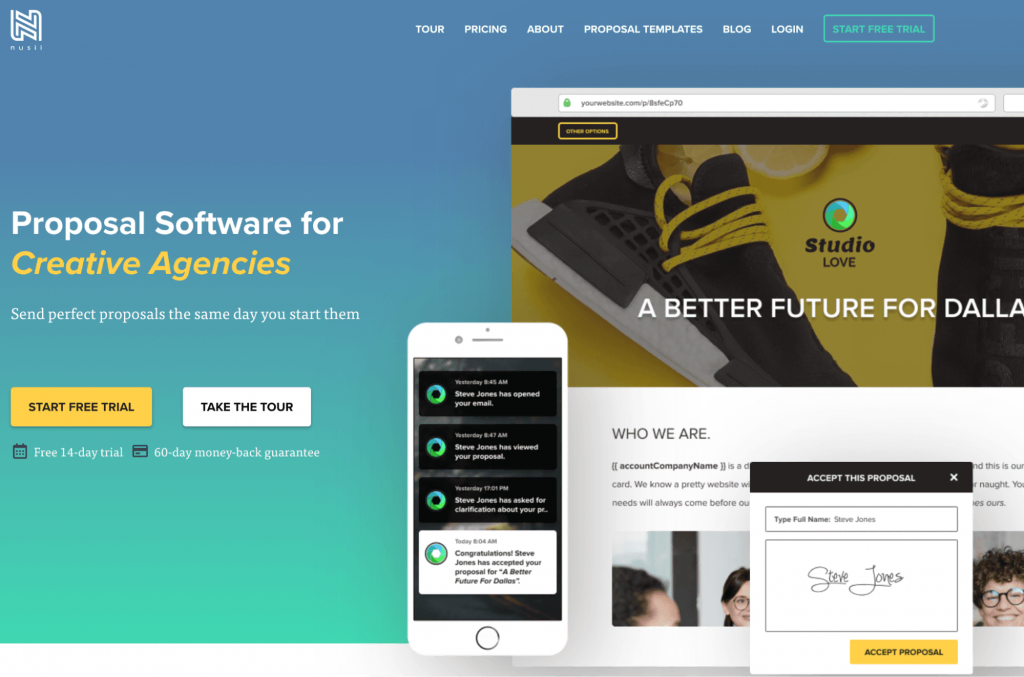 Nusii Stats:
Rating: 4.5/5
Best for: small creative agencies
Price: from $29/month
Nusii is business proposal software geared towards creative agencies. It offers templates for a number of purposes, from branding to web design proposals, but also options for other types of businesses, like events and catering.
To make the proposal writing process easier, save content for future use and easily add it along with your prices to your templates. It will also send notifications once clients open the proposal emails and the proposal files, helping you manage the sales cycle better.
However, it's important to note that Nusii's plans can be somewhat limiting. You can have up to five active proposals with the Freelancer plan and 20 with the Agency plan.
Key Features
Template library
Valid digital signatures
Payments with Stripe
Integrations with software tools like HubSpot and Zapier
Chat and email support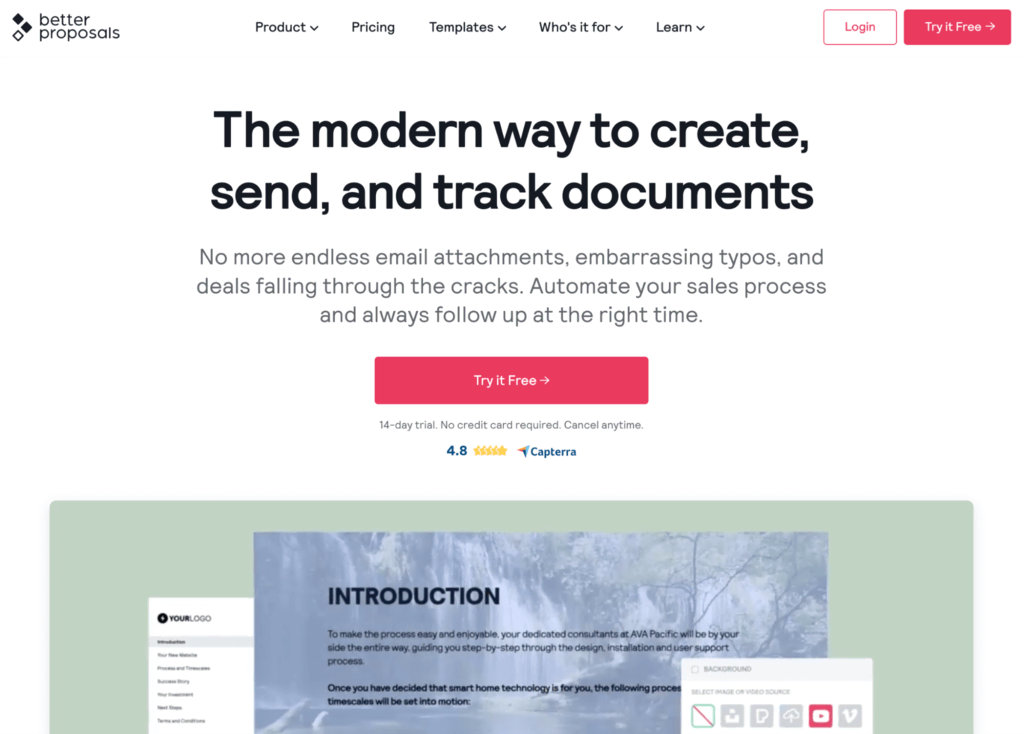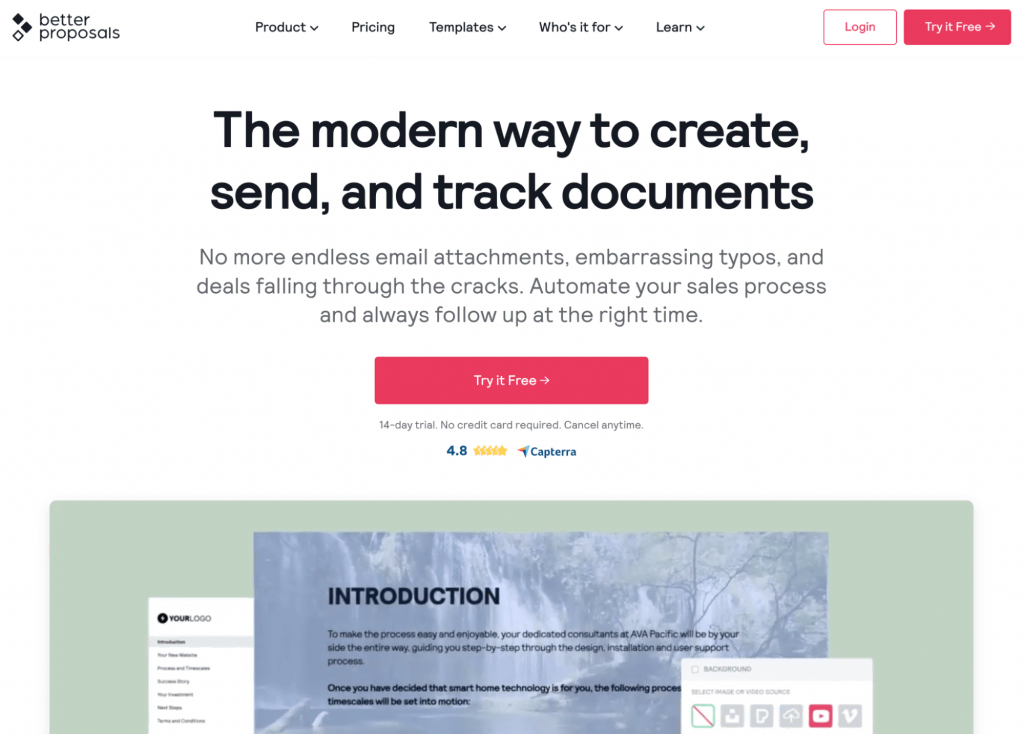 Better Proposals Stats:
Rating: 4.4/5
Best for: small businesses looking for a complete solution
Price: from $19/month per user
With Better Proposals, you don't need design skills to create beautiful proposals, as its drag-and-drop editor makes the process fairly simple.
In addition to proposals, this software helps you create other document types, including quotes, brochures, job offers, and contracts. This makes it a great solution for small businesses and freelancers looking for a complete solution to manage the entire project management cycle.
In terms of notifications and tracking, Better Proposals lets you know when a document has been received, opened, or even forwarded.
Key Features
500+ templates
Legally binding e-signature
Collect payments with Stripe, PayPal, and GoCardless (ACH)
Integrations with Zapier, Salesforce, and other popular tools
Help documents, live chat, and onboarding calls (Premium plan and above)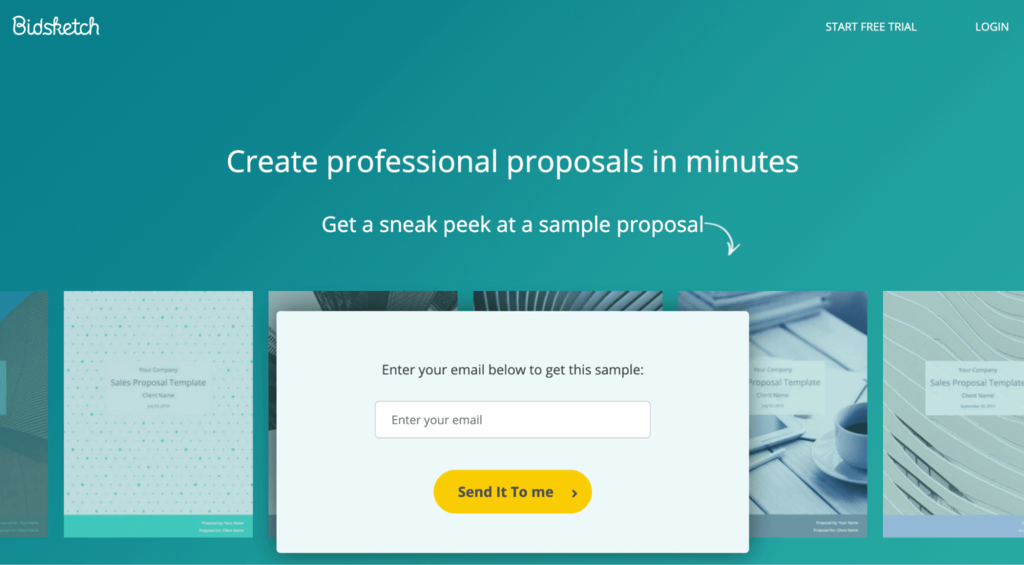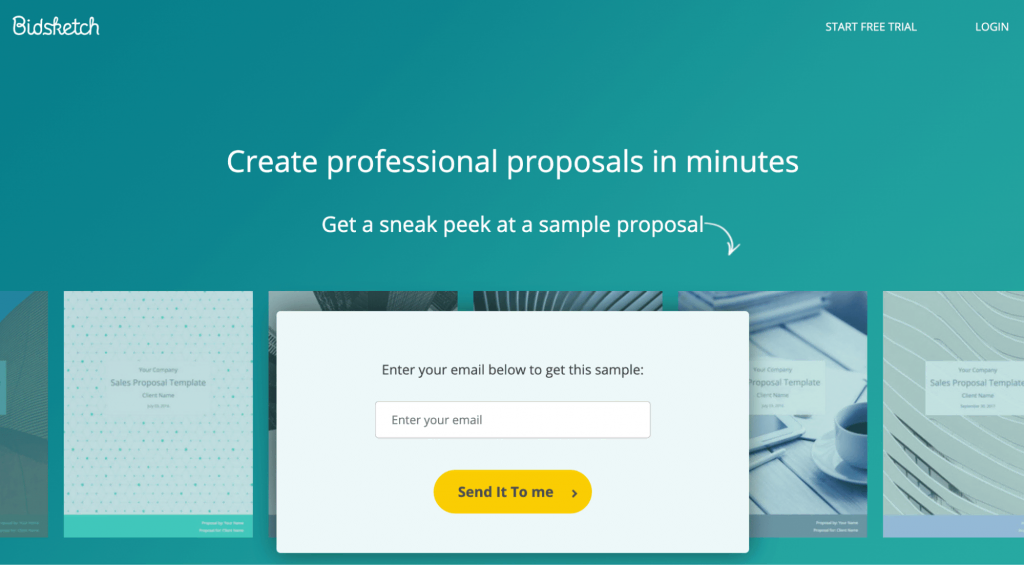 Bidsketch Stats:
Rating: 4.2/5
Best for: web design, development, and marketing agencies
Price: from $29/month per user
While creating and sending proposals is its main focus, Bidsketch also lets you create custom landing pages for each client.
Plus, it comes with web-based analytics to help you create better proposals and instant notifications so you know when to follow up with clients.
Unlike other software tools, Bidsketch lets you create unlimited proposals. Higher-tier plans also include real-time collaboration features and permission controls.
If you want to use this proposal writing software for a nonprofit organization, you'll get access to the Starter plan for $15/month.
Key Features
Template library
Legally-binding e-signatures
Integrations with Zapier, Salesforce, and SignWell
Proposal analytics


Factors to Consider When Choosing Proposal Software Tools
Now that we've reviewed some of the best proposal software solutions, let's discuss what to consider when choosing one for your business.
Ease of Use
Proposal management software tools should streamline your sales process. Therefore, it's important to consider the user-friendliness of the tool.
For starters, you'll want to check out its editor. A drag-and-drop or block-based system is a better option if you are not tech-savvy.
In addition, proposal software often includes template libraries, which can help create personalized proposals faster and more efficiently. If possible, browse through these libraries to see whether the templates available suit your project scope.
Electronic Signature Availability
Legally binding electronic signatures make managing business agreements a lot easier. Fortunately, most proposal tools offer this feature.
Depending on your location, e-signatures and contracts can be subject to certain compliance laws, so make sure the proposal management software tools follow them.
In addition, it's a good idea to consider the data protection features offered by the software. Since you'll be collecting and managing customer details, you may also be subject to consumer privacy laws such as the EU's General Data Protection Regulation (GDPR).
Analytics
One major benefit of using proposal software is that you can gain insights into the entire process, from when you create proposals until you collect payments. While most tools offer this functionality, their features can vary. So, consider what data interests you most.
For example, knowing whether clients are opening the proposals helps you determine when to follow up with them. Alternatively, you may want to know the average time between sending a proposal and closing a deal.
Some proposal analytics software also offer visual reports so you can easily determine where to improve and what are the winning proposals to replicate.
Customer Support
When using new software, it is common to experience a learning curve and make mistakes. This is especially true when it comes to creating and sending proposals, where the stakes are high.
In some cases, you may need additional help to resolve technical issues or meet a tight deadline – a 24-hour support line or live chat can be very helpful.
Therefore, determine the level of urgency required by your business and research the support options offered by different proposal solution providers. Keep in mind that these options may vary depending on your specific plan.
Pricing
Whether you run an agency or work as a freelancer, budget is likely an important consideration. It's a good idea to establish a maximum price when it comes to your proposal software solution.
Typically, you'll need to pay by user or group of users, although some companies offer unlimited options. There may also be limits on the number of proposals you can create.
Additionally, look for tiered pricing plans that give you the opportunity to upgrade as your business and team grow.
Conclusion
Whether you're a freelancer, an agency, or even an enterprise, using proposal software can help you create better proposals and streamline your workflow. It provides the tools and resources to fast-track the proposal process and further refine it.
Let's take a look at the three proposal automation software that stood out the most:
Prospero – offers the best proposal templates for web design and development businesses.
PandaDoc – a beginner-friendly solution with a drag-and-drop editor.
Responsive – a comprehensive and scalable tool offering several integrations.
Many of the tools on this list provide free trials, giving you the chance to test them out. It's a great opportunity to get a feel for their features and functionality before committing in the long term.
Proposal Software FAQ
This section answers the most common questions about the best proposal software and what factors to consider when choosing one for your business.
Why Use Proposal Software?
This type of software can help you create and send professional proposals more efficiently. It simplifies the proposal creation process by offering templates, collaboration tools, and automatic follow-up reminders that can help you boost productivity and land more deals.
How Much Does Proposal Software Cost?
Proposal software can cost somewhere between $10-50/month per user. However, if you get an agency-specific plan, it could cost less. On the other hand, if you want a full project management solution, it will probably be more expensive and you'll likely need to request a quote.
Can a Small Business Use Proposal Software?
Yes, a small business and freelancers can definitely use proposal software. In addition to creating proposals and contracts, these tools help collect e-signatures and payments, and follow up with prospective clients.