Top 10 Personal Website Builder Options For 2024
A personal website can significantly enhance your online presence. It's a perfect avenue for people to share their passions and for professionals to display their work, attract clients, and make money online.
The abundance of user-friendly website builders means coding skills are not required for creating your own website. Still, choosing the right site builder that meets your needs is crucial for your online success.
To help you get started, this article will evaluate the top 10 website builders, focusing on growing your personal brand and internet presence. We will discuss their main features, costs, advantages, and drawbacks, aiding you in selecting the ideal website builder for your objectives.
Download Website Launch Checklist
10 Best Personal Website Builders
These top website builders are handpicked for their ease of use, value for money, scalability, and functionality. Note that each builder provides unique benefits.
1. Hostinger Website Builder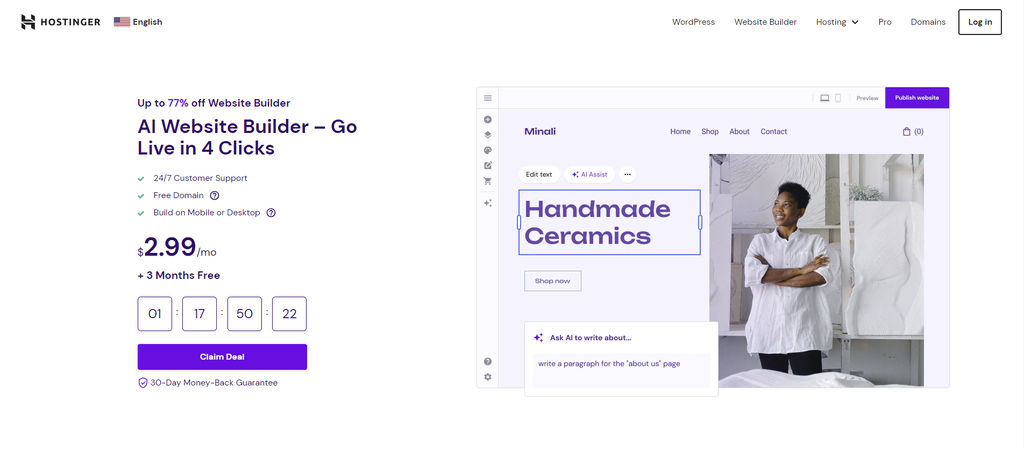 Website Builder Stats:
Rating: 4.9/5
Best for: users wanting to build a scalable, professional website hassle-free
Price: starts at ₹149/month
Hostinger Website Builder is ideal for users who want intuitive controls and AI-powered solutions. It streamlines site creation by generating a customized site based on your brand and ideal website description. You can also pick a ready-made template and easily customize it using the drag-and-drop editor.
Its AI-powered tools aid in creating content, designing logos, and optimizing your site, making it among the easiest AI website builders to use. Attract visitors with a bespoke logo, SEO-friendly content, and a memorable business name, all crafted for your brand.
This no-code personal website builder is a smart choice for the long run due to its value for money. It offers reliable web hosting for consistent performance and security, along with a custom domain name to solidify your brand identity.
Hostinger developers are also constantly working on new features and integrations. It outlines multiple upcoming updates on its Website Builder product roadmap, including Facebook and Instagram Shop integration.
Starting at ₹149/month, Hostinger Website Builder plans include a free domain name, SSL certificates, AI tools, and marketing integrations ‒ making it perfect for all types of users.
Did You Know?
This website builder is accessible to all Hostinger users on shared and cloud hosting plans. When it's time to scale up your personal website, read our article on how to choose a hosting plan to optimize resource usage.
Key Features:
Versatile AI Builder. Create a professional personal website tailored to your preferences and fill it with unique content quickly. Integrated AI tools like a logo maker, content writer, and heatmap analysis enhance your branding and SEO efforts.
Mobile-ready. Build, launch, and maintain your website across desktop and mobile platforms. Hostinger's templates are mobile-optimized, providing a seamless user experience on any device.
Top-notch security and performance. Industry-standard security measures, Cloudflare-protected nameservers, and global data centers guarantee your website's resilience.
Built-in integrations and eCommerce. Sell products, accept online payments, and activate tools like Google Analytics and AdSense, Hotjar, Facebook Pixel, and WhatsApp.
24/7 live support. Expert assistance is available in over 10 languages via live chat or email.
Cons:
No free plan. However, the Hostinger Website Builder demo lets you test the builder's functionality before purchasing. The plan also includes a 30-day money-back guarantee.


2. WordPress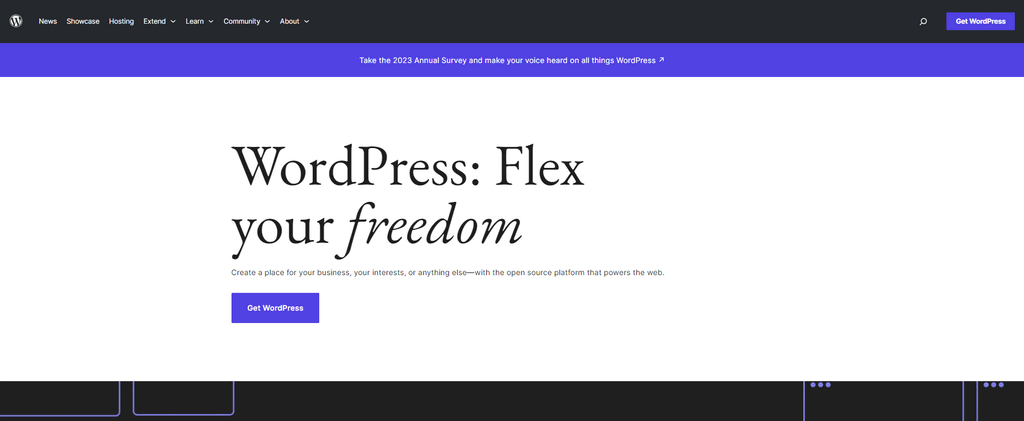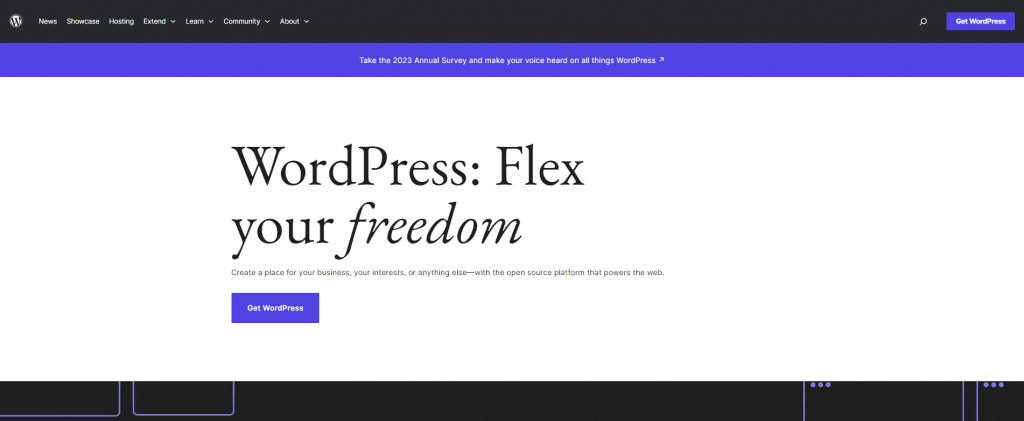 Website Builder Stats:
Rating: 4.7/5
Best for: users looking for advanced customizability
Price: freemium (Hostinger's managed WordPress hosting plans start at ₹149/month)
The open-source WordPress stands out as a widely used content management system (CMS). It features an extensive selection of themes and user-friendly WYSIWYG page editors with drag-and-drop interfaces, eliminating coding from your web design process.
Functionality-wise, WordPress excels for those wanting to make more advanced customizations to their site. It has numerous plugins and themes in its directory and on third-party marketplaces, along with custom code capabilities for advanced customization.
Unlike other website builders on this list, WordPress requires a separate domain name and hosting to run. Hostinger's managed WordPress hosting plans include both, along with a free SSL certificate, email account, dedicated expert support, and robust security measures.
Key Features:
Robust CMS. WordPress can handle extensive content, resulting in its popularity as a personal blog site maker. It's also easier to use than other CMSs on the market.
Free, open-source software. You only need a custom domain name and hosting to start using WordPress.
Large plugin and theme libraries. Over 59,000 plugins and 11,000 themes are available for free in the official directory. These numbers exclude third-party options listed on various marketplaces.
Search engine optimization features. WordPress supports SEO-friendly websites with its built-in SEO tools. Adding SEO plugins can further enhance your site's search engine ranking.
Cons:
Self-hosted. Site owners are responsible for hosting resource management and security configurations, requiring technical expertise. However, Hostinger simplifies WordPress management for beginners with one-click installation, automatic updates, and built-in performance optimization in all plans.
No dedicated support. Users need to rely on their hosting provider or WordPress community forums for tips and assistance. However, Hostinger Tutorials has an extensive library of articles, video guides, and webinars covering WordPress-related topics.

3. Kickresume


Website Builder Stats:
Rating: 4.2/5
Best for: users looking to digitize their resume or CV
Price: freemium (premium plans start at $7/month)
If you're looking for the best website builder for a personal website that also serves as an online resume, check out Kickresume. This website builder extracts information from a resume created on their platform and imports it to a pre-built template, generating an online CV in minutes.
The free plan offers one basic website template with limited customization. Upgrading to premium gives you more page layouts along with access to an AI resume checker and priority support.
Key Features:
Efficient resume writing. Streamline the resume-building process using pre-written phrases, job-specific resume samples, and an AI resume writer.
Multilingual. Kickresume supports all left-to-right languages.
One-click import. Fill your personal website with information from an existing resume.
Support. Free plan users can still access email and chat support. The personal website builder also offers useful tips during the design process to optimize your resume's performance.
Cons:
Niche-specific. Kickresume only works for showcasing CVs and resumes, limiting your site's functionality.
Default domain. All personal websites are published under Kickresume's subdomains.
4. Wix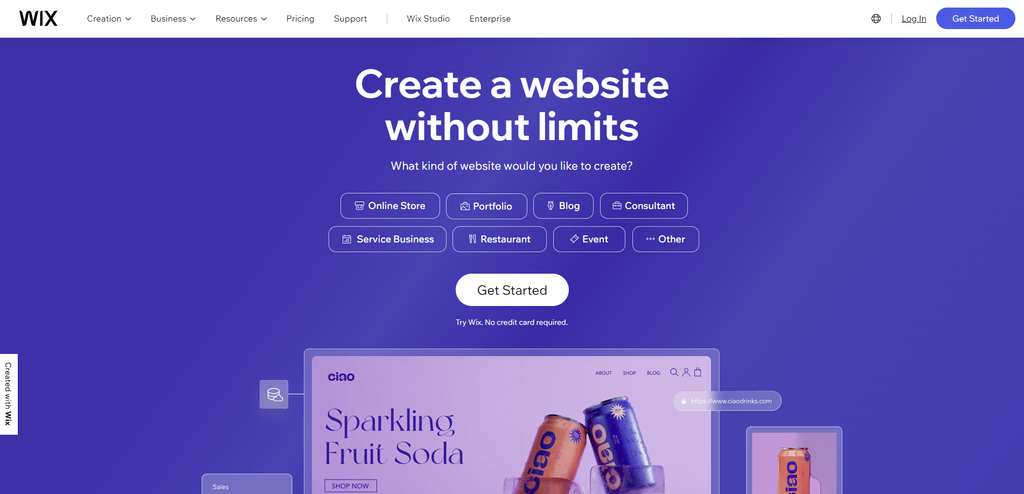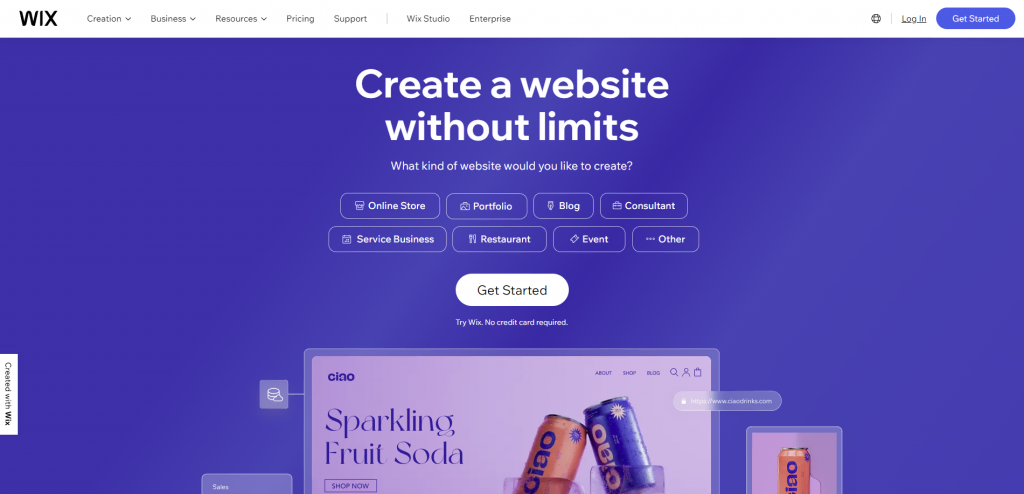 Website Builder Stats:
Rating: 4.6/5
Best for: users who are new to website building
Price: freemium (premium plans start at $16/month)
Wix is a popular drag-and-drop website builder for individuals new to web design. It can create diverse websites, including blogs and eCommerce stores, offering plenty of room for growth.
The personal website builder has an array of responsive templates across different niches and lets you create unlimited websites under one account. However, a big downside is template changes are not allowed post-publication.
There is also a selection of apps, so you can install them to enhance your website's functionality. Free and premium versions are available.
The free website builder comes with hosting and a Wix-branded subdomain. For a custom domain without Wix branding, the Light plan is available at $16/month.
Key Features:
Wix ADI. This simple website creator feature simplifies the web design process with AI. Answer the setup questions and have Wix generate a custom web design based on your requirements.
Third-party integrations. Expand your site's functionality with third-party apps. Supported platforms include PayPal, Spotify, and Mailchimp.
Drag-and-drop editor. The interface provides customizable grid lines to ensure consistency over your website's basic elements.
eCommerce functionality. Wix lets you sell physical and digital products, accept payments via multiple channels, handle shipping, and distribute coupons to boost sales.
Cons:
High starting price. The lowest-tier plan only includes a free domain name, limited storage space, and no Wix ads. To accept payments and access eCommerce tools, you have to be on the Core plan or higher, which starts at $27/month.
No migration support. You must manually export your files and databases, use external software, or hire someone to move your website elsewhere.
5. Carrd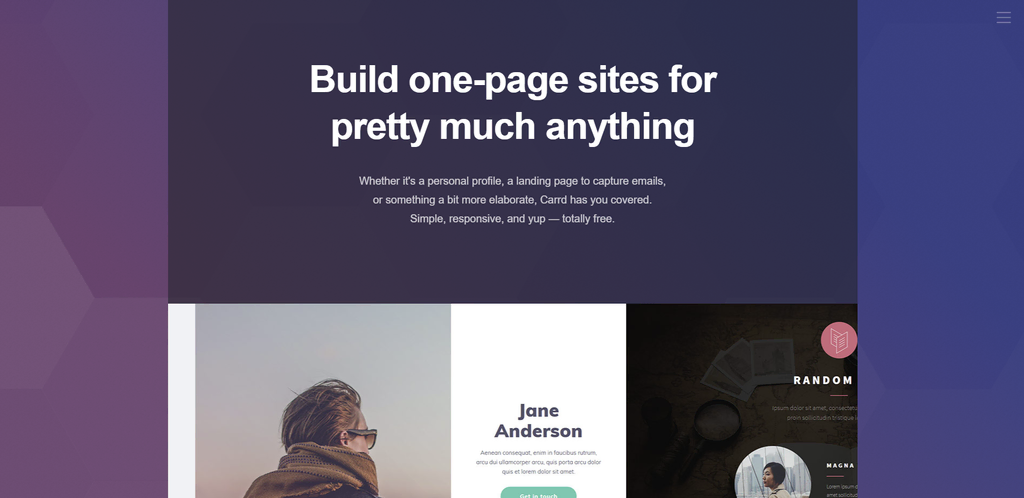 Website Builder Stats:
Rating: 4.3/5
Best for: users wanting to build a simple one-page personal website
Price: freemium (premium plans start at $9/month)
Carrd is one of the notable customizable website platforms for building one-page personal websites. Start with a responsive template or craft your own with the drag-and-drop editor.
The platform provides a variety of blocks, buttons, forms, and social media integrations, along with animations to add dynamism to your site.
Free plan users can create up to three sites with Carrd branding. Upgrading to premium lets you connect your site to a custom domain name and access premium templates, widgets, and embeds.
Key Features:
Multiple style options. Carrd offers modern templates that follow the best web design practices for all types of websites.
eCommerce functionality. You can use Carrd to build a one-page product catalog and accept payments via Stripe and PayPal.
Third-party integrations. Expand your site's functionality by adding external services like Gumroad, Typeform, and Facebook using widgets.
Access control. Generate a QR code for your site and password-protect the access.
Cons:
Small-scale website builder. Carrd works best for building one-page personal websites. If you want to create a multi-page site, consider exploring other builder options.
No blogging functionality. The most viable option is publishing your blog posts on a blogging platform like Medium and embedding them on your Carrd website.
6. Webnode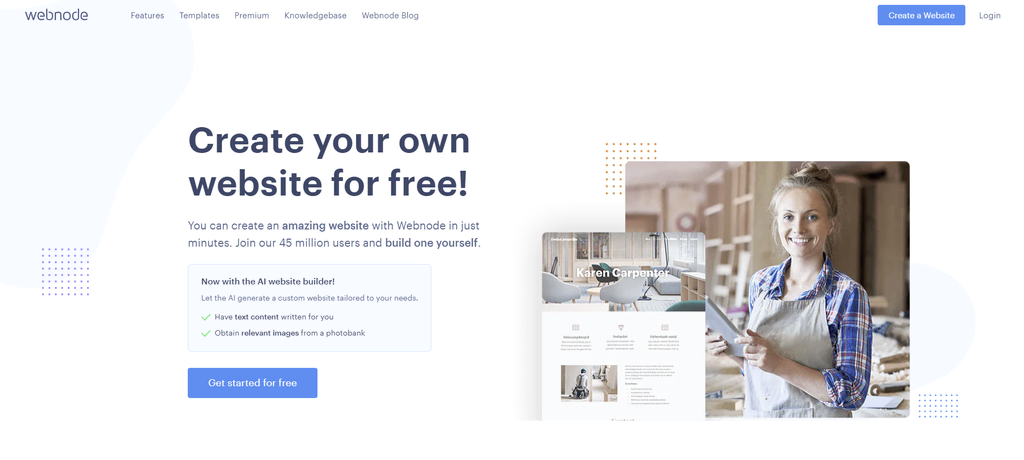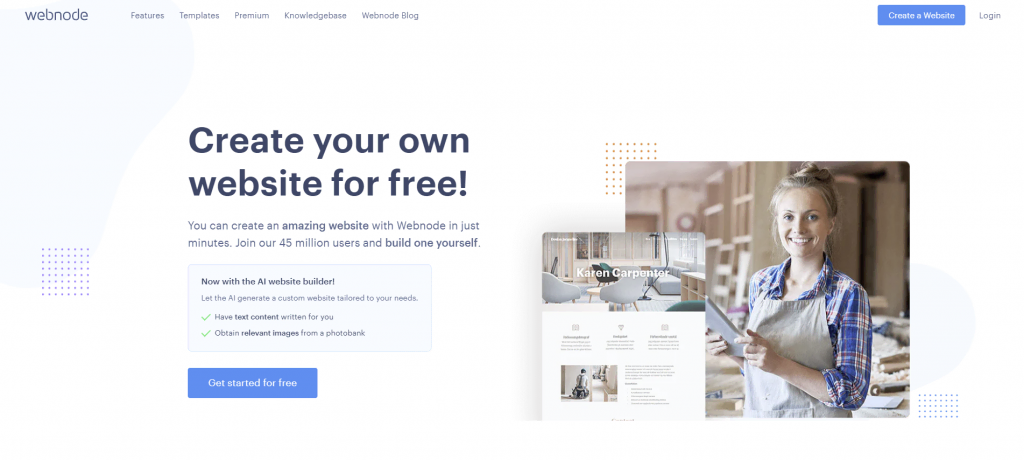 Website Builder Stats:
Rating: 4.4/5
Best for: users looking to create a GDPR-compliant and multilingual personal website
Price: freemium (premium plans start at $4/month)
Webnode is one of the more affordable personal website solutions that features a drag-and-drop editor and various design elements. Like Wix, it has an extensive collection of website templates and includes grid lines on the editor for easier modifications.
Building a multi-page personal website is possible as Webnode doesn't limit the number of pages. This personal website builder is also available in 24 languages, broadening your potential audience reach.
Webnode includes mobile-responsive blogging and eCommerce features. For additional functionality, you can integrate widgets using HTML code.
The lowest-tier plan, costing $4/month, allocates 200 MB of storage and 1 GB of bandwidth. Consider opting for the Mini plan or higher, starting at $7.50/month, to get domain registration, an email account, and premium support.
Key Features:
Website statistics. Monitor your website traffic and most popular pages to improve SEO efforts. You can also integrate your website with external SEO services like Google Analytics by adding tracking IDs to the custom HTML header.
Multilingual. Create multiple versions of your website in different languages without external services.
Membership registration. Restrict access to certain pages and manage registrations from the admin area. This feature can also help expand your email list.
GDPR compliance. Add a data consent field to your forms and notify visitors about cookies with the built-in or external consent bar.
Cons:
Limited support. Phone and email support is only available five days a week with a response time of up to 24 hours.
Platform branding. You must be on the Standard plan or higher to remove Webnode ads.
7. Weebly
Website Builder Stats:
Rating: 4.7/5
Best for: users wanting to build a personal website with eCommerce functionality
Price: freemium (premium plans start at $10/month)
Weebly provides an easy-to-use drag-and-drop editor similar to other personal website builders on this list. For those with HTML and CSS knowledge, Weebly's Code Editor allows for advanced customizations. You can also import unique themes from the marketplace.
Built-in SEO tools, including 301 redirects and optimized HTML, help boost your site's ranking chances. Enhance your SEO further with Weebly's premium apps.
Functionality-wise, Weebly is a good option for those looking to monetize their personal sites. It offers essential eCommerce tools such as a shopping cart, inventory tracking, and coupon creation, allowing unlimited sales of digital and physical goods. Note that PayPal payments are exclusive to the top-tier plan.
Key Features:
Accessible eCommerce tools. This mobile-responsive personal website maker lets you build basic online stores and promote unlimited products on its free plan.
Lead capture. Add a customized form on your personal website to collect leads. This feature is available in all plans.
Blogging functionality. Built-in features include post scheduling and comments management with Disqus.
SEO and marketing tools. Add your Instagram feed to your personal website and optimize page titles and descriptions for higher rankings in search engines.
Cons:
Pricey upgrade. Only websites on the Professional or Performance plan get a free custom domain, unlimited storage, and no Square ads.
Limited support. Phone and priority support are only accessible during working hours for users on the Professional or Performance plan.
8. Squarespace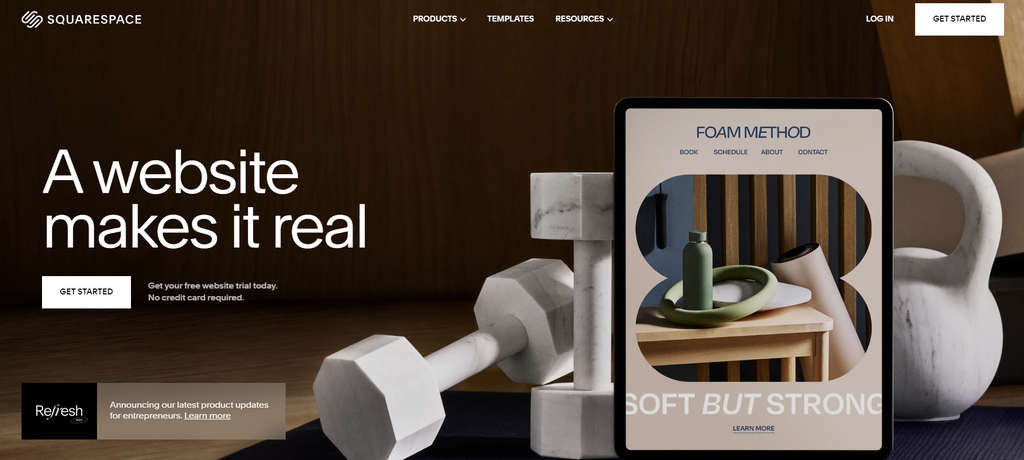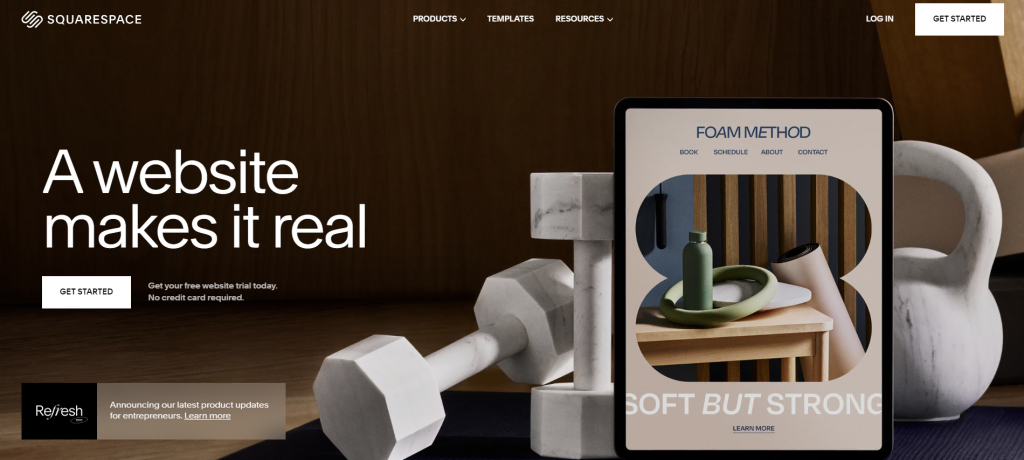 Website Builder Stats:
Rating: 4.6/5
Best for: users wanting to build a multi-purpose website
Price: starts at $16/month
Squarespace is a personal website builder known for its modern web designs. With its template collection and block-based customization system, it offers precise design control to create a website that meets your preferences.
Its SEO tools, including URL redirects and Google Search Console integration, complement its blogging features. However, direct edits to the source code and XML sitemap are restricted.
With robust eCommerce features, Squarespace is also considered the best website platform for individuals looking to build online stores. The personal website builder supports multiple payment gateways and offers an intuitive inventory management system with customizable alerts.
While there's no free plan, Squarespace offers a 14-day trial without requiring credit card details.
Key Features:
Sufficient core features. All plans include a domain, SSL certificate, managed cloud hosting, and 24/7 support.
Design-oriented. Besides offering vast customization options, Squarespace updates its templates regularly to ensure optimal security and performance. All templates are responsive and mobile-ready.
Squarespace AI. Create AI-generated content for text blocks, email campaigns, and product descriptions.
Social media integrations. Connect your personal website with Instagram, Facebook, Twitter, LinkedIn, and Pinterest accounts.
Cons:
No back-end access. Without access to your website's source code, you can only scale and optimize it using the available tools.
Shallow hierarchy structure. Squarespace websites only have a two-level structure, limiting the platform's suitability for creating large sites.
9. Strikingly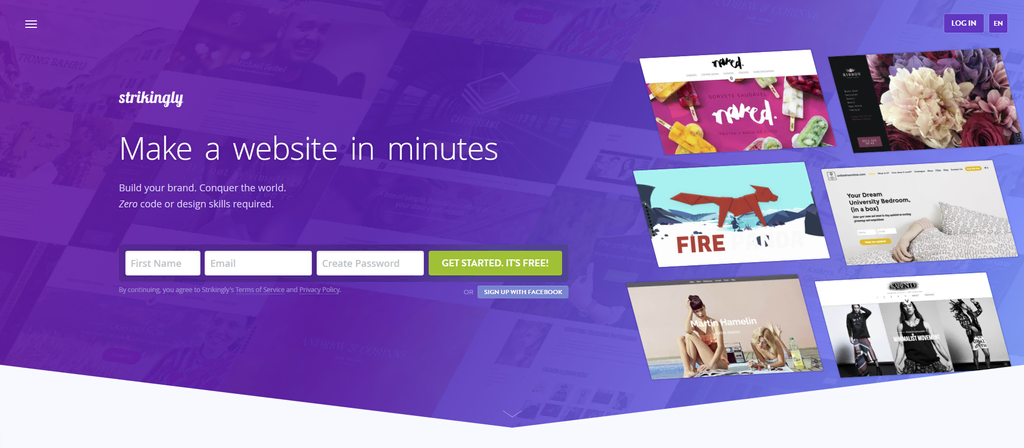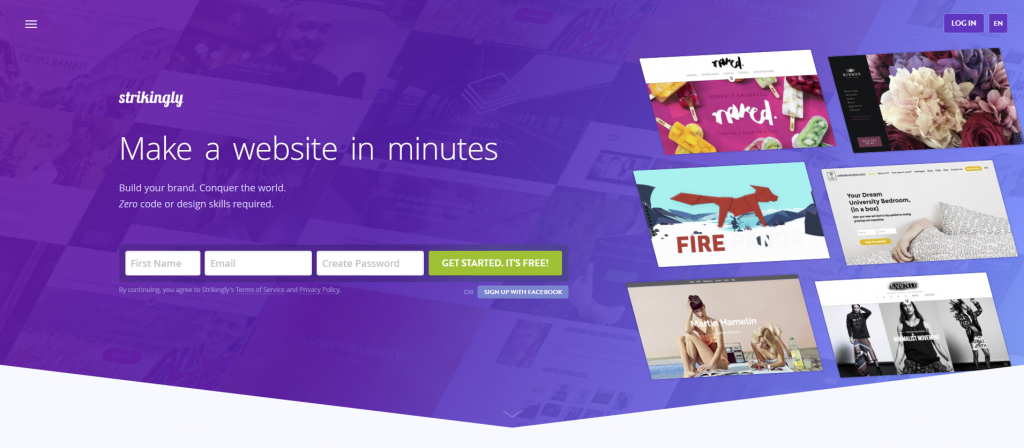 Website Builder Stats:
Rating: 4.3/5
Best for: users wanting to build a simple one-page personal website
Price: freemium (premium plans start at $8/month)
Strikingly is one of the best personal website builders for creating simple sites. It provides everything needed to build various websites, including mobile-ready templates, blogging capabilities, and business features to monetize your site.
This personal website builder is designed for quick site creation. Customization options like galleries, video backgrounds, and media sliders are also available. Additionally, Strikingly offers a straightforward SEO checklist for beginners.
The free plan lets you publish unlimited sites with 5 GB monthly bandwidth, 500 MB storage per site, and 24/7 support. Each website can host a simple store for a single product.
Strikingly's premium plans start at $8/month. However, creating websites on the mid-tier plan for $16/month or higher offers advanced features like pop-ups, custom code embeds, and the removal of Strikingly branding.
Key Features:
Analytics. Leverage the built-in analytics to keep track of your website traffic for better SEO efforts.
Lead generation. Custom forms, live chats, and newsletters make engaging with your audience easier.
Membership capabilities. Create exclusive sections within your website and collect recurring payments from members.
Custom fonts. Pick a font from the library or upload your own to establish strong branding.
Cons:
Transaction fees. This personal website builder changes up to a 5% fee on your online store transactions, depending on the plan. You must upgrade to the highest-tier plan for $49/month to bypass it.
10. SITE123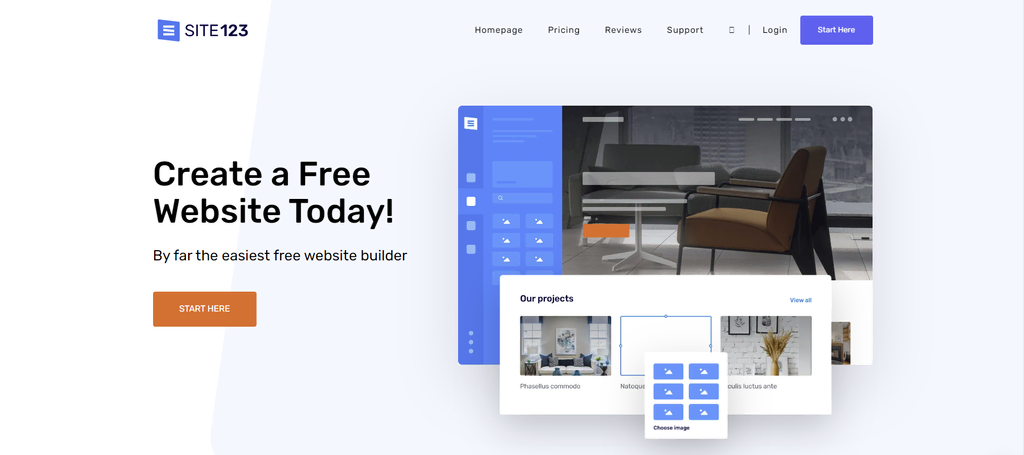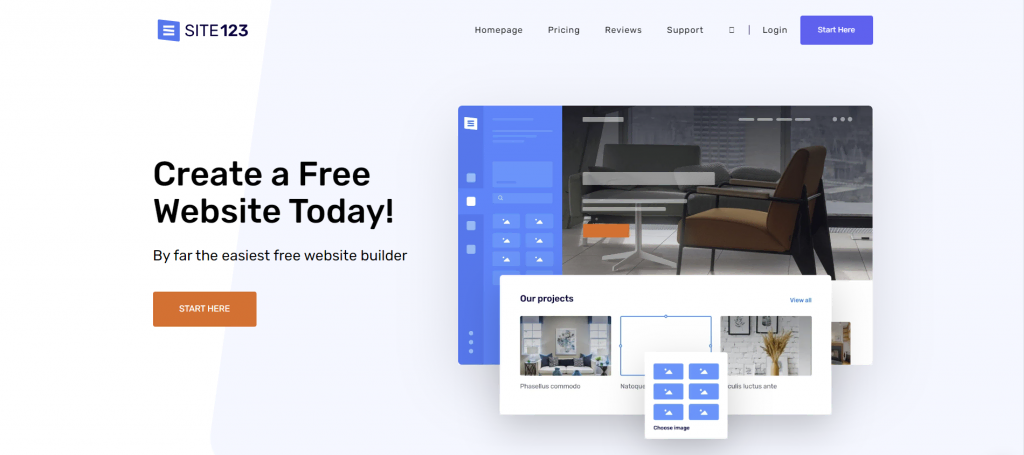 Website Builder Stats:
Rating: 4.2/5
Best for: users wanting to build a niche-specific personal website to promote their services
Price: freemium (premium plans start at $12.80/month)
Different from other website builders on this list, SITE123 offers a section-based editor for creating sites from scratch or using pre-built templates. Its simplicity is ideal for beginners, though customization is more limited.
SITE123 caters to musicians and music enthusiasts with features for music video galleries and streaming integrations. Additionally, artists can utilize its tools to sell merchandise, manage bookings, and sell tickets.
It also offers specific features for wedding websites, allowing you to craft a photo gallery, showcase a calendar countdown, and manage guest confirmations with an RSVP form.
The free personal website builder allocates a subdomain with 250 MB of storage and bandwidth. The premium plans, starting at $12.80/month, remove SITE123 branding, include a free custom domain, increase storage and bandwidth to 3 GB, and unlock eCommerce capabilities.
Key Features:
Event management. Promote and manage online and physical events with a ticketing system, custom registration forms, and a check-in system.
24/7 support. Assistance is available via email, live chat, and the support center.
Niche functions. SITE123 offers different toolkits to build all kinds of websites, from simple personal sites and online portfolios to forums and scheduling platforms.
External apps. Scale your website with popular services like Google AdSense, LiveChat, and Sumo.
Cons:
No drag-and-drop functionality. While it's possible to customize your website's sections, you cannot freely drag and drop each element's placement. It makes designing a unique website more challenging.
Non-transparent pricing. SITE123's official website only displays the free and premium plans' prices, but it actually offers four packages. The features and prices of the other paid plans are only visible when upgrading.
What to Look for In a Personal Website Builder
The following are factors to consider when choosing the best personal website builder for your needs:
Ease of use. If you aren't confident in your technical skills, choose personal website builders with drag-and-drop editors.
Template options. Look for website builders offering personal site-specific templates.
Customization options. For a unique website that reflects your style and personality, use personal website builders that offer full customization control over design elements.
Mobile responsiveness. Ensure the builder provides mobile-optimized templates for a uniform experience across all devices.
Pricing. Opt for website builders with clear pricing to avoid hidden charges and high renewal fees.
Customer support. Seek website builders with 24/7 support across multiple channels and in your preferred language.
Hostinger Website Builder not only meets the above criteria but also provides excellent scalability and is optimized for speed and SEO. The personal website builder comes with complimentary hosting featuring a 99.9% uptime guarantee, ensuring solid performance. It addresses all aspects of website creation for a successful online presence.


Conclusion
Choosing the right website builder for your personal site is crucial to ensure long-term online success. Although there are many options available, certain factors can help narrow your search.
Here are our top picks for the best personal website builders based on ease of use, price, scalability, and functionality:
Hostinger Website Builder. Ideal for both beginners and advanced users due to its simplicity, scalability, and AI tools. It also has built-in eCommerce functionality, optimized servers, and 24/7 dedicated support.
WordPress. Offers extensive customization solutions and abundant features for a dynamic website. Best for intermediate to advanced users wanting the freedom to add custom code to their personal site.
We hope this article helped you decide which personal website builder fits your needs best. Good luck!
Personal Website Builder FAQ
This section covers some of the most frequently asked questions about personal website builders.
Do I Need Any Coding Skills to Use a Personal Website Builder?
No, you don't need coding skills to use a personal website builder. These platforms offer user-friendly interfaces and customizable templates, helping you build a website effortlessly. You can create a fully functional and visually appealing website without having coding knowledge.
Can I Create a Professional Portfolio or Resume Site Using a Personal Website Builder?
Absolutely. Many personal website builders like Hostinger Website Builder offer specialized templates for portfolios and resumes. This makes it easier to showcase your work and qualifications to attract potential clients.
What Is the Best Personal Website Builder for Beginners?
Hostinger Website Builder is the best choice for beginners. It features an easy-to-use drag-and-drop interface, a wide range of templates, and AI tools like a logo maker and heatmap analysis, making the website design process more streamlined and efficient.