Can You Run a Successful Business Without a Website? + Other Business Streamlining Methods
Building a site may seem like a daunting process for beginners. Hence, some companies still rely only on the traditional business model – an offline store. For a business without a website, it may take longer to build brand awareness and reach a wider audience.
On the other hand, having an eCommerce site brings many benefits, especially for small business owners, such as cost-effective scalability and competitive advantage. In short, owning a website is critical in today's business landscape.
In this article, we will find out whether running a successful business without a website is possible, along with its advantages and disadvantages. We will also show how to build your own website using one of the best website builders.


Ways of Streamlining a Business Without a Website
Having a site isn't the only way to launch and promote a business. You can use social networking platforms, Google My Business, and third-party marketplaces.
That said, building a website and implementing the best digital marketing practices can make your company reach more people and better retain customers.
If you're wondering how to have an online presence without a website, let's take a look at some of the possibilities.
Social Media
If you're a small business owner, using social media platforms is a cost-effective method to promote your brand since they're mostly free. There are over 4.7 billion active users worldwide, giving you a chance to reach a broad audience.
However, most social platforms have limited eCommerce features, making it difficult to provide a pleasant user experience for your customers. Having a website will also give you an additional channel to communicate with potential customers and direct them to your eCommerce site, which you can optimize for conversions.
Google My Business
Google My Business is one of the best tools to make your business discoverable on Google results. It can improve local search engine optimization (SEO), helping small businesses reach new customers in their area. This platform also provides customer insights that can help improve your website's digital marketing strategies.
However, it lacks customization options, so your business profile may seem unattractive. On the other hand, you can customize a website's design and features. Integrating it with Google My Business can attract more customers and increase organic traffic.
Influencers
Influencers are experts in building strong relationships with their followers. Their opinions about your brand can help build trust and credibility. Unfortunately, it may be difficult to appeal to new customers if you implement influencer marketing without a website.
Therefore, creating a website before investing in this strategy will help drive more traffic and boost brand awareness.
Email Marketing
Sending your consumers promotions or exclusive content can improve client engagement, conversions, and brand awareness. However, building an email list without a website may take a long time.
Having a site, you can set up a subscription pop-up or form on certain pages to collect subscribers more effectively. You can also offer incentives in exchange for their emails, such as access to exclusive content and promotions.
Referral-Based Marketing
Referral marketing is a strategy that encourages loyal customers to promote your products and services to their network, usually by word of mouth. As a reward, you can give them discounts or commissions. This strategy is great for small businesses, as you can get more clients while reducing advertising costs.
Unfortunately, it may be hard to increase sales when relying on this strategy. Having a site is essential if you want to apply this method, as it can help track the referrals, provide them with exclusive content and materials to use in their campaigns, and increase conversions.
Affiliate Marketing
In affiliate marketing, affiliates use a personalized link to promote your products or services. In return, your company pays them a commission. This strategy is good for small business owners as it can boost sales and revenue without a dedicated marketing team.
Having a website when starting affiliate marketing can help you connect with potential partners and establish a centralized place where affiliates can find information about your company.
Third-Party Marketplaces
Selling products on third-party online marketplaces like Amazon.com, eBay, and Facebook Shops can help diversify your income streams. It is a great option for small businesses as these platforms are mostly free and have built-in eCommerce features such as a shipping calculator.
However, relying only on these marketplaces makes it very difficult to scale your company and provide a unique shopping experience. We recommend using these platforms along with a website to avoid dealing with an intermediary and maximize your profit.
Benefits of Having a Business Website
While it is possible to start an online business using different platforms and tools, creating a site for your business offers many advantages.
Online Presence
Roughly 71% of businesses have a website. Not having one will put your business at a disadvantage. You will have to compete with companies that can be easily found by potential customers on search engines. With a site, people can discover and engage with your content whenever and wherever they want.
Improved Credibility
A site makes a business look professional and trustworthy. If you can't locate a brand or its products online, you may question the business' legitimacy. Therefore, having a site can make a great first impression and establish your online reputation.
Cost-Effective Scalability
The cost of building a website varies depending on the platform and site complexity. Still, it is a cost-effective option for small business owners, ranging from $100 to $1,000/year.
With Hostinger's web hosting plans, you can build a scalable site starting at $1.99/month. In comparison, renting a retail space in the United States can cost you up to $180,000/year.
Competitive Advantage
A small business site can outrank bigger companies and generate new customers by implementing website optimization strategies. To stand out among competitors and improve customer engagement, some of the methods include having a great web design and following web accessibility guidelines.
Adding SEO-optimized content can also help the site rank on search engine results and increase conversions.
How to Start a Business Website
To build an attractive business site without coding, you can use a website builder. At Hostinger, the builder comes with all web hosting and cloud hosting plans. We also include a free domain name, professional email, and eCommerce features.


The visual editor simplifies the web-building process, helping you make a stylish online store quickly. Here's how to make a website using Hostinger Website Builder:
After purchasing your desired web hosting plan, sign in to your Hostinger account and click Setup.
When it's time to choose the platform you'll use to build the site, select Hostinger Website Builder.
Register a domain name or use an existing one.
On the Website Builder's editor, select an eCommerce website template → Start Building. For this example, we're using Mina.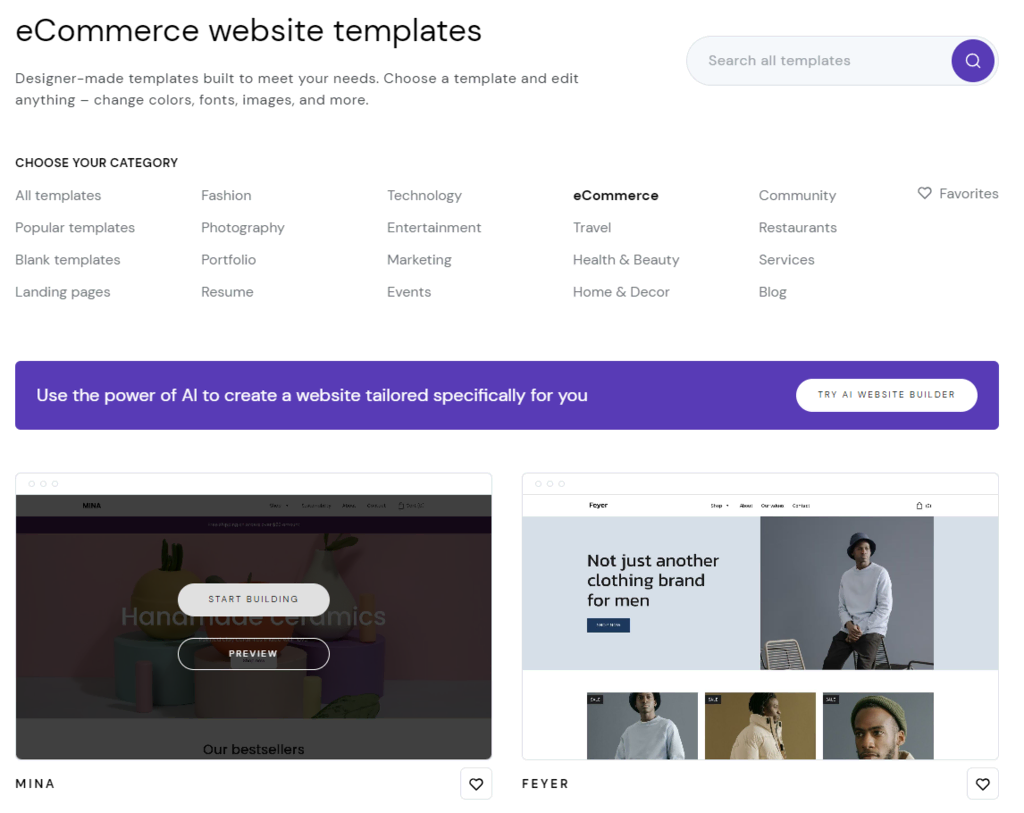 Click Online store → Manage store to enter your business name, country, and preferred currency.
You'll be redirected to the Store Management Area. There, go to Products to set up your products or services.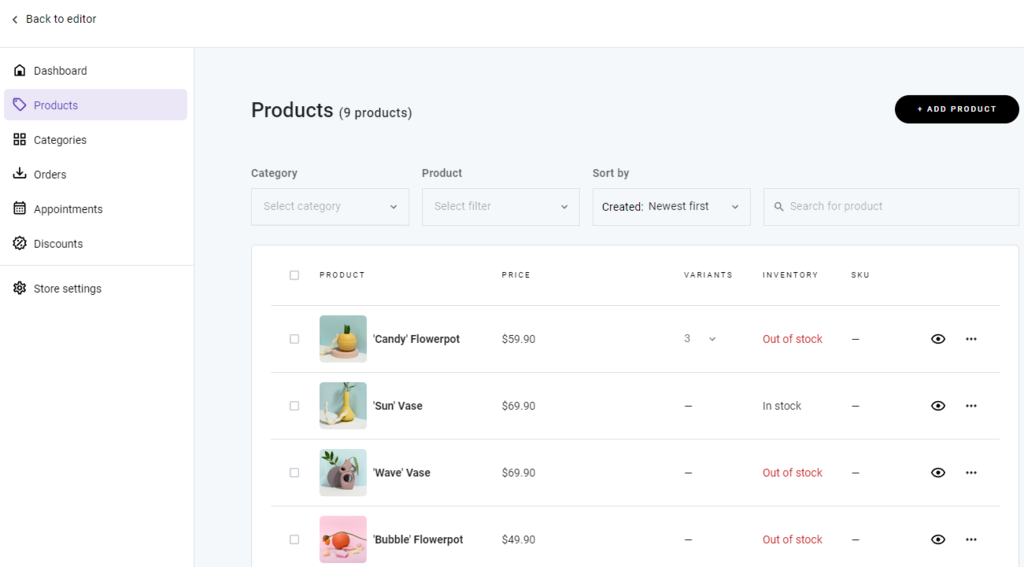 Go to Pages and navigation → Add Section → Online store to choose how to display your products.
On the top menu, click Online store → Manage Store → Store settings to open the Store Management Area, where you can configure the payment options and invoices.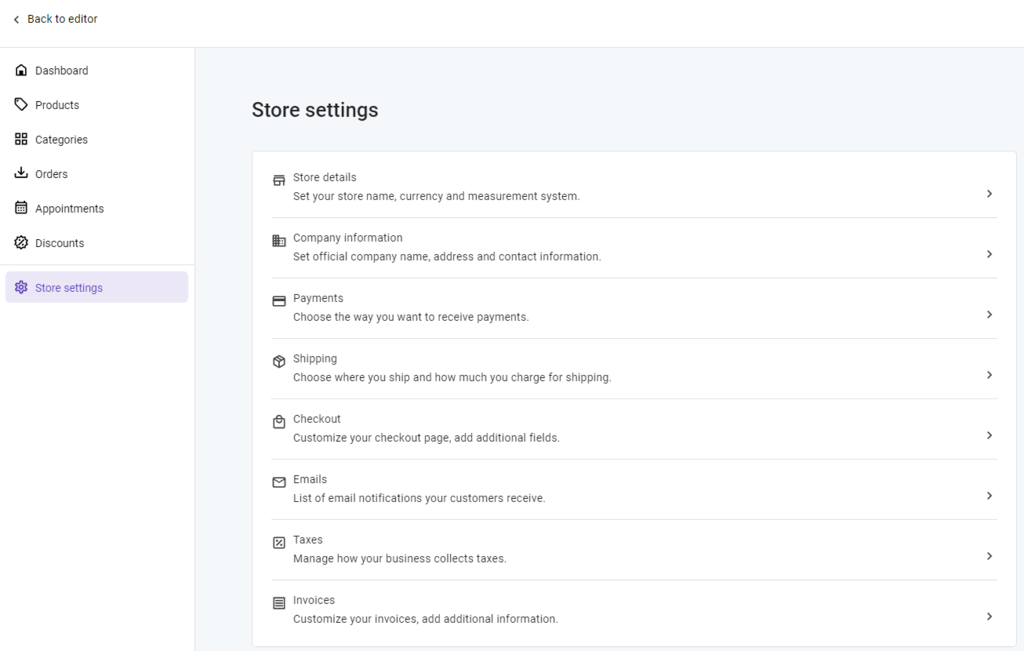 You can customize your website template by going to Website styles.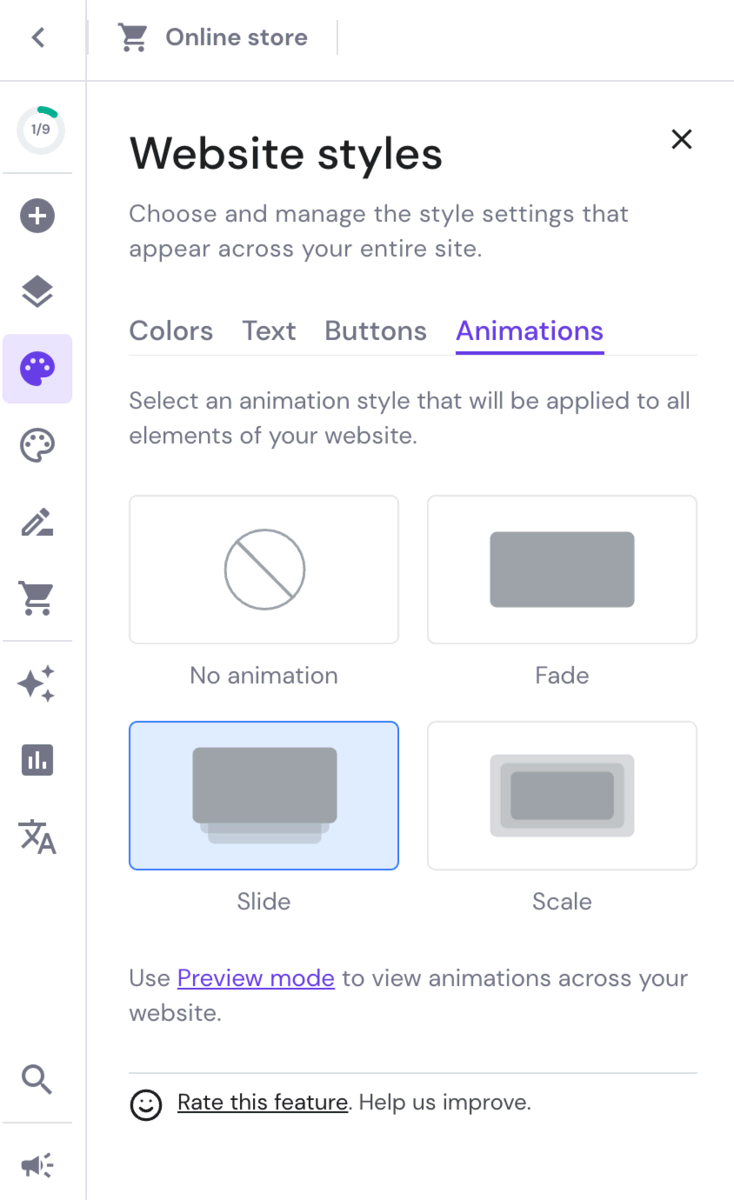 Go to Website settings → SEO to make an SEO-friendly website.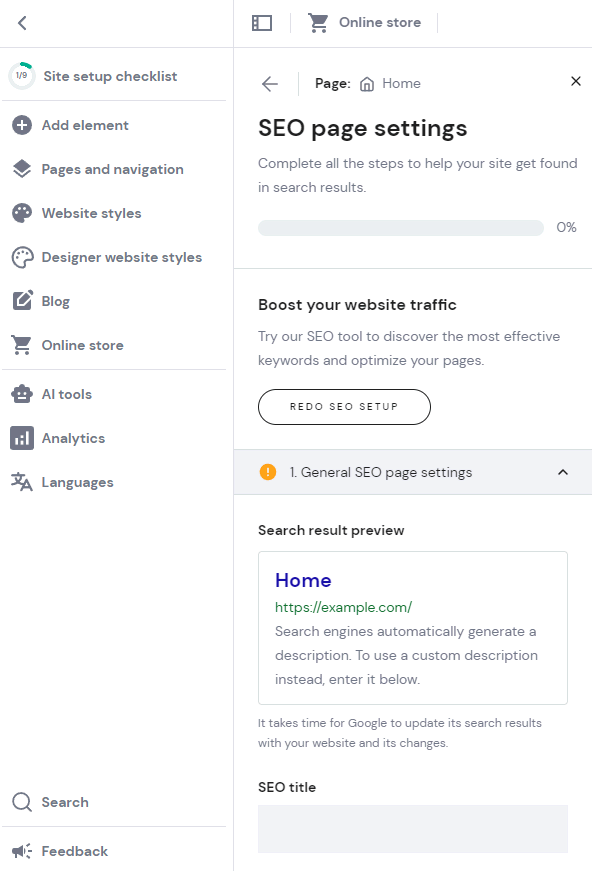 Once you've created an online store, choose Go live in the upper-right corner to publish the site.

Pro Tip
Your store will almost certainly require a logo. Hostnger's website maker has you covered there as well! Generate your business logo with AI using logo creator.
Conclusion
Businesses need a website to establish a solid online presence, improve customer trust, and stand out among competitors. Using the website along with other platforms, such as social media and Google My Business, can help you reach bigger audiences and increase revenue.
We hope this article has helped you understand how creating a website is a great way to have a successful business. If you have any questions or suggestions, leave them in the comments section below.
Business Without a Website FAQ
In this section, we'll answer frequently asked questions about running an online business without a website.
Can a Business Reach a Large Audience Without a Website?
Yes, but without a site, it may take a lot more time and effort to reach a large audience, as you will depend on third-party marketplaces and offline marketing. Small businesses, especially, need a website to reach more clients, increase revenue, and improve brand awareness.
Is It Too Expensive or Difficult for Small Businesses to Have a Website?
No, it isn't. Small business owners can use website builders to make an online store easily. For example, Hostinger Website Builder offers a free domain name and web hosting with many eCommerce capabilities starting at $2.99/month. In comparison, renting a small retail space in the US can cost you around $15,000/month.
How to Create a Business Email Without a Website?
To make a business email without a site, you'll need a domain name and email hosting. Hostinger email hosting plans, starting at $0.99/month, include advanced email features, such as auto-reply, undo send, and block sender.
Is It Possible for a Company to Generate Leads and Sales Without a Website?
Yes, it is. For instance, many companies sell their products or services on third-party marketplaces. However, they have limited customization options, making it difficult for a small business to scale.