AI in eCommerce: Maximizing Profits and Customer Satisfaction With AI in 2023
The boom of artificial intelligence is apparent in almost every sector, including the eCommerce industry. In 2022, 35% of companies used artificial intelligence to support their business, a 4% increase from 2021.
While larger companies are more likely to deploy AI technologies in their organizational workflow, smaller companies don't shy away from them either. With new and accessible AI tools being made, businesses of all sizes can leverage them to maximize profits and improve customer experience.
If you're debating whether artificial intelligence is a good investment for your eCommerce site, this article is for you. We will review the benefits and most common uses of AI technology in eCommerce. You will learn some of the challenges of using AI to make money online and how companies have successfully tackled them.
Why Use AI for eCommerce?
Due to their many benefits, more eCommerce companies are integrating AI solutions into their workflow and marketing strategies. This section will explore how AI technology can help you grow your eCommerce site.
Increase Sales and Revenue
Artificial intelligence helps eCommerce businesses improve their targeted advertising. With AI, collecting and analyzing real-time consumer data like online browsing habits and previous purchases is easier and more cost-effective.
Insights from generated customer data help increase your marketing effectiveness, resulting in higher conversion rates and profits. According to PwC, AI applications in business may contribute up to $15.7 trillion to the global economy by 2030.
Improve Customer Satisfaction
Offering a personalized customer experience is key to improving customer satisfaction. With AI technology, you can predict behavior based on customer interactions and purchase histories.
Personalization also helps increase customer retention. You can build lasting impressions and solid relationships by acknowledging customers' pain points and preferences.
Enhance Operational Efficiency
Using AI in eCommerce lets you automate repetitive tasks, optimize workflows, and analyze large amounts of business data quickly. You can reduce the time and human resources needed by making your eCommerce business work more efficiently.
Reduce Operational Costs
According to Statista, 51% of respondents claimed that AI solutions reduce business operation costs by over 20%.
Besides improving operational efficiency, AI integration in eCommerce can detect fraud, predict market demand, and optimize energy consumption. These practices reduce operating expenses and save you money in the long run.
Competitive Advantage
Anyone who knows how to start an online business understands how important it is to stand out, especially when there are 7.1 million online retailers as competition. AI eCommerce solutions can offer competitive advantages.
For instance, integrating AI chatbots into your support channel increases your responses' speed and accuracy. As a result, you will offer a better customer experience than other online retailers.
Difficulties of AI in eCommerce
Despite its benefits, implementing artificial intelligence in eCommerce can be challenging. Here are some of the biggest barriers to entry for AI systems into the eCommerce industry.
Data Privacy and Security
One of the most popular branches of artificial intelligence is Natural Language Processing (NLP).
NLP allows computers to understand human language in spoken and written forms. In a data analysis process, the quality of generated information improves the more data it feeds on.
However, big data comes with data privacy concerns. An AI eCommerce platform managing huge amounts of data may risk data leakage and jeopardize customers' personal information.
To maintain customer trust, eCommerce business owners must disclose what data their AI engine can access and for what purpose. Prioritizing cybersecurity strategies is also a must.
Ethical Considerations
The implementation of artificial intelligence in eCommerce comes with ethical issues.
For instance, feeding biased data into AI algorithms results in unfair outcomes for certain groups of people. If used by the wrong people, artificial intelligence can become a tool for discrimination.
Transparency must be present in AI development and implementation to ensure an accountable and fair automated decision-making process. Using unbiased data to train AI software will help you get unbiased results.
Technical Challenges
AI systems need dedicated infrastructures with advanced processing abilities to process big data.
In reality, many companies don't have the resources to invest in the infrastructure and tools required to run AI systems. You can outsource AI-powered tools, but they will cost you hundreds of thousands of dollars annually.
Many companies also don't have enough quality data to train their machine-learning algorithms, resulting in biased outcomes.
For this reason, understanding how artificial intelligence works and what resources it requires is vital for a successful implementation.
Staff Training and Adoption
The concept of artificial intelligence in eCommerce is still relatively new. Therefore, hiring experts who know how to leverage AI algorithms for quality results is challenging.
Business owners should train their employees to use AI, specifically machine learning, in their workflow. As employees will later be operators, they must understand how these technologies can benefit their work.
11 Uses of AI in eCommerce
To better understand how artificial intelligence can benefit your business, let's explore the 11 most popular AI use cases in eCommerce.
1. Shopping Experience Customization
While personalization isn't new, AI makes designing a personalized shopping experience easier and faster.
AI-powered recommendation engines like Granify and Boomtrain let you analyze hundreds of customer data from various channels in seconds. When integrated with eCommerce websites, these tools can automate product recommendations and call-to-action messages to reduce cart abandonment rates.
Similarly, virtual assistants like Mona and Save Your Wardrobe base their recommendations on individual customer queries. Often taking the form of mobile apps, virtual assistants conduct targeted marketing by providing deals and products relevant to customer preferences.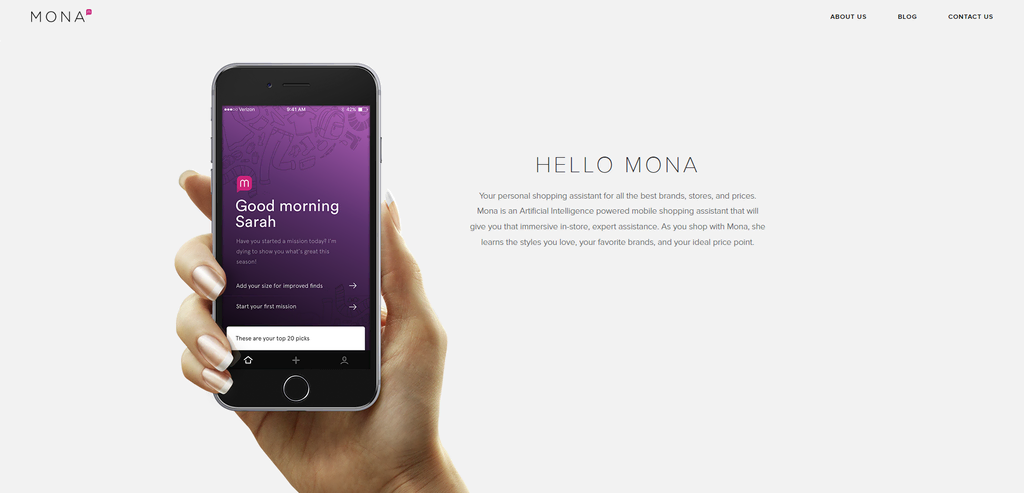 The insights and automation provided by artificial intelligence allow retail businesses to create a consistent, seamless customer experience across online and offline stores.
2. Inventory Management
AI, specifically machine learning, improves the efficiency and accuracy of inventory management in many ways.
eCommerce retailers can leverage AI systems for supply chain optimization. Customer demand forecasting, product restock planning, and bottleneck elimination are several improvements AI can make to an eCommerce business' supply chain management.
Meanwhile, AI robots support warehouse management by streamlining order processing and reducing human error. By increasing warehouse efficiency, artificial intelligence helps reduce carbon footprint and inventory discrepancy.
3. AI-Powered Chatbots
Chatbots are one of the most popular AI implementations in the eCommerce industry. In 2022, 58% of B2B and 42% of B2C companies actively used chatbots. 88% of online shoppers had at least one conversation with a chatbot, and 69% were satisfied with their last interaction.
As customer service representatives, AI chatbots use the Natural Language Processing capabilities of large language models to deliver a customer-centric search experience. Implementing AI chatbots into support channels or shopping carts makes customer engagement more effective, improving the online shopping experience.
ChatGPT, Zendesk AI, and Dialogflow are some of the best AI chatbots that provide a full-scale customer support solution for major companies like Stripe, Twitter, and Microsoft.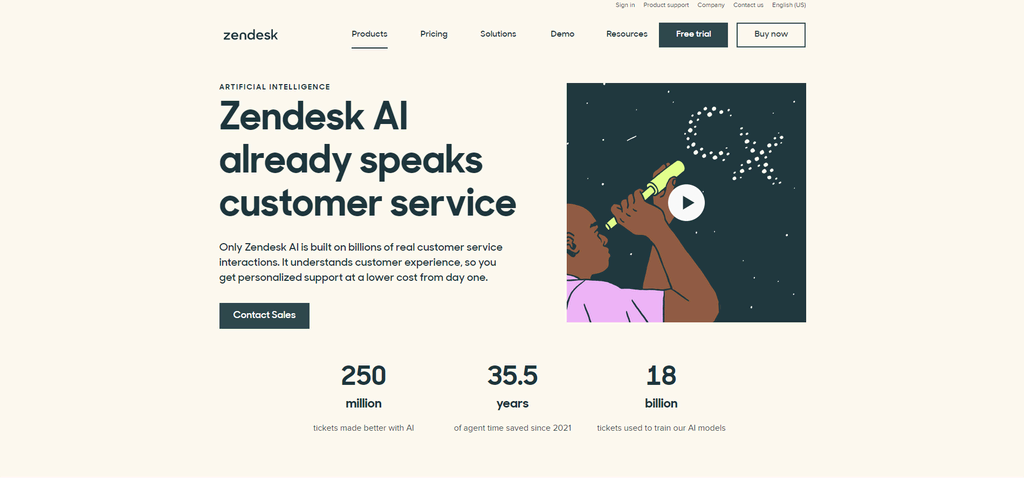 4. Fraud Detection and Prevention
Between 2020 and 2022, global eCommerce payment fraud losses were estimated at around $41 billion. Some of the most common frauds impacting online retailers are payment fraud, fraudulent purchases, and identity theft.
Integrating AI models into fraud prevention measures allows real-time monitoring and pattern analysis. With machine learning, eCommerce companies can scan real-time online sales for suspicious customer behavior and purchase history.
Reducing the risk of fraud saves your eCommerce business money and gains customer trust for your brand.
5. Target Potential Customers
Predictive analytics is another sub-area of artificial intelligence. It finds patterns in data to make predictions. Combined with customer behavior analysis, eCommerce businesses can leverage this tool to anticipate market trends and improve their targeted marketing campaigns.
Besides helping with customer acquisition, predictive analytics also benefits your remarketing efforts. You can target online shoppers who have visited your eCommerce site with personalized ads to influence their decision-making process. It's also effective in reducing cart abandonment rates.
6. Customer Data Analysis and Management
Another use of predictive analytics is customer segmentation. It makes customer data analysis more reliable, allowing eCommerce businesses to identify potential sub-segments based on personality types.
The insights are useful for improving the online shopping experience, customer trust, and targeted marketing efforts. You can run A/B testing on each target group to identify the most effective marketing campaigns, saving time and money in the long run.
These practices are only possible with effective data management. Machine learning helps deliver a quality data management solution by automating data entry, update, cleansing, and organization on a large scale. Without quality data, you can't make sound business decisions.
7. Review Filtering
93% of online shoppers read online reviews before purchasing.
Unfortunately, this makes review bombing effective in destroying eCommerce businesses' reputations. This phenomenon happens when a disappointed customer encourages their community to leave fake reviews to tank a business' ratings.
Integrating an AI-powered review filtering system into your eCommerce store can prevent review bombing. Machine learning models can flag false reviews, identify suspicious patterns, and detect hashtags instigating review bombing.
This way, businesses can ensure the authenticity of reviews displayed on their eCommerce stores.
8. Product Descriptions
As your eCommerce store grows, you must create and update product descriptions to ensure their relevance with online shoppers. Artificial intelligence and Natural Language Processing can streamline the copy production process in a few clicks.
With AI-powered writing tools, eCommerce retailers can create unique, plagiarism-free copy that resonates with their target market.
Today's best AI SEO tools, like Frase.io and Outranking, come with writing tools, a keyword ranking tracker, and a content idea generator. These features save you time and resources and improve your SEO efforts.
Similarly, Hostinger Website Builder offers AI Writer as one of its built-in tools. It can generate a short copy based on the selected topic, category, and language in one click.
This tool is useful for creating quick yet unique product descriptions for your store or brainstorming ideas. We'll cover this website builder more in a later section.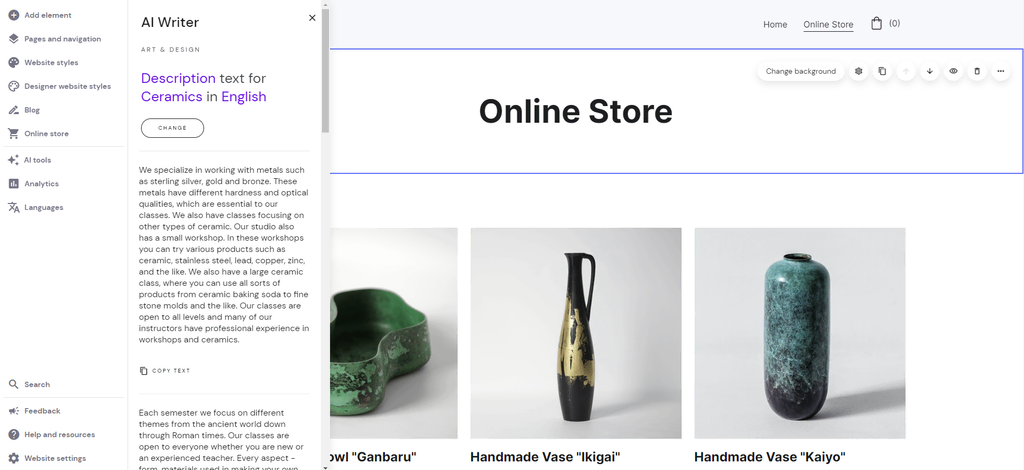 9. Email Responses
Besides generating product descriptions, AI writing tools are useful for drafting emails. Flowrite and Rytr are two AI-powered tools that leverage Natural Language Processing specifically for email writing.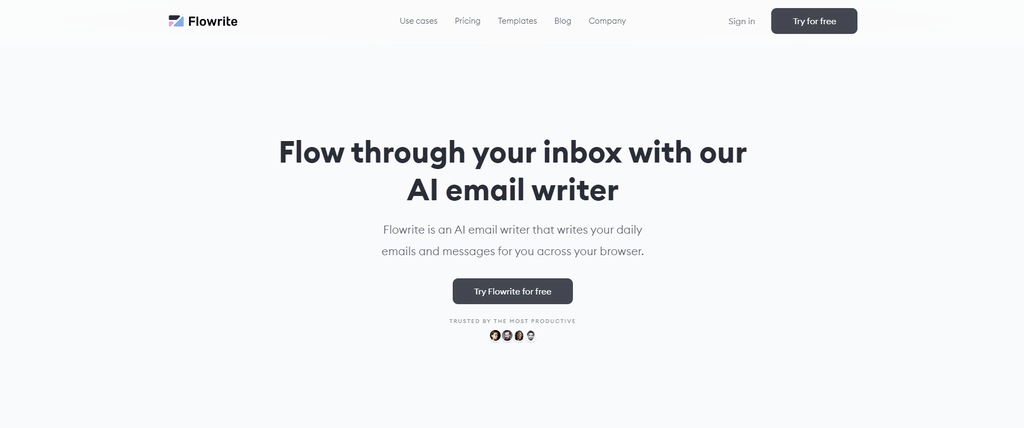 Instead of writing from scratch, simply pick a topic and tweak the suggested copy as preferred. You can also ask the AI email writer to draft a reply email in the appropriate tone.
Many AI email writers have an SEO feature and inbox integration to support email marketing campaigns. Email marketers can streamline their work using this AI tool and maintain consistency in their marketing efforts.


10. Social Media Posts and Updates
Like email marketing, social media marketing requires significant time and energy. Social media AI tools make maintaining a consistent posting schedule across multiple platforms easier, encouraging user engagement and conversion opportunities.
FeedHive and Buffer are social media management AI tools for content production, repurposing, and posting automation. Meanwhile, tools like Lately and Emplifi generate analytics to determine the best time to post for maximum engagement.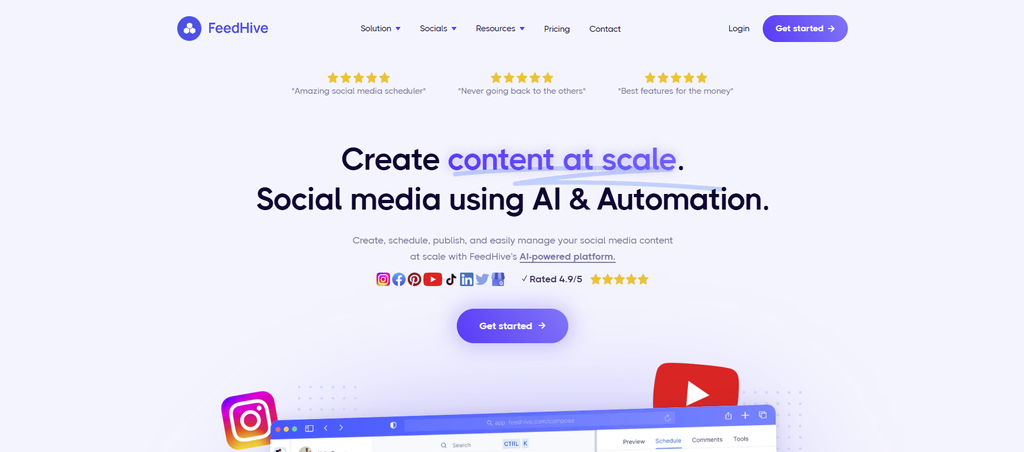 11. Voice Search
Amazon Alexa and Apple Siri are examples of virtual assistants with voice recognition. This branch of artificial intelligence lets smart speaker devices execute tasks on speech commands, eliminating the need for typing.
Voice search has become more common as the global sales of smart speakers keep increasing over the years.
Voice search AI helps eCommerce stores deliver a personalized online shopping experience and faster service. It also helps increase sales and build better relationships with each online user by making shopping more convenient.
If you're an online retailer looking to profit from this trend, we recommend optimizing your website for voice search. Doing so increases its chances of appearing in voice search results for smart speaker users.
Examples of AI in eCommerce
Let's look at how different eCommerce platforms leverage artificial intelligence for their benefit.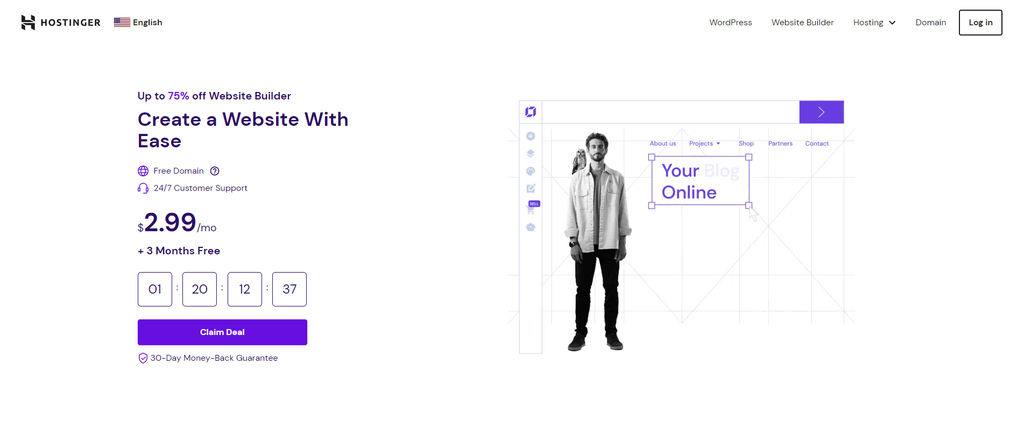 Hostinger's AI-powered website builder removes the barrier to entry for business owners who don't know how to create an eCommerce site.
With AI website creator, you can input a query and generate a template in minutes. The drag-and-drop editor lets you modify the template to fit your needs, making it one of the best eCommerce AI website builders. Leverage the built-in AI tools to populate the site with attractive copy, design your brand logo, and predict customer behavior.
The Hostinger Website Builder plan includes a hosting plan, domain name, email account, and eCommerce features ‒ the essentials to start an online store. While Hostinger Website Builder doesn't offer a free plan, you can test its features with the demo version.
Pro Tip
Hostinger users can access this website builder regardless of their hosting plan. We recommend Premium Web Hosting for beginner retailers, which costs ₹649/month.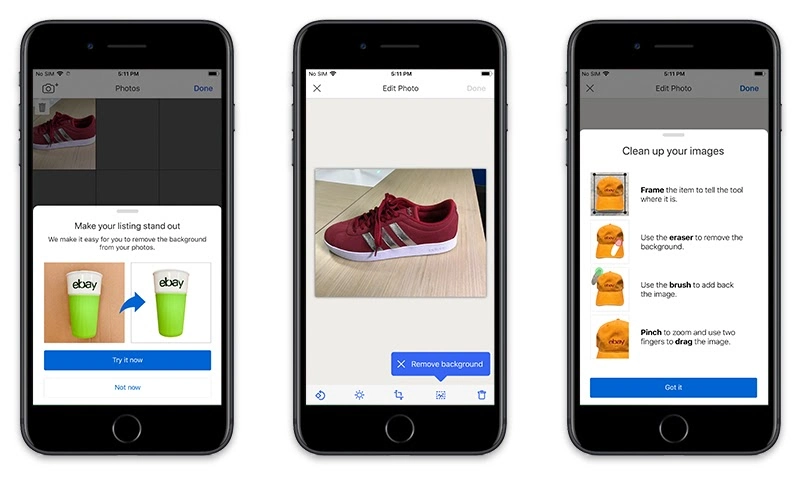 In 2020, eBay launched an image-processing feature powered by artificial intelligence. It applies Conditional Random Fields (CRF) to separate an image's foreground from the background and clean the latter.
Image Clean-Up helps eCommerce retailers improve their listings' visuals without a third-party image editor or a professional camera. With a few clicks, sellers can remove the background elements of an image, creating a cleaner look that appeals to potential buyers.
By helping retailers attract more buyers, eBay generates more revenue in selling fees.

Originally used to control home automation systems, Amazon Alexa later expanded to eCommerce as a voice shopping medium. Like most voice assistants today, Alexa creates a more efficient sales process for customers of its flagship company.
Alexa can create lists, shop, and complete transactions using machine learning and Natural Language Processing. It can also recommend products and brands based on past purchases, making reordering easier.
In 2022, Amazon launched Alexa Shopping List for iOS and Android. This new app lets users experience AI shopping when they're not at home. This feature makes Amazon more convenient to use, creating opportunities for more sales.

In 2016, Lowe introduced LoweBot, an autonomous retail robot that tackles basic store tasks and helps customers navigate the store.
Customers looking for a specific product can input their questions via the touchscreen front, and the robot will give directions or accompany them to the right aisle.
The artificial intelligence robot helps with inventory management by conducting real-time stocktakes. This feature creates a personalized inventory management solution for each store, minimizing stockout risks and predicting consumer demand.

Uber Matching leverages machine learning to match drivers and riders based on geographical factors like traffic.
The matching algorithm conducts batched matching by grouping drivers and riders in the same area instead of pairing them by distance. This way, the wait time is shorter for all parties.
This AI technology can also pair a driver with riders going the same route as their destination, making the trip more time and cost-effective.
It also takes note of each user's ratings and prevents matches where one gave the other a poor rating in the past, ensuring everyone's security during their trip.
Conclusion
Artificial intelligence may not be a new technology, but its rapid development in recent years has gained the attention of various industries. eCommerce is only one of them.
In this article, you learned how artificial intelligence benefits the retail industry. We also explored different AI initiatives by major companies to better understand how the technology works in various use cases.
We hope our coverage helped you see the potential of AI for growing your business. Although applying AI to business workflows is challenging, its benefits make it worth looking into.
AI in eCommerce FAQ
This section will answer some of the most frequently asked questions about artificial intelligence's role in eCommerce.
What Impact Is AI Having on eCommerce?
AI makes the retail industry more accessible. Sellers who want to digitize their store can search for tutorials on how to create a website with AI instead of hiring a web developer. The technology also streamlines various tasks with automation and generates insights for decision-making. All of this helps to improve store operations and reduce business costs.
What Is the Size of the AI Market in eCommerce?
The size of the global AI market in eCommerce is valued at $8.24 billion in 2023. Statista predicts its growth will reach $31.18 billion by 2028. Furthermore, the percentage of businesses using artificial intelligence or exploring it for future implementation has steadily increased since 2020. It's safe to conclude that we'll see further developments and implementations of AI in eCommerce for years.
How Does AI Improve the Shopping Experience?
With AI, eCommerce stores can provide a personalized shopping experience more accurately. For instance, customers will only see product recommendations and ads that fit their preferences. The customer-centric search makes finding items and understanding user queries easier. It increases the efficiency of support and the overall customer experience.