Top 10 WordPress Slider Plugins For 2024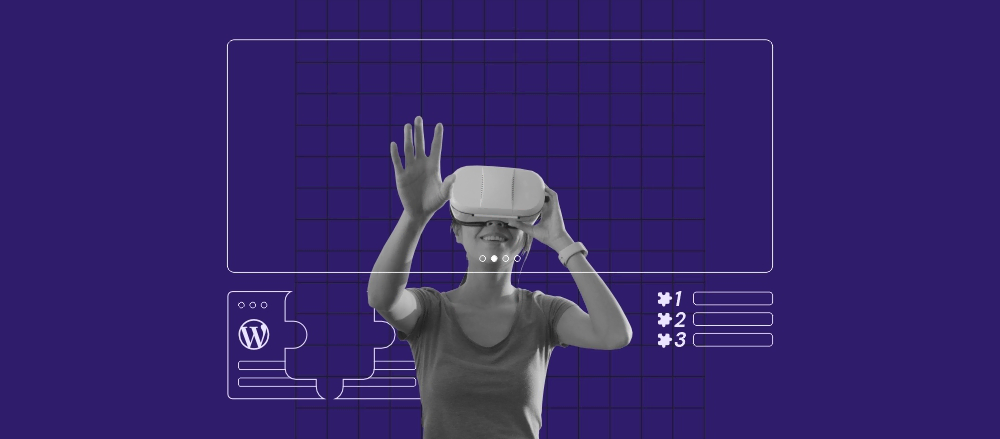 A WordPress slider displays images or videos on your website in a slideshow, changing automatically or upon user interaction. It helps make your website design more compelling, improving user experience.
WordPress slider plugins provide an ample amount of helpful features and a custom graphical user interface, allowing you to create a slider for your website easily. However, choosing one can be difficult due to the numerous options available.
To help you decide, this WordPress tutorial will explore the 10 best slider plugins with different features, ease of use, and pricing. We will also provide several aspects to consider when choosing one for your website.

What Is a WordPress Slider?
A WordPress slider is a slideshow of images or videos on a website, which changes after a specific duration or when a visitor clicks on the slides. It makes your website more visually appealing and helps improve overall user experience. A plugin lets you easily create one and modify its appearance by adding various elements, such as buttons or effects.
Top 10 WordPress Slider Plugins
While free WordPress slider plugins are available, they often have minimal features and customization options. To ensure our recommendations are suitable for a wide range of users, we will asses them based on these factors:
Ease of use – slider plugins should be simple to use no matter the user, including beginners unfamiliar with website development.
Customizability – flexibility to edit images, videos, colors, and text.
Design options – a sizeable number of pre-made templates, themes, animations, and effects.
Responsiveness – the ability to display a slider correctly on different devices, such as mobile phones, tablets, and desktops.
Pricing – a plugin should offer the best value for money, providing various features at a low price.
Here is a quick table showcasing the best WordPress plugins for creating sliders alongside their unique features, prices, and ratings:
| | | | |
| --- | --- | --- | --- |
| Plugin | Unique Features | Pricing | Overall Rating |
| Smart Slider 3 | Drag-and-drop editor, WebP image compression, custom breakpoints | $49/license, free version available | 4.9/5 |
| MetaSlider | Built-in SEO features, theme editor, smart cropping | $39.50/year, free version available | 4.6/5 |
| Soliloquy | PDF sliders, image protection, Default Settings slider template | $17/year, free version available | 4.7/5 |
| WordPress Carousel | Slide scheduler, mixed content slider, slide import/export | $35/year, free version available | 4.7/5 |
| Master Slider | Slider heatmap, HTML layer, WYSIWYG editor | $34/license, free version available | 4.6/5 |
| Depicter Slider | Comprehensive asset library, AI wizard tool, built-in image editor | $29/year, free version available | 4.8/5 |
| PickPlugins Product Slider | Customizable ribbons, auto-hide out-of-stock items, product filters | $19/year, free version available | 4.6/5 |
| Royal Slider | Lazy-loading images, automatic caching, DOM memory optimization | $24/license | 4.6/5 |
| Ultimate Responsive Image Slider | Bulk image upload, automatic resizing, custom slider distance | $35/website, free version available | 4.5/5 |
| WP Responsive Recent Post Slider | Code-based editor, custom post type support, template hooks | $99/year, free version available | 4.7/5 |
Pro Tip
Before installing a WordPress plugin, consider when it received its last update and read user reviews to avoid potential security risks. Moreover, avoid installing too many extensions, which may present other security vulnerabilities.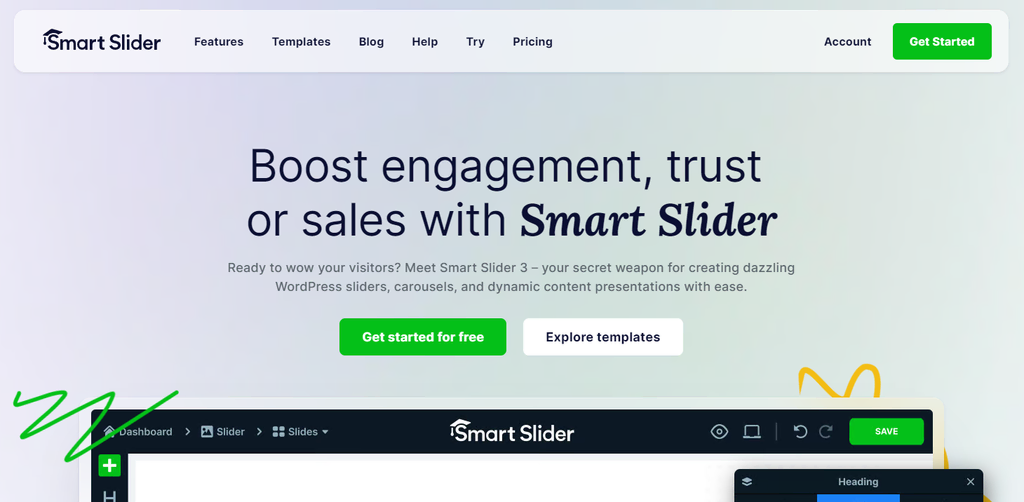 Rating: 4.9/5
Best for: all users with various WordPress site types
Price: freemium (starts at $49/license)
Smart Slider 3 is a freemium WordPress slider plugin with an intuitive user interface. Its drag-and-drop builder lets you easily add elements to your sliders, which makes designing a website more intuitive.
In addition to creating a custom slider from scratch, you can use 15 free pre-made templates suitable for different websites, from marketplaces to travel blogs.
Smart Slider 3 supports the WebP format, which provides superior image compression without sacrificing quality. Even with high-resolution image sliders, your WordPress website will remain responsive.
It lets you set custom CSS breakpoints, making Smart Slider 3 one of the most customizable and best responsive slider plugins. This feature ensures your slider remains visible and usable on mobile devices with smaller screen sizes.
Moreover, this plugin is compatible with several WordPress page builder plugins, such as Divi and Beaver Builder. Starting at $49/license for a single website, the premium version offers over 120 templates and 70 animation effects.
Despite its intuitive visual interface, Smart Slider 3 has a plethora of toolbar options, making it difficult to learn, especially for WordPress beginners.
[DOWNLOAD]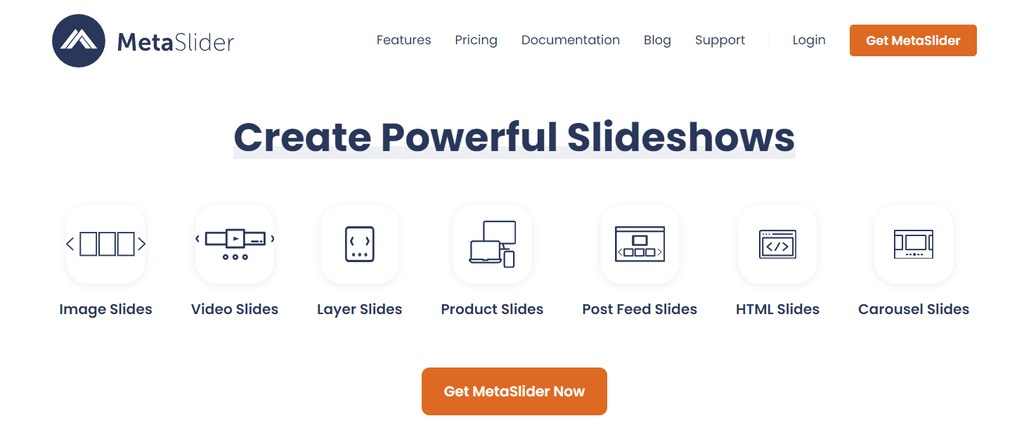 Rating: 4.6/5
Best for: eCommerce website owners and bloggers
Price: freemium (starts at $39.50/year)
MetaSlider is one of the best WordPress slider plugins for bloggers and online store owners. Its comprehensive library offers various templates with different designs, including carousels and thumbnail sliders. However, they are not pre-built, meaning users must add the elements themselves.
In addition to being responsive, this plugin lets you add alt texts and titles to your slider images. It helps improve search engine optimization (SEO), allowing internet users to discover your website quickly and hassle-free.
MetaSlider lets you add a diverse selection of content types to your slider, including post feeds and WooCommerce products. It also integrates with external sources, allowing you to display images from Unsplash and videos from YouTube. Display the slider by using a template tag, WordPress block, or shortcode.
Starting at $39.50/year, MetaSlider's premium version offers additional features, including thumbnail navigation and over 10 professional themes. You can also change the plugin's settings to make it compatible with unsupported themes.
This version also includes a Theme Editor feature that lets you create custom WordPress themes and preview them live. It also has an intelligent cropping feature to ensure consistent image dimensions.
MetaSlider's free version only offers essential customizability, lacking features like layer slider and video support. However, it provides a simple editor interface suitable for new WordPress users.
[DOWNLOAD]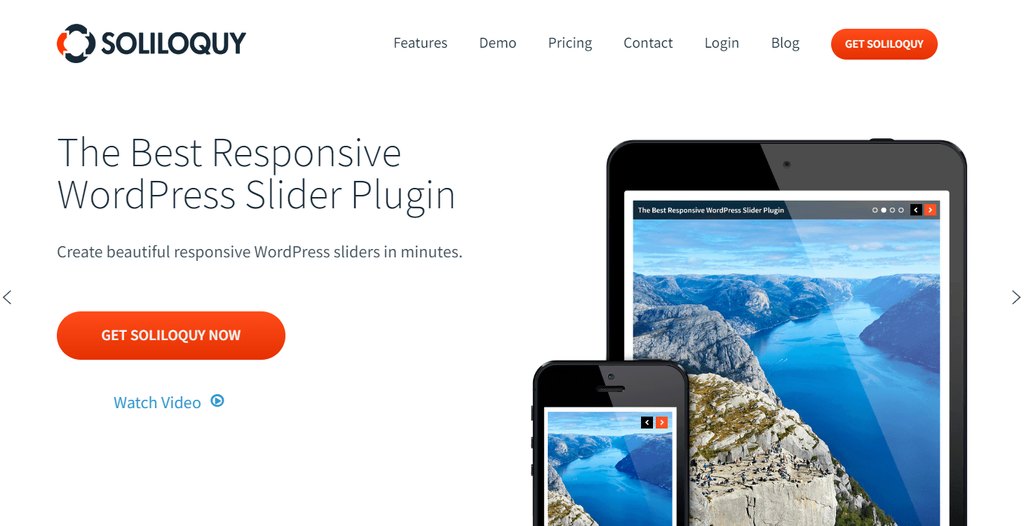 Rating: 4.7/5
Best for: beginners with small-scale sites or blogs
Price: freemium (starts at $17/year)
Soliloquy features an intuitive drag-and-drop editor and offers various add-ons to expand the slider's functionality. For example, these extensions let you add CSS styling codes, set up lightboxes, and create sliders for PDF files.
To create a slider, select images from the WordPress Media Library, rearrange them, and make any necessary changes using built-in editing tools. To add it to your page, use a shortcode, template tag, or widget.
Soliloquy offers a Default Settings feature that lets you save slider customization and configuration for future use. It makes the creation process quicker as you don't need to start from scratch.
Furthermore, this WordPress slider plugin's image protection feature lets you turn off the right-click menu on your slider, preventing visitors from downloading copyrighted assets. This feature makes the plugin ideal for building a portfolio website to showcase your work.
Soliloquy's free version provides limited options for building dynamic sliders. Starting at $17/year, its premium plan integrates with other popular platforms, such as Instagram, Pinterest, and WooCommerce.
While sufficient for simple websites, the starting plan only includes unlimited slider support and custom CSS integration. You must purchase the Developer plan for $99.50/year to get the complete features, integrations, and add-ons package.
[DOWNLOAD]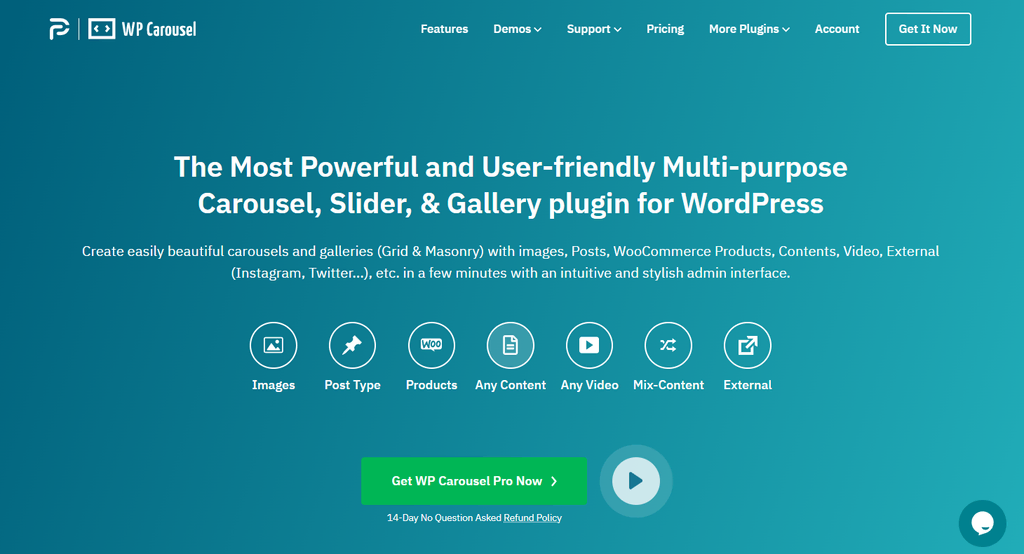 Rating: 4.7/5
Best for: users wanting sliders with different layout options and content
Price: freemium (starts at $39/year or $139/license)
The WordPress Carousel plugin lets you make sliders with different layouts and content. You can create a slideshow of images, posts, WooCommerce products, texts, videos, and external content. Moreover, you can mix multiple content types into a single slider.
This plugin lets you arrange your content in a slider, carousel, tile, grid, masonry, or justified format. It also offers distinct templates that are customizable using the drag-and-drop interface.
Moreover, users can use various WordPress hooks and filters to further customize the sliders' functionality. This plugin supports popular WordPress page builders, themes, and third-party platforms like RSS feeds.
This versatile WordPress plugin has a slider scheduler, which lets you set how long it will display on your website before it automatically disappears. This feature is suitable for displaying time-sensitive content such as events or promotions.
The plugin's free version is equipped to create a basic slider but lacks essential features found in other plugins on this list. The premium version costs $39/year or $139/license, both limited to a single website.
[DOWNLOAD]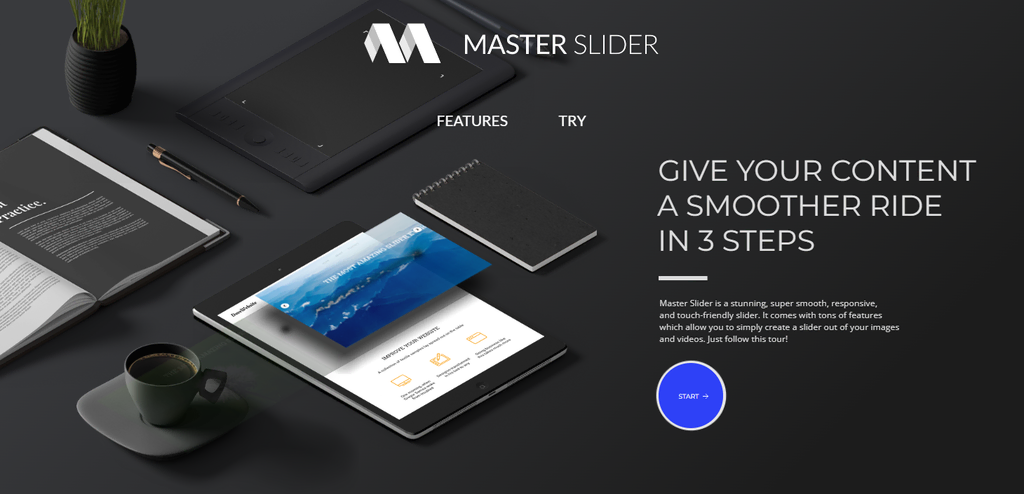 Rating: 4.6/5
Best for: online businesses and web agencies
Price: freemium (starts at $34/license)
Master Slider is an excellent WordPress slider plugin for users wanting a professional image and video slider for their business websites. Its WYSIWYG builder lets you easily create responsive sliders thanks to various transition effects and animations.
This plugin allows online business owners to add hotspots to their WordPress sliders. It will let visitors see product descriptions on mouse hover, creating an engaging user experience that helps improve the website's conversion rate.
You can also integrate Master Slider with WooCommerce to display products in an engaging way. Moreover, it lets you create a custom post slider and use content from external sources like Vimeo.
In addition, Master Slider supports an HTML layer slider, offering unique slider skins, and is further customizable using CSS. It is also compatible with Google Fonts and HTML semantic markups.
The free plan offers minimal features and only eight pre-made customizable sliders. Its image slider settings are rather straightforward, allowing you to add elements like bullets, arrows, and scrollbars.
The premium version's regular license is $34 for a one-time purchase. It includes additional interactive transition effects, over 90 pre-made sliders, and extra mouseover hotspots.
[DOWNLOAD]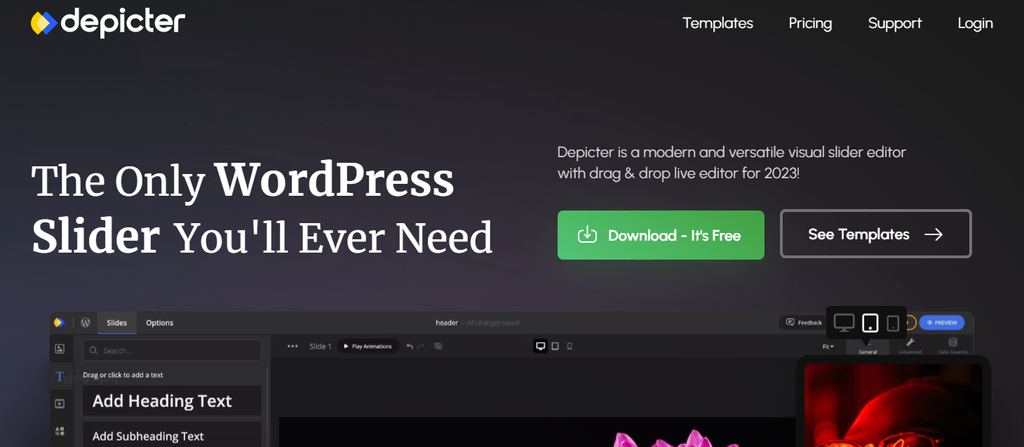 Rating: 4.8/5
Best for: users looking for comprehensive templates and assets
Price: freemium (starts at $29/year)
Depicter Slider is one of the best WordPress slider plugins for users looking for a comprehensive asset library, providing millions of images and hundreds of pre-built slider templates. It also offers other elements like vectors and mockups.
The plugin brings a modern, intuitive user interface and a drag-and-drop visual builder. Despite its simplicity, the plugin offers comprehensive customization options. For example, it has an image editor that lets you responsively crop photos and apply filters.
In addition to providing responsive slider layouts, this plugin supports touch-swipe navigation to improve usability on mobile devices. Moreover, it is compatible with various themes, page builders, and other WordPress plugins.
Depicter Slider's distinguishing feature is its AI wizard tool, which lets users create a ready-to-use slider thanks to a few simple steps. They only need to describe their website, add keywords, select suggested images, and apply the preferred color palette.
The free plan offers limited features and assets sufficient for creating a basic slider in a simple website. The premium version starts at $29/year for a single website and includes additional animation effects, layouts, and application integrations.
However, Depicter Slider can be difficult to learn due to various advanced features and customization options. Moreover, this plugin may be incompatible with other new software since it doesn't update often compared to other WordPress slider plugins on this list.
[DOWNLOAD]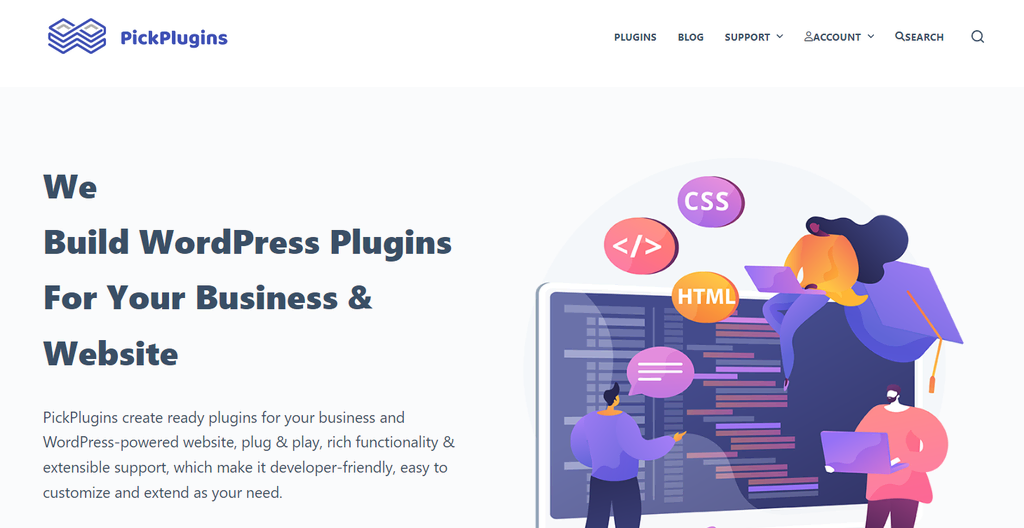 Rating: 4.4/5
Best for: WooCommerce-based eCommerce website owners
Price: freemium (starts at $19/year)
When creating an eCommerce website, use PickPlugins Product Slider to make it more compelling. This slider plugin lets you create unlimited WooCommerce product sliders and display them anywhere on a page using shortcodes, enticing visitors to convert.
In addition, this plugin provides various other features for highlighting and managing your products. For example, checking the Hide out-of-stock products for sliders option will help you keep track of your product stocks.
Choose products to display on the slider, like top-selling or on-sale, based on their categories. To make your slider more compelling, choose from 20 customizable ribbons, create a custom layout, and add elements like stock quantities or statuses.
To get these features, users must purchase the premium version for a single website at $19/year or $69.00/license. While simple to learn, PickPlugins Product Slider's interface is less intuitive than other slider plugins on this list.
[DOWNLOAD]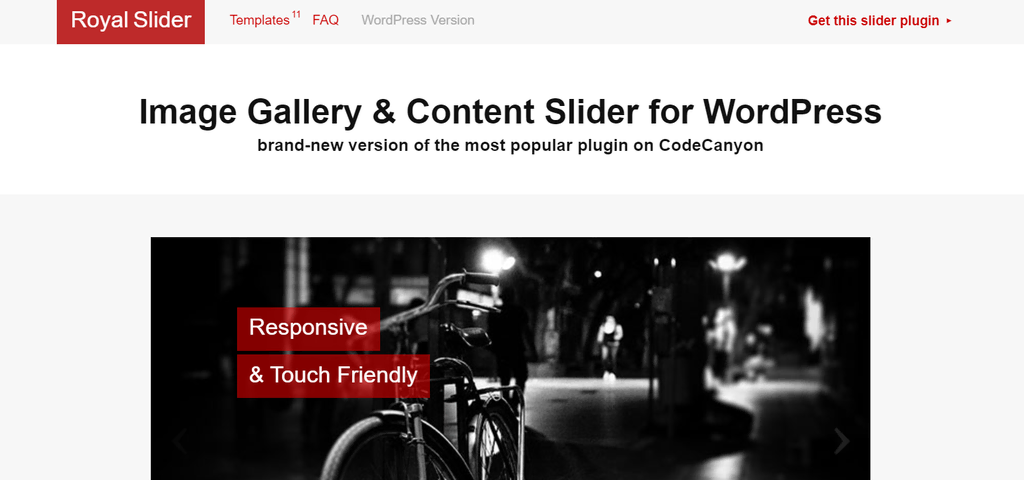 Rating: 4.6/5
Best for: businesses with complex and large-scale websites
Price: $24/license
Royal Slider is an excellent speed-optimized, lightweight plugin. It utilizes an intelligent WordPress lazy-loading method that only processes images in the visitors' viewport to reduce bandwidth and resource consumption, improving page load speed.
This slider plugin ensures all lazy-loading images are indexable for optimal WordPress SEO. Moreover, it removes unused slides from the document object model (DOM) to optimize memory consumption for a quicker page load speed.
This plugin automatically caches all sliders to speed up WordPress page loading time. In addition, it lets you create mobile-responsive sliders with various navigation methods, including hand gestures and keyboard inputs, to ensure usability across different devices.
The plugin supports images and video sliders from third-party sources like Instagram, Flickr, and YouTube. It also offers bulk image upload and live preview features, making the slider creation process more streamlined.
This premium WordPress slider plugin costs $24/license with an optional 12-month support add-on costing $7.13 for a one-time purchase. In addition to the lack of a free version, this premium plugin suffers from limited templates and animation effects.
[PREVIEW]

Rating: 4.5/5
Best for: users wanting only to display image sliders
Price: freemium (starts at $35)
Ultimate Responsive Image Slider is an excellent plugin for creating an image slider for WordPress sites. It lets you upload multiple images in bulk and reposition them by dragging and dropping the elements.
This plugin lets you use shortcodes to embed multiple sliders on a web page, each containing up to an unlimited number of images. It also provides a simple admin dashboard alongside various customization options.
For example, you can tweak the slide's title, description, navigation elements, thumbnails, font style, and color. Moreover, Ultimate Responsive Image Slider lets you automatically resize the slide according to the image's height or your custom dimension preset.
In addition, you can select a sequence to reorder images easily and set custom spacing between sliders to ensure your web page looks like a proportional site. Creating a new slide is also simple since you can duplicate an existing one's content and settings.
While excellent for images, this freemium plugin doesn't support other content like videos, WordPress posts, or products. Its paid version is also more expensive than other premium slider plugins with more features, costing $35/website or $149 for an unlimited number of licenses.
[DOWNLOAD]

Rating: 4.7/5
Best for: bloggers and news website owners
Price: freemium (starts at $99/year)
The WP Responsive Recent Post Slider plugin lets you create a carousel slider displaying your website's posts. You can choose specific posts or pages based on different criteria, such as categories, types, or dates.
This plugin is compatible with the default WordPress Gutenberg and popular page builder plugins like Elementor. Users can add the slider anywhere on a web page using a shortcode.
In addition, users must edit the shortcode to customize the slider's design and settings. The lack of a graphical visual editor makes WP Responsive Recent Post Slider somewhat challenging to use.
This plugin has template files containing various hooks. By triggering them within your theme file, you can move or add website content while preserving your customization options after an update.
This plugin's free version only offers four slider designs and a single carousel template. The premium version is available as a bundle with 35 other plugins, starting at $99/year. The paid plan offers additional designs, code customization, and page builder integration.
[DOWNLOAD]
Features to Consider for Choosing a WordPress Slider Plugin
This section will list several factors to consider when choosing a WordPress slider plugin to ensure it fits your WordPress website requirements.
Content You Want to Add
Depending on your website, the type of content you want to add to the sliders differs. For example, an online store can display a product slideshow, while a blog can have a recent post carousel.
Not all slider plugins support the same content. While most of them let you add images, they may be incompatible with other elements. Check the plugin's feature list to ensure it supports your preferred content type.
Also, check whether the plugin lets you display specific posts and products based on their tags, like the Most Purchased or Newest.
In addition, consider the plugin's compatibility with content from external sources, like social media platforms. Aside from letting you reuse existing assets, this integration lets you display user testimonials for social proof.
Compatibility With Your Theme
Your chosen plugin must support the active theme to avoid code conflicts, ensuring your sliders display and work correctly on your WordPress site. A list of compatible software is usually available on its WordPress page or website.
If yours is missing from the list, check with the plugin developers whether your theme is compatible. You can do so via the WordPress support forum or by contacting the developer.
Another method is to try the free or trial version to check if all features work correctly. However, always test the plugin in the development environment since incompatibility issues may break your live site. Hostinger WordPress hosting users can also do so using the provided staging tool.

Active Support and Updates
A plugin with active support and updates receives regular performance enhancements that help improve web page load speed. In addition, it often gets new features, tools, customization options, and integration support.
In addition, plugin updates usually patch bugs and security flaws that hackers may exploit to attack your website. Moreover, they address incompatibility issues with the latest version of WordPress, themes, or other plugins.
Check the latest release on the plugin's website or WordPress page. We recommend avoiding the ones that haven't received an update in the last 90 days or more.
Hostinger offers a custom-made vulnerability scanner to ensure optimal security that warns users of potentially compromised plugins.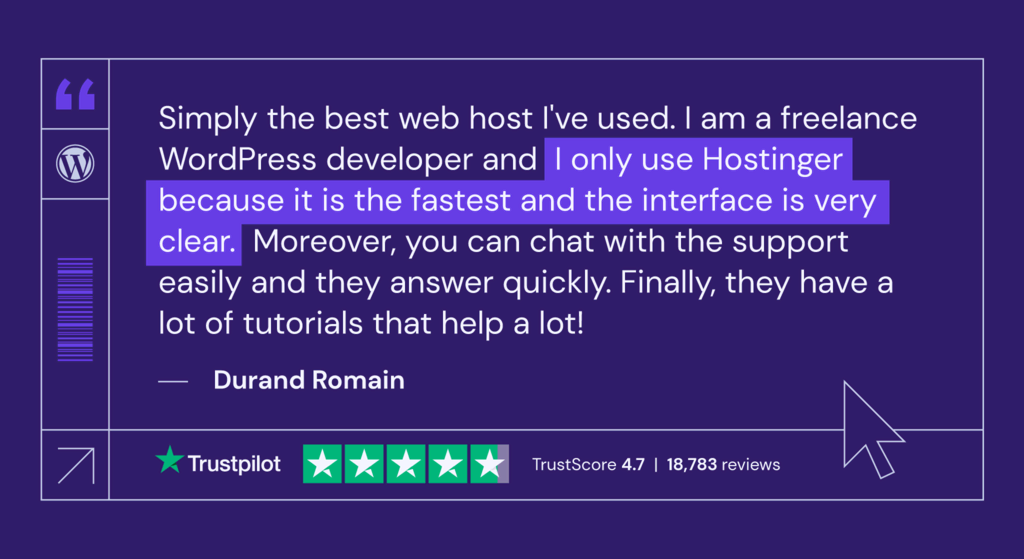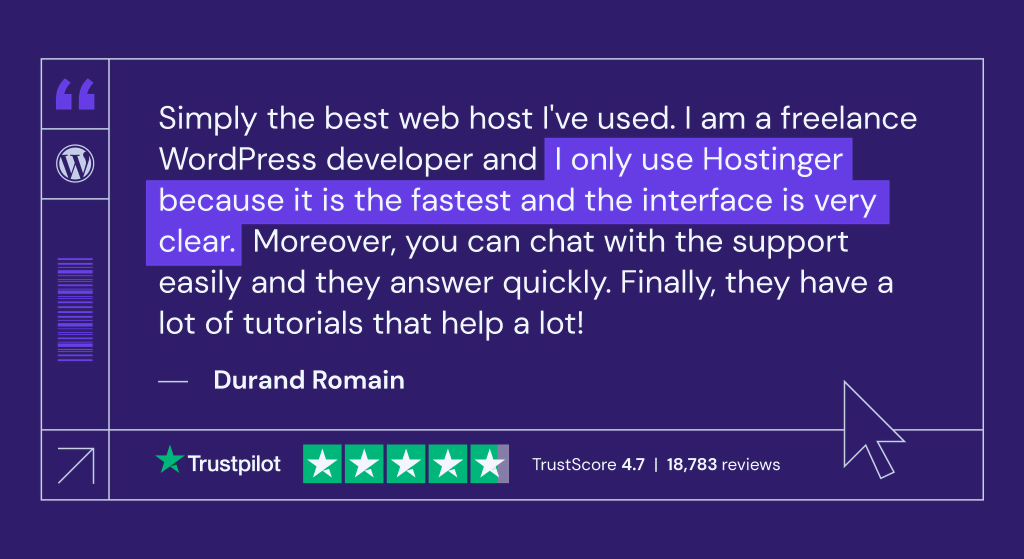 Conclusion
A WordPress slider features a slideshow of content like images, posts, products, and videos. It makes your website more visually appealing and helps improve overall user experience.
The easiest way to create one is by using a WordPress plugin, but choosing one can be difficult due to the many different options out there. To help you make an informed decision, we have compiled the 10 best WordPress slider plugins. Here are our five best picks:
Smart Slider 3. Best overall for all users and websites. It offers pre-built slider templates from various categories, a drag-and-drop visual editor, and comprehensive customization options.
MetaSlider. Excellent for business owners and bloggers. In addition to providing SEO features, this plugin lets users create sliders with WooCommerce products and WordPress posts.
Soliloquy. Ideal for beginners looking for the best value for money. It offers a simple interface, plenty of add-ons, and configurable hooks and filters at an affordable price.
WordPress Carousel. Suitable for users wanting to create sliders with different appearances. It supports various slider layouts and six content types, including ones from external sources.
Master Slider. Perfect for businesses or enterprises. This slider plugin offers a hotspot feature that helps improve user engagement and semantic markups for SEO.
To choose the right plugin, ensure it supports the content you want to add. In addition, check whether it is compatible with your theme and other installed plugins since it may break your website's appearance and functionality.
Moreover, the best WordPress slider plugins should have active support and regular updates to prevent potential security risks on your website.
WordPress Slider FAQ
We have answered several frequent questions regarding this topic to help you understand more about WordPress sliders and plugins.
How Do I Add a Slider in WordPress?
The easiest way to add a slider in WordPress is by using a plugin. It offers specific customization options, pre-built templates, and a visual editor to simplify the creation process. Meanwhile, technical users can create a slider by manually writing the HTML, CSS, and JavaScript code.
Are WordPress Slider Plugins Responsive?
Most WordPress slider plugins are responsive, adjusting the content according to users' devices to ensure complete visibility and functionality. However, always check the compatibility since the responsiveness may vary depending on the plugin.
Can I Use Multiple Sliders on a WordPress Page?
Yes. However, ensure each slider has a different CSS ID. Otherwise, it may cause code conflicts that break your website's functionality and appearance. 

Ensure you don't use too many WordPress sliders on a page since it will slow down your website, potentially distracting and annoying your visitors.