Regardless of your knowledge on WordPress, there might be situations where you need some outside help. Luckily, there are plenty of professional WordPress freelancers that you can hire to help you with anything.
In this article, you will learn about the best places to hire a WordPress freelancer.
Why Do You Need WordPress Freelancers?
It is important to manage your website well.
A website with an attractive design and easy navigation will give the best user experience. The more visitors you have, the better your chance to build a great online presence — either as an individual or a business.
Basically, there are three ways to manage a website:
Do it on your own. This means you should dive deep to learn WordPress from many resources because mastering WordPress requires continuous efforts.
Have a dedicated employee. If you're a business owner, appointing a dedicated person to handle anything technical can be a solution too.
Hire a freelancer. This option might help you to do the job without adding headcount.
Each option has its own advantages. But, if you don't want to manage your website yourself and don't want to hire a full-time employee, you can look for freelancers.
Here are the advantages of hiring WordPress freelancers:
Expertise
There are many freelancers that have a specific set of WordPress skills and makes them the experts of a certain niche.
So, if you need special customization for your website, pick the one whose expertise is design and customization.
High Quality of Work
A freelancer has a combination of vast experience and endless motivation. That makes them always try to deliver the best results for each project they work on.
Not only will you benefit their commitment to delivering great results, but you might also get the results quicker.
Flexibility
Freelancers can work out of your office hours. Flexibility is one of the main reasons why people hire freelancers.
Let's say you have problems that you need to fix before Monday. Other than asking your employee to work overtime, you can hire a freelancer to fix the issues over the weekend.
Cost Effective
If you need to work on a short-term project, hiring a freelancer is more cost-effective than recruiting a full-time employee.
Freelancer will not require you to cover their health care or any kinds of insurance. Also, for remote freelancers, there will be no extra cost for providing working spaces.
Knowing those advantages, picking the best-matched for your needs is the key. For instance, if you only need to tweak on something simple, you don't need to hire a very experienced freelancer who sets higher rates.
On the other hand, giving an important project to freelancers without learning their portfolios first is a careless decision.
Best 8 Places to Hire WordPress Freelancers
To save your time, we have picked the best eight places to hire a WordPress freelancer.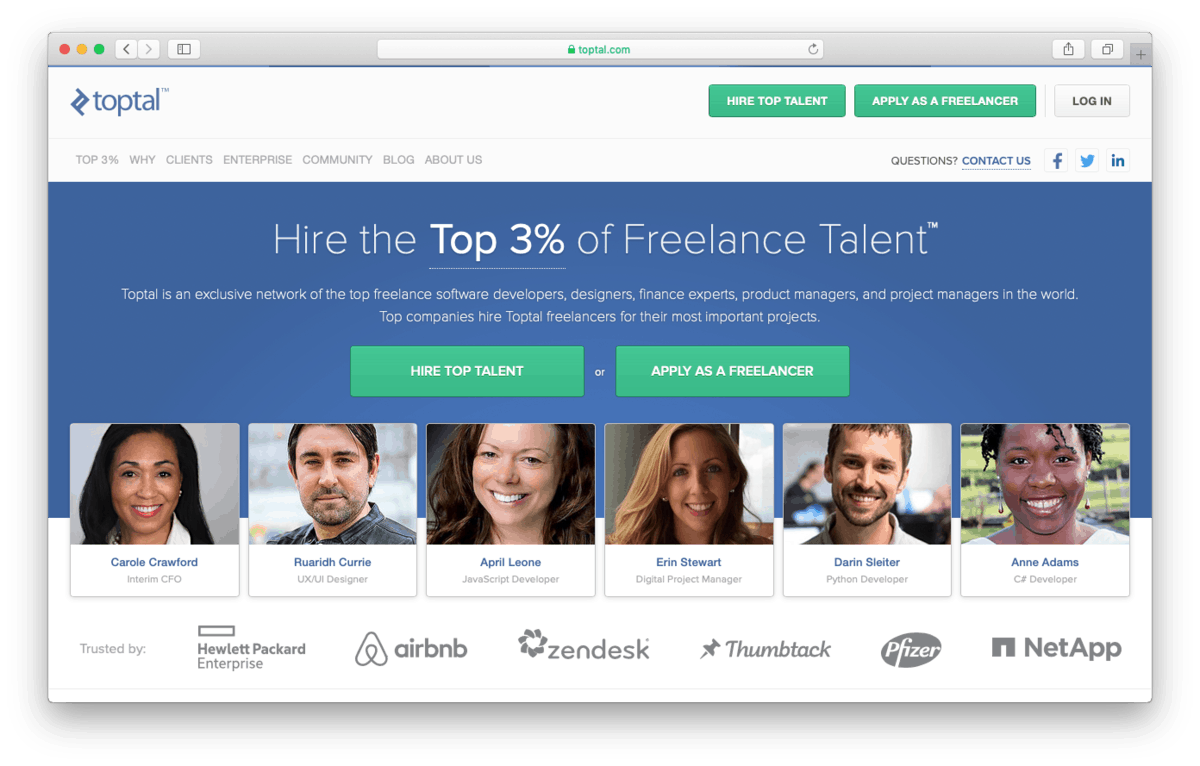 You will find the best freelancers on Toptal. In fact, they hire only the top 3% of freelancers to guarantee the best results. This made them trusted by many big names such as Zendesk, Hewlett Packard, and Shopify.
If you want to hire a WordPress freelancer, Toptal will guide you through certain steps. It will collect information about your project to match it with the talents they have.
You can choose the type of work you want for your freelancer: full time (40 hours/week), part-time or hourly. Their hourly rates for their freelancer are ranging from $60 – $210.
Pros:
Cons: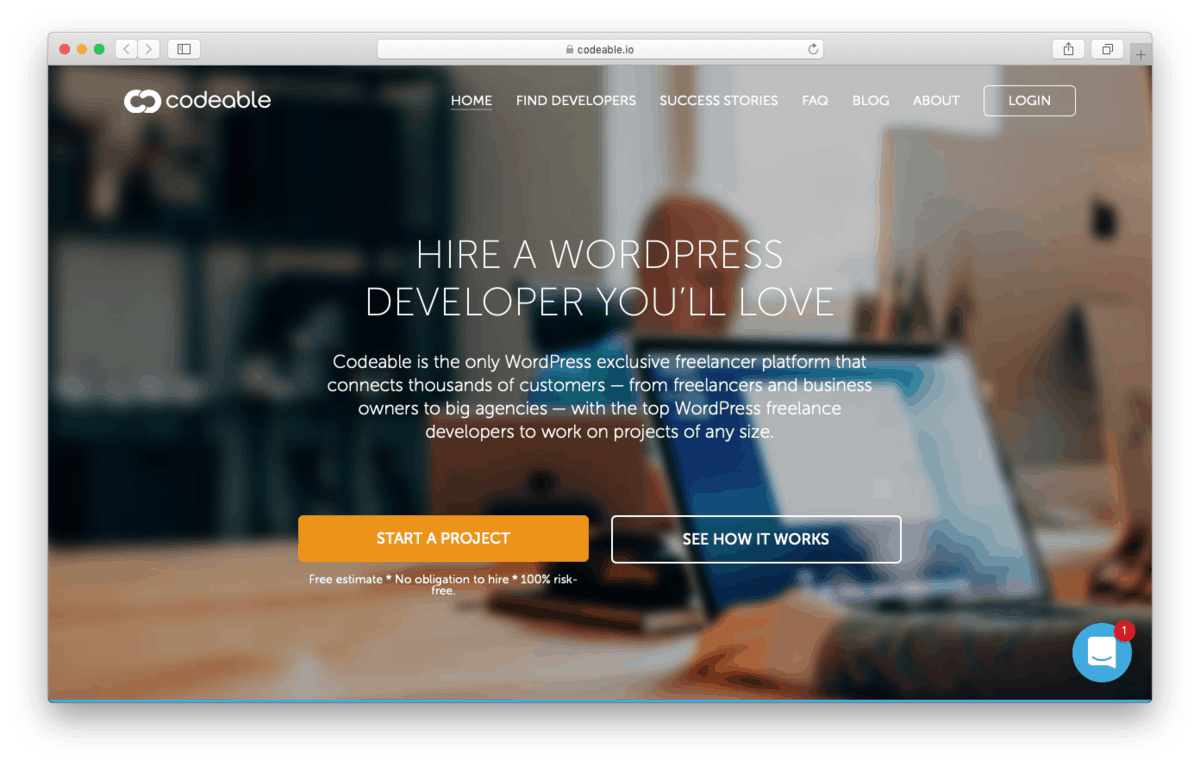 As its name suggest, Codeable is one of the best places to hire a freelance WordPress developer.
They have reliable freelancers and 98% of the projects have 5-star ratings. Also, Codeable lets submit projects based on categories.
The categories are installment, customization, development, and more. If you are unsure which is the best for your project, choose the popular issues with an optional one-hour consultancy that costs $59.
Once selected a category, just fill the details and you are ready to publish your projects. Codeable's hourly rates range from $70 – $120.
Pros:
Supported by premium WordPress developers
Cons:
Similar to Toptal, not the cheapest one on our list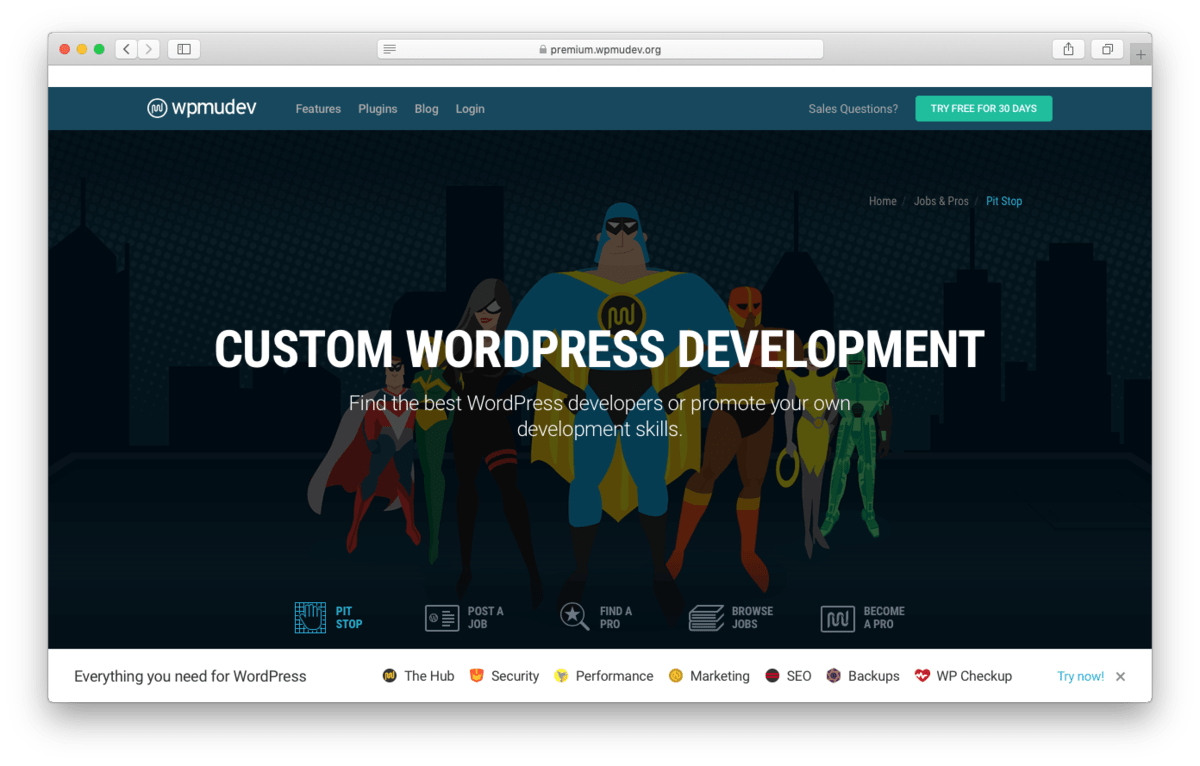 WPMU DEV is a platform that offers more than just freelancing – amongst various other services, they create premium WordPress plugins.
But, you will surely find great WordPress freelancers here.
Basically, they have two options for you to choose: post a job or find a pro. However, before you can do that, you have to become a member to get full access. As of writing, they offer a 30-day trial membership.
Pros:
Informative freelancers' profiles
Cons:
Requires a membership
Bid wars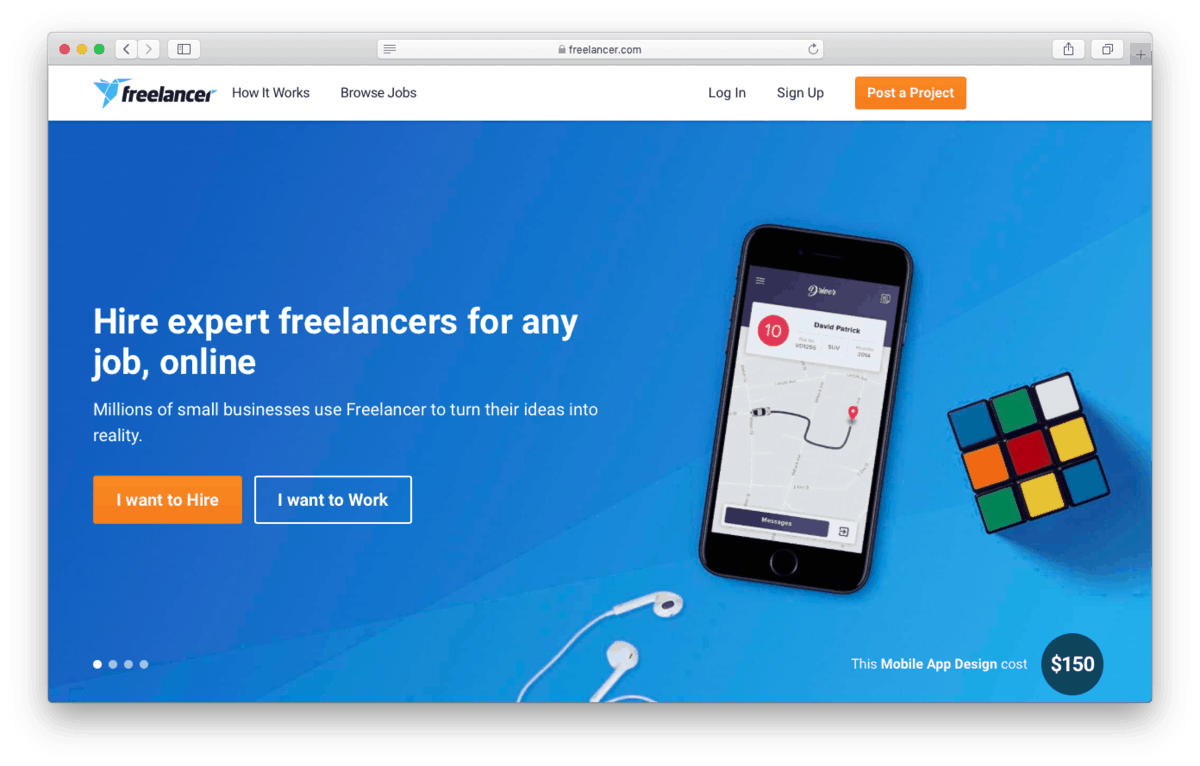 Freelancer is one of the largest platforms for freelancing — with more than 32 million users and 15 million jobs posted.
Almost similar to WPMU DEV, Freelancer has different options to hire a freelancer: either by posting a project or starting a contest.
While you can choose to post a project as the default option, start a contest is perfect for visual design projects — you'll get to select from different samples.
Also, you can pay a bit more to make your project get better visibility with a featured project.
As there are many jobs' types on Freelancers, their rates vary from $90 to $10,000 depending on what your project is and who you're working with: an individual or agency.
Pros:
Millions of successfully finished jobs
Helpful rating system
Cons:
Navigation can be confusing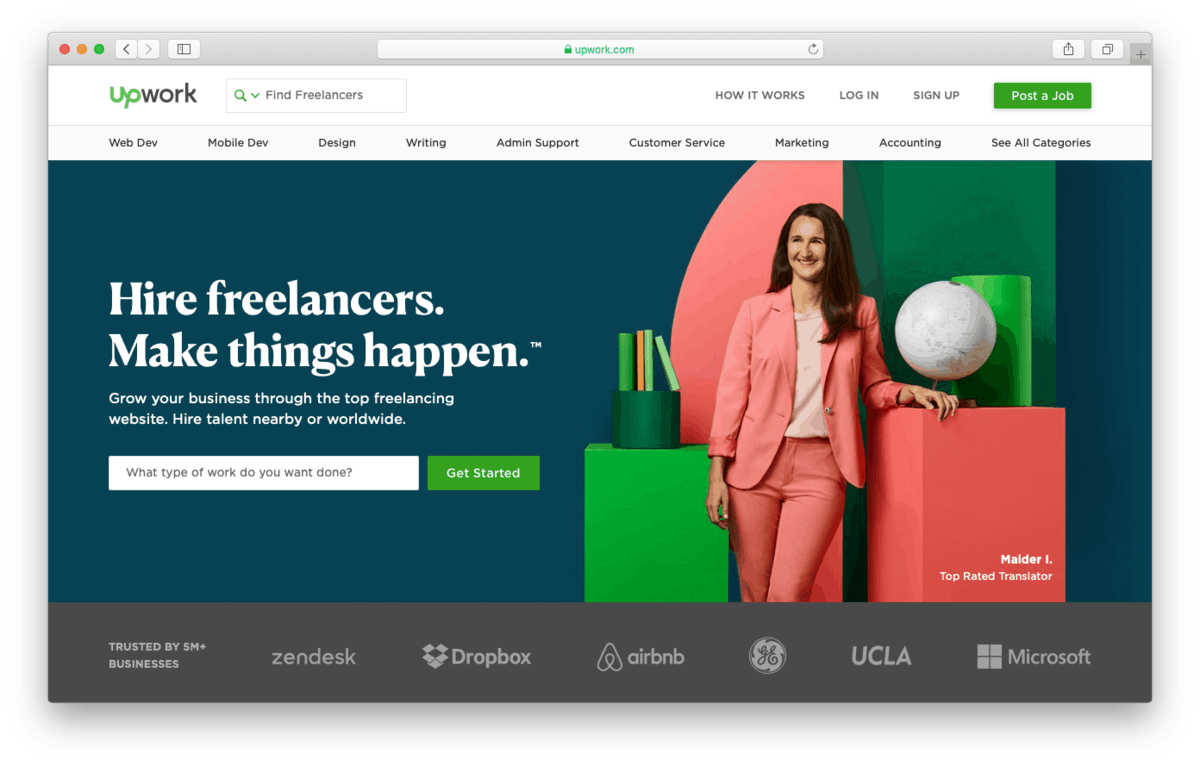 Having the vision to connect business with the best talents in the world, Upwork is one of the best places to hire WordPress freelancers.
Among others, Upwork offers the most complete membership plans depending on your needs: Basic, Plus, Business, and Enterprise. If you don't need a dedicated account manager or any detailed reports, the Basic membership is the best choice.
Furthermore, Upwork helps you to easily pick the right freelancer. They have a thorough profile page that shows freelancers' ratings, expertise, hourly rates, and portfolios.
Depending on the type of work, the hourly rates for developers range from $30 to $150.
Pros:
How-to videos for you to get started
One of the more affordable solutions
Cons:
Unlike with Toptal, you need to choose the best talents yourself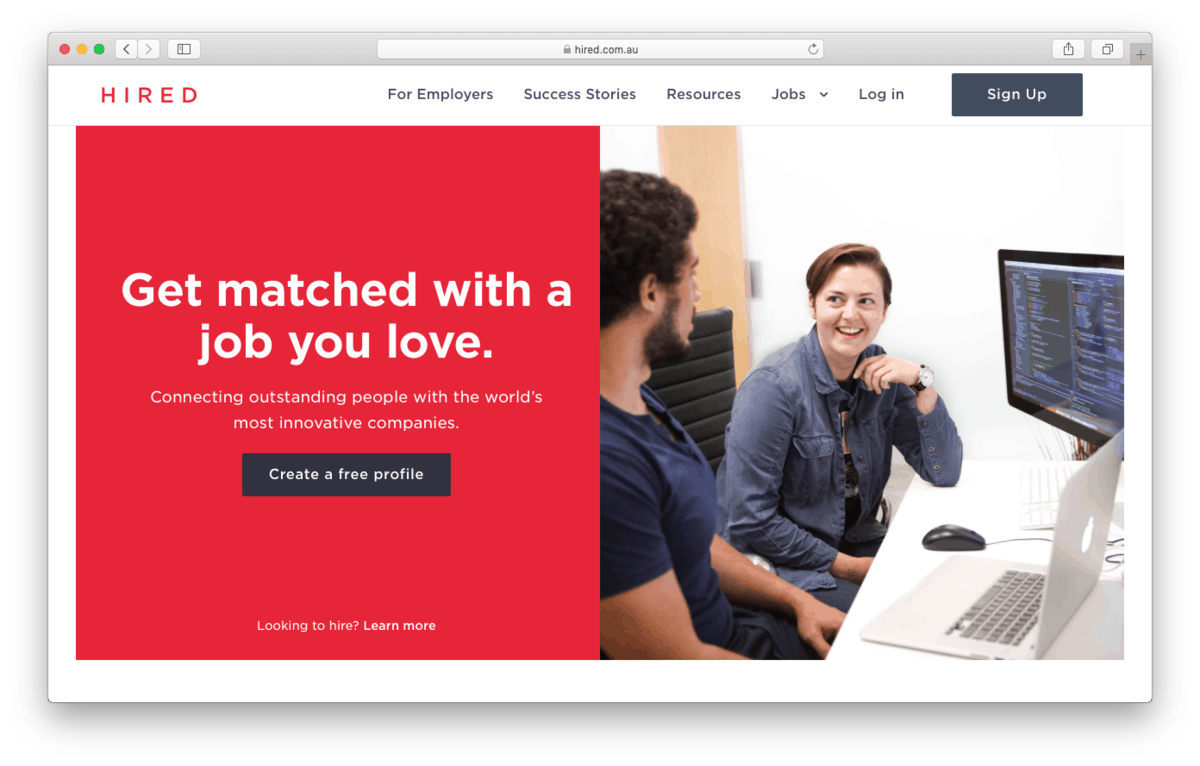 Hired is another great place to hire skillful WordPress freelancers — trusted by big companies like Evernote, Xero, and Zappos.
Offering the best candidates, a faster hiring process and hiring insights, Hired is worth trying.  Not only that, Hired covers various categories from product management to software engineering — including everything WordPress.
Pros:
Fixed pricing for a number of hiring needs
Cons:
The price is only decided when reviewing a demo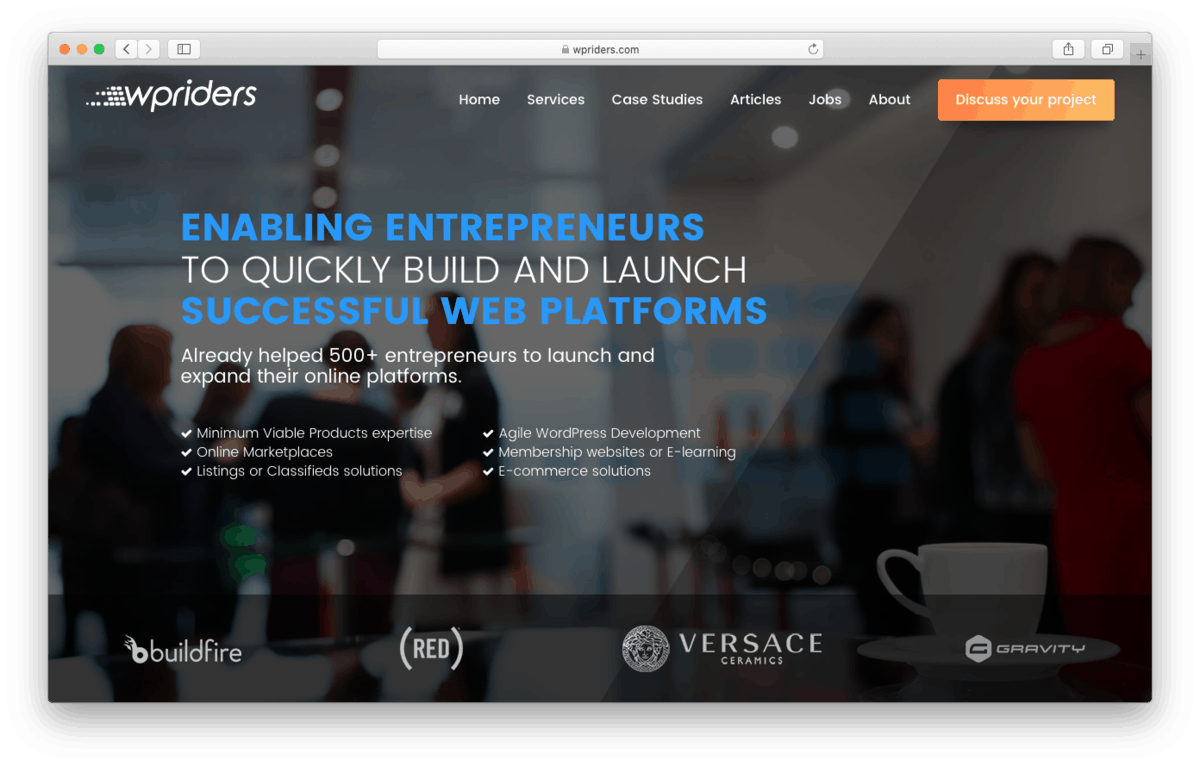 If you're a small business owner who is ready to build an online presence, you might want to find the best WordPress freelancers from WPriders.
Having 14 years of experience with more than 1000 clients, WPriders deserves mentioning. They boast their expertise in anything WordPress – from custom plugin development to speed optimization.
In short, you can hire freelancers from WPriders to customize your WordPress website to suit your business' goals.
Pros:
A platform of WordPress experts
Cons:
Can't manually select your candidates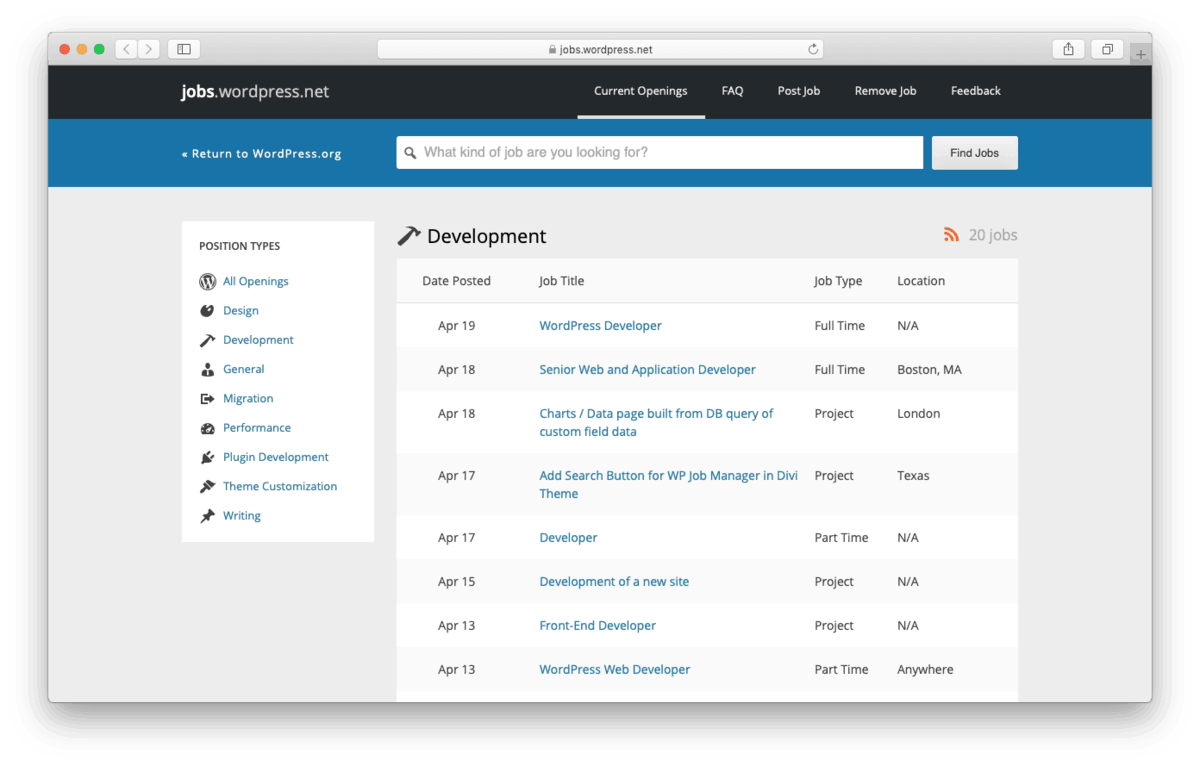 This platform is a good alternative to hire WordPress freelancers by simply posting a job.
Basically, you just need to enter the details of your project, how the freelancers may contact you (email, phone number or online form) and that's it. Once submitted, your post will on the current openings page.
Make sure you cover the details like the job type, budget and description properly. This would save your time answering questions of your freelancers' emails time and again.
Pros:
One of WordPress family sites
Cons:
Manual detail integration
Conclusions
Hiring a freelancer could be one of the solutions to handle any problems when using WordPress. It might save you both time and money.
To make sure you find the best professionals, we have picked the best eight places to hire a WordPress freelancer: