10 Best WordPress CRM Plugins to Improve Sales in 2023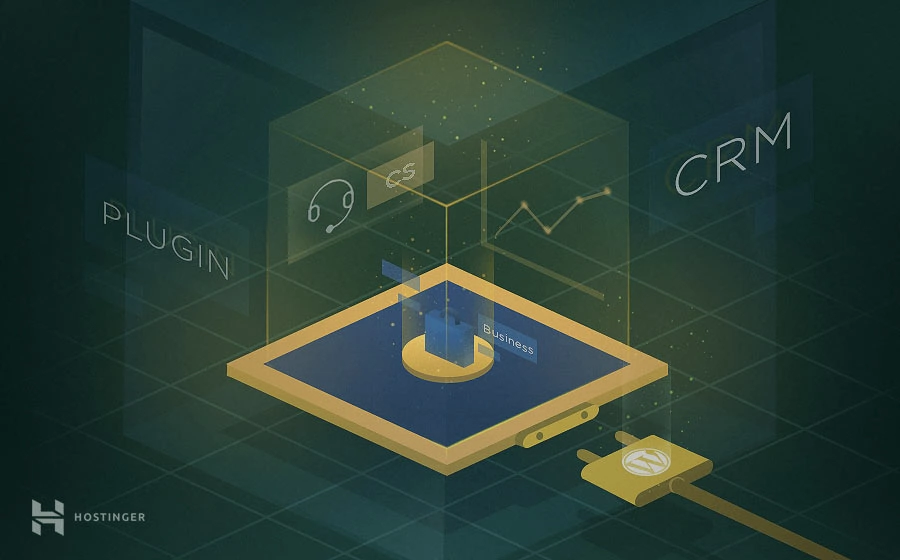 Customer relationship management (CRM) helps improve engagement with website visitors and scale up your business. It also lets you collect and manage customer information easily.
While WordPress is a feature-packed platform, it lacks built-in CRM functionality. Fortunately, third-party WordPress CRM plugins can solve this issue.
This article will discuss the criteria for a good WordPress CRM plugin and the 10 best options available. By the end of this article, we hope you can choose which solution works best for you.

Top 10 WordPress CRM Plugins Compared
Let's look at the 10 best WordPress plugins for CMS. These plugins are free to download from the official WordPress plugin repository.
Some of the tools listed are also compatible as a WooCommerce CRM solution. However, for more advanced features, we recommend choosing their premium options.
We also made sure to include CRM plugins that are regularly updated to help you ward off any exploited vulnerabilities and compatibility issues.
Important! Avoid installing multiple plugins with similar functions, as it can cause conflicts, slowing down your WordPress website as a result.

Jetpack CRM stats:
Downloads: 20,000+
Rating: 4.4/5
Best for: creating custom funnels
Price: freemium (premium plans start at $11/month)
Jetpack CRM is a user-friendly and powerful customer management tool. This WordPress CRM plugin offers a free version with basic functionality. Its two paid plans come with a 14-day money-back guarantee:
Freelancer – starting at $11/month, includes a single site license, PayPal, and Stripe integration, alongside 12 months of support and updates.
Entrepreneur – starting at $17/month for additional advanced features, 30+ CRM extensions, and priority support.
For extra functionality, premium extensions are available as bundles or individual purchases. These include Gravity Forms for lead and customer info collection and Twilio for sending SMS messages to your customers.
Key Features
CRM usage tracking. Track usage and exercise more control over your data from the WordPress dashboard. To do this, simply go to the CRM general settings and untick the Usage Tracking option.
Contact segmentation tool. Manage your contacts effectively by dividing them into dynamic subgroups. You can also add conditional logic to your contacts and match them.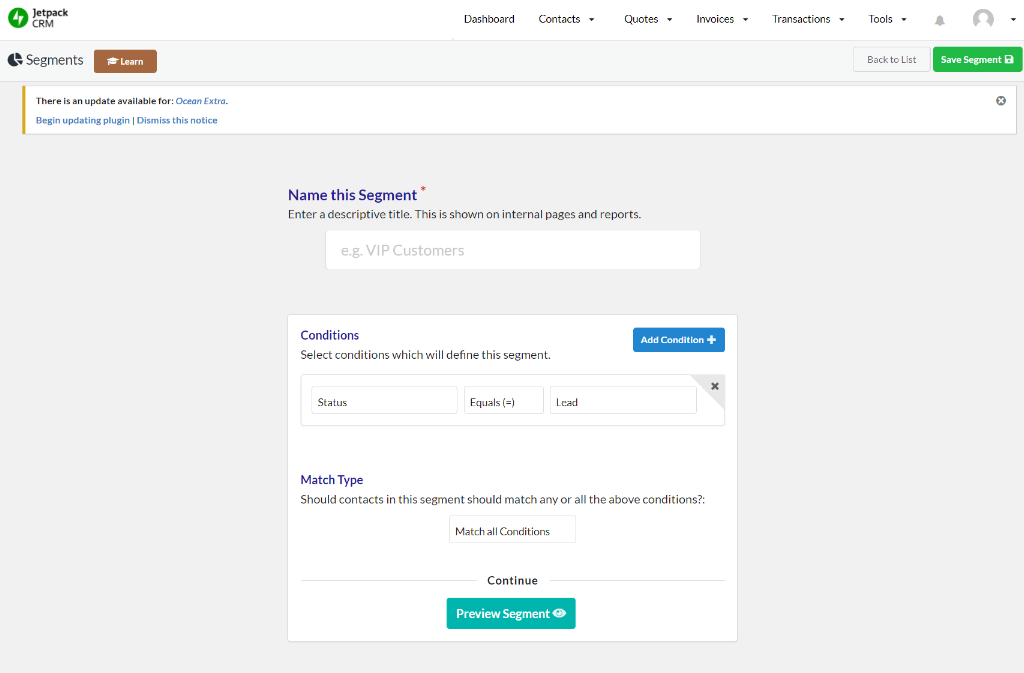 WordPress override mode. Customize the CRM system with your branding and control the appearance of your dashboard area for CRM-assigned or WordPress users.
Social integration. Stay in touch with customers through popular social media channels like Facebook, LinkedIn, and Twitter. Business owners can promote social media channels in email campaigns.
Invoice builder. Create invoices, send, and get paid directly from your WordPress site.
Quote system. Easily create proposals with pre-built templates. You can send them via email or by sharing a preview link.
WooSync. Sync your WooCommerce store with Jetpack CRM to import customer information and orders.
Automated workflows. Automate the CRM process using rule-based triggers and actions.
Contact image mode. Customers can upload custom images or Gravatar pictures to their contact profiles.
Unlimited contact creator. Allows users to create and manage an extensive contact list. Its Click2Call feature makes contacting and messaging numbers on the list effortless.
Ability to import and export files. Import or export CSV files to bulk update your contact list, quotes, and transactions.
Cons
Bloated interface. The CRM plugin has an abundance of features, making it slightly tricky to locate the ones you want to manage.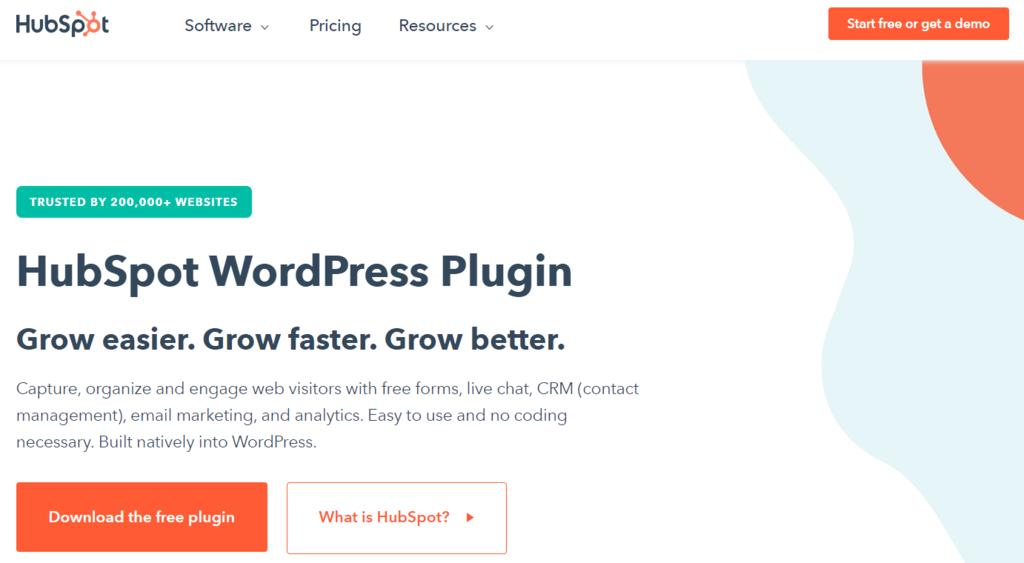 HubSpot stats:
Downloads: 200,000+
Rating: 4.4/5
Best for: marketing automation
Price: freemium (premium plans start at $45/month)
HubSpot CRM is an all-in-one marketing plugin for organizing and automating the customer database within the WordPress dashboard.
HubSpot CRM core plugin comes with all the essential client management features, including live chat, basic chatbots, and lead qualification.
However, the plugin's premium version comes with more advanced functionality:
Starter – includes tools from the free version but with an increased limit, starting at $50/month for two paid users.
Professional – adds collaboration tools and phone support, starting at $450/month for five paid users.
Enterprise – introduces more customizable features and advanced permission, starting at $1,200/month for 10 paid users.
Key Features
Seamless integration. Integrate with popular WordPress plugins and such online applications as Outlook, Gmail, and Messenger.
Dynamic contact form builder. Make pop-ups, conditional logic, and newsletter forms.
Email-marketing. Its drag-and-drop email editor and pre-designed email templates make it easy to customize emails for your customers. Moreover, the email automation feature generates emails automatically when customers fill out a form.
Cons
An overpowering number of features. The interface can appear too cluttered for users only interested in CRM features.
Lack of payment integration. This CRM plugin doesn't provide tools for payment processing and payroll reporting.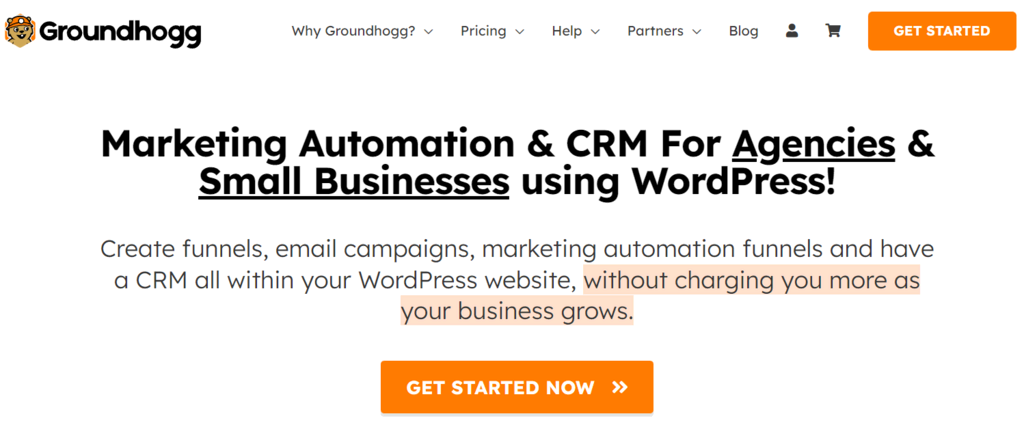 Groundhogg stats:
Downloads: 3,000+
Rating: 4.9/5
Best for: creating custom funnels
Price: freemium (premium plans start at $20/month)
Groundhogg is a reliable CRM software for WordPress that is packed with email marketing and sales automation tools. This CRM plugin has received highly positive feedback from users due to its feature-rich and user-friendly nature.
With this WordPress CRM plugin, you won't have to pay additional fees for each contact you add to your database.
As for pricing, Groundhogg offers a free version with basic CRM capabilities. To enjoy its advanced automation features and integrations, get one of its premium versions:
Basic – includes essential tools to automate repetitive tasks for $20/month.
Plus – adds lead scoring and social proof pop-up for $30/month.
Pro – incorporates conditional logic and integrations with SMTP, LMS, and eCommerce services for $40/month.
Agency – introduces white label CRM and VIP support for $100/month.
Key Features
User-friendly CRM funnel builder. Build funnels from scratch or import templates and use the drag-and-drop feature to add benchmarks and actions. Furthermore, it allows funnel reporting to optimize your CRM sales process.
Robust CRM and contact management tools. Manage an unlimited number of contacts, emails, and CRM custom fields. Other tools like Automatic Location Discovery, CRM Notes, and Advanced Search & Filter also help to streamline your workflow.
WordPress sync. Groundhogg allows WordPress users to sync their contact lists. Viewing information details from other WordPress plugins in the contact record is also possible.
Admin toolbar widget. Searches or adds contacts anywhere in the admin area.
GDPR compliant. Users can self-manage their compliance preferences. This helps ensure compliance with GDPR and other privacy laws.
Email and SMS broadcast features. Directly schedule bulk emails and text messages to your contact list via the WordPress dashboard.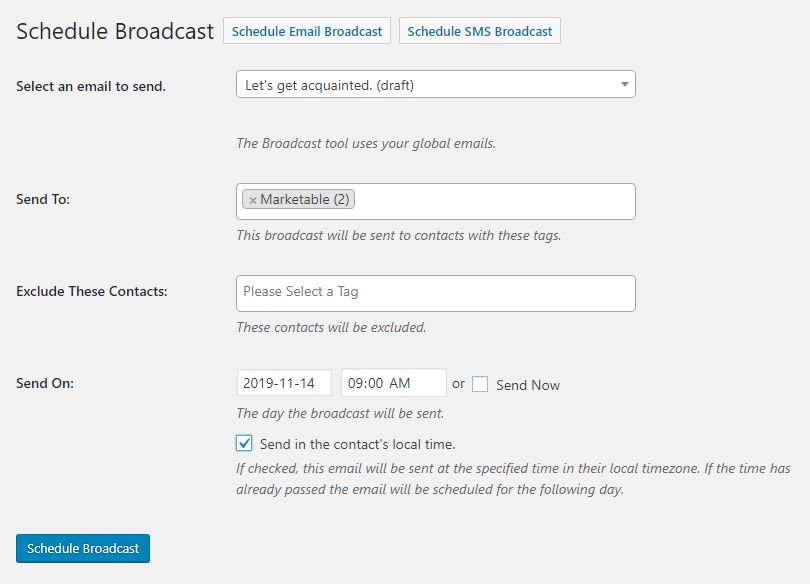 Cons
Technical jargon. Some of its features use technical terms that can be discouraging for beginners.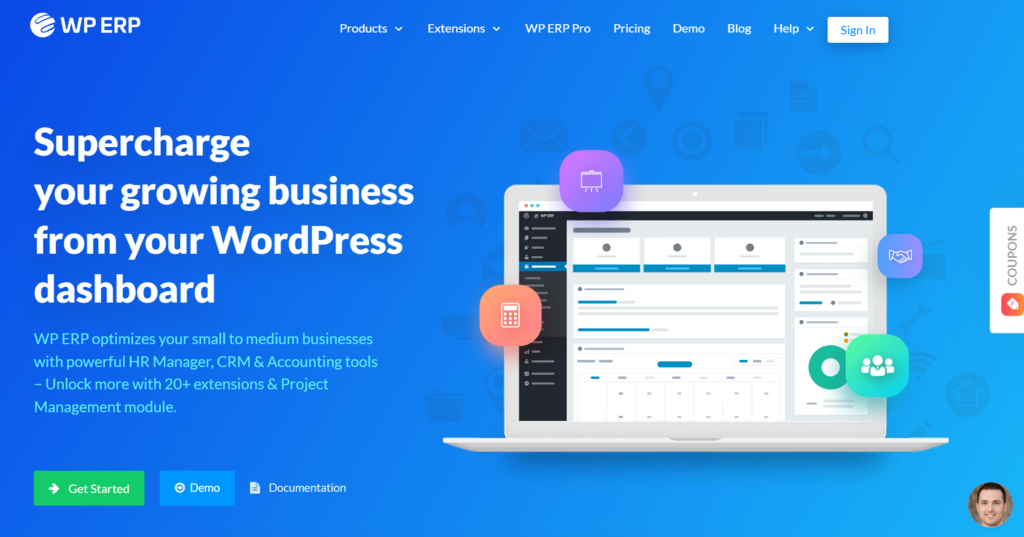 WP ERP stats:
Downloads: 10,000+
Rating: 4.4/5
Best for: business management
Price: freemium (premium version costs $9.99/month with an additional $3 per user)
WP ERP is one of the best WordPress plugins on the market, offering a full-fledged enterprise resource planning (ERP) system. This system combines CRM, accounting, and human resources (HR) management tools all in one place.
In addition, this WordPress plugin allows you to manage projects, track your marketing efforts, and assign tasks to team members.
The WP ERP core plugin is free to use. In addition, it offers a WP ERP Pro version, which costs $9.99/month, comes with nine premium extensions, and has the option to purchase additional extensions.
Key Features
Built-in mailing system. Quickly send emails without leaving the dashboard.
Easy setup. After installing the plugin on your WordPress site, a software wizard will guide you throughout the setup process.
Project management module. Simple project management lets you track and manage projects in real time.
CRM dashboard. Get an overview of your segmented contact list, activity schedules, and inbound emails directly from your WordPress dashboard.
Business-to-business (B2B) management. Provides tools for managing your business partners and client contacts. Its white labeling feature also allows you to create company profiles and add multiple representatives for each company.
Supports multiple currencies. Accept customer payments in 40+ currencies.
User-friendly CRM report. Receive performance statistics of your business growth and customer activities.
Cons
Limited CRM features. Despite being an ERP plugin, it does not include essential CRM tools like marketing automation and leads scoring. Furthermore, it doesn't support integration with WordPress social media plugins.
Technical knowledge needed. WP ERP plugin requires general coding knowledge, and the interface isn't beginner-friendly.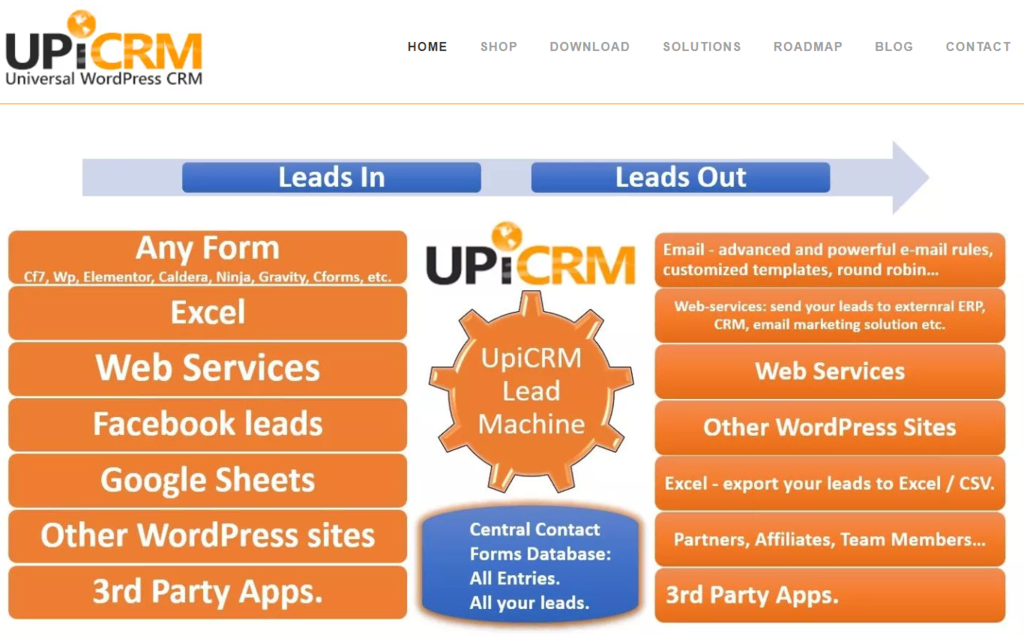 UpiCRM stats:
Downloads: 1,000+
Rating: 4.6/5
Best for: lead management
Price: free
UpiCRM is a free WordPress CRM plugin for tracking and managing leads. It's compatible with some of the best WordPress contact form plugins like Ninja Forms, Contact Form 7, and WPForms.
UpiCRM is free to download. However, it offers paid extensions such as Google Sheets integration at $29 and the Facebook leads import tool at $49.
Key Features
Advanced leads tracker. Gather lead information using forms, traffic sources, and URL UTM tagging.
KPIs dashboard. Easily view your current sales data and forecasts with the UpiCRM dashboard.
Support multisite environment. Aggregate leads from multiple WordPress websites with a single lead management server.
Collaboration tools. Route and assign leads to specific team members.
Cons
Not as user-friendly. With so many configuration options available, the admin panel can be intimidating to beginners.
Limited plugin compatibility. This CRM plugin isn't compatible with popular eCommerce plugins such as Easy Digital Downloads and WooCommerce.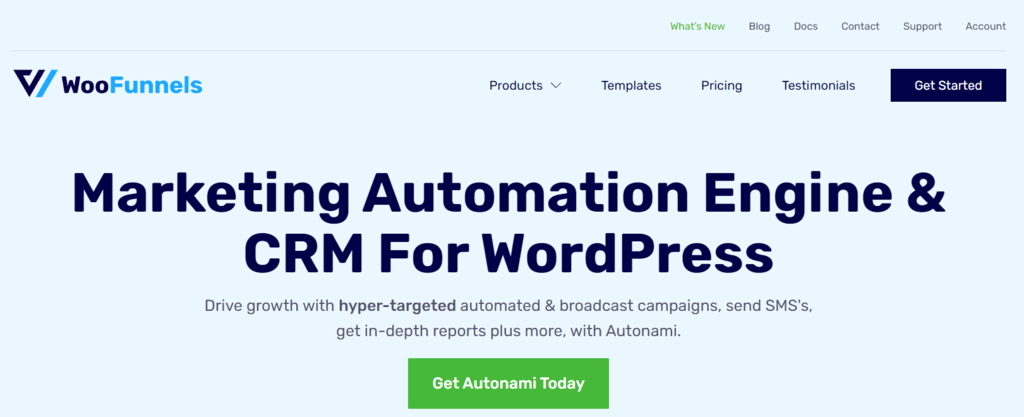 Autonami stats:
Downloads: 10,000+
Rating: 5/5
Best for: WooCommerce-specific CRM
Price: premium (prices start at $179/year)
Autonami is another powerful WordPress CRM plugin for automating marketing workflows. This plugin can recover abandoned carts, broadcast emails, and measure email opens.
As for pricing, Autonomi costs $179/year for a single site. However, we recommend purchasing the Autonami and Funnel Builder bundle to save money.
Key Features
Cart abandonment recovery sequence. Recover abandoned carts with live-capture emails, post-purchase emails, and deadline-bound discount coupons.
WooCommerce integration. Send purchase and abandoned cart data from WooCommerce to your CRM account.
Affiliate marketing tools. Includes such affiliate-related features as automatic email after-sales and application approval for improved affiliate engagement.
Cons
Known software issues. Some users have reported issues where they couldn't unsubscribe from Autonami after an update.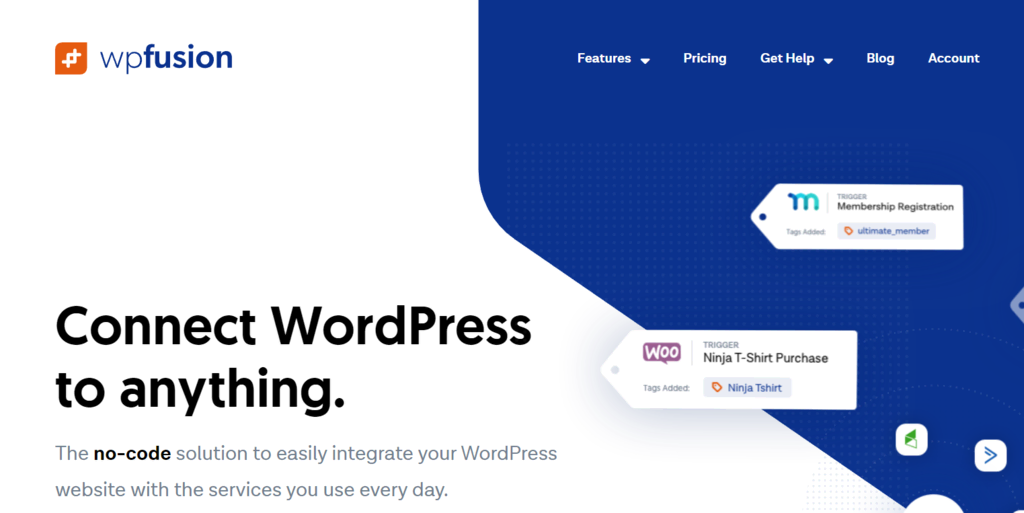 WP Fusion stats:
Downloads: 3,000+
Rating: 5/5
Best for: connecting a CRM system to WordPress
Price: freemium (premium plans start at $247/year)
WP Fusion is an excellent tool for synchronizing your WordPress website with the CRM system. This plugin integrates with leading CRMs and marketing automation software like Zoho CRM, AgileCRM, and HubSpot.
The plugin can automatically apply CRM tags to customer contacts based on website activities, like purchasing a product or completing a course.
WP Fusion Lite version is available as a free plugin on WordPress.org. To access integrations with affiliates, contact forms, or other plugins, upgrade to one of its premium plans:
Personal – includes marketing automation features for a single website and priority support for $247/year.
Plus – offers advanced marketing automation features for a single website and six premium add-ons for $347/year.
Professional – for a price of $540/year, get the same features as previous plans for an unlimited number of sites.
Key Features
Field mapping system. The CRM system connects customer data from multiple sites to standard or custom fields.
Subscriptions and purchases status tracking. Track the status of subscriptions and purchases, making sending follow-ups easier. Moreover, there's an option to send form submissions and set up reminders to recover abandoned carts.
Event tracking tools. Display real-time customers' activities and engagements in your CRM dashboard.
Cons
Expensive paid plans. The premium plans are costly, especially for users managing multiple sites.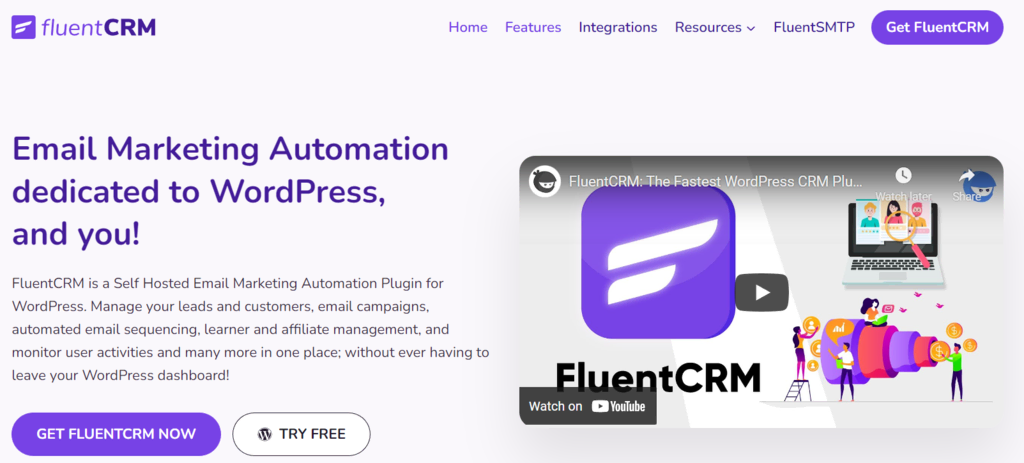 FluentCRM stats:
Downloads: 20,000+
Rating: 4.9/5
Best for: email campaign management
Price: freemium (premium versions start at $129/year)
FluentCRM is a popular customer relationship management plugin for WordPress that allows users to manage and track their email campaigns' performance easily. It offers an intuitive setup process and a user-friendly dashboard, making it a fantastic plugin for beginners.
This CRM plugin offers a free version and three premium plans:
Single Site License for $129/year.
5 Site License for $249/year.
50 Site License for $499/year.
All plans include all the necessary CRM tools like marketing automation, unlimited email creation, and email list management. It also offers additional integrations alongside a full year of priority support and updates.
Key Features
High compatibility with other WordPress plugins. Integrates seamlessly with popular eCommerce, contact forms builder, and lead generation plugins. Some examples include Easy Digital Downloads, MemberPress, and LearnDash.
Email campaign management. Compose beautiful personalized emails with drag-and-drop editing. It also displays email templates based on different filters to target specific audiences. FluentCRM also offers an email scheduler and post-campaign actions.
360-degree contact viewing. Track customer information, including purchase history, open email rate, click rate, and form submissions.
Fast performance. FluentCRM is built with VueJS and REST API, making it one of the quickest CRM plugins for WordPress.
Extensive reporting. Displays detailed statistics and data of your email campaign, sequences, funnels, and customer activities. Additionally, it allows you to analyze your click-through rate (CTR) using UTM parameters from Google Analytics.
A/B testing subject lines. Conduct an A/B test for your email campaign to increase your conversion rate.
Cons
Costly premium plans. FluentCRM pricing plans are more expensive than some of the other WordPress CRM plugins on the list.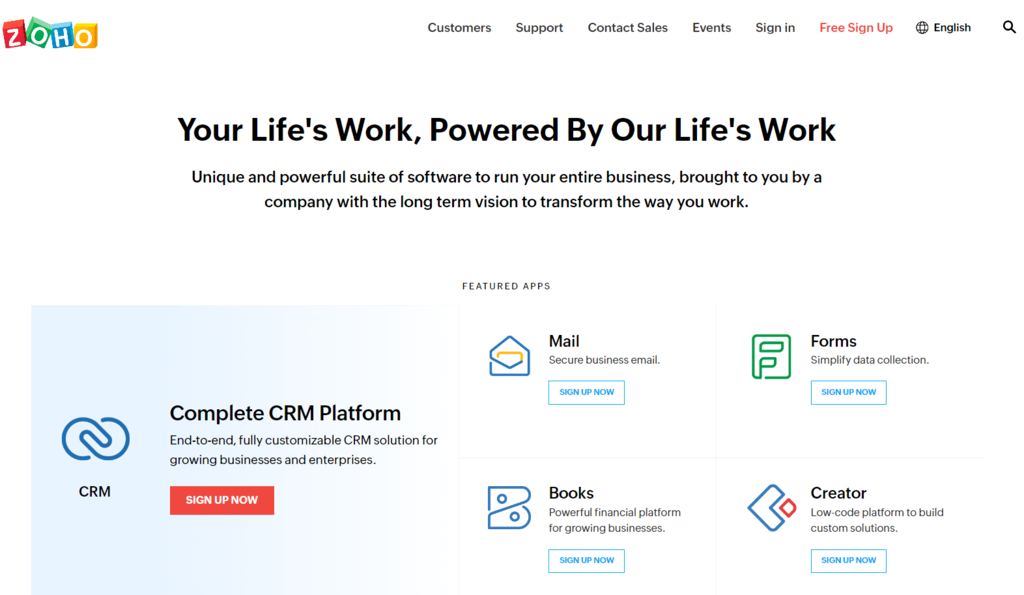 Zoho CRM stats:
Downloads: 4,000+
Rating: 3.6/5
Best for: leads capturing
Price: freemium (premium plans start at $14/month)
Zoho CRM is a versatile and great CRM software that can easily integrate with your WordPress website alongside such popular form plugins as Ninja Forms, Gravity Forms, and Contact Form 7.
The free version of this CRM plugin supports up to three users and offers limited functionality. To take advantage of Zoho CRM's advanced features, get one of its paid plans that start at $14/month per user with annual billing or $20/month per user with monthly billing.
Key Features
Geolocating feature. Display geolocation details to help users track customer location.
Lead scoring feature. Identifies lead score by tracking customers' behavior, demographics, and negative scoring. Users can also create customized scoring models for different requirements and automate actions.
Smart web forms. Easily create pre-built web forms in WordPress or other popular content management systems without coding.
Omnichannel support. Users can receive notifications when customers access the website by email, social media, phone, or client portal.
Card Scanner app. Scans business cards and QR codes, converting them to a contact or lead in Zoho CRM.
Cons
Limited WordPress support. Users require to rely on third-party add-ons to integrate with other WordPress plugins.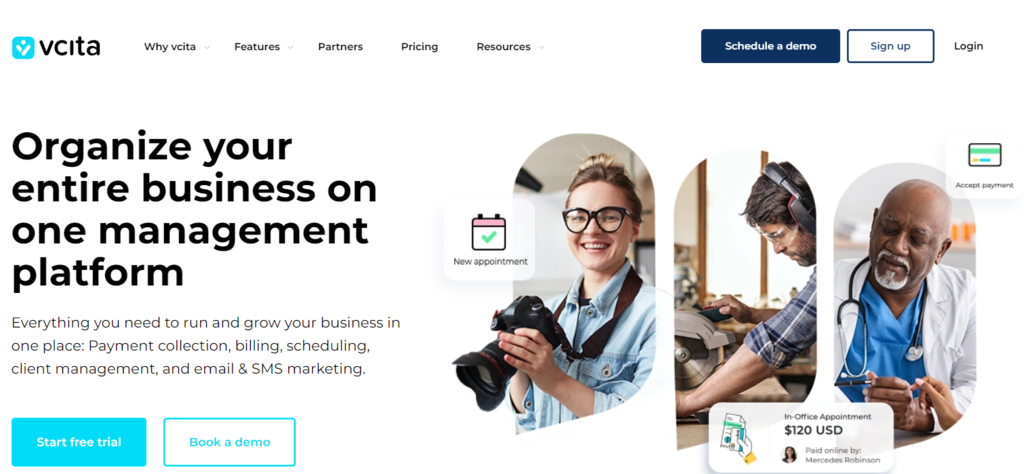 vCita stats:
Downloads: 300+
Rating: 3.6/5
Best for: lead management
Price: freemium (premium plans start at $19/month)
vCita is a superb WordPress CRM solution for managing leads and customer relationships. Besides storing and capturing customer data, it also supports payment processing and event scheduling.
The core CRM plugin is free, but to use this CRM tool on WordPress, you'll need a vCita account which costs $29/month. There are also three paid plans to choose from:
Essential – provides a complete toolset of business and payment management features, starting at $19/month.
Business – get email and phone support plus Google Analytics and Zapier integration for $45/month.
Platinum – offers several advanced automation features and priority support, starting at $75/month.
Key Features
Secure and responsive client portal. Includes access to a secure 24/7 client portal for scheduling, direct messaging, and file sharing. It also allows clients to track recent and upcoming activities through a user-friendly dashboard accessible from any device.
Easy contact management. Automatically captures contacts from your WordPress site and lists them in a single dashboard, enabling quick qualification and follow-up.
Client management tools. Offers actionable marketing campaigns, self-service options, and smart follow-ups to strengthen the relationship with your clients.
Mobile CRM app. vCita offers a mobile app for iOS and Android, making it easier and faster to view, manage, and reply to customers.
Lead capturing widget. This WordPress CRM plugin offers dynamic widgets for adding targeted call-to-action to drive engagement and increase sales.
Cons
Expensive paid plans. When upgrading to its paid plans, users might find the monthly pricing of vCita costly. Therefore, for people who want to save their budget, we suggest using an alternative free plugin like UpiCRM.
Mobile app issue. Some users reported that the iOS app suffers from interface problems.
What to Look For in a WordPress CRM Plugin?
Many WordPress plugins let you directly manage sales, customer data, and business workflow from the dashboard.
Top WordPress CRM plugins typically have the following features:
Analytics and reporting features. A proper CRM plugin must allow you to monitor business performance and analyze customer behavior. Some plugins include an easy reporting solution for generating custom reports.
User-friendly. A plugin should be easy to use, navigate, and set up. An installation wizard and comprehensive documentation are also necessary to ensure a smooth installation process and troubleshooting.
Search and filtering options. This must-have feature makes finding and filtering contacts easier.
Activity tracking and task management. The CRM software enables status tracking of your team members and client activities. Some offer project management solutions to manage tasks more efficiently and effectively.
Workflow automation. Creating spreadsheets and sorting emails are some of the more time-consuming CRM tasks. The best WordPress CRM plugin should have automation features to speed up processes.
Form builder. An effective CRM plugin should have a form-building tool with drag-and-drop functionality, widgets, and shortcodes.
Contact management tools. Consider choosing a CRM plugin that can handle a large number of contacts. It must be able to create contact groups based on the behavior and interests of customers.
Integrations. Look for a plugin that integrates nicely with your existing website and other WordPress plugins or third-party software.


Conclusion
Adding the best WordPress CRM plugin to your site helps establish relationships with current customers and prospects. It offers helpful tools to streamline business operations and create effective targeted campaigns.
In this article, we have listed the 10 best WordPress CRM plugins currently available. Here's a short recap:
JetPack CRM – one of the best WordPress CRM plugins for creating custom marketing funnels.
HubSpot – an excellent WordPress CRM plugin for marketing automation.
Groundhogg – a highly-rated WordPress CRM plugin for managing extensive contact lists.
WP ERP – a great WordPress plugin with a complete suite of business management tools.
UpiCRM – an excellent free WordPress CRM plugin for aggregating leads from multiple websites.
Autonami – a superb WordPress CRM plugin for WooCommerce stores and sending follow-up emails.
WP Fusion – syncs WordPress with your preferred customer relationship management system.
FluentCRM – a great WordPress plugin with useful email marketing features.
Zoho CRM – one of the best CRM plugins for lead capturing.
vCita – ideal for vCita users who want to expand their services to WordPress.
When choosing between the large variety of CRM plugins, consider your goals, needs, budget, and capability.
We hope this article helps you pick the right WordPress CMS plugin for your site. If you have any more questions or suggestions, feel free to leave a comment below.