16 Best Website Optimization Tools to Improve Site Speed in 2023
Website speed plays a critical role in search engine rankings and user engagement. Slow load times can quickly deter visitors and harm your site's overall performance.
Website performance optimization tools let you fine-tune various elements of your site, from server speed to content delivery. They help elevate the user experience and improve the chances of conversions.
This article offers a carefully curated list of the top 16 website optimization tools. We guide you through the best optimization software for your website to help you achieve your business goals.


Top 16 Website Optimization Tools
Let's discover the different website optimization tools and delve into their features and benefits.
The core of any website optimization strategy is selecting a web hosting service that is designed to improve website speed. For this, Hostinger offers various built-in features to boost website performance:
CDNs for Faster Websites
A content delivery network (CDN) helps reduce page load time. It minimizes the distance between your website's server and the visitor's physical location, reducing latency and accelerating load speed.
Hostinger provides a custom-built CDN for faster websites. Our solution can reduce page load time by up to 10% and page size by nearly 50% on average.
Boost Site Speed With Caching
We offer built-in website caching tools with LiteSpeed Cache as a server-side caching solution. It stores a version of your website pages in the server's fast-access cache memory. When accessed repeatedly, it helps ensure fast-loading websites.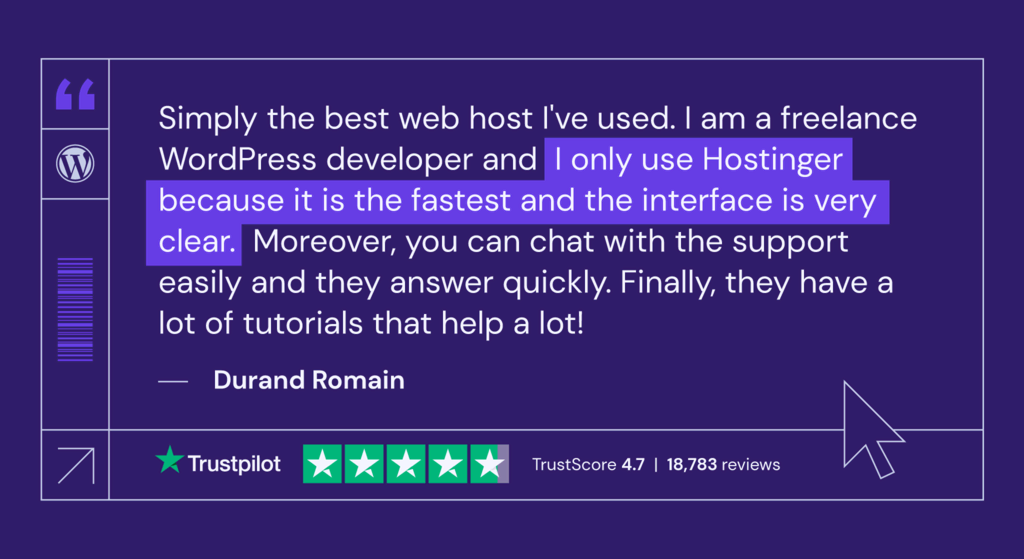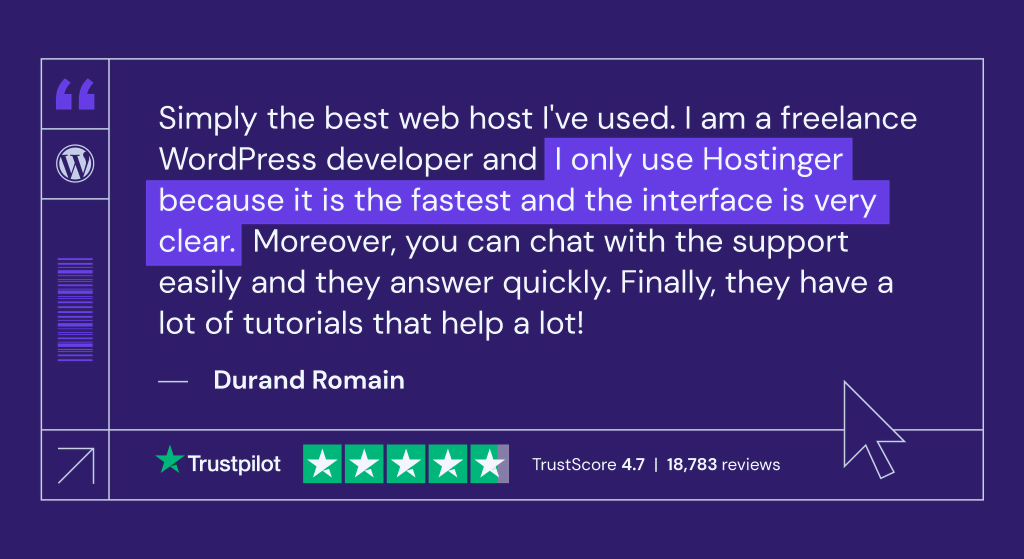 File Optimization Through GZIP Compression
Minimizing file sizes is one of the most effective website optimization techniques. Hostinger web hosting plans come with GZIP compression capabilities to help you optimize CSS and JavaScript for speed and efficiency.
Optimized Server Environment
Hostinger's infrastructure is engineered for speed. Our global data centers are powered by the latest web hosting technology to prevent loading and usability issues.
With our 99.9% uptime guarantee and round-the-clock support, optimizing your website becomes a seamless, worry-free experience.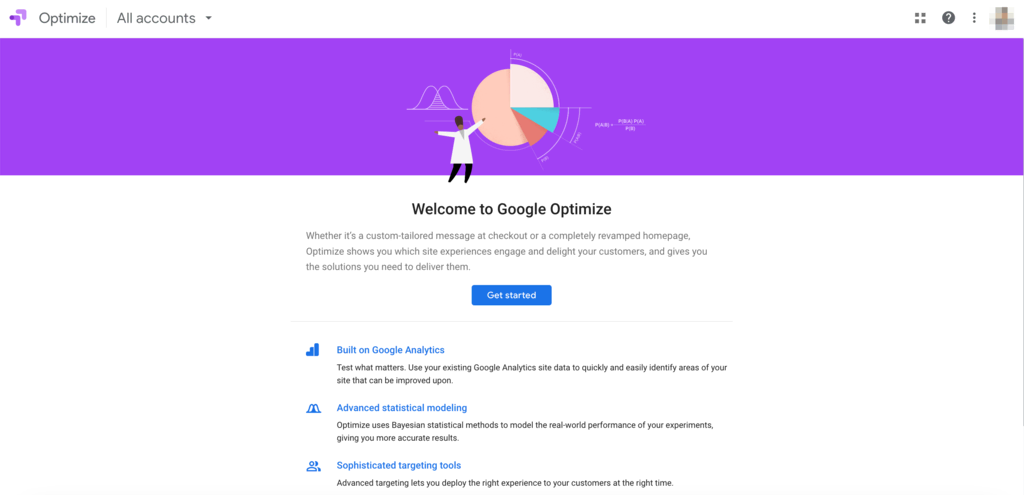 Google Optimize is a robust A/B testing and website optimization tool that seamlessly integrates with Google Analytics for a unified experience.
Where Google Optimize shines is its native integration with Google's suite of analytics and marketing products. This cohesive ecosystem enables you to gather insights and act on them without leaving the Google environment, greatly streamlining your workflow.
Key Features
A/B testing – test multiple versions of web pages to see which one brings more website traffic and engagement.
Multivariate testing – assess how multiple variables impact user behavior.
Dynamic text replacement – automatically tailor text based on user behavior or attributes.
Targeting options – employ advanced segmentation to attract the right website visitors.
Google Optimize has a relatively steep learning curve, which may be challenging for beginners. The platform's advanced capabilities also require a paid subscription to Google Optimize 360, which can be a significant investment.
Google Analytics is the go-to platform for tracking site performance and user behavior. It sets itself apart by being a free tool that offers a comprehensive range of metrics and reports.
The website analytics tool works seamlessly with other Google services, allowing for a unified approach to website optimization. The sheer volume of data it provides can help you make informed decisions to improve your site.
Key Features
Real-time website analytics – analyze website performance, track user behavior, and check website traffic sources in real time.
Conversion tracking – measure the return on investment (ROI) of your marketing campaigns.
Audience segmentation – create custom audience groups for targeted analysis.
Behavior flow – visualize the path website users take through your site.
A downside of Google Analytics is its configuration complexity, which can be time-consuming for beginners to set up. Additionally, advanced features like predictive metrics or cross-platform tracking are only available with the paid version, Google Analytics 360.
Screaming Frog is an SEO spider tool that crawls your website to gather valuable data on various site performance elements. It helps you find broken links, remove duplicate content, and improve meta tags.
Unlike many other tools that focus solely on page speed or user experience, Screaming Frog provides comprehensive SEO metrics to help your website perform better on search engines.
Since it offers a detailed look into nearly every SEO-related aspect of your website, it is an excellent tool for site audits and SEO overhauls.
Key Features
In-depth crawling – sift through your website for SEO insights.
Broken link detection – scan your website for broken links and get tips on how to fix them.
Duplicate content finder – check and flag duplicate content that could affect your performance on search engine results pages.
XML sitemap generator – create an XML sitemap easily for better search engine indexing.
Note that the tool's desktop-based nature can present scalability issues for users. Moreover, the $259/license/year price tag makes it a significant investment for small businesses.
Hotjar specializes in user behavior analytics and website feedback through heatmaps, session recordings, and surveys. The tool offers a visually engaging way to understand user behavior, making it easier to pinpoint areas for improvement.
Since it provides qualitative insights, Hotjar gives you a holistic understanding of how users interact with your website.
Key Features
Heatmaps – obtain visual representations of how users interact with your website, including where they click, scroll, and hover on your pages.
Session recordings – record and replay user interactions to see how they navigate your site.
Surveys and feedback tools – collect user opinions directly on your site for a deeper understanding of their preferences.
Form analysis – get insights on where users exit out of forms to improve completion rates.
The main drawback of Hotjar is that it primarily deals with user behavior and does not offer detailed SEO analytics. As such, we recommend it as a supplementary tool after your main analytics solution.
Optimizely focuses on website testing, experimentation, and personalization. It helps you optimize your website through A/B tests and multivariate tests.
Unlike other website speed optimization tools, Optimizely is a full-stack platform that helps you optimize your site, mobile apps, and server-side applications.
The tool also offers a strong testing platform alongside advanced statistical models and analytics capabilities. These features help you make data-backed improvements and pinpoint the most effective optimization strategy.
Key Features
A/B testing – test different versions of your web pages to improve performance.
Multivariate testing – evaluate multiple variables simultaneously for more comprehensive optimization strategies.
Full-stack testing – conduct experiments beyond the web, including mobile apps and server-side testing.
Feature flags – establish version control by rolling out new features gradually and testing their impact on the user base.
Optimizely is tailored for enterprise-level operations. Smaller businesses or individual users may find it less suitable for their needs due to its complexity and cost.
Google Search Console is a free tool that helps you monitor, maintain, and troubleshoot your website's core web vitals. The tool provides valuable data about your site's performance and user behavior to help you improve its ranking in Google Search results.
What sets Google Search Console apart from competitors is its deep integration with Google's search engine, offering search traffic insights that are otherwise hard to obtain.
You get direct feedback from Google about indexing, crawling, and ranking issues, which are crucial for SEO.
Key Features
Performance reports – view important metrics like clicks, impressions, click-through rate, and ranking position.
URL inspection – assess individual URLs to check their index status or simulate a crawl.
Coverage reports – identify and fix issues affecting your site's appearance on Google Search.
Mobile usability – get mobile website speed optimization insights that inform how well your website is performing on mobile devices.
Google Search Console mainly focuses on Google Search, limiting visibility into your site's performance on other search engines.
Yoast SEO is one of the noteworthy website performance-boosting plugins for WordPress users. It helps you optimize your website by refining its content for SEO. It also offers tools that improve the structural elements of your site, enhancing the overall user experience.
Its user-friendly interface and robust features make SEO accessible to beginners and experts alike. It helps users to not rely on surface-level adjustments but also to delve into intricate site architecture optimizations to increase traffic.
Key Features
SEO analysis – obtain real-time feedback on your content, ensuring optimal keyword density and readability.
Meta description optimization – get tailored content optimization suggestions for meta descriptions and titles.
XML sitemaps – automate the creation of XML sitemaps, boosting your site's visibility on search engines.
Breadcrumbs control – customize your breadcrumbs to enhance site navigation and SEO.
While Yoast SEO stands out in many areas, its primary focus on WordPress might deter those using other CMS platforms.
PageSpeed Insights is a leading web page speed tool developed by Google. It can easily integrate into the Google ecosystem, allowing for seamless collaboration with other Google services and tools.
The speed test tool assesses your website's load time using both lab and real-world data, offering a well-rounded understanding of its performance. This makes it a reliable choice for effectively reducing page load time.
Key Features
Real-world data – uses Chrome User Experience data to offer insights on actual user experiences.
Lab data – conduct lab-controlled tests to simulate potential bottlenecks and performance issues.
Performance score – aggregate various page speed metrics into an average performance score.
Optimization recommendations – obtain tailored advice to improve both speed and the overall user experience.
PageSpeed Insights excels at evaluating technical performance, but does not offer a comprehensive view of user engagement or conversion metrics.
Unbounce is a leading conversion rate optimization tool that helps you build landing pages that can convert more visitors into leads or customers.
It excels in creating highly customizable, mobile-responsive landing pages for the target audience without needing any coding.
What sets Unbounce apart is its robust A/B testing capabilities and dynamic text replacement feature. These allow for personalized experiences tailored to individual user segments, significantly improving your conversion rate optimization efforts.
Key Features
Drag-and-drop editor – easily optimize your website by creating and editing landing pages without coding.
A/B testing – refine conversion rate optimization efforts by testing different variations of your landing pages.
Dynamic text replacement – match landing page text with keywords to improve its relevancy and quality score.
Lead generation tools – incorporate pop-ups, sticky bars, and other elements to capture leads more effectively.
From $74/month, Unbounce is an expensive investment, especially for small businesses or individual marketers. Also, the platform focuses primarily on landing pages, so it may not be suitable for those looking for an all-in-one optimization solution.
Crazy Egg is a user behavior analytics tool that provides you with heatmaps, click maps, and session replays to understand how users are interacting with your website.
The tool distinguishes itself with its graphical analytics. While most other tools provide numerical data, Crazy Egg helps you visually see what your users are doing. This provides an extra layer of insight into user behavior that can be invaluable for UX/UI improvements.
Key Features
Heatmaps – visualize where users are clicking, scrolling, and how they navigate through pages.
Session replays – watch replays of user interactions to identify bottlenecks or friction points.
A/B testing – optimize your website by testing variations to see what resonates most with your audience.
Scroll maps – collect data on how far down the page users scroll, indicating where most engagement drop-offs occur.
Keep in mind that Crazy Egg's focus on visual analytics can make it less suitable for those who require in-depth or large-scale numerical analysis.
WAVE is a web accessibility evaluation tool that helps web developers and designers make their sites more accessible for people with disabilities. Its primary focus on accessibility sets it apart from other general web optimization tools.
It gives you clear insights and visual feedback on your website's accessibility. It is especially beneficial for complying with legal accessibility requirements and enhancing the user experience for a broader audience.
Key Features
Accessibility checker – evaluate the accessibility level of your website with straightforward ratings and suggestions.
Error summary – receive a detailed list of errors, warnings, and features to better understand your site's accessibility.
Code inspection – directly view the HTML code to understand what changes need to be made for accessibility.
Contrast checker – ensure that your site's color contrasts are compliant with accessibility standards.
While WAVE offers a comprehensive accessibility evaluation, it is not a complete web optimization solution. Users looking for SEO or speed optimization software will need to use WAVE in conjunction with other website optimization tools.
Qualaroo is a user feedback tool that focuses on gathering in-depth insights directly from website visitors through targeted surveys and prompts. Unlike other website optimization tools that rely primarily on numerical data, Qualaroo prioritizes real-time, qualitative feedback.
The tool uses Nudges, which are small surveys that pop up at specific times, to ask visitors questions that measure the site's usability. This feature enables you to capture visitor sentiment and feedback in real time, making it easier to make user-driven decisions.
Key Features
Nudges – send micro-surveys that capture real-time user feedback.
Sentiment analysis – get a better understanding of the context behind user responses.
Skip logic – create dynamic surveys that adapt based on previous answers.
Mobile surveys – capture feedback from mobile users efficiently.
Qualaroo's focus on qualitative website data means it might not offer the comprehensive quantitative insights that other analytical tools provide. Moreover, with plans starting at $69/month, the platform can be a considerable investment for small businesses.
Pingdom is one of the most widely used monitoring services and website speed test tools that focuses on page speed optimization strategies. It offers real-time analytics and tracking to ensure your website is always performing at its best.
It sets itself apart with its real-time website speed test capabilities and robust alert system. The platform notifies you instantly if your website goes down, has slow load speed, or experiences other performance issues, making it a proactive tool for website management.
Key Features
Real-time monitoring – keep track of your website's performance around the clock.
Uptime reporting – receive immediate alerts if your site goes down.
Page speed insights – gather detailed reports on elements affecting your website's speed.
Transaction monitoring – check the health of critical user paths like login and checkout procedures.
Users should note that Pingdom primarily focuses on speed and uptime, so it lacks a comprehensive view of overall site performance when it comes to other factors like SEO.
GTmetrix is one of the most popular website speed analysis tools in the market. It provides comprehensive reports that are easy to understand, even for those with minimal technical expertise.
The platform distinguishes itself with its thoroughness in performance analysis. It not only shows the loading time but also a performance score based on various metrics, like Largest Contentful Paint and Total Blocking Time. This helps you pinpoint specific issues that may be affecting your site's speed.
Key Features
Performance score – get graded evaluations of your site's speed based on several metrics.
Waterfall chart – obtain a visual representation of how different elements load on your site.
Recommendations – receive actionable tips to improve performance.
Mobile performance testing – assess how your website performs on mobile devices.
Although you can use GTmetrix speed test for free, some advanced features are only available in the paid version. With plans starting at $63.75/month, the cost might be a significant consideration for small businesses.
ImageRecycle offers a powerful solution for those seeking effective image compression for speed. This tool specializes in both image and PDF file optimization, significantly reducing file sizes without sacrificing quality.
What sets ImageRecycle apart from other website optimization tools is its all-in-one approach to image and PDF optimization. This is a particularly useful feature for websites that host a variety of content types and need a single solution for their visual optimization needs.
Key Features
Multiple format support – it works with JPEG, PNG, GIF, and PDF files.
Lossy and lossless compression – choose between maximum file size reduction or compression that maintains the original quality.
API integration – easily integrate it with your CMS or build it into your custom workflow.
While the tool has a range of features, it's worth noting that costs can add up with the $10/10,000 images price tag, especially for high-volume optimization needs for sites like an eCommerce store.
Conclusion
Website optimization is a multi-step endeavor, and choosing the right tools can significantly impact your website's performance and user satisfaction.
Whether you're looking to accelerate website performance, improve server speed, monitor visitor behavior, or enhance SEO, this comprehensive guide has covered the best tools designed to help you achieve these goals.
Our first recommendation is to select web hosting for speed optimization. Hostinger offers extensive built-in solutions and a reliable hosting environment optimized for maximum performance.
To complement Hostinger's high-speed web hosting service, we recommend these four best website optimization tools:
Google Analytics – among the best tools for website optimization with comprehensive data analytics integrated into Google's ecosystem, guiding optimization efforts across platforms.
Google Search Console – direct feedback from Google on indexing, crawling, and ranking, offering a 360-degree view of your website's SEO performance.
Optimizely – robust A/B and multivariate testing, verifying the changes suggested by Google Analytics and Search Console.
PageSpeed Insights – real-time performance analysis with actionable suggestions for improving site speed and the user experience.
If you know of any other website optimization tools that should be on this list, let us know in the comments below.