Andzelika V. & Jordana A.
Average Web Developer Salary Based on Skill Set, Seniority, Programming Languages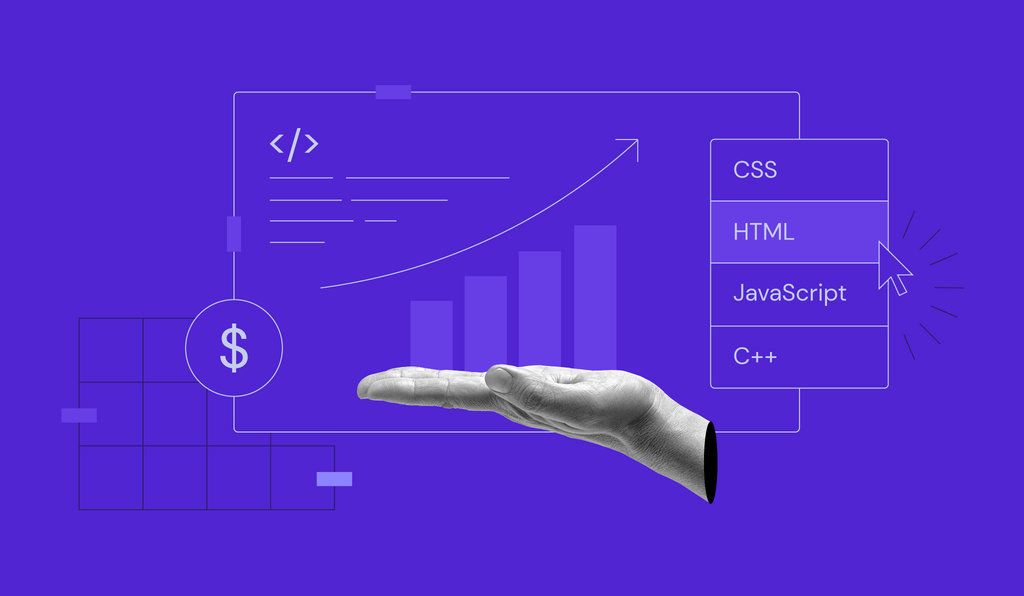 As of October 2022, 5.07 billion people – 63.5% of the global population – are active internet users. The rising number of global internet users prompts businesses in all sectors to go online, creating the need to build websites.
Few business owners have the skills, knowledge, and time needed to create websites, so, many resort to hiring web developers. Therefore, it's no surprise that the employment rates of web developers are growing much faster than those of other occupations.
The US Bureau of Labor Statistics projects a 23% employment growth for web developers from 2021 to 2031. Additionally, an average of 21,800 programmer and web designer jobs open each year to fulfill market demand. If you're considering becoming a web developer, now is the time.
Keep reading as we cover the average developer salary, current market trends, and projected demands for this profession ‒ giving you better insight into the industry.


Average Web Developer Salaries
A website developer's compensation varies based on multiple factors. The following sections highlight web developer salaries by country, seniority, skills, and programming languages.
Web Developer Salary by Country
Different countries have varying web developer salary ranges depending on the cost of living, industry growth, and location. Web development salaries in wealthier, more expensive countries are usually higher.
The United States, for instance, is one of the highest-paying countries in the world due to its rapid growth in the IT industry. It has an average web developer salary of around $96,500/year or about $46/hour.
As aggregated by Salary Expert, the following is a list of estimated average web developer salaries by country per December 13, 2022.
We have sorted the rates from the highest to the lowest and converted them to USD for easier comparison. Therefore, consider exchange rate differences when focusing on a specific country.
| | | |
| --- | --- | --- |
| Country | Average Base Salary | Average Hourly Rate |
| Switzerland | $111,600 | $53 |
| United States | $96,500 | $46 |
| Denmark | $92,100 | $44 |
| Australia | $86,700 | $41 |
| Germany | $81,300 | $39 |
| Canada | $79,600 | $38 |
| Belgium | $79,000 | $38 |
| New Zealand | $74,600 | $36 |
| Finland | $72,900 | $35 |
| France | $70,500 | $33 |
| United Kingdom | $68,500 | $33 |
| Japan | $62,000 | $30 |
| Italy | $61,200 | $29 |
| South Korea | $52,700 | $25 |
| China | $45,100 | $22 |
| Brazil | $27,800 | $13 |
| Indonesia | $24,400 | $12 |
| India | $19,300 | $9 |
| Argentina | $18,500 | $9 |
| Egypt | $8,500 | $4 |
We will focus solely on the US job market for the following sections to make navigating the web development industry and its dependencies easier.
Web Developer Salary by Seniority
Experience and knowledge are two important factors that influence the salaries for web developers. The longer you work in the industry, the more experience and knowledge you gain.
Climbing the seniority ladder also means taking on more responsibilities and complex projects. The amount of time and skills needed to handle the work affects your value in the organization. As such, seniority levels matter significantly in salary negotiations.
We have compiled salary information from reputable job search platforms. Keep in mind that these rates don't include bonuses and monetary employee benefits, both of which depend on your company and performance.
Here's the average annual US salary for a web developer based on seniority level, per December 13, 2022:
The average junior web developer salary in the US is $60,973/year. Mid-level web developers can earn an average of $82,200/year, whereas senior developers are compensated $98,957/year on average.
Junior web developers work on certain parts of the website creation process under the supervision of senior web developers. The educational requirements of a junior web developer may include a bachelor's degree in IT concentrations or a credible web development certification.
Mid-level web developers usually have three to five years of experience tackling team-based and individual projects. Many companies expect web developers at this career level to have at least a college degree and proficiency in several programming languages.
Once you reach the senior level, you will likely lead a team of developers to work on web development projects. Companies usually include senior web developers in their decision-making and demand solutions to workflow-related IT problems.
Pro Tip
Keep your web developer resume up-to-date with your latest work experience, education, and certification. The resume can prove that you're qualified for a promotion or a higher-level job opportunity elsewhere.
Web Developer Salary by Skill Set
Another factor determining the average website developer's salary is their skills. Since web development comprises various workflows, many employers are looking for web developers with the skills to work on certain parts of website creation.
There are three types of web development jobs based on the skills and tools used – front-end web developer, back-end web developer, and full-stack web developer. Let's have a look at them in more detail.
Front-End Web Developer Salary
Front-end developers work on the website's visuals and structure. Developers in this field focus on building and optimizing web design. They ensure each project delivers an excellent user experience.
A front-end developer realizes a website's design using CSS, HTML, and JavaScript programming languages. And contrary to popular belief, this position doesn't require graphic design skills, though having them will make you stand out from the competition.
The following are the average salary for front-end developers taken from three popular job search platforms, per December 13, 2022:
Based on these `sources, the average salary for a front-end developer in the US is $87,185/year.
Pro Tip
If you're interested in becoming a front-end developer, build a portfolio of web design projects to showcase your artistic skills and understanding in UX design. Having knowledge of relevant programming languages and web performance also increases your chances of getting hired.
Back-End Web Developer Salary
Back-end developers primarily work on the technology that powers websites from behind the scenes, such as databases and servers. This type of developer ensures the website architecture and elements are functional and work as intended.
In more detail, back-end developers build functions to save, process, and communicate database information to site visitors. As such, this web development job title requires advanced coding skills as well as logical and analytical prowess.
Here are the average annual salaries for back-end web developers from three popular job search platforms per December 13, 2022:
Based on these findings, a back-end developer working for a US-based company can expect to earn around $94,684/year on average.
Pro Tip
Build your technical skills by obtaining website developer certifications. Research the most in-demand skills first to make your time and money investment worthwhile.
Full-Stack Web Developer Salary
Full-stack developers are knowledgeable in both front-end and back-end web development. This type of developer can build functional user-facing websites and develop excellent back-end infrastructures to support them.
Full-stack developers must have all the skills required to build an entire online project alone. Understandably, they're highly in demand in the web development sector.
The following are the average yearly salary for full-stack web developers according to three popular job search platforms, per December 13, 2022:
Based on this salary information, the average pay of a full-stack developer in the US is $83,422/year.
Pro Tip
Many full-stack web development projects are available online to create another income source. Save time bidding on projects by drafting a web development proposal template.
WordPress Web Developer Salary
With over 455 million websites being hosted on the WordPress server, there's a constant demand for WordPress web developers every year.
WordPress developers work with the infrastructure of the WordPress platform to improve existing features or create new ones. Their responsibilities include working with WordPress plugins, themes, the overall web design, and other aspects of WordPress architecture.
As such, the pay range of WordPress web developers varies depending on their years of experience, skills, career level, and location.
Here's the average yearly salary for WordPress developers in the US across different job search platforms, per December 13, 2022:
Based on this salary information, this career path can help you earn about $63,200/year on average.
Web Developer Salary by Programming Languages
Developers use different programming languages to build their projects. On the most basic level, these languages allow developers to control the behavior of computers through commands that humans can understand.
Certain projects call for specific programming languages. Hence, some languages are more popular than others. Developers proficient in high-demand programming languages get higher pay than those who aren't.
Here's a list of the top 10 programming languages worldwide, sorted by popularity and demand, per December 13, 2022. We also include each of these languages' average salaries across various resources.
| | | |
| --- | --- | --- |
| Programming Language | Popularity (Worldwide) | Average Annual Base Salary (US) |
| JavaScript | 65.36% | $114,285/year |
| HTML/CSS | 55.08% | $70,256/year |
| SQL | 49.43% | $94,580/year |
| Python | 48.07% | $116,885/year |
| TypeScript | 34.83% | $64,200/year |
| Java | 33.27% | $106,329/year |
| Bash (UNIX Shell) | 29.07% | $100,377/year |
| C# | 27.98% | $102,189/year |
| C++ | 22.55% | $93,779/year |
| PHP | 20.87% | $94,716/year |
Pro Tip
Increase your chances of getting hired and gaining a higher salary by researching the best programming languages to learn. Popularity and salary rate aside, your chosen language should align with your preferred type of web development project, ecosystem, and complexity level.
Most Profitable Web Development Trends
To stay relevant within the job market, you should be aware of future web development trends. Use the following information to help determine your focus.
Here are some predictions for web development industry trends in 2023:
Conclusion
If you're exploring new career paths in the IT industry, a web developer position might be what you're looking for. The thriving industry creates jobs with high salaries, particularly in countries with fast-growing tech companies.
This article explored the average US-based website developer salary based on different factors. As there are many web developer jobs with varied pay ranges, consider your interest and the market demand when planning your career.
That said, feel free to explore other IT job paths if being a web developer doesn't sound like the career you'd enjoy. Other popular IT jobs you may be interested in include software developer, database manager, web designer, and data security analyst.
We hope this article gives you better insights into the web development industry and whether getting a job in IT is the right career path for you. Good luck!
Web Developer Salary FAQ
If you still have questions about the salary rate for web developers, the following section might have the information you're looking for.
What Skills Do You Need to Become a Highly-Paid Web Developer?
Coding, problem-solving, time management, and communication are the top four skills a web developer should have. In addition, you must adapt to the work environment and deliver quality results promptly.

Supplementary abilities like creativity, user experience, SEO, and interpersonal skills can also help advance your career as a web developer. 
Are Web Developers in High Demand?
Layoffs and hiring freezes have increased across the IT industry in Q4 2022. Fortunately, this only affects some IT jobs, as some skills are still in demand. Conduct thorough research on IT career paths that will remain relevant in 2023 to increase your chances of getting hired. 
Who Earn More, Web Developers or Web Designers?
According to Salary Expert, the average salary of US-based web designers is around $87,000/year or about $42/hour. 

Job paths in web design have a varied pay range, just like in the web development sector. You can increase your salary by learning in-demand skills, gaining experience through different projects, and obtaining relevant certifications.