If you want to create a file sync/share server for your photos, backups, calendars or any other kind of data, ownCloud is the way to go. It's a self-hosted open-source software focused towards simplicity and customization. While resembling services like Dropbox or Google Drive, ownCloud comes free of charge for anyone eager to try it on their computers or servers. In this tutorial, you will learn how to install and configure ownCloud on CentOS 7 VPS.
What you'll need
Before you begin this guide you'll need the following:
SSH root access to the VPS
LAMP stack
Step 1 — Installing ownCloud
CentOS does not have the ownCloud package in its default software repositories, however, ownCloud has its own dedicated repo for this matter. Firstly, import the release key:
rpm --import https://download.owncloud.org/download/repositories/stable/CentOS_7/repodata/repomd.xml.key
Then, run this command to download the actual repository:
curl -L https://download.owncloud.org/download/repositories/stable/CentOS_7/ce:stable.repo -o /etc/yum.repos.d/ownCloud.repo
Now we will introduce this package to Yum by clearing the cache:
yum clean expire-cache
Output should be similar to this:
Loaded plugins: fastestmirror
Cleaning repos: base ce_stable extras updates vz-base vz-updates
10 metadata files removed
Finally, install owncloud package by running standard yum install command:
yum install owncloud -y
You have just installed ownCloud package, now it's time to create a database!
Step 2 — Creating database
Log in to MySQL by executing this command:
mysql -u root -p
Once prompted, enter the password that you initially set while installing the server.
Create a new database called owncloud:
CREATE DATABASE owncloud;
Now create a user and assign it to the owncloud database:
GRANT ALL ON owncloud.* to 'owncloud'@'localhost' IDENTIFIED BY 'password';
Change password to actual password which will be used with this user to access the database. After all is done, exit the MySQL:
exit
Database and user are ready, now we can proceed configuring ownCloud.
Step 3 — Setting up ownCloud
To reach ownCloud via browser use this URL:
https://domain_or_IP/owncloud
Once you access ownCloud, a warning will appear stating that certificate can not be trusted. You can ignore this, data transmissions are still encrypted. Alternatively, you can install fee SSL certificate from Let's Encrypt to remove this warning. Similar screen should be present after the warning:
Fill in Username and Password fields to create a new administrator account. Then, click on Storage & database.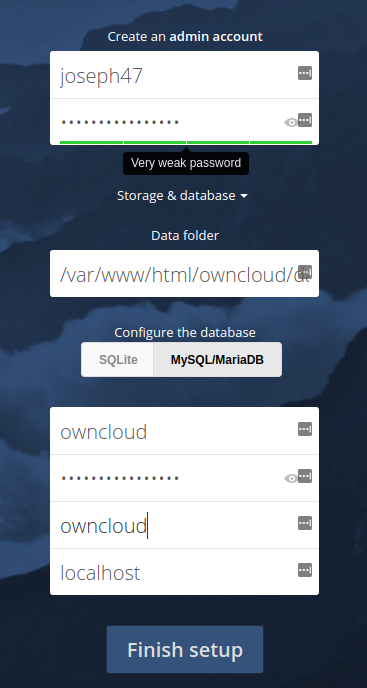 Leave data folder as is and click on MySQL/MariaDB under Configure the database section. Here you need to enter the database name and user which were created in Step 2.
After all is set just proceed further by clicking on Finish setup button.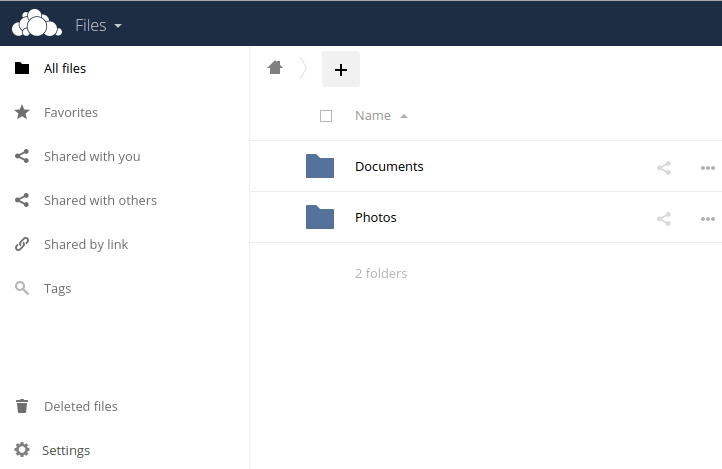 That's it! You have successfully installed ownCloud, now you can upload data to your own personal cloud.
Conclusion
ownCloud installation was a quite simple process, you have installed new CentOS repository along with ownCloud itself on CentOS 7 VPS, then you created a database and specified configuration details in initial ownCloud setup. Now you can enjoy all the features that come with ownCloud.