What Is SEO? Video Guide for Beginners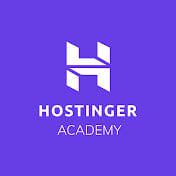 Subscribe For more educational videos!
Hostinger Academy
Subscribe
What is SEO, and how does it work? Search engine optimization improves your site's visibility, helping users find your products or services when they search related content on the internet. SEO also helps to drive higher traffic to your site and increase conversion rates.
In this Hostinger Academy video, you will learn how search engines rank your site, including the crawling and indexing processes. We will also explain the different types of SEO:
On-page SEO – focuses on content-related elements.
Off-page SEO – involves activities outside the website.
Technical SEO – includes the technical aspects of a website.
Local SEO – focuses on boosting visibility on local searches.
You will also find out the most important factors to consider to get higher rankings.