15 Best Trello Alternatives for Efficient Project Management in 2023
Trello is arguably one of the best Kanban-based tools. However, teams with large volumes of projects and the need for multiple layouts will feel restricted by Trello's capabilities.
If you have moved from a freelancer to an agency and outgrown the software, consider looking for other project management tools that meet your current needs.
There are many Trello alternatives that cover more functions, like creating repetitive task lists, assigning multiple members for the same task, and tracking time.
In this article, we'll list the 15 best Trello alternatives and highlight their key features, pricing, and drawbacks, so you can find the best option for your team.
Download Checklist: How to Start an Online Business
Top 15 Trello Alternatives
Here are our top picks for project management and team collaboration software that can be an excellent alternative to Trello.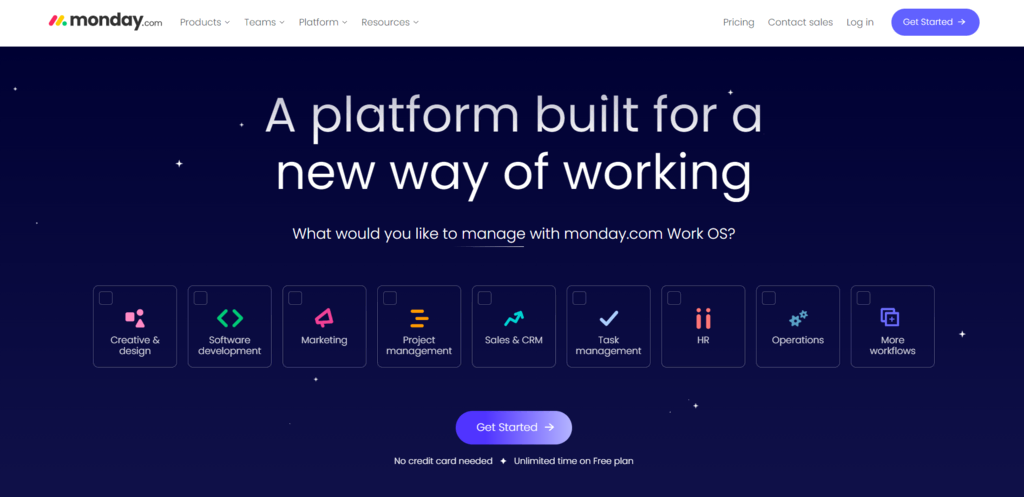 Monday.com Stats:
Available on: web, Android, iOS, macOS, Windows
Best for: companies needing a Trello alternative with a high level of automation
Price: starting at $8/user/month with a minimum amount of three users
Monday.com is an intuitive project management tool with advanced workflow automation features. Choose the trigger and condition, then decide what Monday.com should do. You can also set multi-step automation and apply the available pre-set recipes.
To organize projects, users only need to drag and drop pre-defined elements, like project titles, ownership, and deadlines, on the board. Alternatively, use other views, such as the Timeline, Calendar, Map, and Kanban. Maximize this tool using over 200 integrations, from SurveyMonkey to Gmail and GitHub.
Even though Monday.com doesn't have a free plan, it offers a 14-day free trial for up to a Pro plan.
Key Features
Tailored product. Monday.com curates packages for different teams and business sizes with specific features. For example, marketing teams can launch and track Google Ads campaigns directly from Monday.com.
Workdocs. This Trello alternative lets users brainstorm ideas in a collaborative document with a drag-and-drop interface without leaving the app.
Centralized dashboard. This project management software allows you to create custom dashboards to track tasks, progress, and budgets at a glance.
Drawbacks
Automation recipes are tied to the users who created them, so other members may need to recreate them due to turnover or role changes. Also, switching between views may take a long time.
[DOWNLOAD]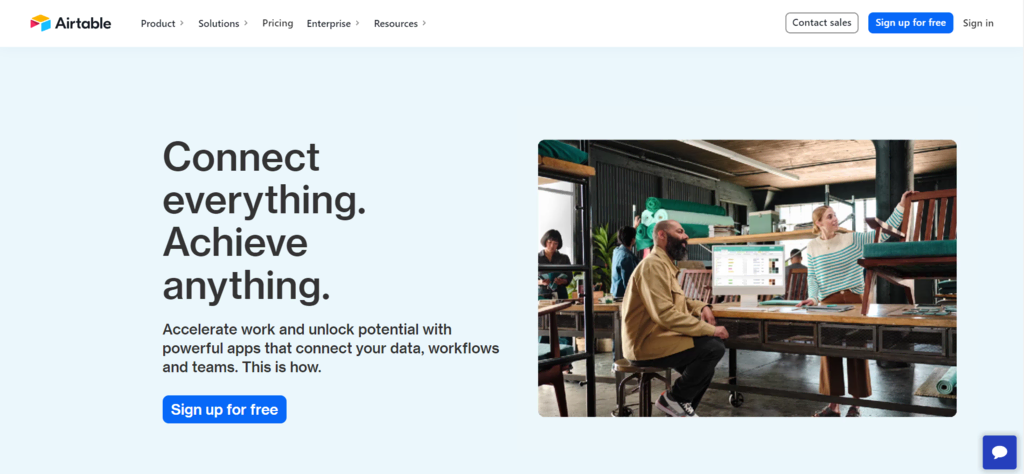 Airtable Stats:
Available on: web, Android, iOS, macOS, Windows
Best for: teams that mainly work in Google Sheets or Excel besides Trello
Price: freemium with paid plans starting at $10/user/month
Trusted by big companies like Netflix and Medium, Airtable is a great Trello alternative for project organization and team collaboration tasks.
If Trello is known for its Kanban board view, Airtable is famous for its high-powered spreadsheet where users can list to-dos, assign tasks, and attach various items like links and images. Besides the table or spreadsheet options, this tool also has Calendar, Kanban, Timeline, and Gantt views.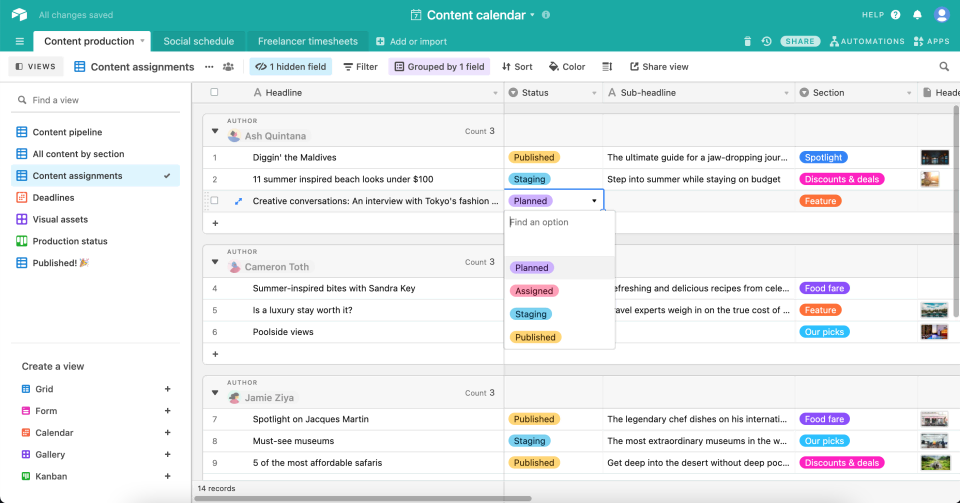 Its free plan lets up to five users, 100 automation tasks, and unlimited tables, but it's limited in project views, account permissions, and customization options.
Key Features
Interface Designer. Its intuitive drag-and-drop builder lets you customize the home dashboard however you like, from moving fields around the interface to adding charts.
Social media integrations. Write copy and schedule social media posts without leaving the Airtable database.
The ability to filter fields. Avoid clutter by setting up a filter on the status field. Users can hide a record from the current projects table view when it's complete, on hold, or canceled.
Drawbacks
Without an enterprise license, you'll pay for every user per workspace – an area containing tables. So, if a user works in more than one area, you will need to pay twice for the same person. Furthermore, Airtable's support is available during weekdays only.
[DOWNLOAD]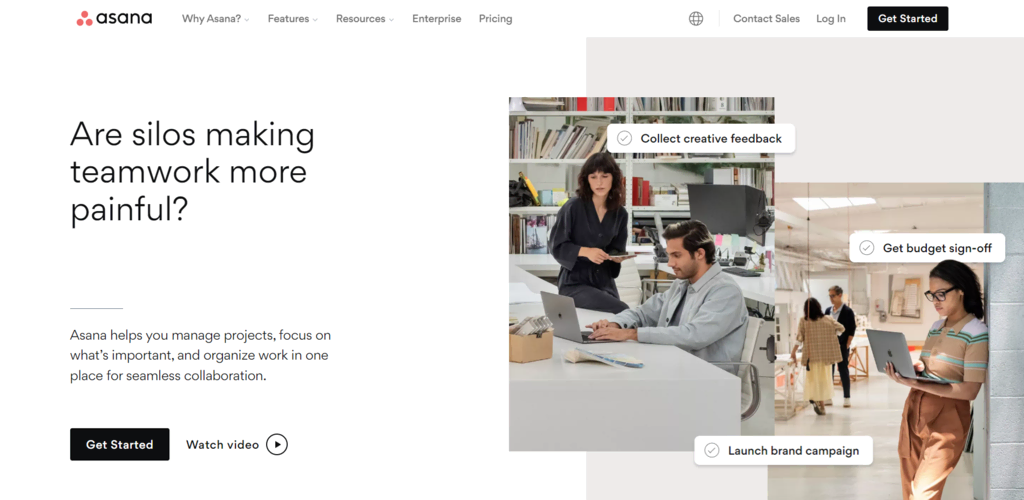 Asana Stats:
Available on: web, Android, iOS, macOS, Windows, Siri
Best for: small to midsize teams
Price: freemium with paid plans starting at $10.99/user/month
Asana is one of the best Trello alternatives due to its simplicity and powerful features. This team management tool offers more ways to visualize projects and tasks on its free plan and has a personal task management dashboard to keep each member focused on their to-do list.
Project managers can keep the to-dos organized and look at the team's performance over time with milestones, dependencies, and subtasks. While Asana provides a free version, you can try its 30-day free trial to explore the Premium and Business plans.
Key Features
Workflow builder. Asana has various templates to kick off your project and offers more extensive customization features than Trello, including custom fields, rules, and workflow.
Accessibility features. This project management and collaboration tool has colorblind-friendly and dark modes, iOS VoiceOver support to use the app without seeing the screen, and Siri integration to create tasks using voice commands.
Company goals. See whether the project progress relates to company-wide objectives.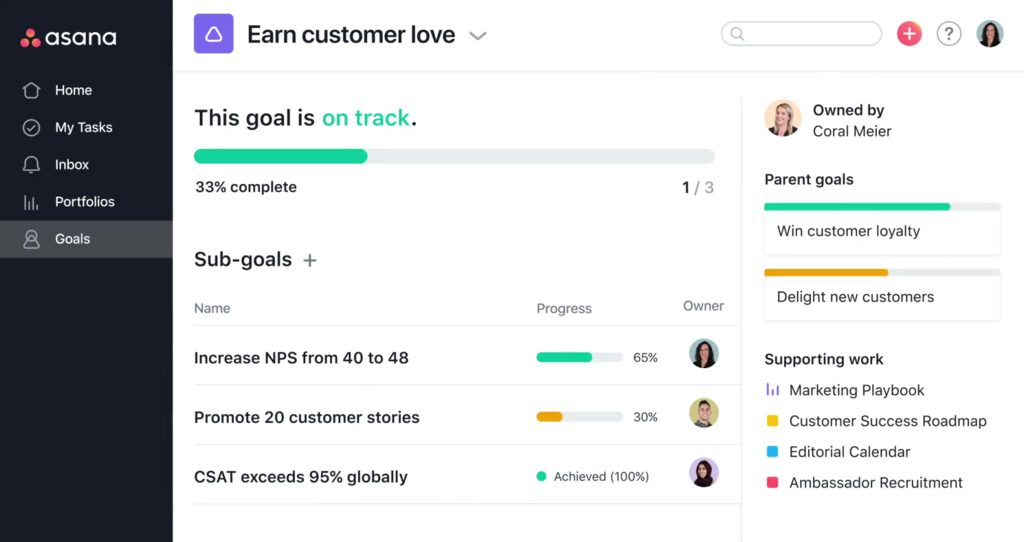 Drawbacks
Asana has no time-tracking feature and doesn't let users assign multiple members for the same task.
[DOWNLOAD]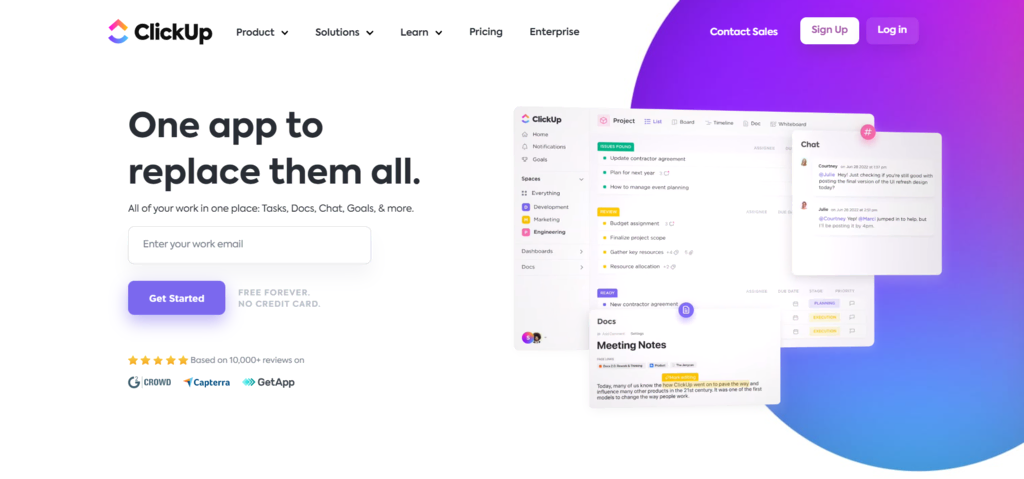 ClickUp Stats:
Available on: web, Android, iOS, macOS, Windows, Linux, voice assistants
Best for: small to midsize teams
Price: freemium with paid plans starting at $5/user/month
ClickUp was one of the Fastest Growing Products in the 2021 G2 Best Software Awards. As one of the best Trello alternatives, this tool has better ways to organize projects and more custom features.
Users can choose from over 15 views, including Board, Table, and Gantt charts. Embedding spreadsheets, documents, or Figma files is also possible to help reduce context switching, gather resources, and manage multiple projects on the same board.
The free plan lets you access unlimited tasks, collaborative docs, and various views. Meanwhile, the basic paid plan features unlimited storage, custom fields, and multiple dashboards.
Key Features
Built-in documents and whiteboards. Create mind maps, meeting notes, or a knowledge base without leaving this project management software.
Custom templates. This Trello alternative comes with premade templates for many purposes, like documents, checklists, and tasks. You can also create new ones that match your project planning workflow.
Task linking. Link-related or similar tasks to ensure everyone knows which are relevant to their work.
Drawbacks
Many users complain that they experience many glitches and their tasks randomly disappear. The tool is also slow when you have many items or a larger team.
[DOWNLOAD]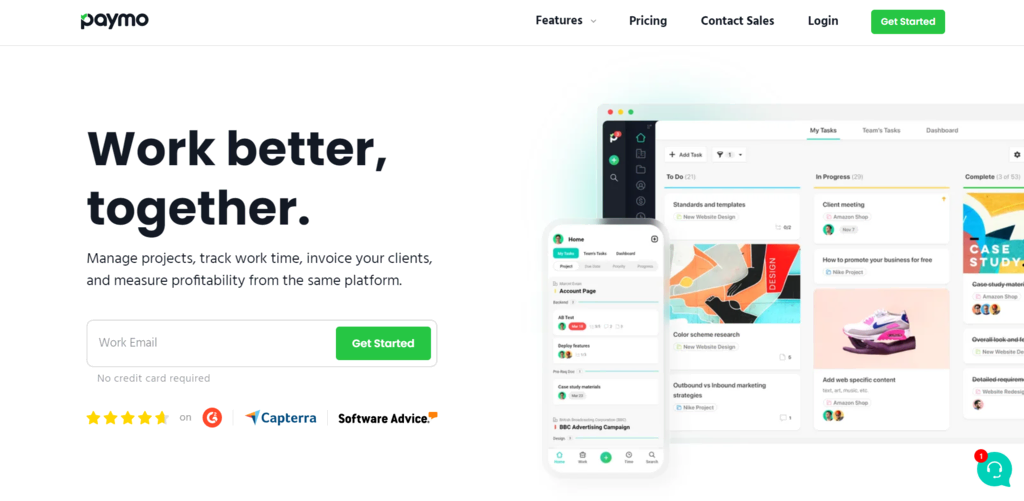 Paymo Stats:
Available on: web, Android, iOS, macOS, Windows
Best for: freelancers or small and medium business teams looking for all-in-one project management
Price: freemium with paid plans starting at $4.95/user/month
Paymo is an all-in-one Trello alternative that lets users manage projects, track time, collaborate with the team, organize files, and invoice clients in one place. It also has resource management features to get an overview of your members' holidays, workload, and bookable hours.
Its Starter paid plan is only available for individuals. Small teams have to choose the Small Office plan for $9.95/user/month. Consider Paymo's 15-day trial period to get access to any Paymo plan to see if this project management software matches your needs.
Key Features
Advanced time tracking functionalities. Track and log time for a specific task or project manually or automatically on your computer. It also features a Pomodoro timer to manage your work sessions and breaks.
Multi-language interface. This project and task management tool is available in 23 languages, including Spanish and German.
Invoicing software. Send an invoice to clients based on a project's number of tasks, duration, and costs available on your report. For a faster process, Paymo provides multi-language invoices and email templates.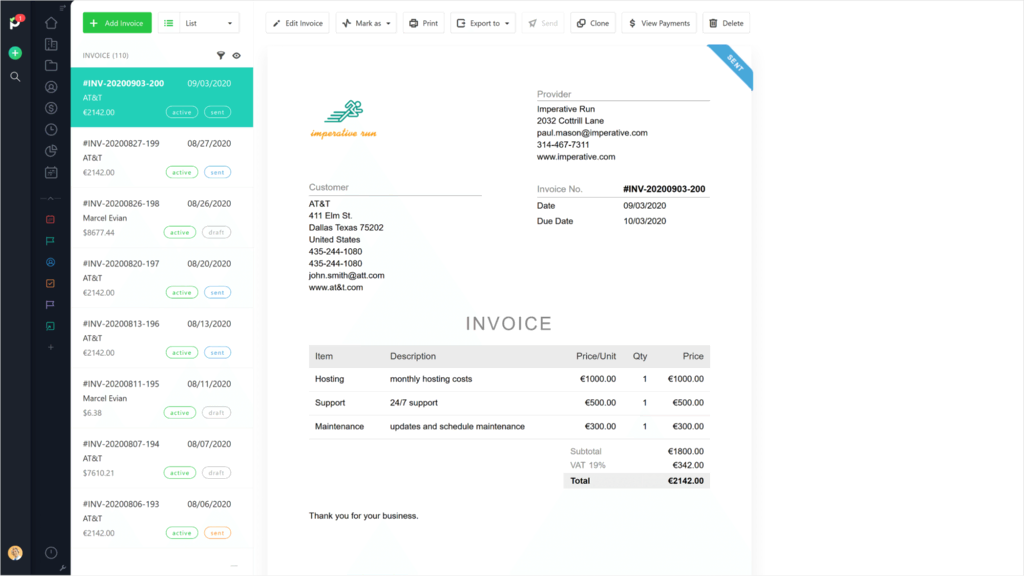 Drawbacks
The mobile app is not as intuitive as the web version. Additionally, Paymo has fewer integrations compared to other project management tools.
[DOWNLOAD]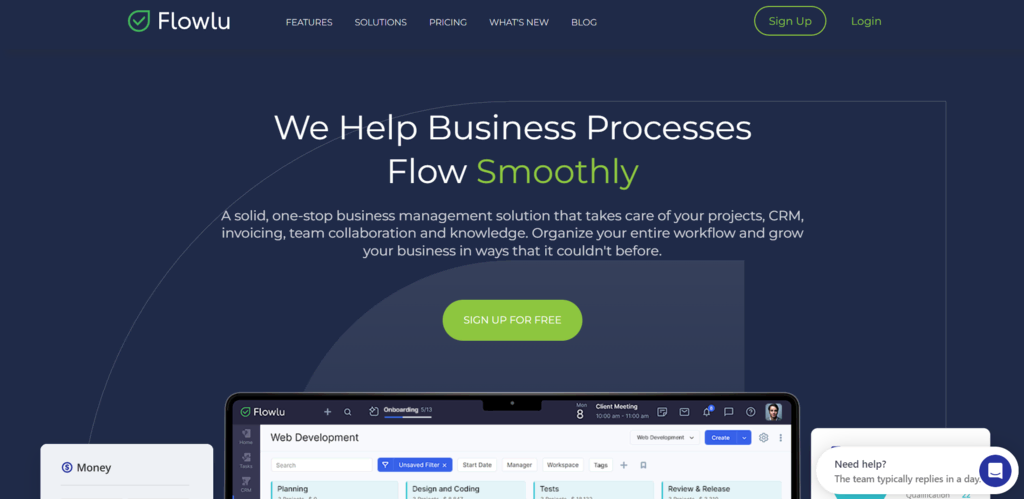 Flowlu Stats:
Available on: web, iOS, and Android
Best for: medium to big teams wanting affordable yet feature-rich project management software
Price: freemium with paid plans starting at $29/month
Flowlu has received awards from GetApp, Caterra, and Goodfirms.co due to its features and ease of use. Users can create their own workflows with milestones and stages, keep track of project cash flow, send invoices, track time spent on projects, and manage appointments – all in one place.
Its free plan includes two users, unlimited projects, as well as invoicing and expense-tracking features.
Key Features
Templates for specific purposes. This powerful project management tool curates templates for different purposes, such as for agile teams and people applying the Getting Things Done (GTD) productivity method.
Fixed pricing. While many task management tools use flexible pricing based on the number of users, Flowlu's pricing plans are flat, which is more affordable than paying per user.
Finance provider integrations. See your accounting data in a single place by linking transactions to bank accounts, PayPal, credit cards, or cash.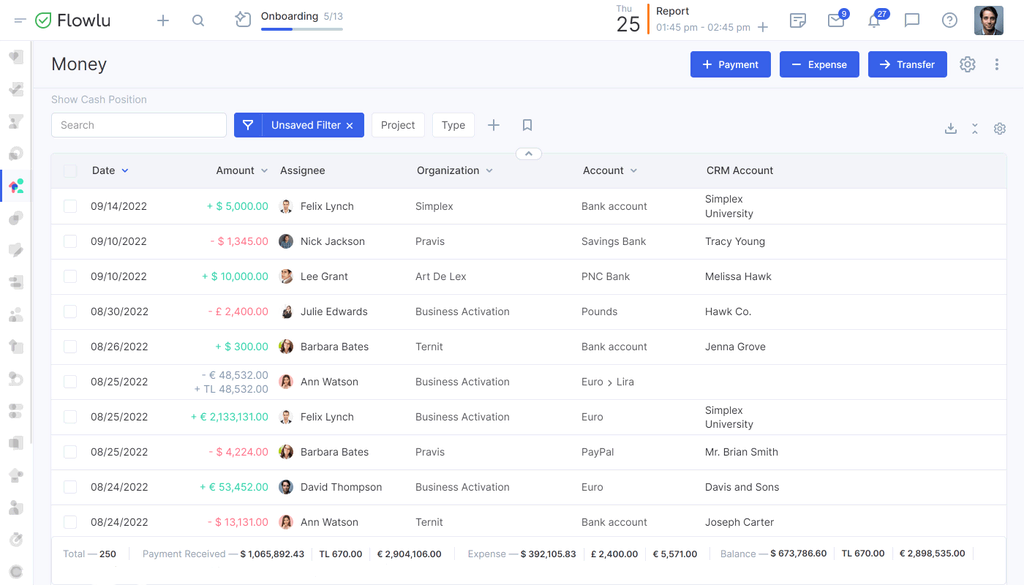 Drawbacks
Most functions are well-documented, but some features still require reaching out to the support team to set up properly.
[DOWNLOAD]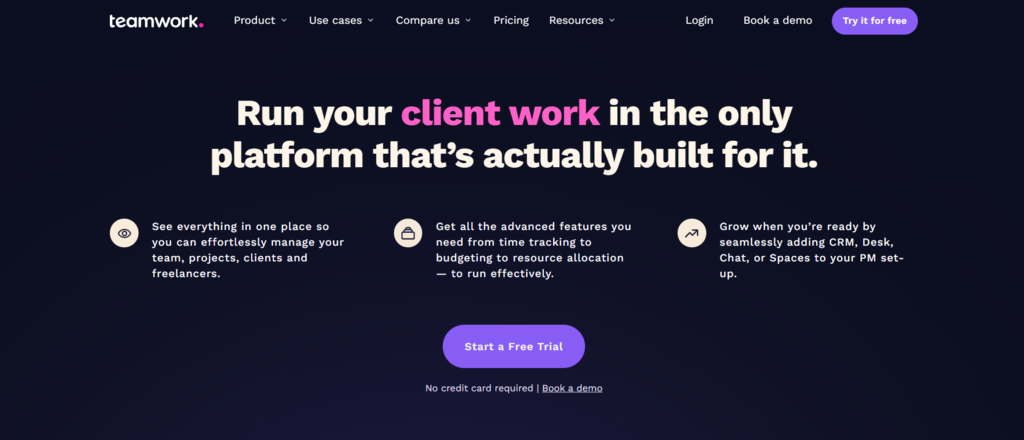 Teamwork Stats:
Available on: web, Android, iOS, macOS, Windows
Best for: agencies or professional services firms wanting to deliver a more collaborative client experience.
Price: freemium with paid plans starting at $9.99/user/month
Teamwork enables users to organize multiple projects with visual boards, task lists, table views, or Gantt charts. It also provides billing, budgeting, time tracking, and document-sharing features, making it ideal for working with clients and saving money for additional tools.
The free plan comes with essential project management capabilities without the billing, invoicing, integrations, and advanced team management features. If you're not ready to subscribe to its paid plan, start the 30-day free trial of your desired solution.
Key Features
Free guest users. Let clients see your progress, comment on tasks, and add to-dos for better client communication – you control their access and permissions.
Followers access. Enable some members to stay in the loop on task progress without assigning an action to them.
Robust reporting features. Besides offering a quick snapshot of the project health, Teamwork showcases an in-depth Planned vs Actual report, lets you schedule recurring reports for stakeholders, and offers custom reporting options.
Drawbacks
Its customer service team is available on weekdays with limited weekend cover, but it provides live chat, email, and phone support.
[DOWNLOAD]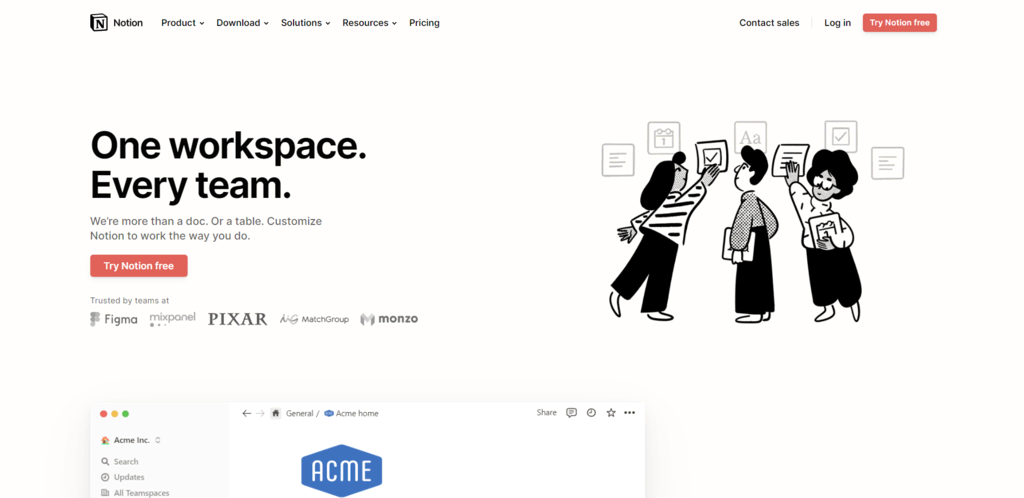 Notion Stats:
Available on: web, Android, iOS, macOS, Windows
Best for: solopreneurs and small teams
Price: freemium with paid plans starting at $8/user/month
Notion is a perfect alternative to Trello for teams looking for a versatile tool that lets them create custom workflows and keep all project-related information in one place. You can create wikis, product guides, databases, and even websites.
As it doesn't restrict the page structure, you can customize it with the drag-and-drop elements and the slash command. The elements include a to-do list, headings, and embedded files from various tools, including Google Maps, Figma, and GitHub.
What is more, Notion has a free plan that is enough as a personal productivity tool for solopreneurs.
Key Features
Linked databases. Include synced copies of the same content across different pages and use filters for more organized and personalized project planning.
Community-made templates and integrations. This Trello alternative has the Template Gallery feature that lets you freely duplicate or purchase templates from other Notion users.
Links and backlinks. Connect your thoughts and ideas across Notion by mentioning a specific page, and the tool will create a backlink automatically.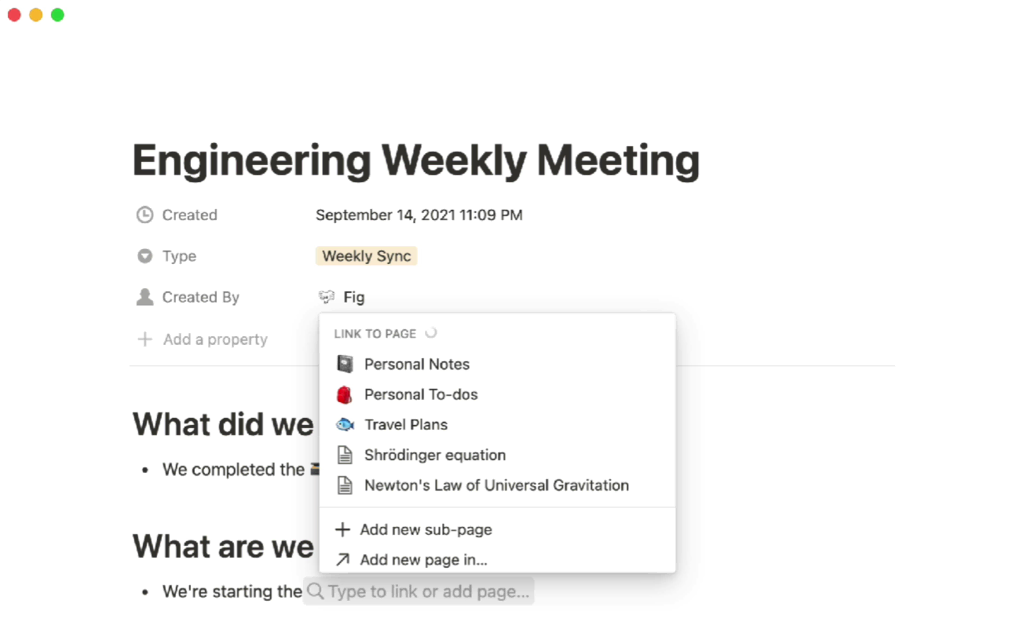 Drawbacks
There is a steep learning curve, as this software has a lot of customizable features. Notion also lacks communication features like built-in chat rooms or video meetings, although you can mention team members anywhere inside a page or database.
[DOWNLOAD]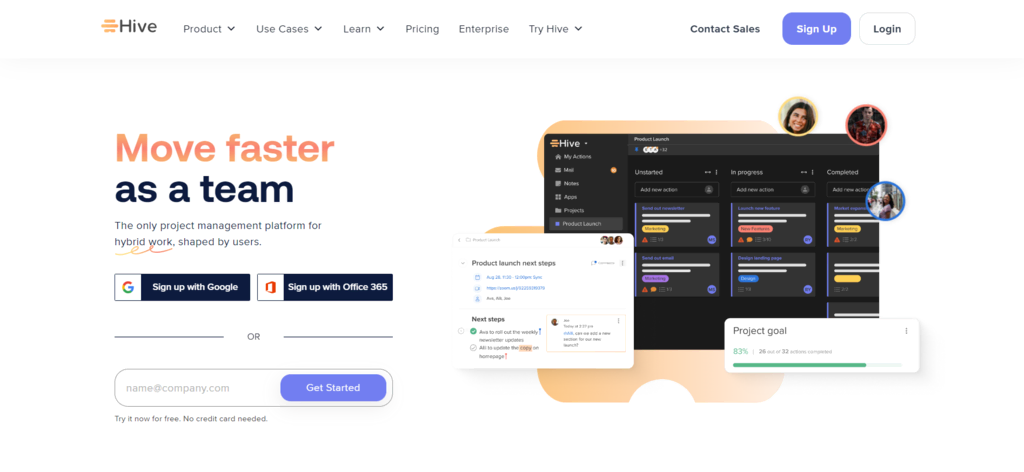 Hive Stats:
Available on: web, Android, iOS, macOS, Windows
Best for: businesses needing complete integrations and faster workflow with AI
Price: freemium with paid plans starting at $12/user/month
Hive lets you look at tasks in various project views, like Kanban, Gantt, Table, Calendar, and Portfolio layouts. It also supports complex task management capabilities, such as task dependencies and recurring tasks or actions.
This Trello alternative provides over 1,000 integrations, including Slack and Google Workspace. Hive has a generous free plan with features like multiple project views, access to up to 10 users, and unlimited tasks. Start its 14-day free trial to try more helpful features.
Key Features
Seamless agile project management. Have an overview of your initiatives and underlying projects in a visual roadmap and set multiple groups of your team for better reporting and tagging.
Complete team collaboration tools. Get built-in instant messaging, video, and collaborative documents. You can also use its Zoom and Google meet shortcuts to open a video meeting.
HiveMind. Leverage AI technology to create tasks based on keywords, write content or copy, and craft email responses.

Drawbacks
Many users reported that they needed quite some time to become familiar with this Trello alternative due to its complex features. Moreover, this software's notifications come as pop-ups which can be distracting.
[DOWNLOAD]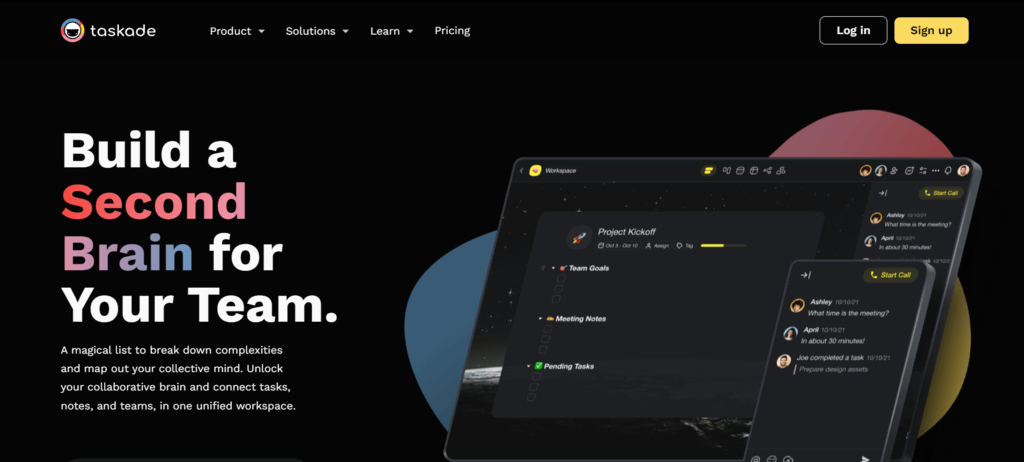 Taskade Stats:
Available on: web, Android, iOS, macOS, Windows, Linux
Best for: teams looking for robust and customizable project management software
Price: freemium with paid plans starting at $5/user/month
Taskade is a task management tool compiling note-taking, to-do, and video conferencing apps in one place. It's a great alternative to Slack, Trello, and Google Docs, suitable for teams that want to reduce the number of apps they use.
Similar to Notion, every project or page in this app is like a blank canvas – you can create anything from image or video galleries to meeting notes and to-dos.
While Taskade offers a free plan with limitless users, it limits the storage and integrations.
Key Features
Mindmap and organizational charts. This project management tool has layouts to better visualize your ideas and present your organizational structure.
Taskade AI. It's a powerful productivity assistant using machine learning to help you generate document outlines, brainstorm ideas, and summarize long-form content like reading and meeting notes.
Advanced built-in communication features. Taskade supports chat rooms, screen sharing, and video conferencing that you can directly access on each project.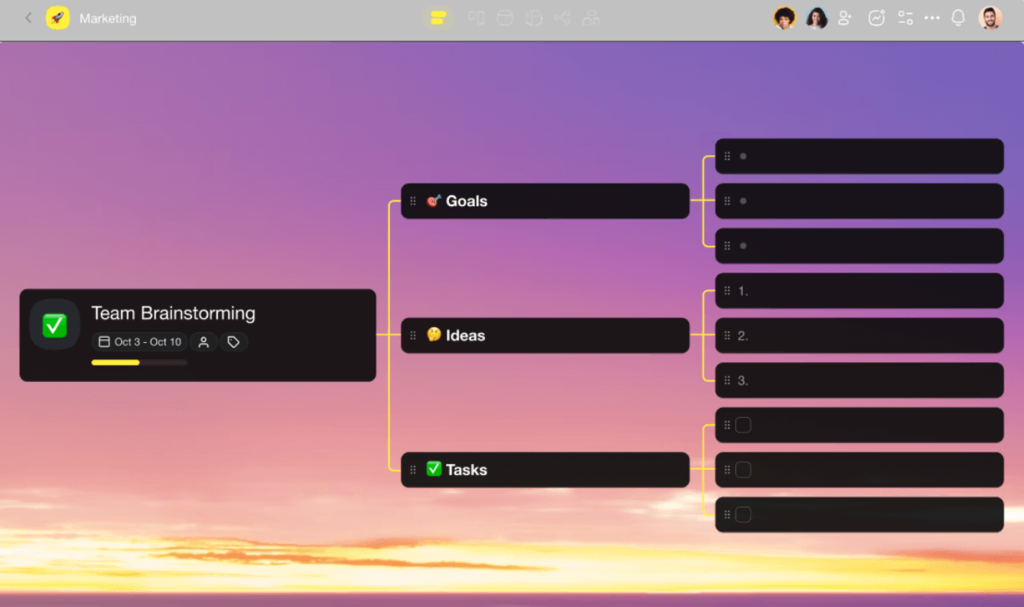 Drawbacks
This Trello alternative lacks task management features – you can't create recurring tasks, move them, or create their dependencies.
[DOWNLOAD]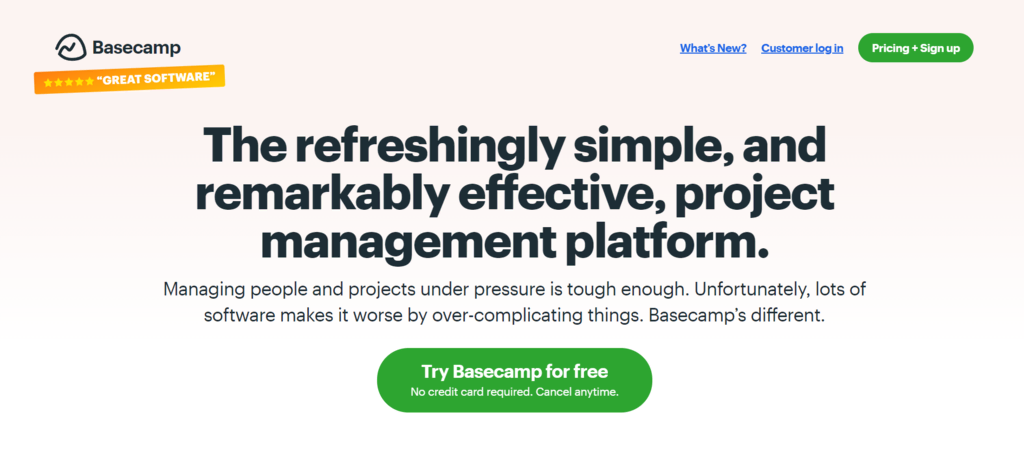 Basecamp Stats:
Available on: web, Android, iOS, macOS, Windows
Best for: enterprises
Price: starting at $15/user/month
Basecamp has a unique interface – it divides the home dashboard into four parts. These are pinned boards, recently visited projects, individual schedules, and personal task lists. In addition, each project board view shows the assigned members, message boards, project schedules, to-dos, and documents.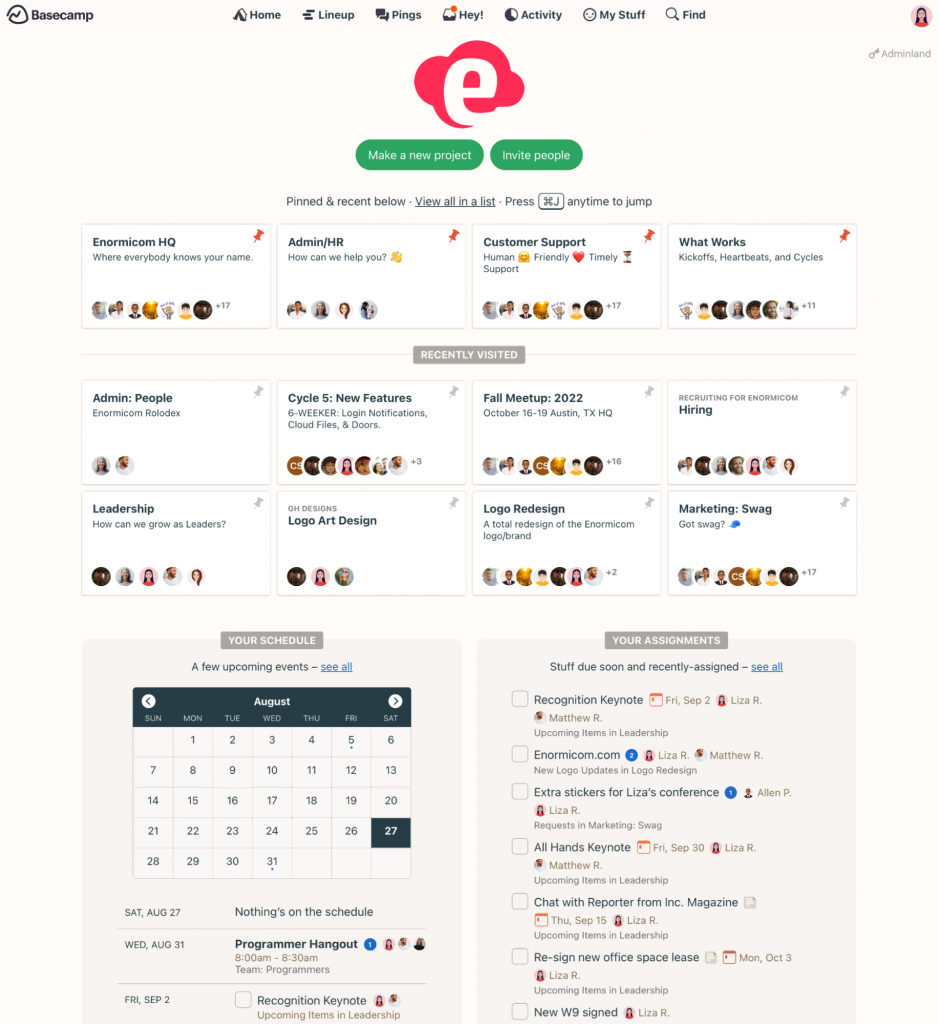 The Basecamp Pro Unlimited plan is perfect for larger groups and enterprises because it offers one fixed price for unlimited users at $299/month. Companies can get 5 TB file storage and priority support. If you're unsure, sign up for its 30-day free trial.
Key Features
Real-time communication. This tool offers automatic check-ins where project managers can create custom questions for all or particular team members to answer on a set schedule, eliminating hours of status meetings. It also includes group chats, message boards, and pings.
Integrated calendars. Basecamp lets your team syncs Google Calendars, iCalendar, and Outlook Calendar, so everyone can check who's available from their preferred calendar app.
Hill chart. This board view shows team members the project's big picture – an uphill phase to figure out the approach, the top of the hill to find the solutions, and the downhill phase for execution.
Drawbacks
Aside from changing the deadlines, there's no way to adjust priority levels to tasks on Basecamp. You also need to rely on a third party to use the Kanban board or Gantt chart.
[DOWNLOAD]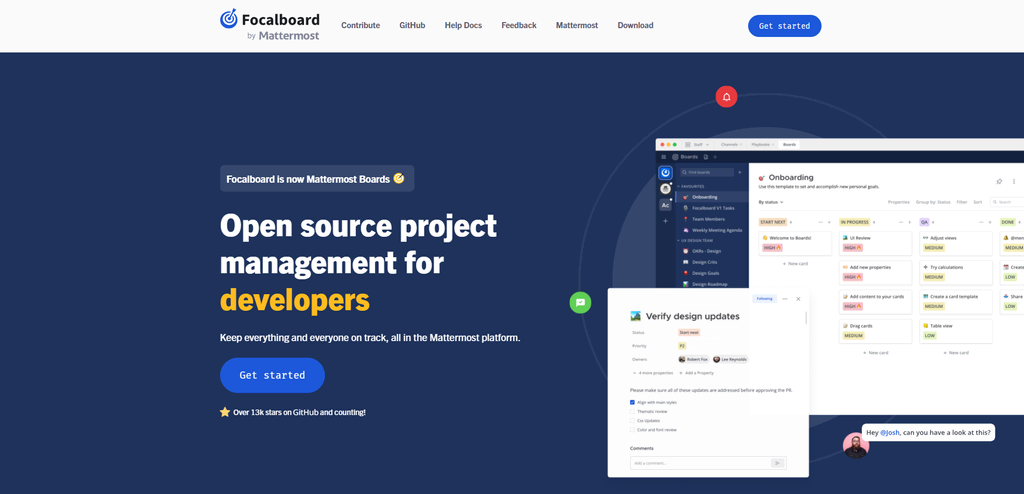 Mattermost Boards Stats:
If you're looking for an open-source Trello alternative, Mattermost Boards is the best option. This tool comes in two versions – Mattermost Boards as a self-hosted or free cloud server for teams and Personal Desktop for personal use. Alternatively, download and run this tool on Ubuntu.
It has essential project management features, including multiple layouts, comment sections for each work item, and priority labeling.
Key Features
Open-source system. As this kind of software is available for everyone, it is easier to spot errors. You can also customize and improve it to suit your needs, making it a great project management tool for long-term tasks.
User contribution. Since Mattermost Boards is open-source, businesses can contribute to shaping the platform by building features, extending its capabilities via apps or plugins, and writing tutorials.
Properties specific to developers. For example, this tool has standard status labels based on developers' workflow, such as Ready for Dev, In Development, and Code Committed.
Drawbacks
This tool is relatively new, with only basic features compared to other options.
[DOWNLOAD]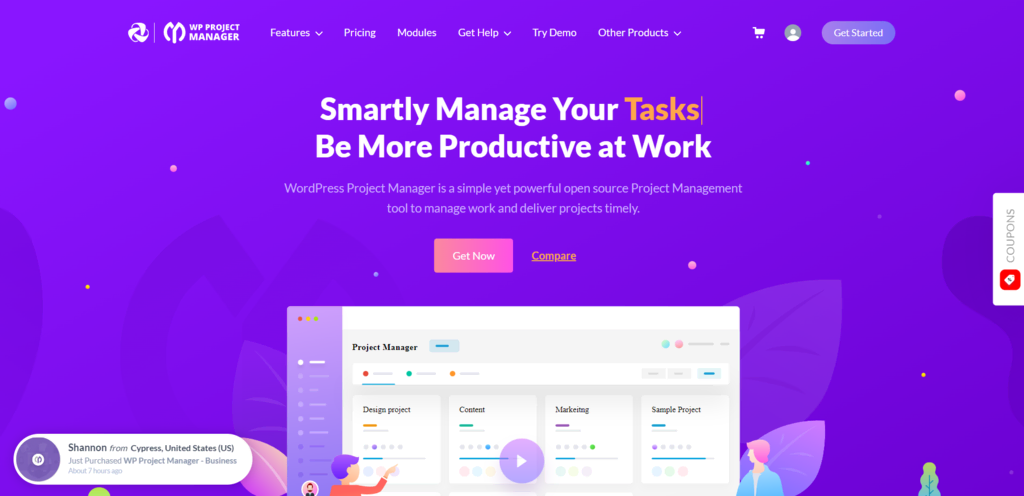 WP Project Manager Stats:
Available on: WordPress
Best for: WordPress users
Price: freemium with paid plans starting at $79/year
Managing projects from WordPress will be easier with WP Project Manager. Users can add to-dos, assign tasks, due dates, and priorities, and discuss projects directly from the WordPress dashboard.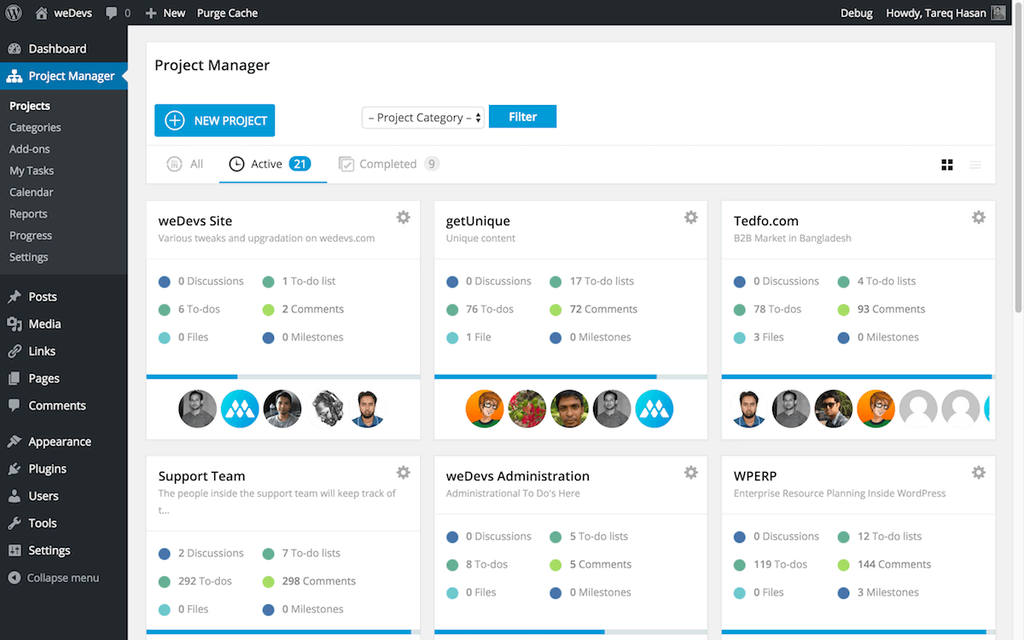 Pro users will get access to more features, such as Kanban board and Gantt chart layouts, time tracker, and integrations with popular tools like Slack and Stripe. The most basic paid plan covers one domain but already has fundamental features.
Key Features
No usage limit. This WordPress plugin lets you add unlimited coworkers or teams, unlike many other project management options that cost you per user basis.
Smooth WordPress plugin integrations. WP Project Manager will automatically create projects and lists based on your WooCommerce orders and make group collaboration easier for BuddyPress users.
Pusher. Get real-time notifications of your activities, like being mentioned in comments and assigned by team members.
Drawbacks
You have to purchase the Business plan that costs $249/year to use the Kanban boards – a layout you can use for free in most project management tools.
[DOWNLOAD]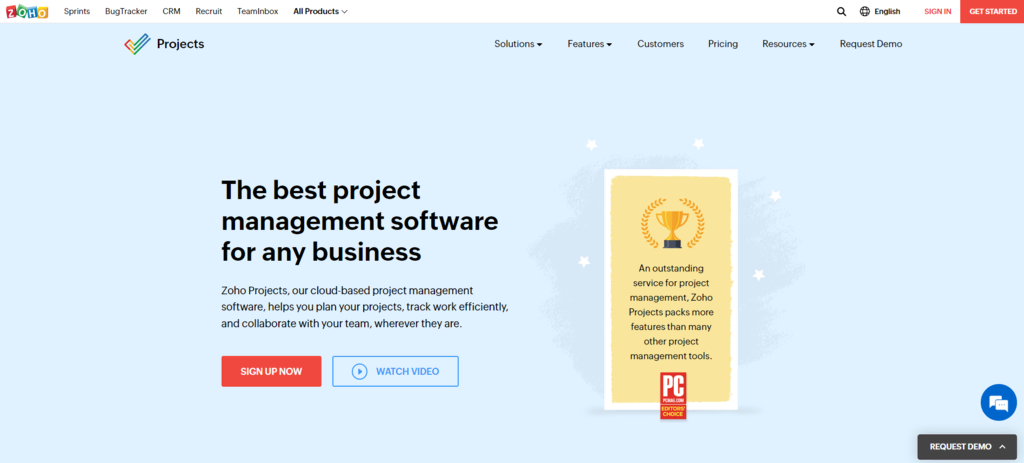 Zoho Projects Stats:
Available on: web, iOS, Android
Best for: businesses using Zoho stack
Price: freemium with paid plans starting at $5/user/month
If your business uses Zoho stack like Zoho Mail and Zoho CRM, then Zoho Projects is a good Trello alternative. Doing this can streamline your workflow, such as automatically creating invoices in Zoho Books based on time logs on Zoho Projects. It has a Kanban view along with other layouts like a Gantt chart and Table.
Key Features
Multipurpose button. Quickly add work items, tasks, issues, events, or documents with a single button.
Blueprints. Design workflows to automate tasks, update them, and alert team members when the task status changes.
Apple Pencil integration. Simply create a check symbol with your Apple pencil to mark a task done.
Drawbacks
If users go into a specific project board, they can only search for tasks within the project, which can be time-consuming if you have multiple projects. Many users also report that this tool has a high learning curve, especially during the setup.
[DOWNLOAD]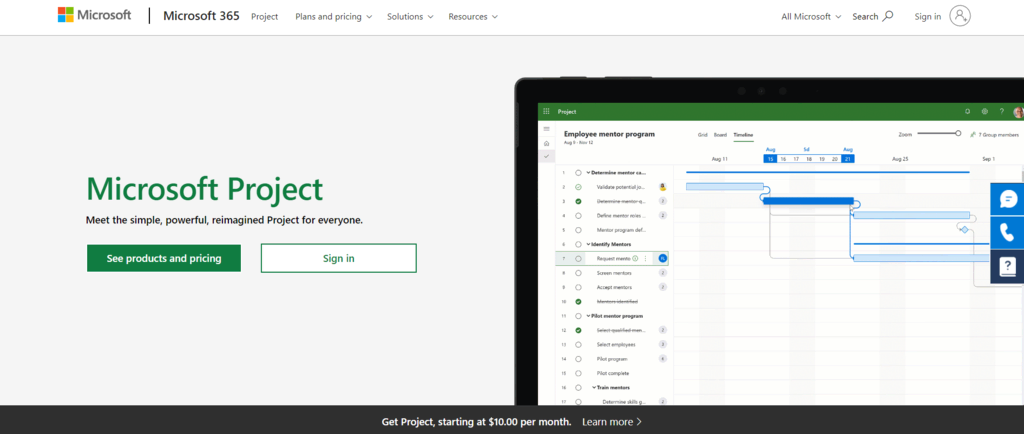 Microsoft Projects Stats:
Available on: Windows
Best for: teams using Microsoft stack
Price: starting at $10/user/month
Microsoft offers two Trello alternatives – a simple project management tool centered around a Kanban board called Microsoft Planner and a more advanced tool named Microsoft Project, which we'll discuss in this section.
This project management software features three customizable project views, including sprint planning for agile development teams. To better understand the features, subscribe to its 30-day free trial.
Key Features
Compatibility with other Microsoft tools. Because it's a part of Microsoft Office 365, project managers can integrate it with other Microsoft software, including Outlook and Teams.
Task dependencies. Microsoft Project enables multiple types of dependencies, so you can specifically define how tasks are related to each other.
Roadmap. Create an overview of your organization's project boards, even from another tool like Azure Boards.
Drawbacks
As this project management tool is only available in Windows, sharing data with non-Windows users – whether clients or vendors – can be complicated.
[DOWNLOAD]


Conclusion
This list provides the 15 best Trello alternatives, most of which have mobile apps to help you manage projects on the go. However, the ideal solution will depend on your company's specific needs. Reflect on your current and dream project management system before purchasing a tool.
If you're used to working with Spreadsheet and Trello and want to combine these platforms, Airtable is our recommendation. Meanwhile, Paymo, Flowlu, and Teamwork are excellent choices for businesses looking for a tool with invoicing, billing, and time-tracking functionalities.
Businesses with Microsoft stack can pick Microsoft Project, but those wanting an agile project management tool can rely on Hive. Usually, the more feature-rich a tool is, the higher its price is, so consider the pricing model and the number of team members when choosing a tool.
We hope this article has helped you find the best Trello alternative to manage your remote team beyond the Kanban view.
Trello Alternative FAQ
Here are the answers to the most asked questions about Trello alternatives.
What Is a Kanban Board?
A Kanban board is a method to visualize various stages of a project workflow using columns, such as To-do, Doing, and Done. Inside each column, there are cards representing the work items.
Why Consider Trello Alternatives?
Although Trello is intuitive and covers basic needs, it may not be suitable for complex projects. This tool doesn't support multiple project views, show task dependencies, and provide comprehensive reporting. Trello users wanting more features may need additional subscription fees.