Do you want to improve your traffic and increase your sales? Well, you should definitely try email marketing! In this article, we'll give you the best email marketing tips to increase your sales!
Why Email Marketing?
Back when the internet was in its early years, email was the most used platform for everyone to communicate with each other. But nowadays many people may think that email is already dead with the rise of social media.
Turns out, it is completely false. While social media provides a convenient place for casual communication, email is still widely used for its wide range of functionalities.
You can create beautiful lightweight newsletters, insert an effective call to action, and use it in other marketing strategies.
Furthermore, all your emails can be the subject of A/B testing, which can raise the chance of getting better results.
Statistics also prove that the platform will not be gone in the foreseeable future. 2017 sees an increase in email adoption among 12-17-year-olds grew from 69% to 82%.
Consequently, there were 3.7 billion global email users in 2017 and many experts suggest that the number will reach 4.3 billion by 2022. All these positive trends lead to a staggering 293 billions of emails being sent every day (2019).
That's a very potential field to bring in more customers.
Now when it comes to marketing, emails can offer many variations of communication with your customers and prospects, such as:
Newsletters. This type of email marketing can help you update your subscribers with scheduled information about your products and promote your content.
Sales pitch. While newsletters are aimed at a great number of people, sales pitch emails are useful to persuade potential buyers and efficiently promote your product.
Surveys. Do you need direct input from everyone who has bought your product? Just send them surveys via email and you'll get valuable data from your loyal users.
Announcements. Before you change something in your business that will affect your users, it is better to send emails to inform them about it. The announcements can be unrelated to sales, but you'll still be able to insert a message that boosts the image of your company.
Of course, there are many more examples, but this list just goes to show how email marketing can be an excellent tool to reach out to your audience.
Furthermore, if you happen to be a WordPress user, you'll also be thrilled to know there are many plugins that can help you track and manage your email marketing campaigns, such as  Constant Contact, GetResponse, and ConvertKit.
However, the results will still greatly depend on how great your email content is. You still need to craft carefully to get the most out of it.
Best Email Marketing Tips
So without much further ado, let's discuss the best email marketing tips to make a much better email for your targeted customers!
1. Be Aware of Your Customer's Journey
In any business, there is a process called the customer's journey which is divided into three steps — Awareness, Evaluation, and Conversion. Each step indicates different customer's needs so there are different email marketing tips for these stages.
Awareness will be the first stage of the customer journey. People just realized that they need a solution to a specific problem and then they come across your product.
Your first marketing step towards them is to send emails to welcome new users. Don't push them into buying your products. Start with introducing what exactly you're offering and the value of your company.
In Evaluation, your potential customers already know your products but haven't decided if it's the best choice. Now it's your chance to prove why you're better than the competitors by displaying different information, including price, performance, reviews, etc.
You'll also be able to showcase demo videos, webinars, or case studies from your business. And If possible, let them briefly try your product or service for free.
Emails in the Conversion state will also be different because your prospects have reached the decision to choose your company. Provide them with clear after-sell information, including tutorials as well as tips and tricks.
2. Offer Quality Content
Soft and hard selling is acceptable, but you need to put more information other than just a promotion of your product. One of the best email marketing tips: provide your audience with valuable knowledge and solutions to overcome their problems.
It's your chance to prove, that you care about more than just making a profit and you pay attention to your customers' needs.
Moreover, quality content means everything that you include in the emails, including text and images, has to be top notch. Show them that your company is professional and creative.
3. Personalize Each Email
One of the most important email marketing tips you'll get is to take the time to analyze and group your users' demographics. To gather such data, you can use surveys or registration forms. It will be useful to determine what information and style of writing to use with different customer groups.
If you want to take things further, you can also write their names at the beginning of your email. In the era of mass communication and broadcast messages, your customers will definitely appreciate this kind of personal approach.
What's more, you might want to personalize the email by giving potential products that users are interested in. And even better, use variables to make a unique subject line.
4. Pay Attention to the Subject Line
One of the most important email marketing tips to follow is writing a good subject line.
The subject line of your email can hugely impact the open-rate from your customers. To make sure that they open it, you have to make something as attractive as possible while still being simple and meaningful.
You also need to give a unique voice to the subject so it feels like it's coming from a personalized effort and not machine-generated templates.
Furthermore, the subject line should never be too long. This looks very unappealing to your readers and their inbox might recognize you as spam.
Here are some great examples of email subject lines that will grab your readers' attention:
10 Best WordPress Plugins for Your Site in 2019
Bring More Traffic to Your Website
We Have a Huge Deal for You!
5. Be Playful with White Space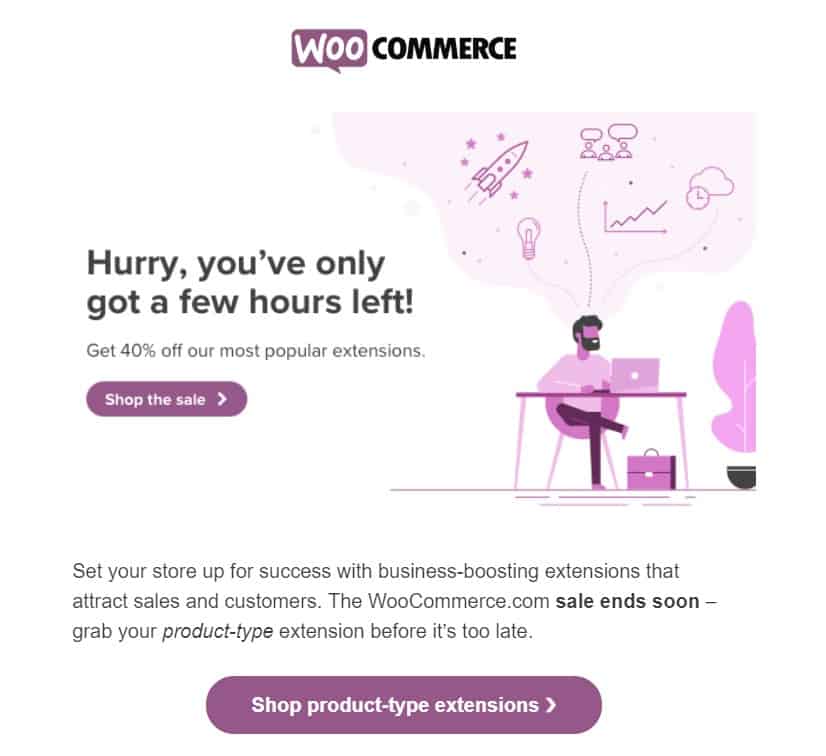 A crucial email marketing tip to remember: most of the time readers will only skim through the text. If your content is full of paragraphs, people can be easily bored and your ideas are more likely to be overlooked.
When you're writing an email and there's a lot of important information, be sure to make it more visible by dividing them into bulleted or numbered points.
What's more, you should be careful about putting images in your email. Pictures should help you visualize your idea, not replace it.
Moreover, the content structure will not only help your readers find important data, but it can also increase your Click Through Rate (CTR).
If you can evenly distribute the information and make buttons or links stand out from the rest of the text, you will be able to bring more traffic to your website.
6. Conduct A/B Testing
Note: We have previously covered A/B testing with a more in-depth explanation and we've also picked the best WordPress A/B testing plugins for you!
A/B testing is a powerful tool to search for the best version of your website that can get you the most audience. Basically, it works by comparing two versions of the same page to see which one gives you better results. Using it is a great email marketing tip to increase your campaign success!
That being said, it is also applicable to emails you want to send out. With A/B testing, you can test different elements of your content, such as buttons, fonts, and images, to find out which ones work the best.
That way, you'll have a data-driven decision on what kind of improvements you should make in the future.
7. Post Considerately
It's very wise to inform your audience about how often you will be sending out emails: wheater it's weekly, bi-weekly, or monthly.
Never bombard your recipients with an email every time there's a little change to your business. It will leave them with a bad impression and they might never want to hear from you again.
We recommend you to wait for a certain interval and vary the content once in a while. What's more, you have to give your readers an option to unsubscribe and make it easy for them to do so.

Obviously, that is not something you want and this email marketing tip may sound surprising, but the readers will actually value the freedom that you give. Another positive thing is, it can be a source of important feedback.
Before deciding to unsubscribe, ask them why they are doing it. It will inform what you shouldn't do next and what you should fix in your email marketing campaign.
8. Make It Mobile-friendly
A study shows that 66% of emails are opened in mobile devices. You might lose a big number of potential customers if you don't make your content optimized for smartphones and tablets.
Another important email marketing tip: make your website mobile-friendly. If people follow your link just to see that your website isn't made for their devices, you're going to let many people down.
9. Authenticate Your Email
You don't want your emails to end up in the spam folder, do you? Being labeled as dangerous and disturbing by your recipients' inbox is a nightmare for every marketer.
That's why you need to authenticate your email. This process is to provide a better identification for your email domain so ISP can recognize you as a valid source. It's actually a security measure to make sure that you're not a scammer.
You can validate your email using  DKIM (DomainKeys Identified Mail), SPF (Sender Policy Framework), Sender ID, and DMARC. Alternatively, an email marketing tool like MailChimp can also be used to provide authentication for your email address.
10. Track the Performance

You should always pay attention to how your email marketing campaign performs. To get such information, we suggest you use Google Analytics.
Among other data, you will know how many people have opened your email and clicked through the link.
The goal of using Google Analytics is to get a strong and number-driven basis for your next improvement.
Note: If you're a WordPress user, you can choose from the best Google Analytics WordPress plugins on the market.
Conclusion
Email is a powerful tool to communicate with your audience and potential customers. Apart from being more flexible in delivering information than social media, there is also the fact that there is an increasing number of people using email.
Therefore, we have provided you with 10 best email marketing tips to get the best out of your campaign:
Aware of your customer journey — match the content of your email to be suitable for each stage of the customer journey
Offer quality content — create something that gives valuable knowledge to the readers in the highest quality possible
Personalize Each Email — group and analyze your subscribers and give appropriate information for each group
Pay attention to the subject line — write something attractive and meaningful in the subject line
Be playful with white space — distribute the content of your email in a visible and distinct position
Conduct A/B testing — compare two versions of your email to see which one gives you the best results
Post considerately — let the readers know how often you send emails and give them the option to unsubscribe
Make it mobile-friendly — optimize your emails to be opened in mobile devices
Authenticate your email — validate your email address so you won't end up in spam folder
Track the performance — use Google Analytics to show how your email performs
We hope that these email marketing tips are useful in improving your overall sales performance!