Where and How to Sell Digital Downloads + Strategies to Make Money
With no storage or shipping to worry about, digital products are more convenient to manage than physical products. Not to mention that customers can usually access the files instantly, right after the payment is made.
This article will cover everything there is to know about digital products, from what they are to how they can be a great way to make money online. We'll touch upon their different types, as well as where and how to sell digital downloads using our top tips and tricks.
Download Website Launch Checklist
What Are Digital Downloads and Why They Are a Great Way to Make Money Online?
Digital downloads are products that exist in a digital format, usually as a computer file. That includes eBooks, software, custom fonts and graphics, online courses, stock photos, to name a few examples.
The main advantages of the selling of digital products are:
No physical inventory. You do not need to spend money on storage and inventory management.
No shortage of products. You will rarely have to worry about running out of stock, unlike selling tangible products.
No shipping. You do not need to go through the hassle of handling shipping and its hefty costs, since your digital product will be immediately accessible.
Low entry barrier. Due to the lack of inventory management and shipping, the low start-up costs allow newcomers to enter this type of market easily.
Of course, there are some downsides to this as well:
Competitive market. Since the start-up costs are relatively low, the competition to sustain overall business growth is relatively high. You will need to come up with strong and creative marketing strategies to attract new customers.
Server maintenance. If your server ever goes down, customers won't be able to make a purchase or download their files. Choose a trustworthy and reliable web host for your online store.
Types of Digital Products That Sell
No matter what your business idea is, whether you're an educator or a digital artist, there are many forms of downloadable products out there you can try your hands on.
When choosing which digital download type to focus on, identify your strengths, think about your ambitions, and see what interests you the most.
eBooks and Other Informational Products
An electronic book is a digital publication that is readable on electronic devices, like eBook readers, phones, and laptops.
Informational products refer to PDF files or online courses containing educational material meant to teach a particular skill or trade.
The skills needed to succeed in this niche range from creative writing to video production, and being knowledgeable on the subject matter in general.
Digital books don't seem to lose their popularity or relevance, and writing one doesn't require a substantial monetary investment.
Apps
Examples of apps to sell include media players, photo or video editors, messaging apps, or tools for increasing productivity.
To create a mobile app, a strong background with programming languages such as Java or Objective-C, including a good understanding of user experience and interface design is needed.
Mobile apps are particularly popular and profitable, but the costs to make one depend entirely on your requirements and design needs.
Games
Just as with apps, game developers need to be well-versed in several programming languages, visual and audio design, and creative writing.
Mobile gaming, in particular, grew exponentially in recent years, overtaking nearly 50% of the global market. Furthermore, it's a rather popular practice to further monetize the digital product by adopting several different business models.
Digital Art and Designs
Digital art refers to work made and presented using graphics editors such as Adobe Photoshop or Illustrator, or Maya for 3D modeling and animation.
Digital design is a much broader term that refers to any design that appears on a digital platform rather than in print. For example, this includes web, UI (user interface), or UX (user experience) design.
Samples and Loops
Samples and loops are audio recordings used in the making of music and videos.
While loops are short music pieces that can be played repeatedly, usually between one and four beats in each measure. Music producers often seek out original ideas for projects they're currently working on, hence why sample and loop making is so popular among young musicians.
To integrate the samples and loops into a song, one needs to master the use of samplers or digital audio workstations and possess excellent songwriting knowledge. Splice and Loopmasters are some of the more popular platforms for this.
Stock Photography and Footage
Stock photography and footage focus on creating and selling photos, videos, and illustrations that can be bought through various licensing models.
Stock photography allows customers to purchase legal permission to use the photos for their own projects. Usually, these photographs are captured by the photographer himself and submitted to stock photography agencies.
When a sale is made, the fee is divided between the artist who created the image and the agency facilitating the sale.
Website Mockups and Document Templates
In web design, a website mockup is a static visual design draft of a website representing the site's final look.
Meanwhile, a document template is formatted in a certain way to fit a particular purpose – for example, to be used as an invoice sheet or a business letter.
In order to create digital products as website mockups and document templates, you may need coding along with web and graphic design skills.
Themes and Website Design Templates
Themes and website design templates are made and sold as an alternative to creating a website design from scratch. Some emphasize aesthetics, while others are more suitable for specific business types.
To create themes and site templates, you need to have strong programming and web design skills. You can find or sell your own creations on such platforms as ThemeForest and Creative Market.
Plugins
Plugins are add-ons that customize other software, such as mobile applications, or web browsers by adding features not originally coded for the app.
For example, WordPress is known for its extensive library of third-party plugins. If you're a digital artist, you might be looking for a particular toolkit for Adobe After Effects.
Best Platforms for Selling Downloadable Products
When selling downloadable products, it's essential to have the right tools from the get-go. That is why we have compiled a list of the best ways and platforms available today for this exact task.
Easy Digital Downloads
Zyro
WooCommerce
MemberPress
Shopify
Gumroad
Sellfy
Selz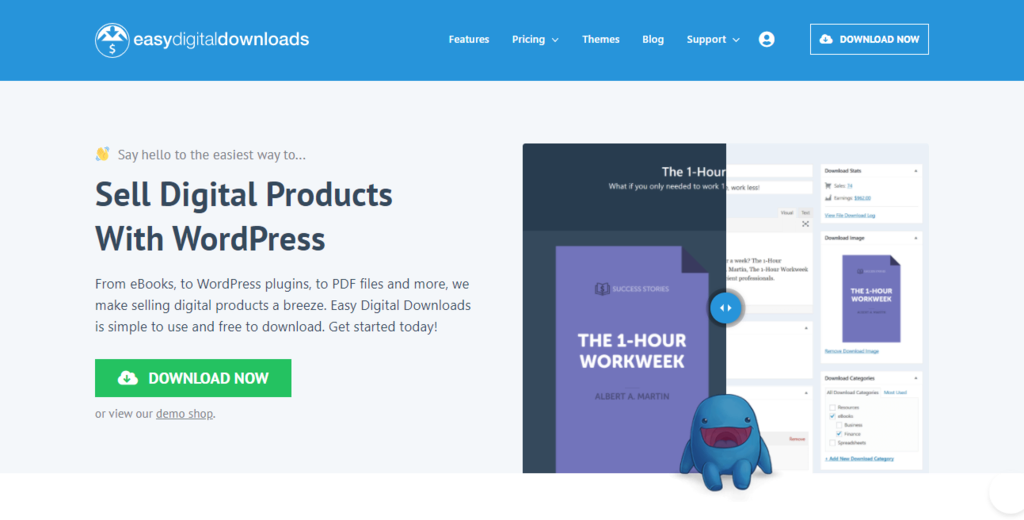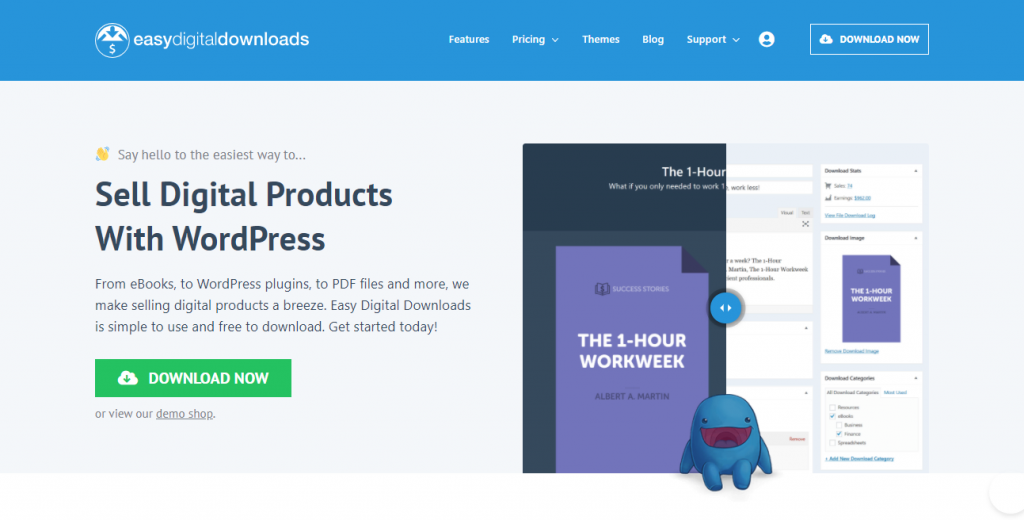 Easy Digital Downloads is a WordPress plugin that you can use to sell digital products from your WordPress site.
You can feature discount codes, set file download limits, and assign expiration dates for links with this plugin. You can also use its built-in reporting platform to view statistics and make reports or create customer account pages.
Easy Digital Downloads is an ideal choice for people who are already familiar with WordPress and want to focus specifically on selling digital products online.
Pricing and Transaction Fees
Easy Digital Downloads is free to use, but you may install some free or paid extensions to use additional features.
It also provides Premium plans ranging from $99/year up to $499/year. They offer advanced functions like post-purchase email signup and product cross-selling. There are no transaction fees.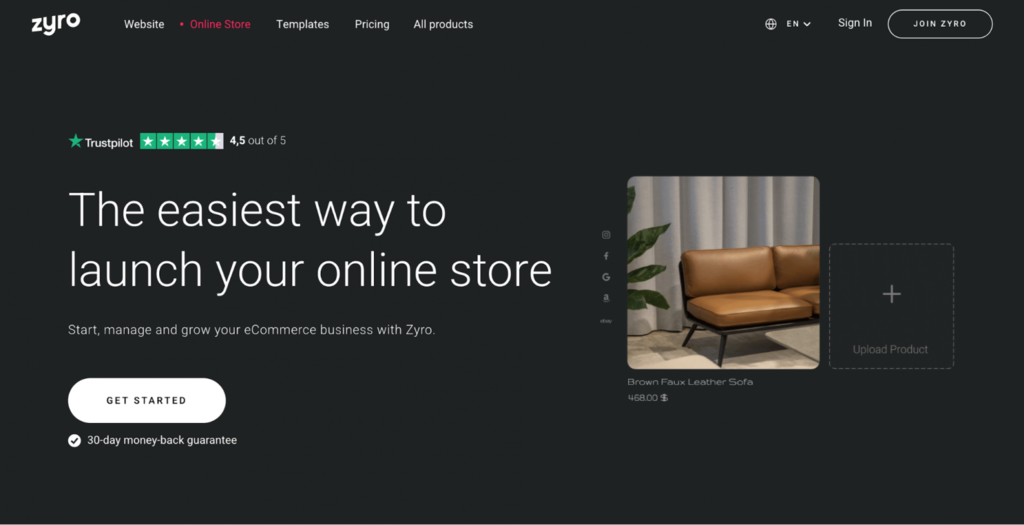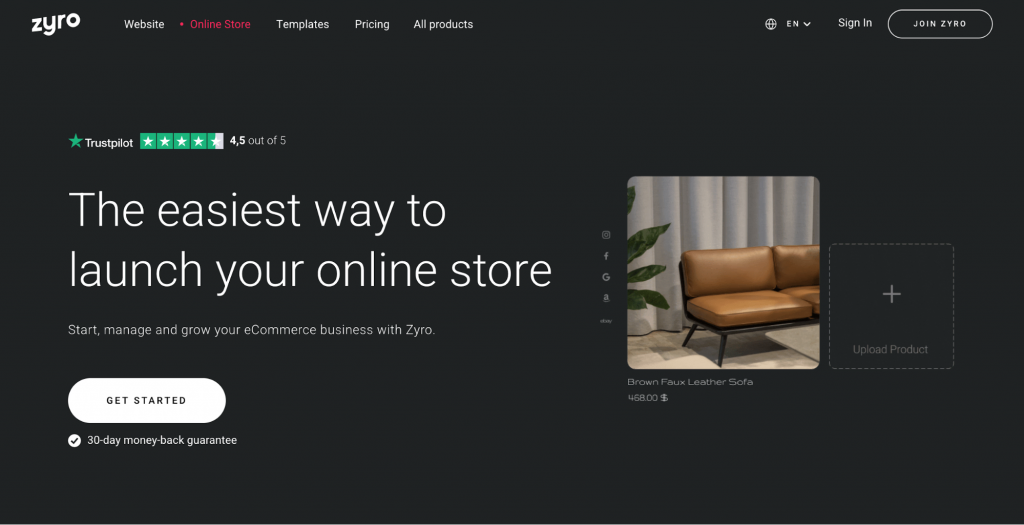 Zyro is a site builder often used to create an online store. It has an easy-to-use drag-and-drop editor and pre-designed templates, allowing beginners to make a website without any development skills.
It also comes with a managed hosting service, so users can focus on building a website without worrying about back-end maintenance.
Zyro's online store features include multiple online payment options, discount coupons, email notifications, and gift cards.
To encourage more digital downloads, consider using Zyro's AI Heatmap tool. It will analyze your web pages and predict where to strategically place elements to boost conversions.
Pricing and Transaction Fees
Zyro has two online store plans. Both subscriptions include zero commission fees and a 30-day money-back guarantee.
The lower-tier option costs $9.90/month and comes with core eCommerce features. The number of digital products you can sell is up to 100.
On the other hand, the price of the higher plan is $14.90/month. This package offers unlimited products, multi-channel selling, and an abandoned cart recovery function.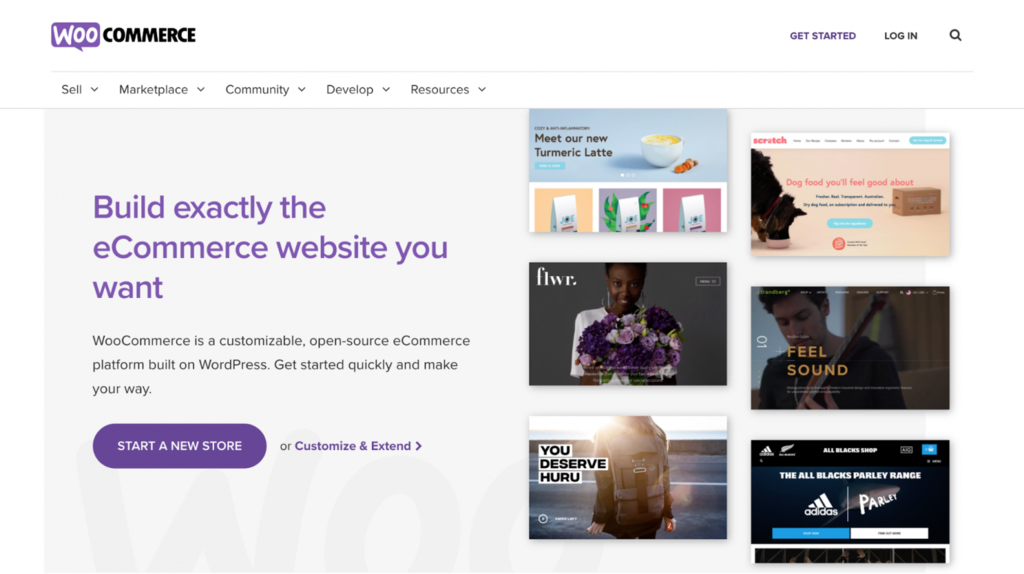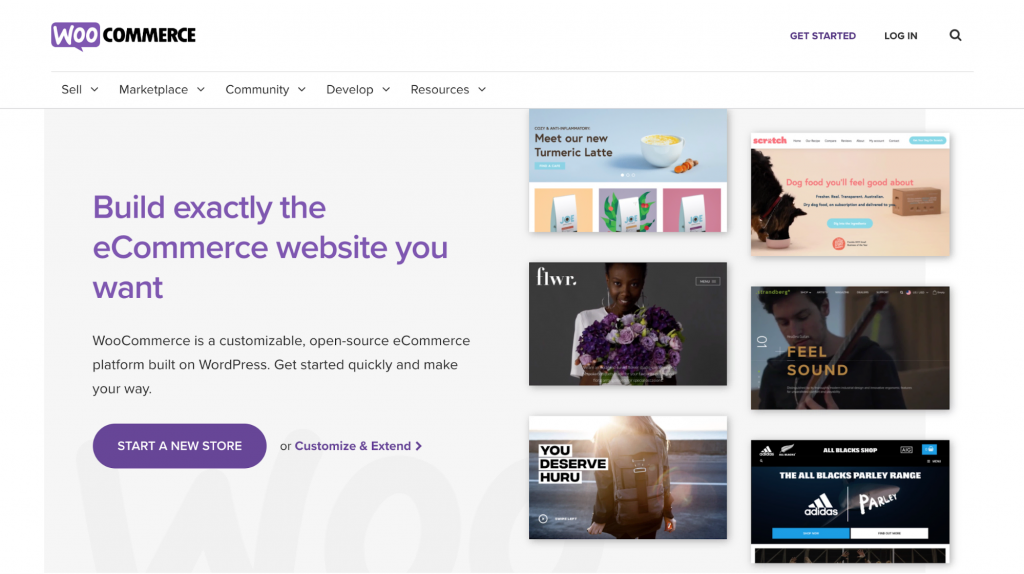 WooCommerce is an eCommerce plugin for WordPress, a content management system for creating various web applications.
The plugin will enable online store functionality on your WordPress site. It's also possible to configure settings for selling digital products, such as the file access and download method.
In addition, there are add-ons available to help sell certain digital goods like paid courses and software.
Using WordPress requires a self-hosted approach, which means you'll have to find a web host and set up most aspects yourself. This allows for more control and scalability to grow your store in the long run.
However, some technical knowledge may be necessary to solve problems with the website and hosting.
Pricing and Transaction Fees
WordPress and WooCommerce are free, so a significant portion of the costs will go to the web hosting service and domain name.
Hostinger offers WooCommerce hosting starting from $3.99/month to $23.99/month. All plans include unlimited websites, automated backups, and a cache booster to speed up performance. Customers will also get a free domain name and an SSL certificate. Follow the link here to learn more.
Another factor that may affect the pricing is add-ons and themes, which can cost between $0 and $299. If you use WooCommerce payments, the transaction fee is 2.9% and $0.30 per successful sale.


If you want to sell digital products using a membership subscription system, MemberPress might be a suitable option for you.
MemberPress is a WordPress plugin that allows you to sell digital products through a pay-per-view system, in which you create and manage different tiers of membership subscriptions.
You get to manage customer access to digital content and specific parts of your website. You can grant and revoke their access level according to the type of membership plan they bought.
In addition to recurring memberships, MemberPress also allows sales based on one-time payments.
Pricing and Transaction Fees
MemberPress offers a 14-day free trial period with a full refund guarantee. MemberPress prices range from $149/year for the Basic plan up to $349/year for the Pro plan. There are no transaction fees.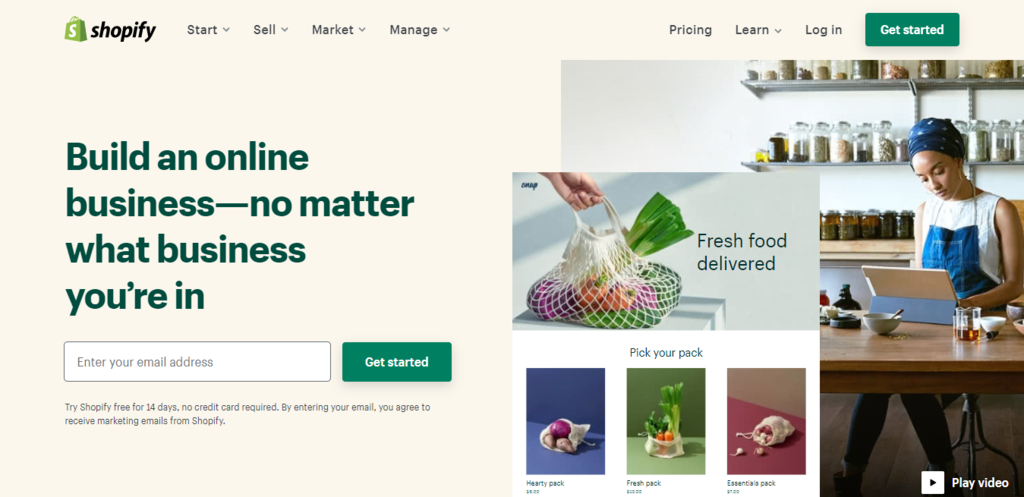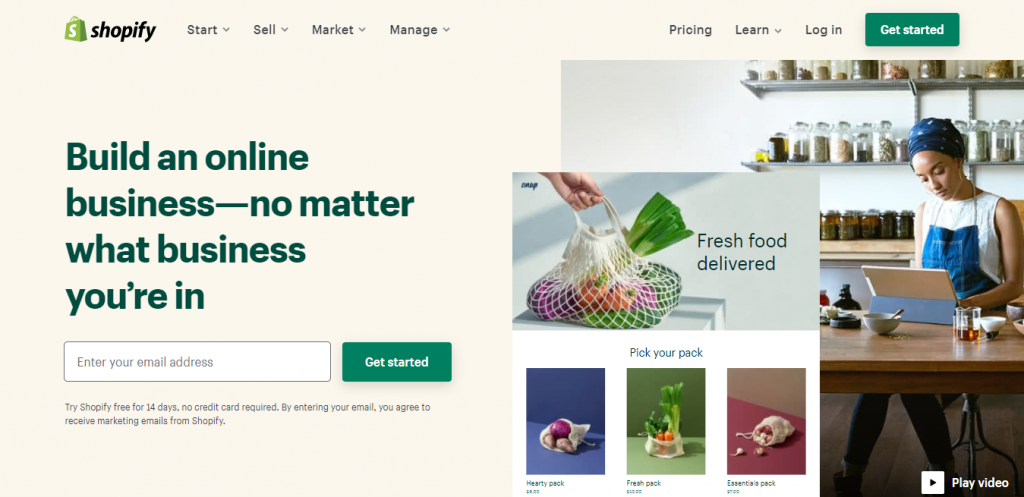 If you want a credible and easy-to-use eCommerce platform, you should consider using Shopify.
It offers over 70 responsive website templates and has built-in SEO features such as title tags and meta descriptions.
You can browse the Shopify App Store to find a vast number of plugins and extensions to integrate into your site. Shopify can also be used alongside social media platforms, such as Facebook or Pinterest.
Shopify is suitable for beginners working with a smaller budget and prefer to opt for a quick and easy hosted eCommerce solution.
Pricing and Transaction Fees
Instead of a free plan, Shopify offers a 14-day free trial period, while the prices for the Premium plans range from $29/month to $299/month.
Shopify has a 2% transaction fee that can be reduced to 0.5% if you pick the highest-tier plan. This transaction fee can be avoided if you switch to Shopify's payment gateway – Shopify Payments.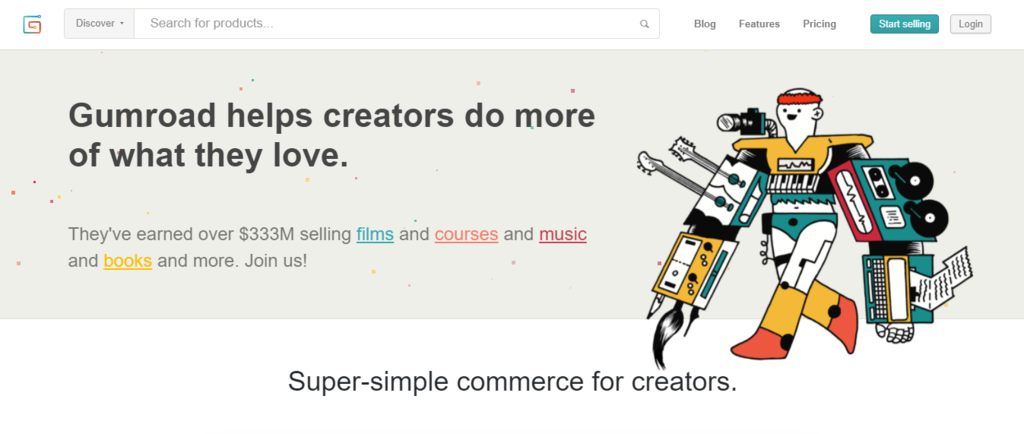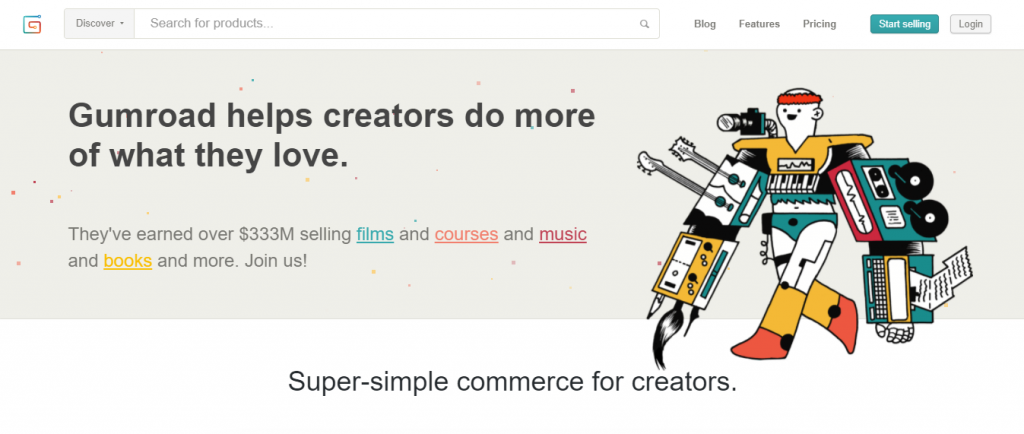 If you are looking for a straightforward eCommerce service that streamlines the process of digital download selling online for artists and creators, try Gumroad.
With Gumroad, you can offer discount codes, multiple product formats, previews on social media platforms, as well as numerous payment gateways and currencies for your customers.
Gumroad is an excellent option for visual artists and authors who want to sell their creations online, as the platform caters to that specific niche.
Pricing and Transaction Fees
You can use Gumroad free of charge, and when you first sign up for Gumroad, you will get a free account. However, if you want additional features, you can always upgrade to a Premium account for $10/month.
For Free accounts, Gumroad charges an 8.5% transaction fee and an additional $0.30 per sale. While for Premium accounts, the transaction fee is reduced to 3.5% and the extra $0.30 per sale. There are no transaction fees for products that are downloadable for free.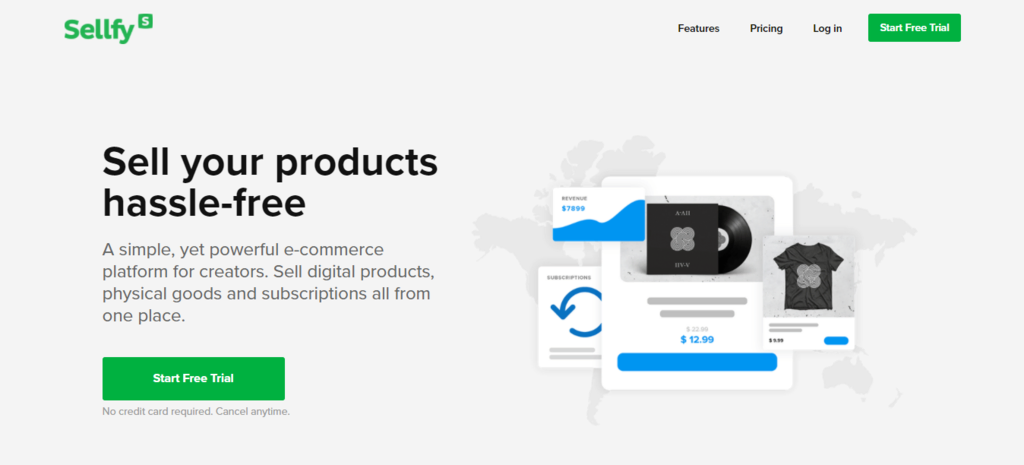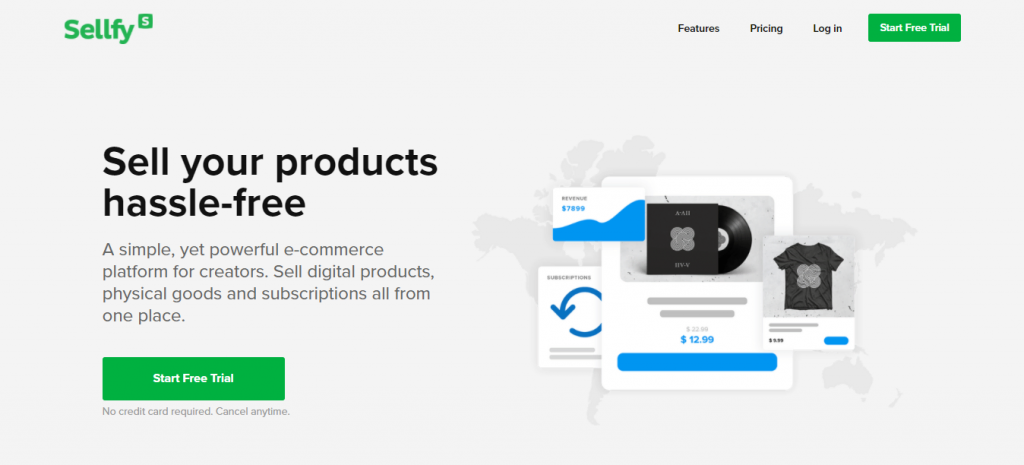 Sellfy is one of the most popular eCommerce solutions to sell digital products.
Sellfy allows you to add buy now CTA buttons, product widgets, and sell your products on your site or social media platforms. It has a wide range of helpful features such as email marketing, discount codes, and product upselling options.
For complete beginners without coding knowledge, Sellfy offers a website builder as well.
Sellfy is perfect for people who want to sell subscriptions, digital products, and physical goods all from one platform.
Pricing and Transaction fees
Sellfy provides you with the option to sign up for a 14-day free trial.
The prices start from $29/month and go up to $129/month. If you make more than $200,000 in sales per year, you can contact a staff member to get an offer designed for high-volume sellers. There are no transaction fees.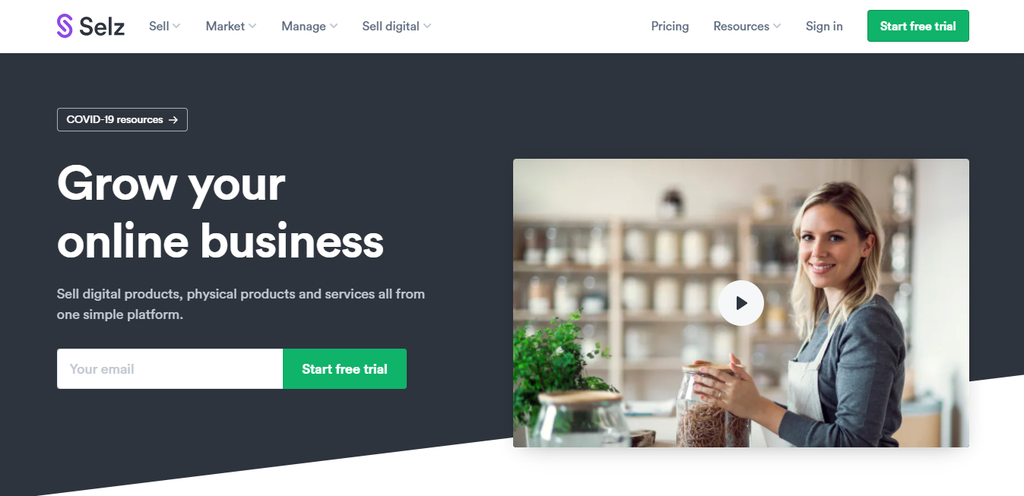 Selz is a beautiful and robust solution for people who want to sell digital downloads. One of the unique features you can find when using Selz is the ability to apply a limited-time streaming system for the selection of videos you provide for customers.
Other features include real-time fraud protection, discount codes, custom domain, and abandoned cart features. It also allows you to embed buttons, widgets, and a store on social media platforms or websites.
Pricing and Transaction Fees
You can apply for a 14-day free trial period to use Selz while Premium plan prices range from $29/month to $119/month. There's also an option to buy a Do It For Me plan that costs $599/month that will get you a team of experts to help you set up your business.
Selz will charge you an additional fee for each sale made if you use payment gateways other than Selz Pay. It starts at 2% per transaction and can go down to 0.5% for the most expensive plan.
Tips and Strategies to Make Money Selling Digital Downloads
Now that we've discussed the types of digital products and platforms to sell them, let's learn how to sell digital downloads using the best practices below.
Understand Licensing and Ownership
When you sell digital content, customers are only buying a license for usage, not ownership. You are still the owner of the content.
Depending on the kind of license you offer, you can limit how your content is displayed or distributed. For example, when you sell digital art, you can limit the number of times the piece can be used in someone's marketing campaign.
Sell Items in Packages
One way to sell some of your trending products is to bundle them up in packages instead of selling them individually.
For example, when you sell information products, you can combine your eBook and tutorial videos into one package, which offers better value for money.
Take Advantage of SEO
SEO stands for search engine optimization. It is a way to optimize your content to make the page rank higher on the search engine results pages (SERP), ensuring more traffic to your store.
It can be applied in various ways, such as using particular keywords, meta titles, and descriptions and the methods differ for different platforms. You can use SEO tools specifically designed for this, such as Surfer SEO or Yoast SEO if you have a WordPress website.
Develop Your Social Media Presence
Since digital downloads are primarily sold online, it is essential to establish a strong online presence on social media.
Use Facebook, Instagram, and YouTube to announce important news and events, promote new products, and interact with your customers for feedback.
To build more hype around an upcoming digital product, you can set up giveaways.
Conclusion
Selling digital downloads is cost-effective because you don't have to deal with inventory, product shortage, and shipping. Due to the low start-up costs, the industry also has a low barrier to entry.
However, some of the disadvantages of selling digital products online include a somewhat competitive market and server maintenance costs, which is something you ought to consider.
In summary, here are some types of digital products to sell online:
eBooks and information products
Computer software and mobile apps
Video games
Digital art and designs
Audio samples and loops
Stock photography and footage
Website mockups and document templates
Custom website themes and design templates
Plugins and extensions for other apps
In order to learn how to sell digital downloads online and make a profit from them, you need to understand the fundamental practices behind licensing and ownership.
Build special offers and sell your products in bundles, implement SEO practices, and develop a strong social media presence.
Was this tutorial helpful?