How to Create an Email Signature in RoundCube

Introduction
An e-mail signature is a block of text that is included to the end of an e-mail message you send. A signature should provide the recipient with your contact information (your name, e-mail address, business information, or Web site URL).
Meanwhile others include a significant closing statement or a funny joke. Regardless of what you wish to make your signature say, it is much easier if the signature is automatically added to the end of every email instead of having to add it manually for each email. In addition to time saving, you can do other some cool stuff with your signature, such as attach images or format it using HTML. This article will teach you how to add two types of email signatures within your RoundCube email client: HTML and Plain Text.
What you'll need
Before you begin this guide you'll need the following:
Step 1 – Accessing Your E-mail Account via RoundCube mail client
To begin you will need to enter your hosting control panel and find Webmail section under the Emails category.

A screen with a list of your e-mail accounts will appear. Select the RoundCube option near your desired account to enter the mail client.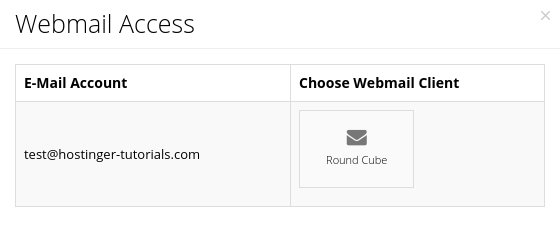 Step 2 — Accessing Signature Settings
After you are in the RoundCube mail client, look for the Settings in the top-right side of the screen

Under the Settings section locate and click on the Identities tab and choose your e-mail account to edit the information.

Step 3 — Creating an Email Signature
Below your personal information, you will see a section called Signature. You can edit it according to your liking and click Save once finished. The following screenshot diplays a Plain Text signature without any text enhancements.

RoundCube mail client also allows having an HTML signature which has the options of changing the font, color, size, allignment of the text or adding images, links. To try it, simply toggle the HTML signature selection so that it would become blue. This can help you create a really fancy, internactive, or proffesional e-mail signature. Once done, press Save to submit your changes.

Congratulations! You have learned to create Plain Text and HTML signatures for your e-mail accounts. The new signature will be visible in the bottom of your newly composed letters.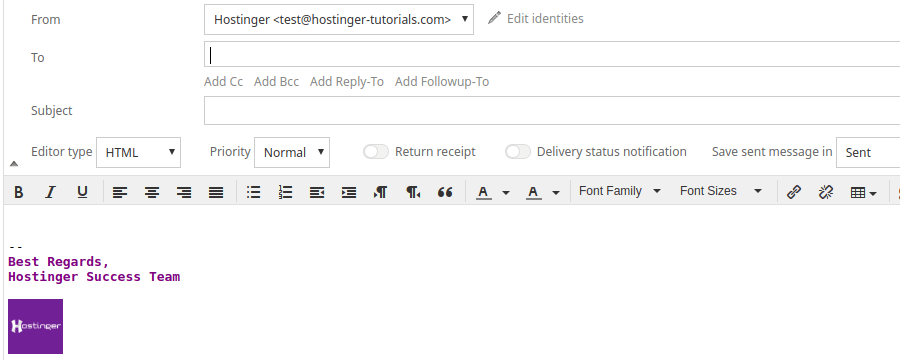 IMPORTANT! In case your made an HTML signature, make sure to set the Editor Type as HTML as well when composing your e-mails, or else the signature will not be displayed properly.
Conclusion
By following this tutorial you know how to create two types of email signatures in Roundcube mail client! This can be useful if you want a signature to appear in your e-mail messages. It will also speed things up, as you will not need to type everything by hand each time. Last but not least, with the extra customization options provided by HTML you can make your business responses stand out even more.