How to Hire a WordPress Developer (10 Tips and Tricks)
If you want to build a website but don't have the skills to handle it yourself, you'll likely want to hire a WordPress developer. Unfortunately, figuring out where to start or how to find quality professionals can be challenging.
The good news is that you can use many of our tips and tricks to make the process easier. These will help you put your website in the hands of a skilled expert who can cater to your specific needs.
In this post, we'll discuss how and where to hire a professional WordPress developer. We'll also provide you with a list of the best platforms to look for experienced web professionals and cover some essential tips to help you choose the right one for your business. Let's jump right in!

Why Hire a WordPress Developer
Although WordPress is very beginner-friendly, there are many reasons why you might want to hire a professional WordPress developer to build your website. For starters, it ensures that you'll have a site that not only looks great but also matches your branding and functions as it should.
However, reasons to hire a WordPress developer extend beyond design. Developers can also help you secure and maintain your site. For instance, they can help with:
Search Engine Optimization (SEO) to increase your chances of ranking well in the search engine results
Hosting and uptime monitoring to manage your monthly bandwidth, storage, and other server-related needs
Website analytics and metrics to better understand your traffic
Many developers offer ongoing maintenance services. This can help ensure a secure WordPress site for you and your customers.
However, it may not always make sense to hire a WordPress developer. Perhaps you're building a simple portfolio, in which case you might be able to create the website yourself.
However, if you're looking for an extensive project or don't have the time or skills to build your own site, turning to an expert is the way to go. This can save you time and reduce the need to learn the ins and outs of WordPress.
Additionally, you might hire a WordPress theme developer if you have a specific design in mind. You could also hire a WordPress plugin developer to add more functionality to your website.
Seasoned professionals will tailor your site to your needs and add custom features. This way, you won't have to rely on a standard, cookie-cutter template that's been used on several other sites.
A web developer can therefore help you stand out from the crowd. They can also help you select the best WordPress plugins to use on your website.
Moreover, if anything goes wrong with your site, you'll have someone to reach out for support. For instance, your web developer will likely be able to help you debug WordPress, perform updates, troubleshoot issues, and more.
Types of WordPress Developers
Whether you're wondering how to become a WordPress developer or how to hire one, it helps to understand the different types of web professionals.
Although often used interchangeably, a WordPress developer is not the same profession as a website designer. Developers deal with the technical aspects of website management, such as hosting servers, while designers focus on layouts and themes.
Most WordPress developers are skilled in programming languages such as HTML5, PHP, JavaScript, and CSS3. With PHP being the primary programming language of WordPress, it's crucial to ensure that the developer you hire is well-versed in this area.
There are three main types of web developers:
Front-end developer – focuses on the visible aspects of your website, including the overall design and layout. In other words, something that is instantly visible to users.
Back-end developer – possesses the programming skills and technical know-how required to make your site function properly. For example, back-end developers can optimize the speed of your page loading times and configure your database.
Full-stack developer – such a professional handles both areas of web development and is skilled enough to build a website from scratch.
Keep in mind that a developer could work for a WordPress development agency or work as a freelancer. This might affect the type of services they offer and their rates.
Freelance Developer vs. Full-Time Developer
When you want to hire a WordPress developer, you'll have two main options – freelance and full-time.
In most cases, if you're seeking a temporary hire, it makes more sense to go with a freelancer. Freelance WordPress developers are often the best option when you have a smaller budget and know exactly what you're looking for.
For example, if you know you want a custom theme, you can hire a WordPress theme developer on a short-term basis.
However, the downside to hiring a freelance developer is that they likely have multiple other clients. This can make them less likely to fit into your schedule and timeframe.
If it's within your budget, you might consider hiring a full-time developer. Of course, this will be a more expensive option.
A full-time developer can be a wise investment if you run a medium or large-sized business, and your website is (or will be) the primary source of your revenue. When you hire a dedicated WordPress developer, you'll have a reliable professional to turn to for all your web design and management needs.
How to Hire a WordPress Developer (10 Tips and Tricks)
Finding a dedicated WordPress developer who suits your needs and budget can be somewhat time-consuming and stressful. However, there are some key tips and tricks you can use to make the process a little easier. Let's take a closer look!
1. Consider What Type of WordPress Developer You Need
Before you begin your search for a WordPress developer, it's a good idea to think about your specific needs beforehand. By having a clear picture of the scope of your project, you can filter and explore your options more efficiently.
For instance, you could create an outline of your project and make a list of pages you want. Such specific features may include eCommerce functionality or a multi-author blog.
To get an idea of what to include in your project scope, you might want to take a closer look at some of your favorite websites, specifically ones you want to use as inspiration. This can also help give potential candidates a better sense of what you're looking for and whether they'll be able to deliver it.
You should also decide whether you want ongoing maintenance or not. We recommend choosing a developer that offers services such as regular upgrades and malware scans, as this can help you secure and speed up WordPress in various ways.
2. Create a Job Post
Many recruiting websites will require you to create a job post to find quality candidates. However, regardless of whether you plan to join one of these platforms, it's always a good idea to prepare a vacancy ad.
It's vital that you clearly outline your needs and expectations. This way, prospective employees will have an idea of what you're looking for. Your job post should also include essential information, such as the exact title (e.g., front-end WordPress developer) and whether it's for part-time, full-time, or project-based work.
It's also essential to provide a detailed job description. You can also include a list of tasks that the developer will be expected to carry out. This will help eliminate candidates who don't fit your requirements.
3. Prepare a List of Questions
When you begin screening candidates, you'll likely want to interview some of them. We recommend preparing a list of questions ahead of time to make sure that you cover all aspects of the job and their qualifications.
Some questions you might ask include:
What is your experience of writing WordPress code?
Do you have experience developing custom themes?
Do you optimize websites for SEO and, if so, what methods do you use?
How do you typically communicate with your clients?
What's the average timeline for your development projects?
What projects have you worked on that are similar to mine?
Asking a range of questions can help you better understand both the technical and soft skills of the people in question. You might also ask them to present some examples of their work.
4. Check Freelance Marketplaces
There are many different places where you can look for professional web developers. If you're on a budget, you may want to consider exploring freelance marketplaces.
These can also be good places to find temporary developers if you're only interested in a one-time project. One of the most popular platforms is Upwork.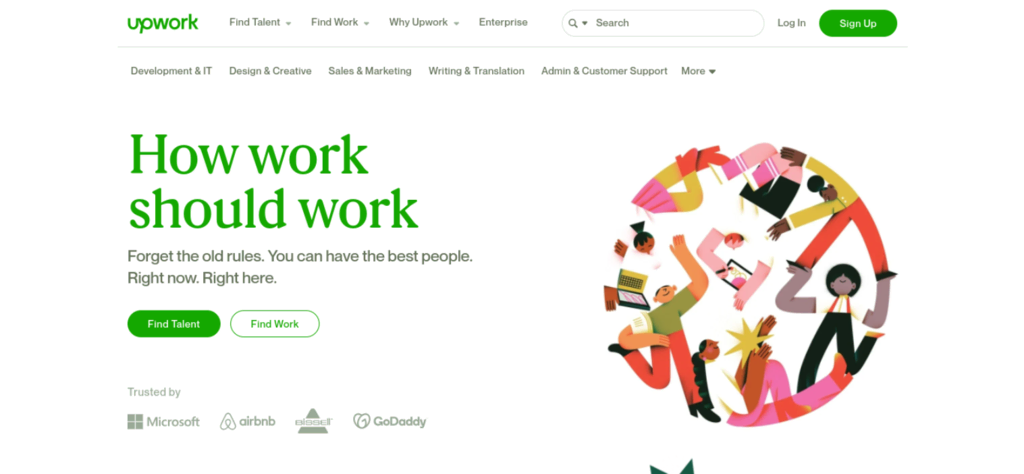 However, there are other places you could try, which include Fiverr, Freelancer, and 99designs.
It's worth noting that browsing these sites can take significant time and effort. You'll need to be very careful with your selections, as these candidates aren't usually vetted.
However, a few other websites you can use offer a better selection of developers for long-term work. We'll provide a more in-depth look at some of the best places to find a professional WordPress developer a bit later.
5. View the Developers' Portfolios
Anyone can claim to be a WordPress expert. However, you might want to ask for the web developer's portfolio before you make a decision.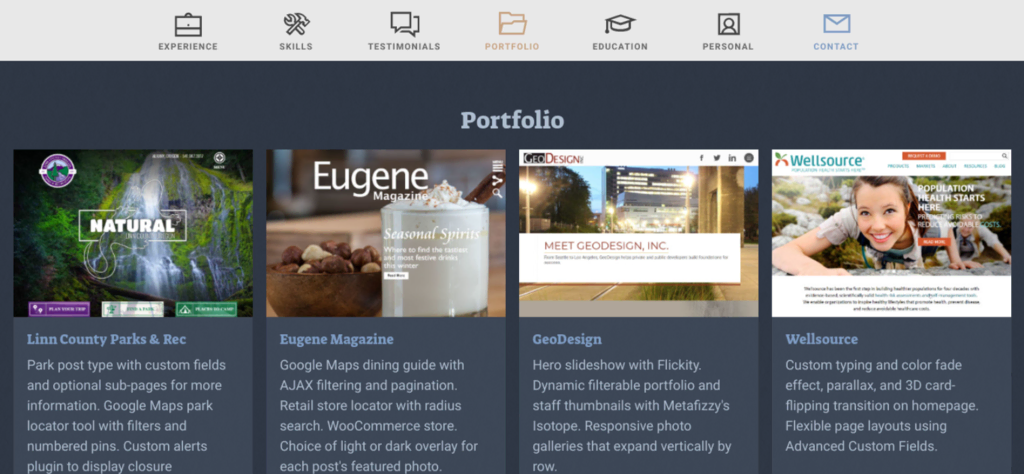 This can help you better understand the designs and services they offer. Also, if they own a personal website or blog, it can indicate their capabilities, assuming they've developed it themselves.
If they don't have a portfolio or website, consider asking them for examples. It's important to make sure that they are capable of producing the type of work that you're looking for.
6. Look at Reviews and Testimonials
Before you hire a WordPress developer, you may want to read any reviews or testimonials you can find from their previous clients. You can find these on social media, review sites, or their personal website.
These reviews can help you have a better understanding of the type of work they offer. It can also help you decide if you can trust them.
Most freelance marketplaces and job listing platforms will display ratings and reviews on the developers' profiles. You may also see the number of projects that the developer has worked on so far.
Many developers will even have testimonials on their own websites. While these can be helpful, we recommend doing your own research. For instance, you could look for additional reviews on third-party websites.
7. Assess Their Communication and Soft Skills
Finding someone proficient in all the technical aspects of web development is important. However, it's also essential to consider their communication style and other soft skills.
For instance, they should be able to answer all of your questions thoroughly. They should also respond to you on time, especially if you're communicating with them via email.
Additionally, you'll want to work with someone who can give you status updates and exercise clear communication. That way, you won't be left in the dark.
It's also important to ensure that they'll be able to meet your project deadlines and match your creative vision. Being able to communicate and efficiently collaborate with your WordPress developer can help ensure smooth project progress.
Of course, this can be tricky to figure out if you haven't yet hired them. However, the way your conversations and discussions go during the interview process can give you an idea of what you might expect if and when you decide to hire them.
8. Consider Pricing and Pay Expectations
When you're looking to hire a WordPress developer, your budget will most likely be a major deciding factor. The rates and pricing structures for developers can vary widely. Therefore, you might want to discuss the pay expectations with potential candidates before you make a decision.
Note that cheap rates do not necessarily translate into poor-quality work. Some developers may be willing to charge less than others because they're looking to build their portfolios.
We recommend starting somewhere in the middle of the scale. However, if you find someone with a particularly impressive set of skills that match your specific needs, it will likely be worth the investment.
It's also important to discuss payment structures with potential hires. For example, do they charge by the hour or on a project basis? Ironing out these details ahead of time can help you avoid problems in the future.
9. Ask For a Trial Run
After going through the previous steps, you should have a strong idea of whether someone will be a good fit or not. However, the best and easiest way to find out is by giving them a trial run.
For example, assigning them a short project can help you better assess both their soft and technical skills. You could create a staging environment then request them to complete a small number of tasks.
You might also consider making this a paid trial. This can increase the likelihood of candidates completing the process.
10. Create a Contract
Once you find a WordPress developer to hire, it's crucial to get everything in writing. Although the person will likely be professional and considerate, you want to ensure that the project is completed as expected.
Therefore, it's important to create an iron-clad contract at this stage in the process. This legal agreement can help ensure that both parties are clear on the scope of the project and the terms of payment.
There are a handful of key points that your contract should address:
Primary payment method
Ownership of the final result of the project
Security and confidentiality of your data
Project scope and timeline
Post-project warranties, such as bug fixes, support, etc.
Terms of terminating the contract (if need be)
There are also plenty of tools and platforms you can use to create your contract, such as LegalTemplates.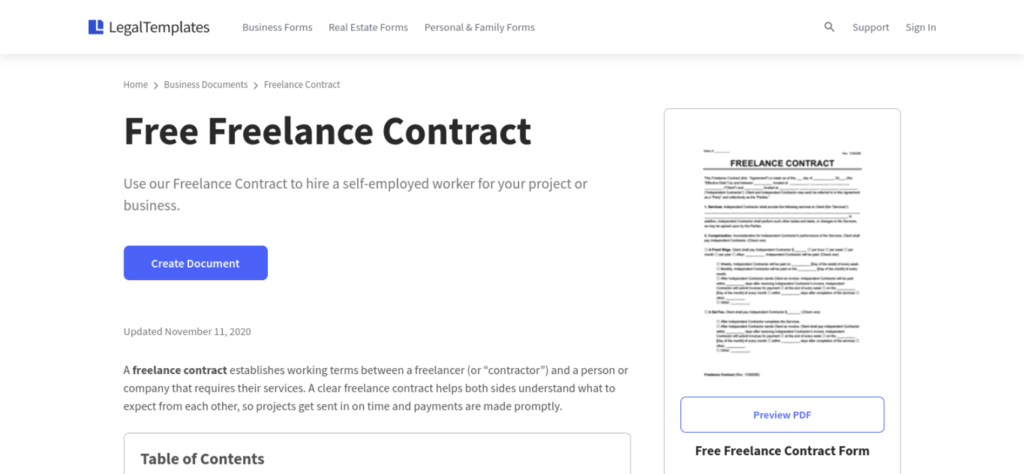 You can browse the available categories and select a template as the basis for your contract. Many are available for free.
To ensure that your contract covers all the necessary aspects of the agreement, you might consider consulting with a lawyer.

Top Places to Find a Dedicated WordPress Developer
There are plenty of websites and platforms where you can search for and hire a WordPress developer. Let's take a closer look at some of the best options.
If you're looking for a platform that hosts WordPress-specific development professionals, you might want to check out Codeable.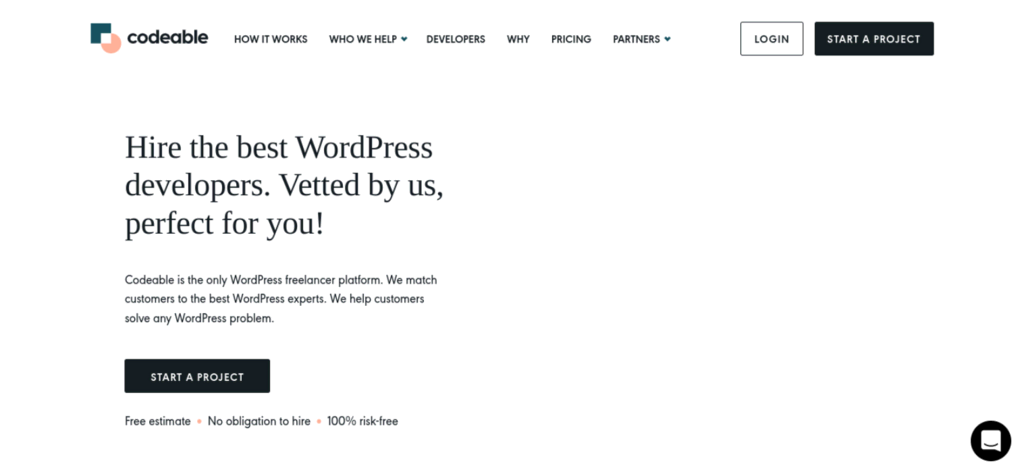 Codeable manually vets any developers that join the platform. All candidates are skilled and experienced, and you're guaranteed quality work.
The platform also has a 28-day guarantee. Therefore, If you're looking for a relatively quick turnaround, this is an excellent place to start.
Toptal is one of the most popular and reliable sources you can use to find professional talent.

Freelancers featured on this platform are in the top three percent of talent. This includes coders, designers, developers, project managers, and more.
The candidates are also thoroughly screened, so you can expect reliable professionals who produce quality work. You can submit a job, and then the website will review it to match you with the best talent to suit your needs.
In addition to a risk-free trial, they have flexible payment models and pricing. You'll likely be able to find multiple options that fit your budget.
Another place to find WordPress-specific developers is WordPress Jobs.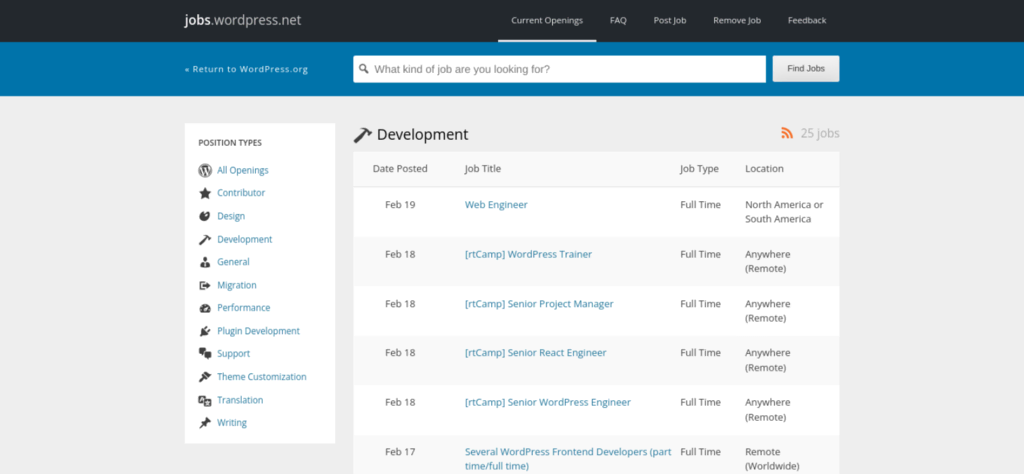 This job-listing site can be particularly useful if you're looking to hire a plugin developer or theme developer.
It's the official WordPress job listing platform. Therefore, you can have peace of mind knowing the candidates have real-life knowledge of the CMS.
You can post your job under the category you're looking for, then developers can apply to work on your project. Once your job is reviewed and published, it will remain there for 21 days.
WPRiders is a WordPress development agency that connects small companies with the right professionals.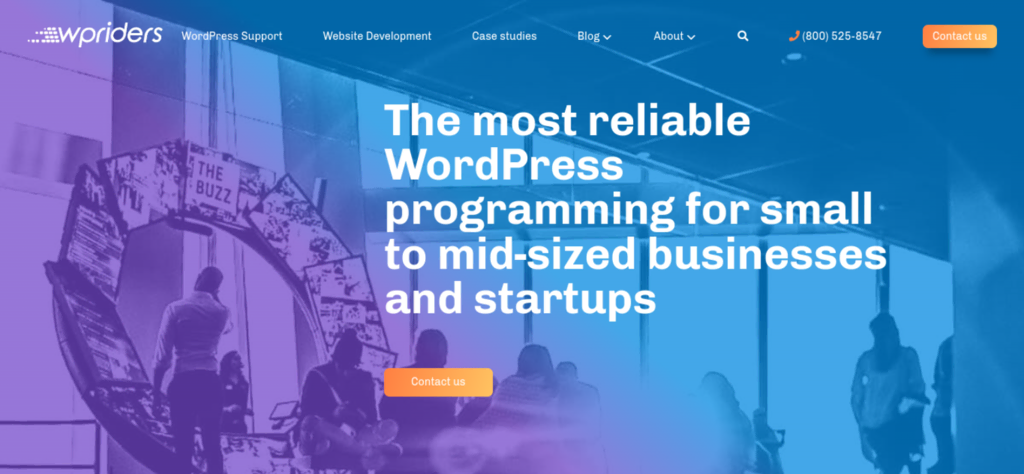 Note that you can't hire individual freelancers through this platform. Instead, you become one of the agency's clients.
This option is not for everyone. However, it does guarantee experienced professionals who have the skills and capabilities to work on your project.
WPhired is another job board that features quality freelancers who are skilled in WordPress development.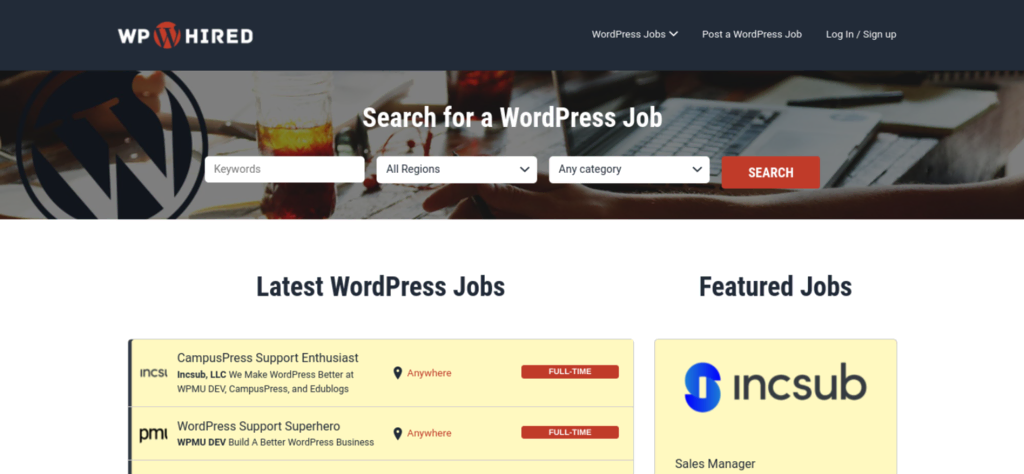 Launched in 2010, it's one of the oldest WordPress job boards. It's designed to help small businesses find top talent for their development projects.
You can post a job and access thousands of experts. It's also another platform that only includes WordPress-related professionals.
ClickWP is another excellent source for finding WordPress-related support.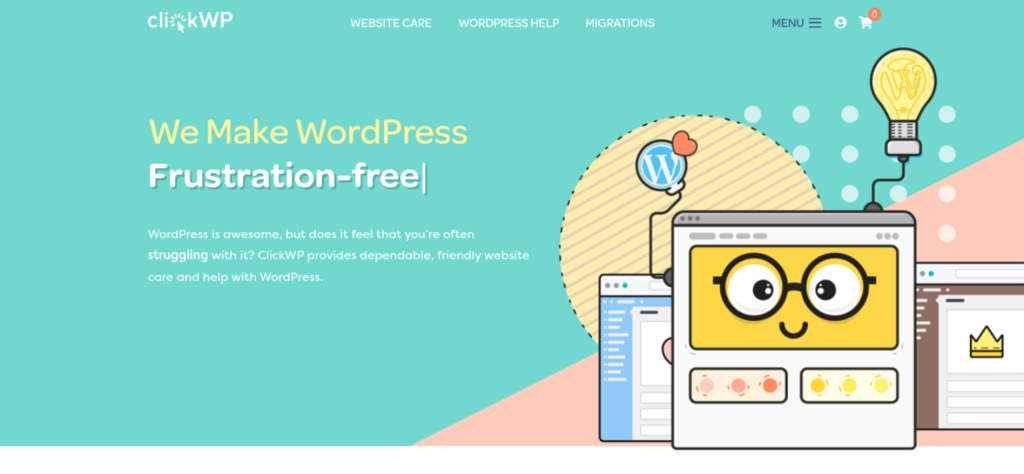 However, it works a bit differently than other options on this list. It offers various services that include both monthly plans and on-demand projects.
You can use it for theme customization, website setup and configuration, site migrations, and more. This is a cost-efficient option for when you need simple projects done quickly.
Stack Overflow connects developers with employers.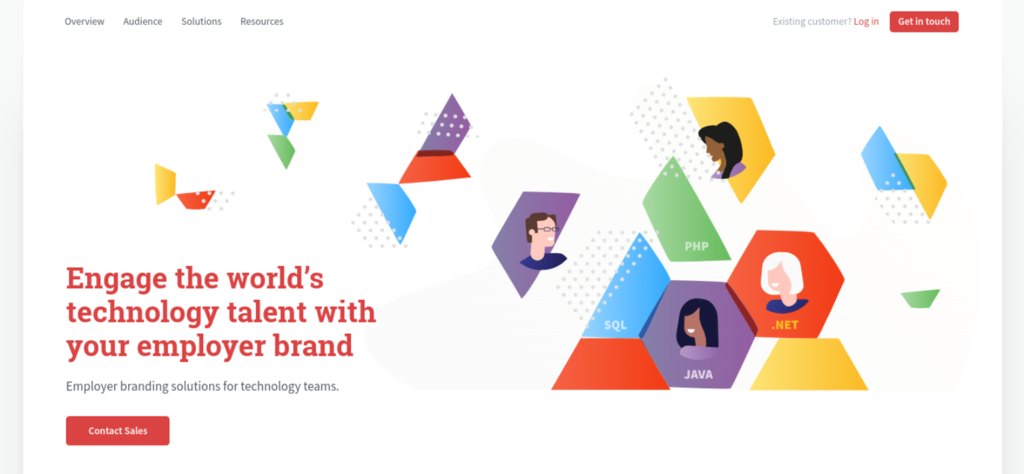 It's a bit on the pricey side, but if you own a large company and want highly-skilled talent, it can be a valuable resource.
You can create a company page for your business or create individual job listings. You can also browse developers' profiles based on their skillsets.
Conclusion
Creating your first website can be a grueling and time-consuming process. However, hiring an expert to handle the work for you can make it a lot easier.
As we discussed in this guide, there are some tips and tricks you can use when planning to hire a WordPress developer.
In addition to fleshing out the scope of your project, you can browse, screen, and interview potential candidates on different platforms. There are plenty of options that will help you find a qualified professional within your budget. If you're looking for ongoing, long-term work by some of the best developers out there, we recommend starting with Codeable.io and Toptal.
Make sure to also use a reliable WordPress host to maximize the performance of your site. Good luck!