Are you looking for a strategy to raise your brand awareness or to increase product sales? Email marketing can help you do just that. In this article, you'll learn all about the best email marketing practices, helping you reap a lot of benefits when employing the right strategy.
What is Email Marketing?
Email marketing is a highly efficient strategy, for sending transactional and relational messages to groups of audiences. It helps you to send advertisements, calls to action, or blog newsletters.
The long term purpose of email marketing is to increase customer-brand trust and build loyalty.
And at the same time, this strategy is also great for acquiring new customers or connecting new prospects with the brand.
As a result, the best email marketing practices will not only encourage the recipients to take action, but it will also help you to get more leads and sales.
Email marketing is a proven strategy that works. For example, Marketing Charts reported that 82% of marketers widely embrace this as their primary strategy for increasing leads and conversion rates.
What's more, a report from the Direct Marketing Association stated that email marketing offers one of the highest returns of investment (ROI) compared to other strategies. These studies indicate that email marketing is well worth the effort.
So why is email marketing so effective?
As briefly noted earlier, it can connect brands with their customers, engage in a more intimate relationship, and build trust over time.
In a very competitive industry, standing out has become something difficult to do, but email marketing increases the chances of being noticed.
For example, you can send content to a customer's inbox in a highly personalized manner. You can segment customers/audiences into a set of criteria and send content tailored to their journeys or buyer personas.
This trait helps you have closer communication with your audience, which is an essential aspect of building relationships and trust.
Here's an example of how we send an email marketing message to our audience.
4 Tips to Create a Successful Email Marketing Campaign
While email marketing itself proves to be a great strategy to use, we also need to understand what kind of approach makes it work. Here, we'll show you tips on how to create a successful email marketing campaign. These are the best email marketing practices you definitely shouldn't skip:
Gather a Quality Email List
First of all, no matter how savvy your email marketing strategy is, you'll never reap any rewards if you don't have an email list, to begin with. One of the best email marketing practices is getting an organic email list.
The best way to build a list is with the recipient's consent to receive messages. Buying or renting an email list from third-parties and using them without proper permission is heavily frowned upon and can even get you into legal trouble.
The best email marketing practices depend on a healthy subscriber list. If you contact people that didn't give you explicit consent previously or aren't interested in your product or site, your campaign performance will most likely drop. What is more, users might report your emails as spam too.
This is also particularly important since the enactment of the General Data Protection Regulation (GDPR), which requires European recipients' consent before you can reach them with an email campaign. Not adhering to these guidelines might get you a lawsuit or a fine.
One of the best email marketing practices to gather a healthy list is by having a blog. It's a great platform to share something new, gain awareness, and attract new readers.
There's a high chance that you can capture and turn these blog visitors into subscribers. For example, you can use opt-in forms or pop-ups on your blog.
An opt-in form is one of the ways to get visitors consent, by asking if they're interested to receive news about products, services, or other information. Here's how we did it on Hostinger.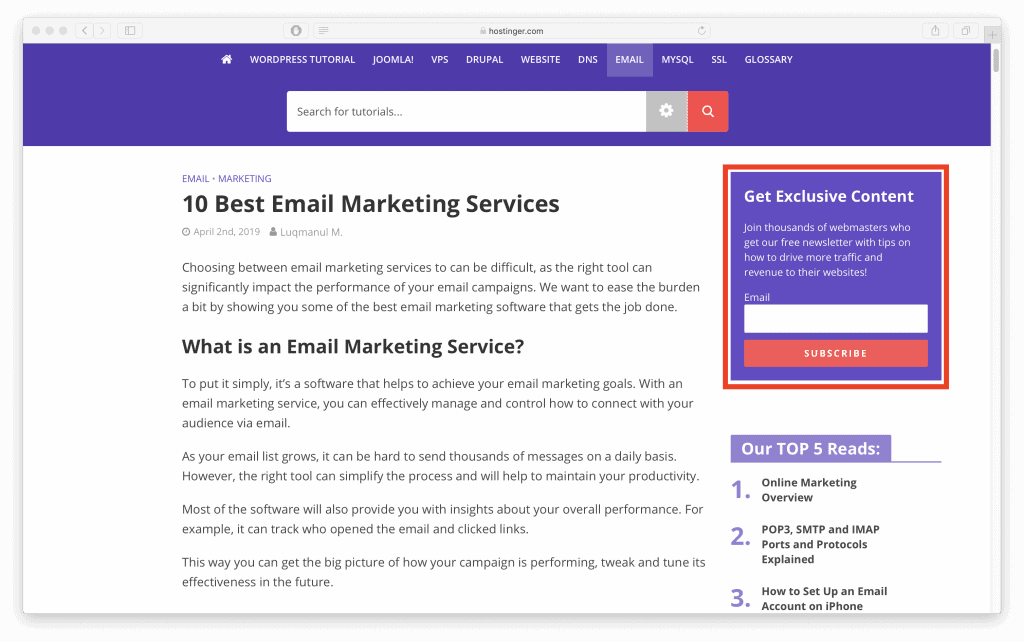 You can also use incentives to attract visitors to join your email list. For example, you can offer ebooks, PDF freebies, webinars, or any useful insights in exchange for their email address.
Social media marketing can also help to boost your effort. You can add an email sign up app to your Facebook page, and reach a specific audience. Additionally, in your social media posts, you can invite followers to join the newsletter mailing list.
Choose the Best Email Marketing Service
After you craft the idea and strategy for your email marketing campaign, the next important step is to choose the best service that gets the job done. After all, the best email marketing practices require the best email services.
In general, an email marketing service helps to manage your email list, and create compelling email content. You will also have an automation feature, helping keep your productivity while managing a huge email list.
And lastly, most of the services have reporting features so you can tweak and tune your email campaign in the future for even better results.
There are a lot of choices out there, some are free or premium and offer you different kinds of features and services. To ease your work, we've selected some of the best email marketing services and highlighted their features.
Here are our favorite choices for the said services:
MailChimp is a popular email marketing service that caters to millions of businesses. You can access its basic features for free, helping you list up to 2000 subscribers and send 12.000 emails per month.
Constant Contact is a premium email marketing service, with a free 30-day trial. This service offers plenty of features to help your email marketing campaigns, such as list management, a campaign builder, and reporting tools.
Another great contender for email marketing automation is GreatResponses. It boasts about having a 99% email deliverability rate and offers a built-in Customer Relationship Management (CRM) tool.
Create an Email Marketing Campaign
Nurturing your leads is the next step and one of the best email marketing practices. Here, you can begin the email marketing campaign. But before you start, you should know what your goals are.
Having a tangible goal is important in any situation, even more so in a marketing campaign.
You need a different set of goals for each of customer's journey. Some of the common goals and best email marketing practices are:
Welcoming new subscribers — here you can create a basic campaign, that tells them about your business, values, and culture
Engagement booster — start building up trust by sending insightful content or promoting webinars, anything that can improve your relationship with the customers
Nurturing existing subscribers — you can give more personalized content tailored to the customer's needs
Subscribers re-engagement — you can build a campaign, targeted to customers who haven't been so active recently
One of the most important and best email marketing practices is keeping track of how your campaigns are doing. In return, this will help you understand your audience and improve your campaigns.
Most of the time, the email marketing service will do the hard work for you, by presenting the available metrics in your analytics dashboard.
If your email marketing service doesn't show any stats yet, you can also use Google Analytics or your social media profiles, like Facebook Insights, to help you understand the audience better.
Here you can find out specific data about your audience such as geographical location, age, and a bunch of other information. You can also use this info to growth-hack your campaign in the future.
You need to segment your audience to send better-targeted emails in the future. As an example, you can do the following:
Geographical locations — you can segment the audience based on their location, to offer targeted services or products that are only available for a particular reason.
Age — given that people of all ages use the internet these days, you need to segment them accordingly. This lets you can set a proper tone when you send messages or offer products.
Persona — when you offer a service or product, you will see a pattern of the buyer persona. In brief, it's a way to understand different needs and value propositions of the customers. Using this segment you can figure out what value your products or services give to the buyers.
The most crucial part of all is to craft a great email design, copy, and subject line.
One of the best email marketing practices is a strong subject line, which plays an important role in getting people's attention and encouraging them to open the email.
After that, you need an engaging copy, that includes a hook to make keep people reading, and a Call to Action (CTA) so that they know what to do next.
You also need to design a compelling email body. If you're not a good designer, you can do so by hiring a professional. And for the sake of accessibility, you have to make sure that you don't include any important messages in an image because people with disabilities might have a hard time getting the information.
Lastly, given the number of mobile device usage – 49,7% and counting – you also need to create emails that are responsive and mobile-friendly. And don't worry, your email marketing services can also help you to do just that.
You need to remember though, that not getting amazing results with your first try is normal — it takes time and a lot of experimenting before you nail down the perfect strategy. And this requires you to do A/B testing for every aspect of your email marketing campaign.
Things to Remember
Transparency is one of the best email marketing practices as it fosters brand loyalty. That's why for starters you should be transparent on how many emails you'll send to your customers. Besides, you can also segment the customers according to their behavior when engaging with drip campaigns.
Always avoid being spammy, only send useful and interesting content to customers. Ever checked your own inbox and hated those spam messages? Customers will feel the same if you spam them.
Conclusion
These are the tips that will help you create a meaningful and successful campaign.
The best email marketing practices are:
Always gather a quality email list
Choose the best email marketing service to get the job done
Create a targeted, personalized email marketing campaign
Be as transparent as possible and avoid being spammy
Do you have any experience to share with fellow marketers about email marketing practices? Please share your ideas in the comment section below.