How to Create a Business Email Account in an Instant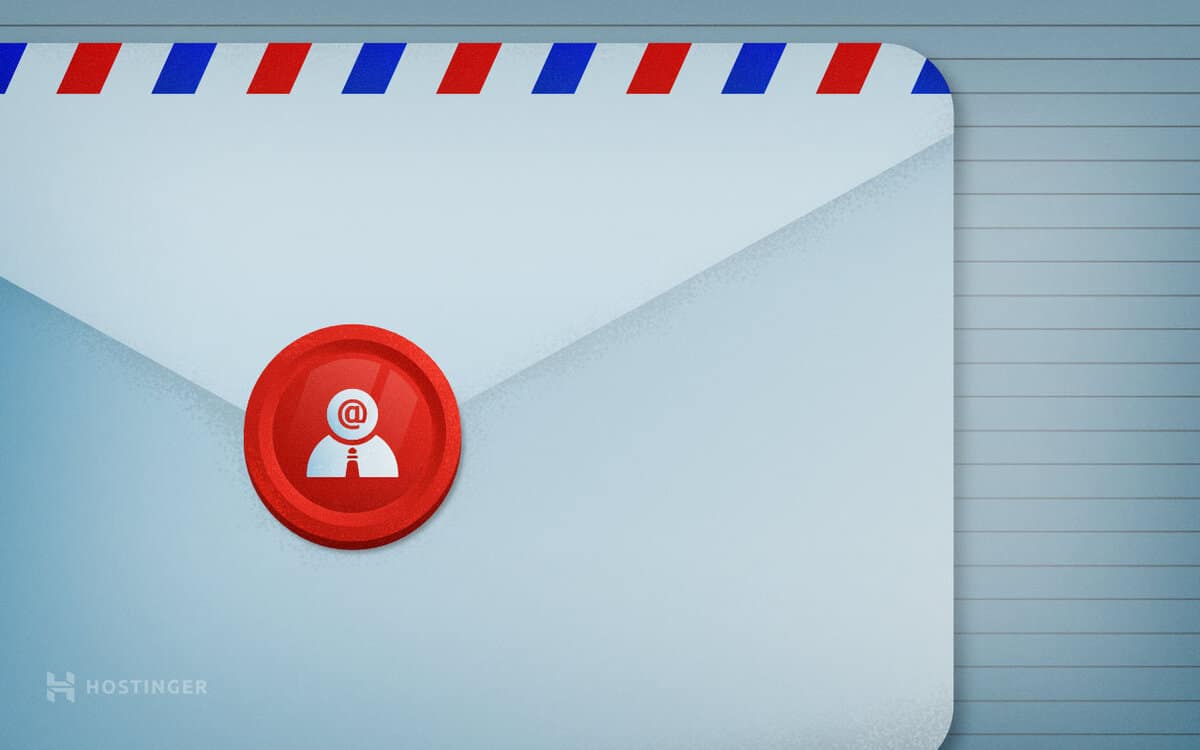 Having a business email account is crucial for every company. First of all, it gives a professional impression to customers and business partners. Secondly, business email platforms are more secure than personal ones, as they protect you from data breaches and loss.
In this article, you'll learn how to create a business email.
Video Tutorial
If you prefer reading, check out the instructions below.
Why Do You Need a Business Email?
A business email allows you to use your company's domain name instead of the platform's you're using. So instead of having a name@gmail.com, you can have an email such as name@company.com.
Since emails are the third most influential source sharing of information in business, using a business email account is a must for every company.
Apart from creating a professional look, it also gives a few other benefits. First of all, it boosts potential customers' trust. If the email doesn't have the company's name on it, there is a big chance your email will be marked as spam.
What is more, people who see your address can immediately notice which firm you are from – increasing the brand's awareness as well.
Even though business email services usually come with a cost, some ways enable you to get it for free. On top of that, it is easy to set up and requires little technical knowledge.
What Are the Prerequisites?
To get a business email account you need a domain name and a website. Since more and more people use the internet to find services and products, having an online presence for your business is crucial.
To build a website, you need to choose a web hosting provider and register for an account. But beforehand, you should buy a domain name from a registrar.
Hostinger is a great place to start. We offer both very affordable, good quality services and domain registration.
In the tutorial below, we will show you how to register for both in easy-to-follow steps.
Buying a Domain Name
1. First, go to Hostinger's domain checker and type the name that you desire.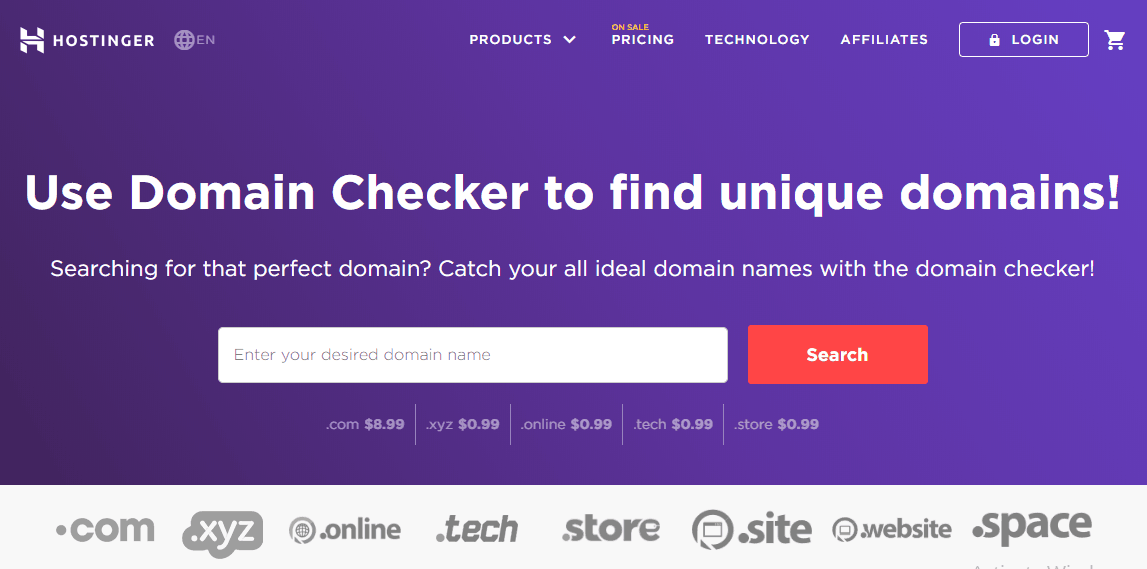 2. The domain checker will show a list of available domain names. You can filter the domain extensions by selecting the one or more checkboxes on the left. Then, click Add to Cart and go to the checkout page when you find one you like.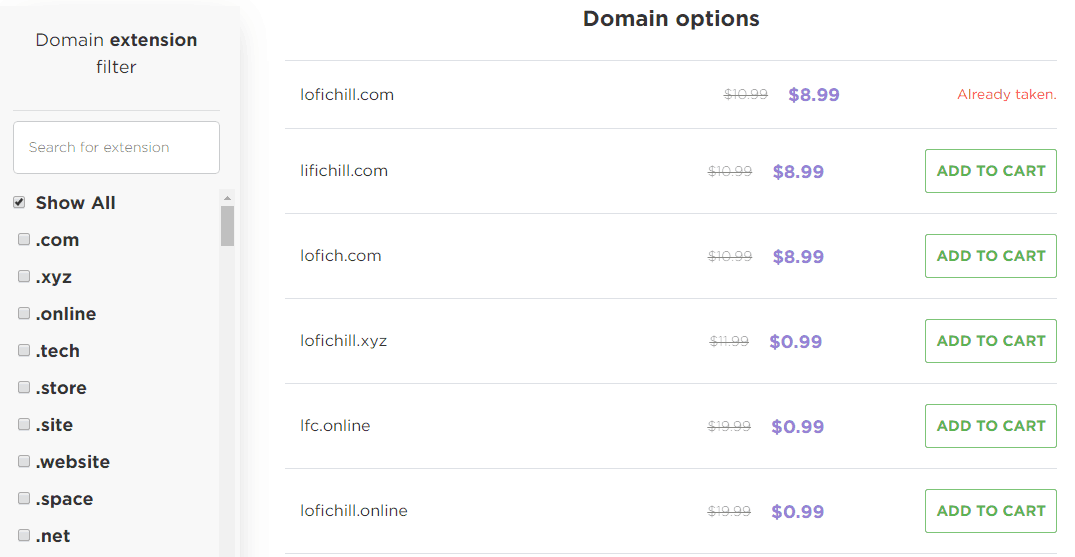 3. Choose the length of your domain name subscription, and then click Checkout Now to make a payment. If you have not logged in or registered for a Hostinger account, you will be prompted to do so.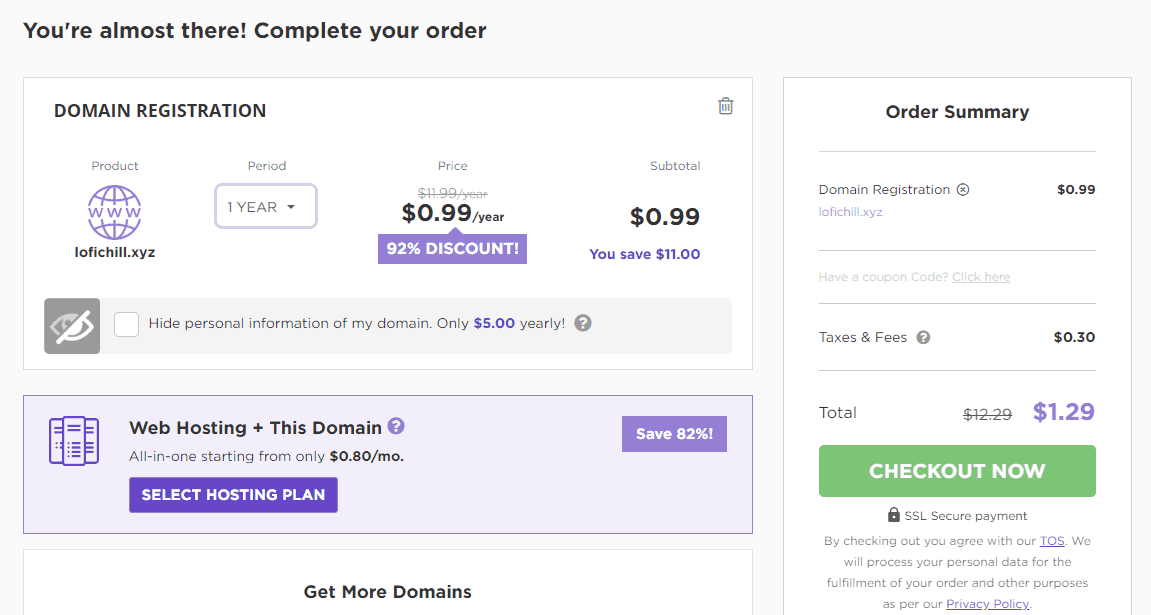 Easy, isn't it? Now let's register for your hosting service.
Getting Hosting Services
1. Go to Hostinger's homepage and click Products on the top of the page to select the hosting service you want. For this tutorial, we choose Shared Web Hosting.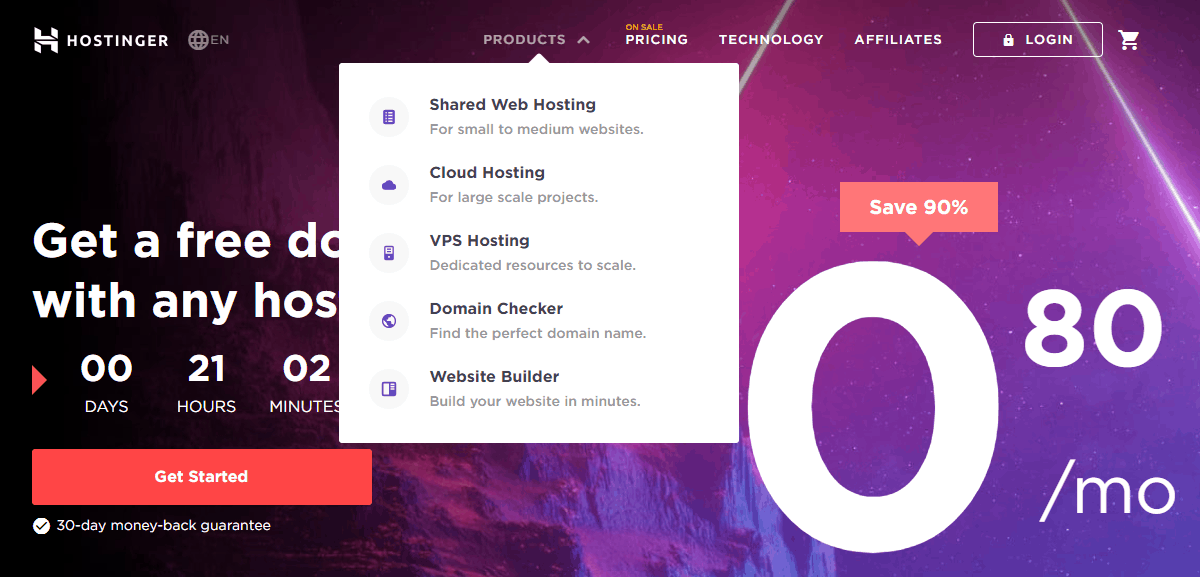 2. Choose the plan that you want and click Get Started.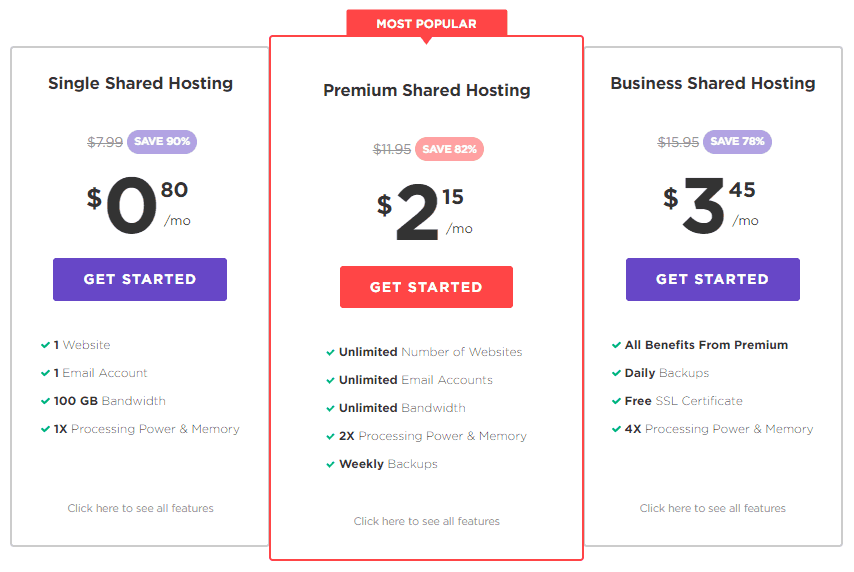 3. Before making a payment, make sure you choose the length of the subscription plan.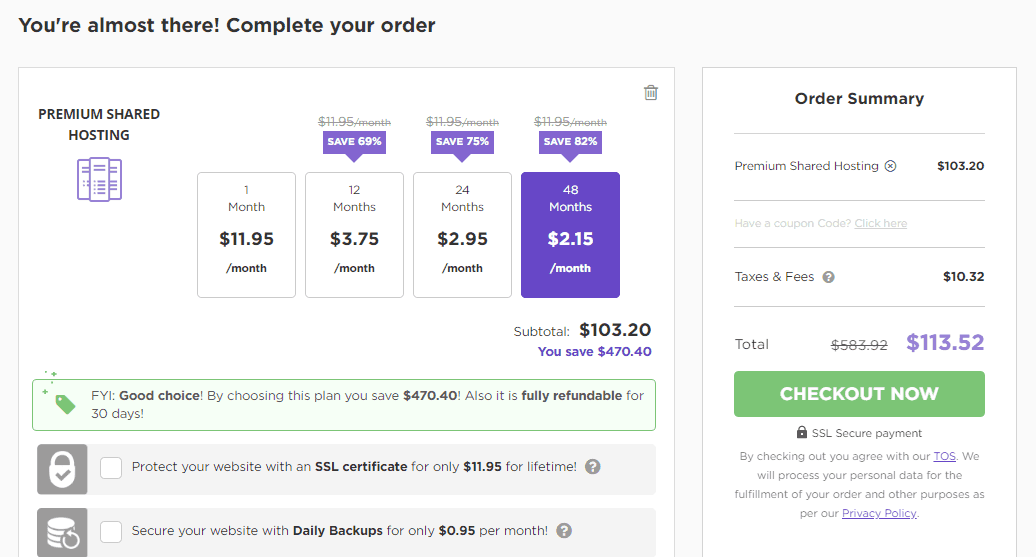 Creating Free Business Email Accounts
Now that you already have a web hosting account and a domain name, let's create a business email account.
In general, there are two ways to do it – through your hosting provider or an external email provider.
Some hosting providers, including Hostinger, let you get free business email accounts. Below, we provide you with the steps to set it up.
Hostinger Business Email Account
Here are the steps to create business email addresses in a Hostinger account:
1. Log into your Hostinger account.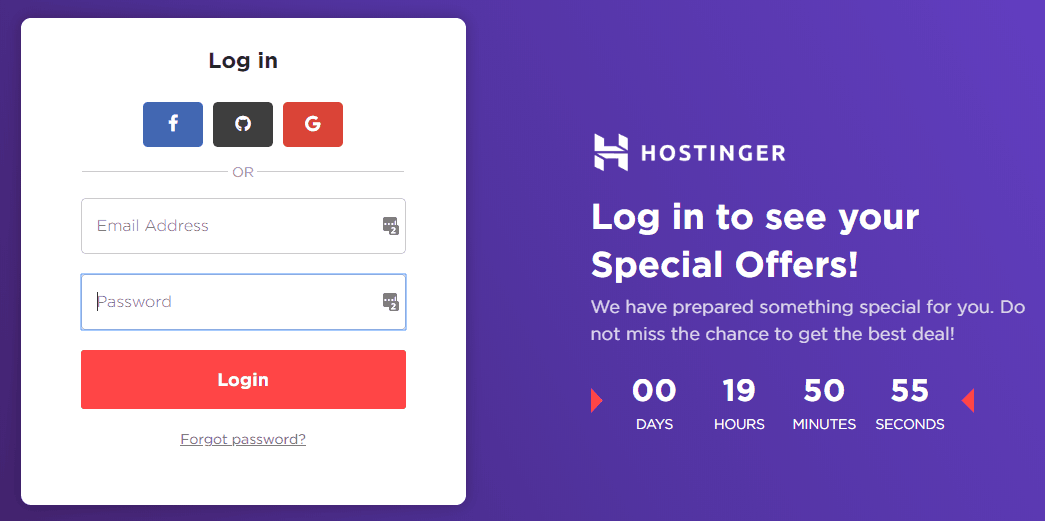 2. Click Manage on your hosting account to enter the hPanel.

3. Scroll down until you find the Emails section, then select Email Accounts.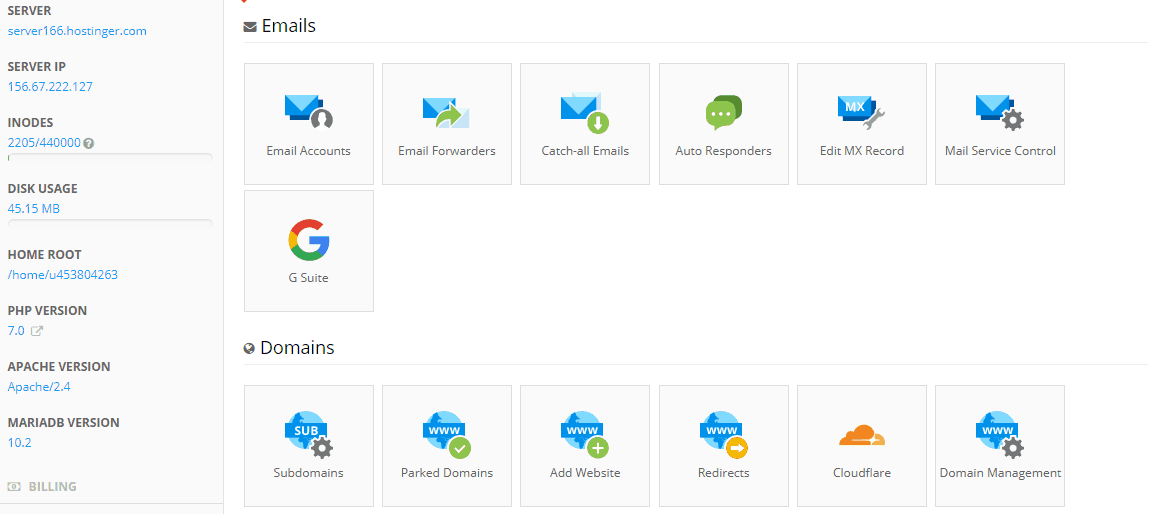 4. Once you are in the Manage Emails page, ignore the business and enterprise email offers and scroll to the bottom to find the Create a New Email Account section.
Enter the name of the person or team that you want to give the account to.
After that, create a password for the account – or generate a random one. Before creating the account, it is recommended to save its credentials in the password manager.
Once you are done, click create.

5. After you create one or more accounts, you can delete or change its or their preferences.

Except for the single shared hosting, Hostinger's plans allow users to have unlimited email accounts.
If you need more functionality for your teams, however, we also offer premium email services:
Business – $0.59/month
Professional – $2.19/month
GSuite – $6.00/month
The business and professional plans add email protection and task manager, while the GSuite plan brings Google services like Gmail and Drive. On top of that, the latter allows users to communicate through voice and video calls.
To understand how to set up these email services, you can go to this article, which discusses it in depth.
Zoho Business Email Account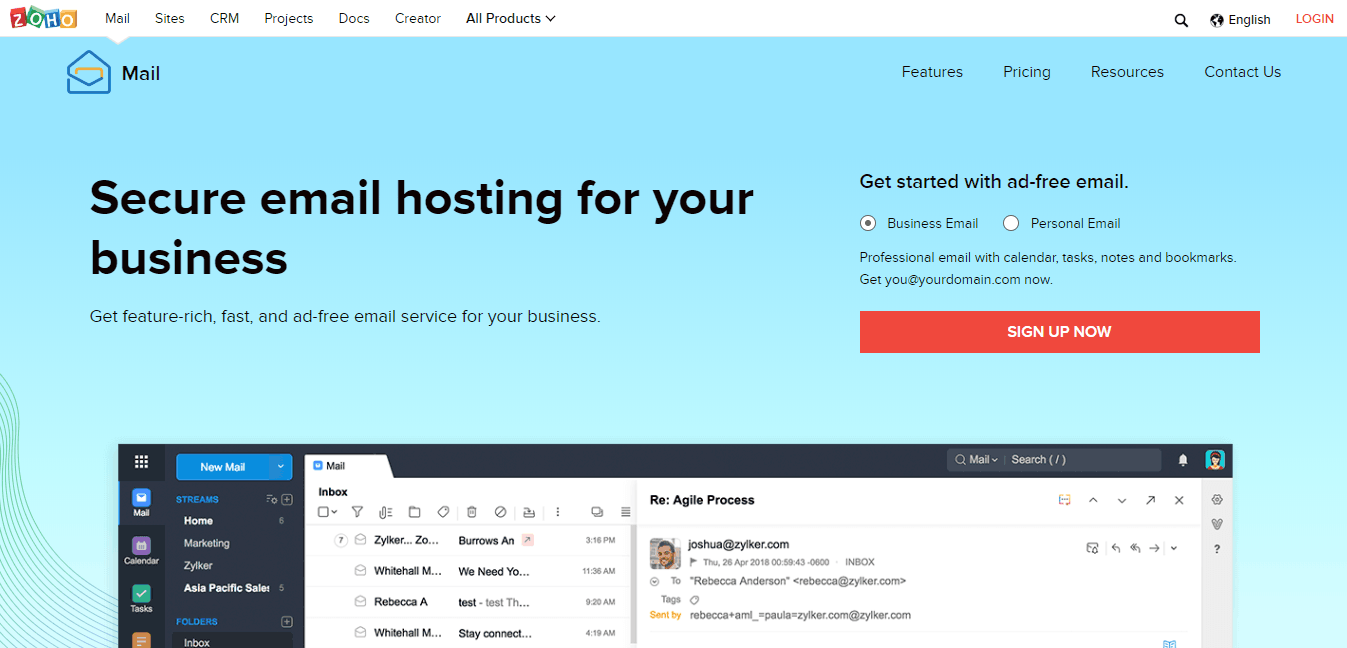 Zoho is one of the most popular options for creating business email accounts. While the provider charges its users a few bucks, it also has a free plan.
Even though it only allows five accounts, you can use Zoho's free offer for a small team. Should there be a need for an upgrade, you can use Hostinger's business email service.
Without further ado, follow the steps below to use Zoho's free offer:
1. Assuming that you already purchased a domain name through Hostinger's domain checker, let's start by going to this link.
Though, you can also do it by clicking on Pricing at the top of Zoho's homepage. Then, scroll below the 15-day free trial and click Sign Up Now on the forever free plan offer.
Make sure you choose to sign up with your domain before typing it on the available space.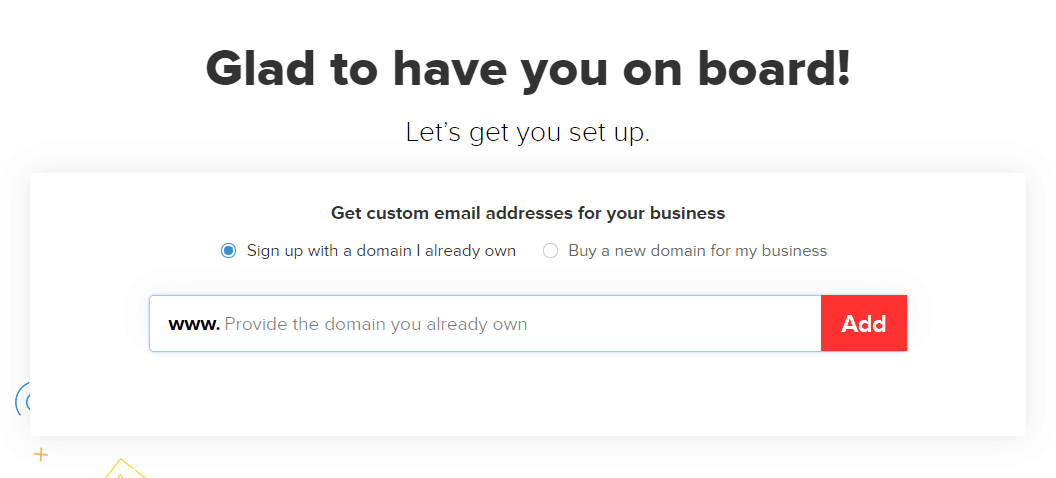 2. Enter your credentials, then click Proceed and sign up.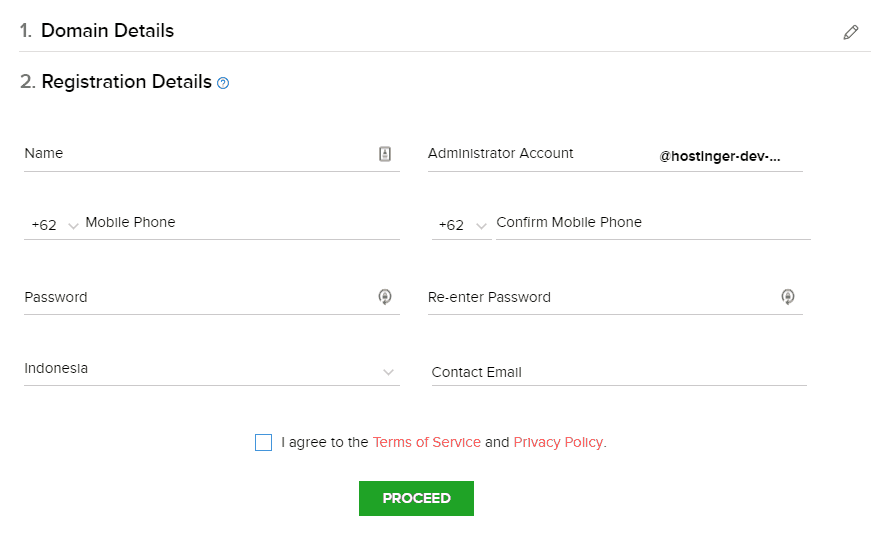 3. Zoho will send a verification code to the phone number that you provided during the signup process. After you enter the code, the website will ask you to enable two-factor authentication. There are three authenticator services that you can choose from – OneAuth, SMS or call, and Google Authenticator.
4. After setting up an authenticator service, go to mail.zoho.eu and enter your domain name once again to verify it. In the drop-down menu, choose Others as your hosting provider.

5. You will be asked to choose between three methods to create a DNS record – TXT, CNAME, and HTML. For this tutorial, we select CNAME.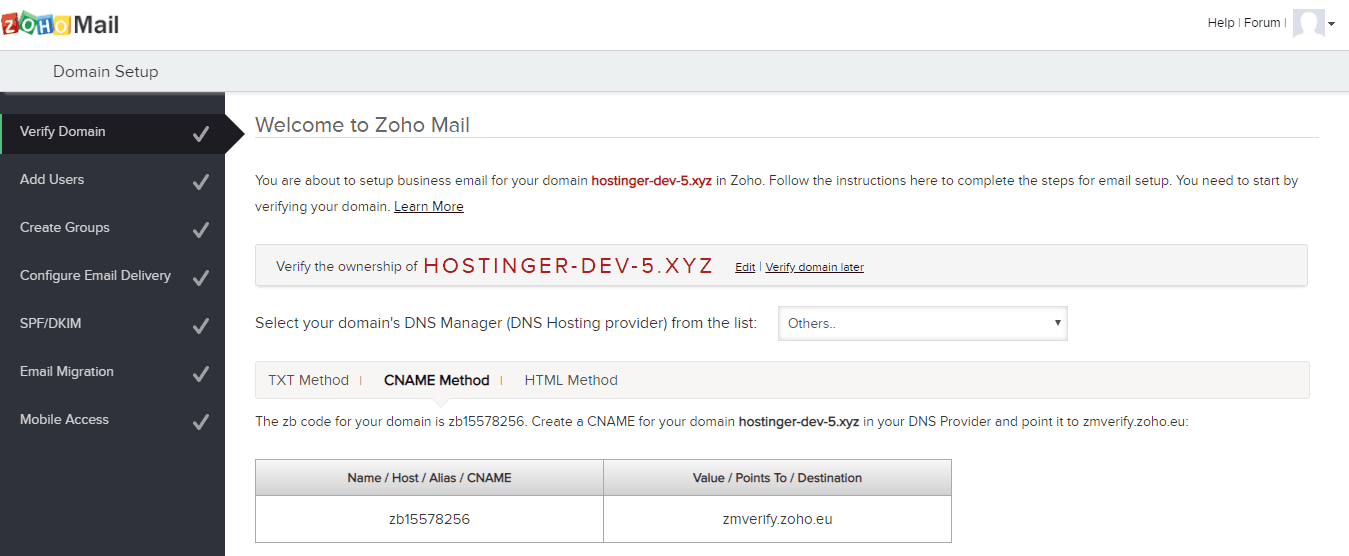 6. Log into your Hostinger account, and look for DNS Zone Editor in the hPanel. In the CNAME section, click Add New. Then, enter the code and domain name that Zoho provides in the previous step to the host and points to columns. When you are done, click Save.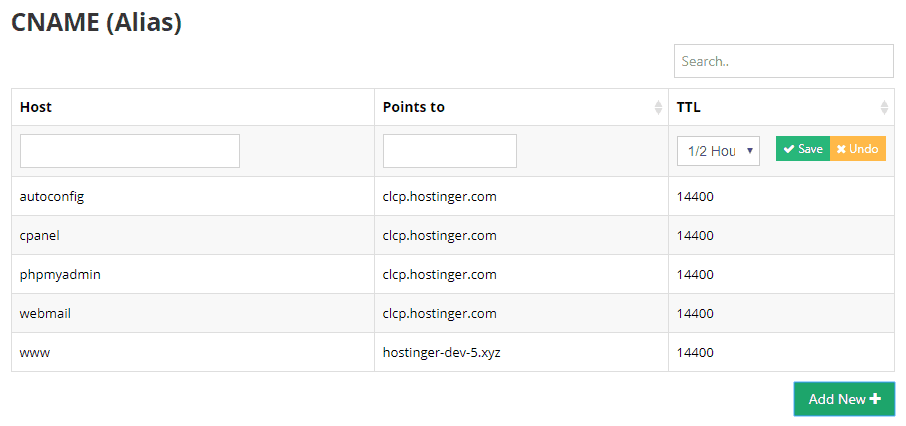 7. Go back to Zoho, and click the Proceed to CNAME Verification button. After it is done, you can start creating accounts – the first one will automatically become the administrator account.
As seen on the screenshot below, there are other features that you can set up. The most important one is to make sure you can send emails.
To do this, skip the Add Users and Create Groups sections until you are in the Configure Email Delivery step.
Add the three MX records that you see in this page into your hPanel's DNS zone editor and delete the existing one.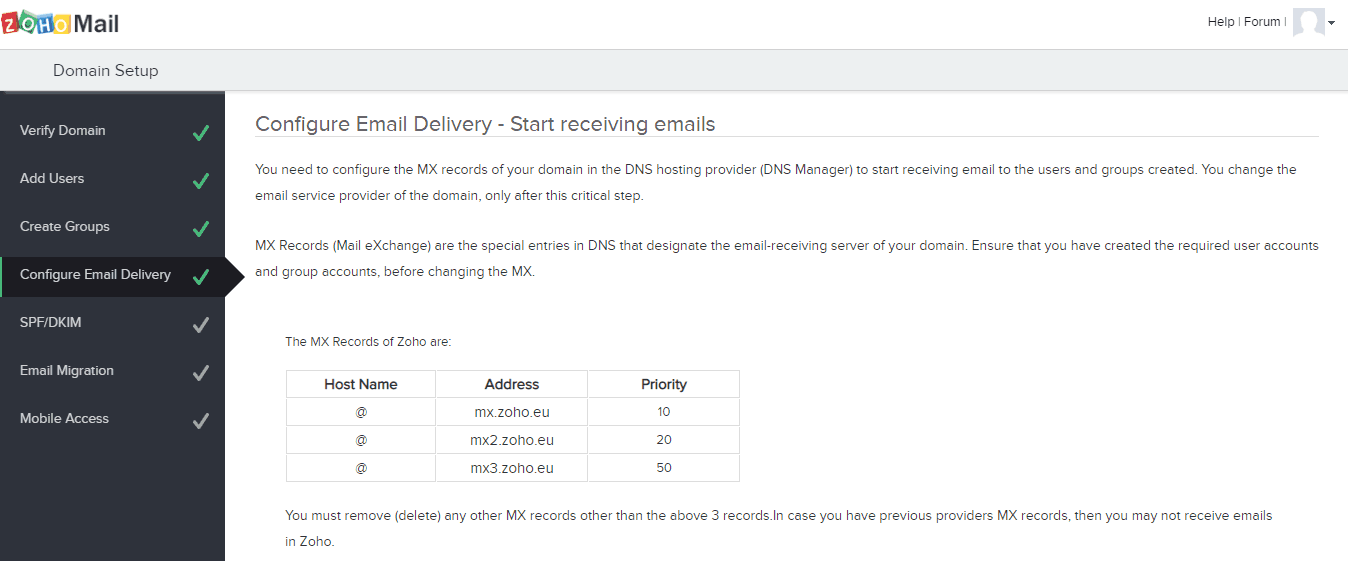 8. Go back to Zoho and click MX Lookup to verify. If all is done, you can start creating email accounts on Zoho.
Conclusion
Setting up business email accounts at a minimal cost is possible. To do it, you can either use a built-in service that your web hosting provider has or an external email client.
In this article, we choose Hostinger's and Zoho's email services. Let's take another look at the steps to configure your business email address:
Hostinger:
1. Log into your Hostinger account and head to the email section of the hPanel.
2. Select Email Accounts.
3. Go to Create an Email Account and enter the username and password that you wish.
Zoho:
1. Enter your domain name.
2. Create your credentials to sign up.
3. Verify your phone number and set an authenticator service.
4. Verify your domain name
5. Choose between TXT, CNAME, or HTML to create a DNS record.
6. Enter MX records and verify them in Zoho.
If you have questions about this article, post them in the comments section below!