If you want to create a successful email marketing campaign, the first thing you need to do is build an email list. Without it, you simply won't have who to send your emails to. In this article, we'll teach you how to build an email list so keep on reading.
The Importance of a Good Email List
Email marketing is one of the best digital marketing practices. Not only can you build a strong relationship with your audience, but increase conversion rates and make more money!
Believe or not, worldwide email usage has reached more than 3.5 billion users in 2018, and it is projected to reach 4.4 billion users by 2023.
That being said, email marketing is one of the most stand-out channels to build brand image, customers trust, and loyalty.
Here's an example of how email can be used to send a personal offer to audiences.
Moreover, more than 50% of marketers have proven that email marketing is one of the highest sources of return on investment (ROI).
When it comes to email marketing, the first thing you need to do is build a strong email list.
How to Build an Email List – Best Practices
Email marketing is a great way to personally reach all of your customers.
However, keep in mind that different consumer buying stages will require differently tailored content. So make sure to create a good content marketing campaign.
After you gather a strong email list, make sure to send out content that fits your customer's journey.
Without further ado, here are some of the best ways to build an email list, and keep it growing.
Create a Form
Creating a form on your website is one of the easiest ways to gather emails for your campaign.
The form should be noticeable and persuasive. Make sure to highlight the reason why users should provide you their email. What will they gain from it? How will it benefit them?
However, you need to make sure that the sign-up form is GDPR compliant  – it should have a pre-filled checkbox that ensures your visitor's consent before signing up to your email list, and it should be clear and easy to fill out.
Here is an example of how Hostinger provides an email sign-up form.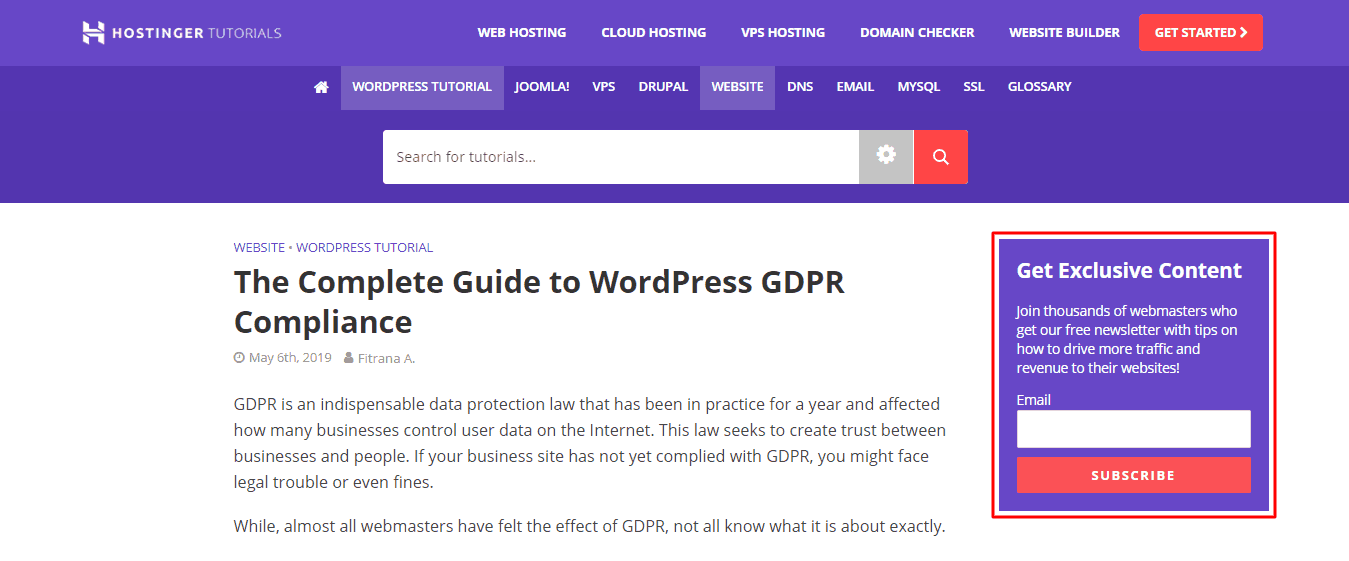 Use Custom CTA's
CTA stands for Call to Action. It will redirect your audience to a certain page or content and will surely create leads.
Having CTAs on different pages is a good way to attract new subscribers. You can personalize the CTAs based on what your content is associated with.
Try to use witty and triggering clauses instead of plain ones like "Subscribe", "Click here!", "Try for free!", or "Get Started". For example, Humboldt Country's website uses "Follow the Magic" on its homepage.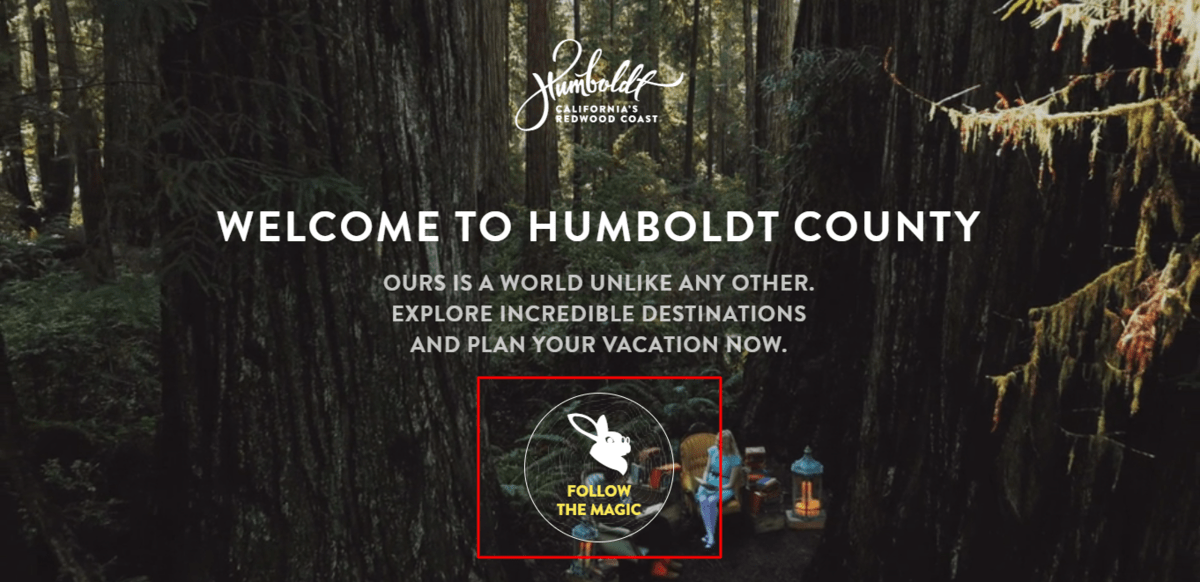 Keep in mind that you can provide CTAs that invite your audience to sign-up for your email list on any page of your website so it will be easily noticed.
Create a Pop-up
A pop-up box is content that appears in front of the currently opened page. It effectively generates online conversions – from email sign-up to sales. The pop-up box can be an advertisement, a sign-up form, or a content suggestion.
Here is an example of a pop-up ad at Hostinger: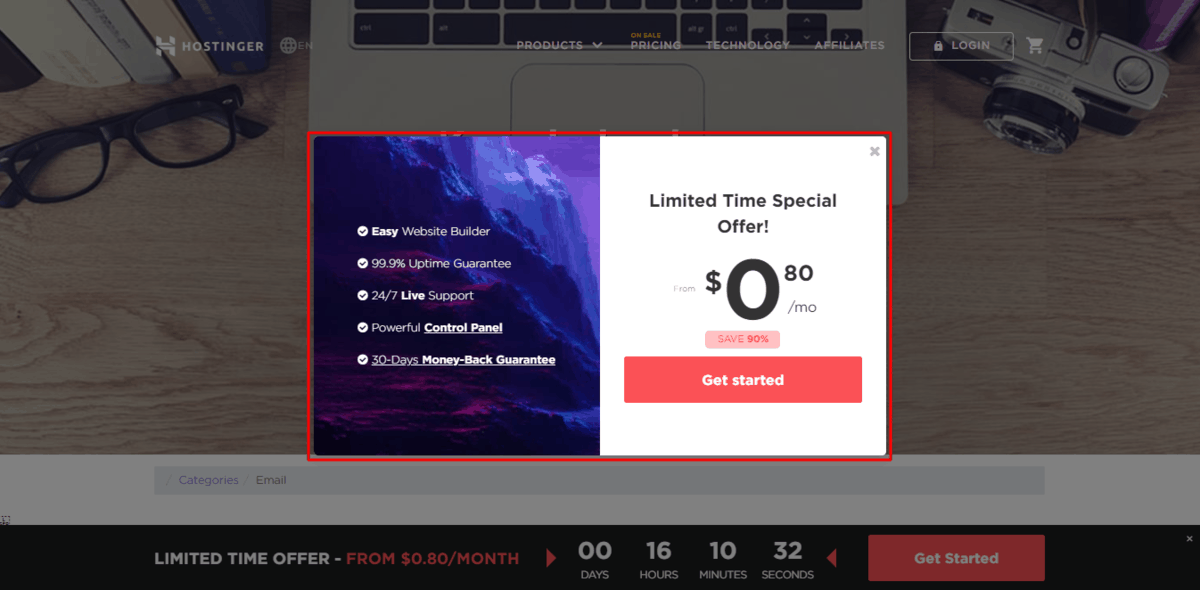 As it appears on top of the opened page and may annoy your users, so it is important to make sure that the pop-up is not intrusive and over placed. Instead of putting it in the center of your site's layout, you can customize the location, size, and even the time when it will pop up.
For example, here at Hostinger Tutorials, we also use scroll pop-up suggestion in the bottom corner. Importantly, the size is pretty small but it is still noticeable so it won't interrupt users' experience.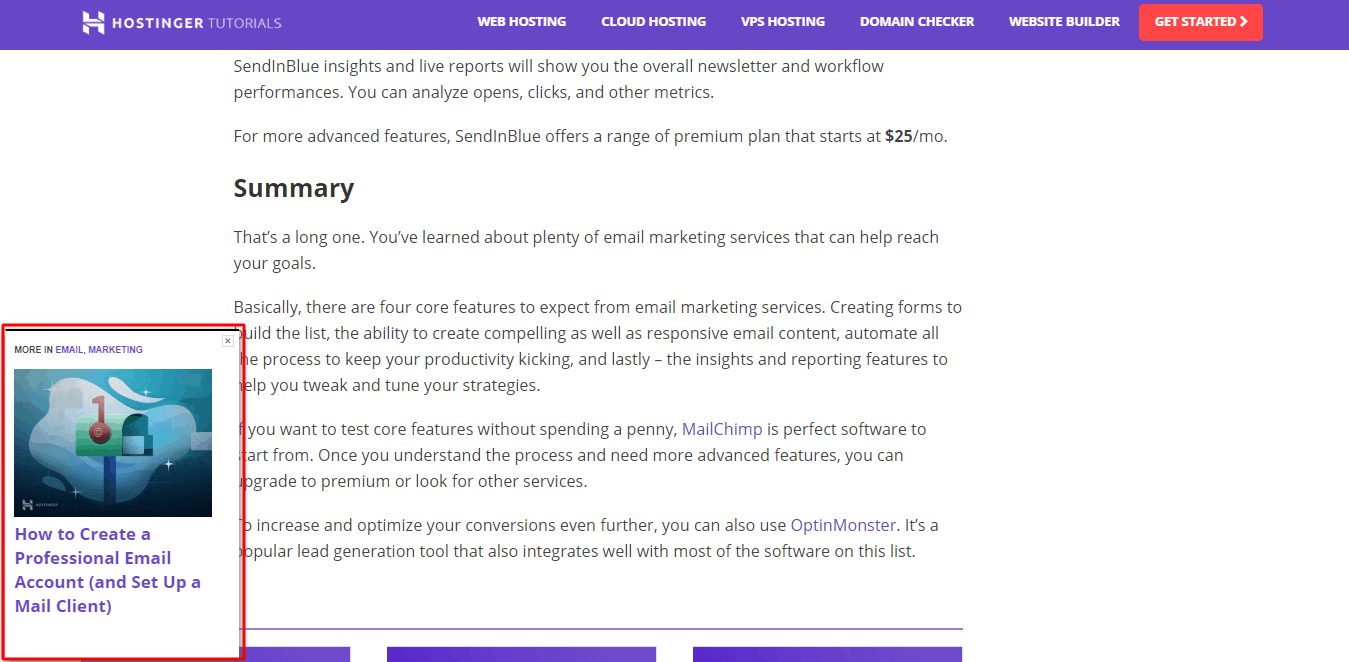 When it comes to email sign-up forms, a pop-up form can be a good choice to draw attention. Take a look at this pop-up email sign-up form by UPROTEIN!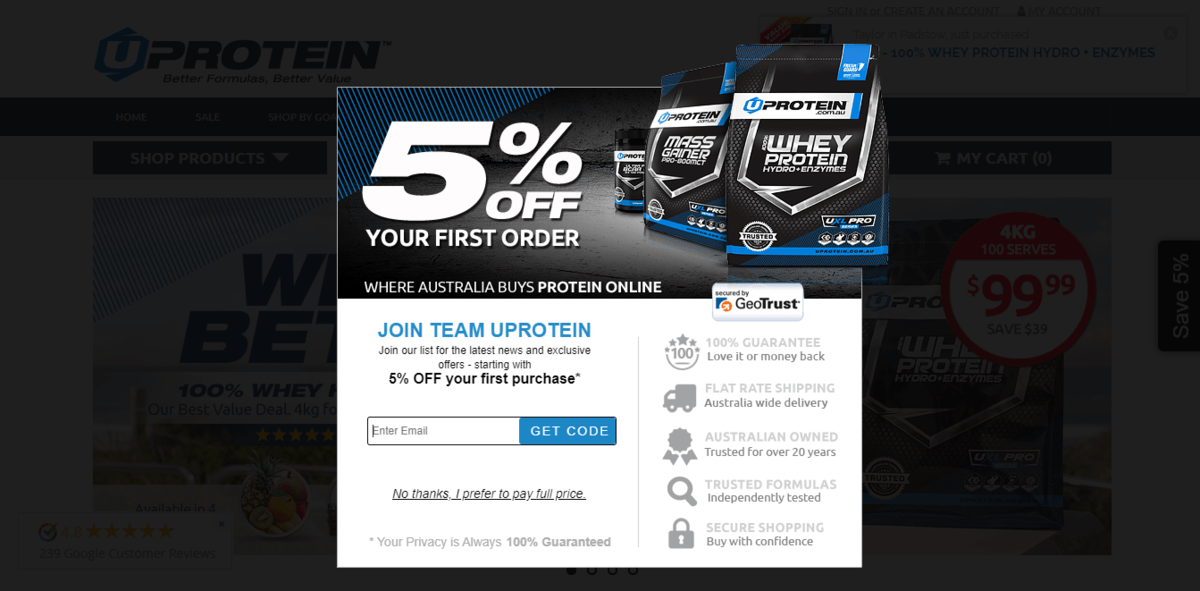 Launch an Ad Campaign
You utilize social media  – Facebook, Instagram, LinkedIn, Pinterest, or Twitter. It can be a great way to attract new users to your website and later encourage them to sign up to your email list.
Here is an example of Hostinger's ad campaign in Instagram stories:
When the "Get Offer" button is clicked, users will be redirected to Hostinger's website.
Here is another example of how Hostinger publishes an offer on its Facebook post.
Giveaways Work
Another powerful way to encourage users to sign up to your mailing list is by giving valuable freebies, such as discount codes, free PDFs and so on.
Whenever you offer your audiences freebies that they need, they will freely exchange it for their email.
For example, Kate Spade's website offers a discount code that will be sent to the users whenever they provide their email.
Another commonly found example is free ebooks, just like what Sitepoint does. All users need to do is submit their name and email, and the ebook will be sent to their inbox.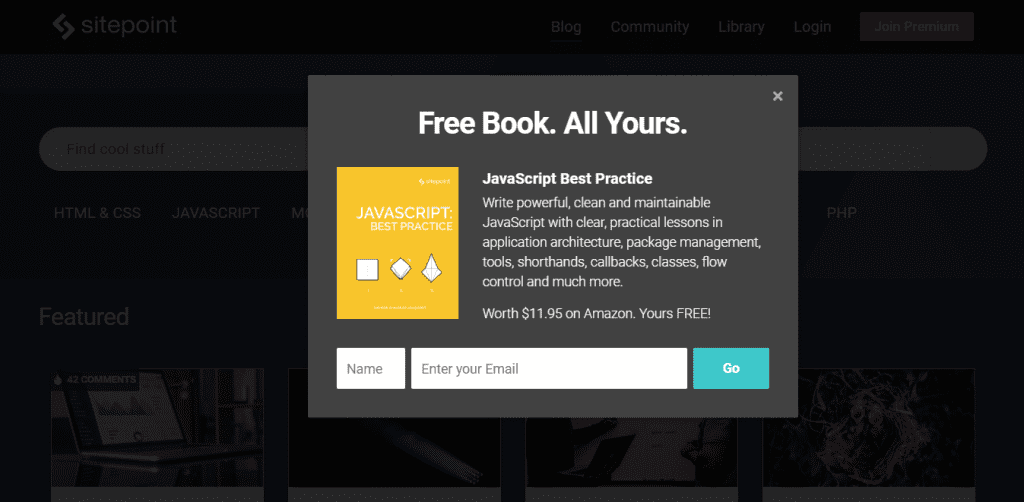 Always Be Prepared
To keep growing your email list and make the most of your email marketing strategy, it is incredibly important to have your infrastructure ready.
Simply put, you need to consider some things before starting with email marketing, such as choosing email marketing service, building sign-up forms to grow your email list, creating quality content, and implementing email marketing automation plan.
Conclusion
As you can see, email marketing remains effective to grow your business. As the crowds of email users are massively growing, it is important to build a good email list to reach a well-segmented target audience.
Here are some great ways to grow your email list:
Create a form  – provide a sign-up form on your website page
Custom CTAs  – use a personalized call to action button or words to encourage your audiences
Create a Pop-up  – use a pop-up email subscription form to attract your audiences
Social Media  – advertise your products or offers on social media
Give away freebies  – build trust by giving free resources or discounts
Have your infrastructure ready  – prepare your plan and platform to start your email marketing strategy
So, what are you waiting for? It's a perfect time to start building your email list!