Top 10 Best Online Payment Solutions for Business Owners and How to Choose the Right One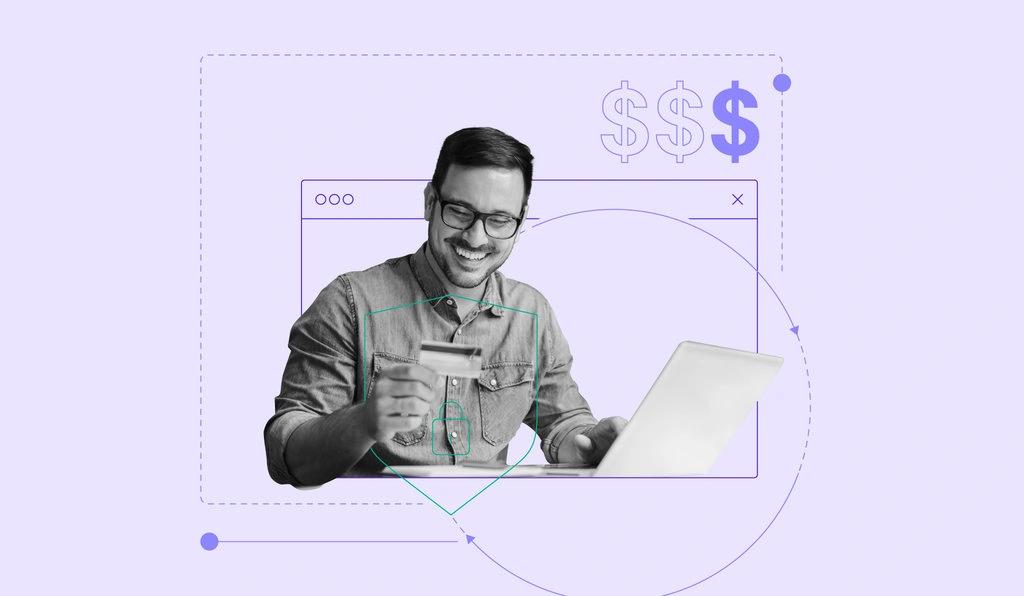 Online payment solutions are critical to starting an online business. They let companies securely accept different currencies and payment methods, from credit cards to digital wallets, making purchasing easier for customers.
To help you choose the best one for your needs, we'll go over 10 online payment solutions and discuss each option's key features, pricing, and drawbacks.
First, let's look into the terminology of online payment methods and discuss how they can benefit your business.
Download Checklist: How to Start an Online Business
What Are Online Payment Solutions?
Online payment solutions are software that enables businesses to receive money and pay via the internet.
Note that people often use various terms interchangeably to refer to an online payment solution, such as an online payment service and a payment gateway. While these terms have different meanings, they all take part in online transactions.
Understanding the Online Payment Terminology
Let's look at some of the most important online payment terms to understand what they mean.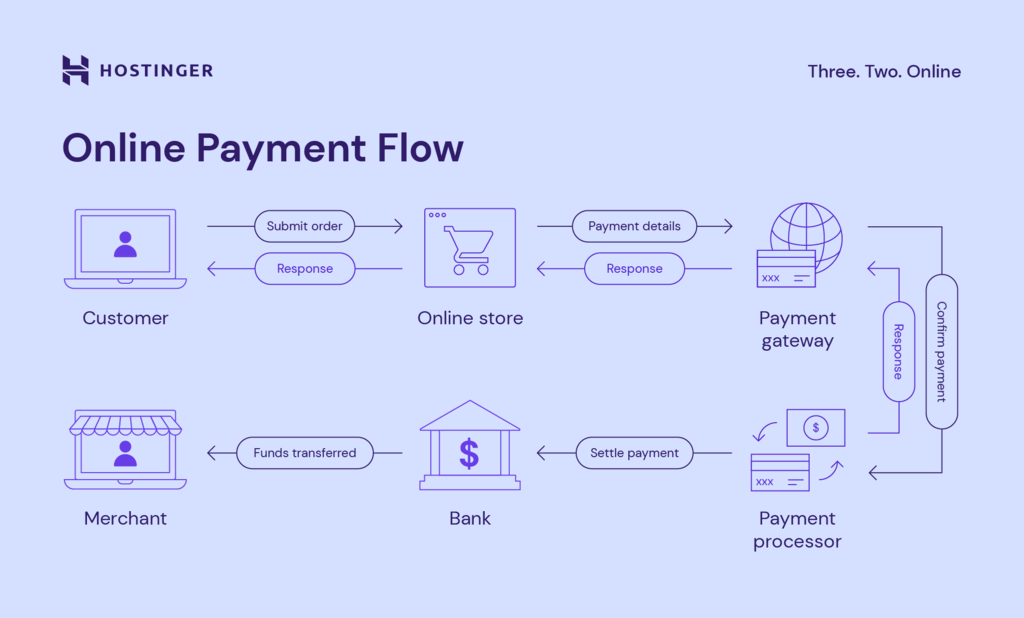 ACH Payments
Automated Clearing House (ACH) payments are US-based electronic bank-to-bank payments. Using them, money doesn't have to go through card networks or wire transfers – it goes directly between bank accounts. These are often used to facilitate payments of direct deposits, payroll payments, mortgages, and loan payments.
Payment Gateway
A payment gateway acts as the middleman between your website or point-of-sale (POS) system and the processing bank or payment processor. It ensures that the customer's payment details are encrypted and stored securely and then sends them to the payment processor.
Payment Processor
A payment processor is a service that authorizes a purchaser's payment information and checks whether they have enough funds in the account to pay.
If successful, payment processors will transfer the funds to the merchant account, transmit back the transaction status to the payment gateway, and send a success status message to the merchant's website. Meanwhile, customers with insufficient funds will receive a declined status message.
Payment Provider
A payment provider, also known as a payment service provider (PSP), is a company operating payment gateways or processors – or both.
As it works with multiple banks and card networks, businesses can accept various payment methods, including:
Credit and debit cards
ACH payments
Payment apps like PayPal
eWallets such as Apple Pay
As PSPs generally offer immediate account approval, merchants can start using it right away. Typically, a payment provider will provide integrated POS software, card swiper, and online checkouts.
As for pricing, some providers have monthly fees, and others may also apply processing fees.
Payment Service
An online payment service, also called a payment system, refers to the types of payment gateway a payment provider has. For example, PayPal has multiple online payment systems, such as PayPal Express Checkout and Payflow Pro, with different features and pricing.

Merchant Account
A merchant account is a special bank account enabling a business owner to receive payments through credit or debit cards. This is a must-have if an eCommerce seller wants to accept credit card payments for their stores.
A business owner usually sets up a merchant account with a payment provider. Funds accumulated from successful online transactions will be transferred to this account regularly.
Why Use an Online Payment Solution
Besides enabling a business to accept a wide range of payments and providing customers with various options to suit their preferences, using online payment solutions also bring other benefits to your business, such as:
Time Efficient
Online payments are quick and easy to set up. While some options may require technical experience to run optimally, the whole process is generally user-friendly.
They're also faster than manual payments like cash or cheques. The online payment process, from customers submitting their data to updating your bank account, typically takes only several seconds.
Some even handle post-payment tasks, like sending a purchase confirmation, and provide automated payments. As a result, you can set up recurring billings easier.
Easy Management
Managing money and financial data will be easier with online payments. The payment tools store funds from various bank accounts and digital wallets and keep track of the financial information in real time, making it easier to get on top of your finances.
Secure and Reliable
Online payment solutions generally come with security measures, such as encryption and tokenization, to protect sensitive data, such as a customer's credit card information.
Customers can also conveniently save payment details, so they don't have to reenter them, with an option to use a one-time password to authenticate the user.
Low Theft Risk
Since your revenue is stored in a merchant account or a bank account, which typically has tried and tested security measures, there's a lesser chance for the funds to get stolen compared to keeping the cash physically in your offline shop.
Top 10 Popular Online Payment Solutions
Many options are available when it comes to online payments. Here are the 10 best platforms to help you sell online securely and effectively.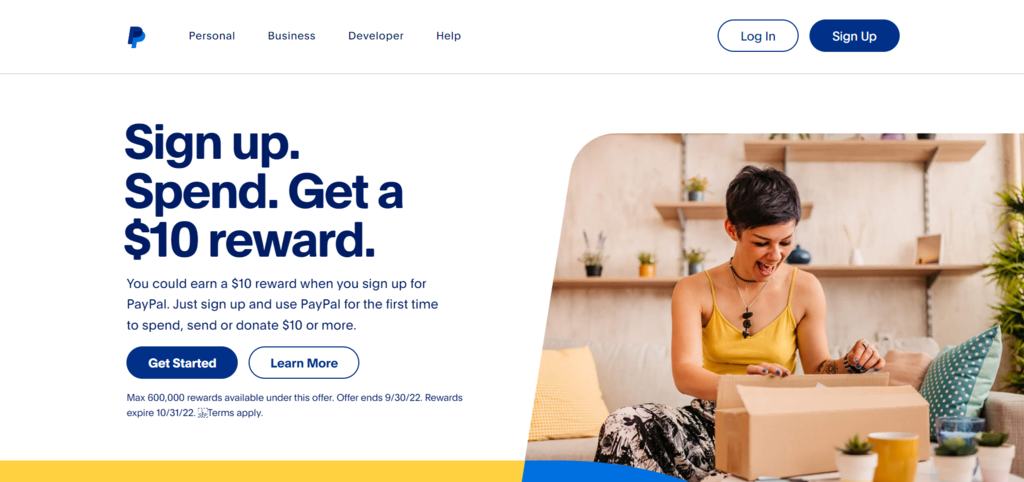 PayPal Stats:
Best for: small-to-medium-sized businesses looking for an option to do everything in one place
Monthly cost: free
Payment processing:

2.99% plus $0.49 for standard credit and debit card payments
3.49% plus $0.49 for other commercial transactions
PayPal had over 420 million users in 2022, making it the market leader in online payment methods. It provides payment processing and gateway-only options. Customers can pay businesses via credit or debit cards, PayPal balance, or bank transfers.
Key Features
Straightforward setup process. Register and connect your Business account to start accepting payments. There aren't any signup, monthly, or cancellation fees to make a PayPal account. It also integrates with major eCommerce platforms, including WooCommerce and Shopify.
Various ways to accept payments in one place. PayPal offers multiple payment methods, such as QR codes, buy-now-pay-later financing, cryptocurrency, and its subsidiary Venmo.
Transparent fees. This payment solution uses flat-rate per-transaction fees, enabling merchants to accurately estimate their monthly payment processing costs.
Drawbacks
PayPal has slightly higher per-transaction fees than other online payment solutions. Additionally, it has strict terms of use resulting in fund withholding, account freezing, or even termination, although it may be helpful for user safety. This platform has been known to mark suspicious behaviors like sudden increases in processing volume and vague product descriptions.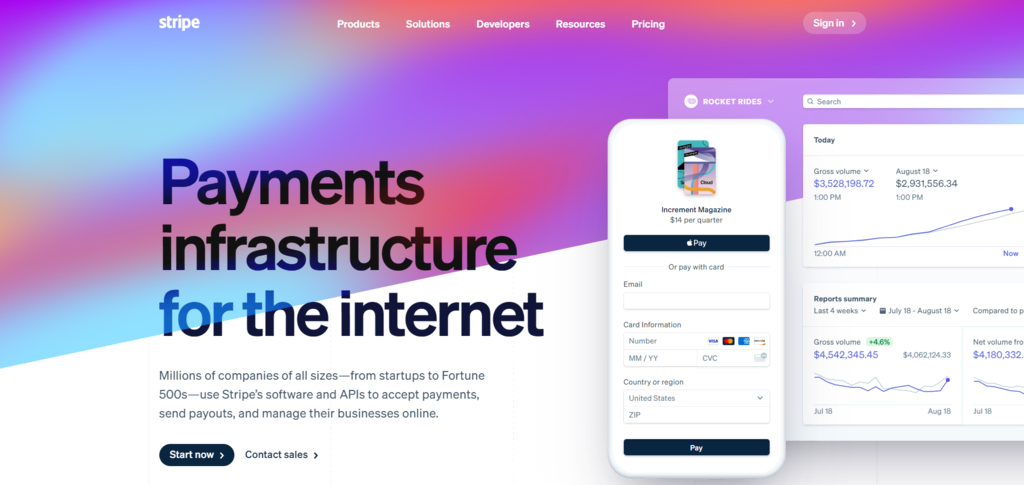 Stripe Stats:
Best for: online businesses targeting a global market and wanting custom workflow
Monthly cost: free
Payment processing:

2.9% plus $0.3 for online transactions
2.7% plus $0.5 for in-person transactions
Stripe is among the most widely used payment providers, with over two million global users. It's an all-in-one solution that includes the gateway, processing, and merchant account. In addition, it supports in-person and recurring billing, suitable for eCommerce businesses with brick-and-mortar stores.
Key Features
Highly customizable checkout flow. Due to its robust API, Stripe is an excellent option for web developers who want to integrate a custom payment system into their projects.
Multiple currencies and payment options. This platform accepts more than 135 currencies and dozens of payment methods, including Buy now, pay later options with Klarna and ACH debit and credit transfers.
Prebuilt checkout page. Personalize a default payment page hosted on Stripe to quickly create payment forms and collect money on desktop and mobile devices without designing the page yourself.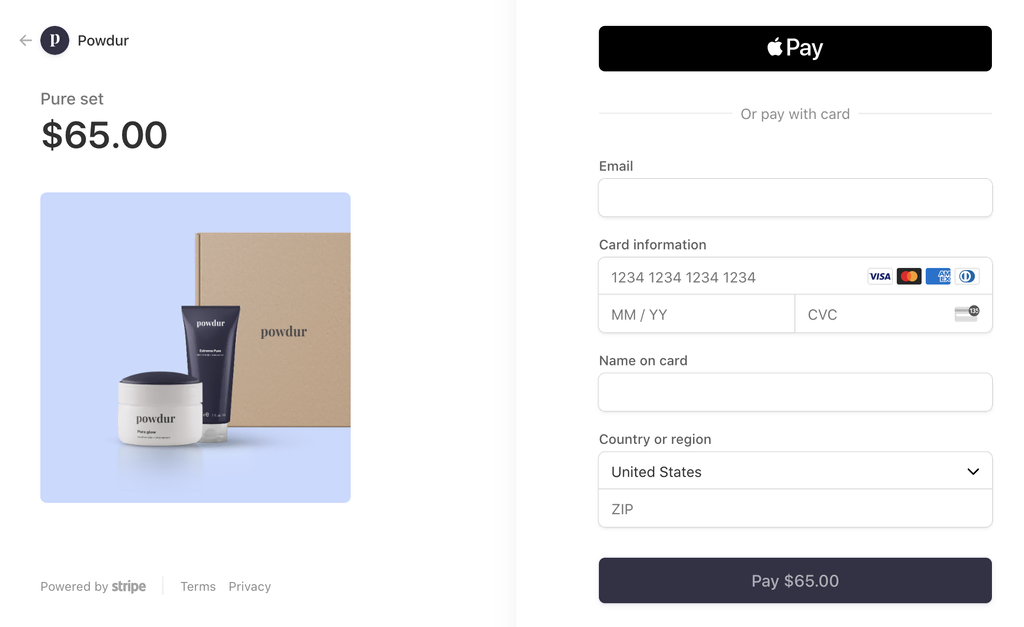 Drawback
Stripe requires more technical expertise to maximize its features. However, it has extensive documentation and a directory of freelancer developers to customize Stripe for your business and assist with integration.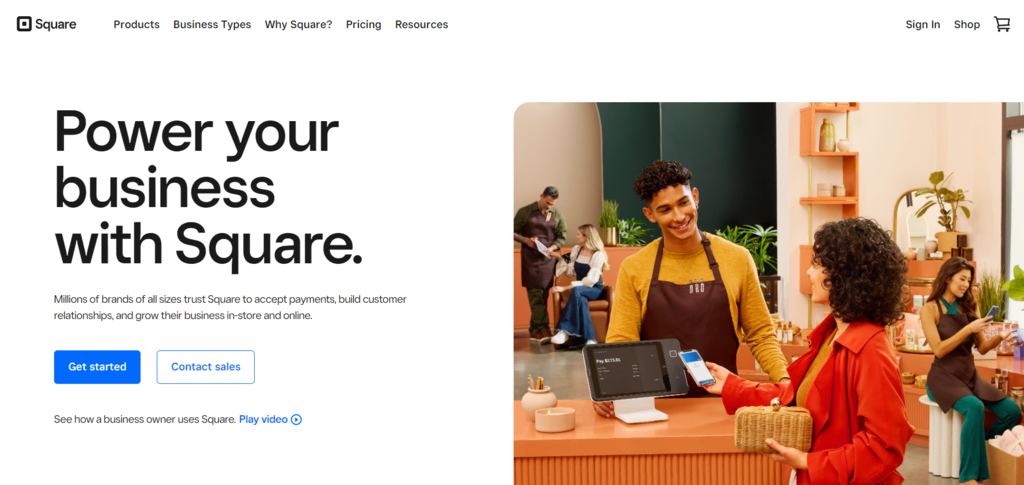 Square Stats:
Best for: eCommerce businesses with brick-and-mortar stores
Monthly cost: freemium with pro plans starting at $29
Payment processing:

2.6% plus $0.1 for in-person transactions
2.9% plus $0.3 for online transactions
While Stripe has more in-person payment features, Square offers better and more user-friendly capabilities for this purpose. For example, you can use Square's Payments API on eCommerce platforms without coding. Simply log in to your Square profile on the site's settings page.
Key Features
Tailored packages. This platform comes with specific POS systems and features for restaurants, retailers, and service companies. For example, Square Appointments can help show your availability on the app, letting customers book online, and compile client profiles in one place.
Powerful add-ons. Grow your business with a loyalty program and email marketing campaigns created directly from Square. It also provides team management and payroll functionality on its software.
In-person payments. Square has various hardware options, like a free Magstripe reader, a card swiper attachable to a mobile phone, and a contactless chip reader for iOS and Android phones. Note that the tools come with an additional price.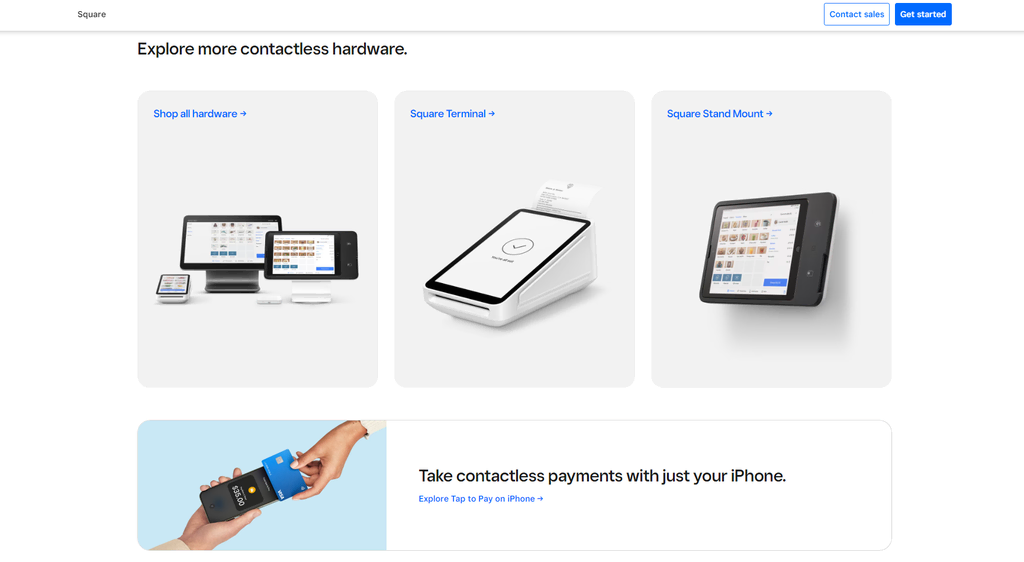 Drawback
Some of Square's features, like a Magstripe reader, are incompatible with Windows devices.

Amazon Pay Stats:
Best for: businesses primarily focused on online sales
Monthly cost: free
Payment processing:

2.9% plus $0.3 for web and mobile transactions
4% plus $0.3 for Alexa transactions
Amazon Pay lets customers use their Amazon profiles to purchase on eCommerce platforms, including BigCommerce and WooCommerce. It also accepts popular credit and debit cards, like Visa, Mastercard, and American Express.
Key Features
Easy checkout. Using Amazon Pay will direct customers to Amazon's checkout, meaning they will use their Amazon credentials to have a more convenient and trustworthy checkout process.
Purchase guarantee. Customers' payment details will be secure, and any issues will be resolved with Amazon Pay A-to-Z Guarantee, such as refunds for late and damaged products.
Alexa payments. Businesses can accept payments via Alexa devices.
Drawbacks
This payment solution doesn't offer volume discounts and has limited online selling platform integrations.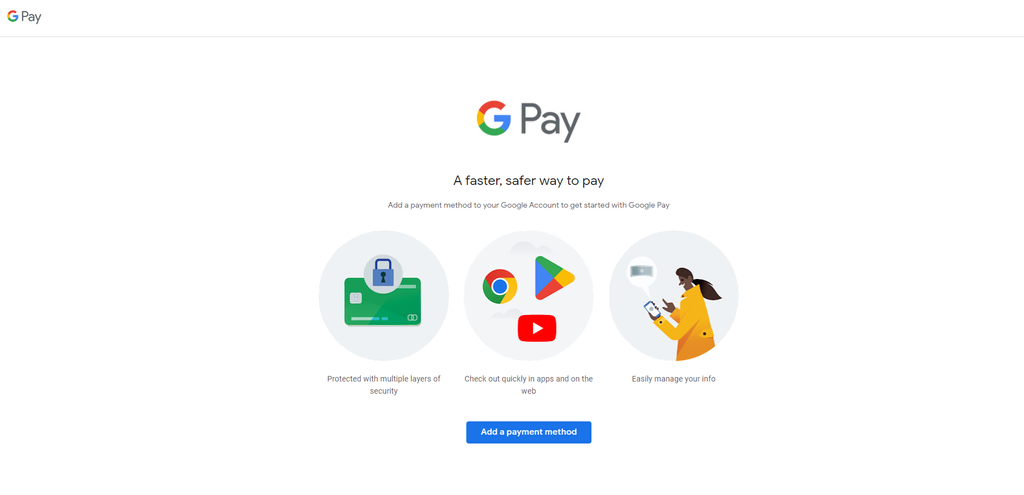 Google Pay Stats:
Best for: small businesses running events
Monthly cost: free
Payment processing: free
Similar to Amazon Pay, Google Pay enables users to pay for services and goods through their Google profiles, making the payment process more seamless. From a business perspective, it also offers a quick integration. Simply set up Google Pay API or connect your bank account with your Google Pay account to start accepting payments.
Key Features
No fees for businesses. Google doesn't charge any fees for companies or commercial payments. It's up to the business owner to be responsible for collecting and paying taxes.
Google Pay Shield. It's Google Pay's security feature to ensure merchant protection against fraud and hacking.
Additional uses. Customers can use this platform to hold digital boarding passes, tickets, and loyalty cards, making it easier for them to store their credentials if you run events or loyalty programs.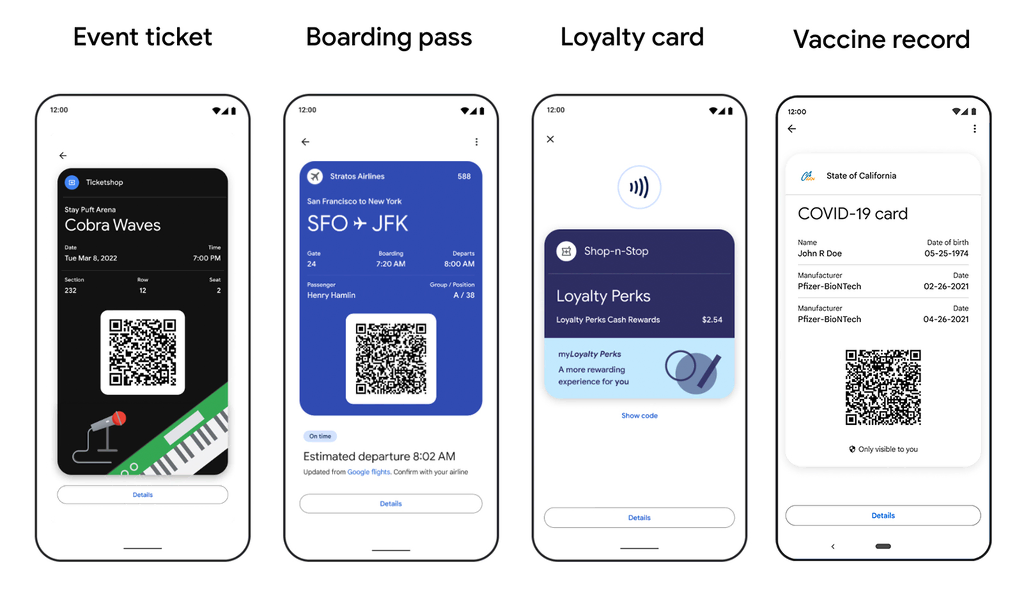 Drawbacks
Some features are currently limited to certain countries, but this will likely expand soon, considering that Google is constantly scaling. Furthermore, Google Pay requires businesses to have near-field communication (NFC) technology for in-person payments.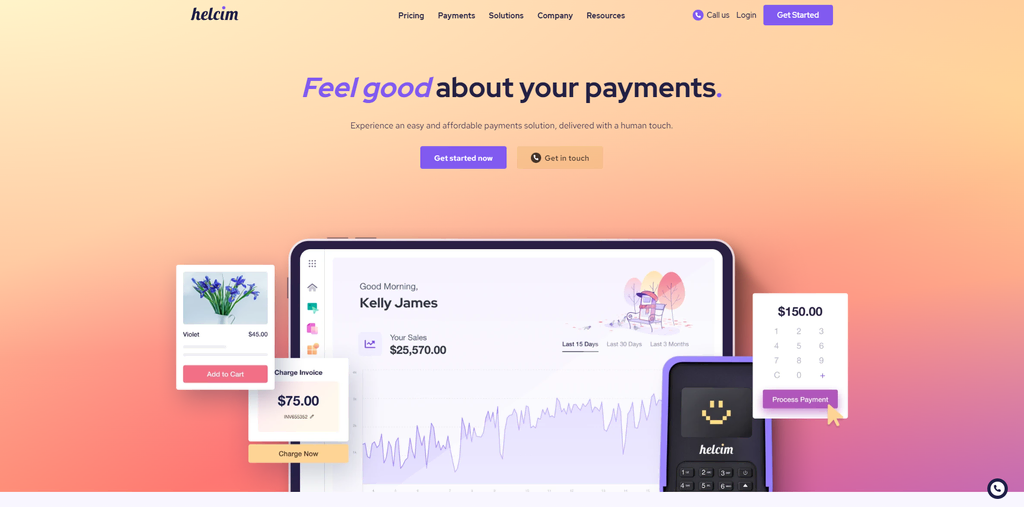 Helcim Stats:
Best for: businesses with high sales volumes
Monthly fee: free
Payment processing pricing, applicable when collecting over $25,000 in monthly transactions):

Interchange plus 0.3% and $0.8 per an in-person transaction
Interchange plus 0.5% and $0.25 per an online transaction
Helcim is a full-service and popular payment solution offering a mobile app and virtual terminals. Besides POS software and payment gateways, this Canadian payment platform provides invoicing and business management tools.
Key Features
Fraud Defender. This Helcim feature rates online transactions and assigns a score. Users can auto-decline transactions under a specified score.
Third-party integrations. Helcim integrates with many eCommerce platforms, such as WooCommerce and Magento, helping you start an online store faster. It also lets users export transactions directly to Intuit Quickbooks for accounting purposes.
Pricing tiers. Larger businesses can take advantage of this platform's pricing tiers, which get cheaper as you make more transactions.
Drawbacks
Helcim is expensive for lower-volume businesses as its pricing depends on the monthly sales volumes. It also has a largely restricted content and business list. Some companies Helcim won't work with include financial businesses like consumer bankruptcy lawyers and personal services like tarot card readers.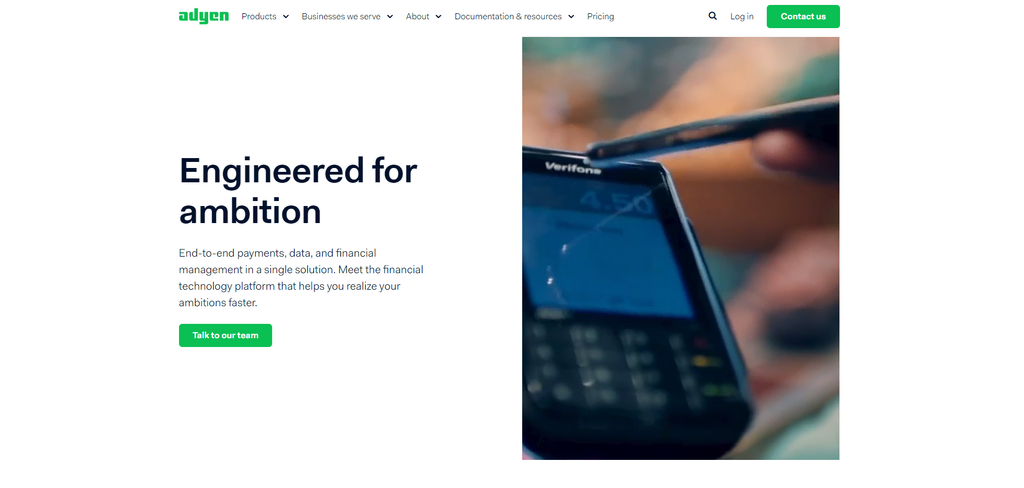 Adyen Stats:
Best for: omnichannel businesses
Monthly cost: free
Payment processing pricing:

Interchange plus $0.12 per transaction for Visa and Mastercard
3.3% plus $0.22 for American Express
$0.12 plus 3-12% for other payment methods, depending on the transaction type
Adyen is an all-in-one payment solution that can process payments from in-store, eCommerce websites, and marketplaces, making it suitable for omnichannel businesses. Its Interchange-plus pricing is cost-effective, although it may be more complex than other platforms.
Key Features
Dynamic Currency Conversion (DCC). Businesses can sell products based on the customers' currency and still receive the payment in their currency, improving authorization rates and lowering transaction costs.
Customizable risk management. Adyen's Revenue Protect technology has risk templates and rules which users can customize to prevent fraud. It will identify abnormal customer behavior, run risk experiments, and include 3D authentication.
Detailed reporting and customer insights. This platform's Customer Area compiles data from all channels, helping businesses understand each sales performance and identify the most popular online payment methods.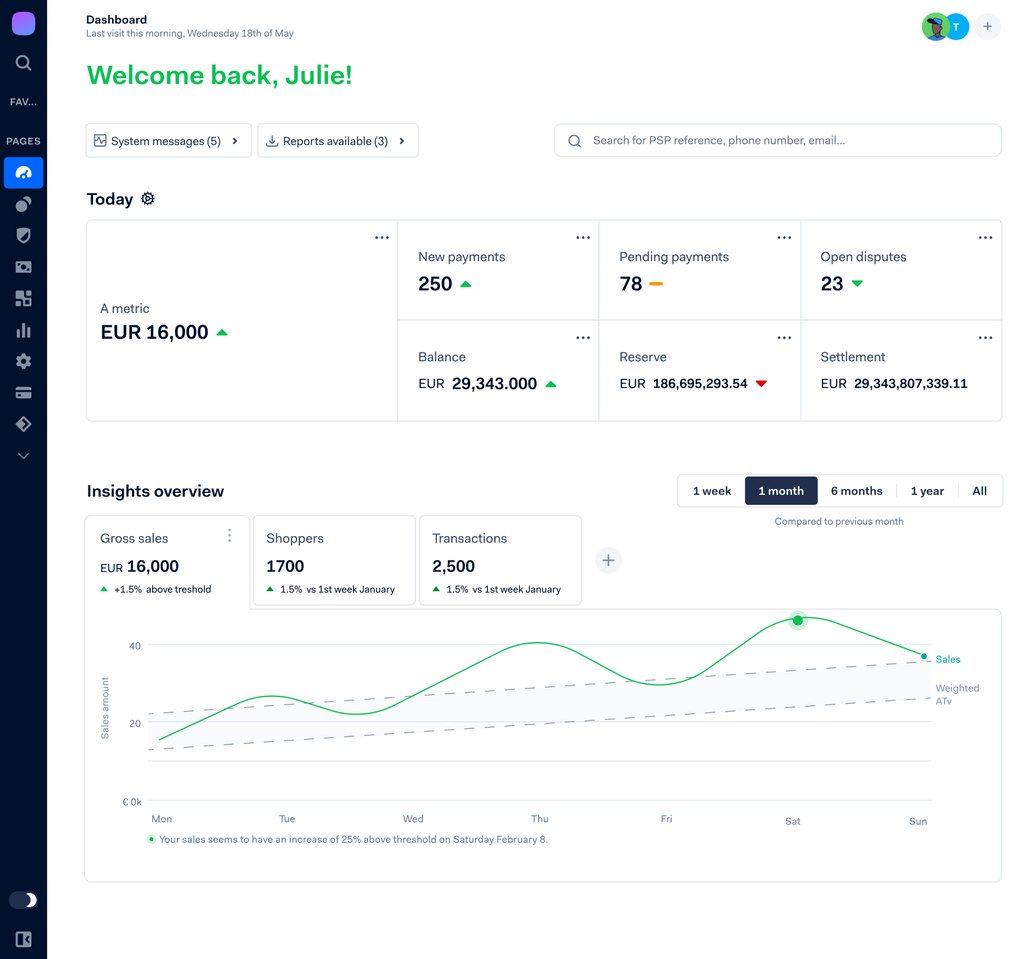 Drawback
Adyen may not be the best choice for low-volume merchants because it has a minimum monthly sales requirement of $120.

Authorize.net Stats:
Best for: high-risk businesses needing a secure and custom payment solution
Monthly cost: $25/month
Payment processing pricing:

2.9% plus $0.3 per transaction for all-in-one-solution (merchant account and payment gateway)
$0.1 per transaction and $0.1 daily batch fee for a payment gateway only
Owned by Visa, Authorize.net is trusted by over 445,000 merchants, including high-risk ones. It's an all-in-one solution with a third-party merchant services provider and works with major eCommerce platforms like Magento and Volusion.
Key Features
Multiple payment methods. This platform can accept payments from all major credit and debit cards, Apple Pay, PayPal, and electronic checks. It's compatible with various payment processors, eCommerce platforms, POS systems, and website builders, allowing a seamless setup.
Advanced fraud detection. Its built-in fraud detection tool can automatically scan sketchy IP addresses and suspicious transactions.
Customer information manager. Enable returning customers to pay easily without reentering their payment details.
Drawbacks
Many users complain about its outdated and clunky interface. Also, signing up for the all-in-one package requires more details, such as a business checking account and personal information.

Payoneer Stats:
Best for: small businesses and freelancers who want to make money online
Monthly fee: free
Payment processing price:

Free for Payoneer users
3% per transaction by a credit card
Payoneer is a simple payment processing tool. It doesn't have any transfer and hidden fees if you get paid from customers using Payonerr and fund withdrawal from ATMs using the Payoneer Commercial Mastercard's physical card. Payoneer works with major marketplaces like Fiverr, Amazon, and Airbnb.
Key Features
Wide reach. This platform is available in over 200 countries and accepts 150 currencies, helping businesses receive payments globally and locally.
Easy request payments. Send payment requests with just a few clicks and get paid instantly via local bank transfers, credit cards, or ACH Bank Debit.
On-the-go payment monitoring. With the mobile app, Payoneer users can easily cash out to local bank accounts, track balances and transaction statuses, and request or make payments.
Drawbacks
Payoneer lacks POS and payment gateway capabilities, making it unsuitable for large businesses.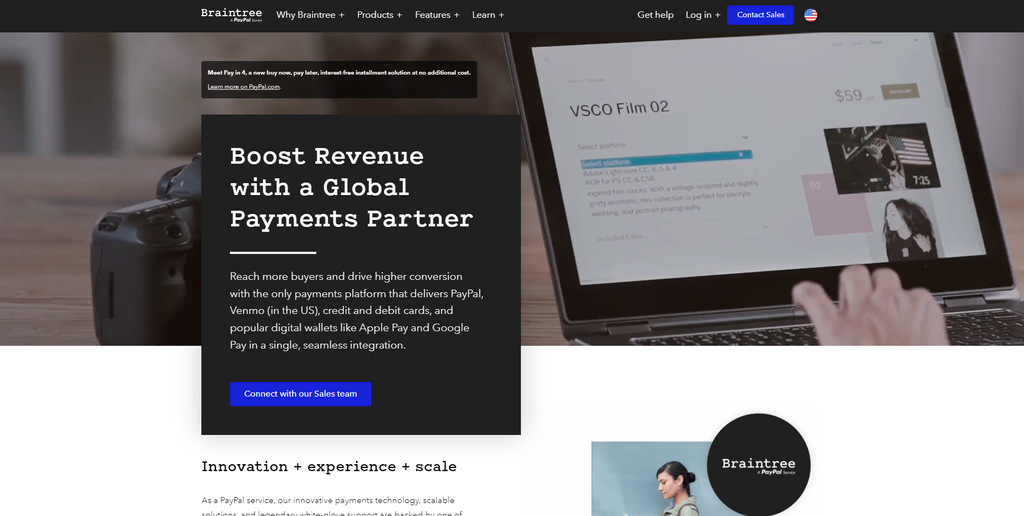 Braintree Stats:
Best for: companies with high sales volumes needing a custom workflow
Monthly fee: free
Payment processing price:

2.59% plus $0.49 per transaction for cards and digital wallets
3.49% plus $0.49 per transaction for Venmo
Braintree is a popular online payment gateway and merchant account platform for businesses with high sales volumes needing more customization options. Acquired by PayPal, Braintree can accept online payments via various methods, including PayPal, Venmo, and Google Pay, from one account.
Key Features
No contract. Braintree users sign up monthly – no lengthy contract or pricey early termination fee.
Simple checkout page. This platform has a ready-made, customizable checkout interface for websites and mobile applications in 23 languages. You can also make a custom one using payment APIs.
Advanced authentication. It secures a safe checkout, protecting your business against fraudulent transactions and keeping them compliant with Strong Customer Authentication (SCA) requirements.
Drawback
This payment solution is not widely available. Only merchants in the listed countries can use Braintree, such as the United States, Singapore, China, and Australia.
How to Pick the Best Online Payment Solution for Your Needs
With all the popular online payment solutions available, choosing the suitable one for your business may be confusing. Consider the following factors to filter your options:
Security
Online payments are vulnerable to fraud and data theft, so payment solution security should be a high priority to ensure your data and customers' safety. Check if the tool complies with the PCI Security Council standards. For increased security protocols, some options offer fraud detection to protect your business.
Business Model and Existing Tools
Good online payment solutions should integrate with your current eCommerce and accounting platforms for a streamlined process. They also have to match your business model. For example, an online store with a brick-and-mortar location needs payment services that enable it to accept offline and online payments.
Customers
Since lack of payment options is one of the top reasons for cart abandonment, pick payment methods your customers prefer. Different regions and generations may have specific preferences.
For example, US and UK citizens generally use card payment and PayPal, while ELV is one of the most popular online payment methods for German consumers. Baby Boomers love shopping and purchasing offline, while Gen Z uses digital payments like Apple Pay and Google Pay more often than older generations.
If you target a global market, choose a platform that can handle online payments with multiple currencies.
Cost and Sales Volume
Costs in payment platforms generally come in setup, monthly, and transaction fees. Consider your transactions' volume and value to find the most cost-effective option.
A competitive transaction fee of 2.9% plus $0.3 might work well for businesses with a lower sales volume but can increase expenses significantly for those with high-value and high-volume transactions.


Conclusion
Before building an online store, finding a suitable online payment solution is important. This tool helps you securely accept payments online globally and check the real-time payments in one place.
As each solution comes with specific online payment services, consider your business model, existing tools, customers, and sales volumes when choosing one. It also needs to be PCI-compliant to protect your customers' data.
Overall, Stripe might be the best online payment due to its large user base, competitive pricing, and various integrations. However, when it comes to Stripe vs Square, the latter is a better option for an online business with a brick-and-mortar store since it has the hardware and software to gather both systems in one place.
We hope this article has helped you filter the options and pick the best one to process payments according to your business needs.